Moist & bright Lemon Cupcakes with a delicious homemade lemon cream frosting are the perfect summer dessert!!
Nothing says summer like Fresh Homemade Lemonade and Watermelon. For a summer dessert that is both sweet and tangy, Lemon Cupcakes are a must!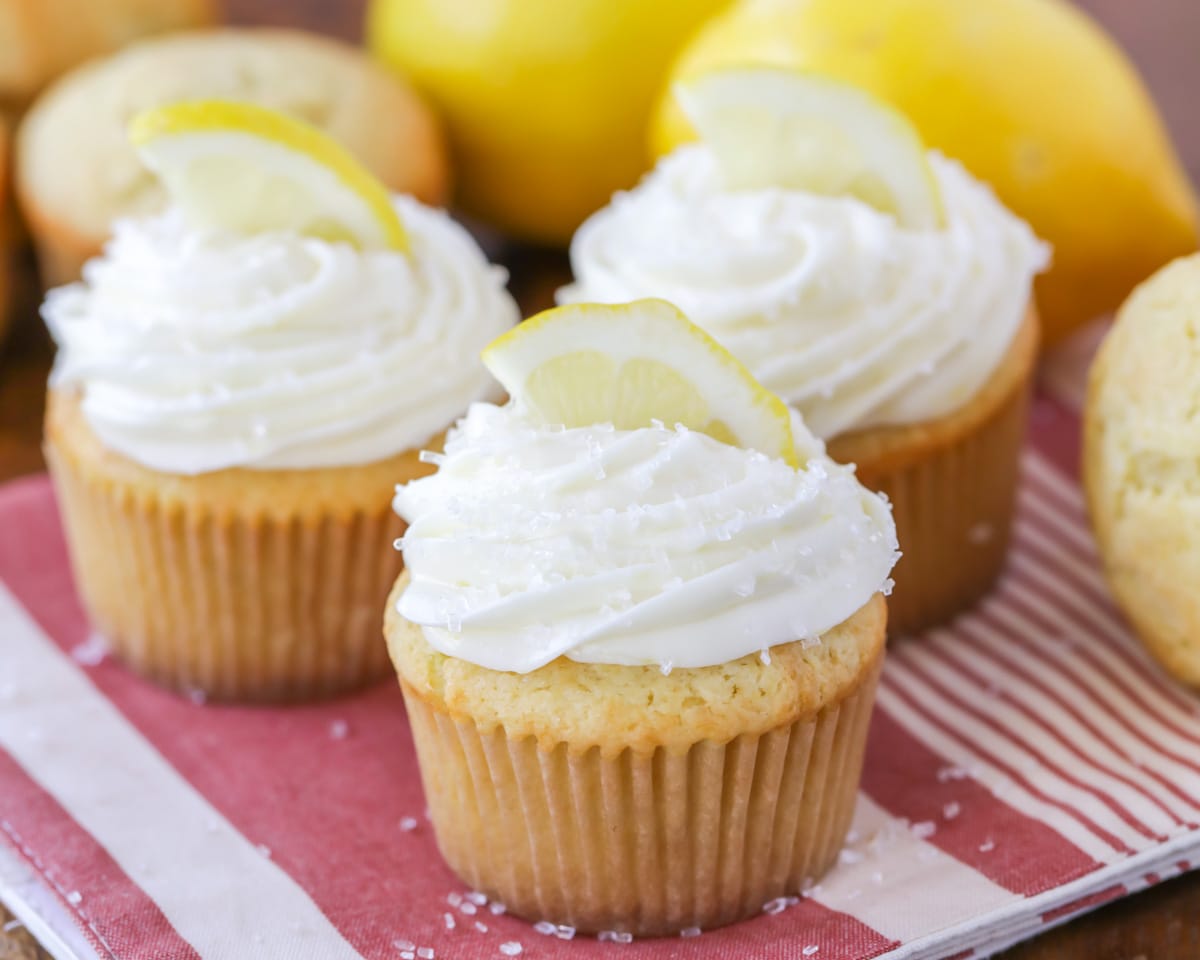 Bright Lemon Flavoring
I have always loved lemon, and who doesn't love a good cupcake, right?! The cupcakes were a cinch to put together and had the perfect lemon flavor, without being too tart. And we really loved how the lemon cream frosting turned out. Doesn't it look scrumptious?
The batter alone was delicious and we found ourselves licking the bowl wayyyy too often. They baked to perfection and we were so glad we gave them a try – SOO good!
Sometimes a sweet, fluffy cupcake is the best treat you can enjoy!! And in the summer time, a delicious lemon cupcake is even better. Although the batter of this recipe was amazing, we still thinking the creamy, fluffy lemon icing was the best. Top it off with a little lemon zest and it's PERFECTION!!!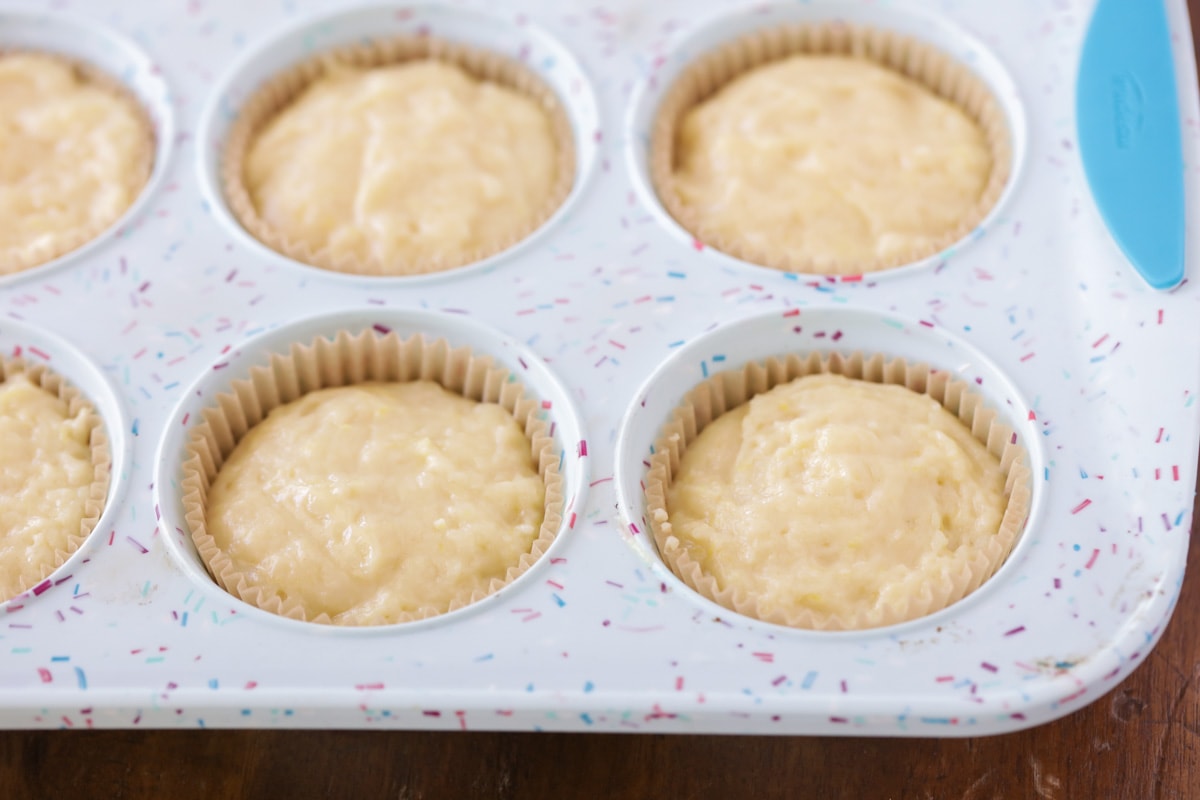 How to make Lemon Cupcakes
PREP. Preheat oven to 375 degrees F (190 degrees C). Line 30 cupcake pan cups with paper liners.
WET INGREDIENTS. Sift flour and salt together in a bowl. In a separate bowl, using an electric mixer, beat your butter and sugar until light and fluffy. Beat in eggs one at a time. Mix in the vanilla extract and 2 TB lemon zest.
DRY INGREDIENTS. In 2 parts, gently beat the flour mixture into the butter mixture, alternating with half the milk and half the lemon juice after each flour addition. Beat until just combined; do not over mix.
BAKE. Fill 30 cupcake liners ¾ full with batter, and bake at 375 for 15-17 minutes. Cool cupcakes in the pans about 10 minutes before removing to finish cooling on a rack.
ICING: In a chilled bowl, beat the cream with an electric mixer on low until it begins to thicken. Add powdered sugar and lemon juice, a little at a time until incorporated. Increase mixer speed to high, and beat an additional 5 minutes, until icing forms soft peaks. Spread on cooled cupcakes. Refrigerate leftovers.
Recipe Tips + Variations
If all you have on hand is all purpose flour – not to worry! The difference between cake flour and all purpose flour is the protein content. All purpose flour has a higher protein content than cake flour. Since cake flour has a lower protein content, it produces a softer and fluffier cake. That is why it is preferred in this recipe. If all you have available is all purpose flour here is what we suggest:
Make your own homemade cake flour for this recipe by measuring 3 cups of all purpose flour and then removing 6 Tbsp.
Next, you will want to add 6 TBSP of cornstarch to the flour.
Sift this all together twice and then measure out your 3 cups of flour. (Sifting adds some air and will sometimes give you a little more than 3 cups).
There are many different flavors of frostings you can use for these cupcakes: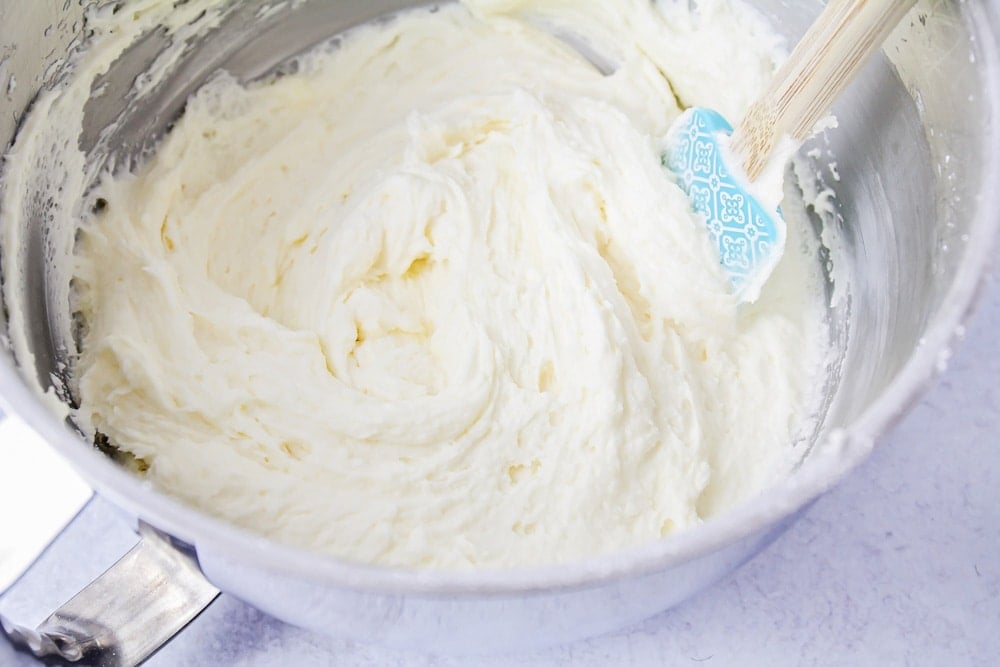 Storing Info
STORE your finished lemon cupcakes at room temperature in airtight containers. These cupcakes will stay good for about a week at room temperature or stored in your fridge.
FREEZE these lemon cupcakes after they have been baked. Make sure they are completely cooled before freezing. You can freeze them whether they have been frosted or not, but freezing the frosting separately will give you the best results. The best way to freeze them would be to wrap them individually in plastic wrap to keep them fresh. Then store them all in an airtight container in the freezer for up to 6 months.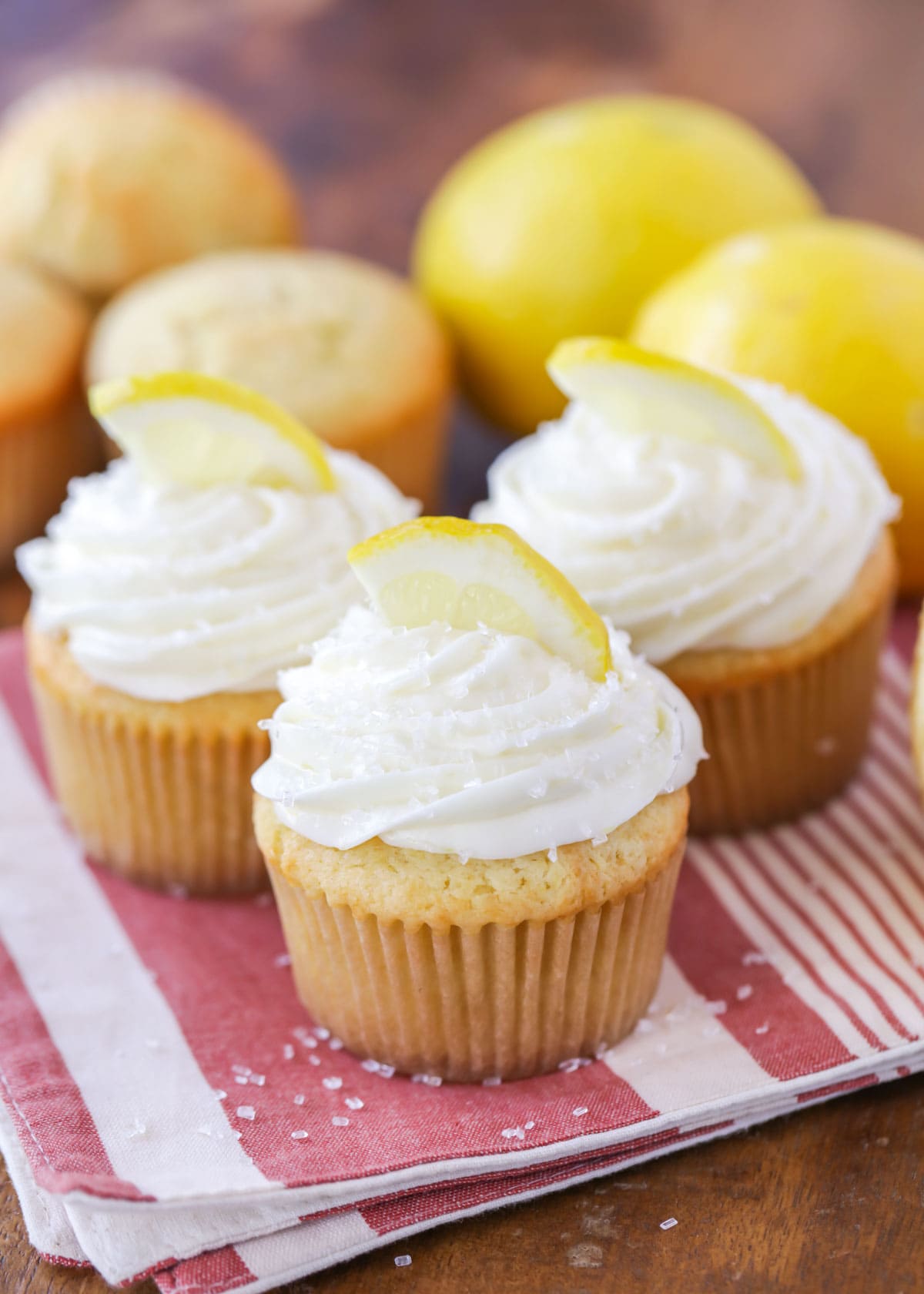 For more great cupcakes, check out:
Lemon Cupcakes Recipe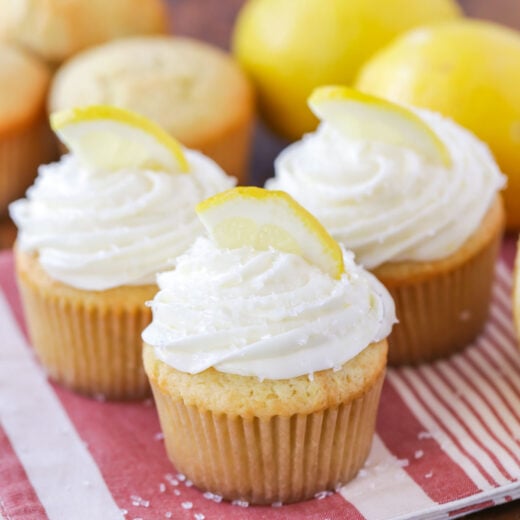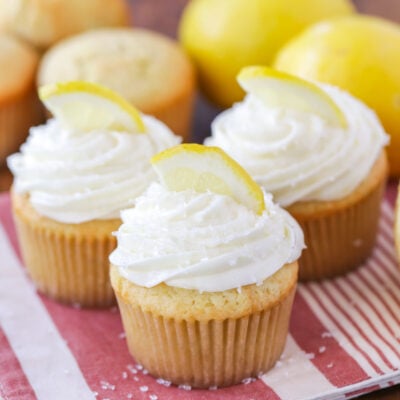 Moist & bright Lemon Cupcakes with a delicious homemade lemon cream frosting are the perfect summer dessert!!
Ingredients
Lemon Cream Frosting
8

ounces

cream cheese,

softened

½

cup

unsalted butter,

softened

1

tbsp

lemon zest

⅛

tsp

salt

2 ½

cups

powdered sugar,

sifted

2

tbsp

lemon juice
Instructions
Preheat oven to 350 degrees. Line cupcake pan cups with paper liners.

Combine flour, sugar, baking soda, baking powder and salt in a large bowl.

In another bowl, beat together butter, oil, sour cream, eggs, lemonade and lemon zest. Add dry ingredients and beat until creamy.

Use a large cookie scoop to fill cupcake liners to about 2/3 full.

Make frosting by beating together the cream cheese, butter, lemon zest and salt in a medium bowl. Add powdered sugar and lemon juice and beat until smooth.

Once cupcakes are cool, pipe on frosting and add sprinkles if desired.
Adapted from Allrecipes.com