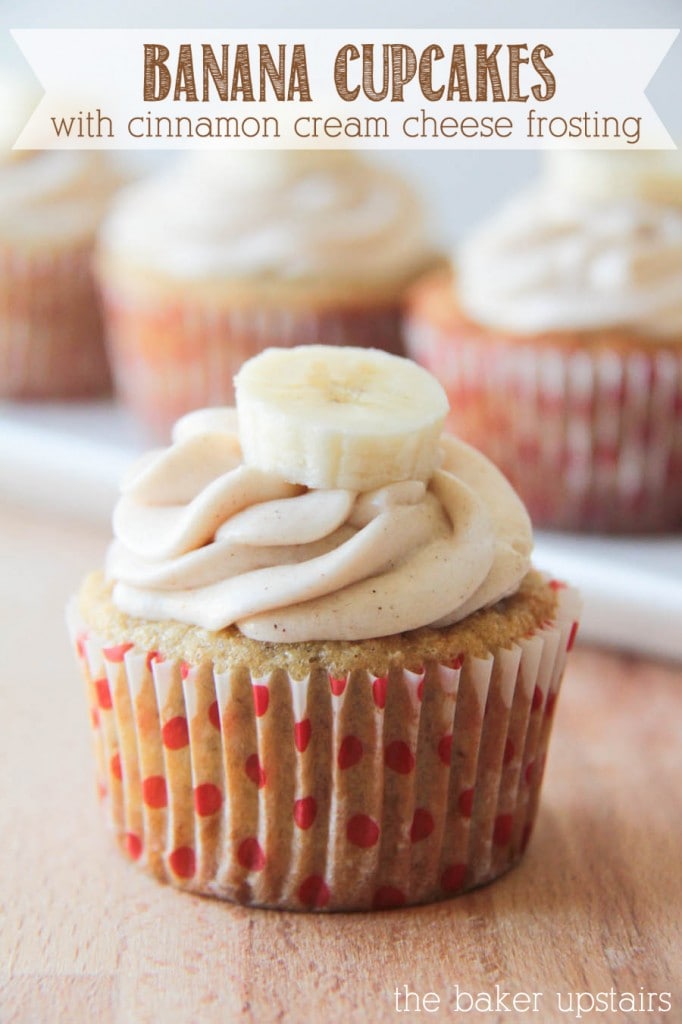 Hi again Lil' Luna friends! I'm excited to share another great recipe with you today! I've been baking a lot lately (even more than normal!) and I think it's because it's such a nice way to cozy up the cold winter days. I've been having my two little girls help me bake and I love all the fun family memories we've been making together. Cupcakes are always a favorite at our house, and these banana cupcakes are both unique and delicious.
I got this recipe from one of my good friends (and my favorite source for delicious cupcake recipes), Emma. I always know that if I'm getting a recipe from her it's going to be a great one. These cupcakes are so light and airy! They have a great banana flavor without being dense like banana bread. And the cinnamon cream cheese frosting is rich and velvety smooth. It goes perfectly with the cupcakes and the flavors complement each other well.
MY OTHER RECIPES
If you love cupcakes as much as I do, you have got to try these delicious and fun banana cupcakes!
For more banana recipes, check out:
How to make Banana Cupcakes:
Banana Cupcakes with Cinnamon Cream Cheese Frosting
Banana Cupcakes with Cinnamon Cream Cheese Frosting. These soft cupcakes have a hint of cinnamon and are filled with bananas.
Ingredients
for the cupcakes:
4 large eggs
½ cup butter, softened
1½ cups mashed bananas (from 3-4 mashed bananas)
½ teaspoon vanilla
1½ cups cake flour (all-purpose flour can also be substituted)
¾ cup sugar
2 teaspoons baking powder
½ teaspoon baking soda
¼ teaspoon salt
1 teaspoon cinnamon
for the frosting:
6 tablespoons butter, softened
4 ounces of cream cheese, softened
2 cups powdered sugar (more as needed)
½ teaspoon vanilla
1½ teaspoons cinnamon
Instructions
Preheat the oven to 350. Prepare two muffin tins by lining with paper liners.
Separate the eggs and beat the egg whites until stiff peaks form, then set aside.
In a large bowl or the bowl of a stand mixer, beat the butter until light and fluffy. Add the mashed bananas, egg yolks, and vanilla, and mix until smooth. Gently fold in ⅓ of the egg white mixture.
In a medium bowl, whisk together the flour, sugar, baking powder, baking soda, salt, and cinnamon. Gently fold the dry ingredients into the wet ingredients until just combined. Gently fold in remaining egg whites.
Fill paper baking cups half full and bake 11-15 minutes, or until a toothpick inserted in the center comes out clean. Remove and let cool completely.
To make the frosting, beat together the butter and cream cheese until light and fluffy. Add the powdered sugar slowly and beat until light and fluffy. Beat in the vanilla and cinnamon.
If necessary, add more powdered sugar until the frosting is firm enough to hold its shape but still light and fluffy. Frost the cooled cupcakes and enjoy!
————————————-
These look delicious, Alicia!! I think it's impossible to go wrong with Cinnamon Cream Cheese Frosting!! Be sure to go to The Baker Upstairs for more great recipes from Alicia.