Banana chocolate chip Cookies are Soft, Cake-like and the perfect treat for any banana lover. Use those over-ripe bananas in a tasty way!!
For more banana recipes try Frosted Banana Bars, BEST Banana Bread, Banana Crumb Muffins, and Cream Cheese Filled Banana Bread.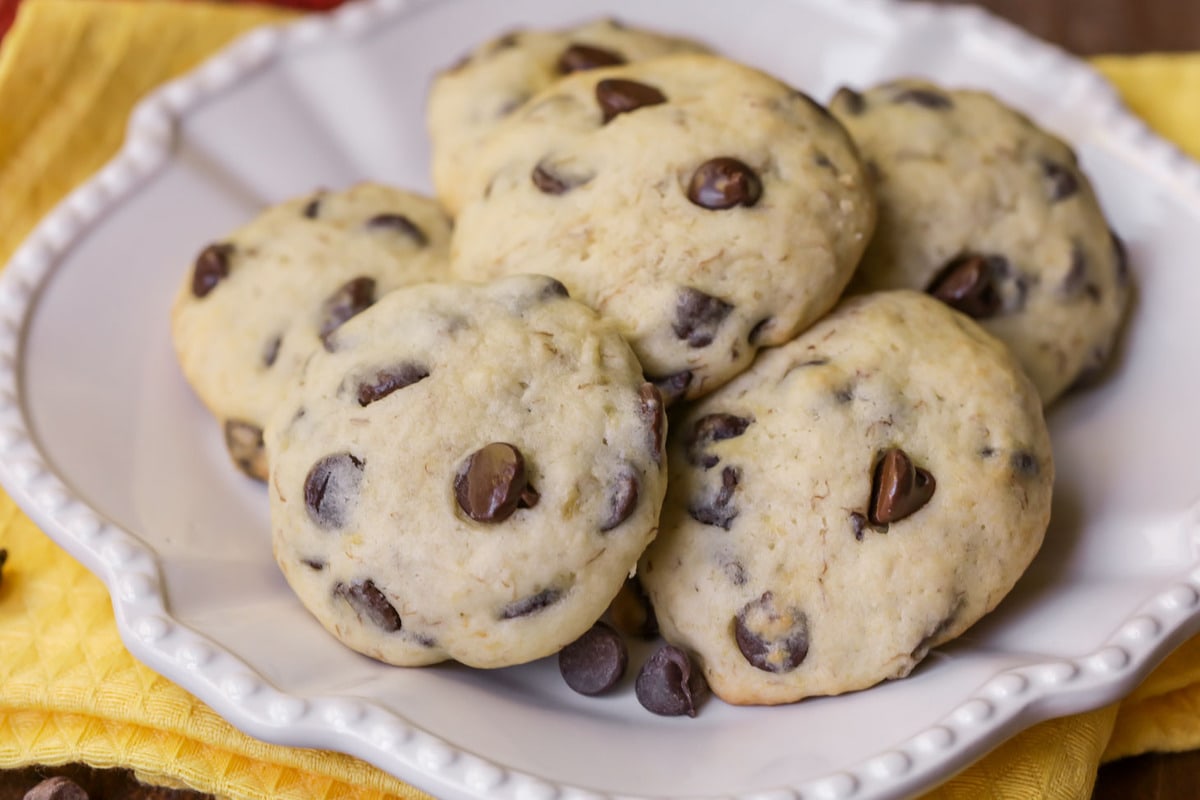 The Best Banana Cookies!
I love to share quick, easy, and delicious desserts with you. I have a yummy one for you today! If you are anything like me, you tend to have an overripe banana or two on the counter. It seems my kids go through phases where either we never have enough bananas or we have "I'd better freeze these" black bananas sitting out.
That's where some of my fav banana recipes come in…cue Banana Chocolate Chip Cookies. They combine two of my favorite things – cookies AND bananas!
These cookies are perfect for getting rid of over-ripe bananas. You know the bananas are ripe enough to use when they're brown all over. The more brown they are, the sweeter they taste! And they will mix better with the batter/dough. The bananas also make the cookies super moist and chewy! So yummy and so easy!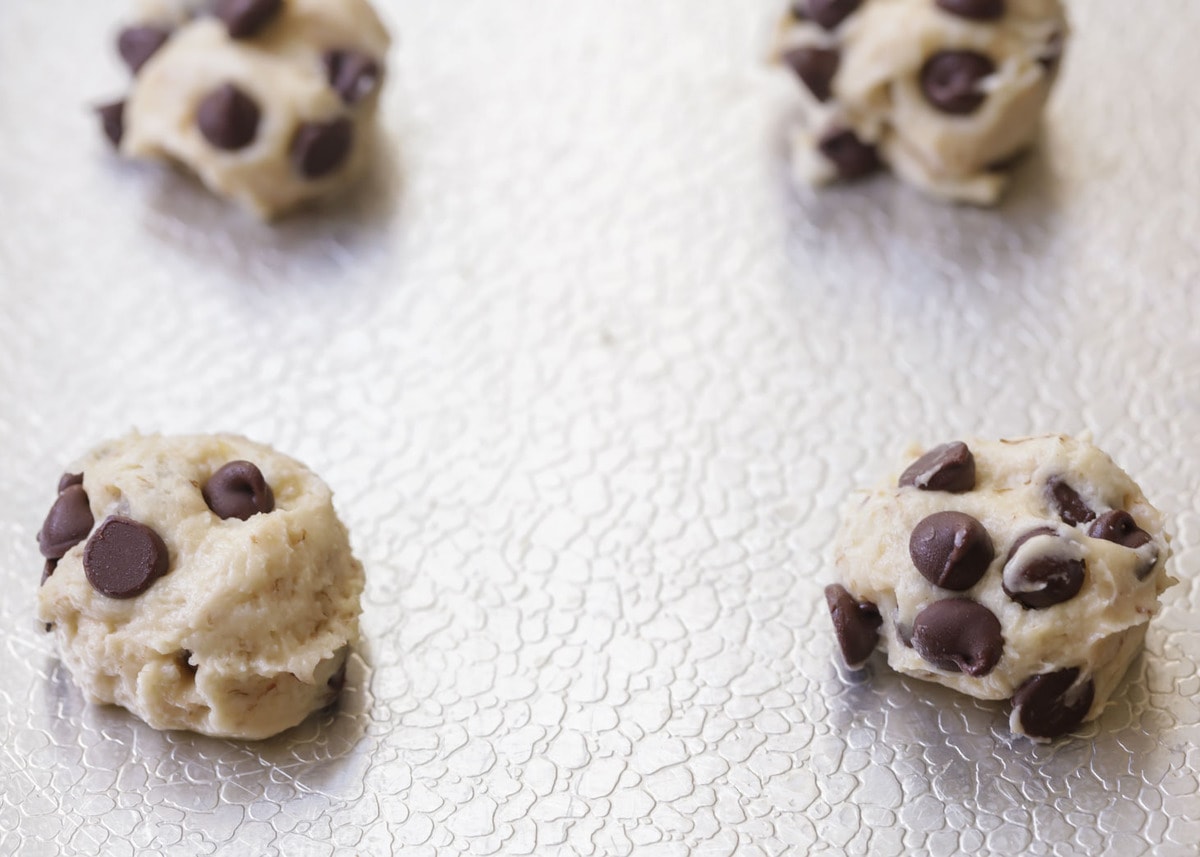 How to make Easy Banana Cookies
We love that these cookies are so simple that even the kids can help make them. Here is what you'll need to do to make them…
PREP. Preheat oven to 350 degrees
WET INGREDIENTS. Cream together butter and sugar in your mixer. Add egg, vanilla and almond extract, and bananas and mix well.
DRY INGREDIENTS. In a separate bowl mix flour, baking soda, cocoa and salt. Add this to your butter and sugar mixture and mix well. Stir in chocolate chips.
BAKE. Spoon onto a greased cookie sheet and bake at 350° for 8-10 minutes.
TIps + Storing Info
Bananas: I would start with 2-3 medium bananas to get ½ cup of mashed bananas.
Mashing Bananas: To mash, place the bananas in a bowl and use a fork to mash the bananas until smooth. If you want you can also use an electric hand mixer to get a smooth result.
Chewy Cookies: If you want chewy cookies you can opt to use brown sugar instead of white sugar. You can also chill your dough before baking so that you don't lose all of the moisture in your dough.
Thicken: If the dough is really runny and it results in flat cookies try adding some more flour. Try adding ¼ cup of flour and see if that helps.
Soft Cookies: Keep cookies soft in an airtight container on the counter. Don't overmix or overbake the cookies!
STORE cookies in an airtight container at room temperature for up to a week.
FREEZE  in an airtight container for up to 3 months. You can store your cookie dough in the fridge in a covered container for up to 5 days, just make sure that there is an airtight seal on the container so that the dough doesn't dry out.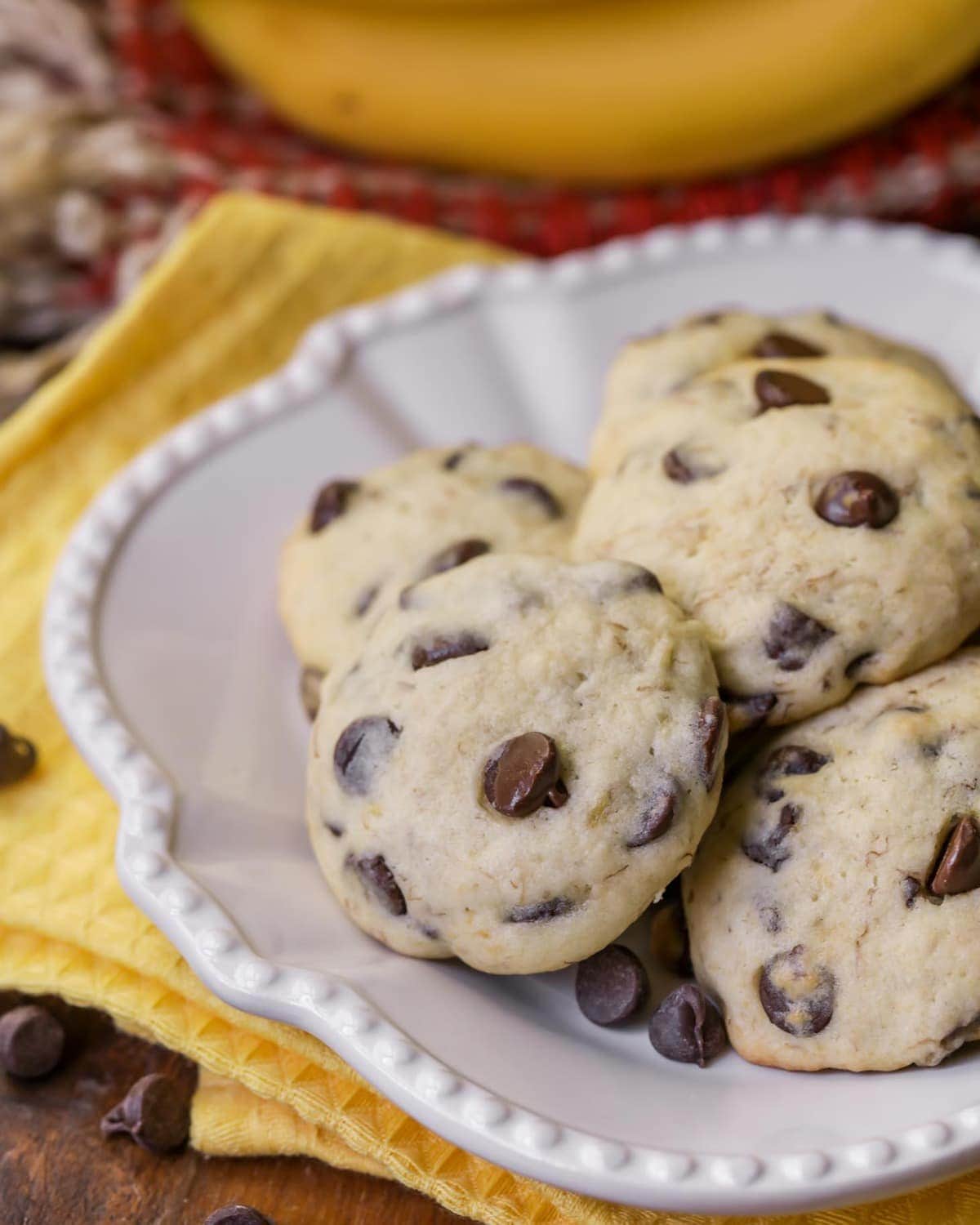 For more cookie recipes, try:
Banana Chocolate Chip Cookie Recipe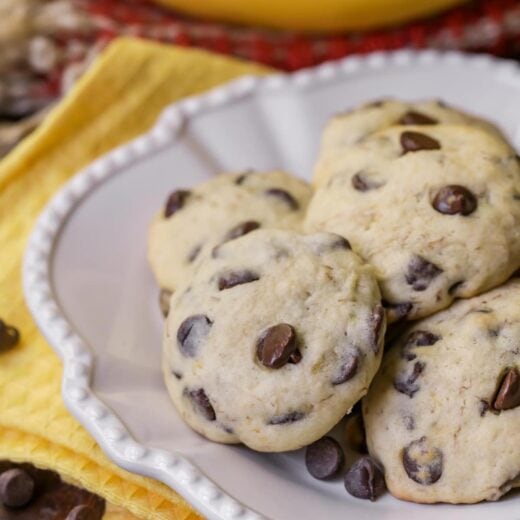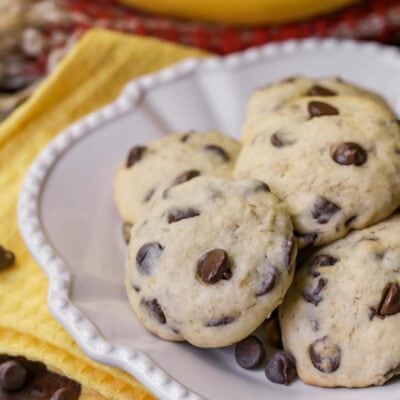 Banana chocolate chip Cookies are Soft, Cake-like and the perfect treat for any banana lover. Use those over-ripe bananas in a tasty way!!
Instructions
In a medium bowl, cream your butter and sugar until light and fluffy. Beat in egg, banana and vanilla until combined.

Mix flour, baking powder, salt and baking soda and gradually add to creamed mixture. Stir in chocolate chips.


Scoop onto sprayed baking sheets. Bake at 350° for 10-14 minutes, the until edges are lightly browned.