Homemade Marshmallow Frosting recipe – great for cakes and cupcakes! Just a few ingredients including marshmallow fluff, butter, vanilla, & powdered sugar make this icing a hit!
This marshmallow fluff frosting can be used to top vanilla cupcakes, chocolate cupcakes, or any flavor cupcake you like! You could even use it to make s'mores brownies with some crushed up graham crackers.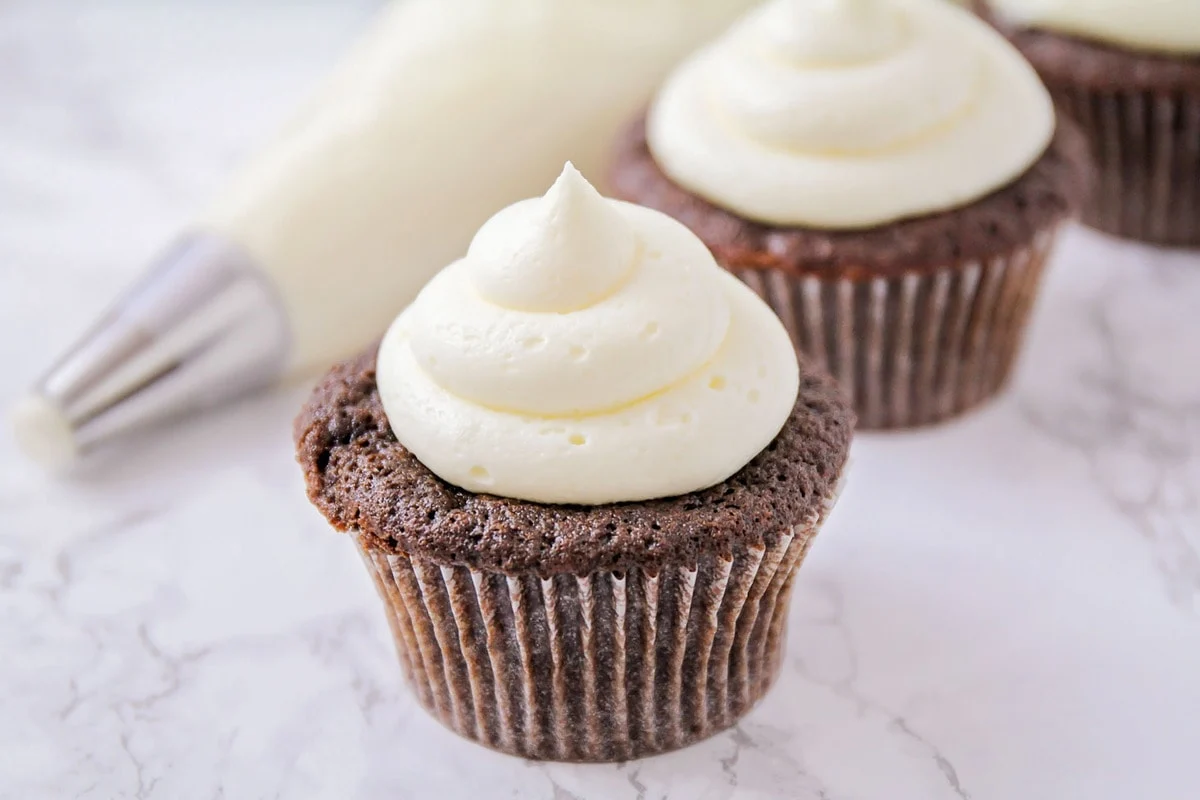 No hassle, just quick & easy!
For the most recent cupcakes I made, I decided I wanted to use Marshmallow Frosting. I did a few google searches but found only ones that involved egg whites and decided I needed a quick and Easy Marshmallow Frosting.
I had remembered I saw one on Pinterest one day. It was from Just a Pinch. I usually modify all recipes, but this one was already nearly perfect—I just added a little vanilla. 🙂
It only required a small handful of ingredients, and the finished product was so tasty. It's a really nice texture too—not too thin and "whipped", but not too dense like some buttercream frostings. I've used it on multiple flavors of cupcakes already!!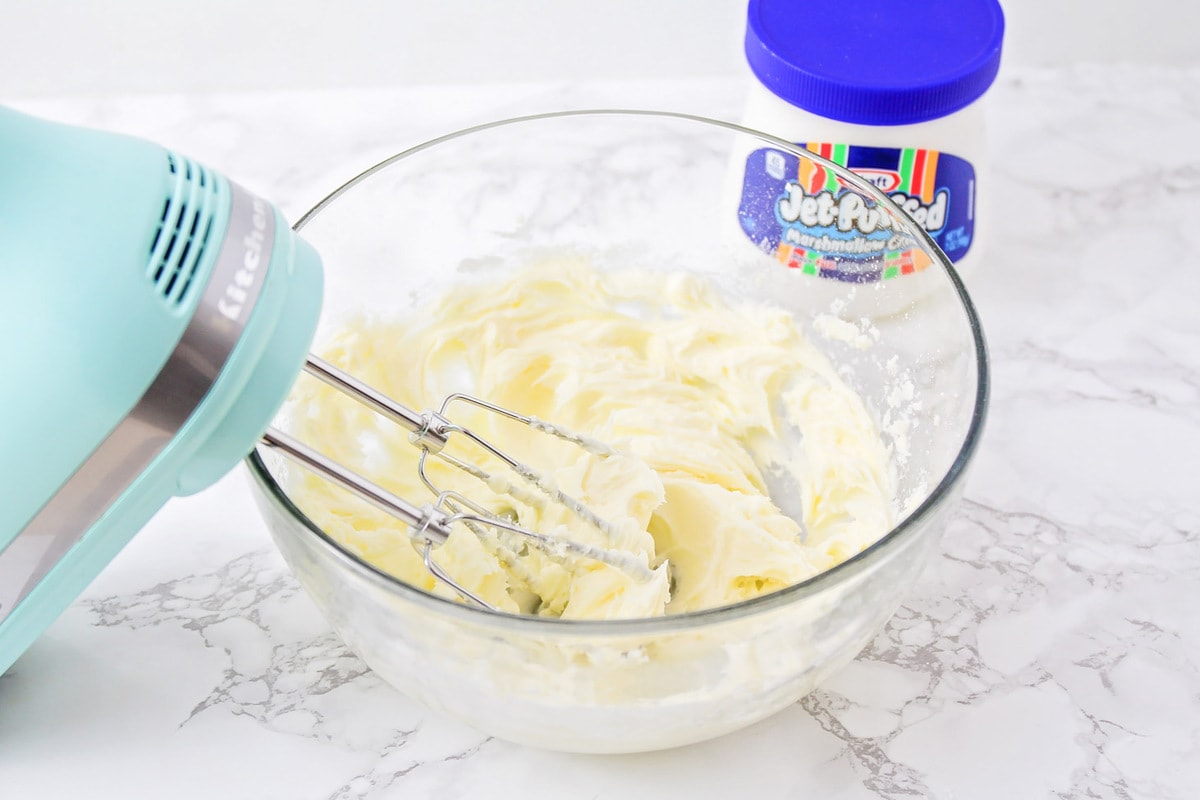 Just 4 ingredients!
This recipe is so easy because it only uses 4 ingredients (and egg whites is NOT one of them!!):
butter (make sure it's at room temperature)
marshmallow fluff
powdered sugar
vanilla extract (extract, not flavoring)
If you're having a hard time finding the marshmallow fluff, check in the baking isle of your grocery store. The label might also say "jet puffed marshmallow creme". This works the same! If you still don't have any luck, Amazon is always on option. 😉
When you're mixing the ingredients together, make sure the powdered sugar and butter are completely creamed together before adding anything else. There should be no visible clumps of powdered sugar.
Use a rubber spatula to scrape any stray clumps from the side of the bowl, and to mix in the fluff by hand (rather than using a beater/electric hand mixer).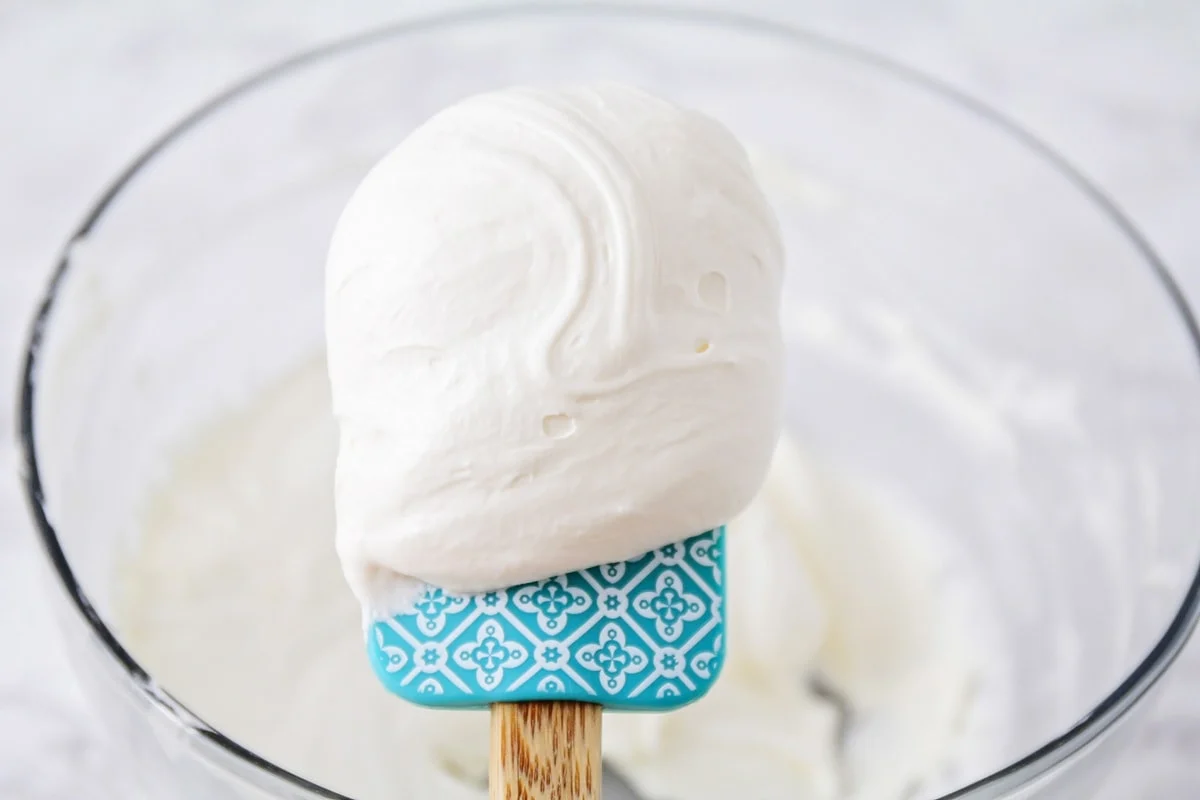 Tips, tricks, and troubleshooting
How much this frosting will cover depends on how you use it. If you're piping it on, or being really decorative, this recipe makes enough frosting to cover 12 cupcakes. If you are spreading it on with a knife, it will cover several more.
You can use it to frost a cake, however you might need to double the recipe for a 9×13 cake, or for a double layer 8 inch round cake.
I've had several readers ask if you can use a kitchen torch to brown this frosting (kind of like a toasted marshmallow). Although I have never tried, one reader said it does work if you use really high heat up close. If you're too far away, the frosting will melt before it browns.
Make ahead and store? Because this recipe is more of a buttercream type frosting, and doesn't have egg whites in it, you can easily make it in advance and store in the fridge for several days before using. As long as it is kept cool, it will stay in good condition.
You can even frost your cupcakes a day or two in advance, and keep in the fridge until you're ready to serve.
If your frosting is too runny, you might need to add a bit more powdered sugar to stiffen it up. I wouldn't add more than a couple tablespoons at a time, and then mix well to see how it affects the consistency.
Areas that are warm or humid might affect the consistency of your frosting as well. Put it in the fridge for a while to see if that does the trick.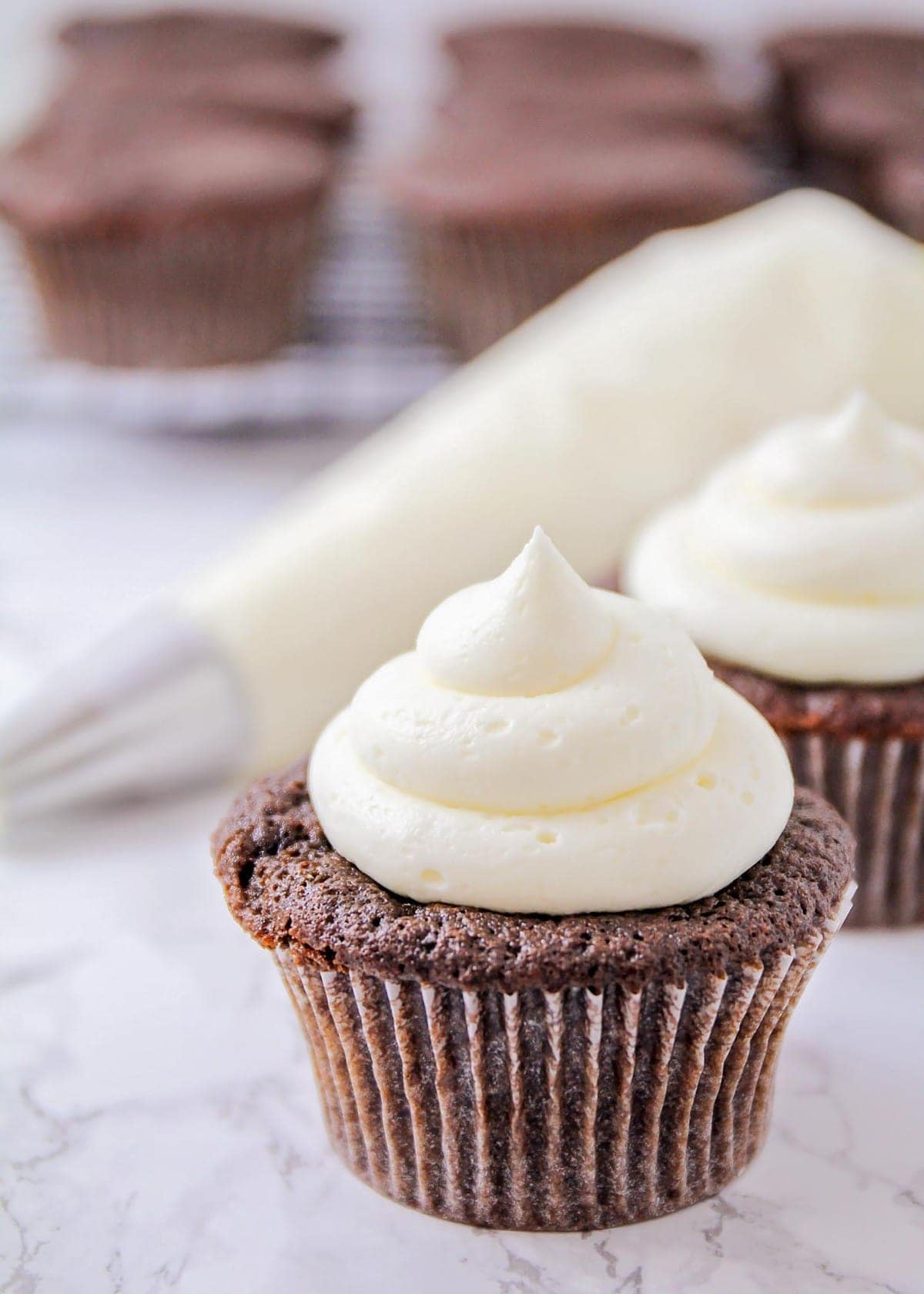 This recipe was soooo easy and was so yummy!! It's definitely a new favorite, and I can't wait to make it again.
For more delicious frosting recipes, check out: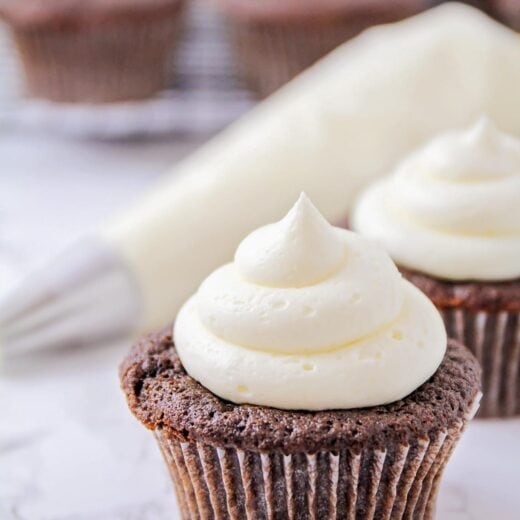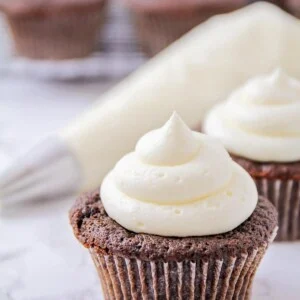 Marshmallow Frosting Recipe
Homemade Marshmallow Frosting recipe – yum! Few ingredients including marshmallow fluff, butter, vanilla, & powdered sugar make this a hit!

Instructions
Beat butter and powdered sugar until fluffy and well mixed.

Mix in fluff and vanilla by hand and mix well.

Add to piping bag and pipe onto cupcakes.
Nutrition
Calories:
79
kcal
,
Carbohydrates:
12
g
,
Fat:
3
g
,
Saturated Fat:
2
g
,
Cholesterol:
10
mg
,
Sodium:
33
mg
,
Sugar:
10
g
,
Vitamin A:
120
IU
,
Calcium:
1
mg
Nutrition information is automatically calculated, so should only be used as an approximation.
Making this recipe? Tag us!
Share it with us on Instagram using the hashtag #lilluna, so we can see what you're creating in the kitchen!