Carrot cake is one of those desserts that I don't make very often. But every time I do, I remember how much I love it, and wonder why I haven't made for so long.  This time around, I opted for carrot cake cupcakes instead of cake. They were fun to serve, and even more fun to eat!
These delightful cupcakes are moist and delicious and have just the right amount of spice. Then there's the frosting. Oh my. Brown sugar adds a rich depth of flavor that is out of this world. It was so yummy that I was tempted to eat it by the spoonful. (OK, I may have had one spoonful.) You have got to try it!
Carrot cake cupcakes are simple to make, but here are a few tips. Don't overfill the cupcake liners. They should be about half full. The cupcakes come out pretty flat, and that is just fine. It's easier to frost them that way!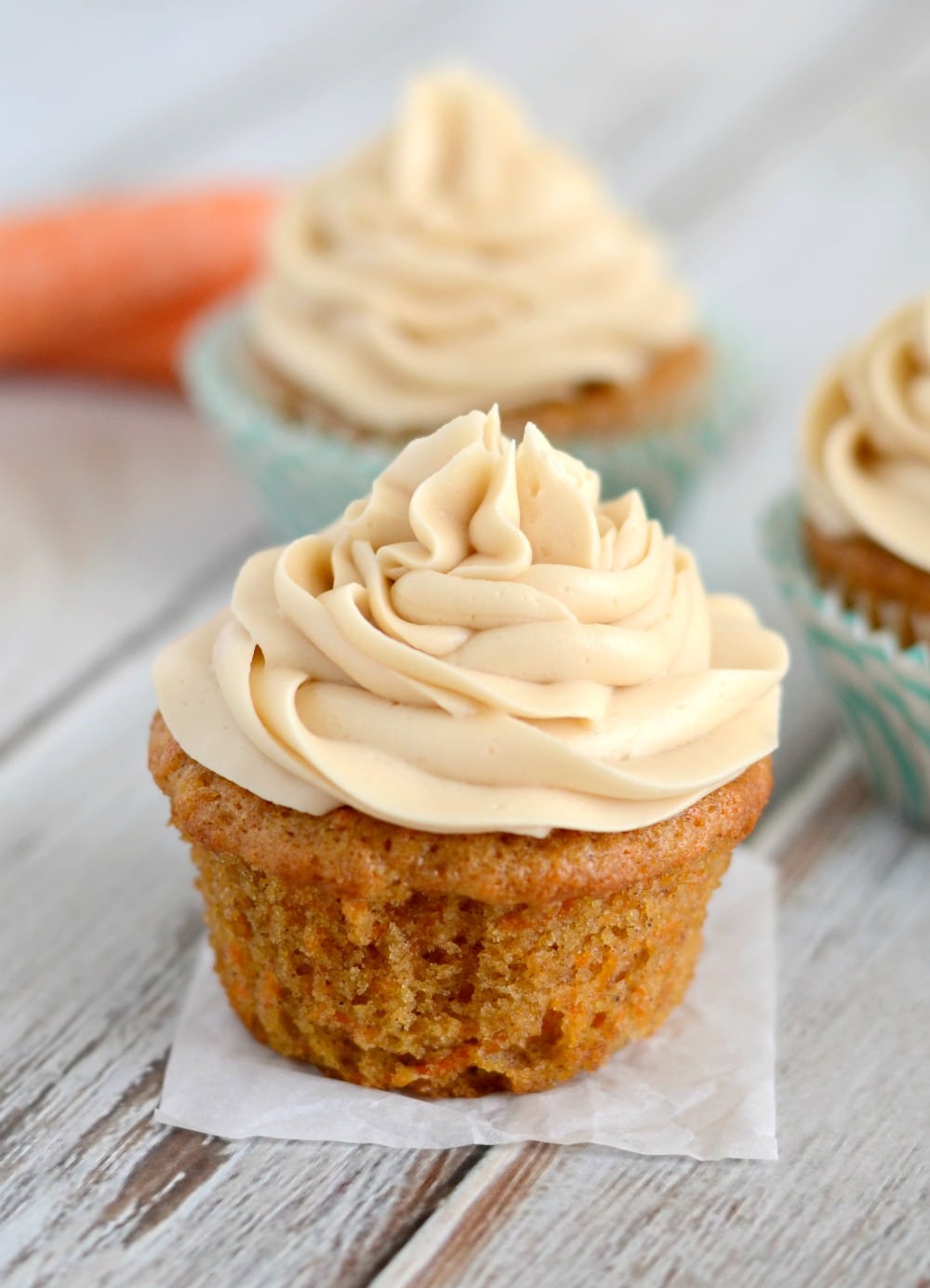 MY OTHER RECIPES
I hope you'll give these cupcakes a try. They might just become a new favorite after one bite!
Carrot Cake Cupcakes:
Carrot Cake Cupcakes with Brown Sugar Cream Cheese Frosting
Carrot Cake Cupcakes with Brown Sugar Cream Cheese Frosting - these moist cupcakes have just the right amount of spice, and the frosting is heavenely.
Ingredients
Cupcakes:
1¼ cups flour
½ tsp + ⅛ tsp baking soda
½ tsp + ⅛ tsp baking powder
1 tsp cinnamon
¼ tsp salt
1 cup sugar
2 eggs
½ cup canola oil
¼ cup sour cream (light is fine)
½ tsp vanilla
1½ cups finely grated carrots
Frosting:
8 oz cream cheese, softened
½ cup butter, softened
⅔ cup brown sugar
2 tsp vanilla
dash of salt
3 cups powdered sugar (more or less)
Instructions
Whisk together flour, soda, baking powder, cinnamon, and salt in a small bowl. Set aside.
In a large mixing bowl, beat sugar, eggs, and oil till thick and foamy, 1-2 minutes. Add the sour cream, vanilla, and carrots and mix well. Add the dry ingredients and stir till just blended.
Fill paper lined cupcake pans half full. Bake at 350° for 18-20 minutes. Cool completely.
For frosting, beat together cream cheese, butter, and brown sugar till smooth. Let sit for 5-10 minutes till brown sugar dissolves completely. Add vanilla, salt, and enough powdered sugar to make a frosting thick enough to pipe. Use a large star tip to frost cupcakes.
Notes
This makes enough frosting to generously pipe frosting on the cupcakes. If you will be spreading it on, you can cut the recipe in half.
——————————–
I'm dying over that Brown Sugar Cream Cheese Frosting!! Seriously, that looks like a total dream. Thanks for sharing with us, Kara! These look amazing. For more delicious recipes by her, head on over to Creations by Kara!
For another great Easter recipe from her, check out: