A delicious peanut butter cookie cup filled with homemade buttercream frosting and topped with easter egg candies. Easter Basket Cookie Cups make for a festive (and YUMMY) Easter treat!
These Easter cookie cups are SO simple and make the perfect Easter dessert. For more Easter cookies, try Carrot Cake Cookies, Bird's Nest Sugar Cookies, and Mint Blossoms.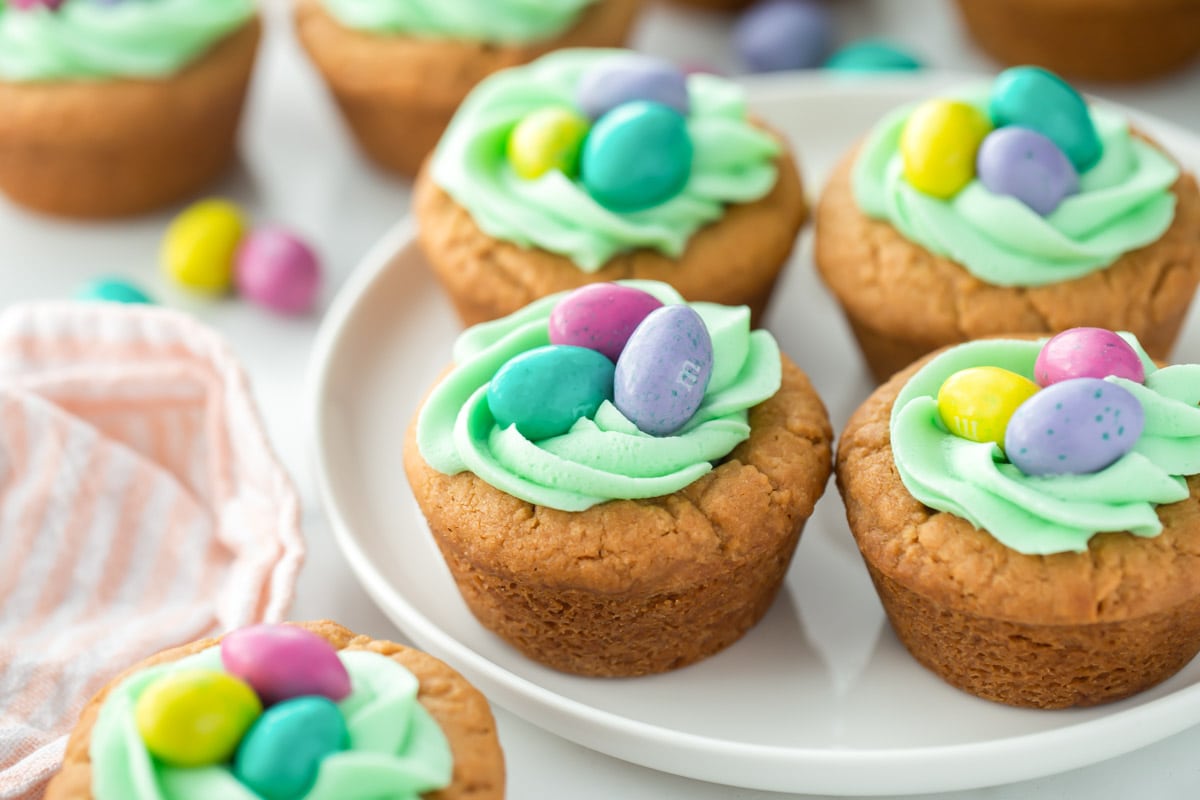 Easter Basket Cookies
Easter is almost here!! I feel like the holiday just snuck up on me wayyy too fast, and I'm trying to make sure my kids do some fun Easter activities before it comes. We at least try to do our annual Glow-in-the-Dark Egg Hunt. It has become tradition, and even the hubby and I like taking part in this fun activity.
Something else I love to involve the kids in is making festive Easter treats! This recipe for easter basket cookie cups is perfect for that! We make this dessert every year, and the kids enjoy frosting them and placing the M&M's on top. Not only are these cookie baskets cute and festive, but they're yummy too!
Whenever we make these for family Easter get togethers, they are one of the first things to disappear!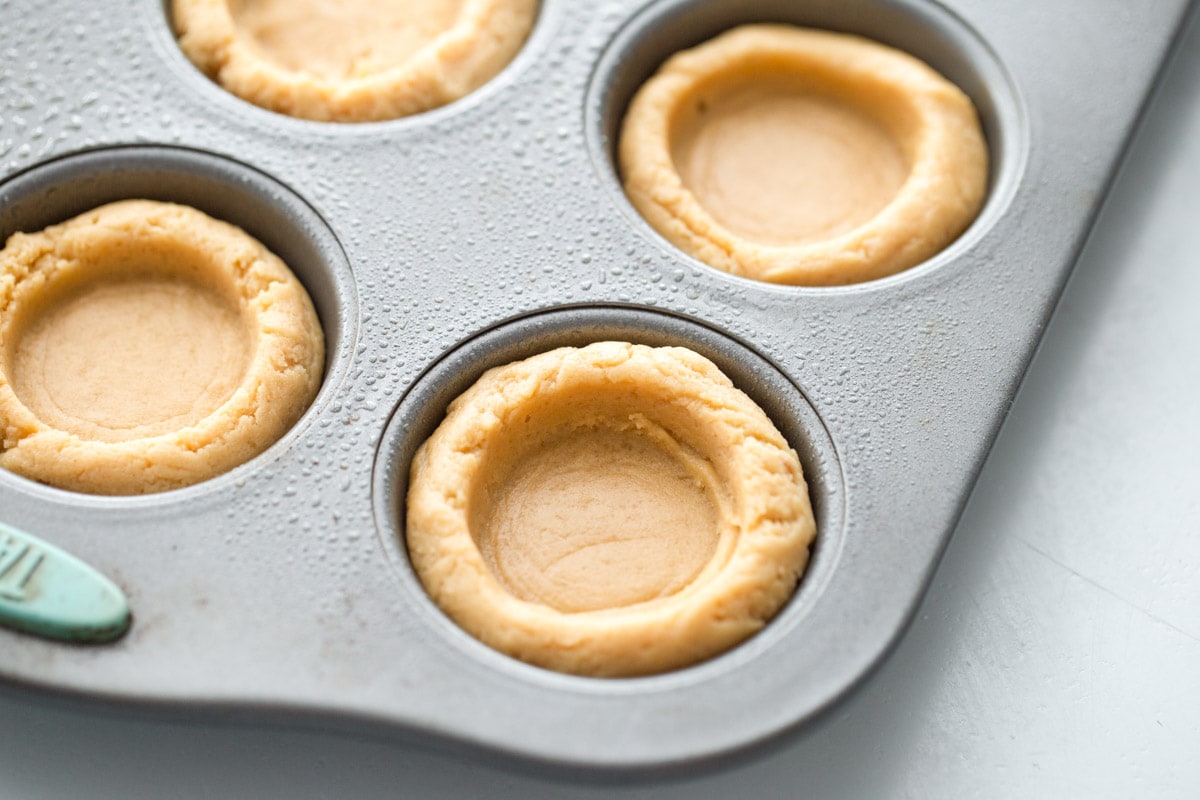 They're so easy!
What I love about these cookie cups is how EASY they are to make! No rolling, cutting, or chilling this cookie dough! All you have to do is make the cookie dough (or use pre-made cookie dough to simplify even more), scoop into a muffin tin, bake, and decorate!
The presentation looks so fancy that no one will ever know how easy they were to make! So easy, that I let all of my littles help count out three easter egg candies and place them on top of the frosting. It's a festive activity and a treat all in one – win, win! 😉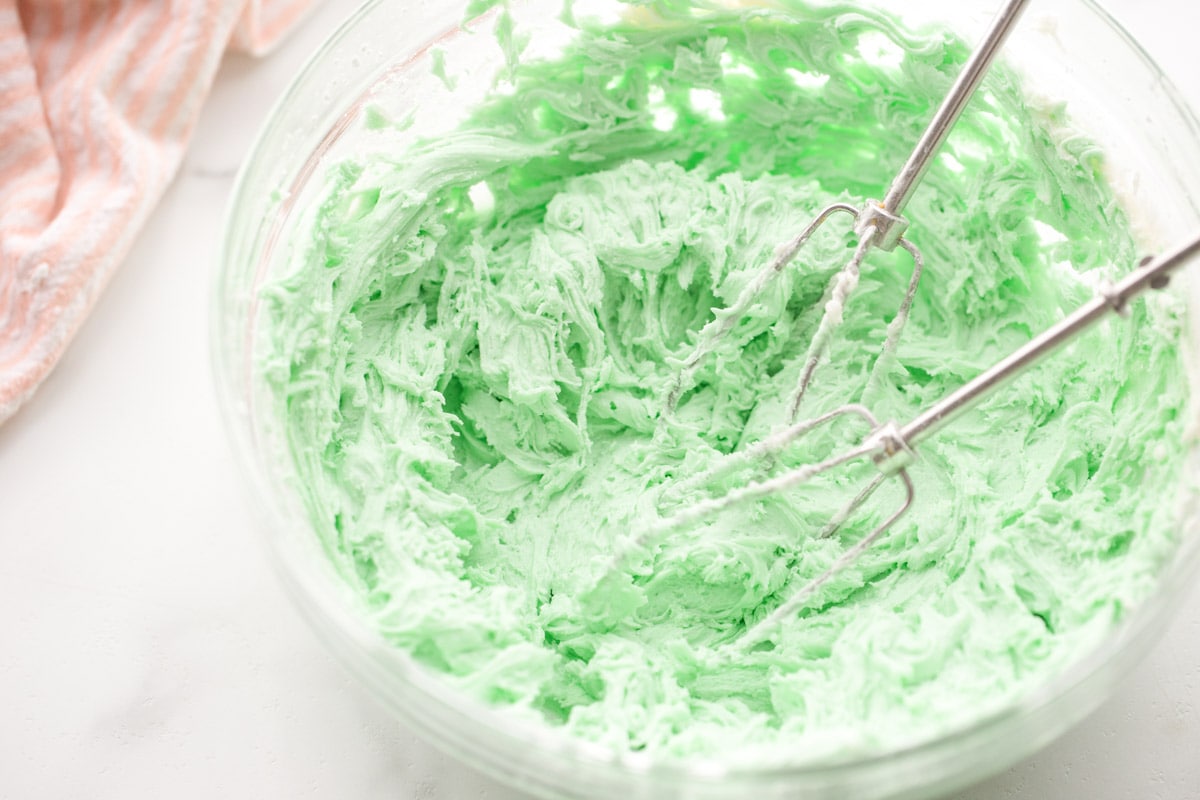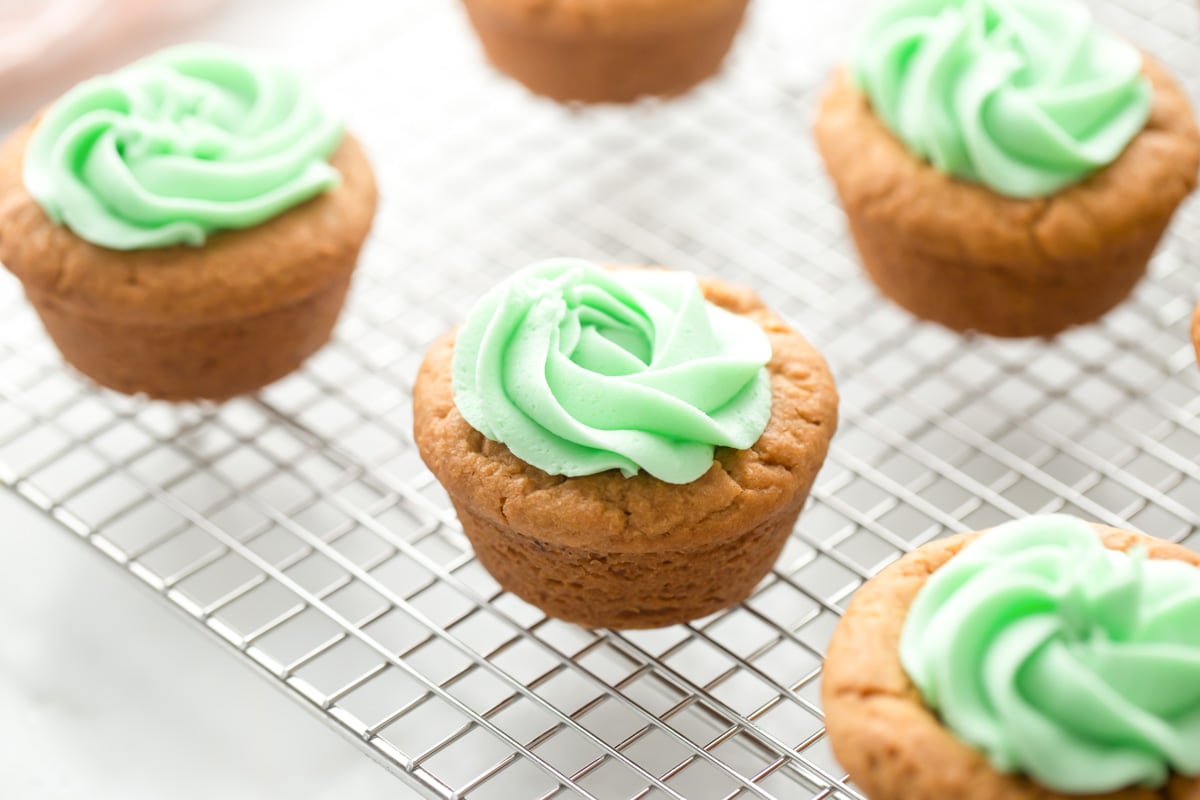 Tips and Variations
You are totally welcome to change things up and use your own favorite Peanut Butter Cookie recipe, or ANY cookie dough for that matter! Regular chocolate chip cookie dough (with or without the chips), chocolate cookie dough, sugar, even snickerdoodle! Any flavor would be delicious.
For another alternative, try the rice krispies version!
What size muffin tin for easter cups? I use a regular sized muffin tin, but you can easily use a mini muffin tin. Just reduce the cooking time to 5-7 minutes. The mini cookie cups work great if trying to feed a large crowd, or if you are trying to minimize how many sweets the kids have on Easter. 😉
Storing: As I said, these babies are usually the first think to disappear, but if you do happen to have leftovers, you can store them in an airtight container for 3 days. If you want to make them last a little longer, you can freeze them for 3-4 months.
It's best to freeze them unfrosted, if you're making them ahead of time. But if they're already decorated, you can flash freeze them (set individually on a sheet pan, uncovered) for a couple hours to harden up the frosting, then stack them in an airtight container or wrap in plastic wrap and foil.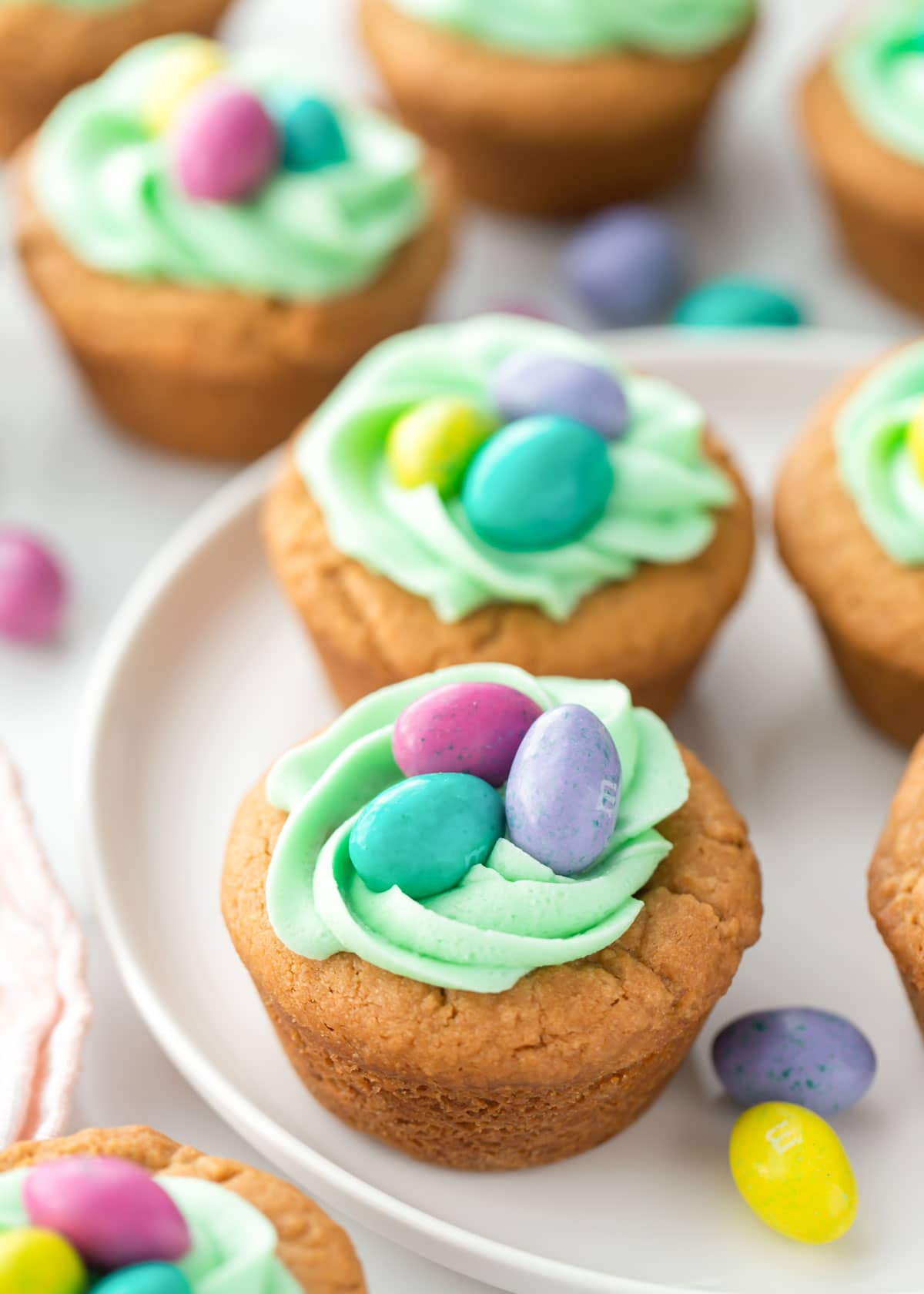 For more yummy Easter treats, check out:
Easter Basket Cookie Cups Recipe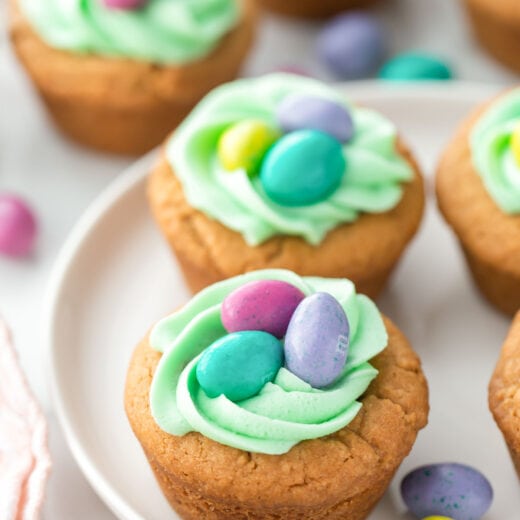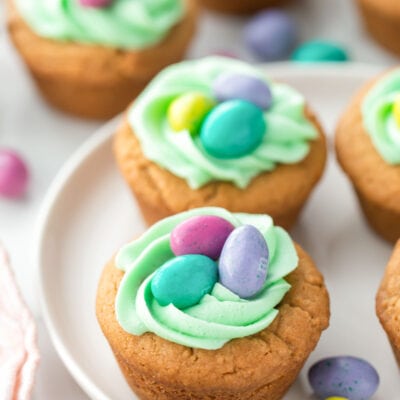 A delicious peanut butter cookie cup filled with homemade buttercream frosting and topped with easter egg candies.
Ingredients
Cookie
Buttercream Frosting
½

cup

unsalted butter

3-4

cups

powdered sugar

¼

cup

milk

1

tsp

vanilla

food coloring
Instructions
Cookie Cup
In a mixing bowl, combine sugars, shortening, peanut butter, salt and vanilla. Mix well. Add eggs and milk, mix until creamy. Fold in flour and baking soda.

With a large cookie scoop, place dough in the cup of a greased muffin tin.

Using a tart press or something similar make an indent into each scoop. This will help mold the dough into the muffin cup.

Bake at 350 for 10-12 minutes. They will rise when baking and will set down once taken out of the oven. Let cool completely.
Frosting
Combine butter, milk, vanilla and 2 cups of your powdered sugar in a large bowl. Mix till smooth and creamy, about 5 minutes. Then add the remaining powdered sugar and food coloring of your choice.

Pipe your frosting into your cookie cups and top with Peanut Butter M&Ms. ENJOY!