A delicious collection of the most POPULAR Easter desserts – from cakes to pies to cheesecake to cookies, these tasty treats will be an amazing addition to your Easter dinner.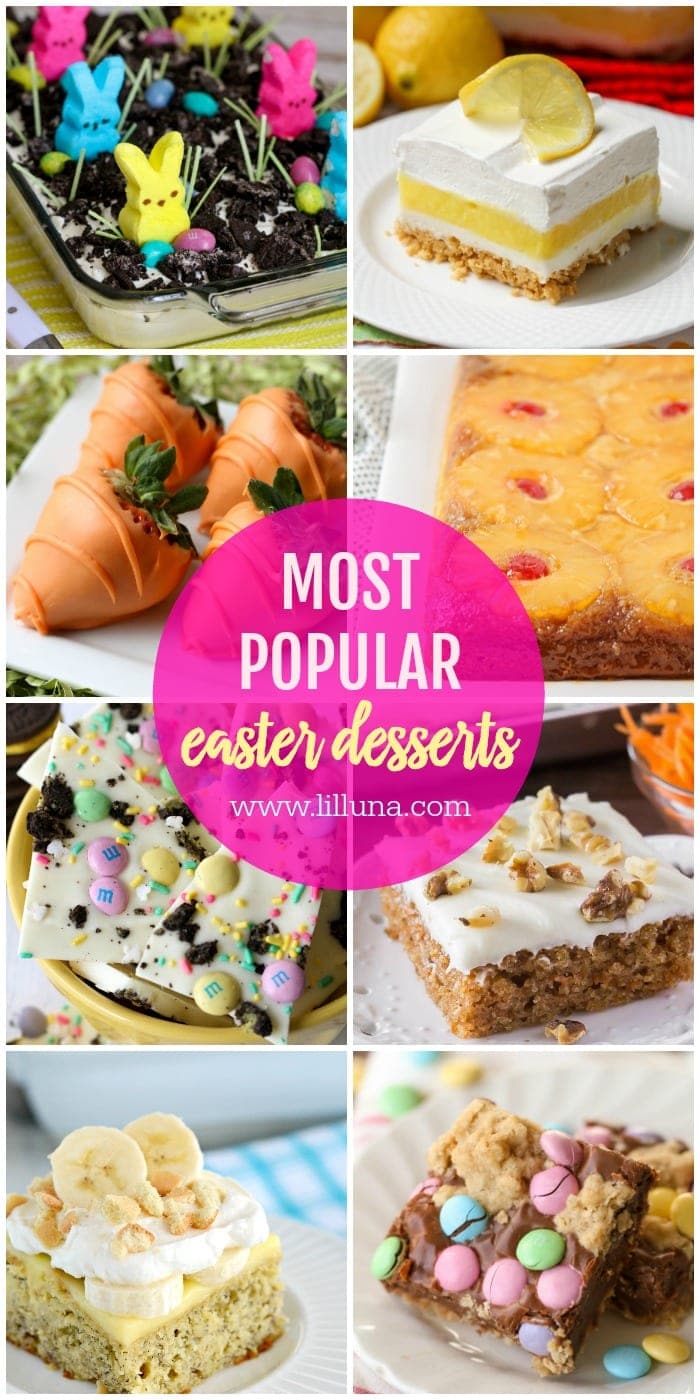 Favorite Easter dessert recipes
We love so much about Easter, but our favorite thing is being able to gather with family and have an amazing Easter dinner and think about the meaning of the day.
Gathering around the table with a delicious dinner is always amazing, but it's not Easter without some delicious Easter desserts. From traditional carrot cake type recipes to pies to chocolate treats, we are sharing all of our favorites with you today.
We focus on creating delicious but simple recipes here on the site, so you can expect that from these desserts. And you can also expect everyone to love them, especially the kids.

Traditional Easter Desserts
It may be impossible to enjoy Easter without at least one dessert including carrots. This we know, which is why we have some classic carrot cake recipes here on the site. We also have some other classic pie, fruit and chocolate recipes we know you'd love.
Here are the favorite traditional Easter treats:


Cute Easter Desserts
We have a lot of FUN Easter treats here on the site. With 6 kids, we get the kids in the kitchen with us, and they help inspire some of our creations to create fun Easter desserts for kids.
From cupcakes to cakes to cookies, here are our favorite cute Easter desserts that are not only festive, but delicious and especially popular with the kids.

Chocolate Easter Desserts
Although some may lean towards fruity and carrot-filled treats for Easter, we ALWAYS have to have some delicious chocolate desserts too.
We are big fans of chocolate on the site, and although we have a myriad of chocolate-filled sweets, we are sharing our most popular with you that will be great for Easter


Quick & Easy Easter Desserts
Because there is so much that happens around holidays and with family in town, it's nice to have some quick and easy recipes to lean on.
We have several go-to desserts that are quick and simple and would be great for Easter. Here are our favorites:
There are so many great Easter desserts to choose from this holiday season. We hope this list helps you out, and we hope you give a few a try.
Please be sure to come back and let us know which ones were your favorites!
FOR MORE EASTER RECIPES, CHECK OUT:
ENJOY!