A delicious collection of the most POPULAR Easter Desserts – from cakes to pies to cheesecake to cookies, these tasty treats will be an amazing addition to your Easter dinner this year!
For more Easter collections, check out: Easter Brunch Ideas, Easter Appetizers, Easter Side Dishes, Easter Dinner Ideas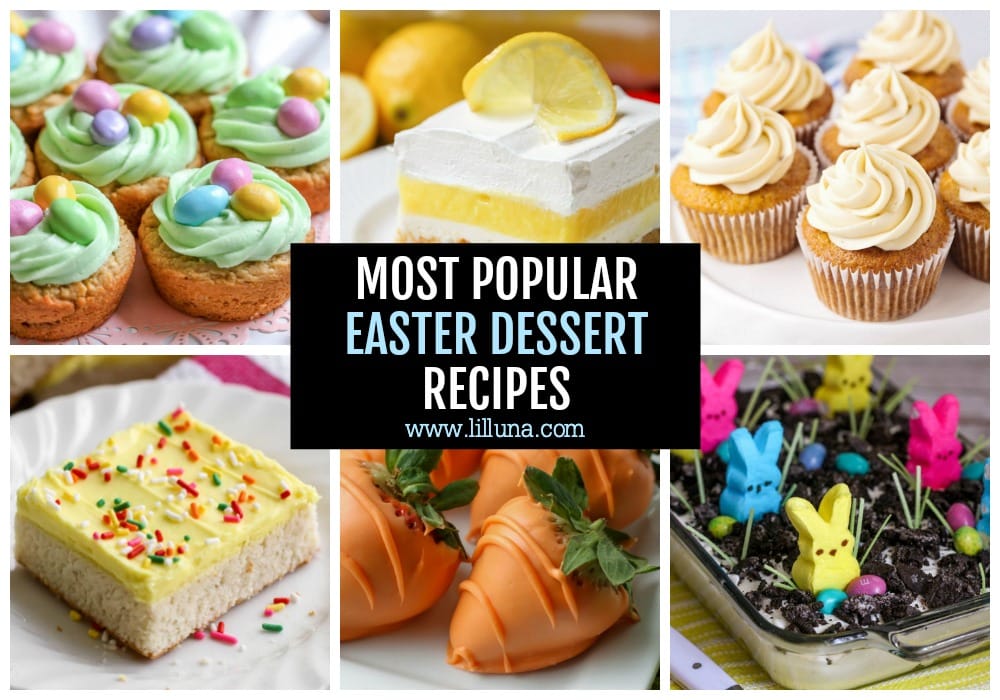 The best desserts for easter!
We love so many things about Easter, but our favorite is being able to gather with family and have an amazing Easter dinner and think about the meaning of the day.
Gathering around the table with a delicious dinner is always amazing, but it's not Easter without some delicious Easter Desserts.
From traditional Carrot Cake recipes to pies to chocolate treats, we are sharing all of our favorites with you today.
We focus on creating delicious but simple recipes here on the site, so you can expect that from these desserts. And you can also expect everyone to love them, especially the kids.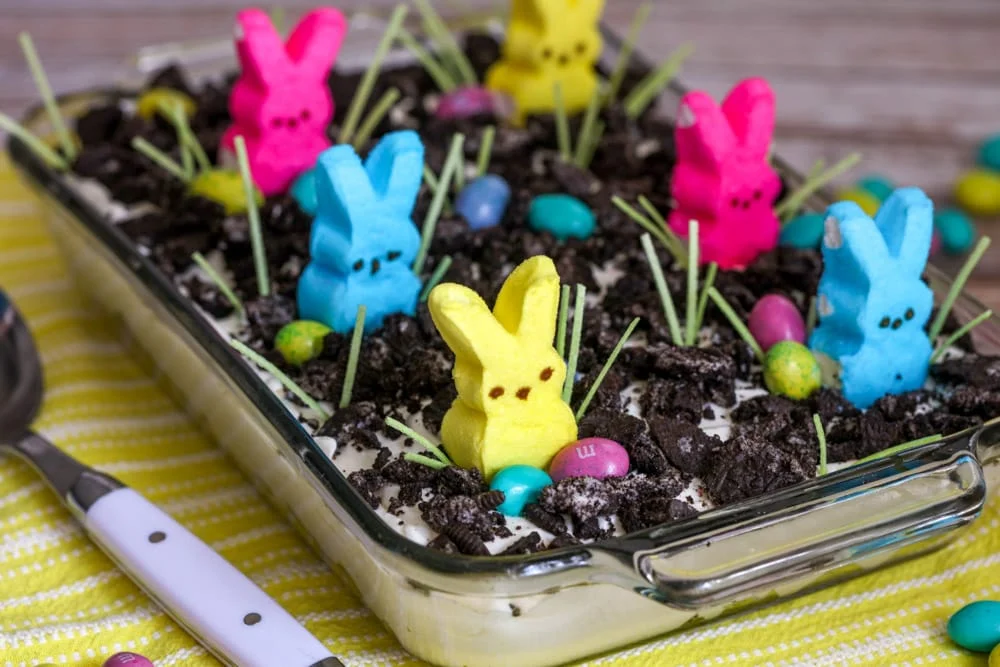 Make it fun!
What are some ways to make any dessert more festive for Easter?
Pastel Colored frosting is one of the easiest ways to dress up an Easter dessert. Use Vanilla Butter Cream or cream cheese frosting as the base.
Easter egg-shaped desserts are really fun to make and serve.
Easter bunny cake is a fan favorite. I have seen cakes shaped like a full bunny with ears or even a cute bunny bum with a fluffy tail and little feet.
Trifles are a great way to show off layers of pretty and delicious ingredients.
Peeps. Whether you love them or not, these sugar-covered marshmallows can turn any dessert into an Easter theme.
Easter Themed sprinkles.
Nest-shaped desserts are fun. Easily use cookie dough or Rice Krispies to shape a nest then fill it with frosting and egg-shaped candies.
Add your favorite Easter Candy. Chocolate eggs, jelly beans, robin's eggs, and colored M&M's.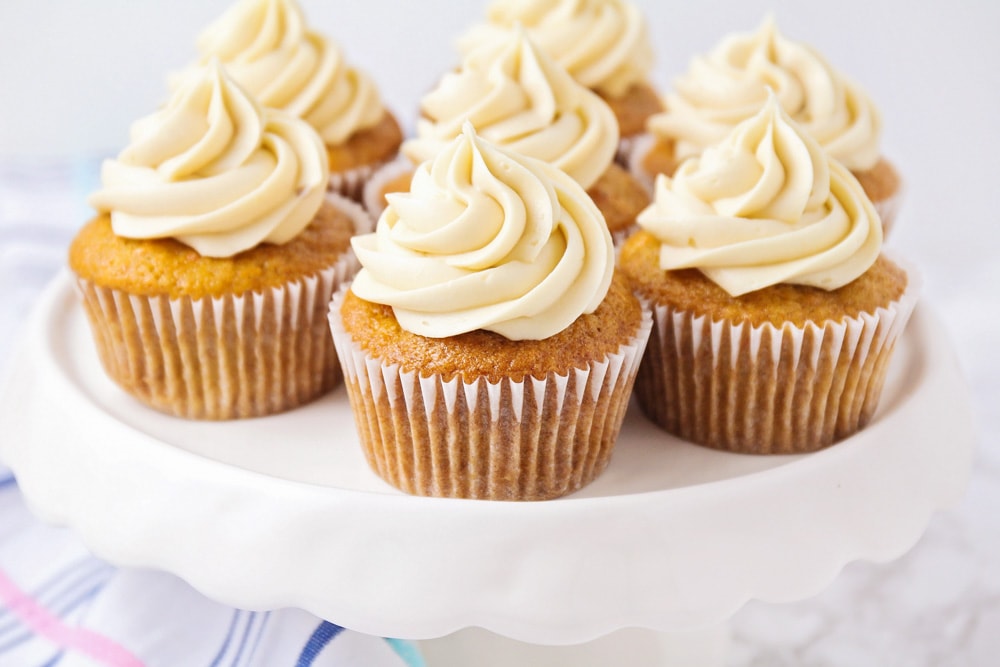 Tips for an easter dessert spread
How many desserts to plan for. Plan to have at least 2 dessert choices for every 10 guests. Also, there should be enough portions for each guest to sample both desserts.
When adding additional dessert choices, make sure there's enough for people to have two dessert servings and not necessarily a piece of each dessert. For example:
For 10 guests plan to serve 2 desserts (10 servings of each dessert for a total of 20 servings).
For 30 guests plan to serve 3-4 desserts (with a total of 60 servings).
For 50 guests have 5-6 dessert choices (with a total of 100 servings).
Setting up a dessert table. The dessert table design should be just as pleasing to look at as the desserts are to eat.
Use a backdrop. Drape curtains/fabric, balloons, a window with a view, or even a plain wall can make colors pop.
Incorporate height with tiered cake stands. Add height by placing bowls and platters on top of some type of solid base.
Apothecary jars can hold colored candy or even decorations that display the Easter theme.
Flowers are always a nice accent to a dessert table.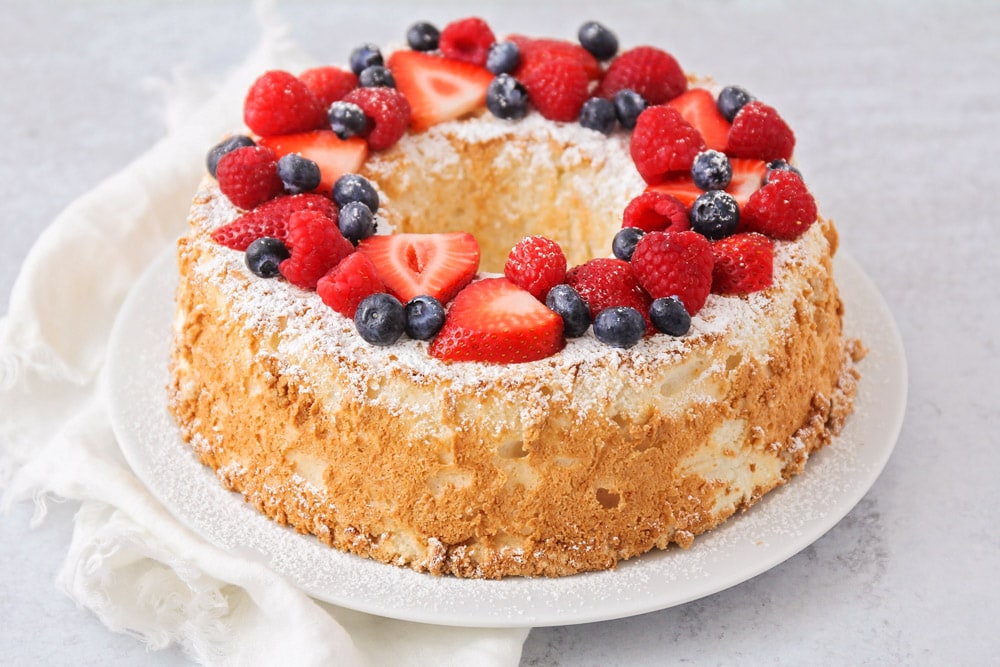 Traditional Easter Desserts
It may be impossible to enjoy Easter without at least one dessert including carrots. This we know, which is why we have some classic Carrot Cake recipes here on the site.
We also have some other classic pie, fruit, and chocolate recipes we know you'd love.
Traditional Easter desserts. Easter Cakes like Polish babka, Russian kulich, or British simnel are served around the world as people celebrate Easter. Some other favorite Easter desserts include:
Lemony desserts are perfect for Easter. They add a fresh spring flavor after months of heavier winter foods. Even using a simple lemon glaze can brighten a dessert.
Berries. Pretty much any dessert that includes berries is perfect for serving at any Easter celebration. Fruit Pizza is one of my family favorites. Other desserts perfect for berries include tarts, cheesecakes, pies, and Parfaits.
Coconut is a wonderful spring flavor and is often served at Easter. Coconut pie, cake, and cookies are all delicious desserts to serve.
Sugar Cookies are easy to customize and are perfect for any holiday including Easter. Use cookie cutters to stamp out some popular Easter shapes like baby animal shapes, egg shapes, a cross shape, butterflies, and flowers.
---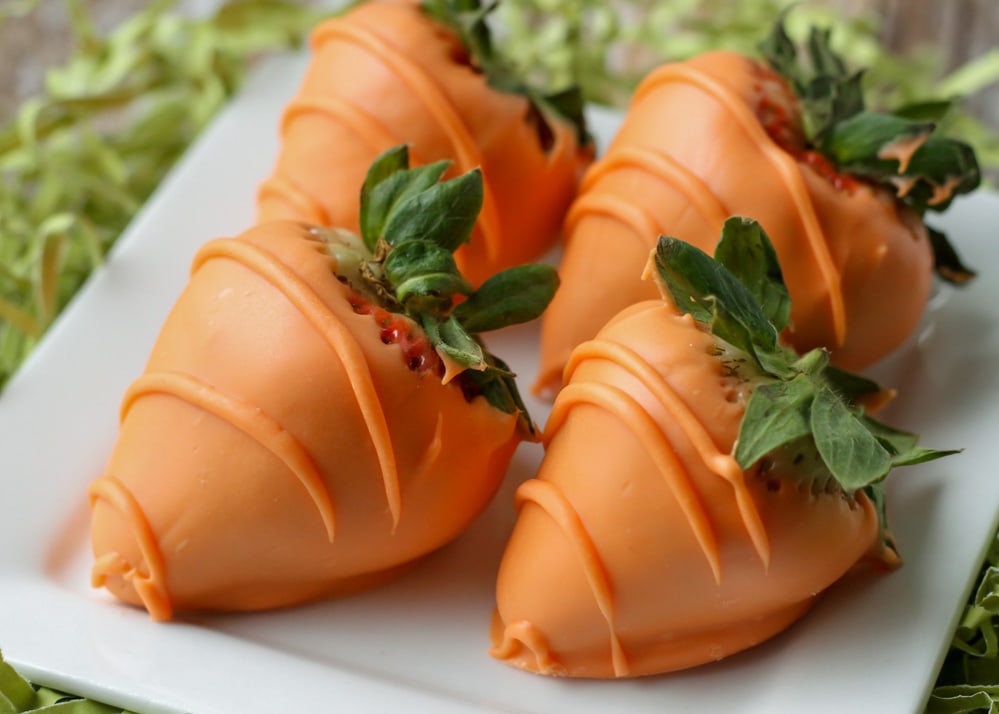 Our Favorites
Here are the favorite traditional Easter treats:
Easy Carrot Cake
This Carrot Cake is super moist, packed with big carrot cake flavor & slathered with tangy cream cheese frosting. Made as a sheet cake, it's super easy and perfect for Easter!
Fruit Pizza Recipe
The BEST Fruit Pizza recipe ever! A super soft cookie dough with a pineapple cream cheese frosting topped with your favorite fruit!
Peach Dump Cake
3 ingredients Peach Dump Cake is quick, simple, and utterly tasty. It is warm, gooey, and perfectly peachy!!
Banana Pudding Poke Cake
This Banana Pudding Poke Cake has all the flavors of banana cream pie, just in cake form. With layers of banana cake, pudding, cream, bananas, and vanilla wafers, it's sure to be a hit!
Pineapple Upside Down Cake
Pineapple upside down cake with a delicious caramelized pineapple and cherry topping. This classic dessert is so soft and moist, filled with the perfect amount of pineapple flavor!
Carrot Cake Cupcakes
Topped with a heavenly brown sugar cream cheese frosting, these moist Carrot Cake cupcakes have just the right amount of spice, and will be perfect for any Spring or Easter celebrations!
Coconut Cream Pie
A classic pie recipe, filled with coconut pudding and topped with cool whip and toasted coconut shreds.
Coconut Cake
This Coconut Cake is made from scratch, and topped with a scrumptious cream cheese frosting that is so addicting. The toasted coconut topping gives it an incredible flavor, making it a dessert to enjoy all year long!
Cherry Pie
This Recipe For Cherry Pie Is Simple And Elegant, But It Tastes Amazing. It's Perfect For Any Special Occasion Or Holiday!
Jello Poke Cake
Cake with Jello drizzles poked throughout, and topped with a smooth layer of whipped cream! This light and cool Jello poke cake recipe is always a crowd favorite.
Angel Food Cake
This easy angel food cake is a must-try. It's tender and light as air, with the perfect amount of sweetness and perfect to enjoy all year long.
Blueberry Delight
Blueberry Crumb Delight – a delicious layered dessert recipe with a cream middle and topped with blueberries and cool whip!
Cherry Cheesecake Cupcakes
Cherry cheesecake cupcakes are bite-sized treats made with a cream cheese base and topped with cherry pie filling. They're sweet, tart, and ultra simple to make!
Resurrection Rolls
Resurrection rolls are a special Easter tradition. They are a simple and sweet lesson of love.
Lemon Icebox Pie
Deliciously creamy & tangy Lemon Icebox Pie is a classic chilled Southern dessert that's perfect for summer!
---
Fun Easter desserts
We have a lot of FUN Easter treats here on the site. With 6 kids, we get the kids in the kitchen with us, and they help inspire some of our creations to create fun Easter Dessert recipes for kids.
From cupcakes to cakes to cookies, here are our best Easter Desserts that are not only cute and festive, but delicious, and especially popular with the kids.
Easter Basket Cookie Cups
20 minute Peanut butter Easter Basket Cookie Cups are filled with homemade buttercream frosting and topped with festive Easter egg candies.
Easter Dirt Cake
Easter Oreo Dirt Cake is a creamy and delicious Easter dessert filled with Oreos, pudding, and cool whip. Everyone will love to decorate and eat it!
Easter Charcuterie Board
An Easter charcuterie board makes a delicious snack or appetizer, perfectly customizable for all of your Easter celebrations.
Carrot Cake Cookies
With the use of a boxed cake mix, these Carrot Cake Cookies are so easy to make. Topped with homemade cream cheese frosting, they're hard to resist!
Easter Chocolate Covered Strawberries
These Chocolate Covered Strawberries are dipped and drizzled in orange candy melts to look like adorable little carrots for Easter! Pair them with crushed Oreos and chocolate pudding for a cute dirt cup Easter dessert.
Rice Krispie Easter Nests
Cute and simple Easter rice krispies, topped with creamy frosting and Easter egg candies, made to look like a nest. Everyone loves these adorably festive Rice Krispie Easter Nests!
Easter Cookies
Chewy and chocolatey Easter cookies are perfect for spring. They are packed with M&M and white chocolate goodness.
Lemon Cupcakes
Moist & bright Lemon Cupcakes with a delicious homemade lemon cream frosting are the perfect summer dessert!!
Funfetti Blondies
Easy Funfetti blondies are exploding with color and covered in a creamy home made frosting. They are fun, delish, and ready in a jiff!
Easter Sugar Cookies
Super cute and delicious Bird's Nest Easter Sugar Cookies include a yummy sugar cookie, creamy frosting, sprinkles, shredded coconut, and Cadbury Eggs.
Easter Oreo Bark
Easter Oreo Bark is a festive, simple and delicious treat that only takes 5 minutes to put together! It includes vanilla candy coating, Easter m&m's, oreos, and sprinkles!
---
Quick and easy easter desserts
Because there is so much that happens around holidays and with family in town, it's nice to have some quick and easy recipes to lean on.
We have several go-to Easter Dessert Ideas that are quick and simple and would be great for Easter.
Gooey Butter Cake
Gooey butter cake is a simple and amazingly delicious dessert with a cake batter crust and soft, gooey cream cheese top that makes it addicting!
Easy Lemon Bars
These classic Lemon Bars are simple, delicious, and sweet, with just the right amount of tart! Add a bit of powdered sugar, and these easy lemon bars are irresistible!
Cream Puff Cake Recipe
The BEST Cream Puff Cake ever!! A cake version of the popular cream puff, it has a puffy crust, pudding and whipped cream layers and often drizzled in chocolate.
Peanut Butter Cup Cookies
Chewy Peanut Butter Cup Cookies are so simple to make, and SO yummy! They're a deliciously sweet and salty bite!
Lemon Lasagna
This luscious lemon lasagna consists of 4 tasty layers, including a Lemon Oreo crust, cream cheese layer, lemon pudding layer and topped with whipped cream!
Lemon Blossoms
Bright and tasty Lemon Blossoms are a delicious bite-size lemon treat topped with homemade lemon glaze. They are utterly addicting!
M&M Chocolate Bars
One of the best bar recipes you'll ever try!! These M&M Chocolate Oat bars have layers of oats, a sweetened condensed milk and chocolate center topped with more oats and M&Ms.
Lemon Lime Poke Cake
Lemon Lime Poke Cake is full of lime flavor, topped with creamy lemon pudding and topped with whipped cream and zest!
Sugar Cookie Blossoms
Sugar Cookie Blossoms are a chewy, soft sugar cookie rolled in sugar and topped with a Mint Meltaway candy. They're simple and delicious!
Sugar Cookie Bars
One of everyone's favorite cookies in bar form – these soft Sugar Cookie Bars are simple and are topped with a delicious buttercream frosting that makes this dessert irresistible.
---
Chocolate Easter Desserts
Although some may lean towards fruity and carrot-filled treats for Easter, we ALWAYS have to have some delicious chocolate desserts too.
We are big fans of chocolate on the site, and although we have a myriad of chocolate-filled sweets, we are sharing our most popular with you that will be great for Easter.
Dirt Cake
Oreo Dirt Cake – layers of creamy, white chocolate pudding, cream cheese, cool whip and more and topped off with Oreos!
Peanut Butter kiss cookies
Delicious Peanut Butter Kiss Cookies (aka Peanut Butter Blossoms) are soft, chewy cookies with peanut butter goodness and topped with a tasty chocolate-y Hershey's Kiss!
Chocolate Sheet Cake
Our favorite chocolate sheet cake recipe. It's simple, moist, delicious and serves a lot making it our go-to party dessert – perfect with ice cream.
Boston Cream Poke Cake
Everything you love about Boston cream donuts and pies, in the form of a cool and creamy pudding poke cake!
Better Than Anything Cake
Quick and Easy Better than Anything Cake is a sweet cake filled with caramel and topped with cool whip and toffee bits!
Brownie Delight
Brownie Delight is a delicious 4-layer dessert that is cool, creamy and chocolate-y. It is deliciously refreshing!
Easy Chocolate Cake
Delicious Two Layer Chocolate Cake with homemade chocolate frosting. This cake is simple, perfectly moist and the homemade chocolate frosting is simply divine!
Cookie Bars
Chocolate Chip Cookie Bars (aka Pan Chewies) – our family's go-to Sunday Night Dessert! It's your favorite cookie in bar-form served hot and perfect with ice cream.
Homemade Brownies
Is there anything better than a chocolate ooey gooey brownie fresh out of the oven? These classic homemade brownies are so simple to make and worth every single calorie.
Millionaire Bars
These millionaire bars have a perfectly crumbly crust, an ooey gooey caramel middle, and a thin layer of delicious semi-sweet chocolate on top. They definitely earn their name!
Chocolate Chip Delight
A delicious and cool layered dessert with a cookie base, cream cheese and pudding layer all topped off with Cool Whip and mini chocolate chips.
---
The Kids Love It!!
There's no denying that kids love desserts!
They're pretty easy to please, and I can tell you that my kids would be happy with ANY (and all of) the Easter desserts on this list.
One that they particularly love is our Easter Cupcakes. They're delicious, festive, and ones they can help with.
We typically like to have the cupcakes and frosting made and then let the kids decorate. They can add the Reese's and make chicks or even add candies to make it look like Easter eggs.
No matter how they're made, they're sure to be a great addition to your Easter menu.
---
The best easter desserts
Whether you are looking for something fun, traditional, or loaded with chocolate – we've got you covered! You're sure to get rave reviews at your next get together no matter which delicious desserts you choose!
There are so many great Easter desserts to choose from this holiday season. We hope this list helps you out, and we hope you give a few a try.
Please be sure to come back and let us know which ones were your favorites!
FOR MORE EASTER collections, CHECK OUT:
ENJOY!