A delicious collection of Easter Appetizers – from quick and easy recipes to light appetizers, these dishes are great for Easter. This List will help you have your favorite holiday appetizers ready in no time!
For more Easter collections, check out: Easter Brunch Ideas, Easter Side Dishes, Easter Dinner Ideas, Easter Desserts
Popular Easter Appetizer Ideas
Who doesn't love Easter Sunday?
It's a wonderful holiday filled with family, food, and fun. Whether you're having brunch or dinner after church that day, it's common for friends and family to gather and celebrate.
One of the items we always make sure we have are appetizers. With so many people hanging out, it's nice to have food for your company to snack on while dinner is being prepared.
Today, we have rounded up some of the most popular Easter Appetizer Ideas on the site.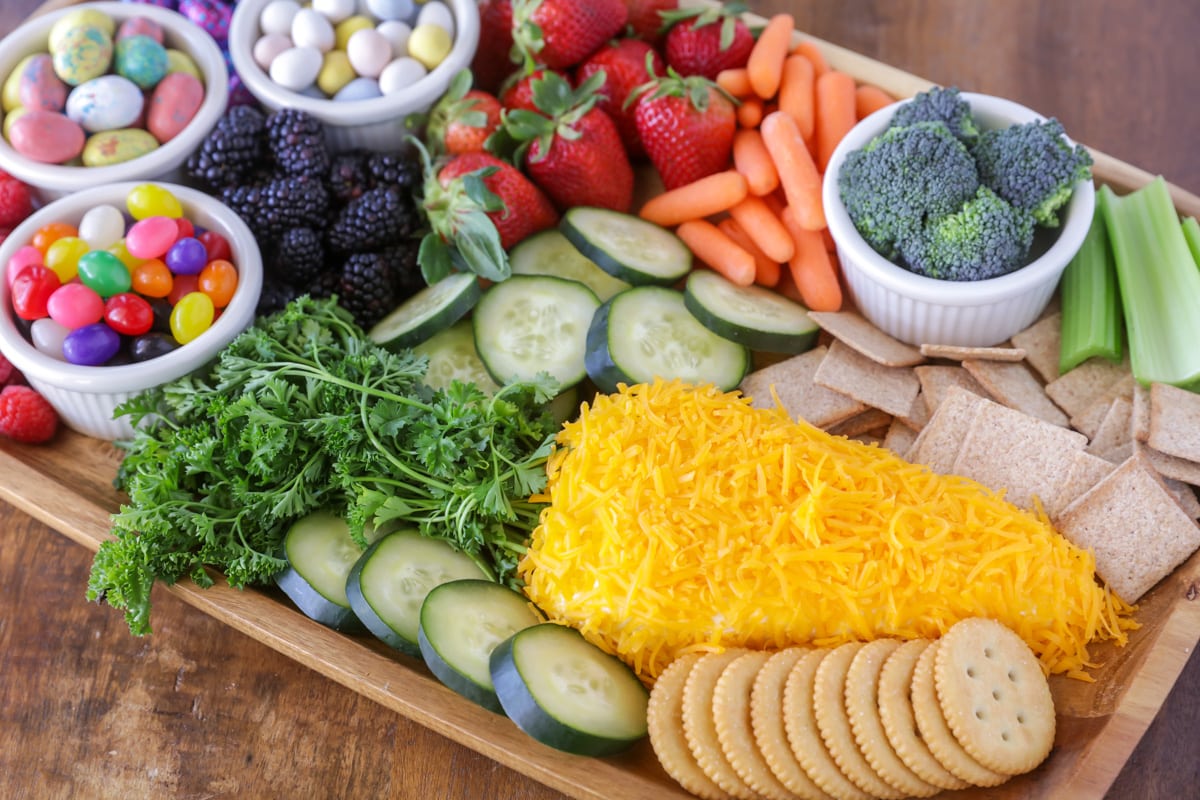 Best Produce for Easter Apps
Spring vegetables are perfect for savory appetizers: Artichoke, asparagus, broccoli, cauliflower, brussels sprouts, mushrooms, snap peas, green beans, assorted lettuce, kale spinach, baby carrots, beets, onions, shallots, young radishes, and more!
Fresh herbs and spices can add flavor to appetizers containing fruits or vegetables. Some great spring herbs include parsley, chives, pepper, cilantro, dill, basil, rosemary, thyme, and mint.
Spring fruits can create a sweet balance to more savory appetizers. Rhubarb, coconut, apricots, mango, some cherries, pineapple, orange, lime, lemon, grapefruit, and strawberries are readily available in Spring. I love serving fruit platters and kids especially love Fruit Kabobs
Mini fruit tarts and mini vegetable quiche add variety to any appetizer spread.
Puff pastries make a great base for both sweet and savory appetizers.
Spring milk makes great cheeses. They can be served plain on Charcuterie Boards paired with things like smoked salmon or prosciutto, fresh fruit, and crostini. Or they can be incorporated into other dishes.
Appetizer Tips + Suggestions
Menu planning. There are so many appetizer options to choose from. Here are a few ideas to help plan the menu:
Variety.

Plan to serve both cold and hot appetizers, savory and sweet, light and heavy. Use contrasting colors and textures too.

Plan ahead.

Choose appetizers that are easy to make as well as ones that can be made ahead of time. If you do choose to make, or heat up, appetizers the day of, don't forget to factor them into the cooking schedule.
Since Appetizers will be served before a large meal, plan for each person to have 4-6 appetizers. The more guests you have the more appetizer options you should plan to offer:
3 appetizer dishes: <10 guests
5 Appetizer dishes: 10-20 guests
7 appetizer dishes: 20-40 guests
9 appetizer dishes: 40+ guests
---
Best Easter Appetizers
From cold appetizers to healthy dishes and easy apps, we've broken it down for you so that you can pick and choose your favorites from this list, beginning with the popular and traditional Easter appetizers.
1. Ham And Cheese Sliders
Everyone loves these Hot Ham and Cheese Sliders because they're easy, cheesy and addicting! They don't take long to make, and are perfect for any get together—always a crowd pleaser!
2. Spinach Artichoke Dip
This is the BEST Spinach Artichoke Dip recipe, and the ultimate dip for any get together! Filled with spinach, artichoke hearts, cheese, sour cream, cream cheese, and mayo – this easy spinach artichoke dip is sooo cheesy and flavorful, served perfectly with chips, bread pieces or veggies.
3. Spinach Dip Bites
Spinach Dip Bites are crunchy, bite-size treats are cheesy and buttery, making them a great appetizer. They are a hit every time!
4. Deviled Eggs
5. Pull Apart Bread
Nothing better than a smooth deviled egg appetizer! You'll be surprised with how easy these are to make. Tons of flavor, super delicious and perfect for parties and holidays.
6. Sausage Cream Cheese Crescent Rolls
7. Fried Mac And Cheese
This simple 3-ingredient appetizer is great for parties and get togethers and is so full of flavor! Everyone will love these Sausage Cream Cheese Crescent Rolls.
8. Spinach Puffs
Buttery spinach puffs are cheesy and savory with pops of bacon. As you can imagine, they are a hit at parties!
9. Cheese Puffs
Cheese puffs are light and fluffy on the inside with the perfect crunch on the outside. This little appetizer is bursting with cheesy flavor!
10. Homemade Bruschetta
This yummy appetizer is quick, simple and perfect for any party! This easy Homemade Bruschetta Recipe only requires 5 ingredients!! Everyone loves how easy it is!
---
EASY EASTER APPETIZERS
On busy holidays, it's nice to have some recipes that are simple.
This next list consists of easy appetizers that are great to have on this family day. Our personal favorites are Deviled Eggs and Brown Sugar Smokies!
11. Bruschetta Caprese
Toasted bread rounds are topped with a mixture of juicy tomatoes, ripe avocado, and fresh mozzarella to make this Bruschetta Caprese.
12. Artichoke Dip
Artichoke Dip is irresistibly creamy and every bite is loaded with spinach and artichokes. This hot, cheesy dip will be a hit at your next party!
13. Grape Jelly Meatballs
Delicious 3-ingredient Grape Jelly Meatballs. They take just minutes to prep and are the perfect dinner or appetizer for any party or get together.
14. Perfect Hard Boiled Eggs
How to boil the perfect egg – this simple tutorial shows you how to get the perfect hard boiled eggs that are easy to peel and have no gray rings!
15. Pigs in a Blanket
A yummy lunch, dinner, or snack idea for the whole family! Homemade pigs in a blanket with delicious crescent dough and a sprinkling of sesame seeds on top!
16. Lunch Kabobs
Kid-friendly lunch kabobs are filled with savory meats and fresh veggies. They're perfect for parties and BBQs!
17. Loaded Baked Potato Rounds
Loaded Baked Potato Rounds are a simple, quick and delicious side. Dip it in sour cream or your favorite dip!
18. French Onion Dip
French onion dip is tangy and savory. It requires only two ingredients and is made in under a minute!
19. Spinach Artichoke Cups
Cheesy Spinach Artichoke Cups are simple to make, and packed full of delicious spinach and cheese flavor! They are baked to perfection.
20. Crockpot Meatballs
These crockpot meatballs are full of so much flavor, and perfect for parties. Best of all, they only require 5 minutes of prep work!
21. Fried Green Beans
Crispy green bean fries making all of your appetizer dreams comes true! Breaded with seasoned bread crumbs and fried to crunchy perfection!
---
COLD EASTER APPETIZERS
Make these cold appetizers ahead of time and don't worry about having to whip them up last minute. These cold dishes (many that are dips – sweet and savory) are great to serve at any holiday gathering.
Fruits and veggies are always better with dip. 😉
22. Dill Vegetable Dip
The perfect go-to veggie dip for parties and snacking. Use it for vegetables, chips, or whatever you feel like! Even if you don't like dill pickles, you'll love this Dill Vegetable Dip.
23. Caramel Apple Dip
The creamiest and most delicious Caramel Apple Dip you'll ever find. Just a few ingredients are required, but dark brown sugar and sweetened condensed milk make this recipe out of this world and a crowd pleaser at any get together.
24. Bacon Ranch Cheese Ball
This Bacon Ranch Cheese ball is the perfect partner for your veggie tray! With cheese, bacon, and ranch flavors, you can do no wrong!
25. Nutella Dip
Filled with hazelnut goodness and a helping of tangy cream cheese & whipped cream, this Nutella fruit dip is heavenly!
26. Cream Cheese Fruit Dip
This Cheesecake Fruit Dip is one of the best fruit dip recipes you will ever try! It takes just 5 simple ingredients – cream cheese, vanilla, sugar, marshmallow fluff, and cool whip – and ALWAYS vanishes in minutes! Definitely a crowd favorite!
27. Ham Salad
Creamy ham salad with hints of dill and chunks of hard-boiled eggs is a tasty appetizer perfect for using up that leftover ham!!
28. Homemade Ranch Dressing
Delicious homemade buttermilk ranch dressing is made in minutes and is better than any store bought version!
29. Yogurt Fruit Dip
Cream cheese, cool whip, vanilla yogurt, and vanilla pudding mix blended together to make this amazing Vanilla Yogurt Fruit dip for your favorite fruit!
30. Apple Brickle Dip Recipe
This 5-Ingredient Apple Brickle Dip recipe takes minutes to make and is so delicious! Plus, it uses common ingredients including, cream cheese, brown sugar, sugar, & vanilla.
31. Fiesta Pinwheels
Fiesta pinwheels are bite-size tortilla rolls filled with a spiced cream cheese mixture. They are a party in your mouth!
---
healthy easter appetizers
While enjoying ham and potatoes and dessert, it's good to have a few light options as well. Here are our favorite healthy appetizers to serve with or before your holiday dinner.
32. Caesar Salad Cups
33. Caprese Kabobs
Caesar Salad Cups are a quick, simple and tasty side dish or appetizer. They're mini salads in a cup and great for parties and get togethers!
34. Veggie Cup Appetizers
Quick and easy Veggie Cup Appetizers – filled with dressing and veggies, this mess-free snack is great for so many occasions.
35. Caprese Stuffed Avocados
Simple and Fresh Caprese Stuffed Avocados are a twist on classic flavors. This is a perfect appetizer or side to any meal!
36. Fruit Kabobs
Colorful fruit kabobs are the best appetizer or side for any occasion! Load up your favorite fruits and get snacking.
37. Greek Cucumber Cups
Simple Greek Cucumber Cups are a light and delicious appetizer that whips up in minutes. They are a perfect low calorie snack!
38. Veggie Tortilla Roll Ups
These delicious Veggie Tortilla Roll Ups are made from a rolled tortilla filled with Ranch Veggie dip, and chopped veggies, making them the perfect bite-sized party appetizer!
39. Flatout Wraps
If you're in need of a light and easy meal, try the BLT wrap or Turkey Bacon Ranch wrap! Both are under 300 calories and Weight Watchers approved!
40. Homemade Hummus
If You Need A Quick Healthy Snack Or Party Appetizer, You Can Whip Up This Homemade Hummus In 5 Minutes Or Less!
41. Charcuterie Board
We all love to graze during holidays and parties, and what better way to do it than with a Charcuterie board?! Customize with all your favorite meats, cheeses, crackers, veggies, fruits and dips!
---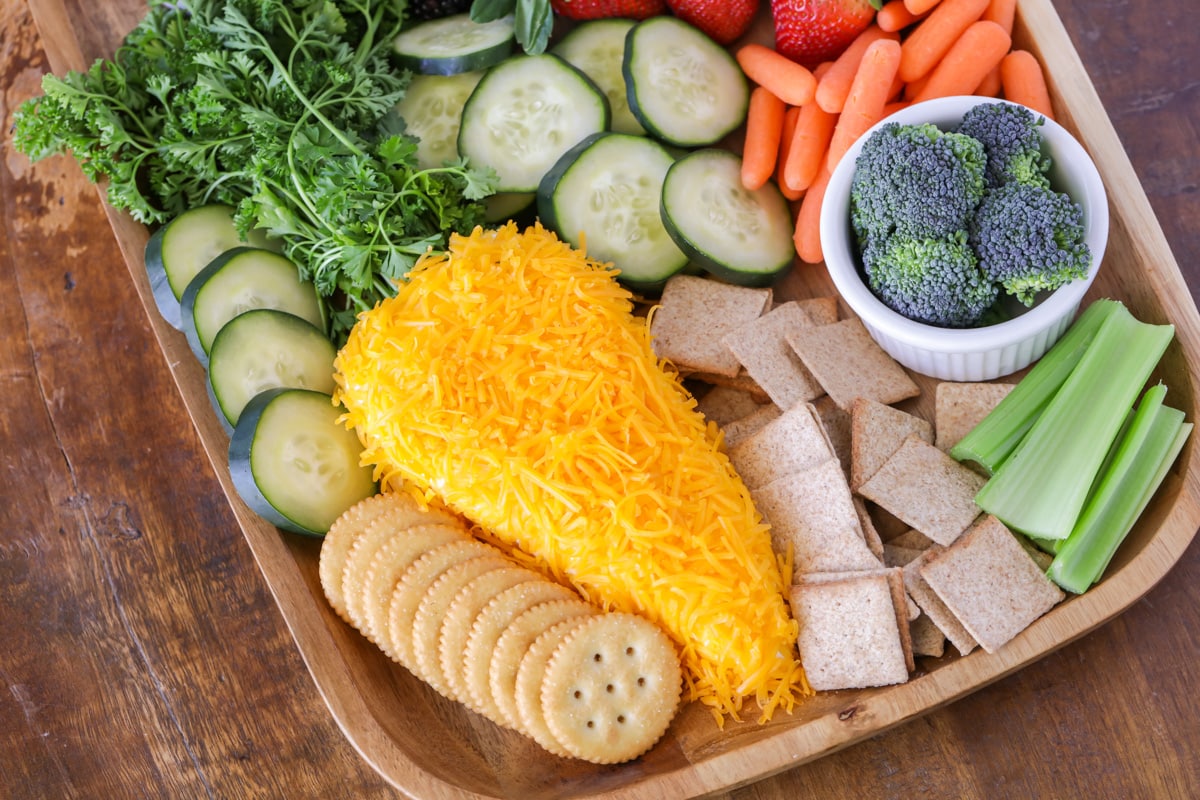 Everyone loves it!
Because we love Charcuterie Boards so much, we decided to make an Easter version.
With that platter, we also served an Easter appetizer favorite – Carrot Shaped Cheese Ball.
It's made with 3 ingredients: Cream cheese, shredded cheese, and parsley.
It's easy to change up based on the cream cheese flavor you love (or you can use plain) and the cheeses. And it's great served with veggies and crackers.
Be sure to add this to your upcoming Easter celebration. It's beyond simple and a hit with everyone!
---
---
FOR MORE EASTER RECIPES, CHECK OUT:
ENJOY!