Don't miss a thing – Sign up for the Lil' Luna Newsletter today!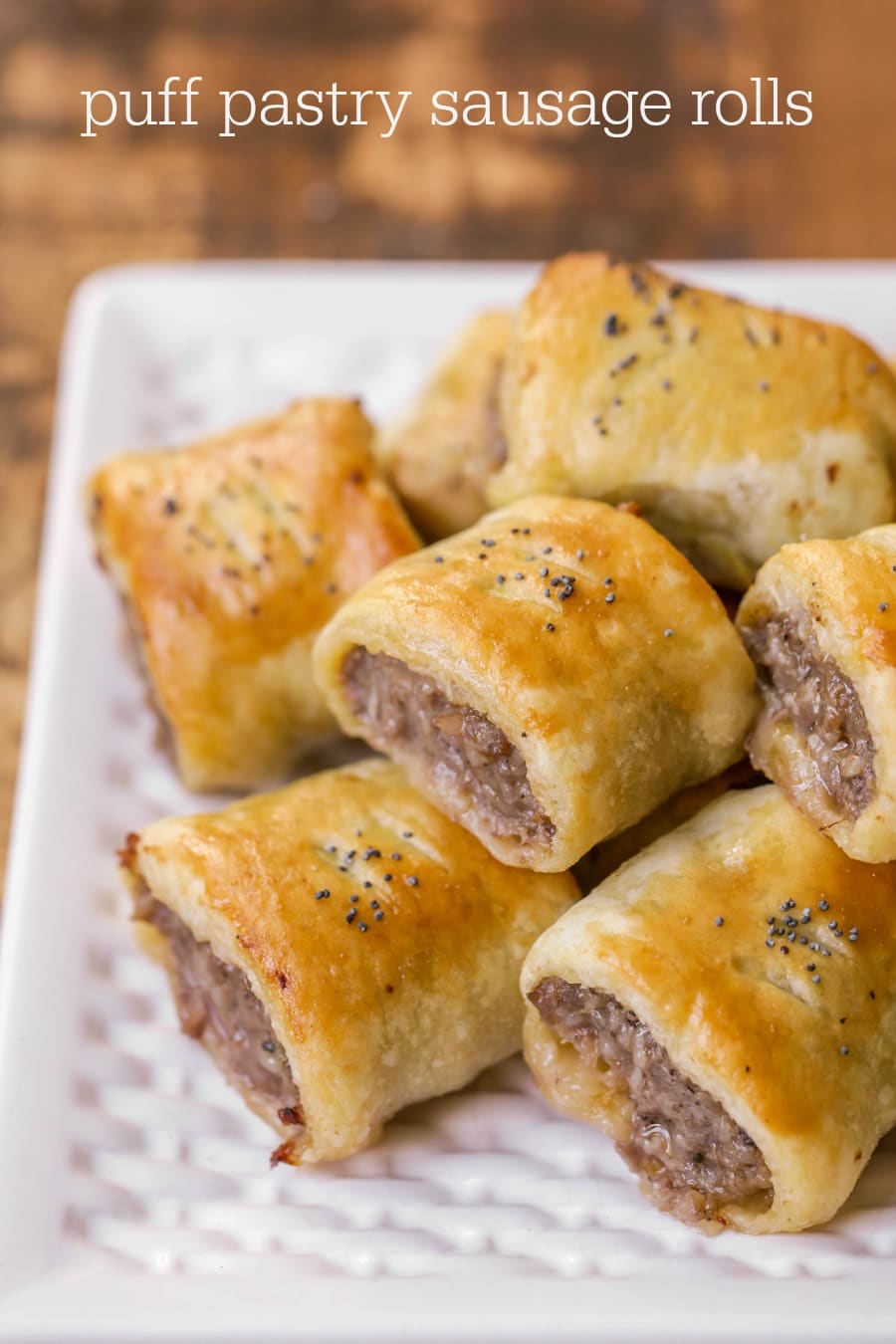 Morning! I don't know about you, but I love me some breakfast food. In fact, we had breakfast for dinner last night! When we're in a rut, and cant think of what to do, breakfast is always our go to. We saw these Puff Pastry sausage rolls and knew they had to be tried. I'm so glad we gave them a go because they were really simple and so tasty.
If you like sausage, then you need to try this recipe. Mixed with delicious seasonings like basil, oregano, and thyme, these rolls are exploding with flavor. The soft puff pastry hugging the tasty sausage is a great combination and makes a perfect addition to anyone's breakfast, or dinner. 😉 If you've ever had a Sausage Roll from an English bakery, then you know how good they are. This is a quicker and smaller version, but they are just as good.
Here is the printable recipe:

Puff Pastry Sausage Rolls
Ingredients
1½ lbs pork sausage
1 tsp dried basil
1 tsp dried oregano
1 tsp dried thyme
Salt and Pepper to taste
1 (17-ounce) package frozen puff pastry, thawed
2 eggs beaten
poppy seeds
Instructions
In a large bowl mix together your sausage, basil, oregano, and thyme, until all the seasonings are evenly distributed. Add salt and pepper to taste.
Roll out the entire puff pastry into a large rectangle about ⅛ inch thick, with the wide side of the rectangle on your left. Form the sausage into a 1" thick log, the same width of the pastry. Lay meat along the long edge of the pastry and roll until pastry slightly overlaps. Cut excess pastry. Brush with beaten eggs at the join and lay seam side down. Cut slits into each piece, and brush the top with egg and sprinkle on sesame seeds. Cut sausage rolls into either 1½-or 3-inch logs.
Place on baking sheet, about one inch apart. Bake at 375 for 15-20 minutes, or until golden brown and the meat is cooked. Serve warm or cold. Rolls can also be put in the freezer to be cooked later.
Adapted from Epicurious.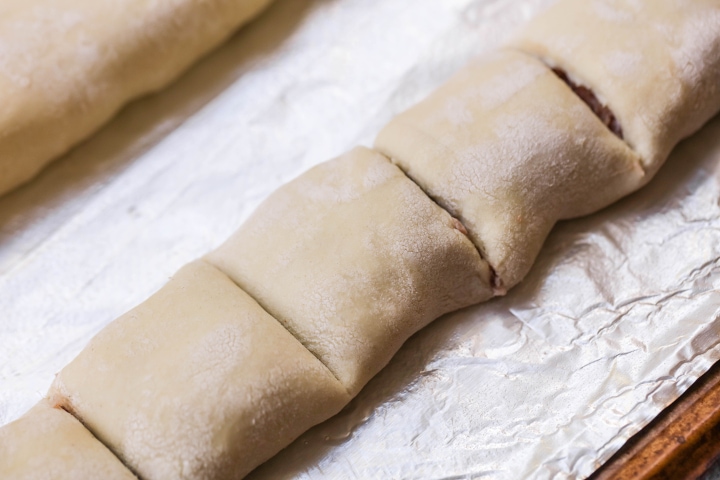 Wrap in dough and cut in pieces.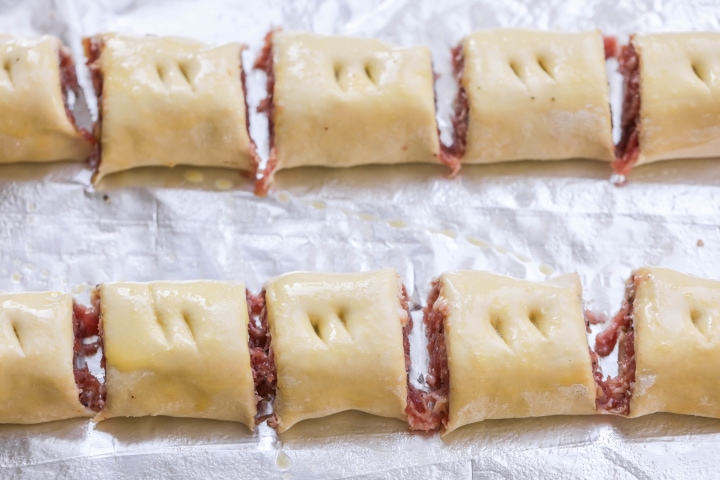 Cut slits in top to help it ventilate while it cooks.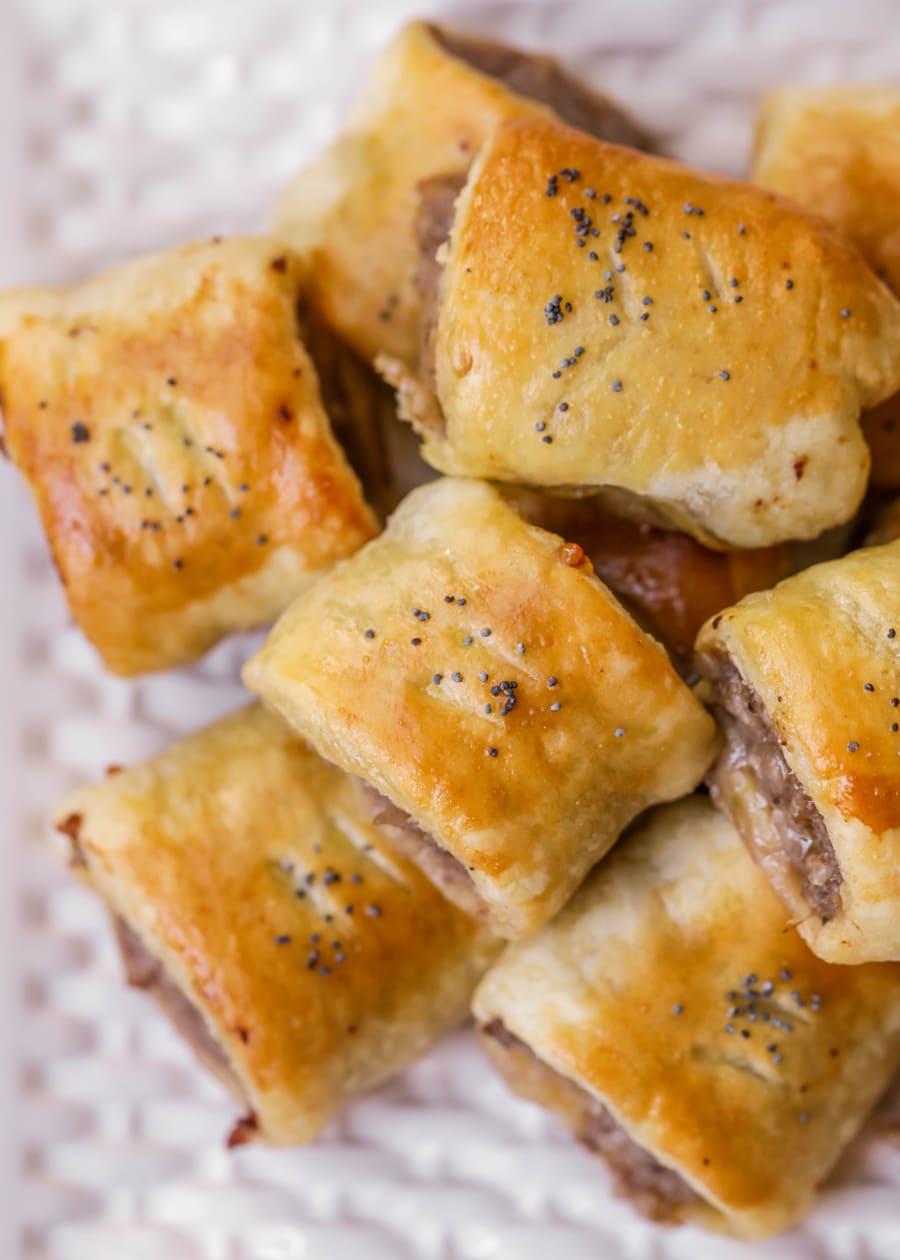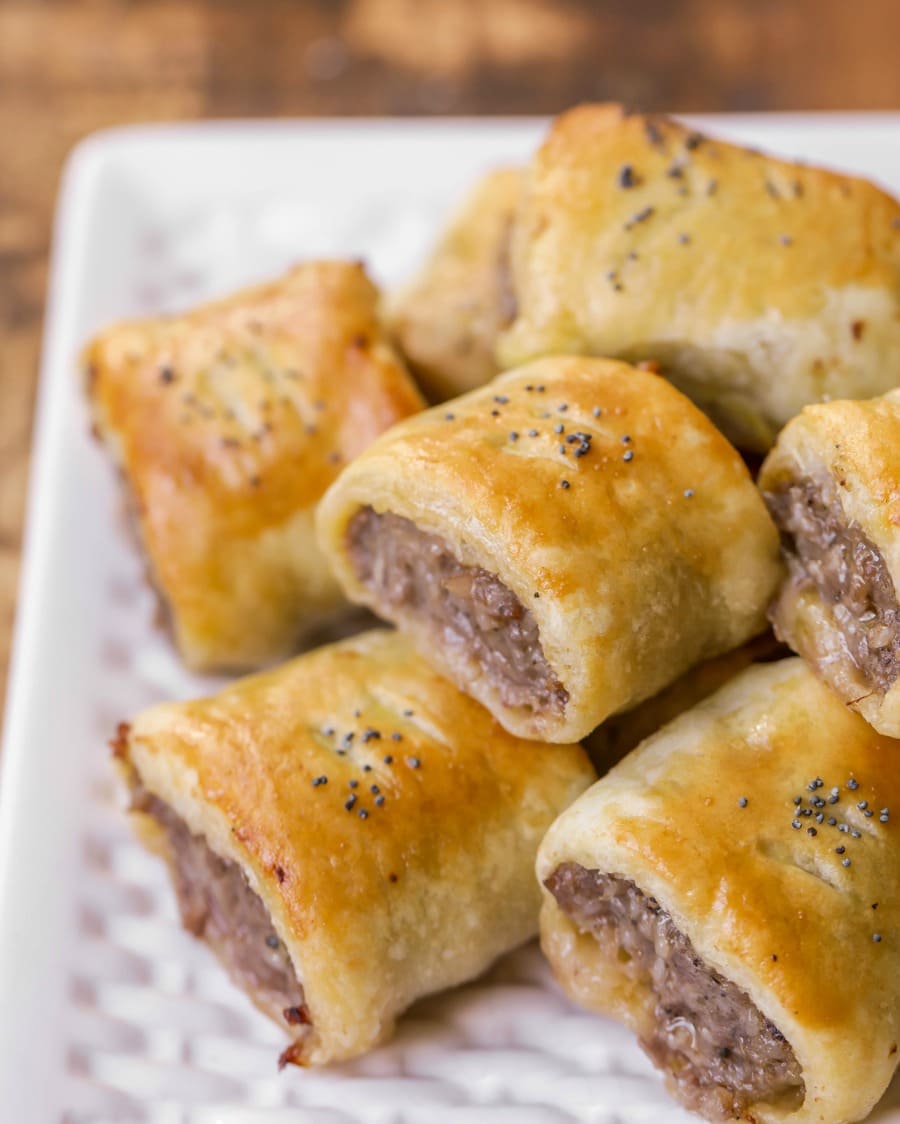 I warn that these little guys are addicting, and you may eat 6 without even noticing!! (Don't say I didn't warn ya!!) 😉
DIFFICULTY: easy
HOW MANY DOES IT FEED: 12
ANY CHANGES MADE: We sprinkled poppy seeds on top
ANY SUGGESTIONS FOR NEXT TIME: next time, we want to make them buffalo chicken style!
Check Out My Other Recipes
For more delicious savory breakfast recipes, check these out!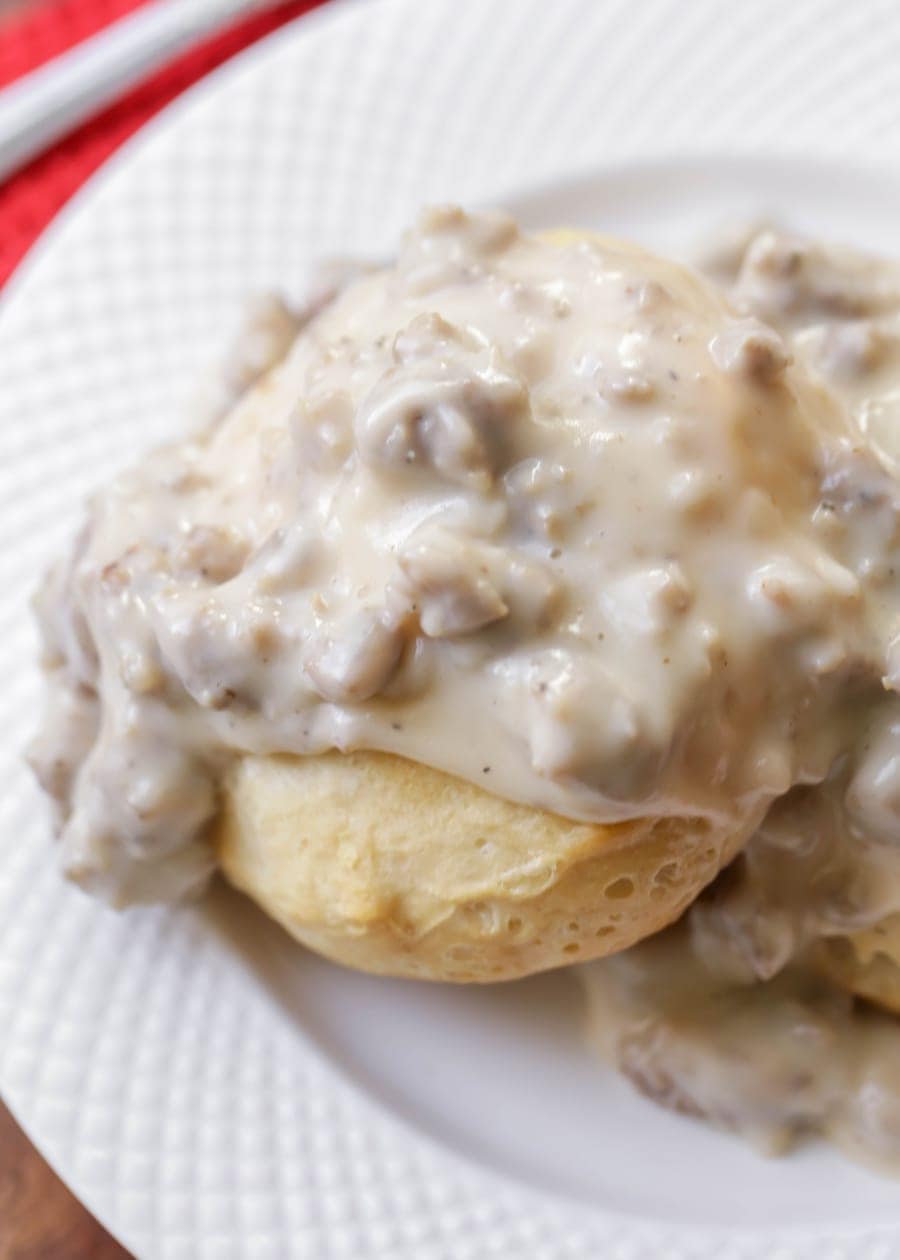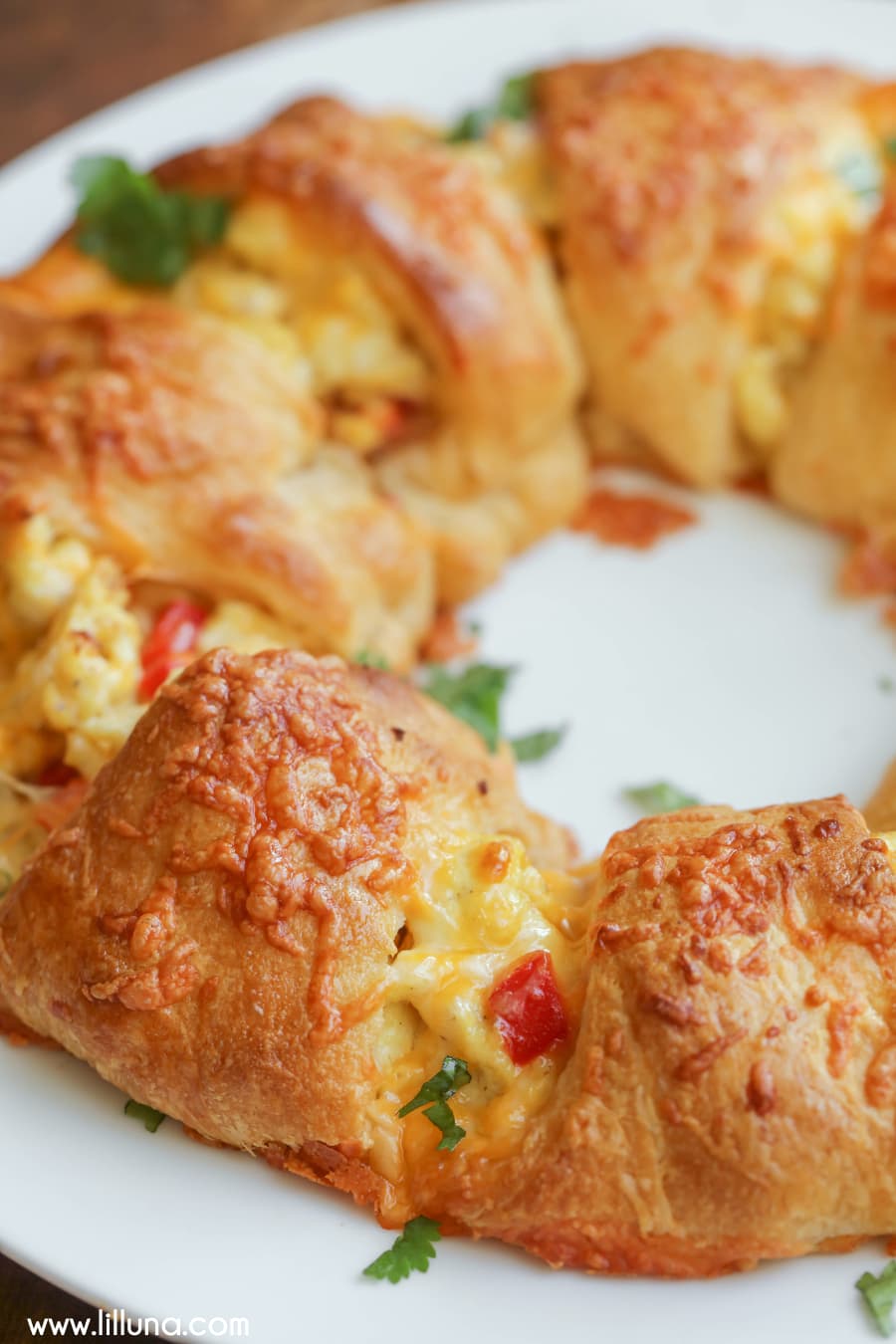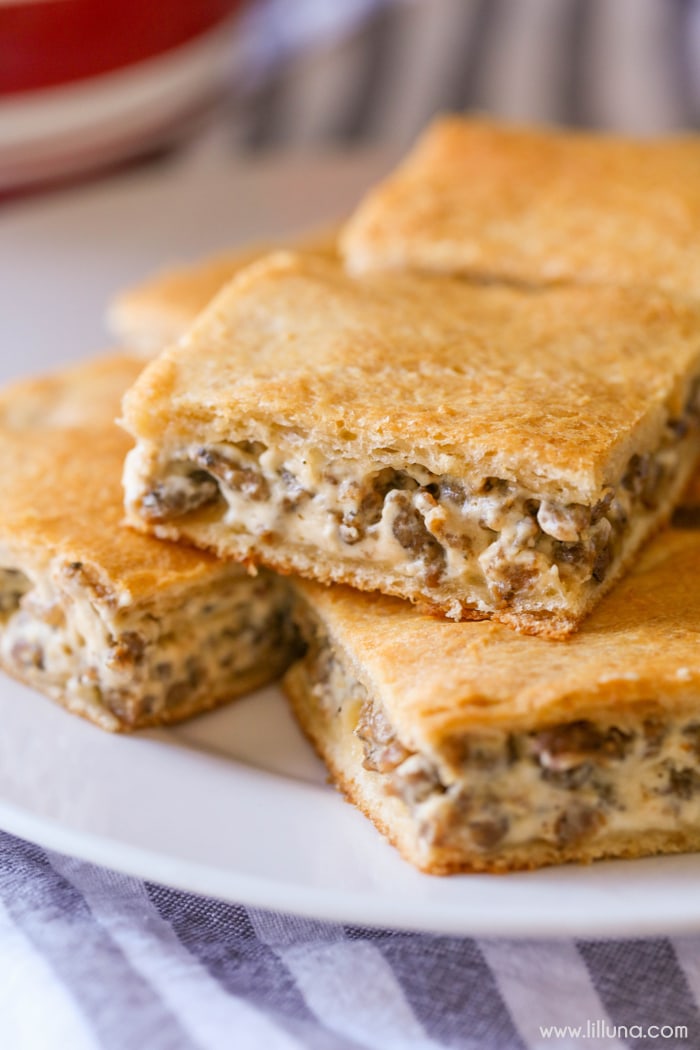 For all breakfast recipes on the site go HERE.
For all recipes go HERE.
For even more great ideas follow Kristyn on Facebook – Pinterest – Instagram – Twitter – Periscope – Snapchat.
ENJOY!!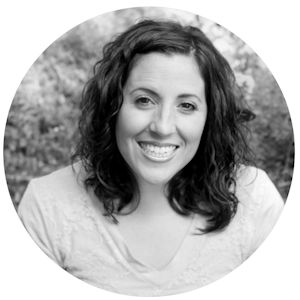 Need more recipes and creative ideas? Sign up and get a FREE copy of my latest ebook!