Whether you're hosting a formal brunch for a shower or having a casual brunch with your ladies, anything from this collection of Brunch Recipes is sure to be a hit!
More Collections: Healthy Breakfast Recipes, Breakfast Smoothies, Muffin Recipes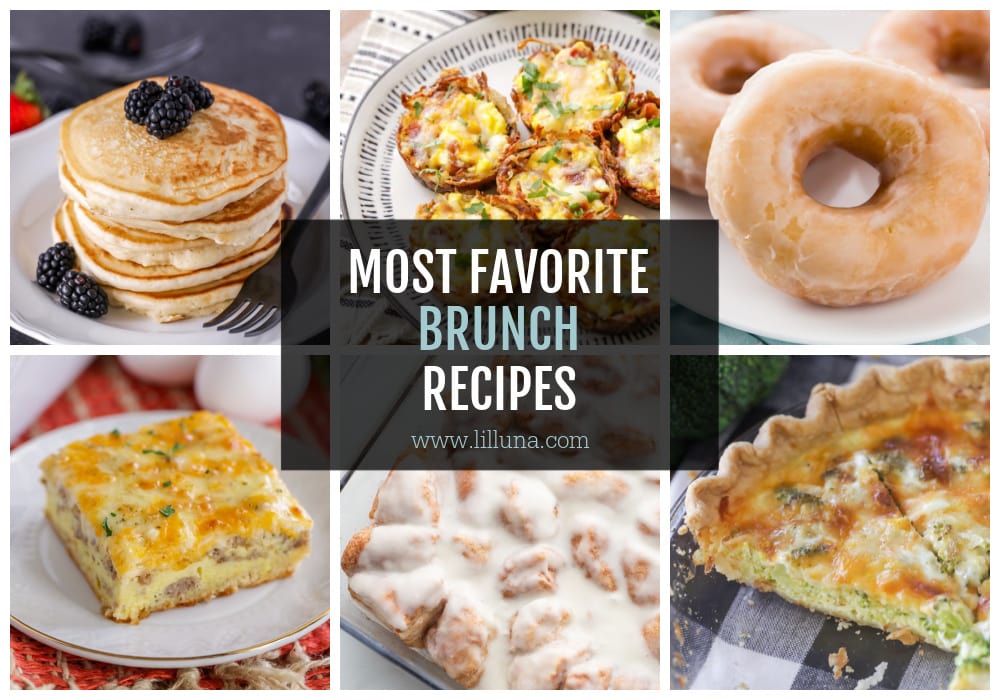 What is Brunch?!
Breakfast + Lunch = Brunch.
Brunch is generally served at about 10 am and can consist of breakfast foods and/or lunch items! For a wider spread, you could even include some of both.
Hosting brunch may seem a bit daunting, especially if you've opted to make it all yourself as opposed to potluck style. To help make things run smoothly and to be sure there is something for everyone, I've gathered up some of my favorite Brunch Ideas.
I've also included some of my best tips, so take a deep breath and get your host on!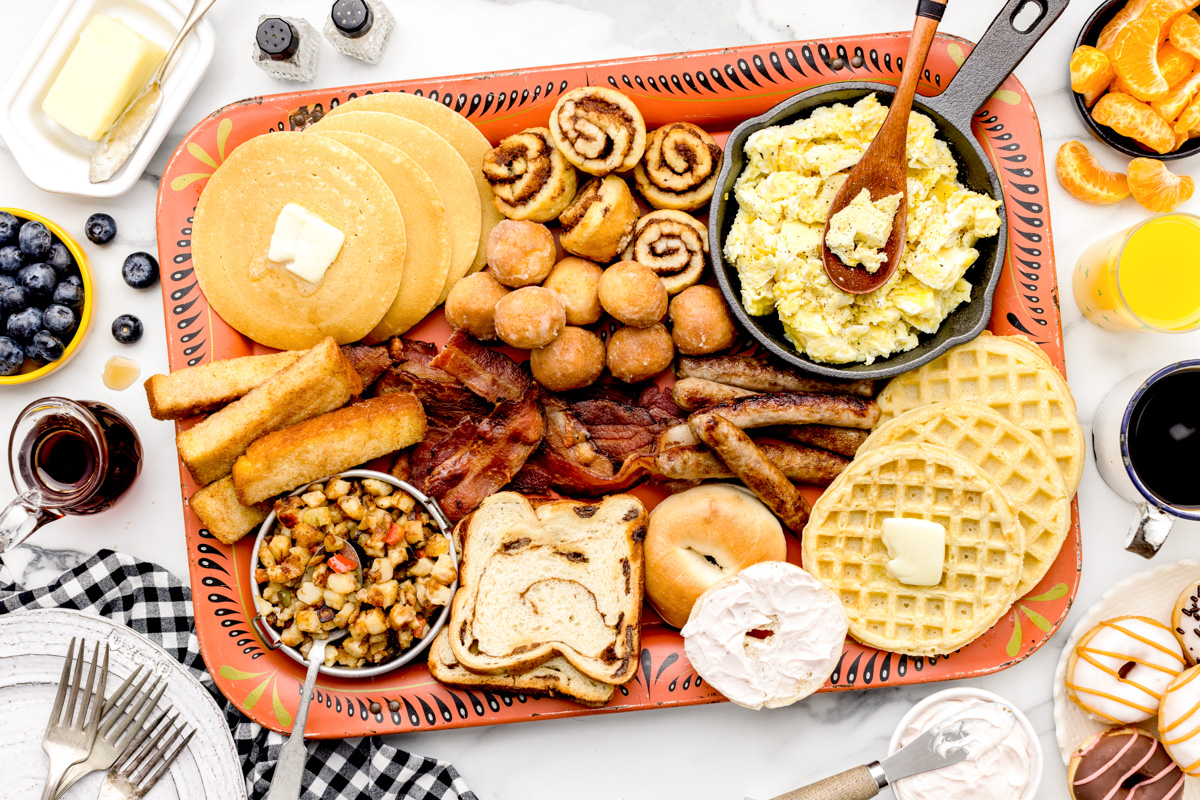 Tips for Hosting Brunch
Decide if you want to have a more formal sit-down brunch or take a family-style buffet approach.
Set up as much as you can the night before. Arrange furniture and serving tables. Set out utensils, trivets, and chafing dishes. Hang up decorations.
Utilize multi-tiered platters. They provide extra serving space and look visually appealing.
Make and prepare as much food as you can in advance.
Will there be children attending? Have an activity area for them.
Is there a theme? Sometimes this is easy to determine when you are serving brunch at a bridal or baby shower. Other times you might decide to use a flower or color theme.
You can even have a food theme: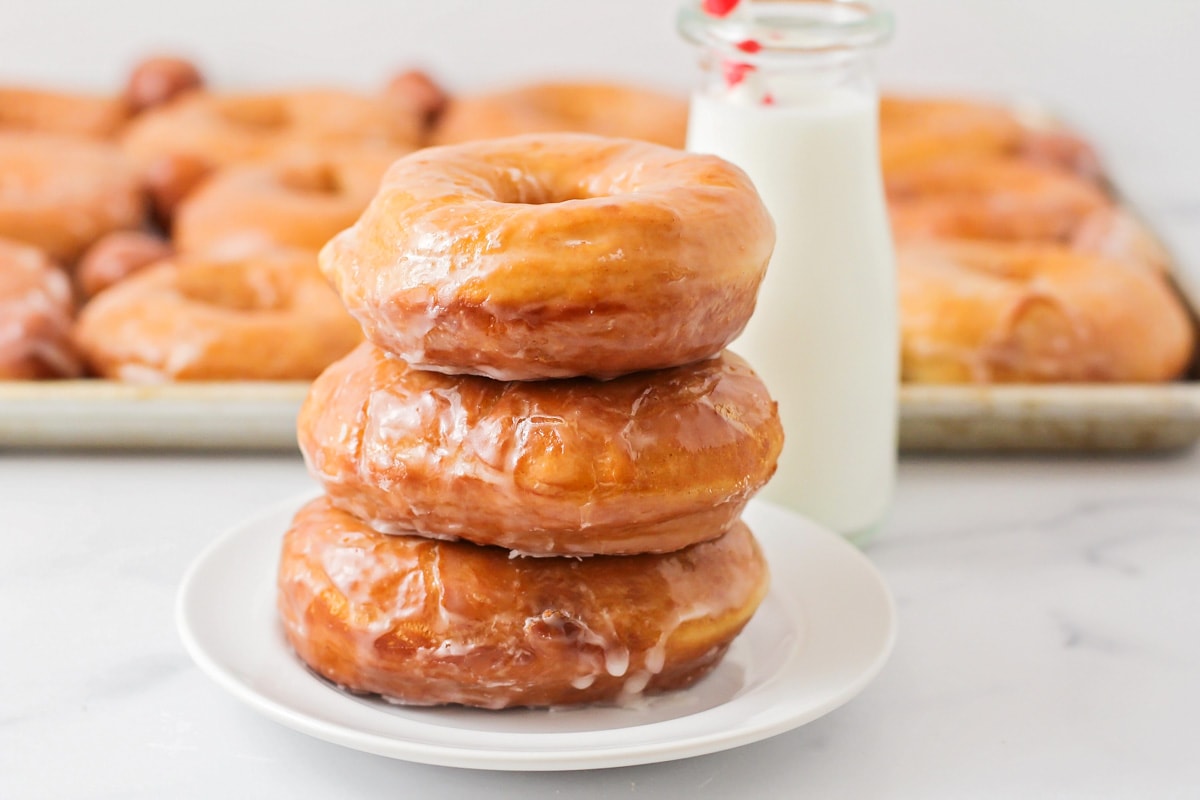 Planning the menu
Plan the brunch menu a couple of weeks beforehand. There are several perks to doing so.
It allows you to watch for sales at the grocery store.
You have time to try out new recipes to work out any tweaks.
If you have a guest offering to bring a dish, you'll know what will go well with the other menu items.
You have about a week to make any changes.
Here are some things to consider when deciding what to put on the menu:
If you picked a theme, what correlates?
What dishes can be made ahead of time?
What needs to be heated/cooked the morning of and is there enough time and space to do so?
Not everything needs to be homemade. Are there any items that you can purchase already made from the grocery store?
Make sure to have a balance of sweet and savory, hot and cold.
Be considerate of any allergies that you know guests have.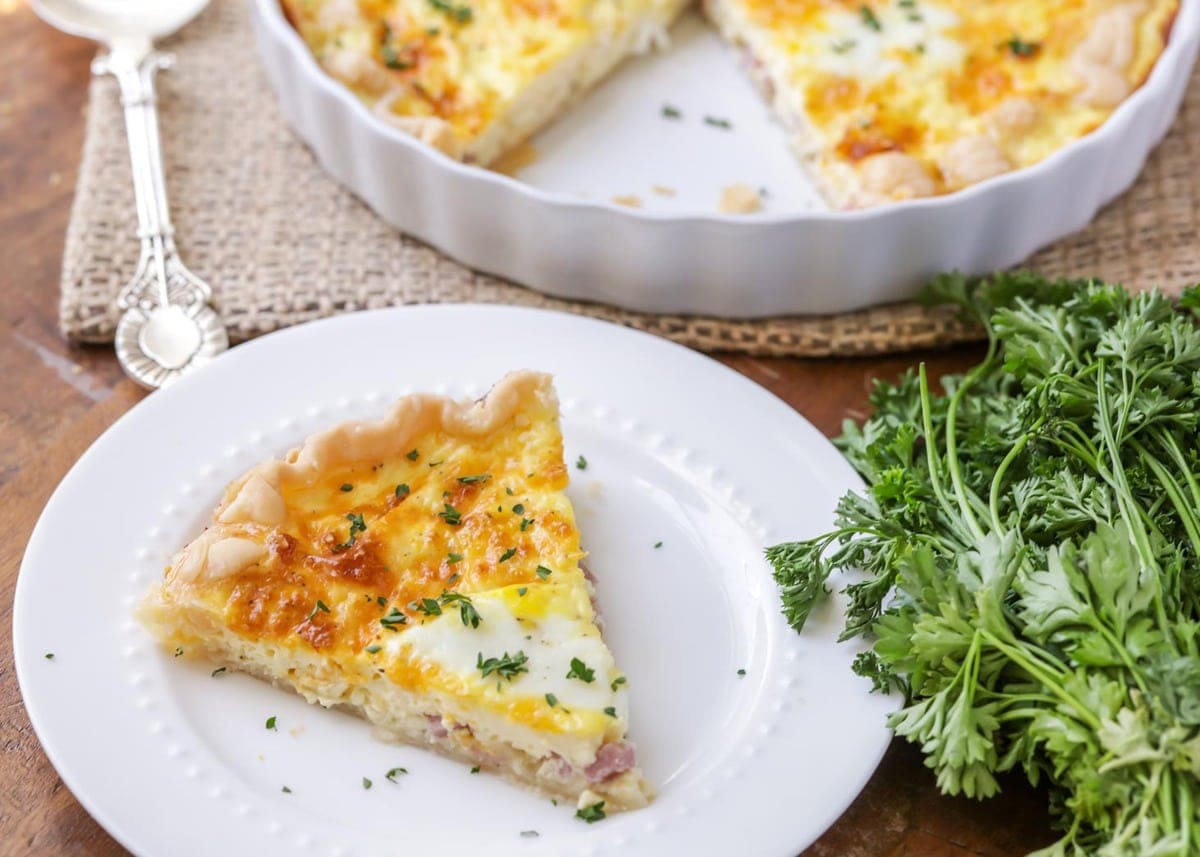 Keeping Food Warm
There are several tricks you can use to keep food warm before and during a party.
Chafing dishes. If you don't have one, create a similar effect using an electric heating pad. Pair the heating pad with a tray that is slightly larger. Set the safety temperature of the heating pad and place the dish right on top. Also, be sure that any cords are out of the way so no one trips on them.
Crock pots. Crock pots are a favorite appliance in my kitchen. Even if you don't use the pot to cook the dish you can use it to keep one warm.
Coolers. Insulated coolers can be used to keep food warm. Be sure that any dishes you place in there will not get squashed when stacked. Use hot water bottles or hot bricks wrapped in a towel to help maintain the warm temperature.
Oven. Set the oven to 200°F and it can be used to keep many different dishes warm.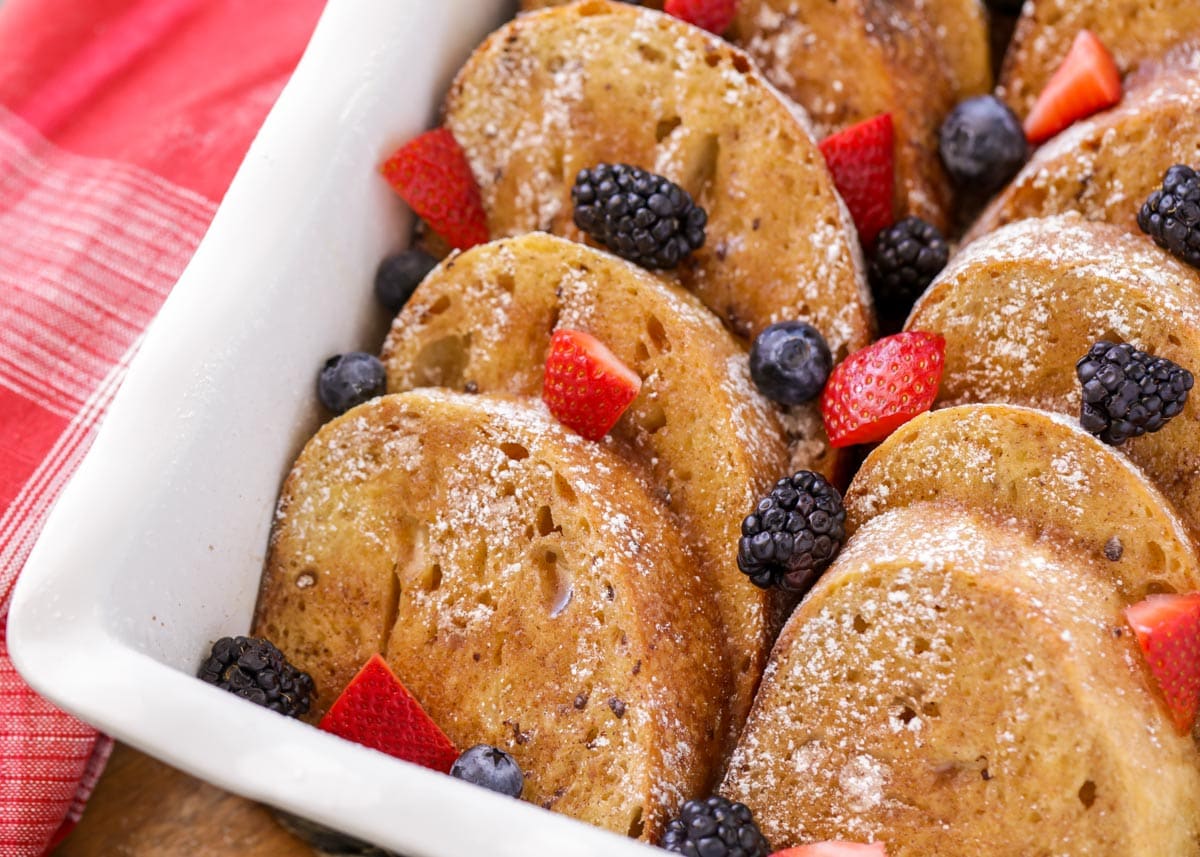 How much to serve
This is one of the most difficult parts of hosting any party. You don't want to prepare too much, but you definitely don't want to run out of food. It can be tricky to determine how much each person will ultimately eat.
Use the following information to help you out:
---
Best Brunch Recipes
These are the food items you hope to see when you attend a brunch – classics like pancakes and waffles, along with some other best-loved breakfast dishes.
Easy Pancakes
The easiest and yummiest basic pancake recipe. Use this recipe if you're out of mix for delicious pancakes that everyone will love. Plus, check out all our tips on how to change them up for even more flavor!
Swedish Pancakes
This Homemade Swedish Pancakes recipe makes the softest, most delicious pancakes. Add a sweet or savory filling!
Chocolate Chip Pancakes
Deliciously fluffy Chocolate Chip Pancakes are perfect for even the biggest kid. Whip them up for breakfast or dessert!
Oven French Toast
Sweet & filling oven French toast is perfectly spiced and can feed a crowd! This "eggy bread" is a family favorite.
Fluffy Pancakes
Waking up to a big stack of fluffy pancakes it THE BEST! This recipe is foolproof for the best pancakes in the world!
Belgian Waffles
Crisp, fluffy Belgian Waffles are an easy way to start your day with a smile. They will be your go-to homemade waffles – I promise!
Breakfast Sausage
Homemade Breakfast Sausage Is So Easy And Will Taste 100% Better Than Anything You'll Find At The Grocery Store!
Pound Cake French Toast
Have you tried making French toast out of pound cake? If not, you need to! It's thick, delicious and an easy breakfast for weekends and holidays!
Homemade Donuts
Melt-in-your-mouth Homemade Donuts are utterly addicting and absolutely worth the effort. Everyone loves these Homemade Donuts!!
Buttermilk Waffles
There's nothing better than big, fluffy Buttermilk Waffles first thing in the morning! This will be your new favorite breakfast recipe!!
Breakfast Potatoes
Crispy breakfast potatoes are seasoned to perfection. Look no further for a breakfast potato recipe because this one has everything you need!
Dutch Baby Pancake
Dutch Baby Pancakes are a super simple, fun, and delicious breakfast that the whole family will love. Similar to German Pancakes (but made in a rounded skillet), these dutch babies are simple and can be topped with powdered sugar, syrup, berries, jam.
Bacon in the Oven
Crispy Bacon in the Oven is SO easy, leaves no mess, and is perfectly crisp every time. Once you try oven-baked you'll never go back!
Western Omelette
This Western omelette is packed with cheese, bell peppers, and ham!
Cinnamon Roll Cake
This cinnamon roll cake takes your favorite breakfast treat and puts it in cake form. With buttery cinnamon swirls and a sweet glaze, this cake is sure to be a new favorite!
Orange Rolls
One of our favorite morning treats! A sweet roll recipe made with an orange filling and an irresistible lemon glaze. Everyone loves these delicious Orange Rolls!
Breakfast Burrito
Delicious breakfast burritos are the perfect on-the-go breakfast! Load them with all your favorite fixings.
Omelette
A simple yet delicious Omelette is a hearty and filling egg recipe, perfect for breakfast, and completely customizable.
---
Easy Brunch Recipes
Preparing an entire brunch spread can be daunting and time-consuming. That's why these recipes come in handy! They're all made in 30 minutes or less, and most require a few simple ingredients.
Cinnamon Roll Bites
Ooey gooey cinnamon roll bites taste just like cinnamon rolls, but are SO much quicker! They are a tasty make ahead breakfast.
Easy Cinnamon Rolls
These Easy Cinnamon Rolls are smothered with homemade cream cheese frosting. They're super soft, gooey and quick—made in just one hour!
Cinnamon Twists
Flaky Cinnamon Twists Are Buttery And Sweet. They Take Only 15 Min. To Make, And Will Disappear In Minutes!!
Avocado Eggs
Avocado Bacon and eggs – one of our favorite breakfast recipes. They're topped with cheese and so delicious!
Cinnamon Cream Cheese Roll Ups
Delicious Cinnamon Cream Cheese Roll-Ups – a simple and yummy breakfast treat. White bread flattened and rolled with a cream cheese and powdered sugar mixture, dipped in butter, cinnamon, and sugar!
Sausage Cream Cheese Crescent Rolls
This simple 3-ingredient appetizer is great for parties and get togethers and is so full of flavor! Everyone will love these Sausage Cream Cheese Crescent Rolls.
---
Brunch Casserole Recipes
Casseroles are the ultimate brunch item for a handful of reasons!
They're usually really easy to prepare, a lot of them are overnight casseroles and only need to be tossed in the oven the morning of, and one dish easily feeds a whole crew!
Baked Eggs
Baked Eggs are your new breakfast best friend! It takes only minutes to whip up, and it comes out perfectly cheesy and delicious every time.
Cream Cheese French Toast Bake
Cream Cheese French Toast Bake is slightly toasted on top, soft in the middle, and each bite is bursting with rich cream cheese. Just add your favorite fruit!
Biscuits and Gravy Casserole
A casserole version of a classic breakfast dish!! This Biscuits and Gravy Casserole is simple and perfect for weekend mornings and holidays – especially if you're feeding a crowd!
Eggs Benedict Casserole
Eggs Benedict Casserole – the perfect breakfast dish made with English muffins, Canadian bacon, eggs and It's delicious!!
Crescent Roll Breakfast Casserole
Crescent roll breakfast casserole is savory and cheesy. It is easy to assemble and bakes in under 30 minutes!
Blueberry French Toast Casserole
Easy and delicious blueberry French toast casserole is an indulgently sweet breakfast. It will be a showstopper at brunch or perfect to serve for holiday mornings.
Breakfast Strata
This breakfast strata is great for brunches, holidays, or a yummy family breakfast!! With buttery layers of bread, ham, cheese, and egg, this Strata recipe is guaranteed to please any crowd!
Cinnamon Roll French Toast Bake
Cinnamon Roll French Toast Bake has all of the ooey gooey goodness of warm cinnamon rolls, with the ease of an overnight breakfast casserole.
Sausage Breakfast Casserole
This sausage breakfast casserole recipe is the ultimate breakfast food. It's filled with sausage, eggs, cheese, and mouth-watering seasonings, and baked on a crescent sheet.
French Toast Bake
This super delicious overnight French Toast Bake recipe takes French toast to a whole new level! Pieces of sourdough bread covered in an egg mixture, topped with cinnamon sugar, and baked to perfection! This easy French toast casserole is the ultimate holiday or weekend breakfast!!
Overnight French Toast
Overnight French Toast Bake is a layered breakfast recipe has layers of Texas toast, cinnamon, sugar, brown sugar and eggs!
---
Make Ahead Brunch Recipes
The best brunch recipes to make ahead are pastries and muffins that can sit at room temperature for a longer period of time – things like donuts and scones.
Keep in mind, a lot of the casseroles in the previous category are overnight casseroles and can be made in advance as well!
Mini Donut Muffins
Mini Donut Muffins are coated in cinnamon sugar and topped with a DELICIOUS cream cheese frosting. It's hard not to eat the whole batch!!
Cheesy Breakfast Casserole
This easy savory cheesy breakfast casserole is perfect for any morning or special holiday occasion. It is perfect for making ahead!
Mini Applesauce Muffins
These Mini Applesauce Muffins are the perfect snack for the whole family! Deliciously moist muffins filled with applesauce, and dipped in an irresistible cinnamon sugar topping.
The Best Scones Recipe
This Scones recipe is flaky, buttery, and easy to make! They're deliciously customizable and perfect for breakfast and brunch.
Best Banana Bread Recipe
The BEST and Easiest homemade Banana bread recipe. Everyone loves this no-yeast bread – it's simple, moist, and SO delicious Perfect to make with over-ripe bananas!
Cherry Danish
This easy Cherry Danish is made from puff pastry dough filled with a sweetened cream cheese mixture and topped with cherry pie filling.
Blueberry Muffins
These soft, delicious Blueberry Muffins are simple and perfect for breakfast, snack or after-school treat. They're filled with blueberries and topped with coarse sugar making them irresistible.
Homemade Granola
Baked homemade granola is naturally sweetened with the perfect amount of crunch. It is completely customizable for a go-to pantry staple.
Old Fashioned Donuts
Old fashioned donuts will melt in your mouth. These glazed buttermilk beauties are so easy to make!
Biscuit Donuts
These delicious Biscuit Donuts are beyond simple and made using canned biscuits!! If you're looking for the quickest and easiest ways to make donuts, this is it!
Chocolate Overload Muffins
Chocolate muffins loaded with semisweet chocolate chips and dark chocolate chunks, then topped with more chocolate chips and sprinkles.
Chocolate chip banana bread
Chocolate chip banana bread is filled with pops of chocolate for an ultimate flavor combination. It's a perfect breakfast, snack, or dessert!
Almond Poppyseed Muffins
Topped with a light lemon glaze, almond poppyseed muffins are tender, sweet, and perfect for snacking. They are practically a dessert!
---
Healthy Brunch Recipes
While some brunch recipes tend to be heavy on calories, sugars, or cheeses, these ones are filled with fruits, vegetables, and/or protein!
Add a few of these to the spread and give your guests healthy options.
Frittata
Fluffy frittata stuffed with asparagus, ham, and parmesan cheese. It's a breakfast dream—so simple and delicious!
Broccoli Quiche
Broccoli quiche is one of my favorite hot breakfast recipes! Healthy, filling, and flavorful. It has everything you want and more!
Easy Fruit Salad
A fresh fruit salad that makes the perfect side dish to any meal! Colorful, healthy, delicious, and filled with all your favorite fruits!
Hash Brown Egg Cups
Hash brown egg cups are a creative and yummy way to combine two tasty breakfast foods into one. These are perfect for a breakfast gathering with friends and family.
Asparagus Quiche
This simple asparagus quiche is loaded up with eggs, asparagus, and cheese. It's terrific for a brunch spread or weeknight meal.
Yogurt Parfaits
Fresh & Creamy yogurt parfaits are filled with fresh fruit and topped with crunchy granola. They are perfect for breakfast or dessert!
Healthy Egg Muffins
These Healthy Egg Muffins are super simple and delicious! Add cheese, meat and veggies to make these tasty breakfast muffins or customize them with your favorite ingredients. They're not only great for breakfast but also for snacks and lunch!
Kale Smoothie
Let's lighten things up this month with this fresh kale smoothie! It's packed with delicious healthy ingredients that will make you feel energized all day long.
Spinach Quiche
Hot and cheesy spinach quiche with a buttery crust is the perfect start to your morning. This is a wonderful breakfast dish for any sized crowd. Everyone will love it!
Fruit Smoothie
A fresh and tasty easy Fruit Smoothie that takes minutes to make. It is filled with Kiwi, banana, Blueberries, strawberries and more!!
Healthy Apple Muffins
Delicious and Healthy Apple Muffins filled with oats, bran, and cinnamon. These muffins are not only simple but are great for breakfast and after-school snacks.
---
more brunch recipes
These favorites include a variety of breakfast ideas as well as lunch options to add to your brunch spread.
Avocado Chicken Salad
Simple Avocado Chicken Salad is fresh, delicious, and whips up in minutes. Enjoy it as a salad or sandwich!
Cashew Chicken Salad
Creamy and fresh Cashew Chicken Salad is tossed in a delicious homemade dressing. It's a perfect summer salad!
Flatout Wraps
If you're in need of a light and easy meal, try the BLT wrap or Turkey Bacon Ranch wrap! Both are under 300 calories and Weight Watchers approved!
Ham And Cheese Sliders
Quick + easy hot Ham and Cheese Sliders are absolutely addicting. They are a crowd favorite and disappear in minutes!
Chicken Salad
Chicken Salad is perfect for light lunches or picnics at the park! Eat your creamy chicken salad on a croissant, in a salad, or by itself!
Breakfast Charcuterie Board
A Breakfast Charcuterie Board is the perfect way to start the day. With a little something for everyone, it's sure to be a hit!
---
brunch salad recipes
Sweet and savory salads are perfect additions to your brunch spread, especially if you want to add more "lunch" items to your breakfast options.
Chicken Caesar Salad
Ultimate Caesar Salad with grilled chicken, croutons, tomatoes, bacon, hard-boiled eggs, Parmesan cheese and tomatoes.
Quick Caprese Salad
Simple and Quick Caprese Salad is easy and delicious with pops of mozzarella, tomatoes, avocados and drizzled with a balsamic glaze!
Strawberry Harvest Salad
Strawberry Harvest Salad tastes just like the salad at Zupa's! It's topped with a homemade Strawberry Vinaigrette dressing.
Pasta Salad With Italian Dressing
Easy Pasta Salad with Italian Dressing takes minutes to make. It's a classic side dish, perfect for BBQs, picnics, or any night of the week!
Lemon Poppy Seed Dressing
A delicious salad with tomatoes, chicken, craisins, sunflower seeds and a delicious homemade lemon poppy seed dressing. The dressing only requires 4 ingredients and takes minutes to make!
Caprese Pesto Pasta Salad
Caprese Pesto Pasta Salad is a light dish with a bold flavor, making it perfect for potlucks, parties, BBQ's, and get togethers!
Fresh Mozzarella Pasta Salad
Easy & Fresh Mozzarella Pasta Salad is light, delicious and flavorful. This simply dressed salad is a new favorite!!
Pistachio Salad
Pistachio Salad dessert is always served at our family gatherings. With whipped cream and marshmallows, it's always a hit!
Fall Fruit Salad
Fall fruit salad is bursting with vibrant seasonal fruit dressed in a bright honey, orange, and poppy seed dressing!
Cheesecake Fruit Salad
This Cheesecake Fruit Salad is the perfect combination of creamy, light, and fresh! Fresh berries tossed in a cream cheese pudding mixture—it's the perfect side, or crepe filling!
Strawberry Jello Pretzel Salad
Strawberry Jello Pretzel Salad is the ultimate combination of sweet and salty. This classic treat is always a crowd pleaser!!
Ambrosia Salad
Ambrosia Salad will take you straight back to your childhood. This Southern creamy fruit salad is filled with mini marshmallows!
---
The Easiest Brunch Recipe
This whole list is full of easy brunch recipes – from donuts to muffins to casseroles and the classics.
We have a few go-to brunch recipes we especially love and one of them is this Easy Brunch Egg Casserole.
It takes minutes to prep – can be doubled easily and is one that everyone loves. It's also filled with favorites – eggs, sausage, hash browns, and cheese!
It can also be easily changed up by the time of meat you want to use (sub the sausage for bacon or even chorizo). It's definitely a keeper brunch idea!
---
A Bunch Of brunch options
Whether you are looking for something sweet or savory, there are plenty of tasty options to choose from for your next brunch spread!! Enjoy, and get your brunch on! 😉
Be sure to check out all of our Breakfast Recipes.
For more collections: Easy Breakfast Ideas, Egg Recipes, Breakfast Casserole Recipes