There's nothing better than big, fluffy Buttermilk Waffles first thing in the morning! This will be your new favorite breakfast recipe!!
Buttermilk waffles are right up there on the list of favorite breakfast recipes! My kids love these waffles just as much as they love a stack of pancakes, or a slice of french toast!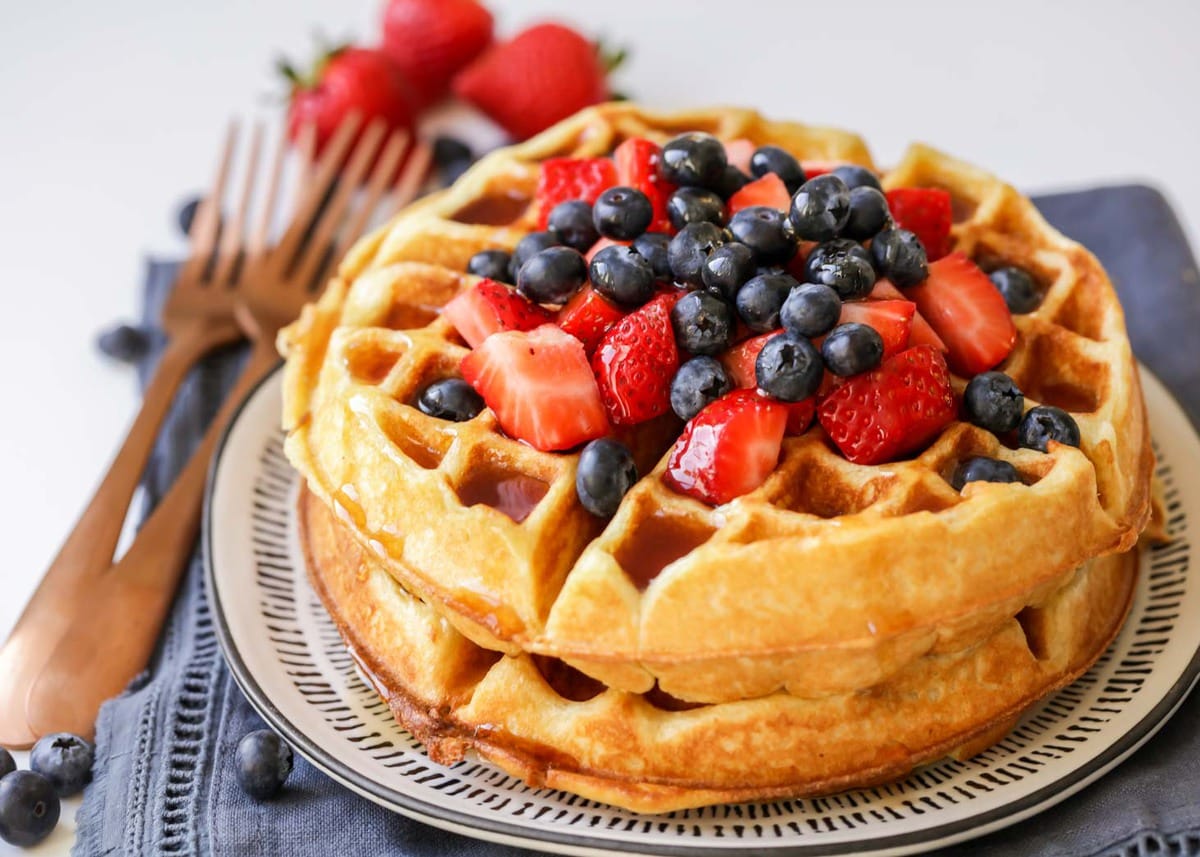 Homemade Breakfast
I LOVE breakfast. I can't go a day without it. And I think we can all agree that a homemade breakfast is the best – especially when it's waffles!
Classic Buttermilk Waffles are fluffy, light, and taste great with a bunch of yummy toppings. My kids beg me to make waffles almost daily. They love this recipe and it's quickly becoming our go-to waffles.
What's the difference between buttermilk waffles and classic Belgian waffles?
Belgian waffles are made with a very deep waffle maker and call for different ingredients. Buttermilk waffles are a classic recipe that can be made in any waffle maker!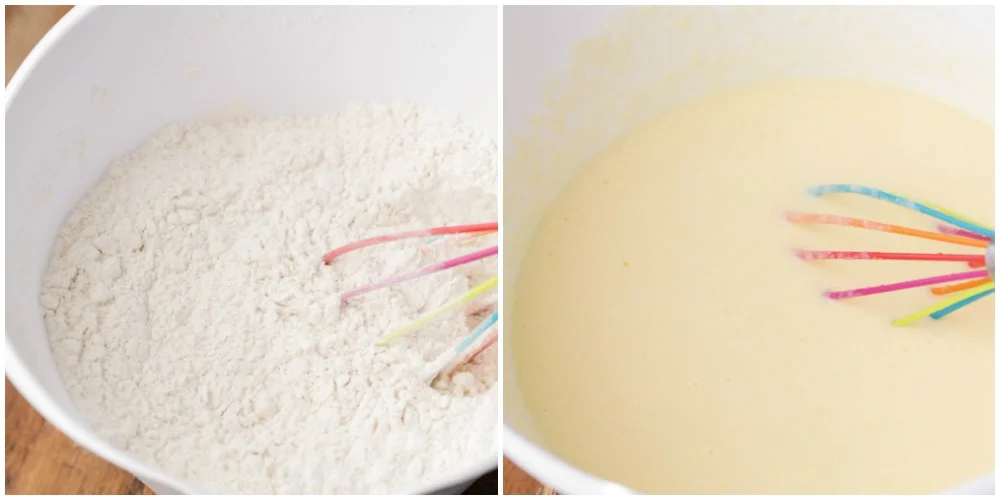 How to Make Buttermilk Waffles
Dry Ingredients. Mix your dry ingredients together – flour, sugar, baking powder, baking soda, and salt.
Wet Ingredients. Then mix your wet ingredients together- buttermilk, melted butter, large eggs, and vanilla.
Combine. Whisk the dry ingredients into the wet ingredients. Make sure not to over mix.
Cook. Grease and heat up your waffle iron. Pour about 1/3 – 1/2 cup of batter into the waffle iron (or until batter reached about 1/2 inch to the edge of the iron). Cook according to your waffle iron. Top with syrup and berries or any other topping you desire!
Make your own buttermilk. I almost never have buttermilk at my house. You can easily make your own buttermilk with this trick:
Pour a little less than 2 cups of regular milk into a bowl. Add two tablespoons of vinegar to the bowl. Stir and let sit for 5-10 minutes. You just made buttermilk!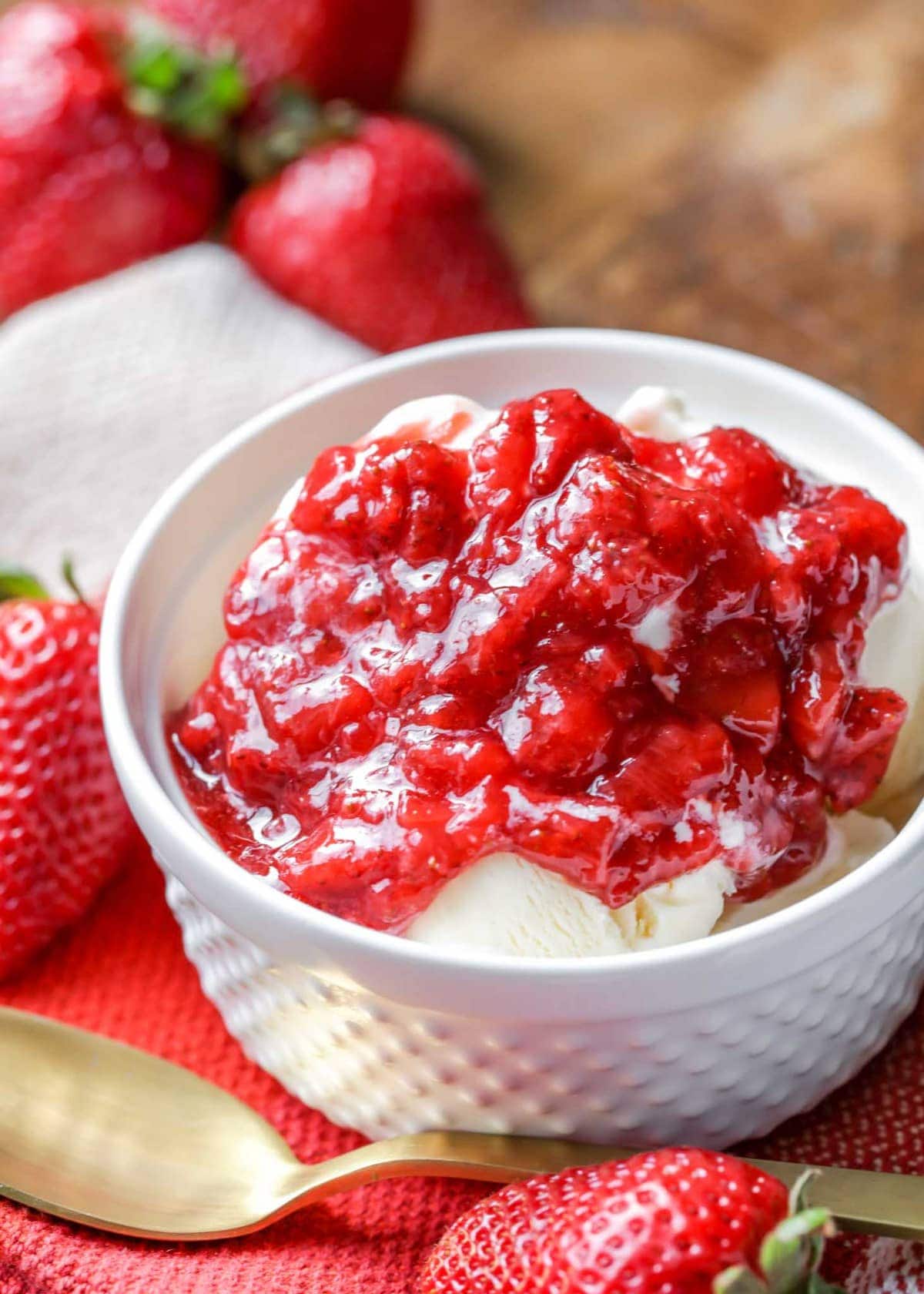 Variations + TOppings
Shapes. Invest in a waffle maker with shapes. I've seen hearts, sea animal shapes, zoo animals shapes, and more. When using a new waffle maker make a couple test waffles so you can determine the right timing for beautiful crisp golden brown waffles. (See manufacturer's instructions for guidelines)
Sprinkles. Pour the batter in the waffle iron and add sprinkles to the top before closing the lid.
Nuts. Mix chopped nuts or chocolate chips into the mixture.
Seeds. Chia seeds, flax seed, and using whole wheat flour are all ways to add some extra nutrition.
What to use for toppings?
So many options, but some of our favorites include: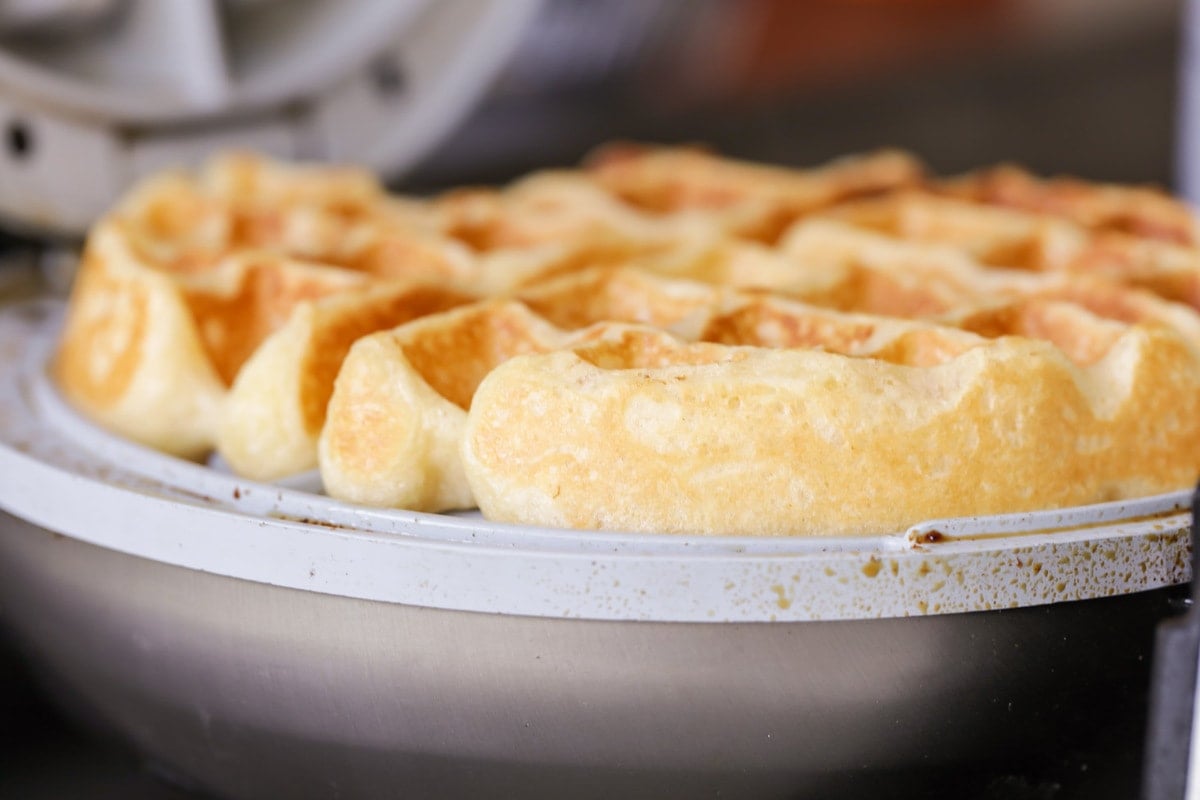 waffles tips
What does Buttermilk do in waffles? First, the buttermilk adds a bit of tangy flavor to the waffles. Next, the acidity in the buttermilk helps the baking soda work even better to create a light fluffy waffle. It also breaks down the gluten which gives a finer texture.
Make your waffles fluffy. Make sure not to over-mix the batter- the less you fuss with the batter the fluffier your waffles will be! I always let my batter sit for a few minutes to thicken before I make the waffles. This helps them to be extra fluffy!
Butter. Add butter or cooking spray to the waffle maker as needed to keep the waffles from sticking.
Make ahead of time. The batter can be made the night before and kept covered in the fridge. Allow it to come to room temperature and give it a gentle stir before pouring onto the waffle iron.
serving + storing
Keeping Waffles Warm. Keep the following tips in mind when you need to keep a stack of waffles warm before serving.
Don't stack them. The steam from the freshly cooked waffles will transfer to the waffles underneath making them soggy. Don't cover them with foil for the same reason.
To keep warm, I place a couple of baking sheets on the oven racks. Then, I heat my oven to 200 degrees then turn it OFF. As the waffles finish cooking place them in a single layer on the baking sheets.
Freezing leftovers for easy morning meals. We always have leftover waffles that we don't even up eating. These are GREAT for freezing and eating later. Freeze the waffles in a single layer until they are frozen, then put them into an airtight container or bag and freeze until you need them.
Perfect for heating up or toasting for busy on-the-go mornings!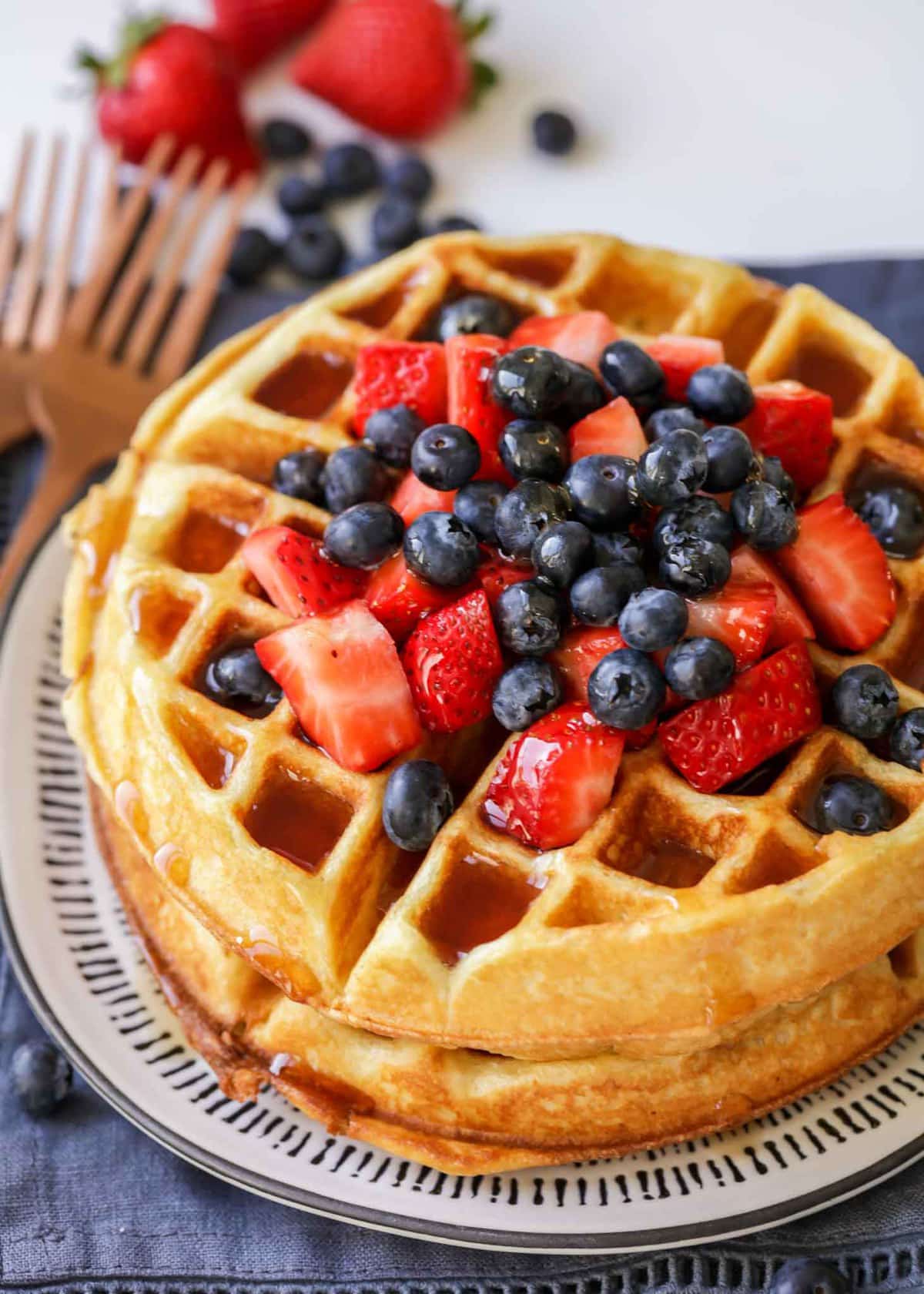 We love to eat these with our waffles:
For more waffle recipes, check out: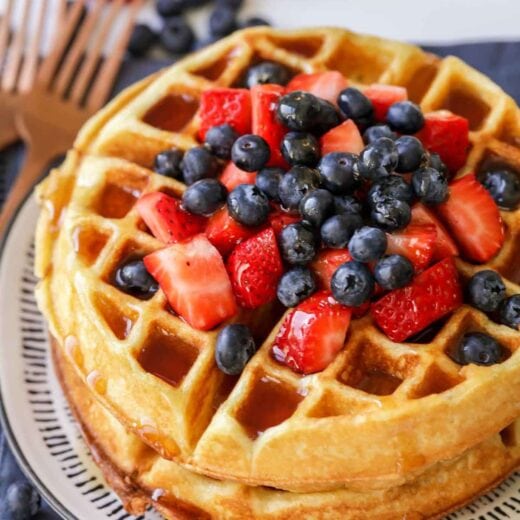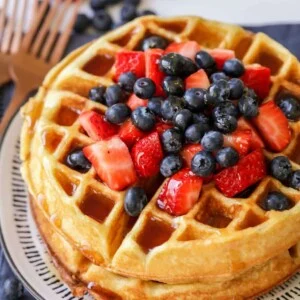 Buttermilk Waffles Recipe
There's nothing better than big, fluffy buttermilk waffles first thing in the morning! This will be your new favorite breakfast recipe!!
Instructions
In a medium bowl, whisk together flour, sugar, baking powder, baking soda, and salt. 

In another medium bowl, whisk together buttermilk and butter. Add eggs and stir until combined.

Add dry ingredients to wet ingredients and whisk until just combined (there were still lumps). Fold in vanilla. Let batter rest for 10 minutes.

Preheat waffle iron and grease. Pour about ⅓-½ cup of batter into the waffle iron (or until batter reached about ½ inch to the edge of the iron). Cook until ready. Top with syrup and berries. 
Nutrition
Calories:
331
kcal
,
Carbohydrates:
40
g
,
Protein:
8
g
,
Fat:
14
g
,
Saturated Fat:
8
g
,
Cholesterol:
90
mg
,
Sodium:
600
mg
,
Potassium:
341
mg
,
Fiber:
1
g
,
Sugar:
8
g
,
Vitamin A:
525
IU
,
Calcium:
182
mg
,
Iron:
2.3
mg
Nutrition information is automatically calculated, so should only be used as an approximation.
Making this recipe? Tag us!
Share it with us on Instagram using the hashtag #lilluna, so we can see what you're creating in the kitchen!