Whether you're a fan of eggs, bacon, sausage, potatoes, bread, or biscuits, we have a whole variety of Breakfast Casserole recipes that contain any and all of those ingredients! Some recipes are over-nighters, others are ready in 30 minutes, but ALL are delicious!
MORE COLLECTIONS: Breakfast, Easy Breakfast Ideas, Healthy Breakfast Ideas, Egg Recipes
Easy Breakfast for a Crowd
Breakfast Casseroles are one of the most underrated breakfast dishes! They're SO easy to throw together and they can feed a large crowd, which makes them perfect for family get togethers, holiday weekends, brunches, or baby/bridal showers.
There are so many kinds of breakfast casseroles. Most of them contain eggs, and either bread or potatoes with different types of breakfast meats like ham, bacon, or sausage. Some breakfast casseroles are sweet, like our French Toast Bake, or Cinnamon Roll French Toast Bake.
We have several tried and true breakfast casserole recipes to share with you. But before we do, here are some tips for making your own: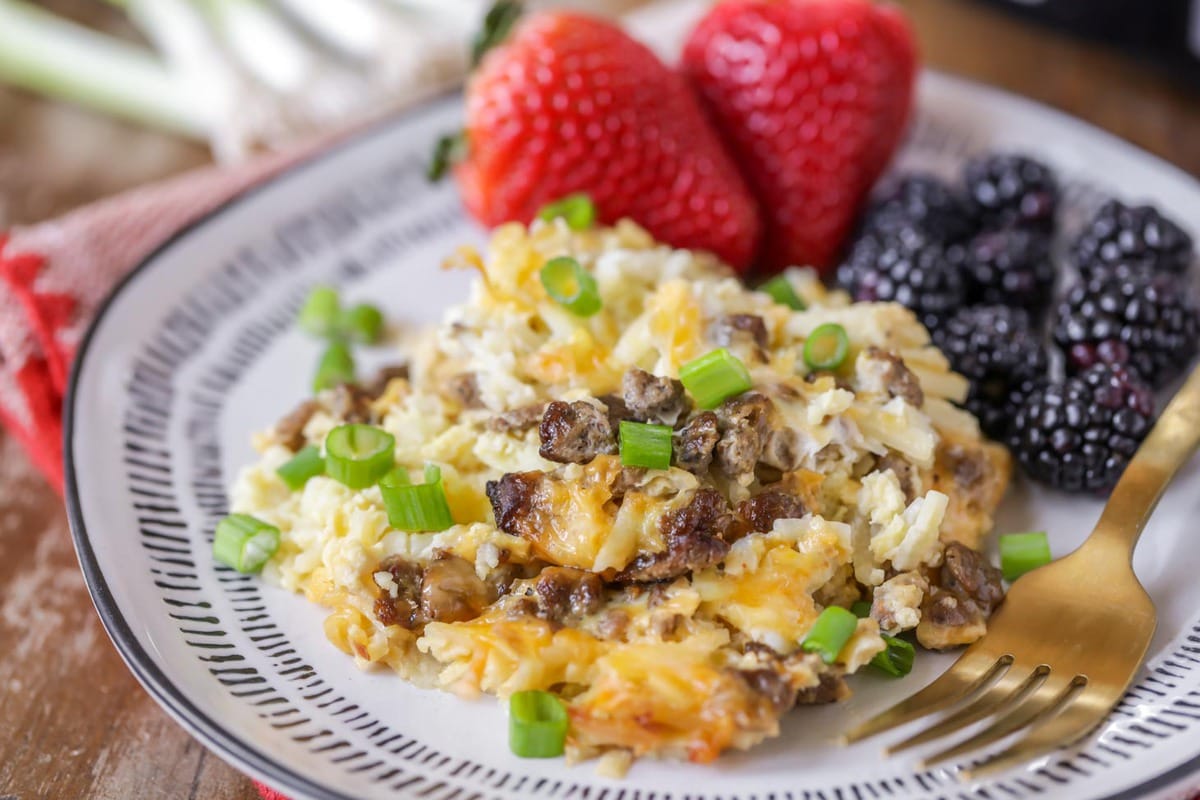 Breakfast Casserole Tips
Not only are casseroles super easy to throw together most can be made ahead of time. Simply combine the ingredients the night before cover and refrigerate until morning.
Casserole Additions: we love each of the casseroles as they are however, you can easily customize them to your preference. Here are few additions that work well with most casseroles:
Bacon bits
Diced bell peppers
Broccoli florets
Spinach
Sliced mushrooms
Cheese choices: pepper jack, cheddar, mozzarella, Parmesan, Swiss
Storage: The individual recipes have more storage info, but in general, casseroles can be stored in the fridge or freezer to be enjoyed later. Cover leftovers and refrigerate for up to a few days days. Cover and freeze for up to 2 months.
Quick breakfast casseroles – ready in 30!
Although they're easy to throw together, many casseroles take about an hour to finish. However, these casseroles are ready in only 30 minutes!
more breakfast casseroles – made in an under 1 hour
Many of the recipes above are made with eggs, but we have even more. Whether it be sausage, bacon or ham, each of these casseroles are delicious, have eggs and are sure to please.
Sweet Breakfast Casseroles
We love having some easy and sweet breakfast casseroles on special occasions, especially holidays. The ones below are definitely some of our favorites and can be made the night before or be made in just a few minutes. 😉
So many delicious breakfast casseroles that are all simple and great for weekends, special occasions and holidays. ENJOY!