It's no surprise we love breakfast recipes. I mean, we love them so much we have breakfast for dinner every Wednesday night. We usually do some variation of pancakes, waffles or French Toast because the kids love all of them. Usually, my husband makes dinner on Wednesdays, but last week, he had to work late, so I decided to try a new recipe.
I'm a huge fan of "breakfast bakes" and had seen this one that I've been wanting to try. I think it can be changed up really easily and will be a new favorite. For example, I'm thinking a layer of nutella or sliced strawberries would be great in between the two layers of bread next time we make it. This time, we really didn't change too much from the recipe since I wanted to see how it turned out. Fortunately, it was a hit, which means we'll be making it again… and soon. 🙂
MY OTHER RECIPES
Its' not necessary, but you can cut off the crusts for a "prettier look."
Pour the melted butter and brown sugar on the bottom of your pan. Layer with toast and pour half the egg mixture over top. Sprinkle on some brown sugar and cinnamon.
Top with another layer of toast. Add a thin layer of butter and pour the rest of the egg mixture on top.Sprinkle on cinnamon and sugar. Refrigerate until ready to bake.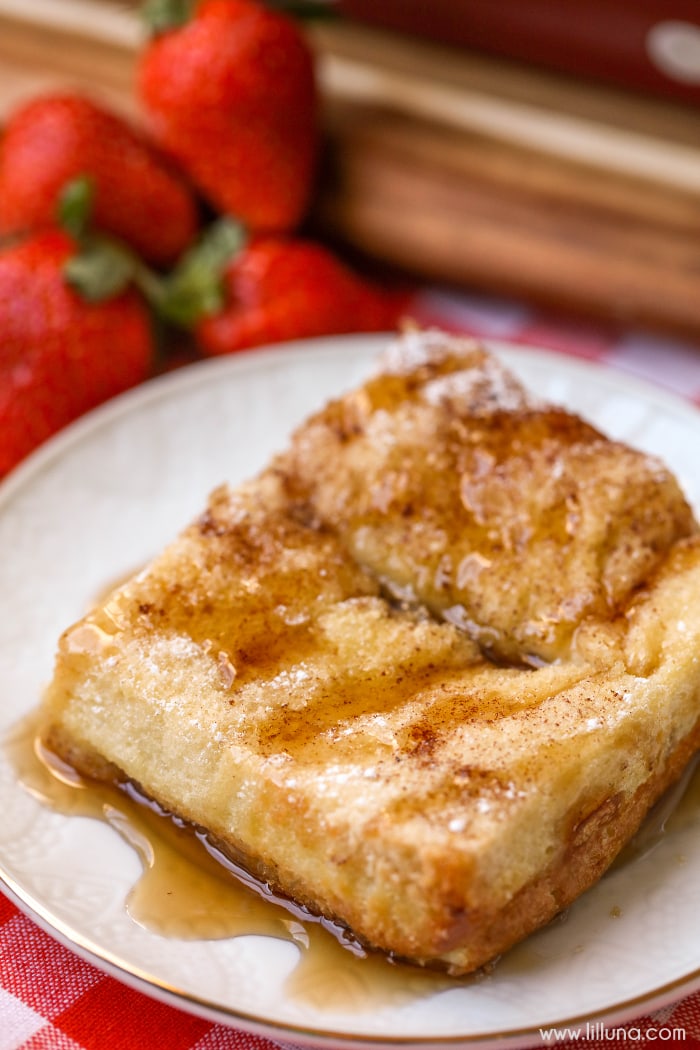 I love the puffed up egg-y bread covered in cinnamon and sugar. Not sure how you can't, especially when it's drenched in syrup, lol!! If you love French Toast, then I suggest trying this recipe. It's perfect for a special weekend or even for a holiday morning. 😀
Overnight French Toast Bake:
Overnight French Toast Bake
Overnight French Toast Bake - this layered breakfast recipe has layers of Texas toast, cinnamon, sugar, brown sugar and eggs!
Ingredients
½ cup melted butter (1 stick)
1 cup brown sugar
1 loaf Texas toast (with crust trimmed off, optional)
4 eggs
1½ cup milk
1 teaspoon vanilla
Powdered sugar for sprinkling
brown sugar
cinnamon
butter
1 TB sugar + 1 teaspoon sugar
Instructions
Begin by melting butter. Add brown sugar and mix well.
Pour butter and brown sugar mixture into the bottom of a 9x13.
Add a layer of Texas toast.
In a medium bowl, whisk together eggs, milk and vanilla.
Pour half of egg mixture over the Texas toast and sprinkle brown sugar and cinnamon on top.
Add another layer of Texas Toast. Spread a thin layer of butter over bread.
Top with the remaining egg mixture and top with your cinnamon and sugar mixture.
Refrigerate overnight or for at least 4 hours before baking.
When ready to bake, bake at 350 for 40-45 minutes.
Recipe adapted from Rach's Blog.
For more great breakfast recipes, check out:
Overnight Cinnamon Roll French Toast Bake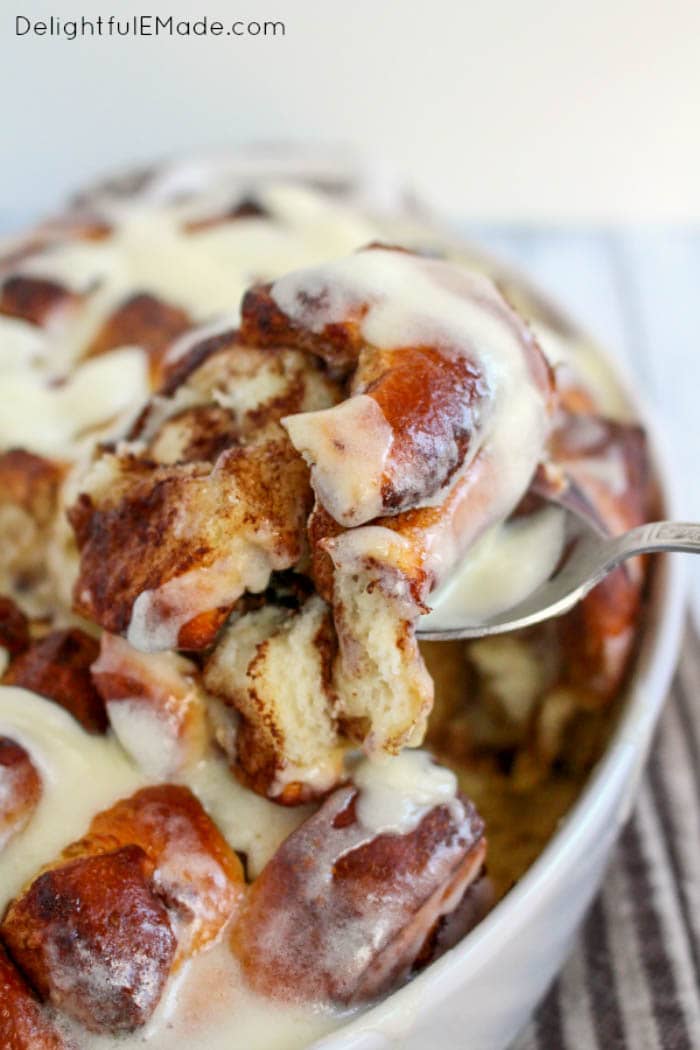 For even more great breakfast recipes, check out:
ENJOY!