These french toast sticks are bite-sized and bursting with cinnamon and sugar. They are perfectly dippable and absolutely delicious.
French Toast Sticks are a sweet brunch option that are a tasty breakfast treat for kids and adults alike. It's time to get your dunk on! Try dipping these in out of this world Buttermilk Syrup and serve with Fruit Kabobs.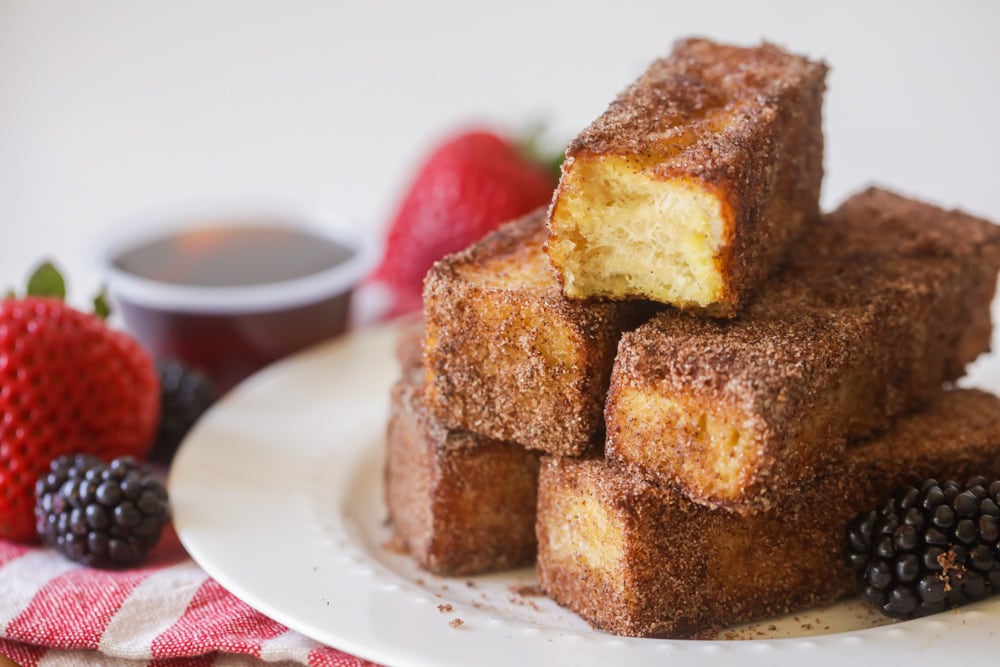 Sweet & delicious breakfast!
These crunchy and decadent french toast sticks are perfectly coated with cinnamon and sugar for the ultimate bite. They are buttery and rich and make for a special breakfast.
The kids will love the novelty of dippable sticks that taste reminiscent of cinnamon donuts. I mean who wouldn't love french toast you can eat with your fingers!
No more soggy french toast. I am positive you will love these yummy cinnamon french toast sticks, so make breakfast a breeze with this easy recipe.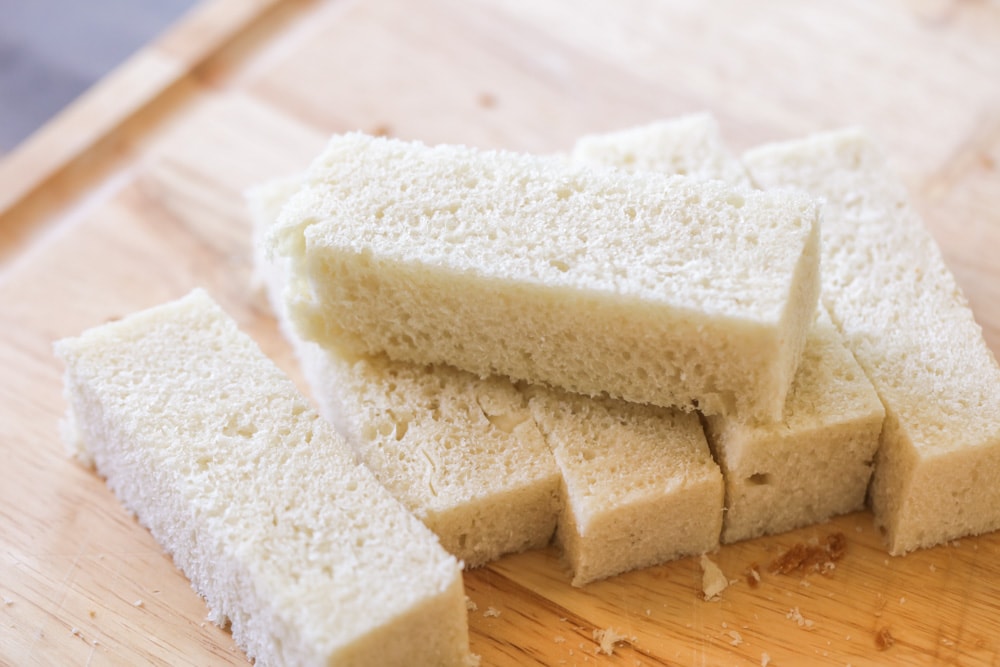 How to Make French Toast Sticks
BREAD. Stale bread works best, so be sure to let the bread sit out the day before. Cut off crust from bread and cut into 3 thick pieces, lengthwise, then set aside.
EGG MIXTURE. Add eggs, milk and vanilla to a shallow dish and mix well. Combine cinnamon and sugar and add those to a shallow dish. Set aside. Soak the sticks in the egg mixture until saturated.
COOK. Melt 2 tbsp butter on LOW-MEDIUM heat and add bread pieces, cooking until golden brown on each side.
COAT. Use tongs to place in cinnamon and sugar mixture making sure to coat all sides.
SERVE. Continue cooking bread pieces, adding more butter when needed. Lastly, serve with warm syrup.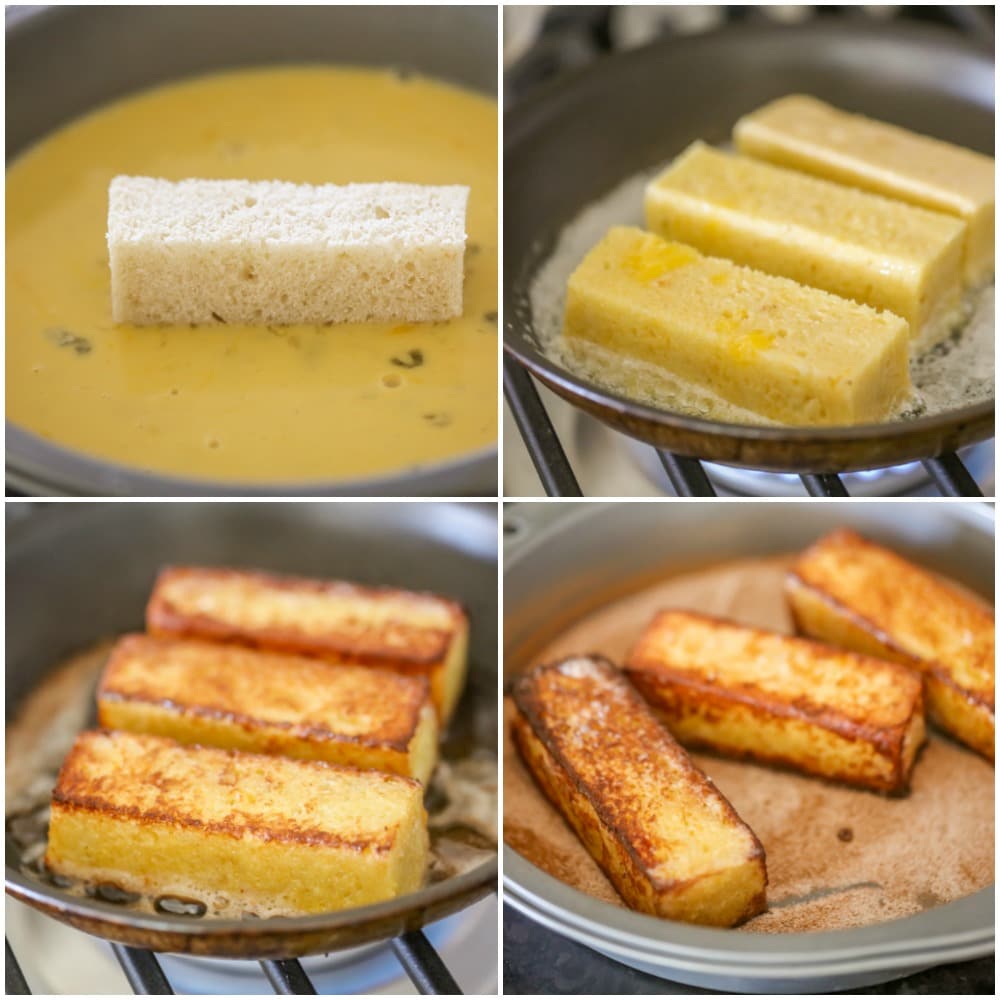 Tips + Our favorite dips
Bread Tips: We used our 5-Ingredient Homemade Bread to make these sticks. Brioche, Sourdough and Challah are also recommended. Although they're all a drier bread, you still want them to be a bit stale so that they can absorb the custard without getting too gloppy.
If you don't have time to let your bread dry out, you can cut it up into sticks and pop them in the oven for 8-10 minutes at 350 degrees.
French Toast is commonly served with syrup like this delicious Buttermilk Syrup. As delicious as that is, there are so many other choices—especially for french toast sticks that are just asking to be dipped. Here a few of our dipping favorites:
If you're serving a brunch, consider having several dipping and syrup options for guests to choose from. 😉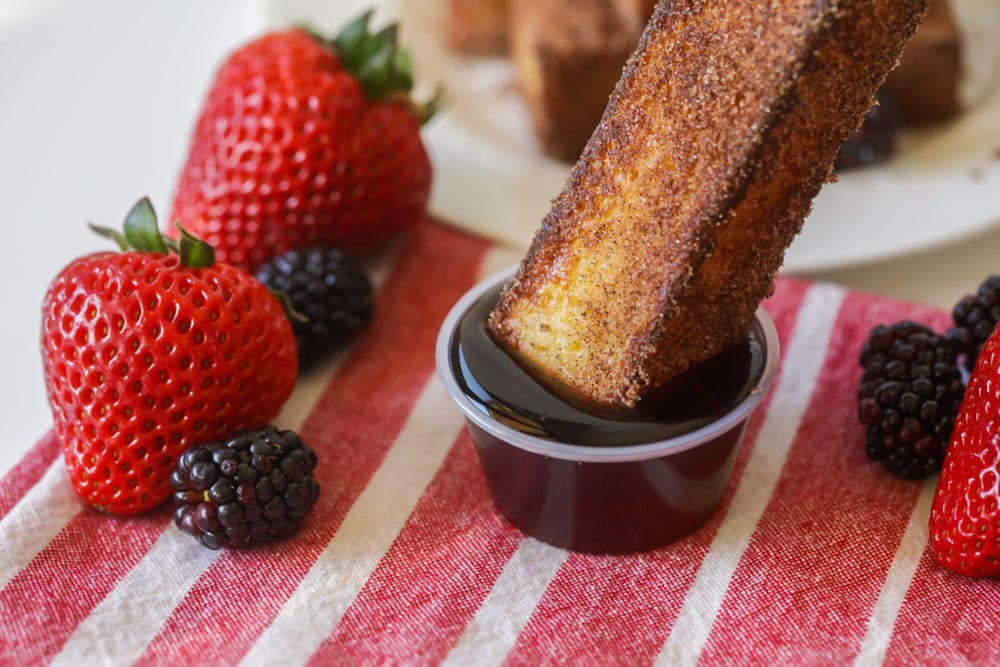 Storing + Freezing
STORE leftover french toast sticks in an airtight container within two hours of cooking it. It can be refrigerated for 3-4 days or frozen for 1-2 months.
If you want to FREEZE the sticks you'll need to flash freeze them first. Arrange the sticks in a single layer on a baking pan. Then, freeze for 2-3 hours or until solid. Transfer the toast to an airtight freezer safe container.
Single servings can be reheated in the microwave or toaster oven. Or, reheat several at a time by arranging the desired amount on a baking sheet. Then, preheat the oven to 375°F bake the french toast sticks for 5-8 minutes or until hot.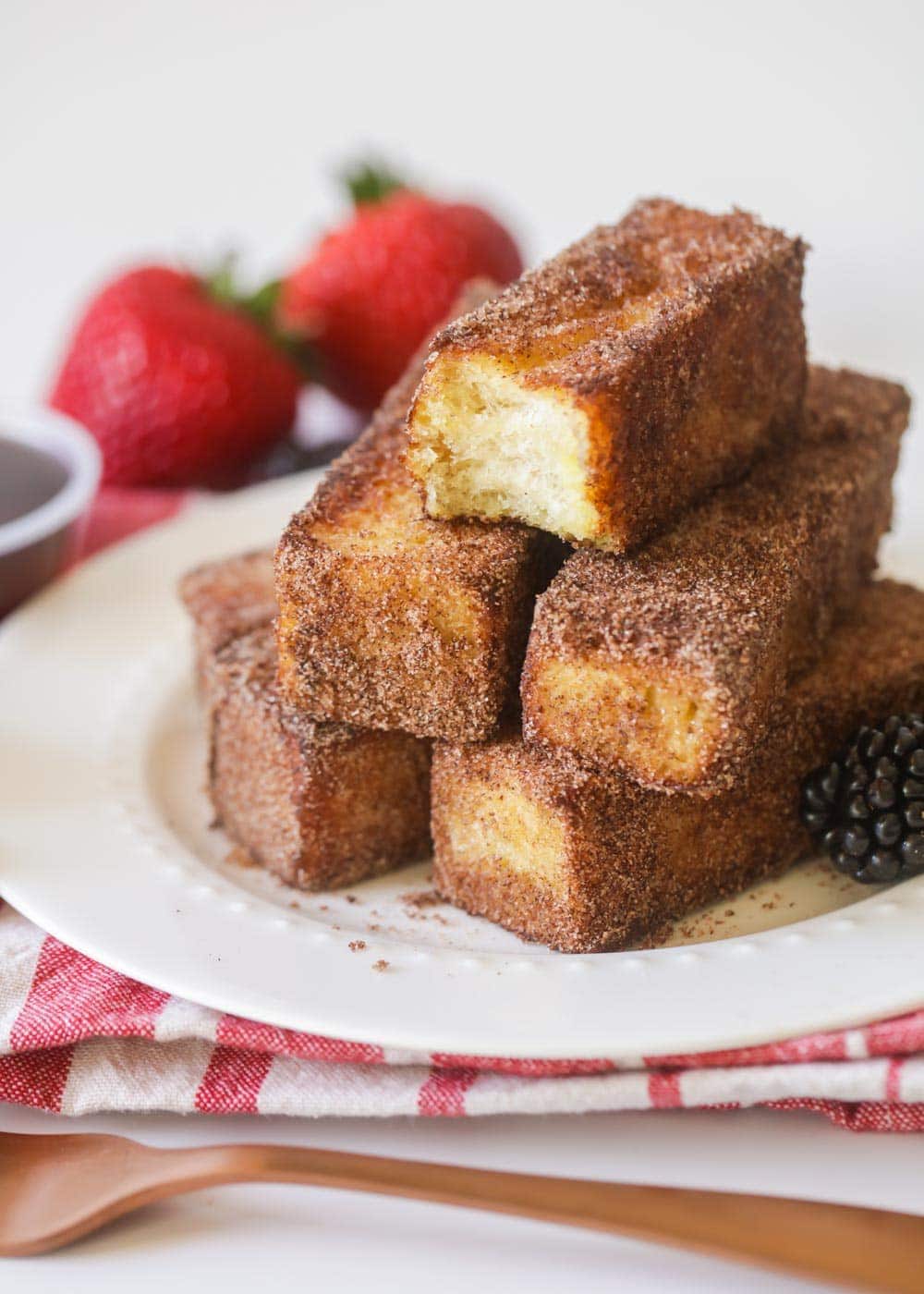 For More French Toast Recipes, try:
French Toast Sticks Recipe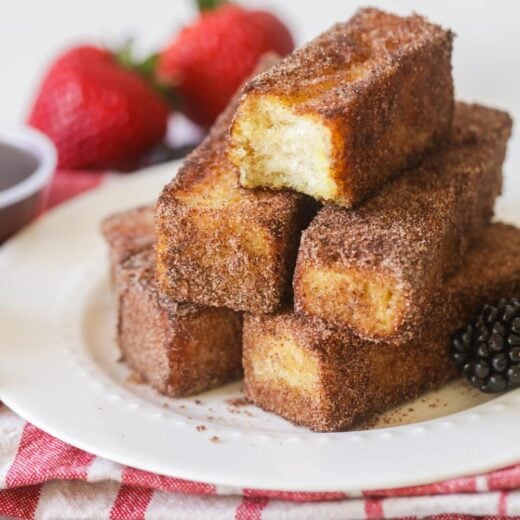 These french toast sticks are bite-sized and bursting with cinnamon and sugar. They are perfectly dippable and absolutely delicious.
Ingredients
6

thick slices

bread

Cut from a stale Brioche, Sourdough or Challah Loaf

3

eggs

3

c

milk

1

tsp

vanilla extract

¼

c

sugar

1

tbsp

cinnamon

4

tbsp

butter

divided
Instructions
Stale bread works best, so be sure to let the bread sit out the day before.

Cut off crust from bread and cut into 3 thick pieces, lengthwise. Set aside

Add eggs, milk and vanilla to a shallow dish and mix well

Combine cinnamon and sugar and add those to a shallow dish. Set aside

Soak the sticks in the egg mixture until saturated

Melt 2 tbsp butter on LOW-MEDIUM heat and add bread pieces, cooking until golden brown on each side.

Use tongs to place in cinnamon and sugar mixture making sure to coat all sides.

Continue cooking bread pieces, adding more butter when needed