Best-loved Orange Juice Smoothie using Florida Orange Juice is super tasty. The kids LOVE the taste of oranges & strawberries!
Like the Copycat Orange Julius, this orange juice smoothie is bursting with bright summer flavor. It is packed with vitamin c and makes a tasty breakfast drink! For another yummy drink try our Strawberry Banana Smoothie.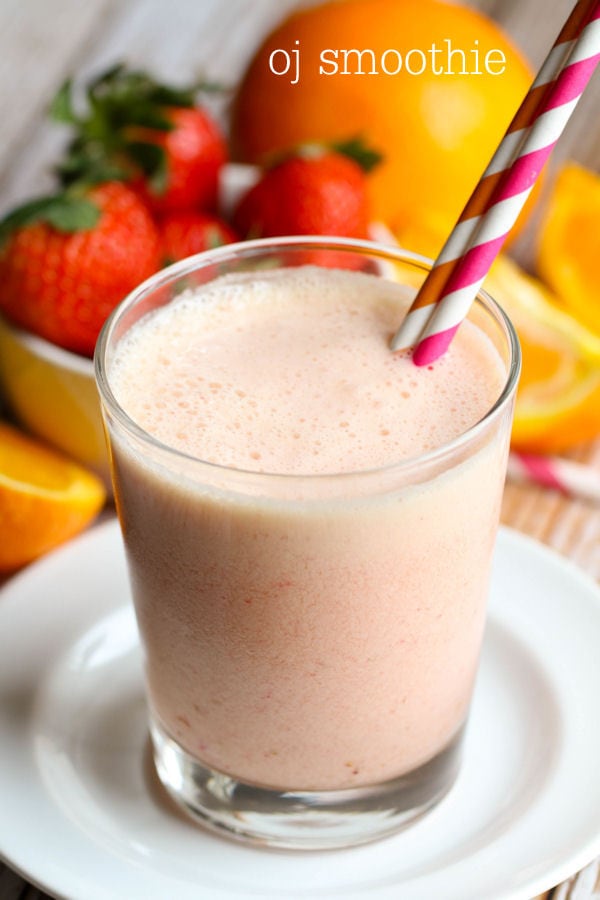 Packed with Vitamin C
Here I was talking about keeping healthy and preventing all the sicknesses that are around this time of year and my son gets sick this week! Boo! It is not fun taking care of a sick child, but fortunately he is on the mend. 🙂
For the rest of us, we are trying to boost our immune system and load up on Vitamin C and other important vitamins so that we do not get sick as well. Along with Vitamins, we have been trying to drink a lot of fluids like OJ, wash our hands, and take it easy. Not always easy to do when you have three little ones and a full schedule, but we're trying.
To jazz things up a bit, I made an orange juice smoothie using all sorts of yummy goodies that would not only taste good but would also have lots of Vitamin C. I was surprised at how good it turned out – the kids loved it! Going to make this drink again today to make sure we get at least a few vitamins in… plus, it's pretty DELISH. 🙂
how to make a smoothie with orange juice
BLEND. Blend all ingredients together in a blender until smooth. Enjoy!!
Recipe Tips
Make sure to put the heaviest ingredients on the bottom to help them blend easier. 
You can make a smoothie thicker simply by using less liquid and allow it to blend for longer.
Use frozen strawberries if fresh strawberries aren't available or in season
No matter what brand of orange juice you use the recipe will turn out great, here are some popular ones that are easily accessible from the grocery store: Simply Orange, Tropicana, and Florida's Natural. I hope that helps!
When strawberries are ripe, the berry will be red through and through without any white or green spots. Also fun fact strawberries are supposedly sweeter at room temperature than cold from the fridge. 
Vanilla always makes things taste better and makes it slightly sweeter. This is really effective when your fruit may not be completely or perfectly ripe. This added sweetness is a comfort to most people.
Storing Info
STORE any leftover smoothie in a freezer safe cup with a lid. Do not keep the straw in the cup when you're freezing it! Also, don't fill the container all the way because the liquid will expand as it freezes. It will last for about 3 months before you should let it soften at room temperature for a few minutes before it becomes drinkable and y before serving.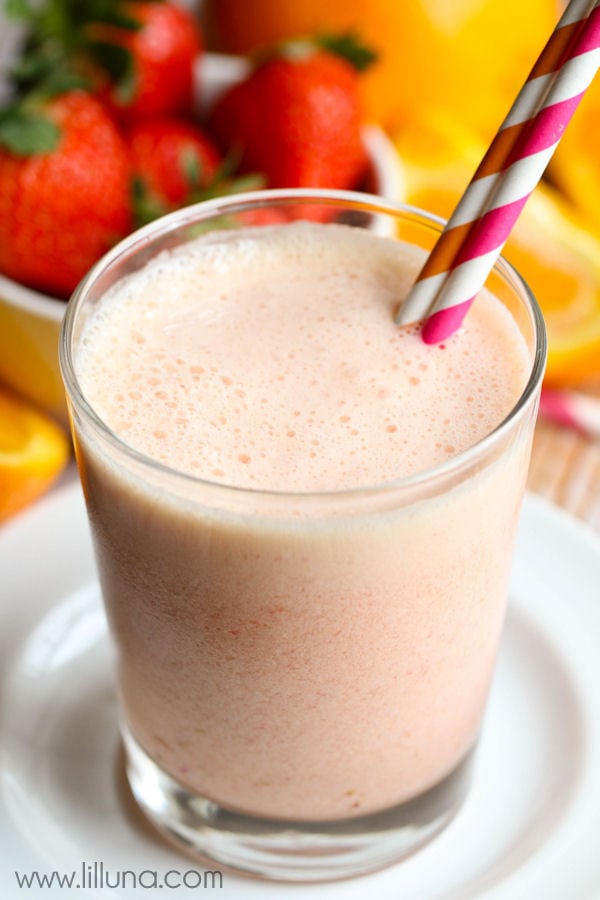 For more great drink recipes be sure to try out:
Orange Juice Smoothie Recipe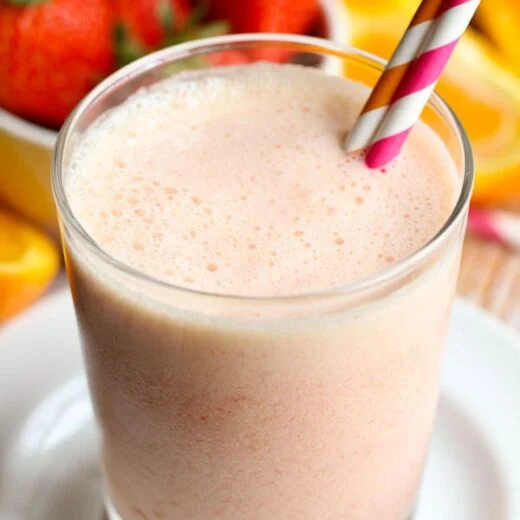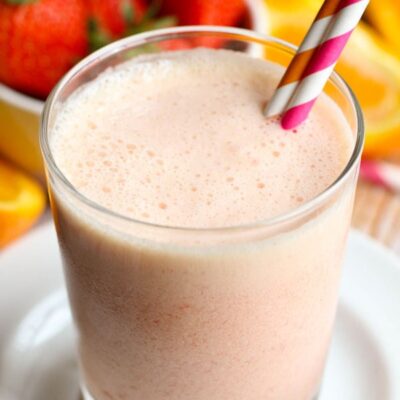 Best-loved Orange Juice Smoothie using Florida Orange Juice is super tasty. The kids LOVE the taste of oranges & strawberries!
Ingredients
Instructions
Blend all ingredients together in blender until smooth. Enjoy!