Eggnog French Toast is a simple, tasty and great breakfast recipe to try during the holidays. It's especially perfect for all eggnog lovers!!
There are lots of french toast variations like this one you can make for your holiday guests, including French Toast Muffins, or Stuffed French Toast!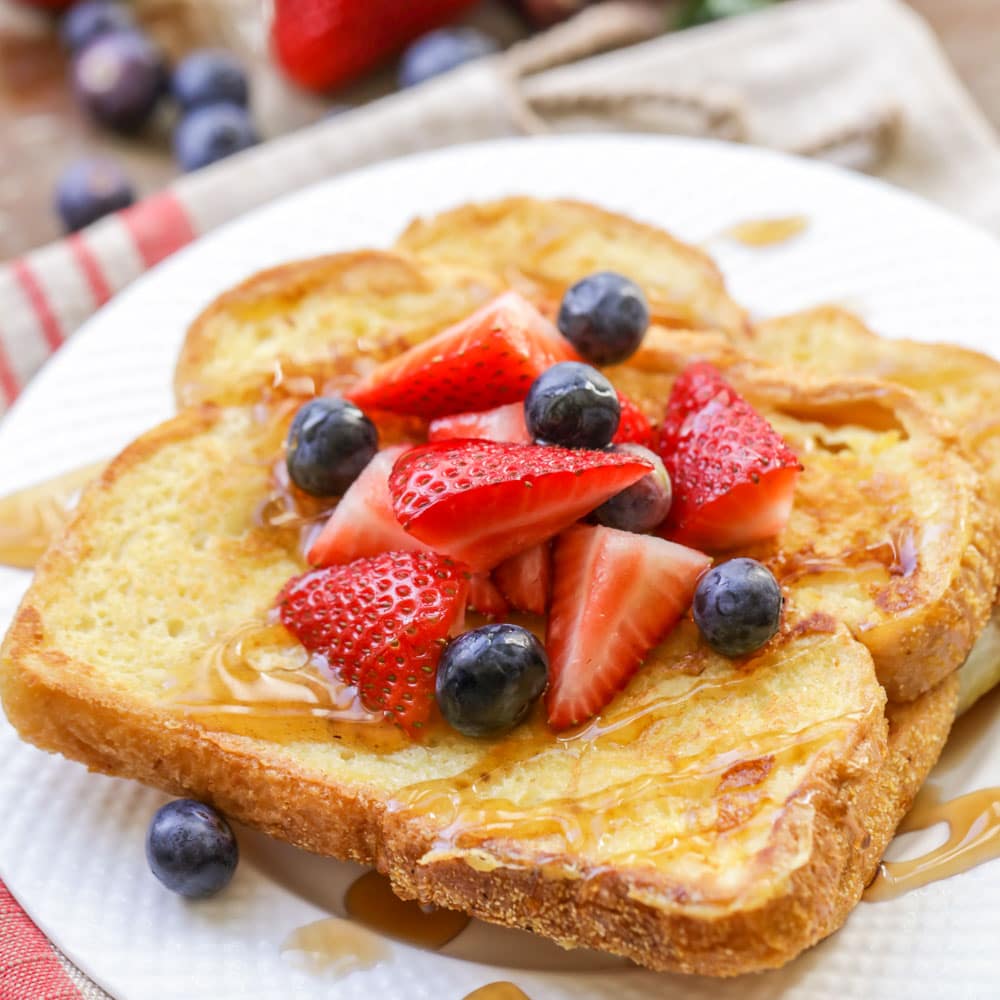 Holiday French Toast!
November and December have got to be the two months with the most recipe searches on Pinterest and Google. Everyone is looking for delicious recipes to use for their holiday gatherings. Some of you may even have family or friends staying with you as you celebrate this special season.
If so, I have the perfect recipe for them to wake up to! It's Eggnog French Toast!! It's so simple to make and the eggnog adds the perfect festive taste that is ideal for the holidays. This Eggnog French Toast is a great alternative to traditional French Toast. It is super easy to make and is a loved by kids and adults.
There is nothing better than waking up to the smell of breakfast. And what a fun treat to surprise your guests with! Better yet, what a special way to say Thank You, as a guest. You can wake up a little early and surprise your host with this simple, delicious recipe 🙂 They'll love you for it!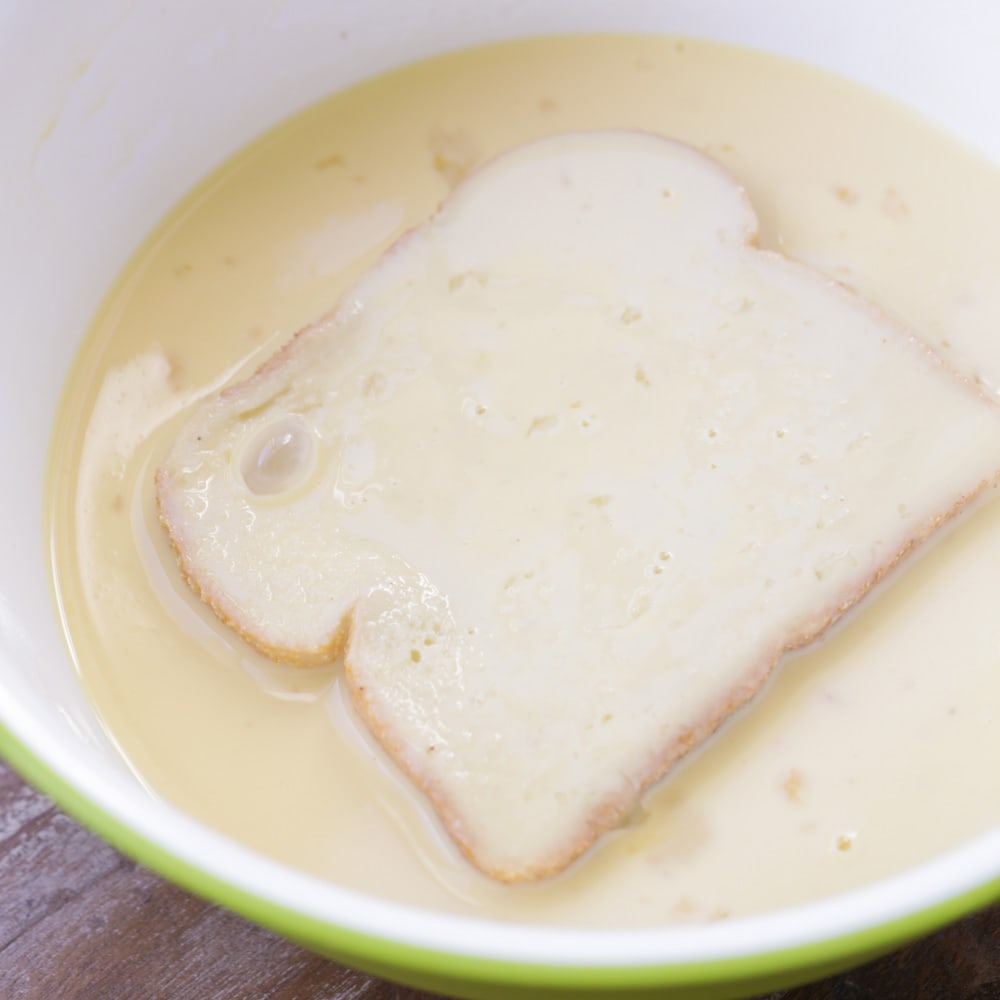 How to Make French Toast Using Eggnog
French Toast really is a simple yet elegant breakfast dish. And this recipe isn't much different from traditional french toast aside from the simple addition of eggnog! Here are a few tips that will help you get the best possible result:
Beat the eggs really well. You don't want to get any clumps of egg white cooked onto the toast.

Use room temperature ingredients. Especially the eggs and eggnog. They will combine more smoothly when mixed.

Soak the bread long enough for the entire piece to be saturated.

Use medium heat: If it's too hot the sugar in the mix will scorch. Too cool and the bread will get too dried throughout.

Make sure you preheat the pan so that the toast begins cooking right away. Otherwise the custard will slowly leak out.
Bread: English muffin bread is ideal not only because it tastes great with the eggnog, but because the texture is perfect for french toast. If you have other types of bread, you can definitely use that instead. I would suggest using stale bread or drying it out in the oven so that it can soak up as much eggnog mix without becoming soggy.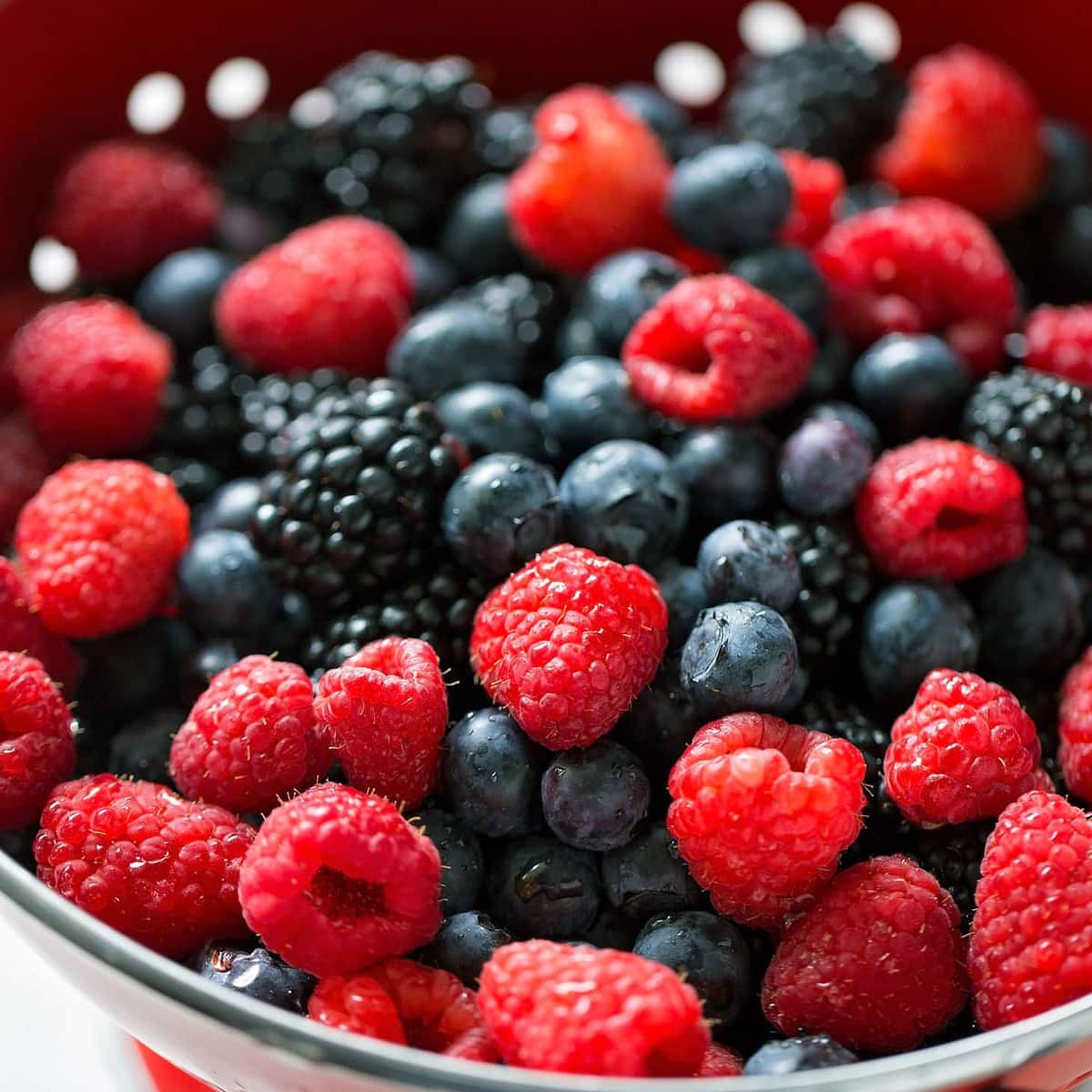 Cooking FOr a Crowd
When I'm cooking for a large gathering, I will definitely pull out my electric griddle. You can fit several on at a time and they are really easy to flip.
One drawback to making a large batch is keeping them warm until you're ready to serve them. Simply, preheat the oven to 200°F. Line a baking pan with parchment paper, place it in the oven and put the toasts on it as they are cooked. The toast can keep in the oven for about 30 minutes before they start drying out.
When cooking for a large group I like to provide a buffet of toppings such as:
fresh berries (strawberries, raspberries, blueberries, blackberries)

Buttermilk

, maple or berry syrup

Nutella, peanut butter or cookie butter

different flavors of jam or jelly

bacon bits

whipped cream
Storing Leftovers
Storage: You can store french toast in the fridge or freezer. Either option works great for leftovers, or for making them ahead of time. I like to stick the individual slices in a fold top sandwich baggie and then place them in a Ziploc. They keep for 1-2 days in the fridge or for up to 2 months in the freezer.
Reheat: When you're ready to eat them you can reheat them in a toaster or microwave. To reheat a large amount use the oven.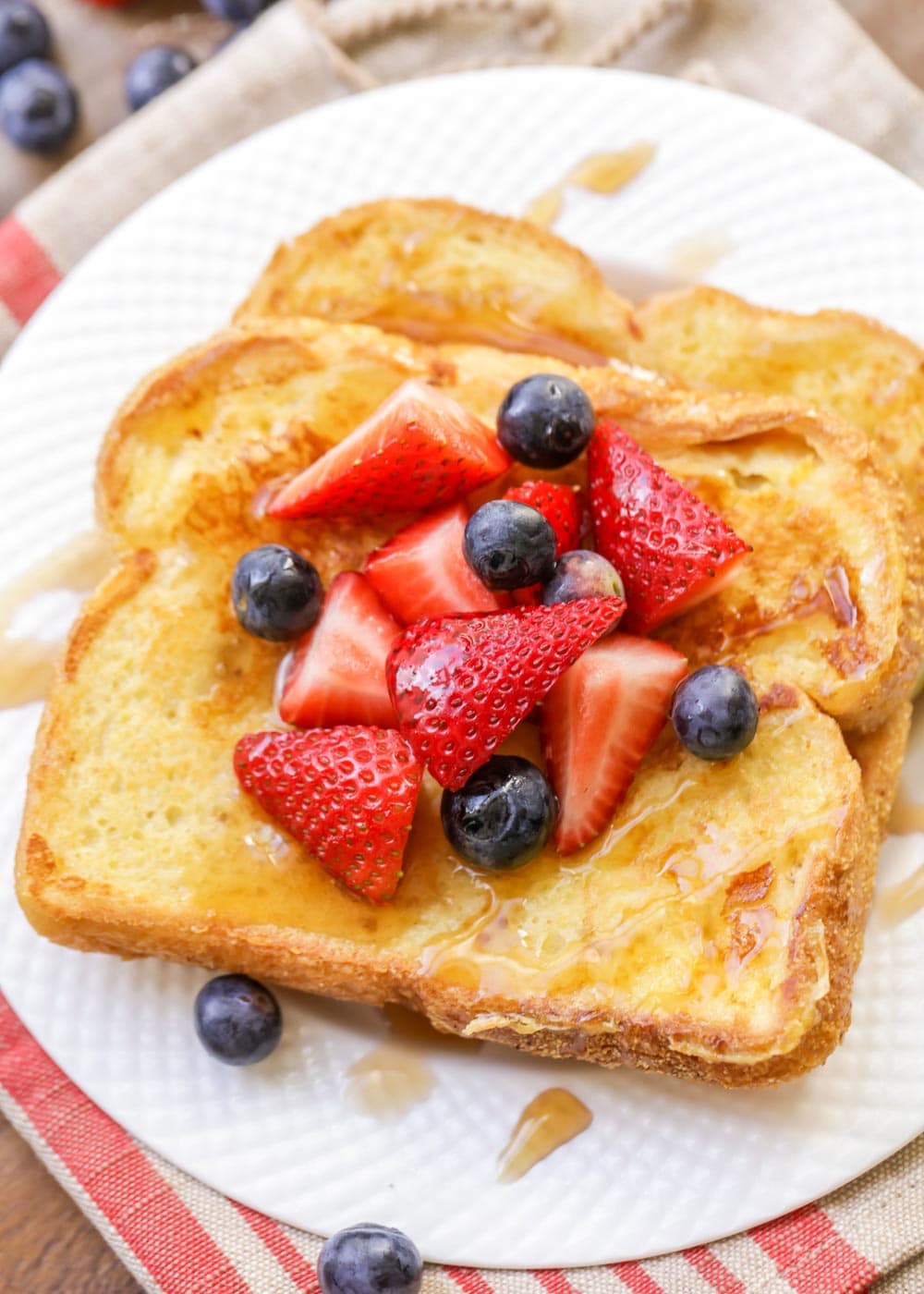 If you are a fan of eggnog, I highly recommend trying this recipe. It would be great for Christmas morning or any time during December. 😀
For more breakfast recipes, check out:
Eggnog French Toast Recipe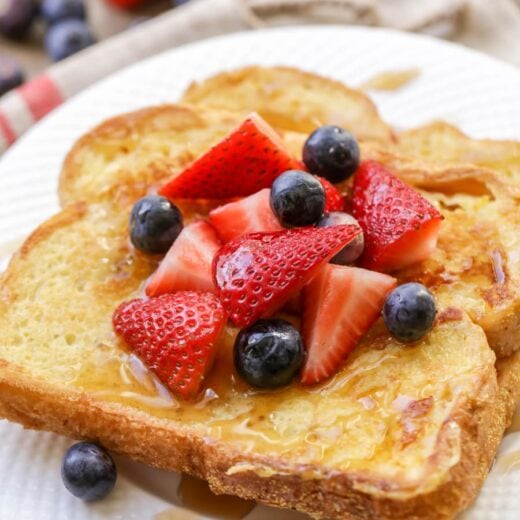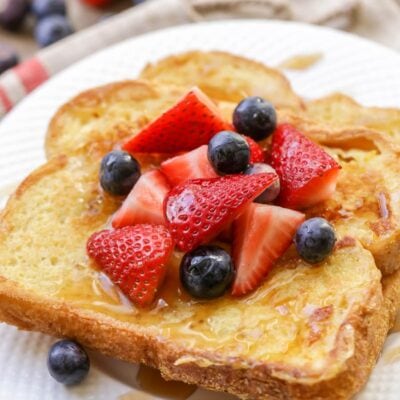 Eggnog French Toast is a simple, tasty and great breakfast recipe to try during the holidays. It's especially perfect for all eggnog lovers!!
Instructions
Beat eggs, eggnog, sugar and extract in a large bowl. Dip each piece of bread and let soak for 1 minute on each side.

Grease a hot griddle and cook until golden brown on both sides. Dust with powdered sugar if desired and serve with syrup.
Adapted from Taste of Home.