Filled with bacon, sausage, cheese and more – this Tater Tot Breakfast Casserole is sure to be your next go-to breakfast dish. It's easy, delicious and sure to be a crowd pleaser.
A new go-to breakfast casserole that is so cheesy and flavorful! Filled with bacon, sausage, eggs, tater tots, cheese and more – you can't go wrong with this easy recipe. It's just as good as simple as our biscuit egg casserole and breakfast potato casserole.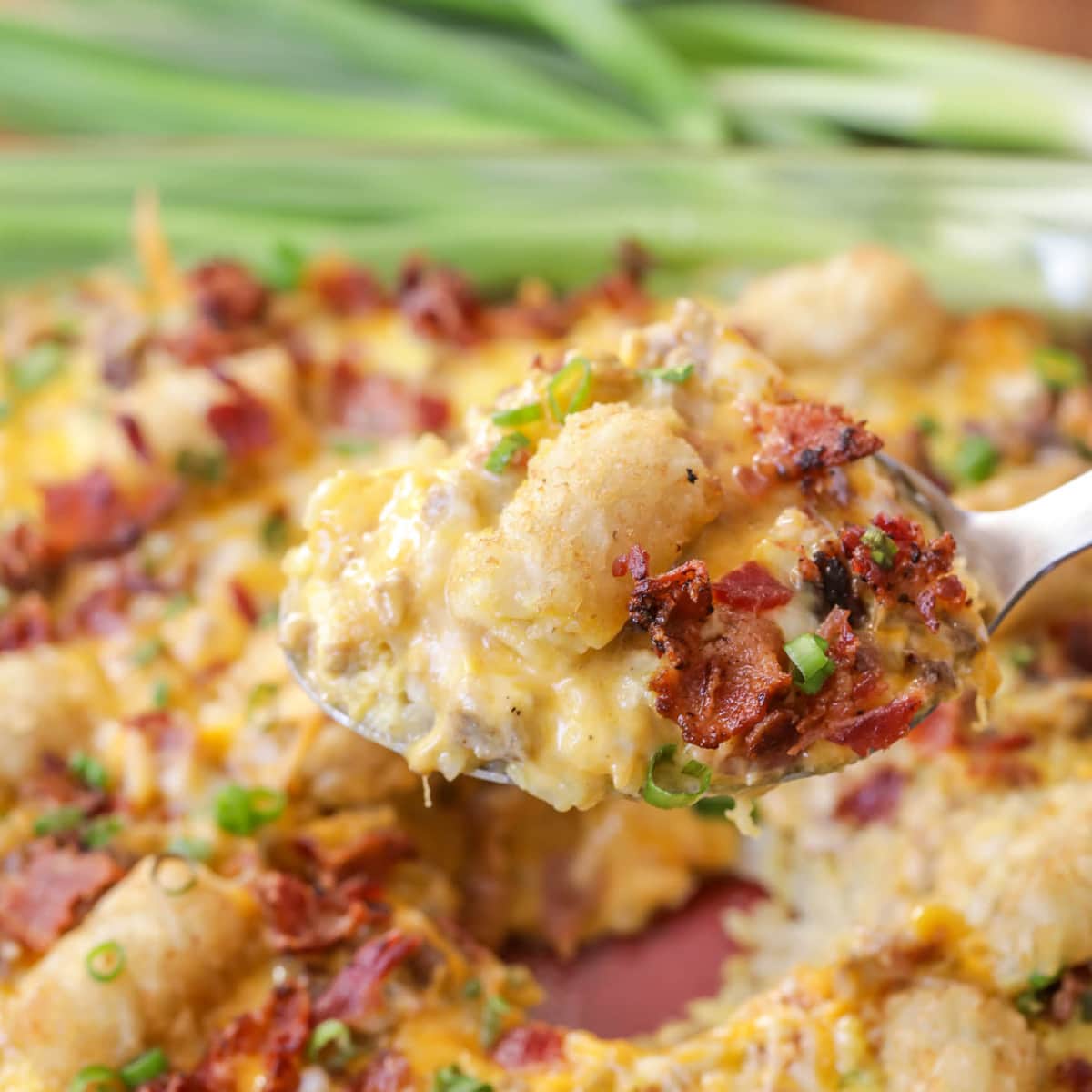 Tater Tots, bacon, Sausage + EGGS
Breakfast recipes are the best! I think we can all agree that they are great any time of day and are perfect for meals and gatherings – even for holidays.
We have been long-time fans of breakfast casseroles, and wanted to share a new one today for a tater tot breakfast casserole with bacon and sausage that was incredible!
We've had our Biscuit and Egg Casserole and Breakfast Potato Casserole as favorites, but will be adding this one to the list because it was simple and so delicious. Oh yeah – and so flavorful!
We've had our classic Tater Tot Casserole as one of our favorite side dishes and knew a breakfast version would be delicious – and it was.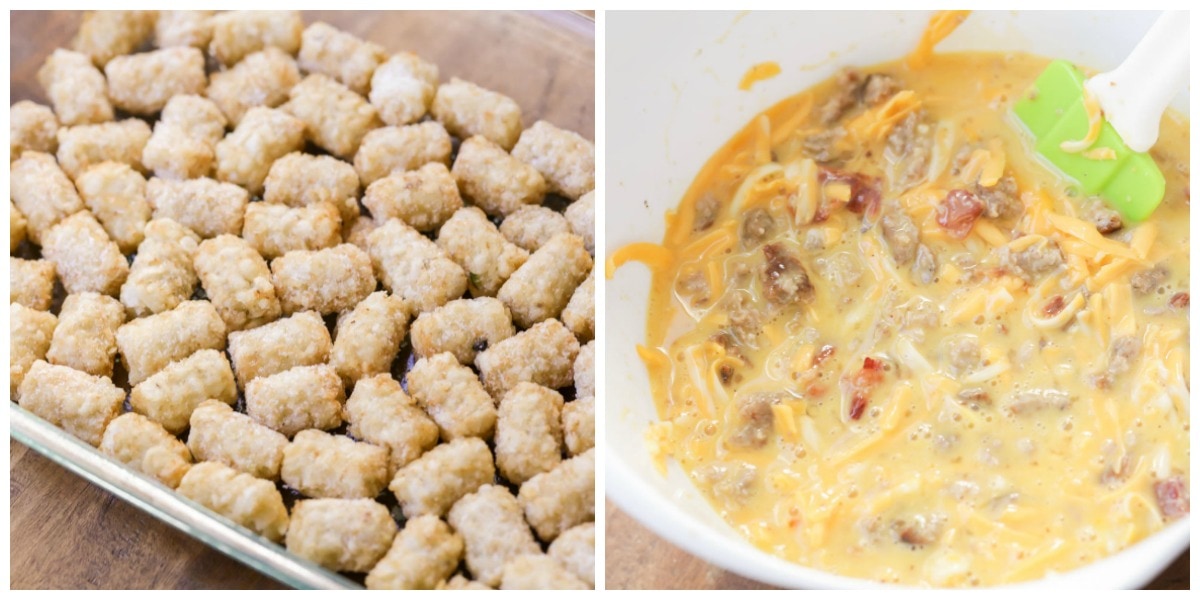 How to Make IT
From start to finish, this recipe can be made in about 10 minutes using some short cuts. This casserole calls for bacon and sausage, and if you used pre-cooked bacon and pre-cooked sausage crumbles it makes it even easier.
TATER TOTS. Once you have those meats prepared, you will line the tater tots in a single layer in a greased baking sheet.
EGG MIX. Make your egg mixture by mixing egg, milk, salt, pepper, half the bacon, the sausage and all but one cup of the cheddar cheese. This will be poured over the tater tots.
CHEESE. We sprinkled some more tater tots on top and then baked this for about 40-45 minutes. From there, we took it out, added more cheese and popped it back in the oven for 5 minutes.
TOPPINGS. Top it off with the remaining bacon and some green onions and let it set for at least 5-10 minutes before digging in.
Other ingredients to add?
This dish can easily be changed out based on your likings. You can change the cheeses or even meats as well as add any other additional ingredients like onions or peppers. For example, a Mexican version could include some chopped onions, green and red peppers and Colby Jack cheese instead of cheddar cheese.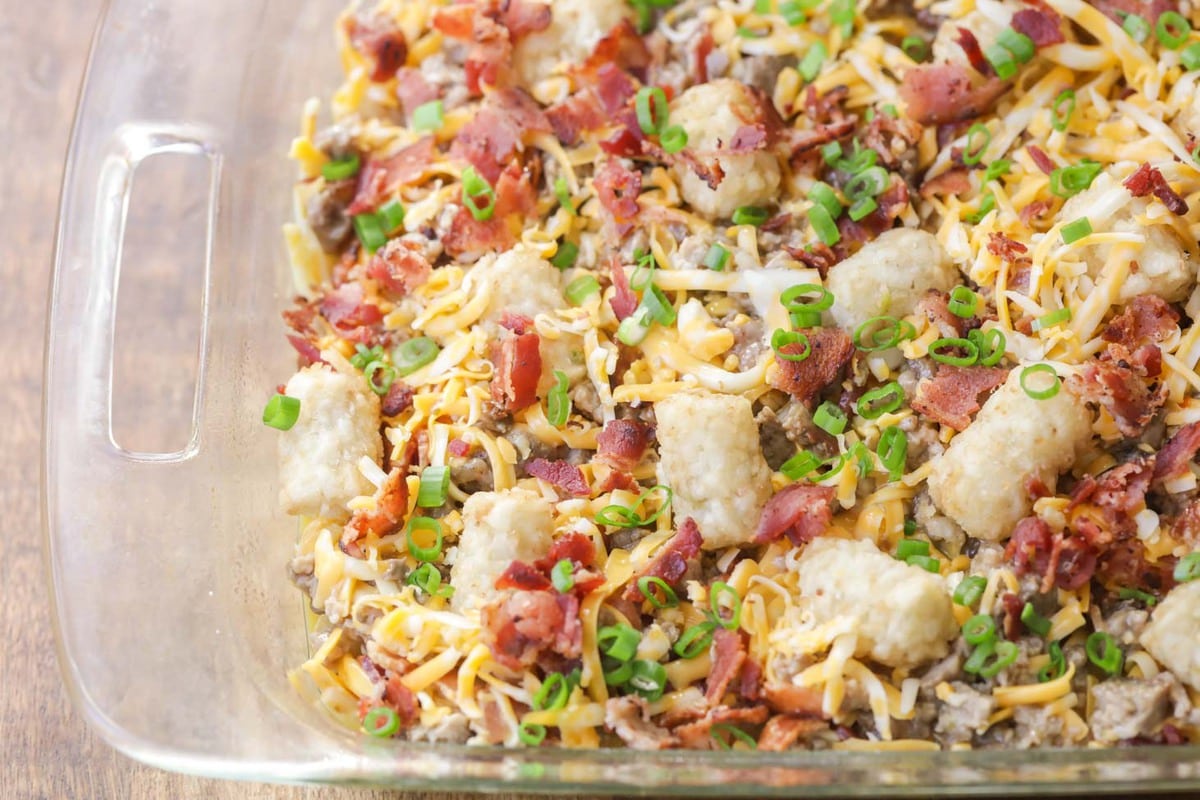 making ahead + leftovers
Can you make this ahead of time? This dish already comes together very easily and quickly, but it can also be made ahead of time. Just make it as instructed, but store the egg mixture in an air-tight container for up to 24 hours in advance.
Pour this over the tots right before baking and finish cooking as instructed.
How to store/reheat tater tot breakfast casserole? Place in an air-tight container and keep in the fridge for up to 4 days. If you want to freeze this casserole, place it in a freezer-safe dish, cover tightly and freeze for up to 3 months.
You can reheat it by letting it thaw overnight in the fridge and microwaving. You can also freeze single servings and reheat for a quick breakfast.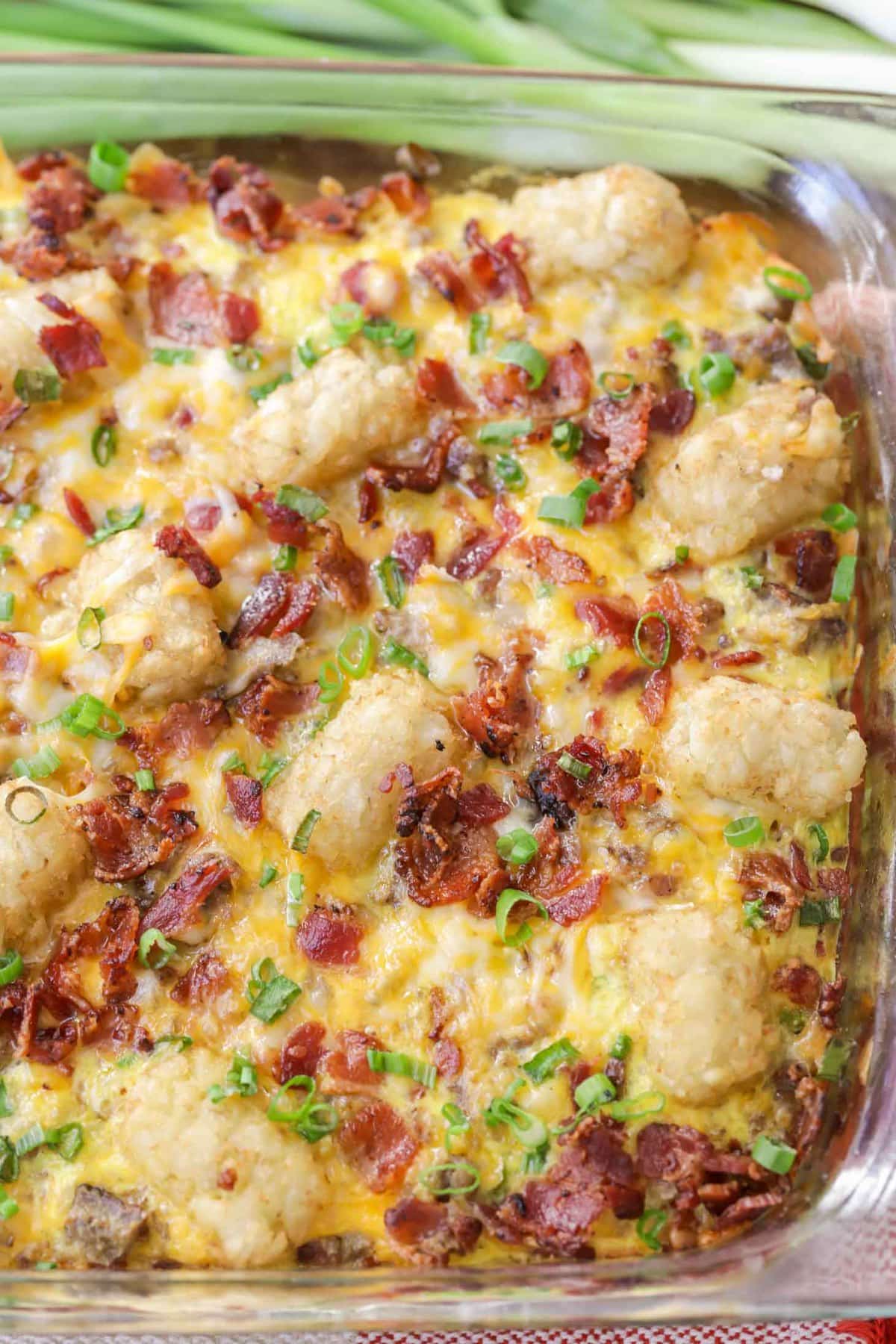 We love this dish and and can't wait to have it again. It will be great for weekend breakfasts, brunch or even holiday mornings. We hope you love it as much as we do.
For more breakfast casseroles, check out:
Tater Tot Breakfast Casserole Recipe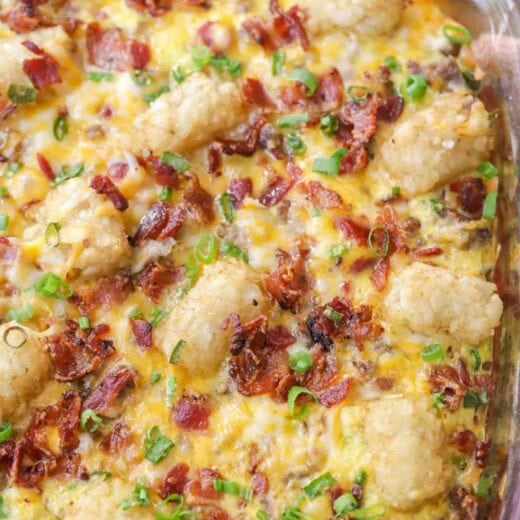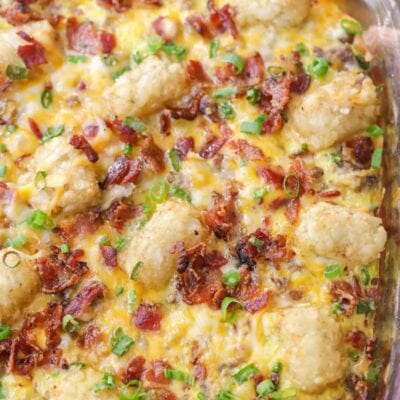 Tater Tot Breakfast Casserole is packed with bacon and sausage. It's easy, delicious, and sure to be a crowd-pleaser.
Ingredients
10

oz

sausage crumbles

1

pound

bacon

1

32 oz. package

Tater Tots

12

large

eggs

1/2

cup

milk

1/2

tsp

salt

1/4

tsp

pepper

1

cup

Monterey Jack Cheese

shredded

2

cups

cheddar cheese

shredded and divided

green onions
Instructions
Cook bacon in a skillet and then crumble it.

Arrange Tater Tots in a single layer in a greased 9x13 dish.

Whisk together eggs, milk, salt, and pepper. Stir in sausage and half the bacon crumbles.

Stir in 1 cup of the Monterey Jack Cheese and 1 cup of cheddar cheese and mix well. Pour over tater tots.

Sprinkle with additional tots and bake for 40-45 minutes.

Take out of oven and top with remaining cheese and bake an additional 5-7 minutes.

Let stand for 10 minutes before cutting and top with remaining bacon and green onions, if desired. Serve warm.