This Easy Cheesy Tater Tot Casserole is a simple, quick and tasty side dish with a tater tot base, creamy and cheesy center, and a fried onion topping! It's great for any dinner or holiday meal.
This post was brought to you by the makers of French's®. I received compensation to write this post through the #RealFlavorsHaveCrunch program. As always, all opinions are 100% my own.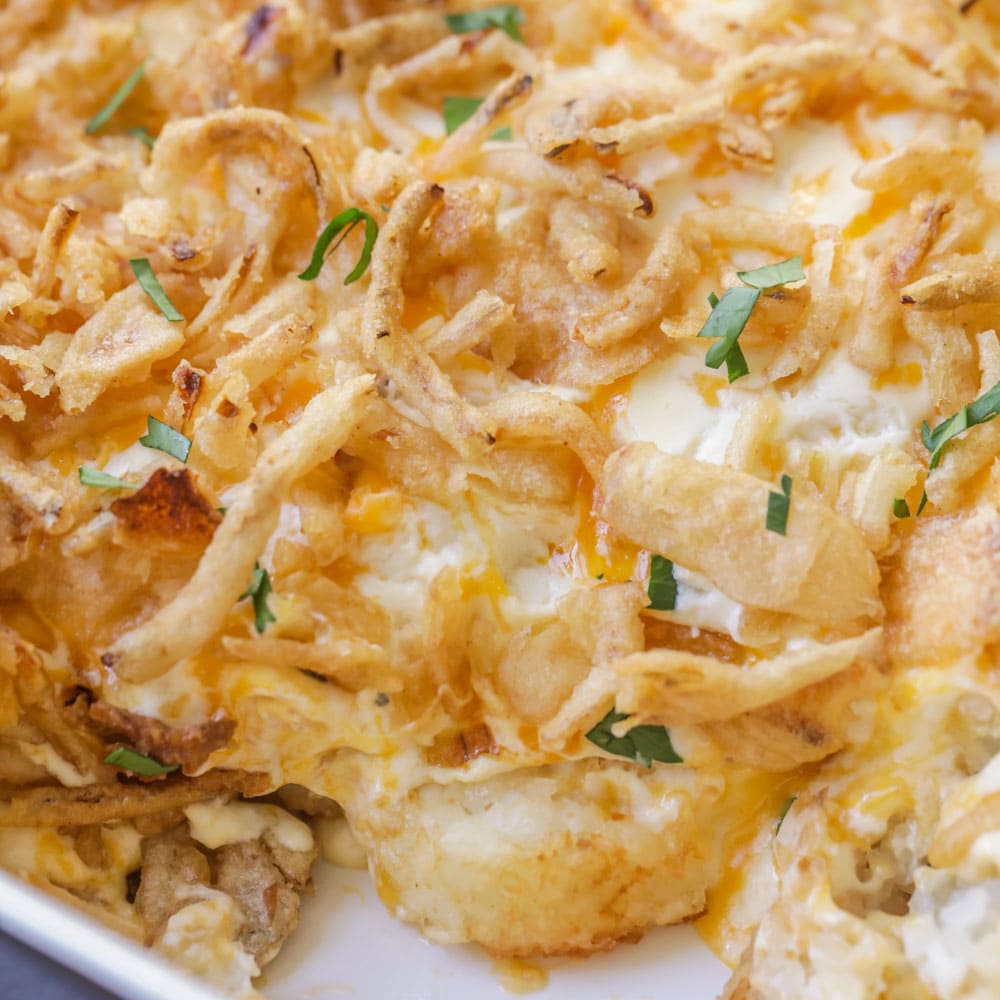 easy, Cheesy Tater Tot Casserole
Have you ever gotten so excited about a recipe?! Well, today I'm SO excited to share this Tater Tot Casserole recipe that we made last week. I'm so ecstatic to share it because it was LOVED by the whole family and ended up tasting so cheesy and delicious. In fact, my husband and sisters claimed it the best casserole they had ever tried. How's that for quickly becoming a family favorite?!
With the holidays quickly approaching, I know it's always fun to have great recipes on hand, and this Tater Tot Casserole will be perfect for those get togethers. This particular dish has a tater tot base and a cheesy, creamy center and a fried onions top. All these layers together make an amazing (and simple!) potato casserole that everyone loves.
We have used French's® Crispy Fried Onions for many of our classic holiday dishes (like green bean casserole), but love that they added the perfect amount of flavor and crunch to this casserole. In fact, as I made this recipe I realized that they would be great additions to any casserole, potatoes or salads. They add so much to a recipe and are perfect for all your holiday dishes!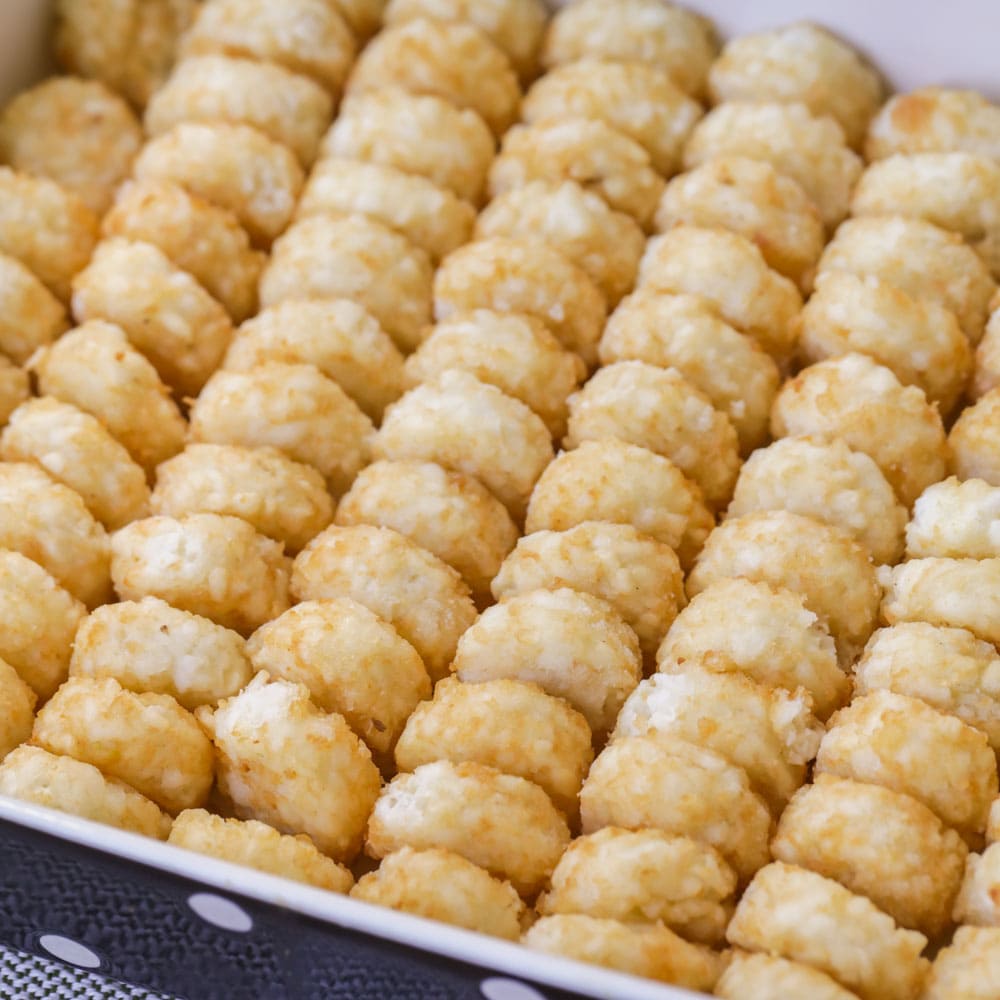 How to Make Tater Tot Casserole
We are all about easy recipes, and this casserole is very simple. Here are the ingredients needed for this tater tot hotdish recipe:
tater tots
sour cream
cheese
cream of chicken & mushroom soup
French's fried onions
garlic salt
What's so great about today's recipe is that it is simple, quick and so tasty. We started with a layer of frozen crispy tater tots and topped that off with a mixture of sour cream, cheese and cream of mushroom and chicken soup.
We topped that off with French's® Crispy Fried Onions and baked it for 45-50 minutes. The result is a new favorite casserole recipe that took minutes to prep and was so delicious.
I'm not joking when I say that the whole family loved these potatoes. We had to divvy up the leftovers because everyone wanted to take some home to their families to try out. 😉
Soup clarification: This recipe calls for using a can of "Cream of chicken and mushroom soup". If your grocery store doesn't carry a combination can you can easily use half a can of each or just one can of whichever your prefer (cream of chicken soup or cream of mushroom soup)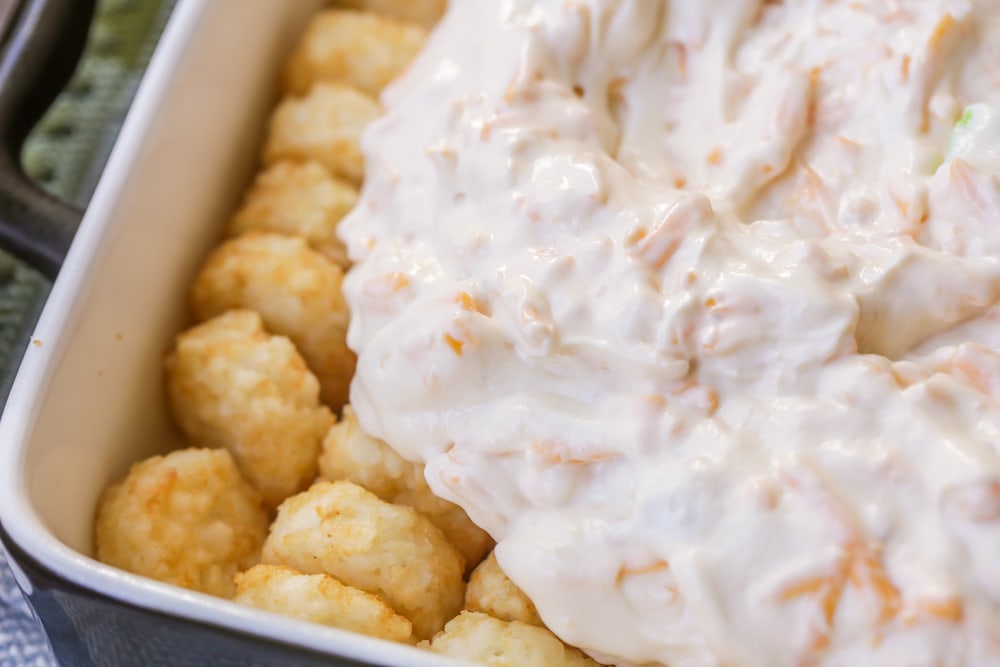 Change it up!
Variations: This casserole is versatile. Of course we loved this version, but you can easily change things up. Here are a few ideas…
Add veggies like carrots, zucchini, broccoli or cauliflower florets

Add protein like cubed ham or cooked ground beef on top of the tater tot layer.

Top with scallions or crumbled bacon

 
No matter how you change it, the recipe as is, is amazing, and we think you'll love it!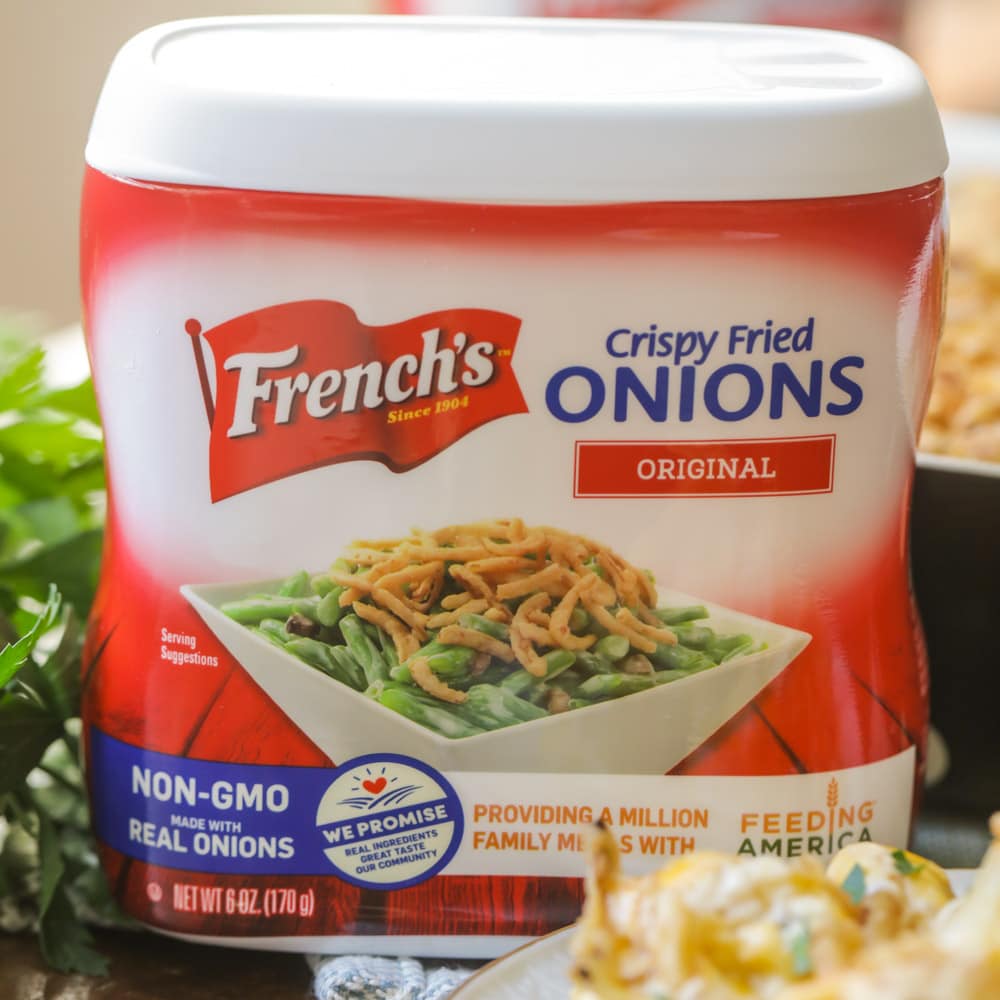 Storing, making ahead + Freezing
Leftovers can be STORED in the fridge  for 3-4 days or in the FREEZER for 1-2 months. Reheat in the microwave or oven.
If you want to MAKE THIS AHEAD OF TIME complete steps 2 and 3. Do not add the french onion on top or bake it. Cover the baking dish with plastic wrap then again with foil, label and freeze for up to 2 months. When you're ready to use, thaw in the fridge, add onions and then bake.
For holidays, we love to make this ahead just the day before up through step 3, and then finish it off right before baking and when company comes. Works perfectly and allows for minimal work on a crazy holiday.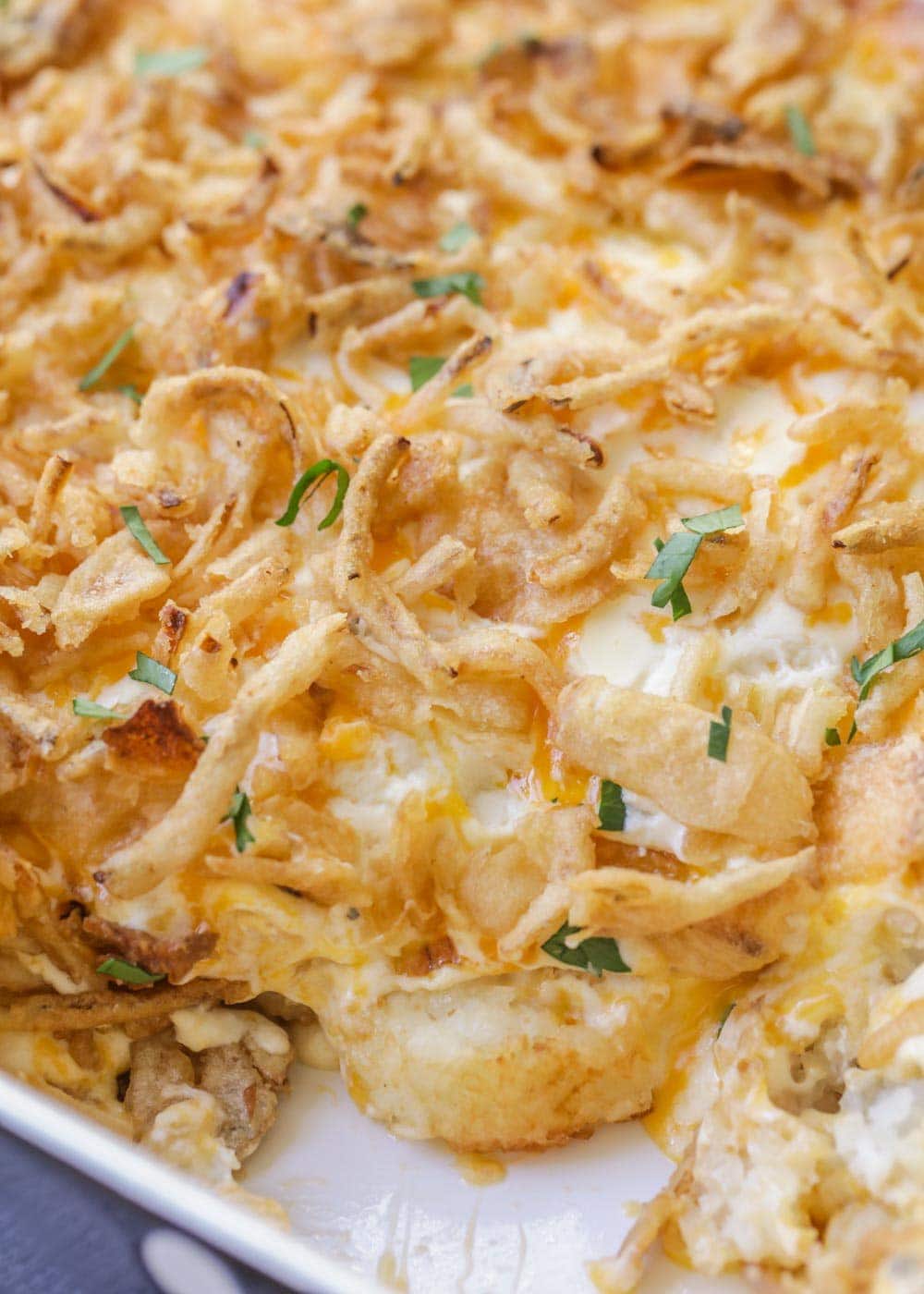 So much flavor in one casserole!! We cannot wait to make it again for Thanksgiving and for some of our Sunday family meals. Not only is this dish so easy, but it truly is so simple. It may take some time to bake, but prep time is only about 5 to 10 minutes. You can't get much easier than that, AND you are sure to get rave reviews. 😉
Potatoes are usually a standard at all large meals, and although you can find simple potato casserole dishes, they usually still require washing and peeling the potatoes. If you are wanting something more simple, this recipe is a great one to try.
For more information about French's be sure to check them out on Facebook, Pinterest, Twitter & Instagram.
For more recipes using Fried Onions, check out:
Tater Tot Casserole Recipe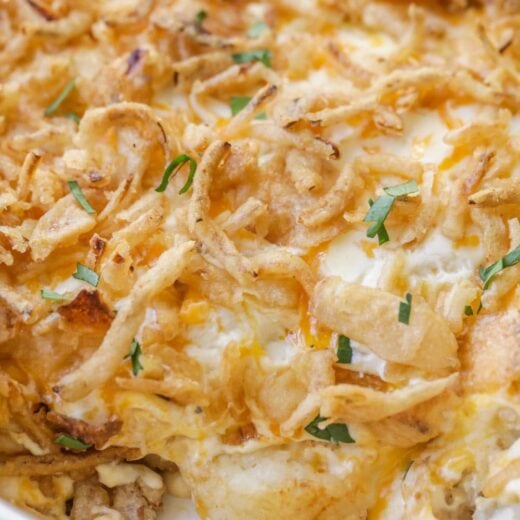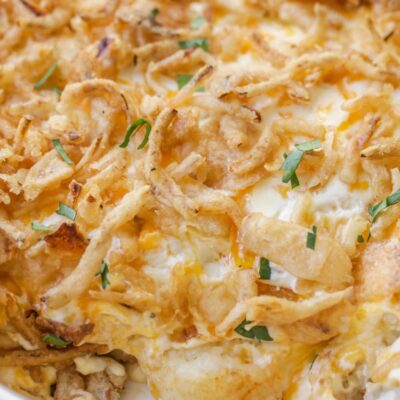 A simple, quick and delicious casserole with a tater tot base, creamy cheesy center and topping of Fried Onions
Ingredients
1

32 oz. bag

frozen crispy tater tots

1

16 oz. container

sour cream

2

cups

cheddar cheese, shredded

1

10.75 pz. can

Cream of Chicken & Mushroom soup

1

6 oz. can

French's Fried Onions

1

tsp

garlic salt (with parsley flakes)
Instructions
Preheat oven to 350.

Bake in the 350 degrees F (175 degrees C) oven for 45 to 50 minutes.

Arrange tater tots in a greased 9x13 pan.

Combine sour cream, cheese, cream of chicken/mushroom soup and garlic salt in a medium bowl. Mix well and pour over tater tots.

Sprinkle onions over the top of the casserole and bake for 45-50 minutes. ENJOY!