Tender and juicy Honey Glazed Ham is smothered in our simple 5-ingredient glaze. It's our favorite recipe for holiday ham!
We have several meat recipes that make for great holiday dishes—Brown Sugar Ham, a delicious Pot Roast, the best ever Roast Chicken, and especially this Honey Glazed Ham!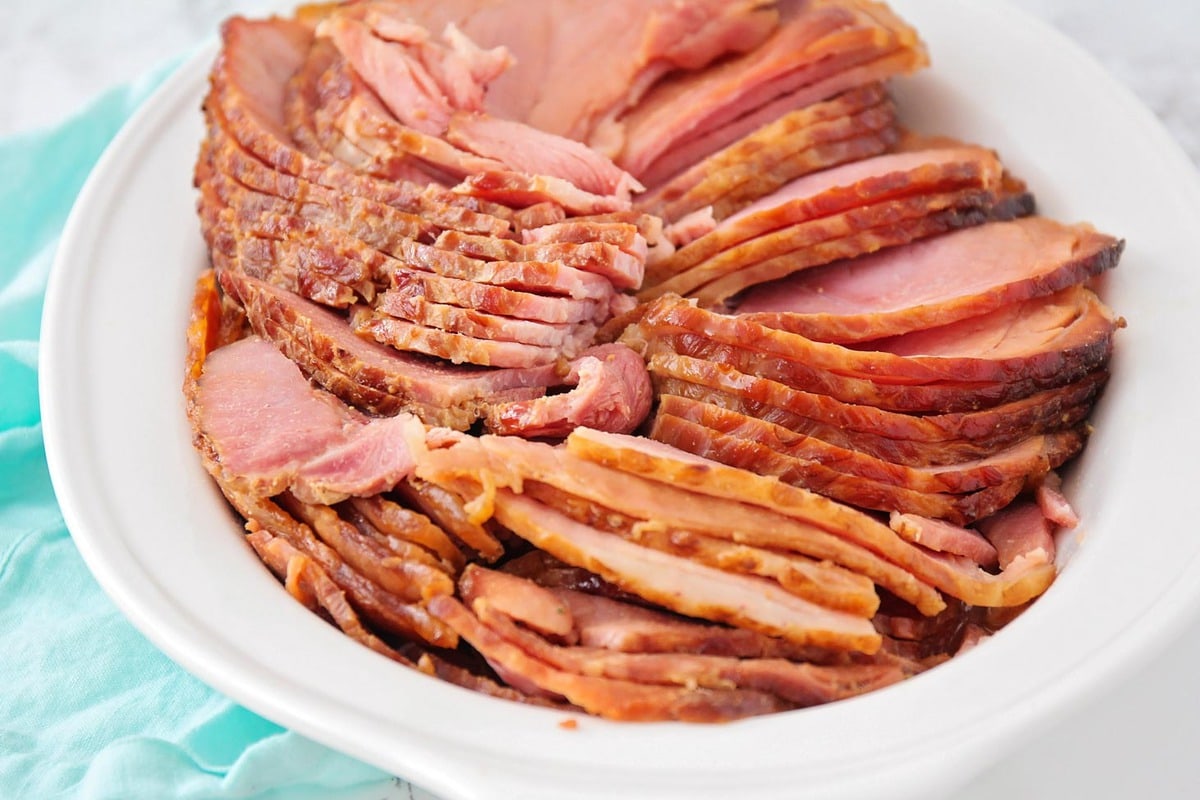 Delicious Holiday Ham
Christmas is almost here! If you're anything like me, you're BEYOND excited to gather with friends and family – and eat delicious food. We gather with the entire Luna gang for hanging out and feeding our faces.
So many of our holiday get togethers center around food, so we love creating the menus for these nights.
We usually do Mexican food on Christmas Eve, but we love having a traditional baked ham and veggie menu for Christmas Day. Ham is also an Easter favorite!
Crock pot Honey Glazed Ham is perfect for holiday gatherings, and it goes perfectly with Roasted Brussels Sprouts and Roasted Red Potatoes to round out the meal!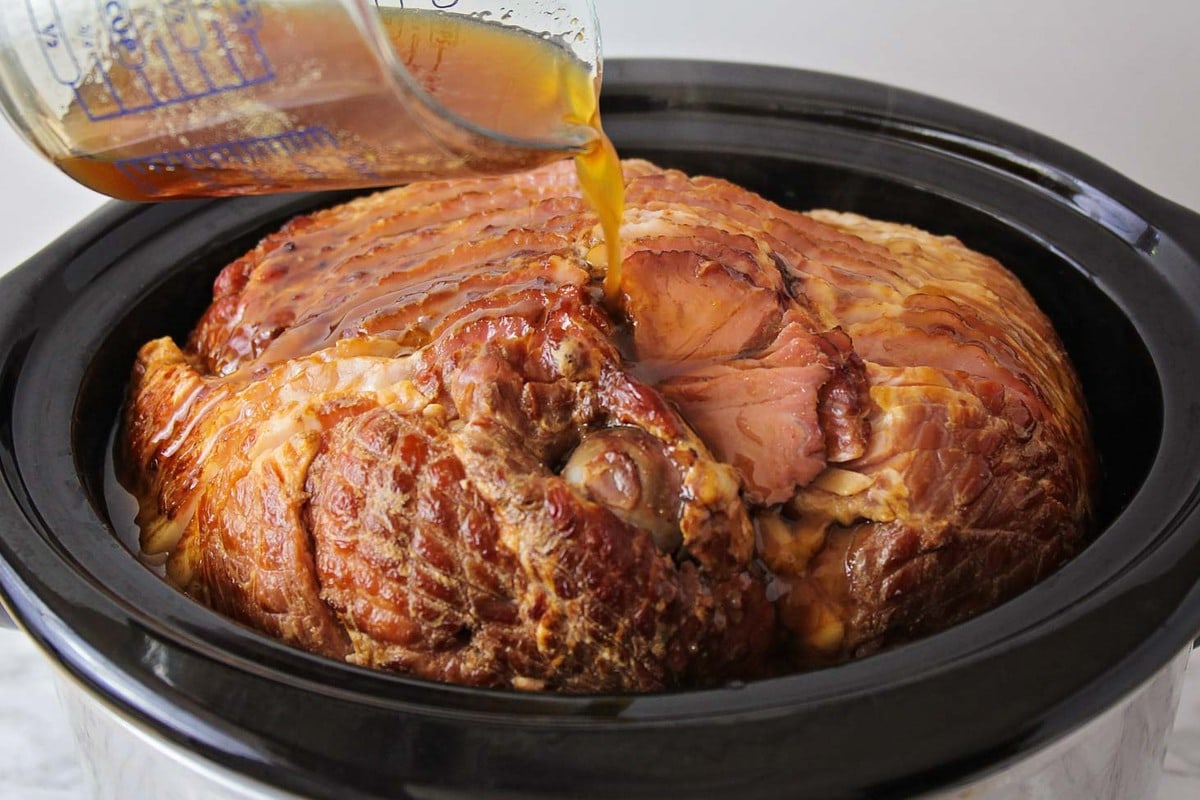 5 Minutes of Prep!
I, myself, had never made a Honey Glazed Ham, but my family LOVES to eat it for the holidays. I found a simple, but delicious recipe that ended up tasting amazing. It was so juicy and flavorful, and best of all – it was SIMPLE!
It only took 5 minutes to prepare, and then the slow cooker did the rest of the work.
HAM. Place spiral cut ham slices into your slow cooker. For easy clean up, use a crock pot liner.
What is spiral cut ham? This type of ham is really convenient because the precooked ham has been pre sliced as well. A butcher begins making one continuous cut from one end of the ham to the other. These pre-cut, even, slices make it easier to slice and serve the ham at dinner. Spiral ham can come as a boneless ham or bone-in.
GLAZE. Add light brown sugar, honey, water, mustard, and cloves to a small or medium saucepan. Bring to a simmer and cook for 5 minutes. Remove cloves from the glaze and pour over ham.
COOK. Cook on LOW for 4 hours, making sure to baste or brush ham with the honey glaze every hour.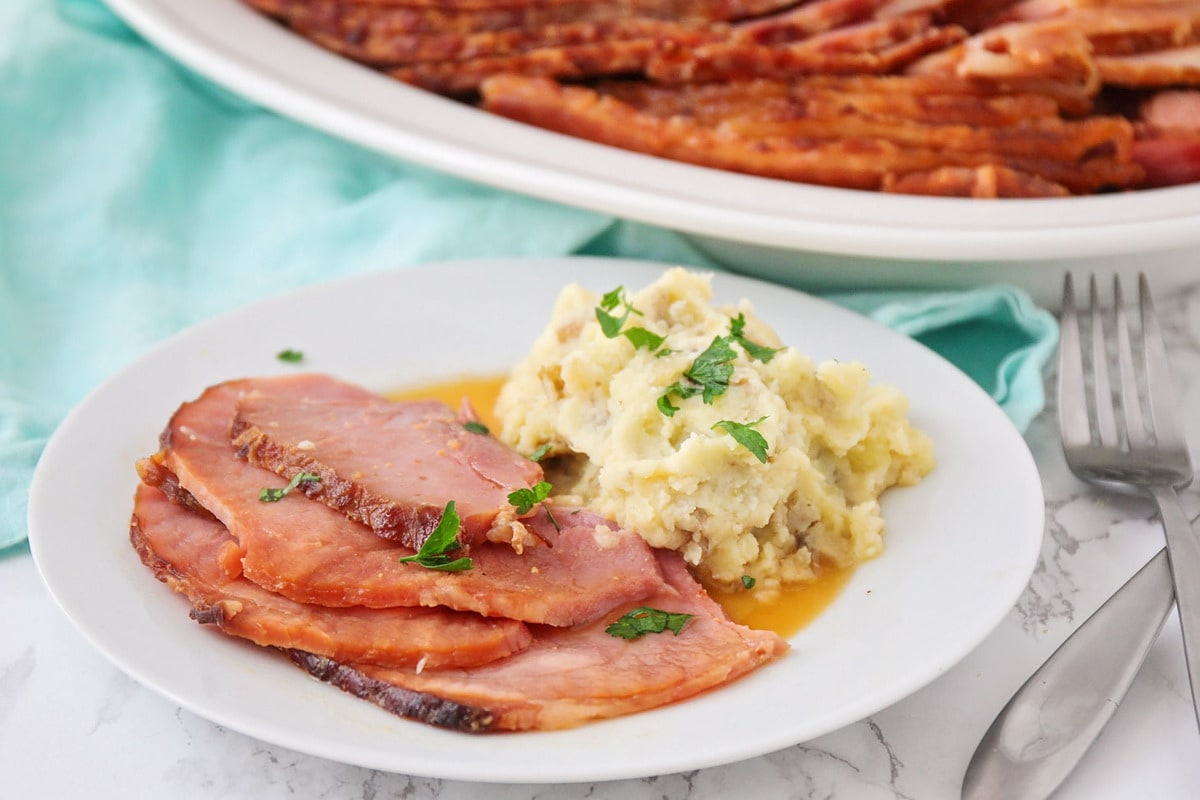 Tips for buying and preparing ham
Ham size. If the honey glazed ham is the main dish, plan on ⅓ to ½ pound per person. If you want some leftovers, add another pound or two. Keep in mind the size of your slow cooker. A 6-8 quart slow cooker can usually fit a 6-7 lb ham. I recommend you choose a ham in natural juices. Avoid ham in water.
How long to store ham before cooking it. Keep a wrapped spiral cut ham in the refrigerator for 3-5 days or in the freezer for 1-2 months before cooking it.
Thaw a frozen ham in the fridge. Plan for it to take 4-6 hours per pound. Speed up the process by placing the ham in a plastic bag, and submerging it in cold tap water. Change the water every 30 minutes until the ham is thawed.
For extra flavor. Try pinning pineapple and/or maraschino cherries to the top of the ham. Use a toothpick to hold them in place. The pineapple juice and cherry juice will add a delicious layer of flavor to the ham. Add extra flavor with a dash of spices such as nutmeg, ginger, or cinnamon.
Crock Pot Tips
Did you know you can preheat a crock pot? Plug in the pot and start heating it up while you prepare the ingredients for the dish. Some other crock pot tips include:
High on a crock pot is about 300°F. Low heat is about 200°F. One hour on high equals about two hours on low.
Don't put frozen meat in the crock pot.
Use the right size crock pot. The ham should fill the pot between ½ and ¾ of the way.
Avoid removing the lid. It takes 20 minutes for the pot to return to the set temperature.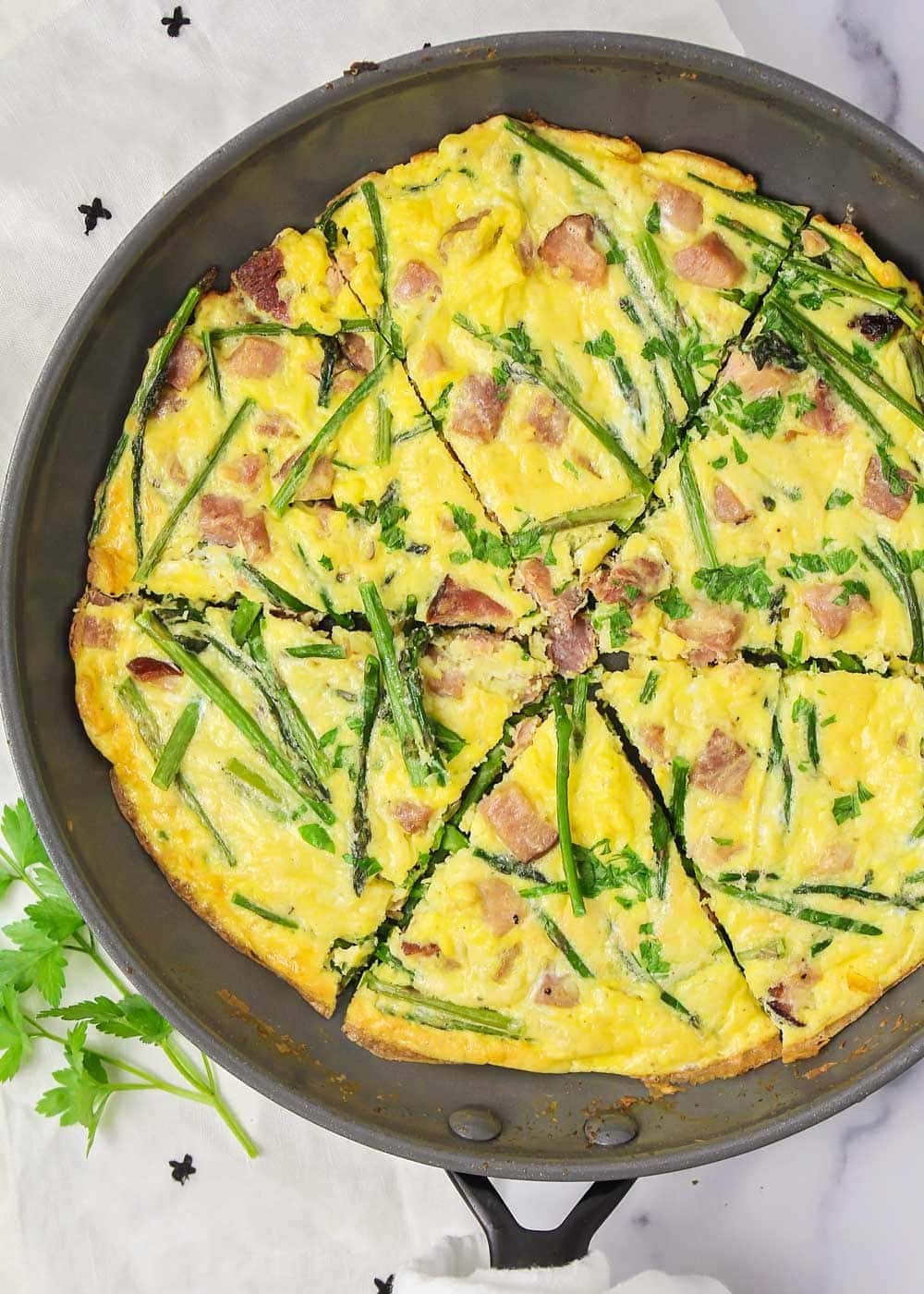 Storing and Using Leftovers
STORE leftover honey glazed ham in an airtight container, in the fridge, for 4-5 days.
FREEZE for 2-3 months.
Reheat. Quickly reheat ham in the microwave, but the best way to get a moist reheated ham is to use a roasting pan in the oven.
Preheat oven to 325°F.
Fill the bottom pan with water and place the roasting rack on top.
Place ham on top of the rack and cover the entire pan with aluminum foil. The steam from the water underneath will keep the ham moist while reheating it.
Bake until warm throughout.
Leftover ham is great to make other meals with. Some favorites include classic next day ham sandwiches as well as: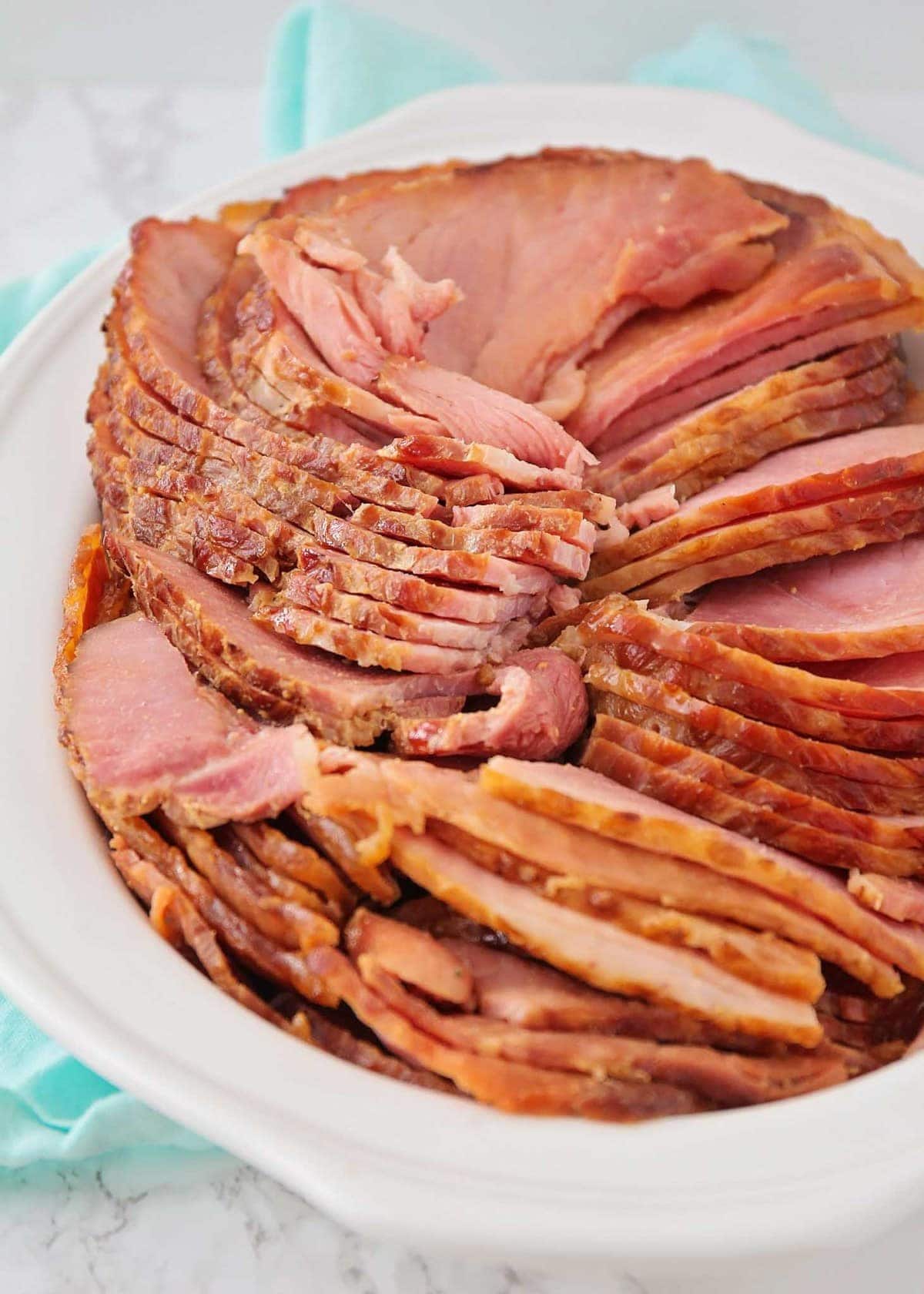 Try these Side Dishes: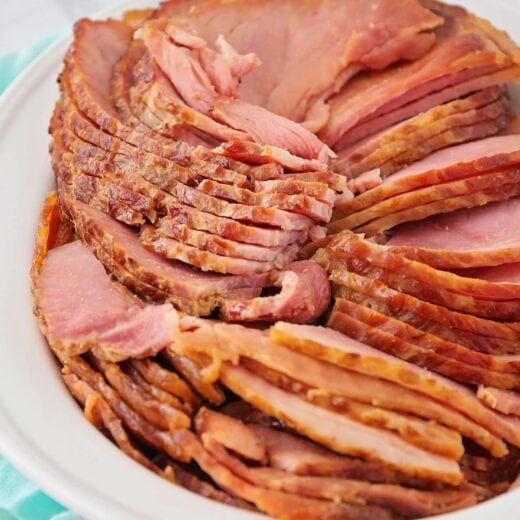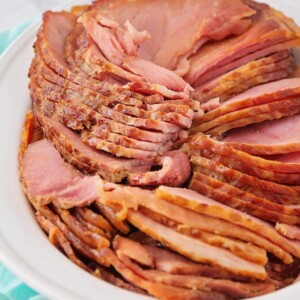 Honey Glazed Ham Recipe
Tender and juicy Honey Glazed Ham is smothered in our simple 5-ingredient glaze. It's our favorite recipe for holiday ham!
Ingredients
1

cup

brown sugar

½

cup

honey

½

cup

water

2

tablespoons

Dijon mustard

10

whole cloves

1 (4-5-pound)

Sam's Choice spiral cut ham (cooked)
Instructions
Place cut ham slices into your slow cooker.

Add all ingredients (except the ham) to a small pot. Bring to a simmer and cook for 5 minutes.

Remove cloves from the glaze and pour over ham. Cook on LOW for 4 hours making sure to baste ham with the glaze every hour.

Serve warm with the glaze. ENJOY!
Nutrition
Calories:
172
kcal
,
Carbohydrates:
44
g
,
Sodium:
54
mg
,
Potassium:
52
mg
,
Sugar:
44
g
,
Vitamin C:
0.1
mg
,
Calcium:
28
mg
,
Iron:
0.4
mg
Nutrition information is automatically calculated, so should only be used as an approximation.
Making this recipe? Tag us!
Share it with us on Instagram using the hashtag #lilluna, so we can see what you're creating in the kitchen!