These Green Bean Bundles make for the ultimate side dish. Bacon wrapped green beans drizzled in butter, brown sugar, and garlic salt – the flavor can't be beat!!
You can't beat a recipe that involves being wrapped in bacon! This recipe is a favorite along with some others like our bacon wrapped asparagus, bacon wrapped potatoes and bacon wrapped smokies!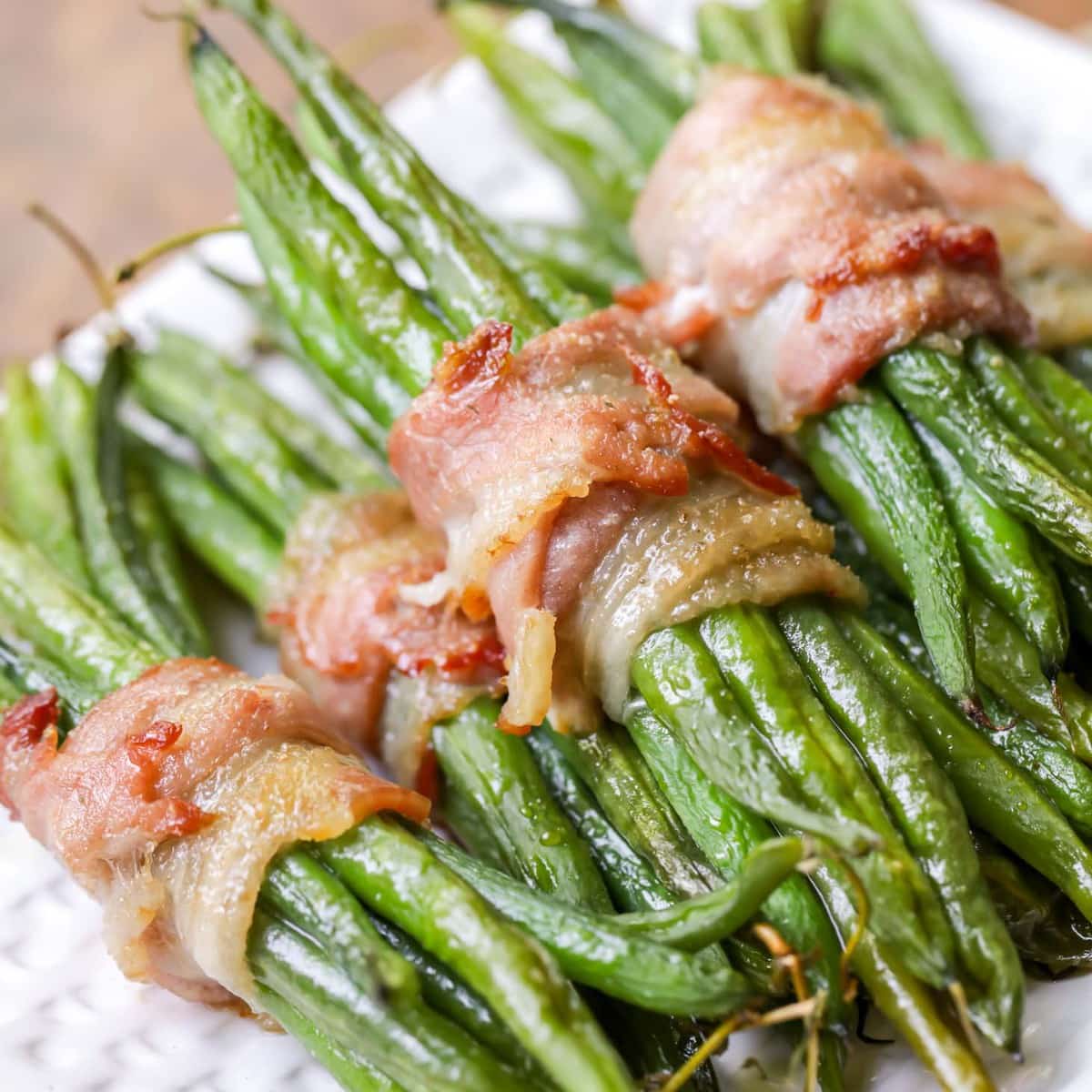 Bacon + Brown Sugar = Heaven
Do you like green beans? I'll be honest, I didn't as a kid, but eventually I learned to love them! If you want a sure fire way to get anyone to love green beans… Wrap them up in BACON!!
Today's recipe for Green Bean Bundles is one that is SO full of flavor, you hardly even realize you're eating green vegetables! The green beans are wrapped in bacon and cooked with butter and brown sugar drizzled all over the top. Bacon and brown sugar are a flavor match made in heaven!!
These are simple and quick enough to make for a weeknight dinner, but sophisticated enough to impress your dinner guests! We like making these bundles as a side dish for big family holiday dinners.
The recipe feeds about 6, but you can easily double the recipe to feed a larger crowd. You should definitely give them a shot! They're almost impossible NOT to enjoy! 😉
Green Bean Tips
How to pick green beans: To pick fresh green beans look for ones that are vibrant in color and without any visual bowning or bruising. They should be firm and snap when bent in half. Choose green beans that are similar in width and length to get a more uniform cook time.
If you are not ready to use the green bean right away store them in the crisper drawer in the fridge for up to one week.
To prepare them, just wash in cold water, dry, and trim the ends.
Note: many grocery stores carry pre trimmed and packaged green beans. They are usually found near the carrots.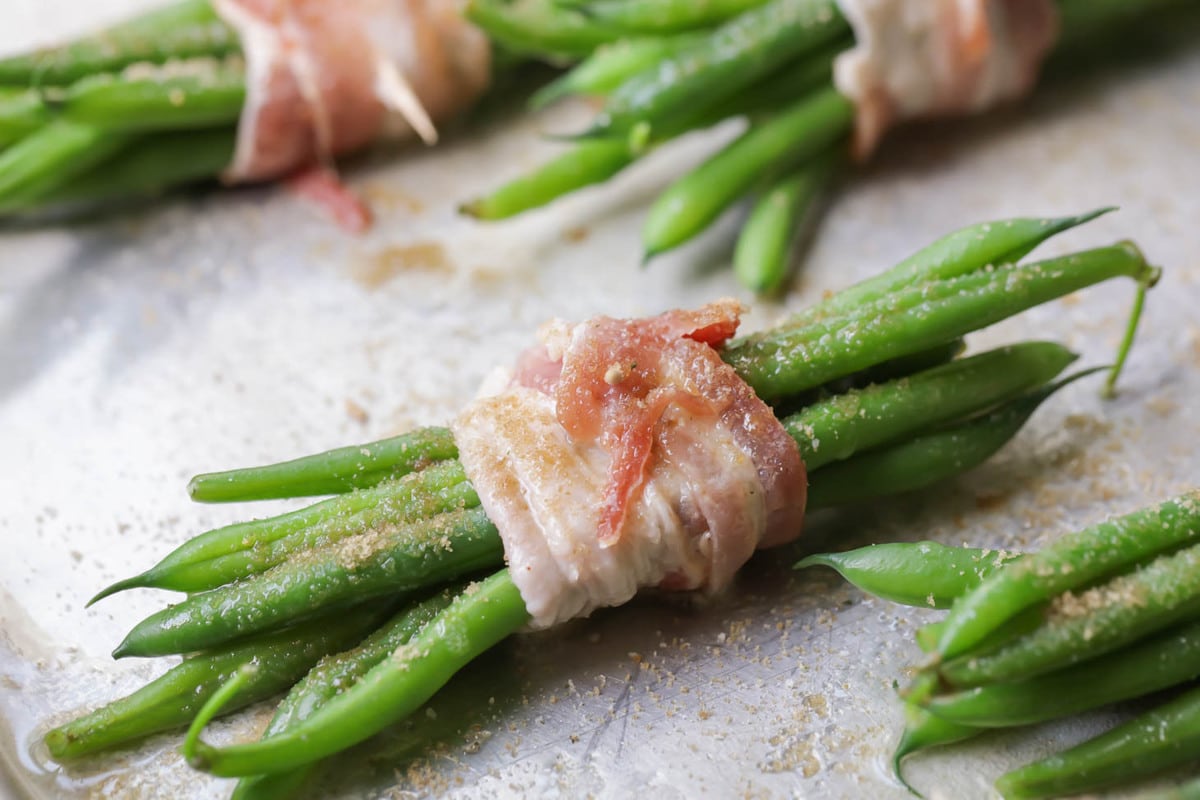 How to Make Green Been Bundles
This recipe only requires FIVE ingredients!! (Win!)
Green beans
Bacon
Butter
Brown sugar
Garlic salt
STEAM. All you have to do is steam the green beans until tender, and gather about 6-10 beans into a bundle (this should make 6 bundles).
WRAP. Wrap each bundle with a piece of bacon and secure it with a toothpick.
SPRINKLE. Place them on a greased baking sheet and sprinkle with melted butter, brown sugar, and garlic salt.
BAKE. Bake for 18-20 minute at 350° and serve warm! It's as simple as that!
How to get the bacon crispy: A really easy way to crisp up your bacon is to use the broiler. Turn it on during the last 1-2 minutes of cook time. Flip the bundles and broil for 1-2 minutes longer. Watch carefully so they don't char.
We love to SERVE them as a side with:
Steaming Green Beans
How to steam green beans until tender: Steaming green beans gives them a vibrant green color and a crisp texture. You can steam them 3 ways. You know that they have overcooked when they turn a more olive green color and become mushy.
Microwave: In a bowl add 1 tbsp water and the green beans. Cover with a lid and microwave for 1 minute. Check and cook in 15 second increments until you reach the desired texture.

Steamer: Add 1 inch of water to the pot and bring to a boil. Place green beans in the steamer basket, insert into the pot, cover and steam for 3-5 minutes.

In a saute or frying pan add ½ inch salted water. Bring to a boil. Add green beans and cook, uncovered, for 3-5 minutes.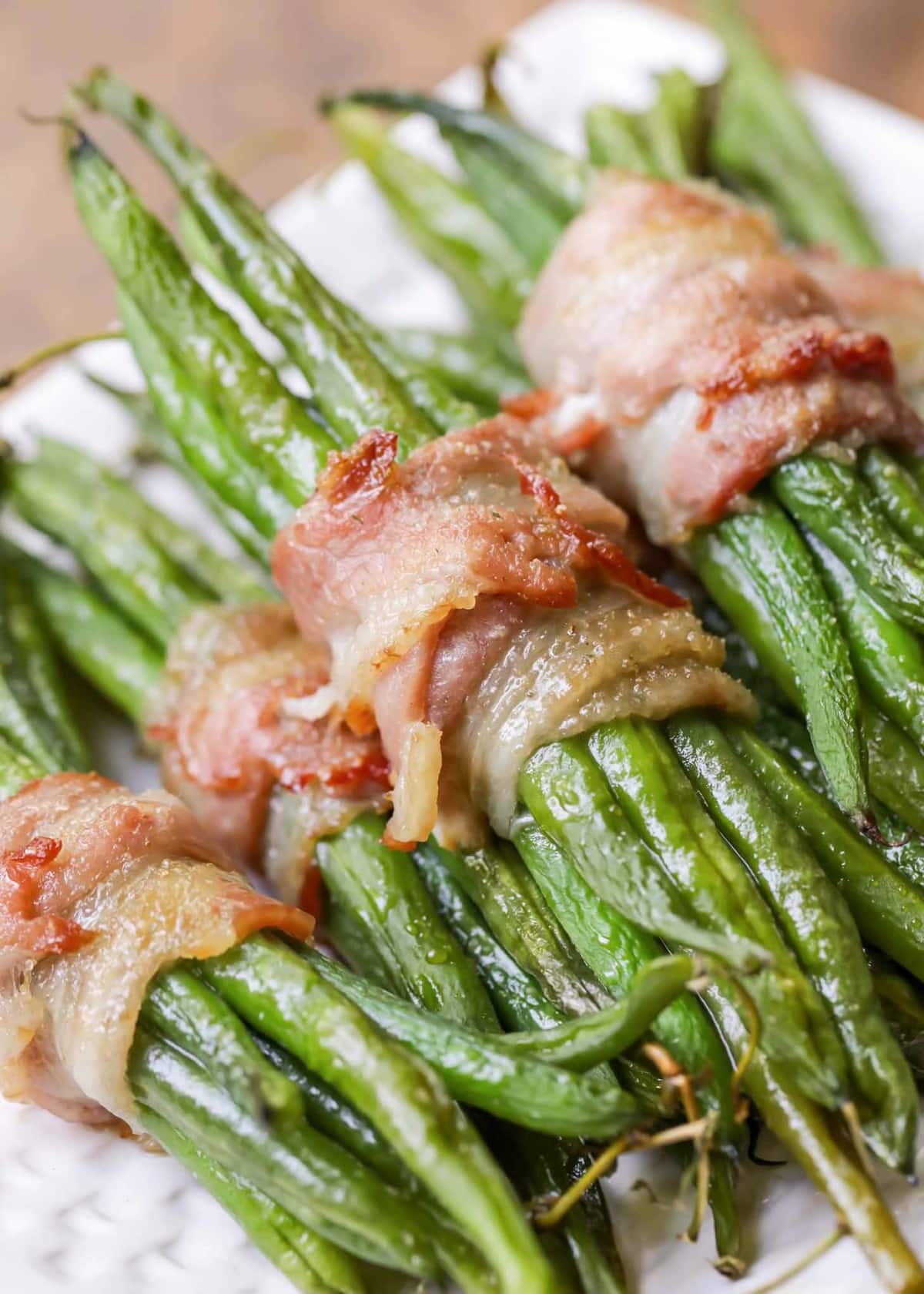 Making Ahead + Storing
Prep head of time: To save a bit of time the day of your dinner you can prep these bundles the night before, cover and store in the fridge. Bake according to directions, and serve.
Cover and STORE leftovers in the fridge for 2-3 days.
To reheat on the stove top: Preheat a pan over medium heat, place bundles in the pan, cover and allow them to warm up; about 2-3 minutes.
To reheat in the oven: preheat the oven to 350 degrees F, allow bundles to heat for 3-5 minutes, then broil for 1-2 minutes to crisp up the bacon. In a pinch you can reheat in the microwave, but the texture may be rubbery.
For more green bean recipes, check out:
Green Bean Bundles Recipe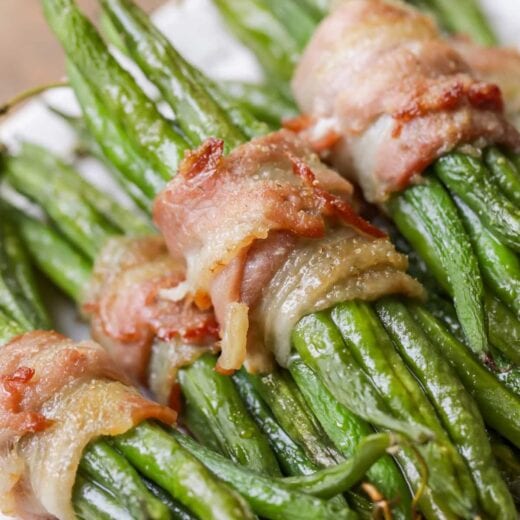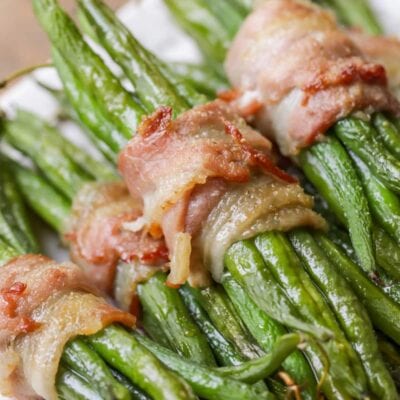 These Green Bean Bundles make for the ultimate side dish. Bacon wrapped green beans drizzled in butter, brown sugar, and garlic salt – the flavor can't be beat!!
Ingredients
2

lb

fresh green beans

6

strips

bacon

4

tbsp

butter

melted

3

tbsp

brown sugar

garlic salt (with parsley flakes)
Instructions
Steam green beans until tender.

Preheat oven to 350.

Gather 6 – 10 green beans into 6 bundles and wrap with 1 piece of bacon. Secure bacon with toothpick.

Place bundles on greased baking sheet. Sprinkle with garlic salt, melted butter and brown sugar.

Bake at 350 for 18 – 20 minutes.