This is Our All-Time Favorite Steak marinade! It requires only Four ingredients – Italian dressing, A1, Lemon Juice and Worcestershire sauce – and makes our steak taste SO amazing! Everyone always asks for this Easy Steak Marinade recipe because it's just that good!!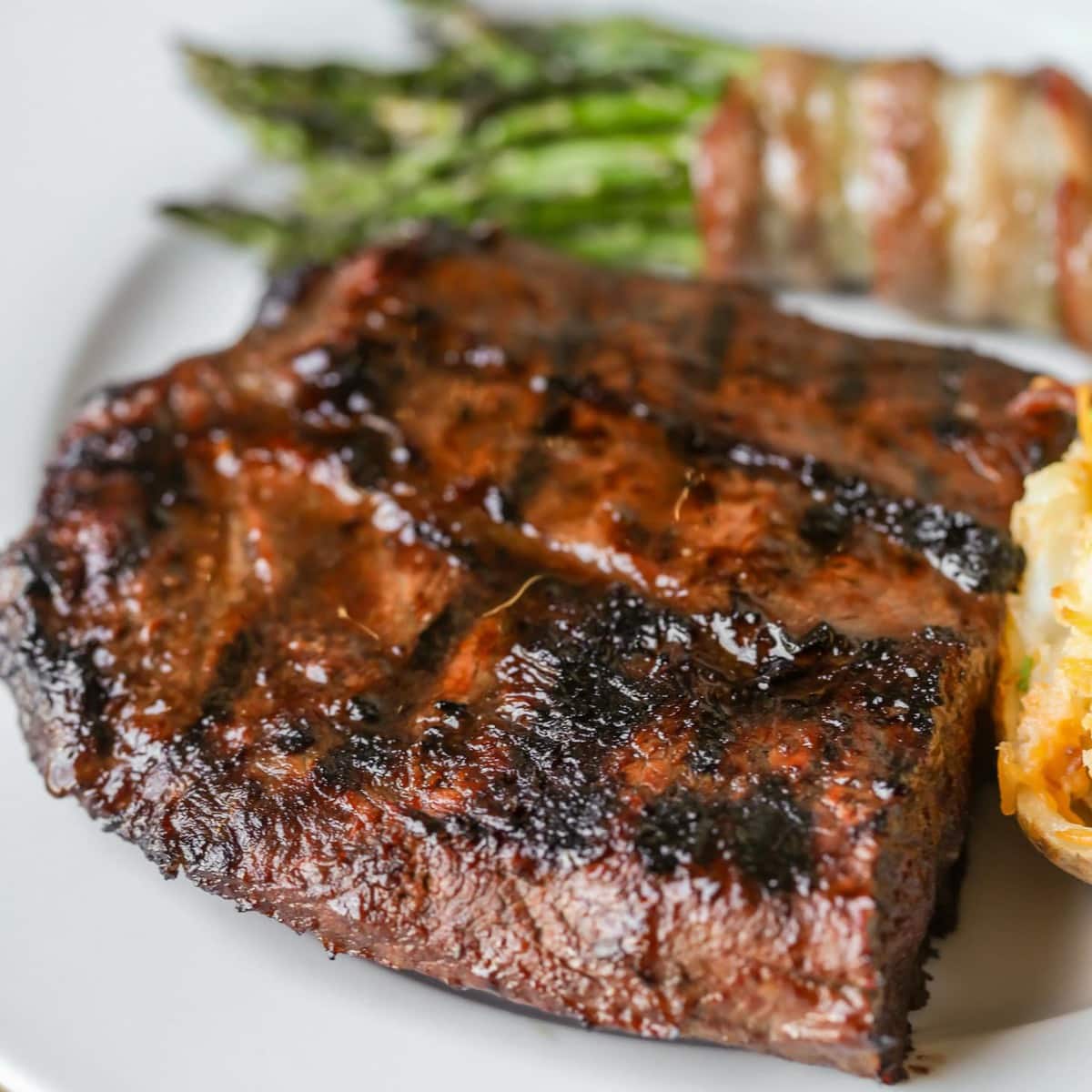 Super Easy Steak Marinade
One of the best and nostalgic things about the summer are BBQ dinners!! Who's with me?! Have you ever gone out for a walk or drive and catch a "whiff" of the heavenly smell of someone grilling – delicious, right?
The hubby and I LOVE to grill steak and have a marinade we've used for years that is so delicious! Today, I'm sharing it with you because it truly is the best and requires only 3-4 ingredients. We got it from a neighbor years ago, and I'm not sure that we'll ever find another Steak Marinade Recipe that beats it!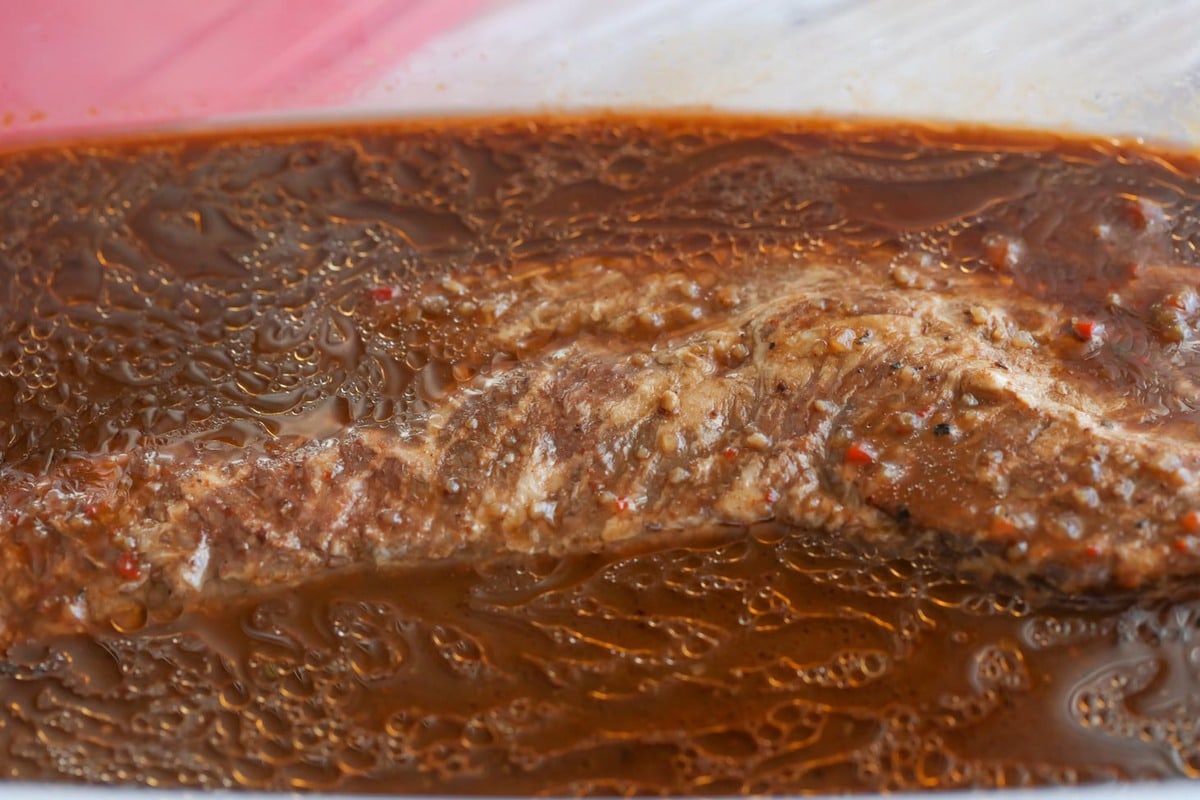 How to Make Homemade Steak Marinade:
As I mentioned, this marinade only requires 3 ingredients (with an optional 4th ingredient).
Italian Dressing
A1 Sauce – the original flavor
Worcestershire Sauce
Lemon juice (totally optional, just adds a little zest!)
All you have to do is throw each of these ingredients into a gallon sized ziploc bag or tupperware container and mix them. Once they're mixed, add your steak.
We love flat iron steaks – they don't have too much fat, are fairly inexpensive, and really delicious! Let the steak marinade for 24 hours – or at least 12.
Once they have marinated long enough, throw them on the grill, cook them to your liking.
What are the best meats to grill?
Here are seven of the best cuts for the grill. Remember to sear the steak over direct heat. Thinner steaks will cook sufficiently with searing. For a thinker cut: once seared move to indirect heat to finish cooking.
Flat Irons
Rib-eye
Top Sirloin
T-bone
Porterhouse
Strip Steak
Flank Steak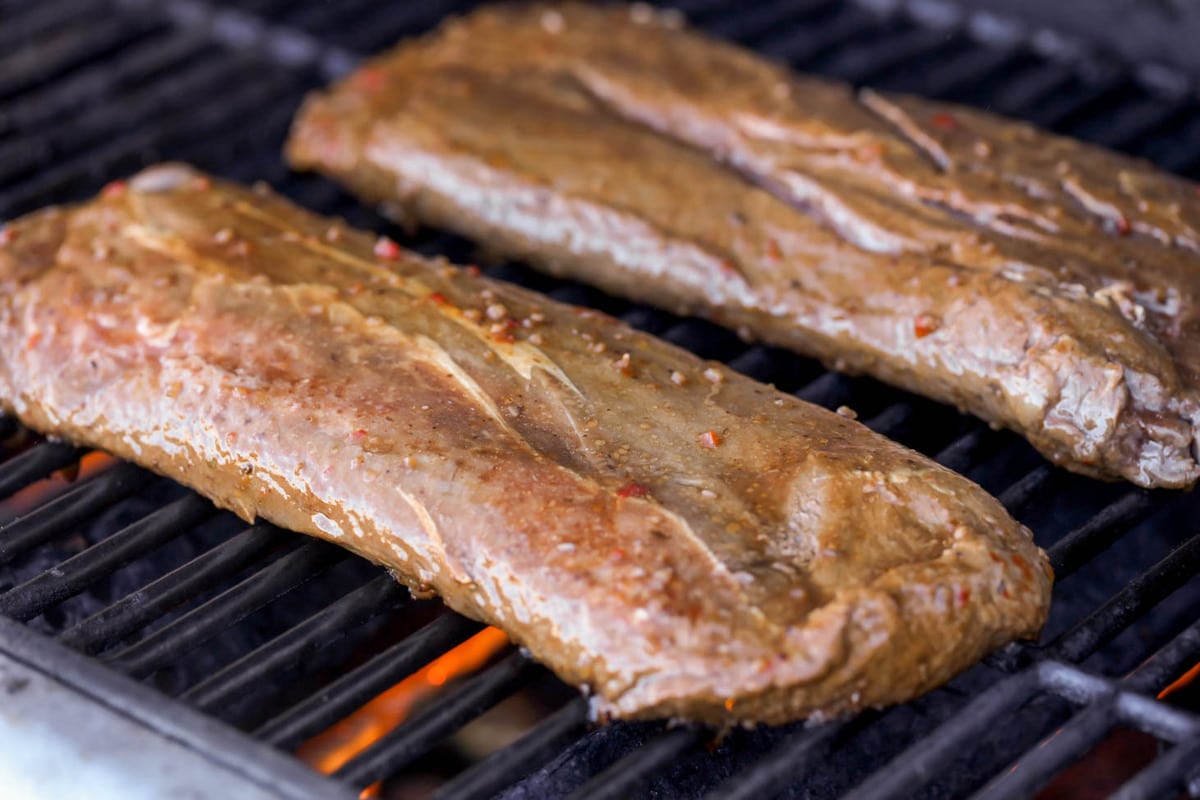 What can I substitute for A1 steak sauce?
If you don't have A1 sauce you can make your own by combining:
1/2 cup ketchup + 2 Tablespoons of Worcestershire sauce

OR 1/3 cup lemon juice with 1/2 cup ketchup + salt and pepper to taste
Either of these work as great substitutes for A1.
How long should I marinate the steak for?
Generally longer is better. Two hours is sufficient if you're in a hurry but 12 – 24 hours or more is ideal. This allows the marinade to really get into the meat and make it more flavorful.
How to store/freeze steak?
We typically don't have leftover steak but if we do store it in a Ziploc bag and place in the fridge for 3-4 days. You can also wrap tightly and place in freezer safe bag and freeze for up to 3 month. If we have leftover steak, we also like to sub the chicken for steak or add them to these recipes: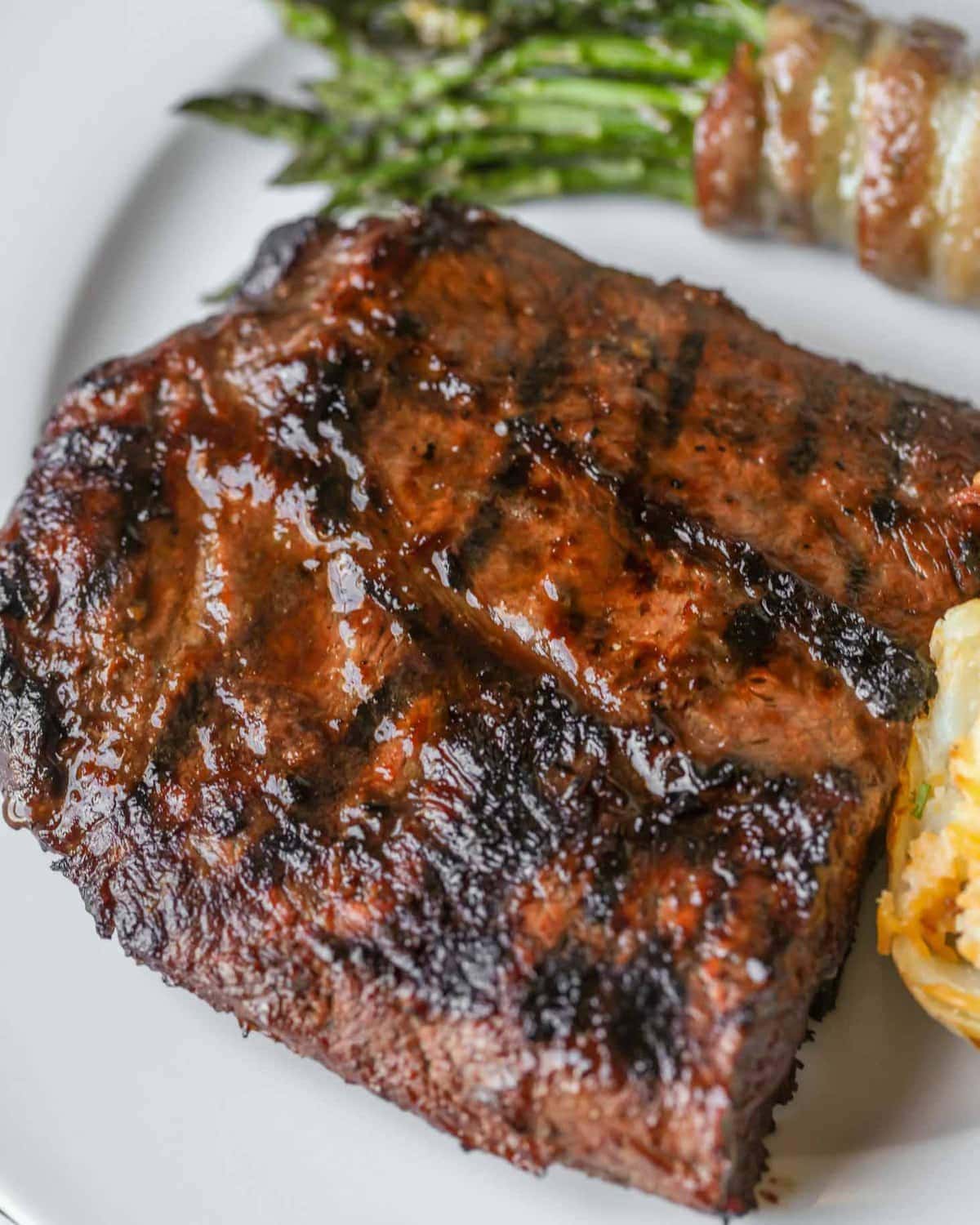 Every time we use this Steak Marinade, everyone asks for the recipe because it's just THAT GOOD!! I'm so glad that the weather is warming up, because that means it's grilling season, and we'll be cooking up some steaks for sure. 😉
what to serve with steak:
For more grilling recipes, check out: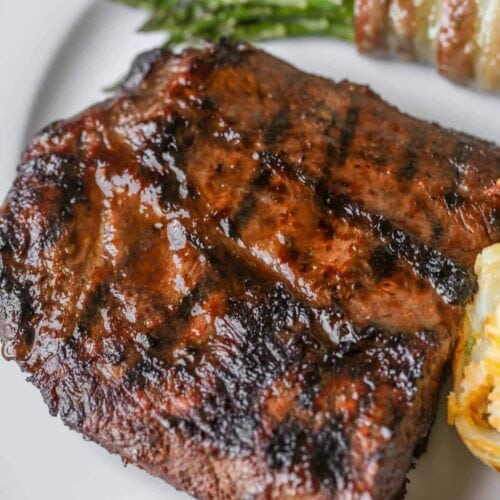 Easy Steak Marinade Recipe
This is one of the only steak marinade recipes we ever use! It requires only three ingredients - Italian dressing, A1, and Worcestershire sauce - and makes our steak taste SO amazing! Everyone always asks for this Easy Steak Marinade recipe because it's just that good!!

Ingredients
1

c

Italian Dressing

1/2

c

A1

Original

1/2

c

Worcestershire Sauce

1

tsp

lemon juice

optional
Instructions
Place all your ingredients in a gallon bag or tupperware. Mix well.

Add your steak (we prefer Flat Irons because they are tender and fairly inexpensive).


Let marinade for 24-36 hours. You can even do 12 hours if you'd like but I think it's better if it's for at least 24 hours.