These family dinner ideas will bring your family together to eat, talk, laugh, and build relationships! It doesn't have to be fancy or take hours to prepare, all you need is good food and the ones you love.
More Collections: Breakfast For Dinner, Beef Dinner Ideas, Quick Dinner Ideas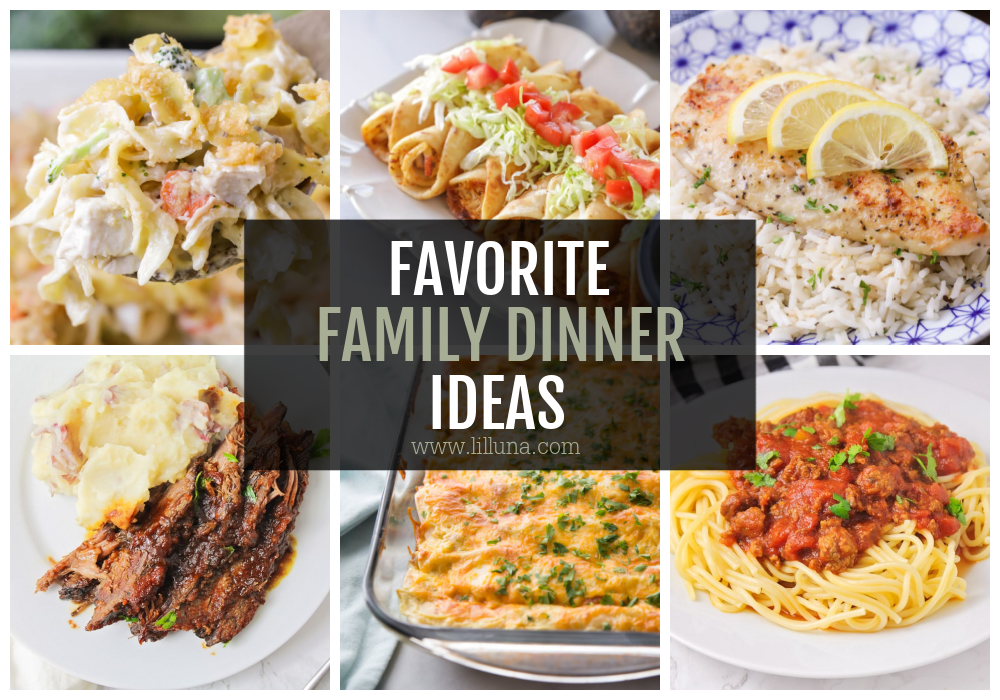 Make family dinner a must!!
Life is busy, and it's often hard to get everyone in the same place at the same time. That's why when we can, we eat together!! Here are some family dinner ideas to help you get started!
Family dinners can have benefits beyond filling your bellies.
It provides an opportunity to ask questions and to share about your day. Having a jar of conversation starters on hand can help spark conversation.
Allows children, and parents, to practice their table manners.
Family dinners tend to be more nutritious and children are exposed to a bigger variety of foods.
I also read that "kids who eat family meals have a lower chance of engaging in high-risk behaviors such as substance use and violence, and fewer psychological problems".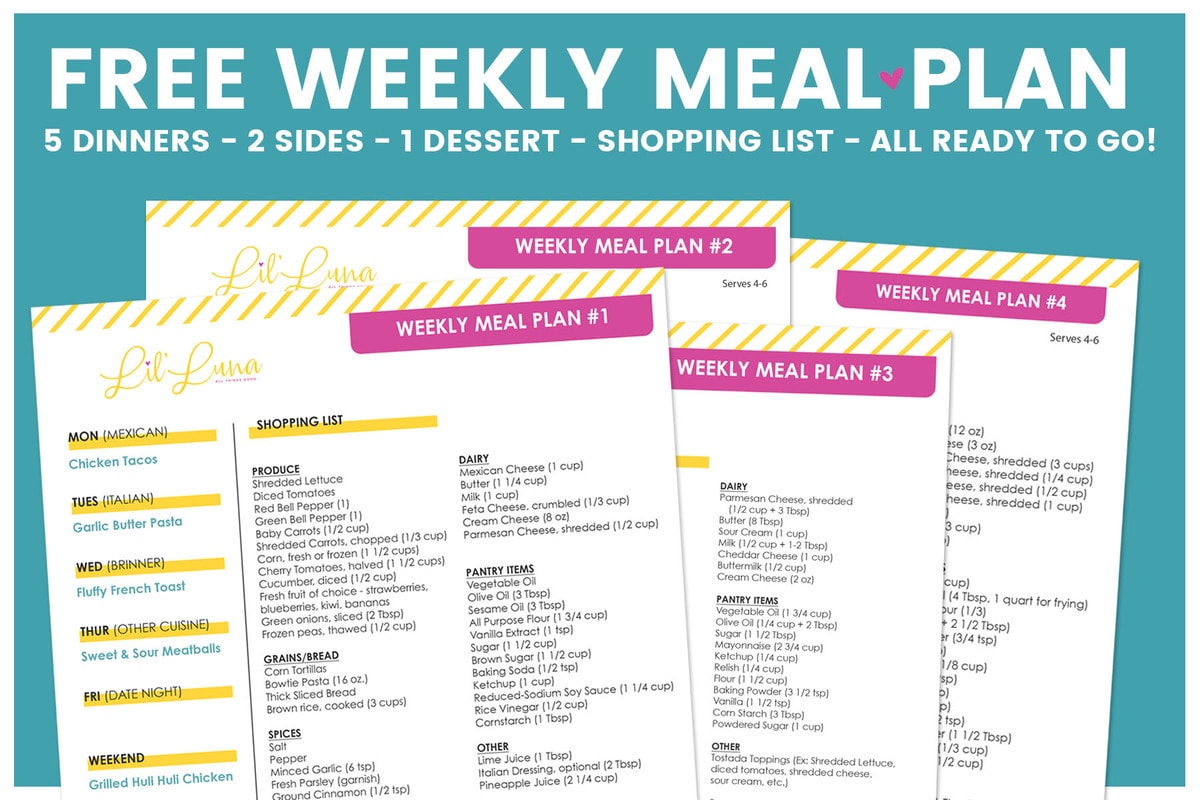 Tips to Help them Happen
Between work hours, homework, and other extracurricular activities the evenings can often be full and tiring and the goal of a family dinner can seem impossible. Some ideas to help them happen and to make them fruitful include:
Schedule them. Look at your week and pick the days that work for you. Some weeks may only have 1 or 2 days free and others may have more. Let all the family members know when they will be.
Plan the menu. Get input from your family on what meals they would like to have. Include meals that you can whip up quickly or that you can make ahead of time. Our Weekly Meal Plans help too!
Involve the family. When possible have the family members help prepare the food and have them pitch in the cleanup.
Be present. Turn off the TV and leave phones on the counter.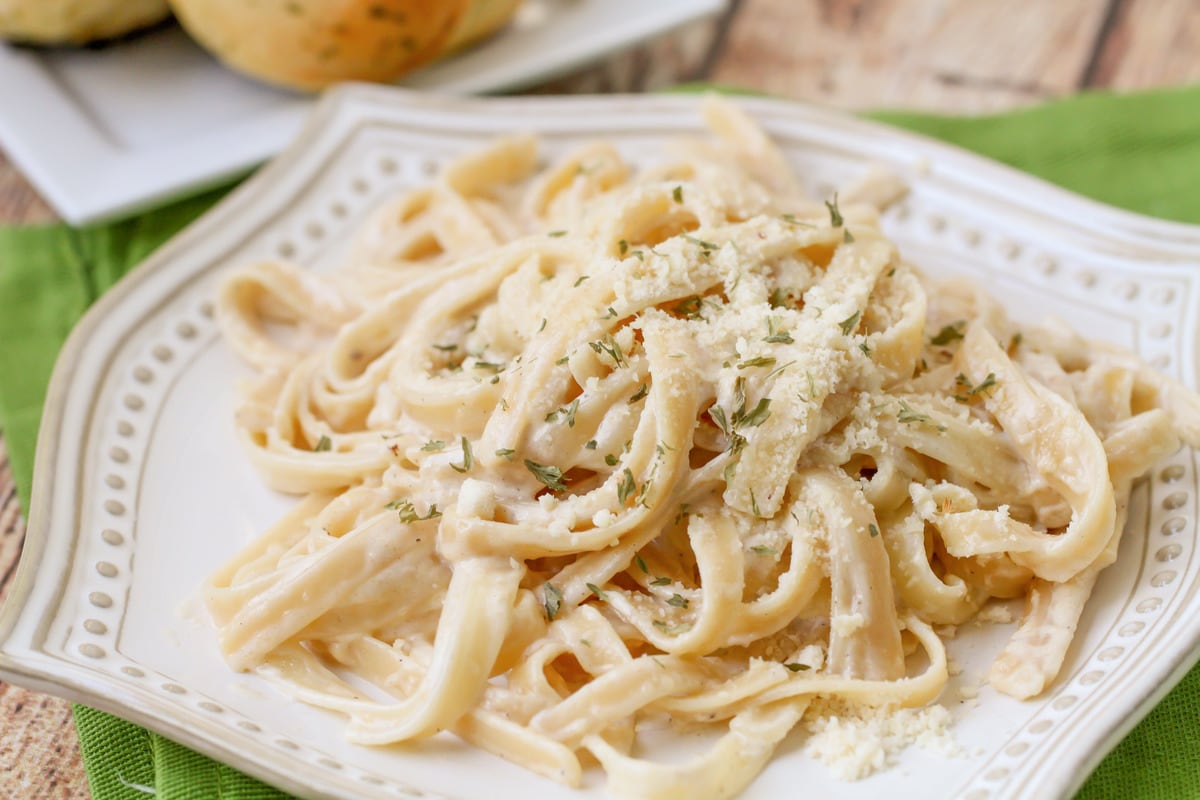 Calculating how much you'll need
When family dinner consists of those who live in your home you probably mastered exactly how much your family will eat, but when you start adding extended family it can be a bit harder to estimate. The following amounts are based on the dish being served as the main entre:
Meat dish. Plan on serving each adult 6 to 8 ounces of meat. Children will only need 3-4 ounces.
Casseroles. A 9×13 casserole will typically yield about 12 one-cup servings.
Pasta dish. Plan for 2-2.5 ounces of pasta per person.
Soup. Plan for 1.5 cups of soup per person. One gallon of soup should feed about 10-12 people.
Salad. Plan for 2.5 ounces of lettuce per person, then add an appropriate amount of toppings to match.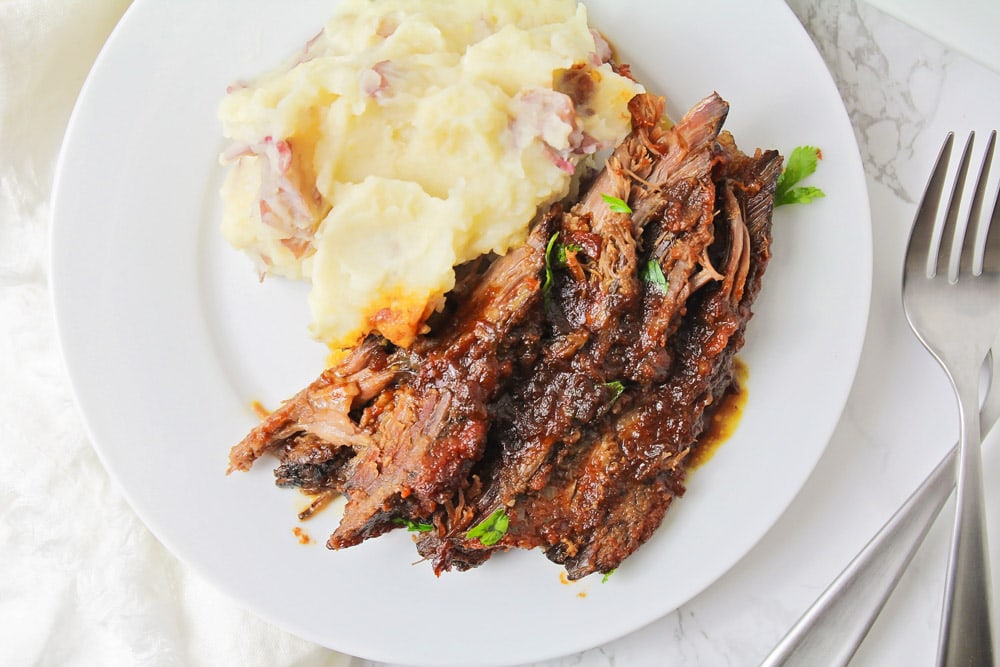 QUICK AND EASY, EVEN WHEN COOKING FOR A CROWD
Make ahead of time. Many main dishes can be made ahead of time and stored in the fridge or freezer to be cooked later.
To easily get a stockpile of freezer meals simply double a recipe you are already making and freeze half of it.
Be sure to use a freezer-safe container. Large resealable plastic bags are great.
Meals can typically be frozen for 3-6 months. Thaw overnight before reheating.
Many recipes call for cooked chicken. Having Shredded Chicken in the freezer helps when making dinner.
Slow cooker. Whether you're cooking for a large group or a smaller family dinner utilizing the crock pot can get dinner on the table in the evening quickly and easily. You can make everything from beef roast to lasagna in the slow cooker.
Casseroles. Throwing together a casserole or a pasta bake (or two) is a quick and easy way to feed a crowd. They can often be prepared hours before needing to be baked in the oven. Since they often include protein, vegetables, and carbohydrates you don't often need very many side dishes if at all.
Double it. Choose recipes that can be doubled easily so that cooking for a large group doesn't get overwhelming.
---
Crock Pot Dinners
These easy, set-it-and-forget-it-style dinners make a perfect weeknight dinner! As long as I set a reminder in the morning, my afternoons are stress-free! There are plenty of easy dinner recipes to choose from!
Crock Pot Brisket
Juicy and delicious meat, easily made in your slow cooker! This crock pot brisket is so tender it just falls apart.
Crock Pot Spaghetti
We make this yummy crock pot spaghetti all the time! Buttery noodles topped with a flavorful meaty sauce—DELISH!
Pot Roast
This crock pot roast recipe is one of our favorite Sunday dinners. It takes only 3 minutes of prep time and then the slow cooker does the rest! The chuck roast ends up being SO tender and full of flavor from the brown gravy, Italian, and ranch dressing mix! 
Green Chile Burritos
The easiest green chile burritos require just a few ingredients, including a seasoned chuck roast and 505 green chile sauce. The whole family loves them!
Crockpot Lasagna
Classic lasagna made in the slow cooker! This delicious crock pot recipe has all the layers of noodles, cheese, sauce and meat that everyone loves but made more simply.
Crock Pot Mongolian Beef
Delicious crock pot Mongolian beef loaded with carrots and asparagus is SO simple to make. Your crock pot does all the work!!
French Dip Sandwich
These low maintenance French dip sandwiches are made with hearty beef and melted provolone cheese on a buttery toasted bun, and dipped in au jus!
Slow Cooker Pulled Chicken
This slow cooker shredded chicken is juicy and flavorful. It is Beyond simple and is great for holidays, parties and potlucks!
Crockpot Ranch Chicken
You'll love how simple, yet flavorful, this delicious chicken is. Made entirely in the crockpot, creamy ranch chicken is perfect on its own or served over rice.
Pulled Pork
This delicious and easy pulled pork recipe is one that is made in the slow cooker and takes just minutes to prep!
Sweet Pork Barbacoa
Sweet pork barbacoa is the best slow cooker pulled pork recipe you will ever try. Better than Cafe Rio—you better make a double batch!
Crack Chicken
Crack chicken in a crock pot is simple and tasty. Everyone is sure to love this creamy, cheesy chicken dish.
Carnitas Tacos
Tender pulled pork makes up these delicious carnitas tacos! These tacos are super flavorful and really easy to make for dinner with the help of a crock pot.
Best Slow Cooker Pork Chops
These simple and delicious slow cooker pork chops are sure to become a family favorite. They are so tender and juicy and are topped with an amazing gravy that we love to serve over the chops and mashed potatoes!
Crock Pot Pork Roast
Prepare to be amazed by this ultra tender, fall off the bone crock pot pork roast. It only takes a handful of ingredients to make, including the complimentary gravy.
Pork Tacos
Pork tacos made simple using slow cooker pork and all of your favorite taco toppings! These tacos are flavorful, easy to make, and a big crowd pleaser.
Dr. Pepper Ribs
Pork ribs cooked in Dr. Pepper, grilled to perfection, and smothered in BBQ sauce. These Dr. Pepper ribs are fall off the bone delicious!
---
BAKED DINNERS
There is something delicious even for the pickiest eater. These baked dinners are perfect for gathering around the table and enjoying a meal together.
Buttery Baked Chicken
Creamy buttery baked chicken is simple and full of flavor. It is another great dinner idea for any occasion!!
Chicken Pot Pie
This chicken pot pie is the definition of comfort food! It's warm, rich with flavor, full of veggies, and has the best flaky crust.
Chicken Noodle Casserole
Chicken noodle casserole for the dinner win! It's filled with chicken, noodles, broccoli, carrots, and more, and topped with a butter-y cracker crust making it a flavorful family favorite.
Baked Chicken Drumsticks
Oven baked chicken drumsticks are a healthy alternative for fried chicken lovers! They are seasoned to perfection and baked, not fried!
Baked Honey Mustard Chicken
Quick and easy healthy chicken dinner. This takes less than 30 minutes to bake, is full of flavor, and will please the whole family! 
Ritz Cracker Chicken
Crispy cheddar chicken is coated in sour cream, cheddar cheese, and ritz cracker crumbs and baked to crispy perfection. Top it with a creamy sauce, and it's to die for!
Baked Chicken Nuggets
Homemade chicken nuggets are easy to make and packed with flavor! Much tastier than the frozen or fast-food options, these nuggets are healthy and delicious.
Broccoli Cheese Casserole
A creamy combination of broccoli and cheese, topped with a crunchy Ritz cracker topping! Even your pickiest eaters will love this broccoli cheese casserole!
Baked Chicken Chimichangas
Everyone loves chimichangas! This baked chicken chimichanga recipe is stuffed with rice, chicken, cheese and more. Such a simple dinner recipe that is so delicious and perfect to add to the monthly menu.
Chicken And Dumpling Casserole
This chicken and dumpling casserole is comfort food made easy. Canned biscuits and cream of chicken soup help speed up this hearty casserole.
Baked Pesto Chicken
Chicken breast halves covered in basil pesto, baked with mozzarella cheese and tomatoes. So easy, but SO delicious!
Creamy Chicken Enchiladas
Creamy chicken enchiladas with sour cream are simple and tasty! With 10 minutes prep, these are a weeknight staple.
Enchilada Casserole
Enchilada casserole is simple, requires no rolling, and is a comforting family favorite—perfect for weeknights!
Spaghetti Casserole
Spaghetti casserole is the definition of comfort food! Hearty, delicious, and an easy way to make and eat spaghetti.
Taco Pie
I really think you'll like this pie, especially if you're a fan of Mexican casseroles and taco salads (that's what I feel this recipe is a combination of). It's delicious!
Tamale Pie
Tamale pie is bursting with spice and hearty meat with a fabulous crust of tamale goodness and filled with beef, chiles, cheese and more. It is a delicious one pan meal and easy to make!
Beef Enchiladas
Shredded beef enchiladas made with Just 6 ingredients! This easy dinner idea is a crowd pleaser and is filled with corn, beef, green chiles, cheese and covered in red sauce.
Mayo Parmesan Chicken Bake
A delicious parmesan chicken bake that is simple, yet full of flavor, and takes little prep time.
Cheeseburger Casserole
Hearty cheeseburger casserole is filled with ground beef and pasta, and oozing with cheese! It really is everything but the bun.
Easy Meatball Recipe
This homemade meatball recipe is way better than store bought, and easy too – they take minutes to put together! Made from ground beef mixed with parmesan cheese, salt, pepper, onion and garlic powder, milk, and eggs. These ground beef meatballs are perfect alone or mixed in with pasta!
Italian Pork Chops
These Italian pork chops require just a few ingredients and are baked in the oven with loads of veggies. Have it ready and on the table in just 30 minutes!
Smothered Pork Chops
This creamy lemon & thyme smothered pork chops recipe always gets rave reviews. It's flavorful and ready in 35 minutes or less.
Taco Casserole
This delicious taco casserole is like a taco salad in casserole form! With a ground beef and biscuit base, plus layers of sour cream, lettuce, tomatoes, cheese, and olives, this casserole is the perfect way to switch up your dinner routine.
Easy Lasagna Recipe
Our family's favorite lasagna recipe – not only because it's delicious but because it's so EASY! You don't even have to precook the lasagna noodles! With beef, pork, three cheeses, and tons of seasonings, you know this recipe is going to be a hit!
---
soups
Soups are tasty easy family dinner ideas! They can simmer all day for an easy evening, are filling, and packed with flavor! Many can even be made in the instant pot for whipping up something quick on those busy nights.
Homemade Chicken Noodle Soup
This recipe for homemade chicken noodle soup is one of the easiest, tastiest recipes full of chicken breast chunks, celery, carrots, and home-style egg noodles.
Chili's Chicken Enchilada Soup
This Copycat Chili's Chicken Enchilada Soup tastes just like the restaurant's version. It is filled with chicken, tomatoes, cheese and red enchilada sauce and is so flavorful and delicious!
Chicken Dumpling Soup
Our all-time favorite version of one of the most classic soup recipes – chicken and dumplings! This simple, delicious soup is filled with chunks of chicken and pieces of biscuit, along with your favorite veggies!
Buffalo Chicken Soup
All the flavors of your favorite appetizer are contained in this delicious buffalo chicken soup. It's so hearty and tastes just like buffalo wings!
Mexican Chicken Corn Soup
This delicious Mexican soup is filled with chicken, corn, tomatoes, cheese, & lots of seasonings! It's full of flavor and made in 20 minutes!
Crock Pot Chicken Enchilada Soup
Crock pot green chile enchilada soup is a new favorite soup packed with chicken, green chiles, corn, rice, and mixed with lots of spices and cheeses. 
Green Chili Chicken Soup
Perfectly spiced green chili chicken soup is like an enchilada in soup form! It's hearty, delicious, and is always a crowd pleaser.
Turkey Noodle Soup
This hearty turkey soup recipe is flavorful and filled with rotini pasta, celery, carrots and turkey. It's perfect for fall!
Chicken Florentine Soup
With a combination of chicken, potato, white beans, carrots, spinach and more, this chicken florentine soup is hearty and absolutely delicious. It tastes similar to Olive Garden's recipe, but it's made in the slow cooker!
Chicken Tortilla Soup
The BEST slow cooker chicken tortilla soup is filled with chunks of chicken, beans & corn. It is easy to make and full of flavor!
Chicken And Rice Soup
Creamy homemade chicken and rice soup is hearty & flavorful. Best of all, it's on the table in just 30 minutes!
Cheesy Chicken Parmesan Soup
One of your favorite Italian dishes turned into a delicious soup! This cheesy chicken parmesan soup is a creamy tomato-base soup filled with chicken, penne pasta, and of course cheese. The best part – it comes together in less than 30 minutes!
Chicken Wild Rice Soup
Such a tasty and simple recipe – this chicken wild rice soup is filled with long grain and wild rice, chicken, carrots, almonds and more!
White Chicken Chili
If you're looking for a hearty soup recipe, look no further than this delicious white chicken chili recipe! Loaded with chicken, beans, cheese, and lots of spices, this white chili has become a new favorite!! Best of all, It's ready in 30 minutes or less!
Mexican Soup
Filling and flavorful Mexican soup is packed with chicken, beans, and veggies with just a little bit of heat!!
Cheeseburger Soup
Sink your teeth into this hearty cheeseburger soup. Filled with meat and veggies, it's cheesy and completely crave-able!
Slow Cooker Beef Stew
DELICIOUS slow cooker beef stew filled with chunks of beef, potatoes and carrots – a family favorite that is hearty, simple and great for fall.
Chicken Gnocchi Soup
This chicken gnocchi soup is so hearty and so flavorful. It is filled with chicken, carrots, spinach, broccoli and gnocchi! It's perfect all year long and is bound to be a new favorite.
Chicken Taco Soup
A warm tasty soup full of chicken, beans, corn, spices, and of course – tortilla strips on top! You're going to love this hearty, delicious soup that can be enjoyed all year long – especially in the fall!
Chicken Pot Pie Soup
This creamy, delicious chicken pot pie soup can be made on the stovetop or in a crock pot! It has all your favorite vegetables, big chunks of chicken, and even a delicious heart-shaped pie piece on top.
---
Pastas
Our family loves pasta. These simple dishes are favorites – especially with our kids!
Skillet Lasagna
Skillet lasagna is a comforting and cheesy one pot meal. It takes just 30 minutes and is perfect for dinner any night of the week!
Chicken Stroganoff
This homemade chicken stroganoff is perfect for dinner any night of the week. Its full of flavor and is made start to finish in under 40 minutes!
Chicken Bacon Ranch Casserole
Creamy and hearty chicken bacon ranch casserole is the best way to beat the weeknight rush! It's easy to make, and filled with pasta, chicken, bacon, and creamy alfredo sauce.
Cheesy Baked Ravioli
Easy cheesy baked ravioli – a quick, simple and delicious dinner recipe that the whole family loves! It's so cheesy and so tasty!
Lemon Asparagus Pasta
This lemon asparagus pasta is so simple, yet packed with amazing flavor! Made from penne pasta, mixed with asparagus, and covered in a cheesy sauce with just a hint of lemon.
Baked Ziti
Baked ziti is an easy baked pasta recipe filled with a cream cheese and tomato sauce and topped with cheese! It's great for feeding a crowd.
White Sauce Recipe
This super simple and delicious white sauce recipe is packed with flavor. This dish is perfect by itself or you can add chicken too!
Sun-Dried Tomato Pasta
A copycat version of Cheesecake Factory's Sun-Dried Tomato Fettuccine recipe. This flavorful and creamy dish is filled with chunks of chicken, garlic, whipping cream, spinach and sweet sun-dried tomatoes. It's not only delicious but is a great way to change up the classic fettuccine recipe.
Italian Sausage Pasta
Everyone loves this Italian sausage pasta recipe! Not only is it easy, cheesy, and delicious, but it is a hit with the entire family and can be made mild or spicy depending on your preferences.
Chicken Penne Pasta
A delicious and simple chicken penne pasta that is the perfect family dinner. The entire family loves it!
Spaghetti Aglio e Olio
Spaghetti Aglio e Olio is one of the easiest pasta dishes you can make! It uses only 6 ingredients and takes less than 30 minutes to make!
homemade Mac And Cheese
This is the cheesiest, CREAMIEST homemade mac and cheese you'll ever make! The whole family will definitely approve!
Chicken Pesto Pasta
This chicken pesto pasta is very flavorful and simple dinner idea that is sure to please. It's filled with bow-tie pasta, chunks of chicken, cheese, sun-dried tomatoes, garlic and pesto making it a new go-to meal recipe. 
Cheesy Garlic Tortellini Pasta
Cheesy garlic tortellini pasta is covered in a delish homemade sauce, and is ready in 20 minutes! It is perfect for busy weeknights.
Easy Fettuccine Alfredo
Easy and quick fettuccine alfredo that takes just 15 minutes to make! This family favorite recipe includes fettuccine, garlic, parmesan, and whipping cream and is sure to become a go-to dinner idea!
Cheesy Baked Tortellini
This easy cheesy baked tortellini is simple and delicious too. Tortellini, bacon, cheese, basil, & spinach fill this recipe and make it irresistible and perfect for dinner any night.
Pasta Carbonara
A creamy, delicious and flavorful pasta dish filled with cream cheese, parmesan, garlic and bacon. For only having a few ingredients, this pasta carbonara has big flavor!
---
stove top/fried
These dinner ideas are simple and include stove top dishes or fried dishes.
Popcorn Chicken
Crispy, delicious popcorn chicken is a family favorite!! Not only is it easy to make but it's a hit with the entire family making dinner a cinch!
Chicken Tacos
Restaurant-style chicken tacos are filled with ingredients like shredded chicken, cheese, lettuce, and tomatoes, all inside a fried corn tortilla.
Honey Chicken
With a bit of spice and sweetness, this honey chicken recipe is great served with rice or noodles. Add your favorite veggies to make it even better!
Chicken Flautas
Delicious, crunchy chicken flautas filled with shredded chicken, salsa, cheese, and more! They can be fried, air fried or even baked into a delicious and easy dinner or appetizer.
Lemon Garlic Chicken
This lemon garlic chicken is ready in 15 minutes or less! It's a great weeknight chicken dinner that is full of flavor and tastes great over rice!
Chicken And Asparagus Stir Fry
Healthy and delicious lemon chicken and asparagus stir fry is packed with lots of delicious flavors. It's simple and super easy too!
Sesame Chicken
Sweet & savory sesame chicken is a crowd pleaser served over rice or noodles. It's perfect for dinner and better than takeout!!
Fried Pork Chops
These delicious fried pork chops in a lemon butter sauce are crispy on the outside and so delicious and tender on the inside! Everyone loves these pan fried pork loins that are so flavorful and simple.
Chicken Stir Fry
The tender chicken and flavorful sauce with yummy veggies made this stir fry dish a keeper, and I'm already anxious to try it again.
Fried Chicken Breast
Crispy breaded chicken topped with arugula, shaved parmesan cheese, and a delicious lemon vinaigrette!
Moo Goo Gai Pan
Moo Goo Gai Pan – one of our favorite dishes that is filled with flavorful chicken, broccoli, snow peas and more.
Sweet And Sour Pork
This sweet and sour pork recipe includes pork, pineapple, and green bell pepper—all smothered in a perfectly tangy sauce.
Pork And Broccoli Stir Fry
If you love Asian food, you'll love this simple and delicious pork and broccoli stir-fry!! It is PACKED with flavor!!
Sweet And Sour Pork
This sweet and sour pork recipe includes pork, pineapple, and green bell pepper—all smothered in a perfectly tangy sauce.
Lemon Pepper Chicken
Flavorful and tender lemon pepper chicken is simple and requires just a few ingredients. Served on its own or over rice, this buttery chicken dish is perfect any night of the week for a simple, quick dinner idea.
Beef Stroganoff
This easy beef stroganoff recipe is simple and flavorful. Served with egg noodles, this creamy stroganoff made in the slow cooker is a classic Sunday dinner recipe and is perfect to enjoy any night of the week.
Easy Baked Salmon
Bake a delicious and healthy pan of salmon for the whole family! Flavored with lemon, garlic, and parsley for a tasty dinner everyone will enjoy.
Kung Pao Chicken
This dish is filled with chicken and nuts and is covered in an amazing sauce, topped with green onions and perfectly served over rice.
---
Dinners your family will love!
We hope you'll enjoy trying some of the amazing family Dinner ideas listed above. With so many delicious recipes to choose from, you're sure to find some new family favorites!
More Collections: Easy Dinner Ideas, Dinner Ideas For Kids, Easy Pasta Recipes