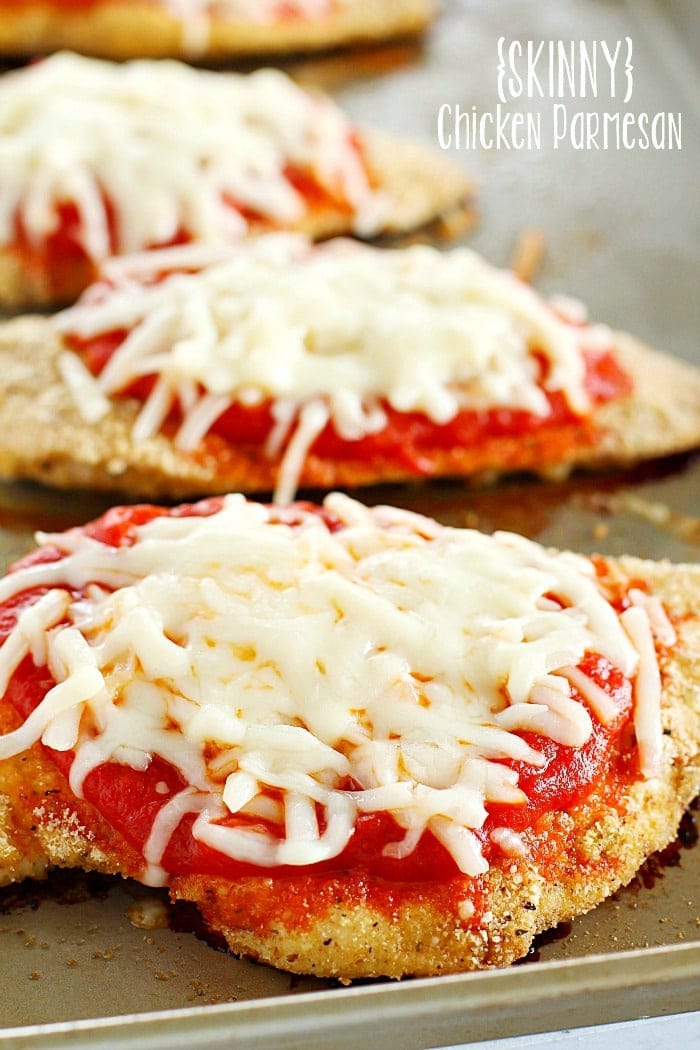 Hey there! Jen here from Yummy Healthy Easy. I'm super happy to be a regular over here on Lil Luna! Today I'm sharing one of my family's favorite quick and easy dinners that's lighter on the calories – Skinny Chicken Parmesan!
The normal version of Chicken Parmesan is usually fried and topped with lots of sauce and cheese and served with spaghetti. I don't know about you, but I've been trying eating better this month and have devoted myself to eating healthier dinners. It's one of the many New Years resolutions I made this year. I've lost three pounds so far, so I'd like to think it's working! 😉
MY OTHER RECIPES
My version of Chicken Parmesan uses lean chicken, pounded thin and then coated with a light bread crumb mixture. The chicken is then baked and topped with a little spaghetti sauce and cheese.
This recipe only requires a few simple ingredients and hardly any prep time! My two little boys like to help me make this. It's a recipe everyone in the family can help make and enjoy eating, too!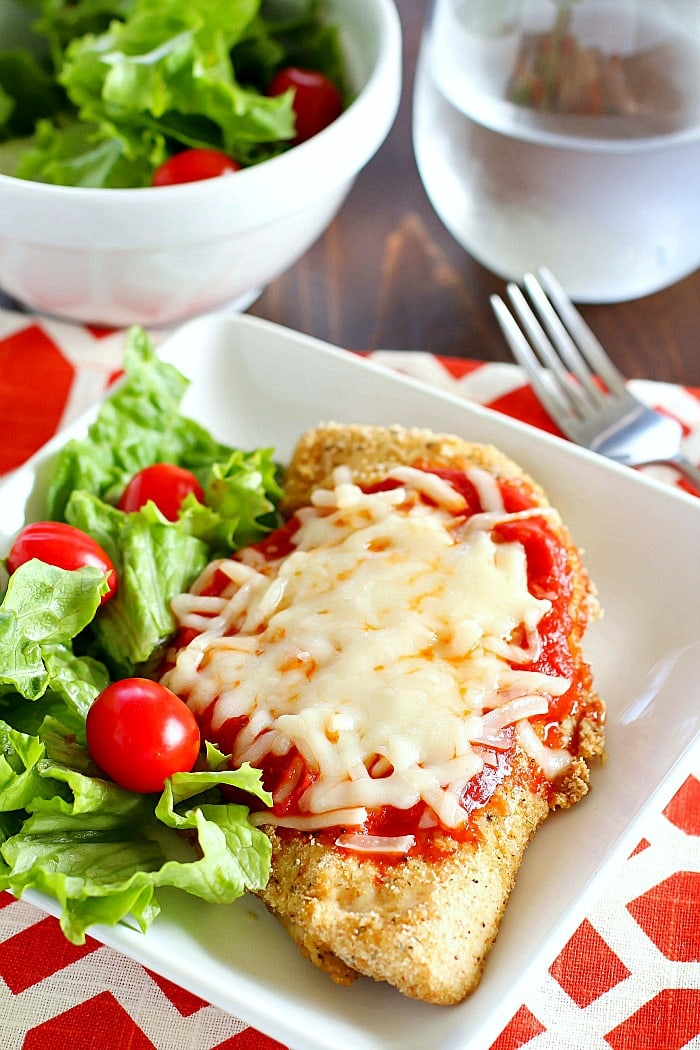 Instead of the noodles, you can save calories by serving it with cooked spaghetti squash or a side salad. The chicken comes out tender, juicy and flavorful. You won't even notice that it's lower on the calories! This chicken dinner has become a staple in my house. I hope you give it a try!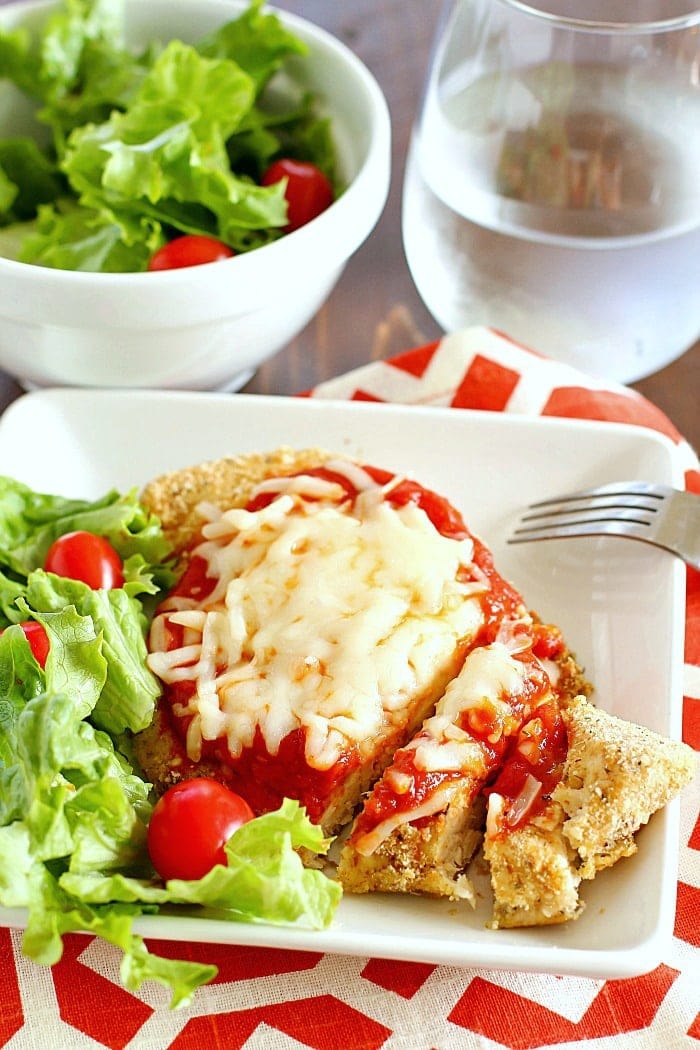 Skinny Chicken Parmesan
Ingredients
½ cup dried bread crumbs
¼ cup refrigerated grated parmesan cheese
½ tsp. garlic powder
¼ tsp. pepper
salt, to taste
1 tsp. Italian seasoning
1 egg, beaten
1.5 pounds chicken breast filets
your favorite marinara or spaghetti sauce
mozzarella cheese
Instructions
Preheat oven to 350ºF. Spray a cookie sheet with cooking spray and set aside.
Mix together bread crumbs, parmesan cheese, garlic powder, salt, pepper and Italian seasoning in a medium sized bowl.
Beat egg in another medium sized bowl.
Place chicken in between layers of plastic wrap and pound with mallet until about ¼" thick.
Dip each chicken breast in egg and then dredge in bread crumbs. Place on prepared cookie sheet. Bake for about 30 minutes, or until chicken is cooked through and juices run clear.
Top each chicken breast with about 2 Tbsp. marinara sauce and about 2 Tbsp. mozzarella cheese.
Bake for about 5-10 more minutes, until cheese is melted and sauce is warmed up.
Serve with salad, spaghetti squash, or pasta. Enjoy!
Other healthy chicken dishes from YHE:
__________________________
I think I'm going to need to try this recipe for dinner one night!!
Chicken parmesan is a favorite around here and the fact that this recipe is healthier makes  it even better.
Thanks for sharing it with us Jen!!
For more of her healthy and delicious recipes, head over to Yummy Healthy Easy!
And for even more delicious chicken recipes, check out theses posts: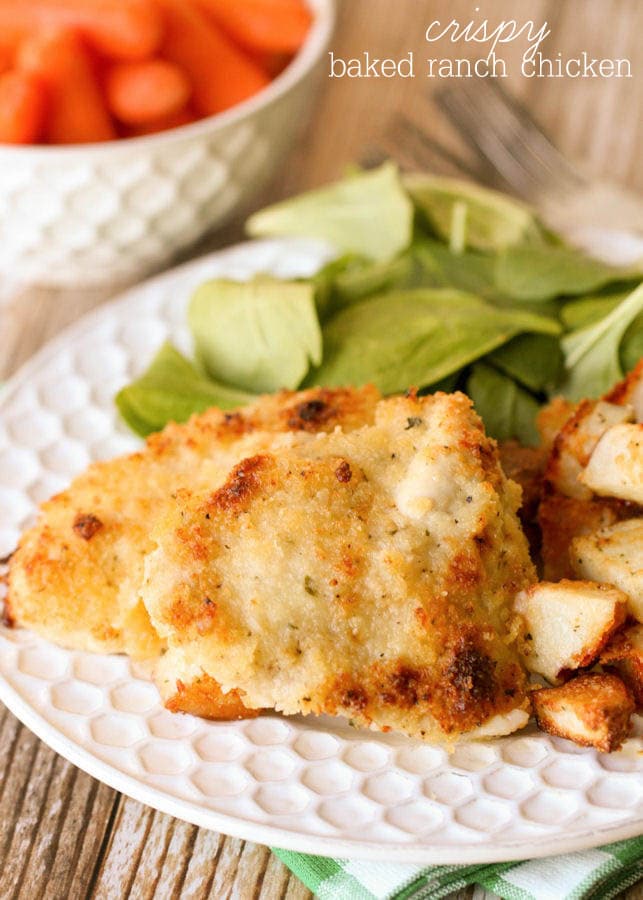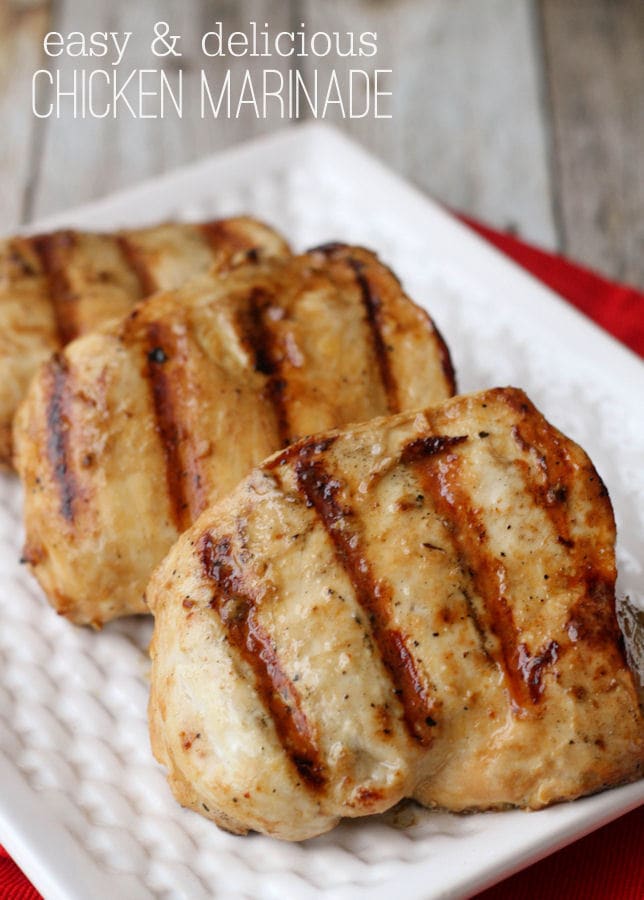 For all main dish recipes, go HERE.
For all recipes, go HERE.