A healthy way to eat chicken that kids absolutely love – Baked Chicken Fingers! Chicken dipped in flour, egg, and panko, then baked to a crispy perfection! Not to mention they're SO easy to make!
Everyone loves these chicken fingers for dinner. Not only are they delicious, but they're baked, making them healthier too! They've become a go-to meal for picky kids, along with our Mac and Cheese and Spaghetti recipes.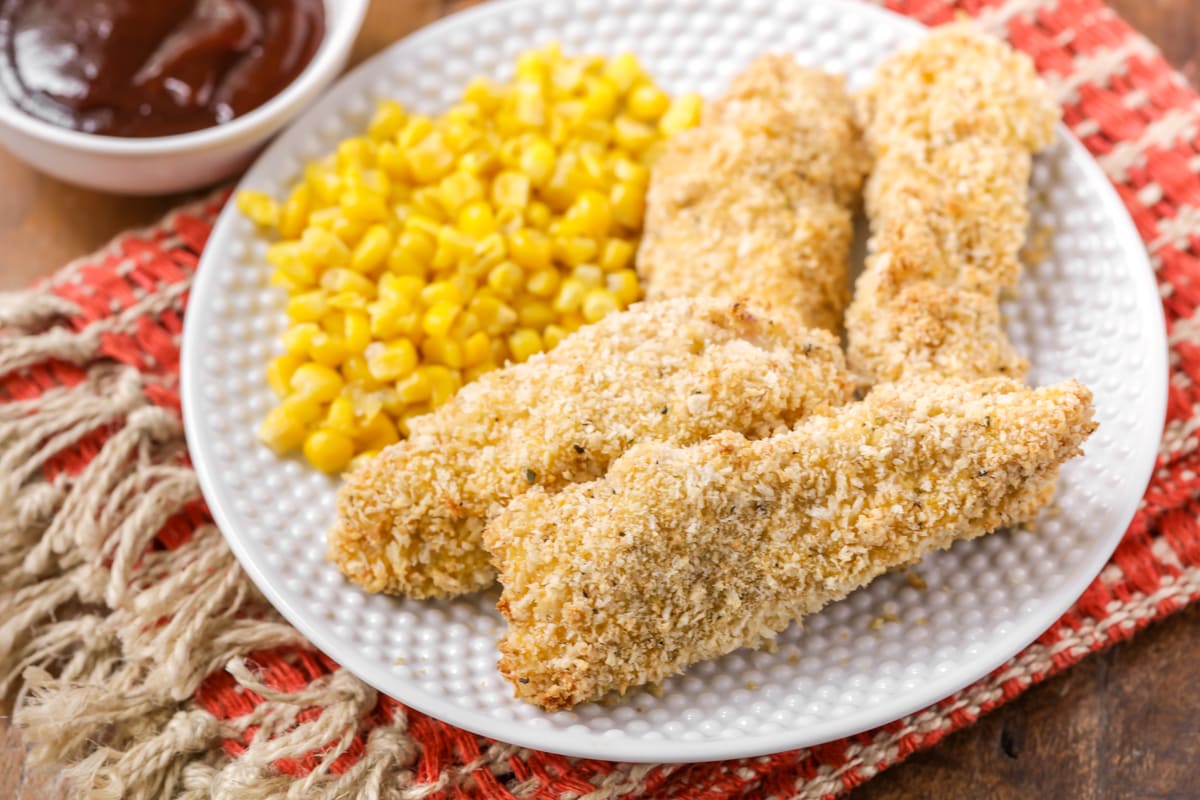 Homemade is best
Hello again! It's Alicia from The Baker Upstairs and I am back to share one of my absolute favorite dinner recipes with you. These baked chicken fingers are super easy to make, incredibly delicious, and good for you too!
My family loves chicken pretty much any way I make it, but these chicken fingers are a special favorite. They're crisp on the outside and juicy and tender on the inside, and always come out delicious!
They're also very simple too which is the main reason why I love them. And I think we can all agree that easy and delicious recipes the whole family loves are the best!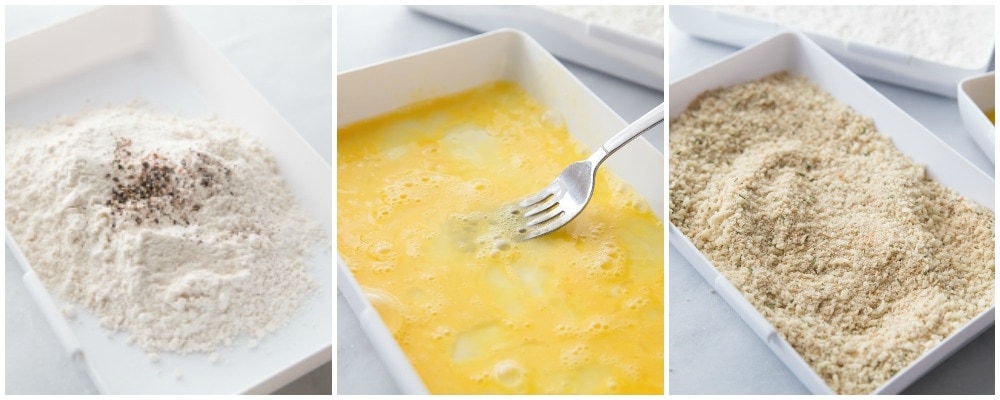 Chicken Fingers vs. Chicken Tenders?
Chicken Fingers, Chicken Tenders, even Chicken Strips! We've heard several names for this kind of chicken dish. Is there a difference between the three, or are they all referring to the same thing?
The only real difference is that Chicken Tenders usually use a different part of the chicken, the tenderloin. Aside from that, fingers, tenders, and strips all refer to pieces of chicken that are breaded and fried (or in this case, baked).
This recipe calls for chicken breast, however, you can easily substitute it for 1 ½ pounds of chicken tenderloin. The tenderloin is just a different muscle right next to the breast, and is supposedly much more tender (hence the name) when it's cooked.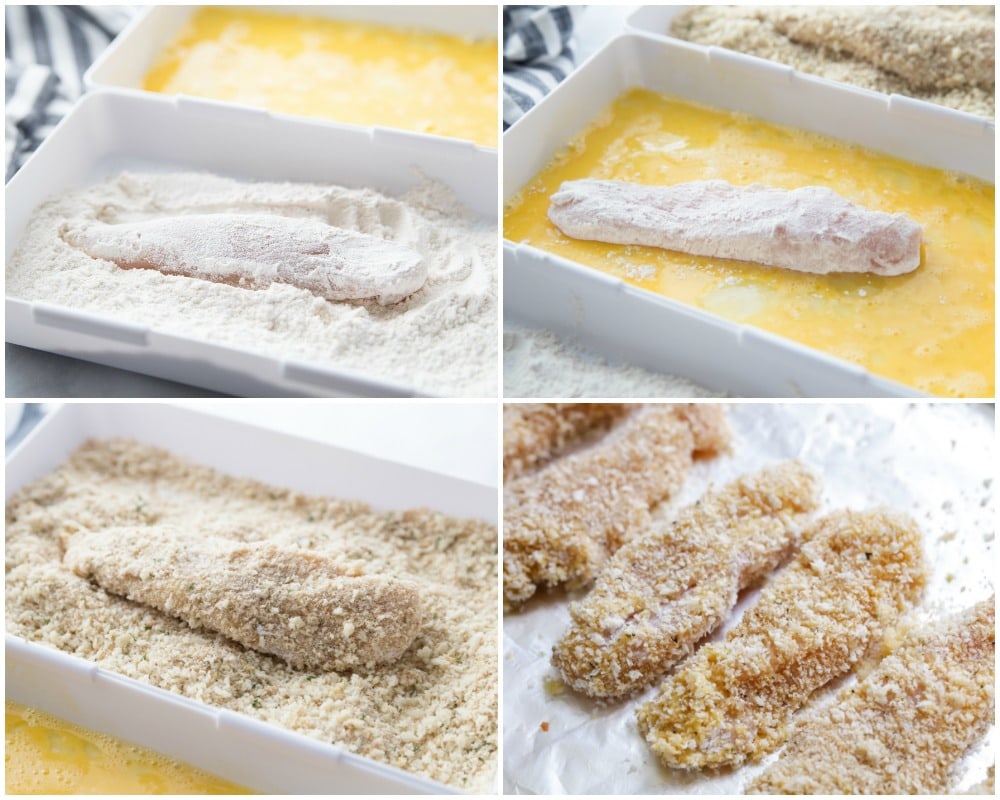 How to Make Chicken fingers
It does take a little time to individually dip each piece of chicken, but once you've got your dipping station set up, it's very simple and straightforward. I love using kid plates from Ikea for dipping because they have a nice lip around them but are still pretty shallow.
Flour plus salt and pepper goes in the first plate, egg in the second, and a mixture of panko and regular bread crumbs in the third plate. Dip each piece in the flour, then the egg, then the panko.
I like to bake them on a parchment-lined baking sheet for easy clean up, but they also work well on a greased baking sheet.
What is the difference between regular bread crumbs and panko bread crumbs? Panko is a flaky type of breadcrumb that comes from bread without any crust on it – usually white bread. Panko bread crumbs are larger flakes instead of smaller crumbs. Panko breadcrumbs are light, airy, and hold their crisp when baked. 
Classic breadcrumbs are made with different variety of breads. They are more ground than panko, resulting in smaller crumb like pieces. Breadcrumbs also come in different flavors like cheesy, herbed, and/or seasoned.
Can these chicken fingers be deep fried? Yes you can deep fry these instead of baking them. Heat oil in a deep pot to 375 degrees. Working in batches, fry the chicken 6-8 minutes or until golden brown. Dry them on paper towels.
You can also use your air fryer to make these chicken fingers. Cook for 8 minutes at 400 degrees.
Good dip ideas:
There are so many options, but here are some of our favorites:
BBQ sauce

Honey Mustard

Buffalo Sauce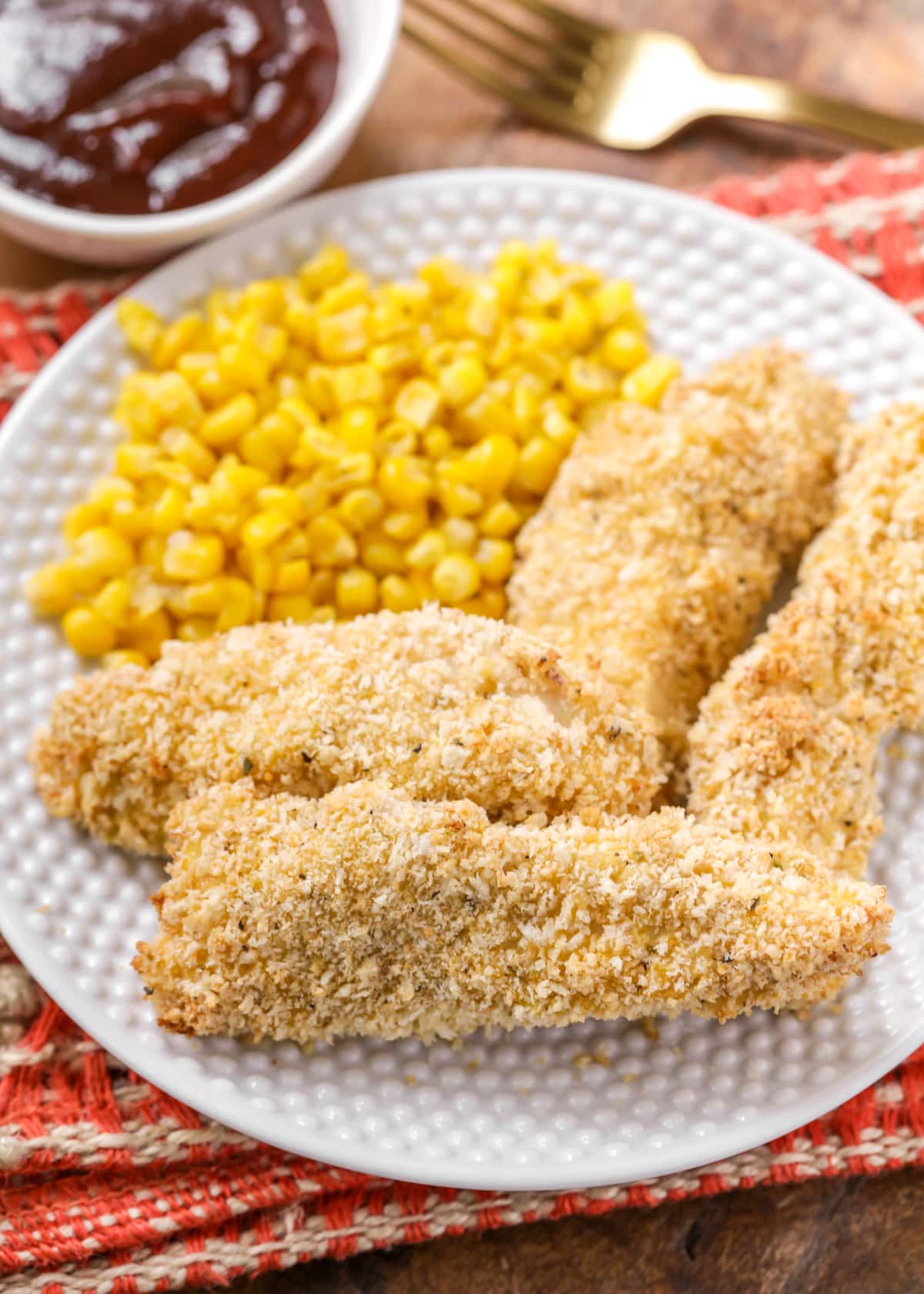 These chicken fingers are perfect served with some homemade ranch, fresh fruit, and corn on the cob. But any way you serve them, they're delicious!
what to serve with chicken tenders:
For more chicken recipes, check out:
Chicken Fingers Recipe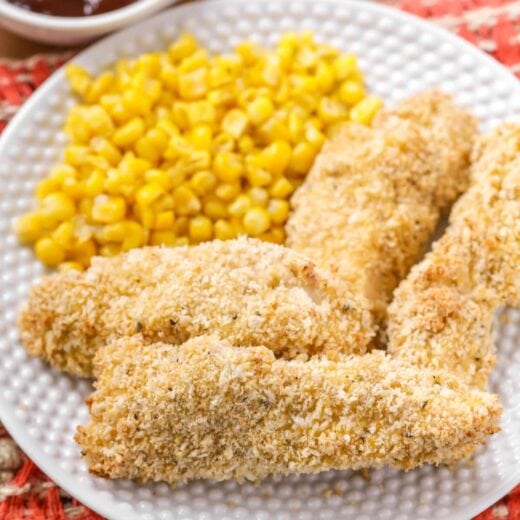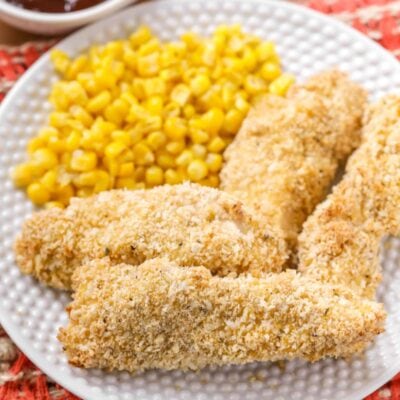 A healthy way to eat chicken that kids absolutely love - Baked Chicken Fingers! Chicken dipped in flour, egg, and panko, then baked to a crispy perfection! Not to mention they're SO easy to make!
Ingredients
1 1/2

lbs

chicken breast

trimmed and cut into strips (approximately 3 large breasts)

1

cup

all-purpose flour

1

tsp

salt

1/2

tsp

pepper

2

eggs

3/4

cup

bread crumbs

(I used Italian but regular works great too)

1

cup

panko bread crumbs

cooking spray
Instructions
Preheat the oven to 400. Line a baking sheet with parchment paper or spray with cooking spray.

In a shallow dish or pie pan, whisk together the flour, salt and pepper. In another shallow dish, beat the eggs lightly. In a third dish, whisk together the regular and panko bread crumbs.


Dip each piece of chicken in the flour, then in the egg, then in the bread crumbs, and place on the prepared baking sheet. (I find that it helps to use one hand for dipping in the dry ingredients and one hand for dipping in the eggs, to prevent making a big mess.)

Spray each of the chicken strips lightly with cooking spray. Bake 20-25 minutes, or until golden brown and cooked through. Enjoy!