Hi readers! Kellyn here! Sometimes a Tried and True recipe needs a good introduction and explanation of how we've proven it to be a great recipe, worthy of your kitchen. Well, today's recipe for Bacon Wrapped Barbecue Chicken needs none of that. Just know we've tried it and think that its super simple, its super delicious, and we've proven it true for any kitchen to try out.
You guys know we are all about simple and delicious and that is what these chicken bites are. Just three ingredients are needed and little to no kitchen skills. You wrap uncooked chicken cubes with bacon, secure with a toothpick and brush with BBQ sauce. Easy peasy!!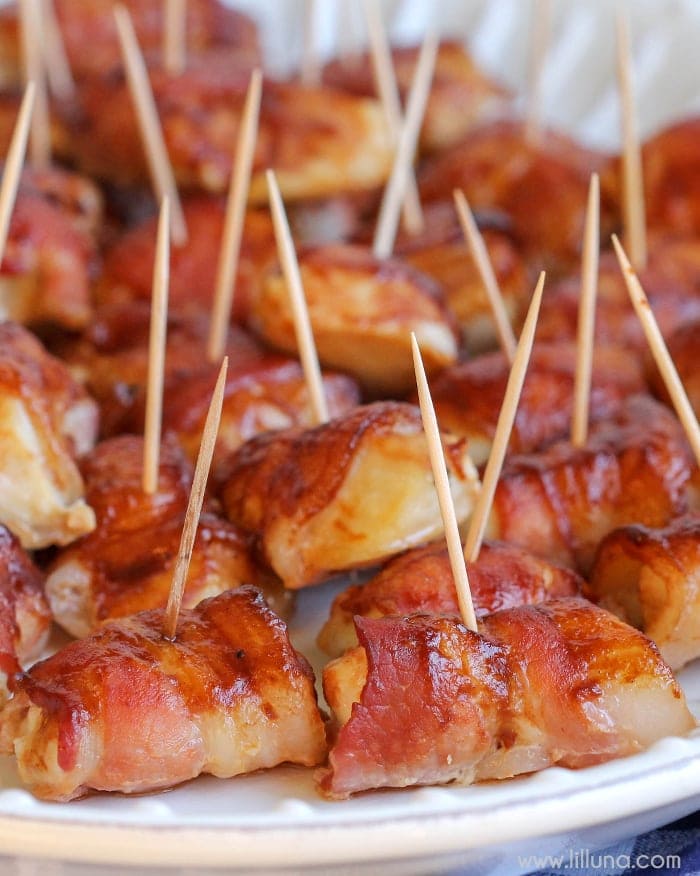 MY OTHER RECIPES
Obviously, the amount of BBQ is completely up to you. I, however, like lots and lots of sauce. If it doesn't get on my face, there's not enough sauce, LOL! This recipe is great because its all up to you and your preference. In fact, you can even change out the bbq sauce for another favorite sauce – maybe Buffalo??
Next time you have your friends over for a game night (an often occurrence in the Carpenter home), you'll want to bust these chicken bites out! Trust me on this… you really can't go wrong with chicken wrapped in bacon.
For more chicken recipes, check out:
Here is the recipe:

BBQ Chicken Bites
Ingredients
2-3 boneless, skinless chicken breasts, cut into 1-inch cubes
8 oz. (half pound) bacon, cut into thirds
½-1 cup BBQ sauce (we love Sweet Baby Rays)
Toothpicks
Instructions
Line a large baking sheet with aluminum foil and lightly spray with cooking spray.
Wrap each piece of cubed chicken with a small strip of bacon. Secure with a toothpick and place on your baking sheet. Brush with desired amount of BBQ sauce.
Bake at 350 for 1 hour. Remove from oven and add more BBQ as desired.
Serve warm.
Adapted from The Comfort of Cooking Recipes