I know I've said it already, but it is BLAZING HOT over here in AZ. So, I thought I'd match the temp outside and bring to you a HOT recipe today with Buffalo Chicken Meatballs.
Is it just me, or is Buffalo sauce a love/hate relationship? It seems that people either love or hate it, but fortunately our family loves the BUFFALO flavor. Maybe it's the Mexican side in me, but I love anything with a good kick (although you can usually tame the hot buffalo flavor). Todays meatballs recipe can be spicy or mild, depending on how much sauce you use. If you like spicy, add more sauce. If not, you can easily numb down the spice by adding a little extra butter. Win – Win! Either way you make it, this meatball recipe is delicious, simple and perfect for any party or get together.
If you ever made meatballs before, you know they are actually easier than you think. It just requires that your hands get a little dirty, but trust me – these are so worth it. They are flavorful and so delicious!
Remember to taste test the sauce before you add it to your meatballs. If its too spicy, add a tablespoon of butter, at a time, to calm down that spice.
Here is what you'll need to make them…
My Other Videos
Buffalo Chicken Meatballs:
Buffalo Chicken Meatballs
Simple and yummy Buffalo Chicken Meatballs - this homemade meatball recipe is easy, so full of flavor and packed with a kick.
Ingredients
¾ cup panko bread crumbs
⅓ cup Louisiana-style hot sauce, divided
½ cup butter, melted
1 large egg white
1 lb lean ground chicken
Blue cheese or ranch salad dressing (optional)
Instructions
Melt butter in your ⅓ cup of hot sauce. This will make the sauce less spicy. If you prefer more spicy, skip this step or add less butter.
In a large bowl, combine bread crumbs, half of your hot sauce/butter combo, and egg white. Add chicken and gently mix. Shape into twenty-four 1-in. balls. Place on a greased baking pan.
Bake at 400 for 25-30 minutes or until cooked through.
Toss meatballs with remaining hot sauce. Enjoy with ranch dipping or by themselves. They are great either way!
Adapted from Taste of Home.
TRIED & TRUE FINDINGS:
DIFFICULTY: simple
HOW MANY DOES IT FEED: 20-24
ANY CHANGES MADE: We took out the celery, added butter to the hot sauce to make it less hot, and we baked for longer.
ANY SUGGESTIONS FOR NEXT TIME: I like more spicy, so I think we'll leave some spicy and the rest we can calm down with butter.
For more delicious appetizers, check out these recipes:
BBQ Bacon Wrapped Chicken Bites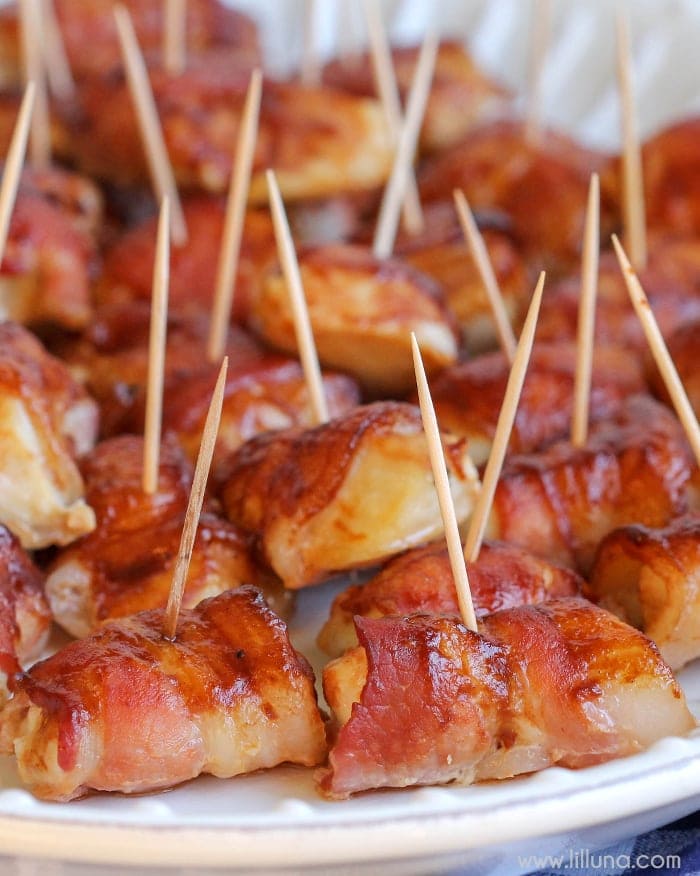 And for more favorite appetizers, check out:
ENJOY!
Need more recipes and creative ideas? Sign up and get a FREE copy of my latest ebook!