Yes, I know… another Appetizer recipe. Don't worry, it's one of the last ones. 😉
This next recipe I'm sharing is for Spinach Dip Bites. I had seen this recipe on Chocolate, Chocolate and More and knew we had to give it a try ourselves.You see, I'm obsessed with Spinach and Artichoke Dip {I noticed just recently that I haven't shared any recipes for that on the site yet, so that will be changing shortly). Spinach and Artichoke Dip is one of my most favorite items to order at a restaurant. Served with warm tortilla chips, I could probably eat the whole thing with all of its cheesy goodness. Growing up I wasn't a huge fan of Spinach (or Artichokes for that matter), but that has changed being an adult. It's such a great combination of taste to me, and you can find that great mix in these bite-size and crunchy Spinach Dip Bites. They are so warm and cheesy and would be great for your next get together. The recipe is simple too, but I warn that you won't be able to just eat one of these bad boys! We didn't really change anything from the original recipe because it was already perfect. We just added a little extra cheese, since you can never go wrong with more cheesy!! 😉
If you love Spinach and Artichoke dip like me, then you'll definitely love this yummy recipe.
For video instructions on how to make these Spinach Dip Bites, check out the video below:
For printable recipe:
Spinach Dip Bites:

Spinach Dip Bites
Ingredients
2 cups frozen spinach, chopped and thawed
1 6 ounce jar Artichoke Hearts, drained and chopped
½ tsp. minced garlic
2 TB grated parmesan cheese
4 ounces Cream Cheese, softened
¾ cup shredded mozzarella cheese, divided
½ tsp. garlic salt
pepper to taste
1 can seamless Crescent Dough
Instructions
Preheat oven to 375.
In a bowl, combine spinach, artichoke hearts, garlic and Parmesan cheese. Blend in cream cheese and half of your mozzarella cheese. Season with Salt and pepper and set aside.
Using a rolling pin, lay out dough on a cutting board and lightly stretch to a 8 x 12 rectangle. Cut dough into 2 inch squares, so you have 24 squared total.
Lightly grease a mini muffin tin and place a square in each slot, gently pushing down to create an indent. (you don't need to mold to the cup.)
Scoop one teaspoon of your spinach mixture on top of each crescent square and gently push in, (bites will mold to your tin while baking). Spread the remaining mozzarella cheese over the tops of each cup.
Bake at 375 for 15 - 17 minutes, until golden brown. Let cool for 5-10 minutes before moving from tray. ENJOY!
Recipe adapted from Chocolate, Chocolate and More.
MY OTHER RECIPES
These are just so addicting!!
I know you'll love them as much as we did. 🙂
For more delicious appetizer recipes check out: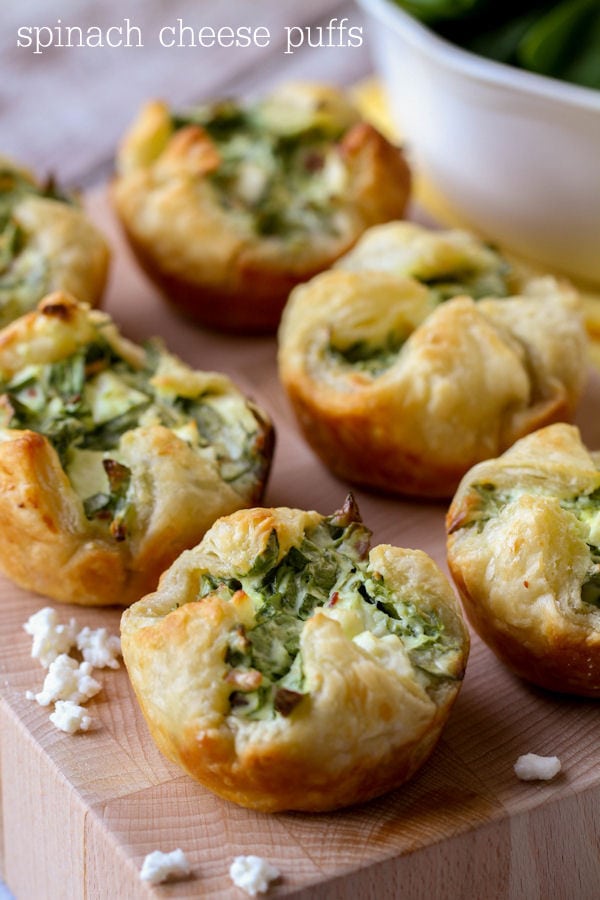 For all Appetizer recipes on the site go HERE.
For all recipes go HERE.
And get weekly emails with monthly freebies by signing up for the Lil' Luna newsletter. 🙂
For even more great ideas follow me on Facebook – Pinterest – Instagram – Twitter – Periscope – Snapchat.
Don't miss a thing – Sign up for the Lil' Luna Newsletter today!
ENJOY!