Today I want to share with you a quick and easy recipe that everyone will LOVE! These chicken lettuce wraps are a copycat version of a restaurant favorite (P.F. Chang's). They're light yet surprisingly filling. They make great little appetizers or a flavorful meal. The best part is that you only need a handful of ingredients and just 20 minutes! You definitely cannot go wrong with a simple and tasty recipe like this one.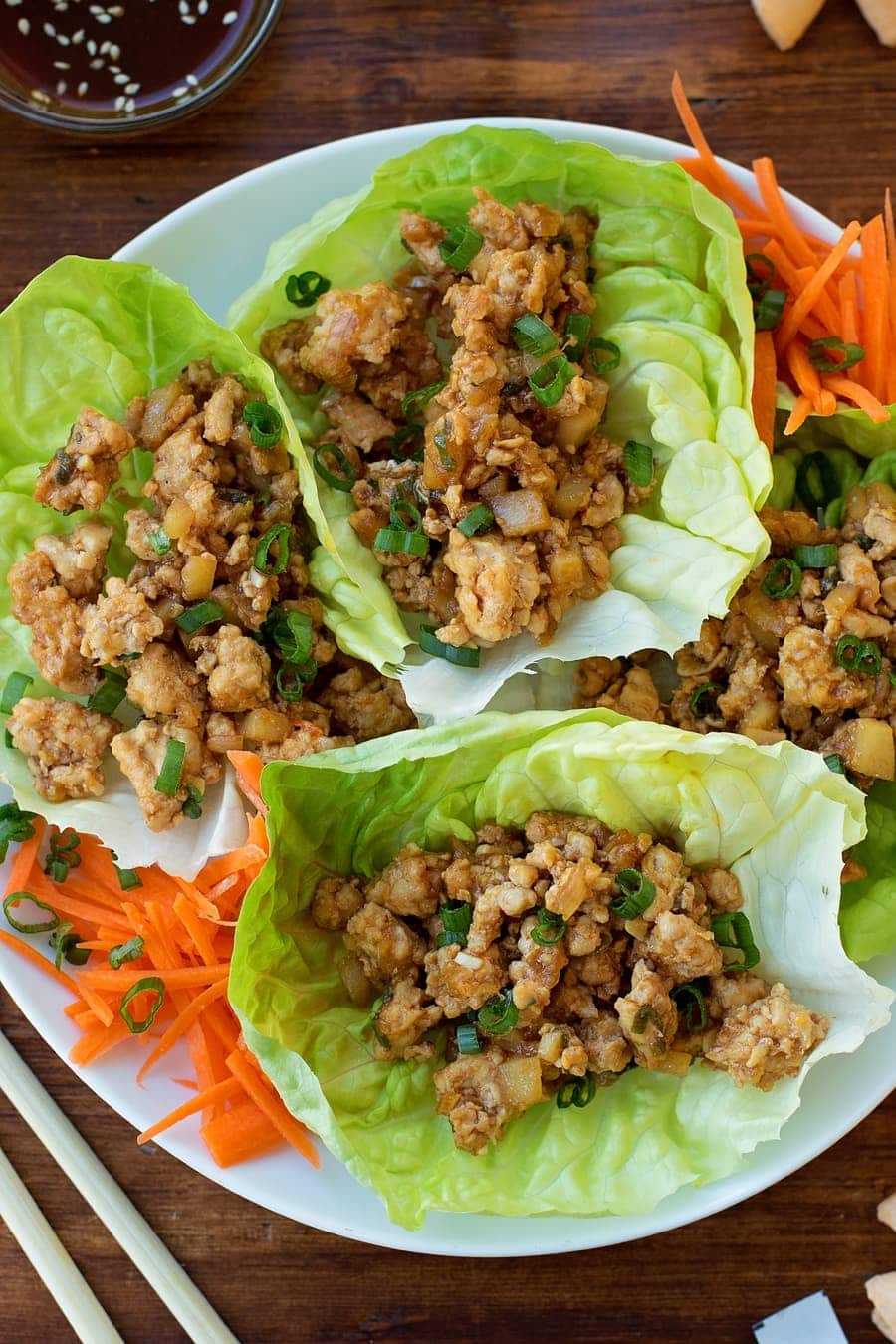 Everyone who tries these tasty wraps gets hooked, I think you will too! They are perfect for Chinese New Year coming up or even as a side to one of your favorite Asian dishes.
MY OTHER RECIPES
For more Asian recipes, check out:
PF Chang's Lettuce Wrap Recipe:
Chicken Lettuce Wraps
This PF Chang's Chicken Lettuce Wraps recipe is a copycat of a restaurant favorite. It only takes a handful of ingredients and 20 minutes to make!!
Author:
Natalie | Life Made Simple
Ingredients
1 tbsp. olive oil
½ yellow onion, diced
2 cremini mushrooms, minced
3 cloves garlic, minced
1 lb. ground chicken
pinch ground black pepper
¼ c. hoisin sauce
2 tbsp. soy sauce
1 tbsp. oyster sauce
½ tsp. sesame oil
1 tsp. freshly grated ginger
2 tsp. sriracha or sambal oelek (optional)
¼ c. diced water chestnuts
2 green onions, thinly sliced
1 head butter lettuce
Instructions
In a large skillet set over medium heat, add olive oil. When the oil is hot, add onion and cook for 3 minutes, then add mushrooms and continue cooking for 3 more minutes. Add garlic and cook just until fragrant.
Add ground chicken and cook until browned, using a wooden spoon or thick spatula, crumble the chicken as it cooks; drain any excess fat.
Season with pepper, hoisin, soy sauce, oyster sauce, sesame oil, ginger and Sriracha/sambal oelek. Stir until combined, then add the chestnuts and green onions. Cook for 3-4 minutes then remove from the heat.
Spoon 3-4 tablespoons of the mixture into the center of a lettuce leaf, serve with carrots, crispy rice noodles or chopped toasted nuts.
Adapted from Damn Delicious
_______________________
PF Changs lettuce wraps are my FAVORITE! Thanks for sharing this recipe, Natalie! I'm dying to make it at home! Go visit Natalie over at Life Made Simple for more amazingly delicious recipes!