Hey guys! I'm back with that second AWESOME recipe I mentioned last week. Our family has always been fans of Panda Express and we recently saw a copycat recipe for their Orange Chicken on Brown Thumb Mama. We knew we had to give it a try since it's our favorite chicken from the chain. We really liked the recipe and devoured it in no time! It tasted very similar toPanda Express Orange Chicken, and we are so excited that we can now making this delicious recipe at home.
I know that this chicken is usually served with just rice or noodles/chow mein, but I think we will try making it with broccoli next time. We may even add some other veggies since we love them and think they'll make a great addition to the recipe.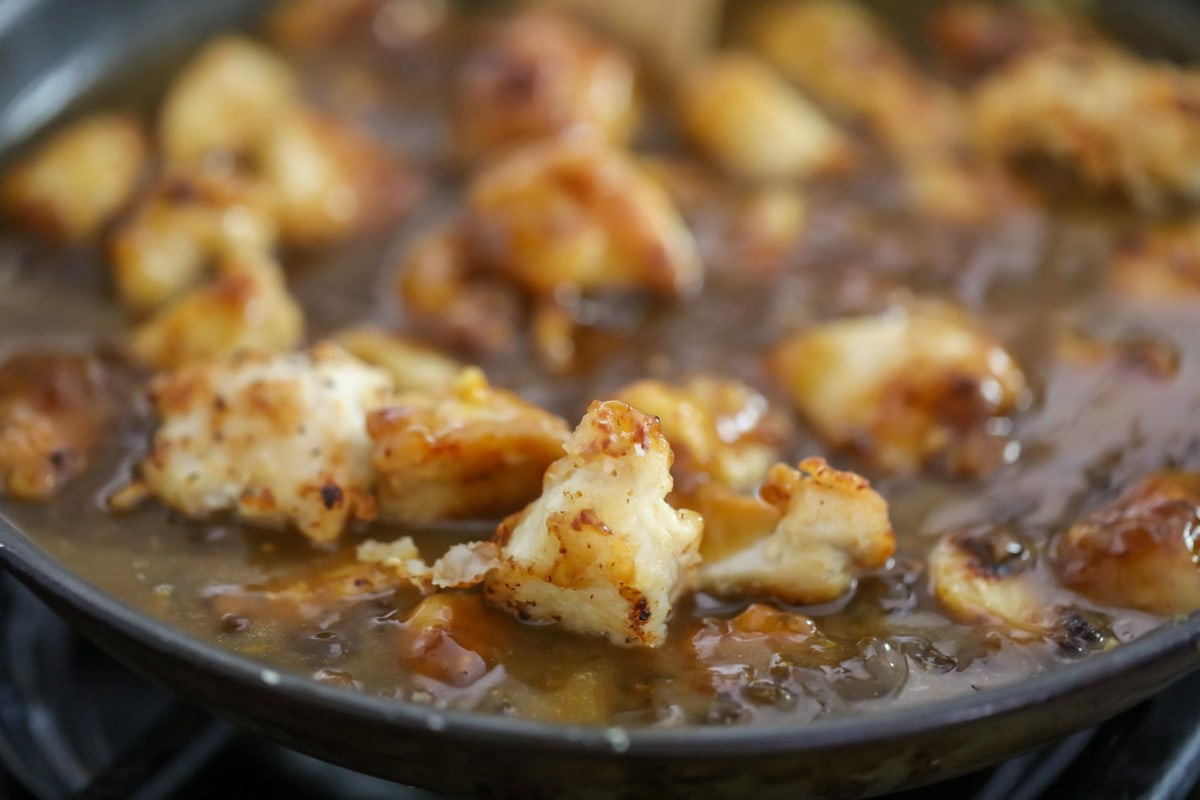 MY OTHER RECIPES
Add more or lessen some of the sauce ingredients based on what you do and don't like. 😉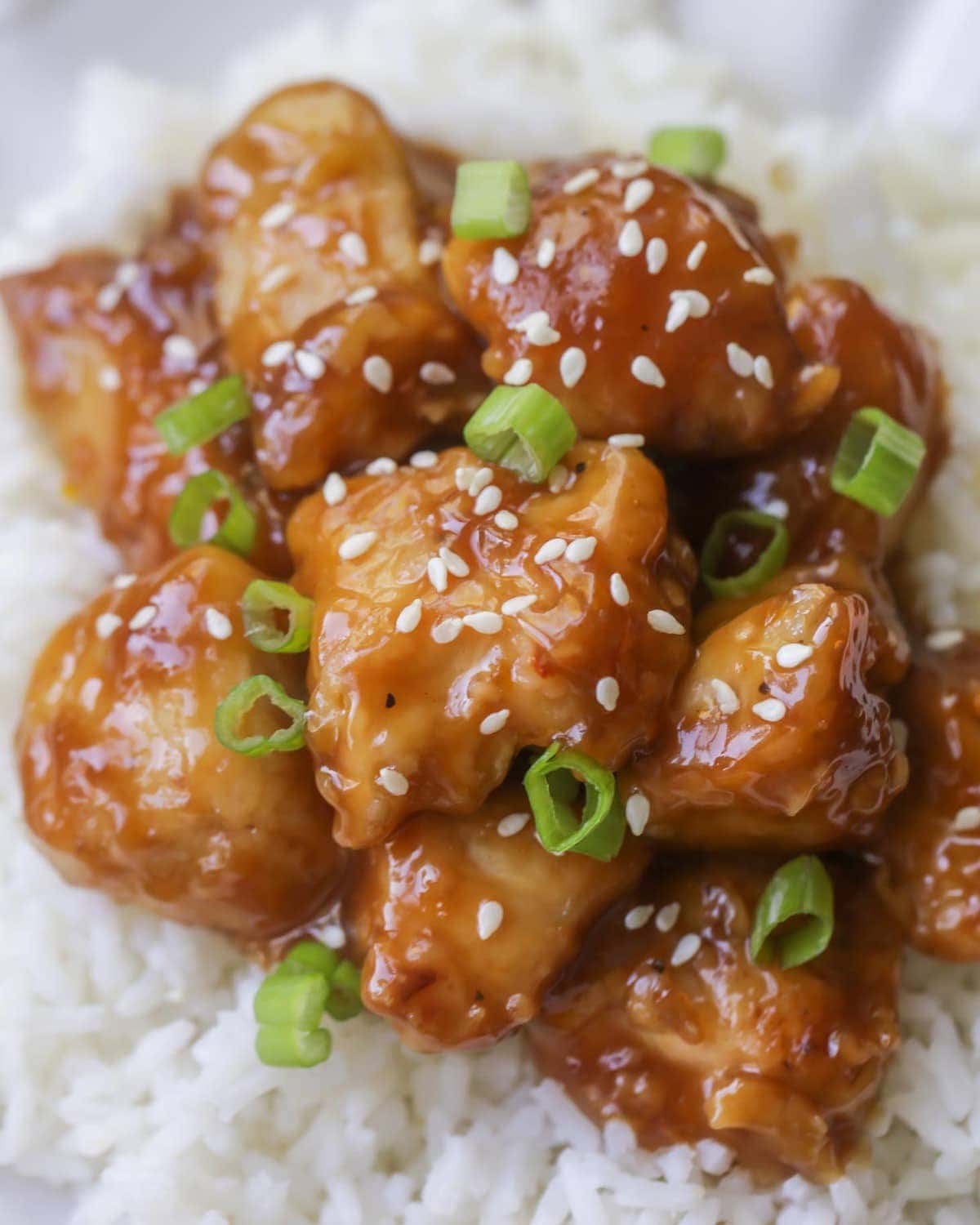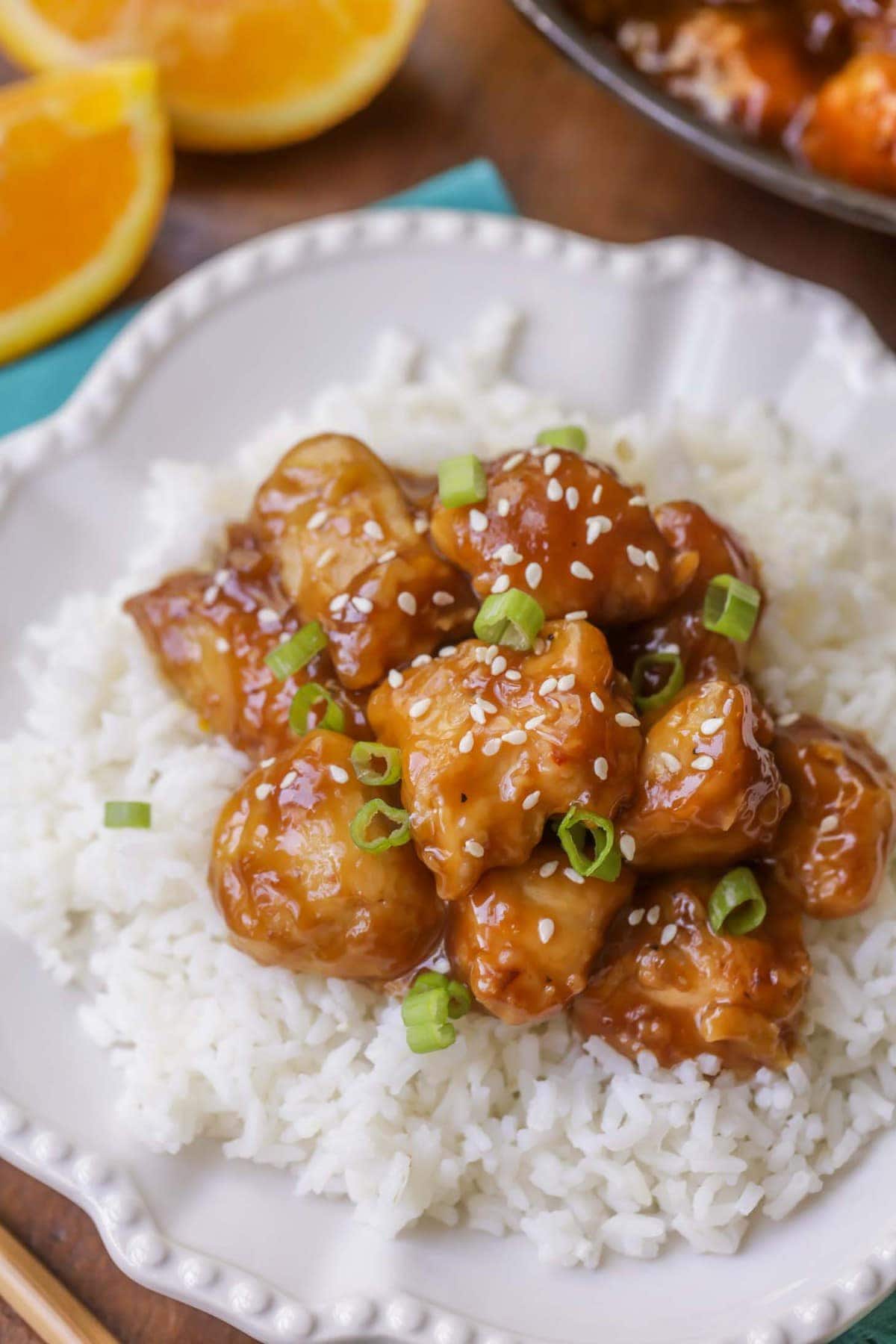 Yay for finding great copycat recipes to make at home!! And orange chicken is one of the best recipes ever so we hope you like this version as much as we did.
Copycat Panda Express Orange Chicken:
Copycat Panda Express Orange Chicken
Ingredients
1 pound boneless, skinless chicken breasts
Italian dressing
2 TB butter
Sauce:
2 TB soy sauce
½ cup orange juice
¼ cup brown sugar
zest of 1 orange
1 teaspoon minced garlic
1 TB ginger paste
1 TB corn starch
red pepper flakes (optional)
green onions (optional)
Instructions
Marinade chicken over night in Italian dressing. Cube and set in a large pan with 2 TB of simmering butter. Cook until browned. Remove to a paper towel when cooked.
Meanwhile, prep your sauce by mixing orange juice, orange zest, soy sauce, brown sugar, minced garlic and ginger paste in a bowl. Set aside.
Add sauce mixture to pan (except ¼ cup). Heat sauce up and let simmer.
Add reserve ¼ cup sauce to bowl and add corn starch - mix and dissolve. Add this back to the remaining sauce.
Heat until sauce reaches desired thickness. Add in your chicken and toss with sauce. Serve with rice or noodles. ENJOY!
Recipe adapted from Brown Thumb Mama.
TRIED & TRUE FINDINGS:
DIFFICULTY: Simple
HOW MANY DOES IT FEED: 2-3
ANY CHANGES MADE: Made lots of changes to try and get the Panda Express flavor a little better. We also marinated the chicken.
ANY SUGGESTIONS FOR NEXT TIME: We would love to add veggies and give this a try.
For more great Asian chicken recipes, check these out:
For more great Asian chicken recipes, check out:
ENJOY!