With all the Asian recipes we have on the site it's no surprise how much we love our Asian food! I think it's safe to say that it's my favorite kind of food and my extended family agrees.
Unfortunately, only a few of my kids like it and the hubby isn't a fan. 🙁 That doesn't keep me from trying new recipes though, and today we are sharing a recipe for General Tso's Chicken. I don't think I've ever had it before, but it is my new, favorite Asian chicken recipe! I've made it a few times since we first tried it, and it is seriously addicting!!
What Is General Tso Chicken?
So, what is General Tso chicken? It's a sweet, deep-fried chicken recipe served mostly in North American Chinese restaurants. We found a recipe from Betty Crocker that looked good and are so glad we tried it. There is restaurant close to my parents called Tott's and this recipe tastes just like our favorite chicken from there. Like I mentioned, it has a bit of a sweet taste and after adding broccoli it makes it so hearty and tasty. Writing about this chicken actually makes me want to cook this up, so I'll probably be adding it to the menu this coming week. 😉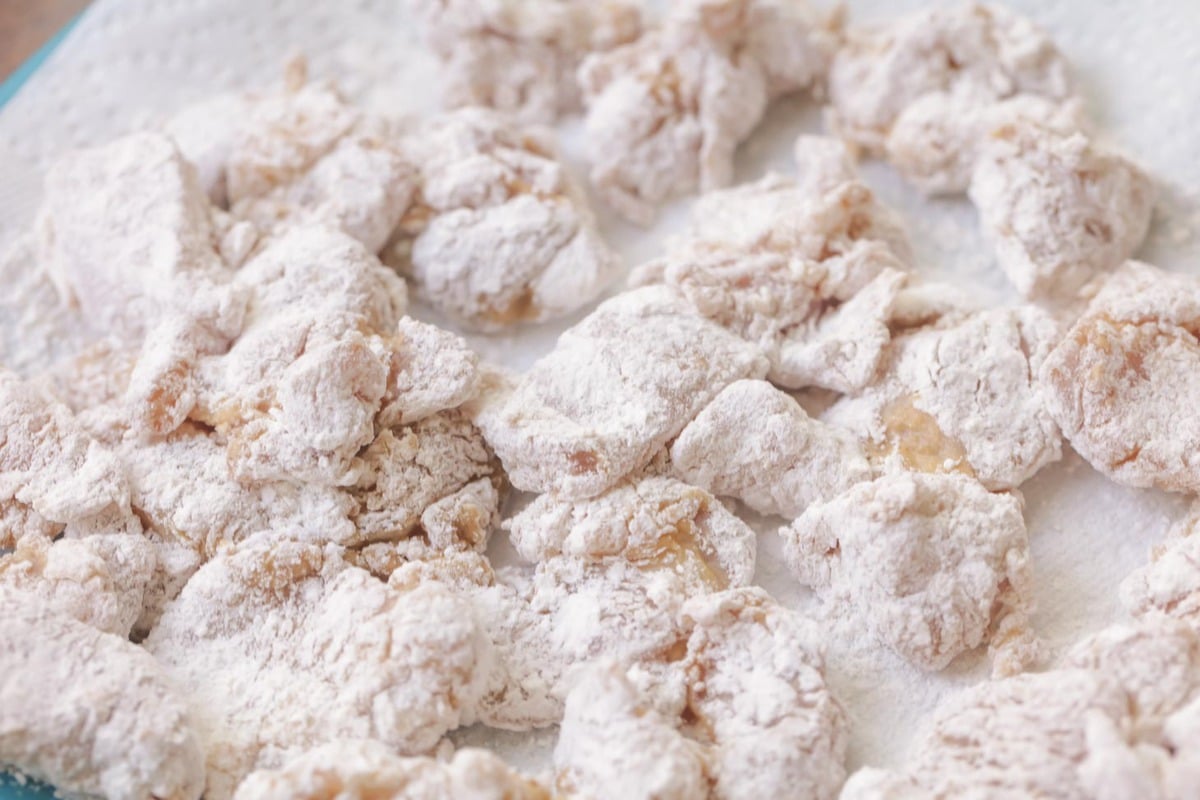 Coated in flour and ready for frying!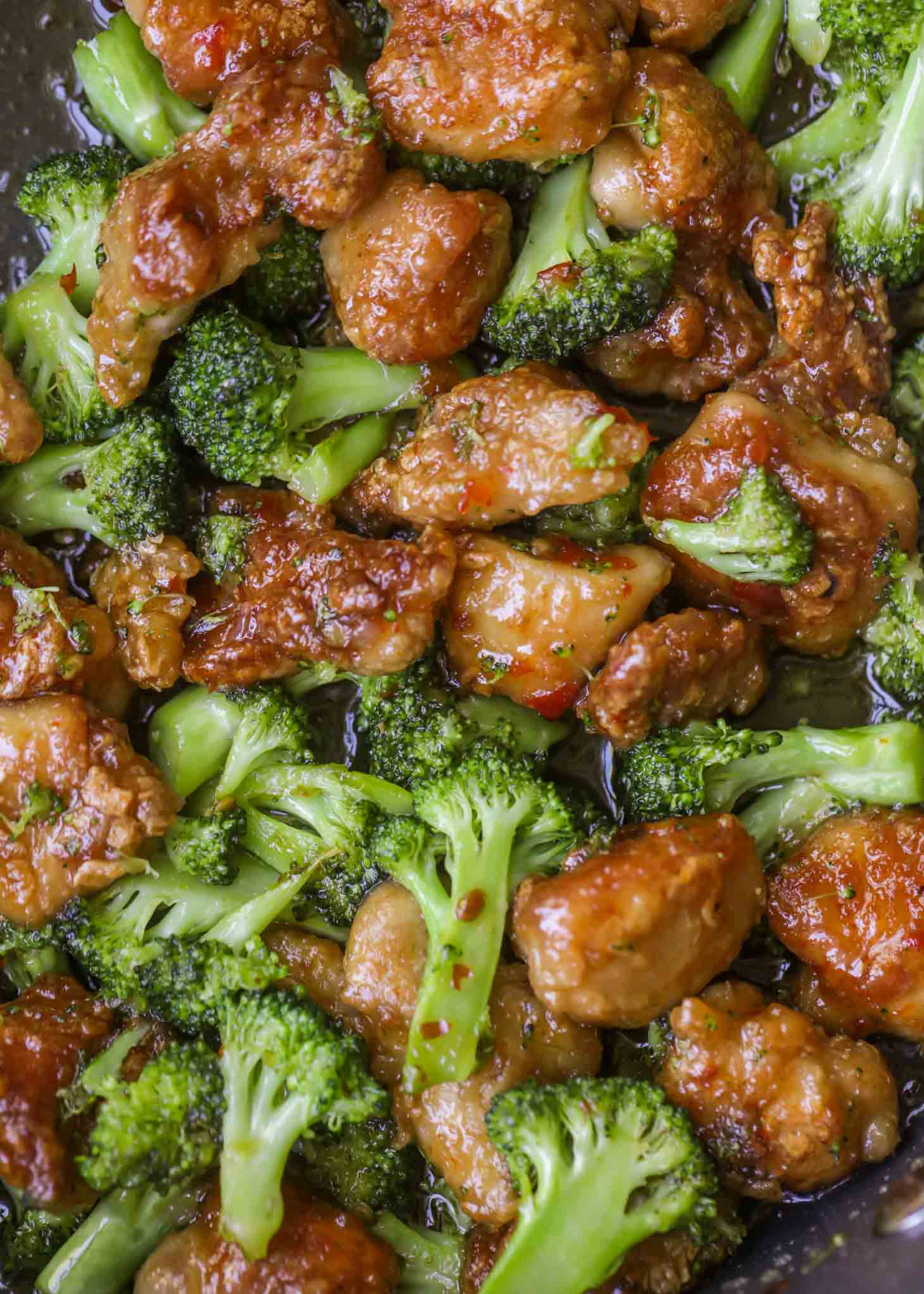 Chicken + Broccoli – my favorite meat and veggie combo!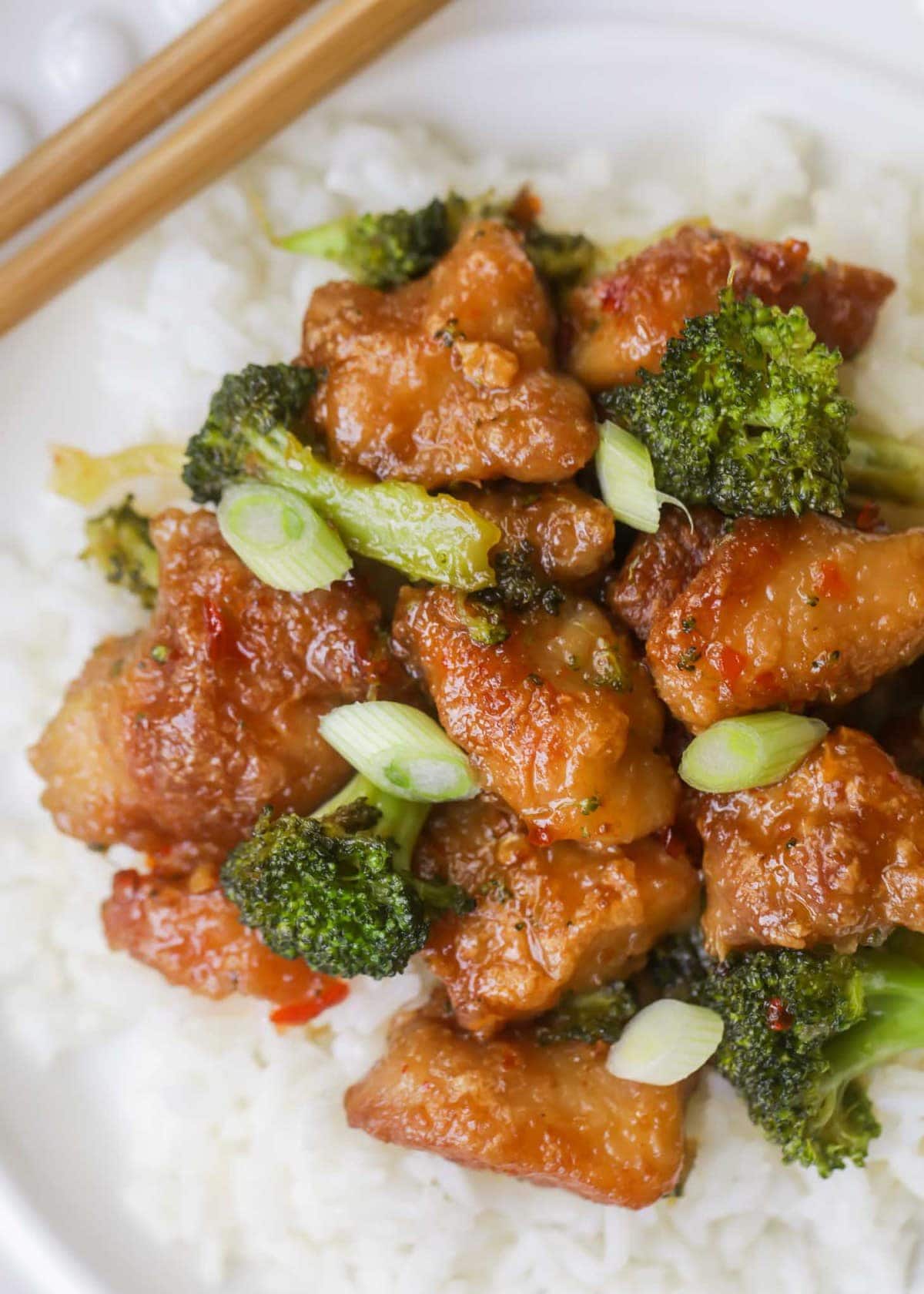 I honestly cannot give this recipe higher praise. It is so good on its own or is even better served with rice or noodles. Most my kids don't like broccoli just yet, but my little Evie enjoyed this recipe as much as I did. I hope you like it too!
For more Asian chicken recipes, check out:
How to make General Tso's Chicken: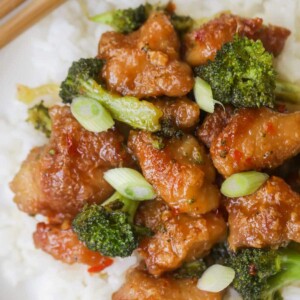 General Tso's Chicken
Delicious General Tso's chicken - a sweet and fried chicken recipe that is out of this world delicious and includes broccoli.
Ingredients
2

tbsp

sweet chili sauce

2

tbsp

sugar

1

tbsp

rice vinegar

1/4

cup

all-purpose flour

2

tbsp

cornstarch

1

egg white

1

tbsp

soy sauce

3

boneless skinless chicken thighs

cut into bite-size pieces

2

tbsp

vegetable oil

1

bunch

broccoli florets

cut into bite size pieces (about 3 cups)

2

cups

cooked white rice or cooked noodles
Instructions
Mix chili sauce, sugar and vinegar in a small bowl.

In another bowl, mix flour and cornstarch.

In a third bowl, beat egg white and soy sauce. Add chicken and toss to coat, and then add coated chicken to flour bowl and toss around.

Pour oil in skillet and cook floured chicken for 7-8 minutes or until chicken is cooked and crispy.

Add broccoli to skillet, stirring often and cook until broccoli is softened, then add chili/vinegar sauce to skillet and cook for a few more minutes making sure to coat the broccoli and chicken.

Serve over rice or noodles and ENJOY!
Recipe from Betty Crocker.