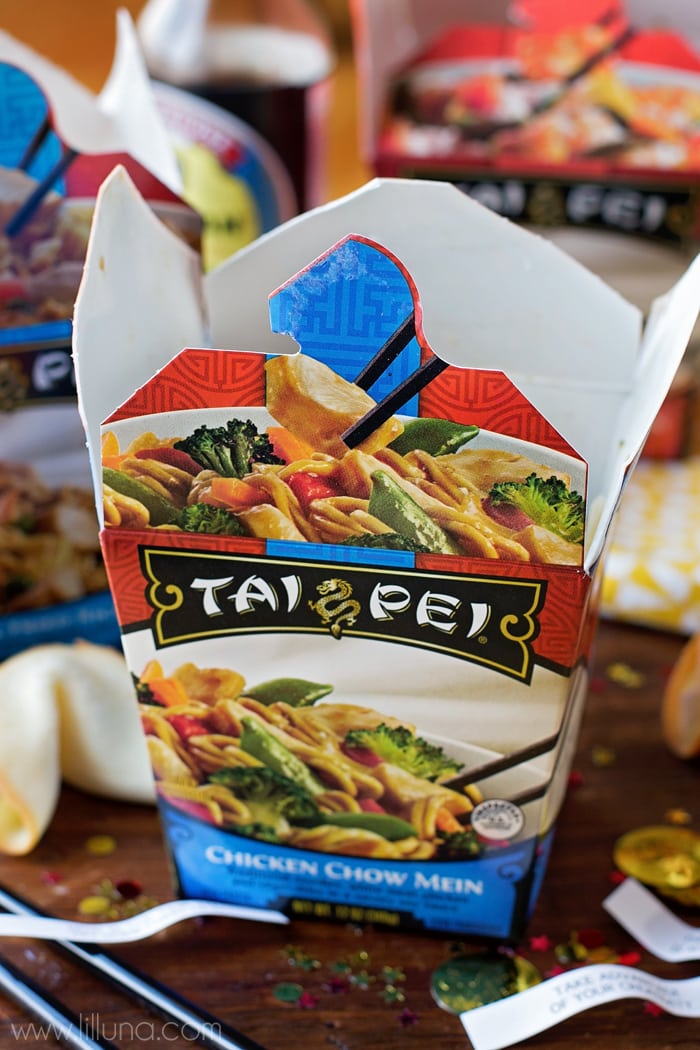 Our family loves Asian food, but sometimes eating out isn't always practical, especially on nights where the hubby works late! That's where Tai Pei® comes in. Tai Pei® provides an authentic and fulfilling Asian "take out" food experience at home. They have a variety of restaurant-inspired entrees and snacks that are super easy to prepare & serve. It literally took minutes! Did I mention that they come in cute little take-out boxes too?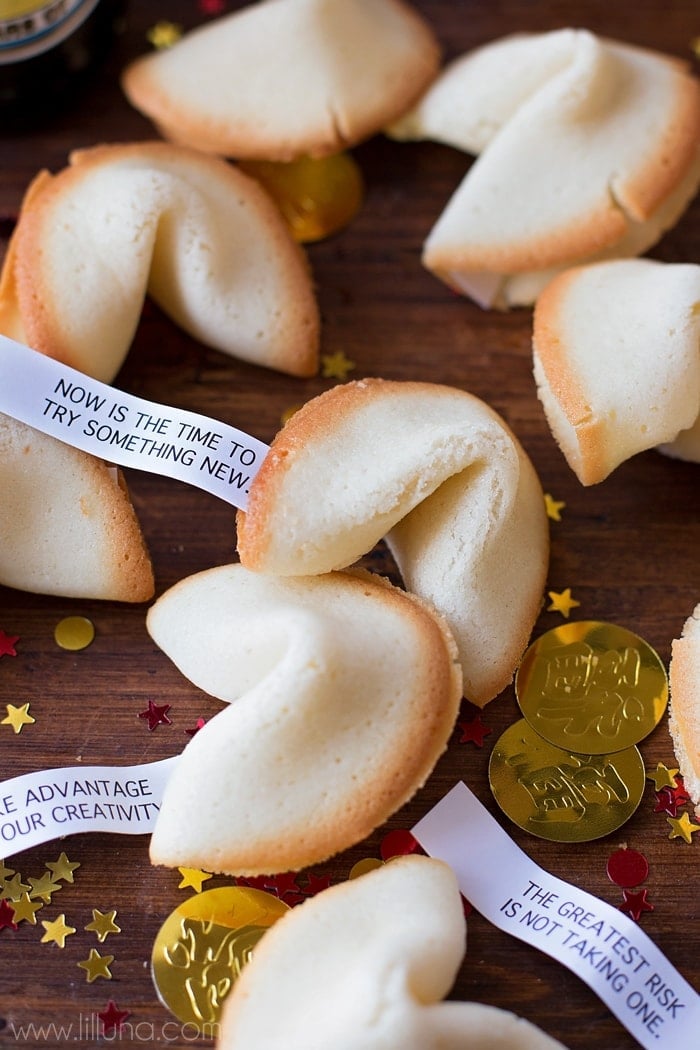 We had a adventurous family night where we sampled the different flavors of Tai Pei® and learned about Chinese New Year- we even made our own fortune cookies!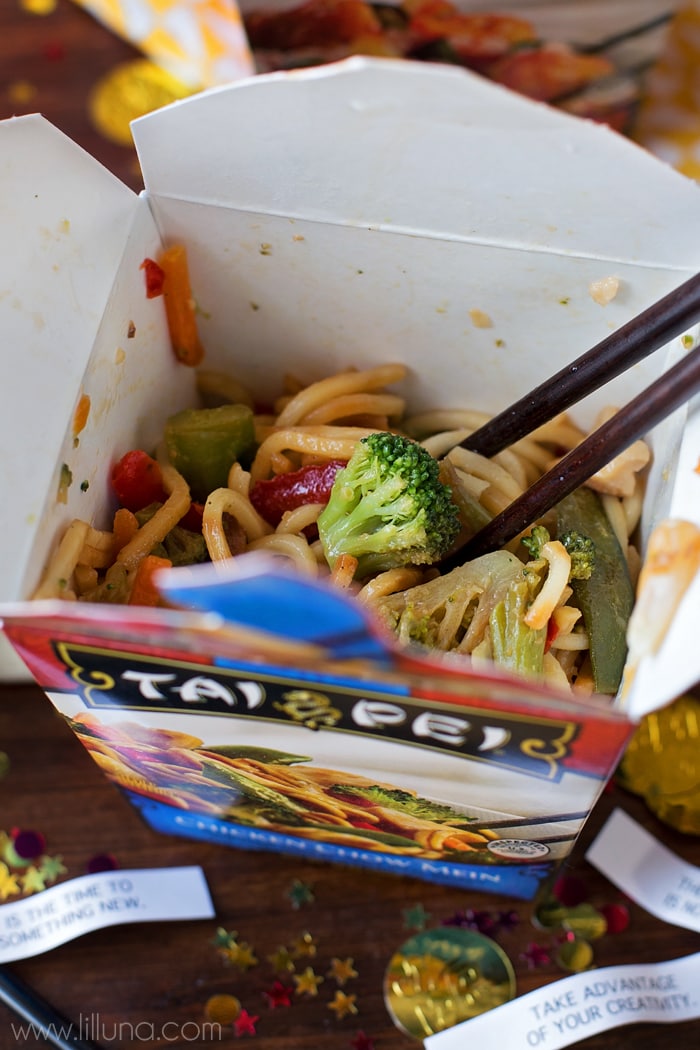 My family agrees, these are a fun and flavorful way to enjoy Asian food at home. We can't wait to try a few more appetizers in celebration of Chinese New Year. I suggest giving these a try- I think you're going to like them 🙂
Here's how to make homemade fortune cookies: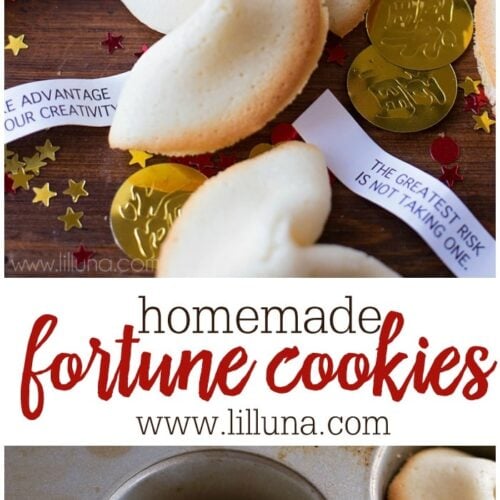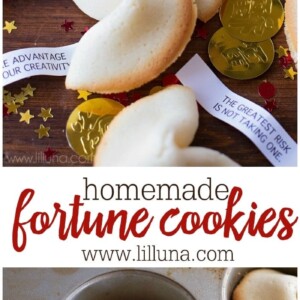 Homemade Fortune Cookies
Homemade Fortune Cookies with Tai Pei Chicken Chow Mein
Ingredients
3

egg whites

room temperature

3/4

cup

granulated sugar

1/2

cup

salted or unsalted butter

melted

1/4

tsp

vanilla extract

1/2

tsp

almond extract

1/4

cup

water

1

cup

all purpose flour

1

tsp

cornstarch
Instructions
Preheat oven to 375 degrees. Line a baking sheet with parchment paper or a baking mat; have fortune strips ready.

In a large mixing bowl, using a hand mixer, beat the egg whites and sugar on high speed for 2 minutes. Add the melted butter, vanilla, almond extract, and water, mix until incorporated. Add the flour and cornstarch, mix just until combined.

Using a tablespoon, spoon the batter onto the prepared baking sheet. Using a spatula or the back of tablespoon, spread the batter into a 3-inch circle. Only do two at a time!

Bake the cookies for 7-8 minutes or until the edges are brown. Remove them from the oven and quickly flip over. Fold the cookie in half, into a semicircle. Slip the note into the cookie. Place the semicircle onto the edge of a cup and quickly fold the ends down (see pictures below).

Place the cookie in a muffin tin to let it cool and hold its shape.

Repeat the process with the remaining batter.
Recipe Notes
*If your cookies are still soft in the center, you can place the muffin tin full of cookies back into the oven for a few minutes to harden them up.
-
Recipe & method adapted from allrecipes.com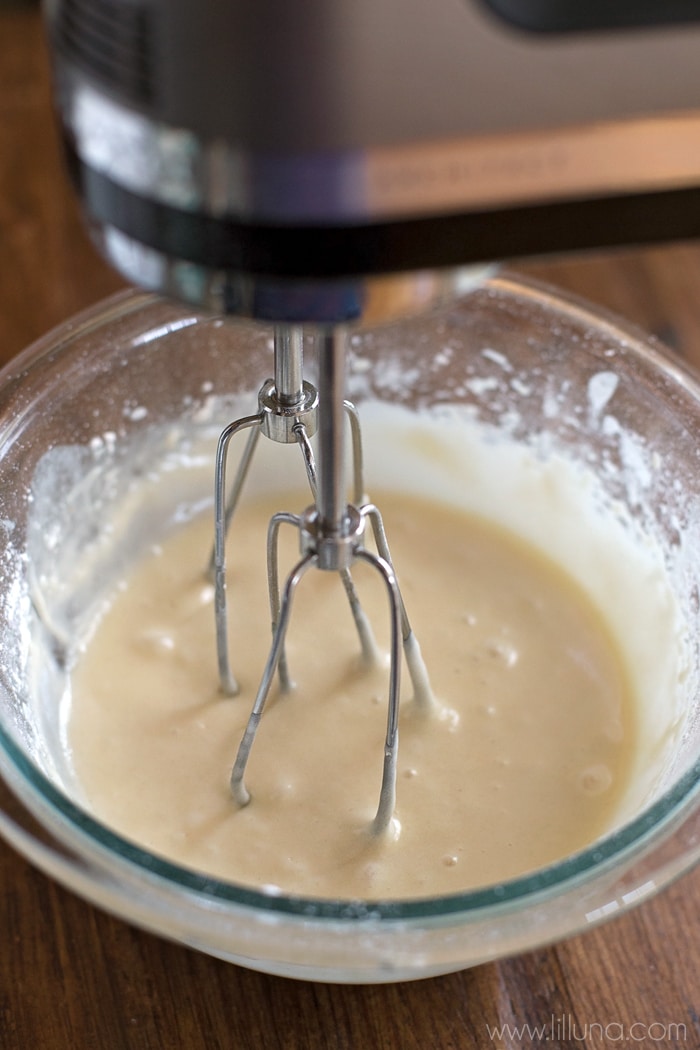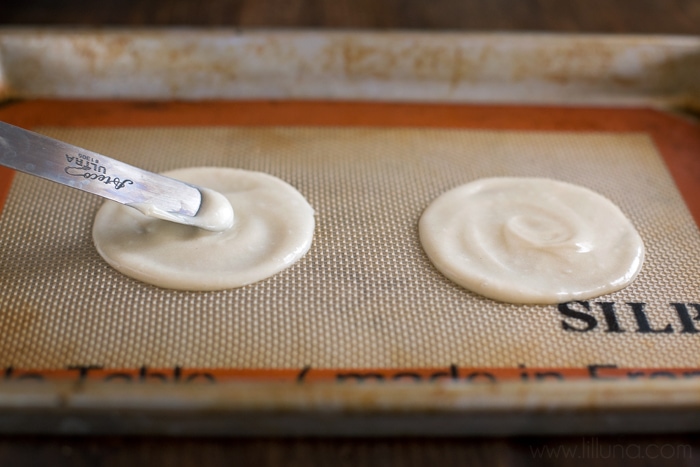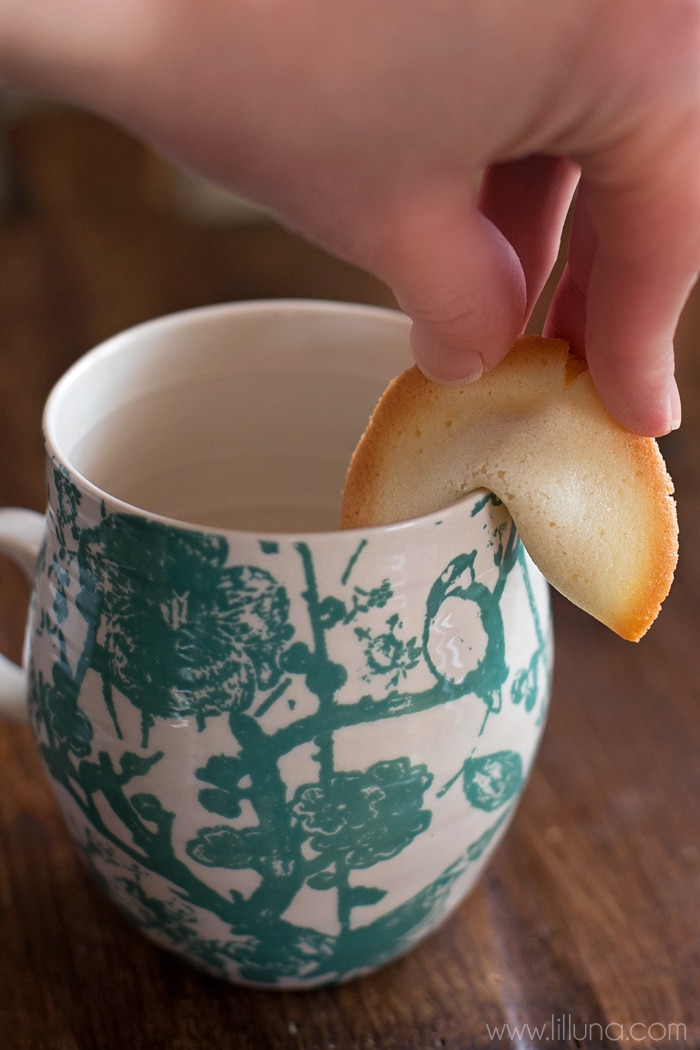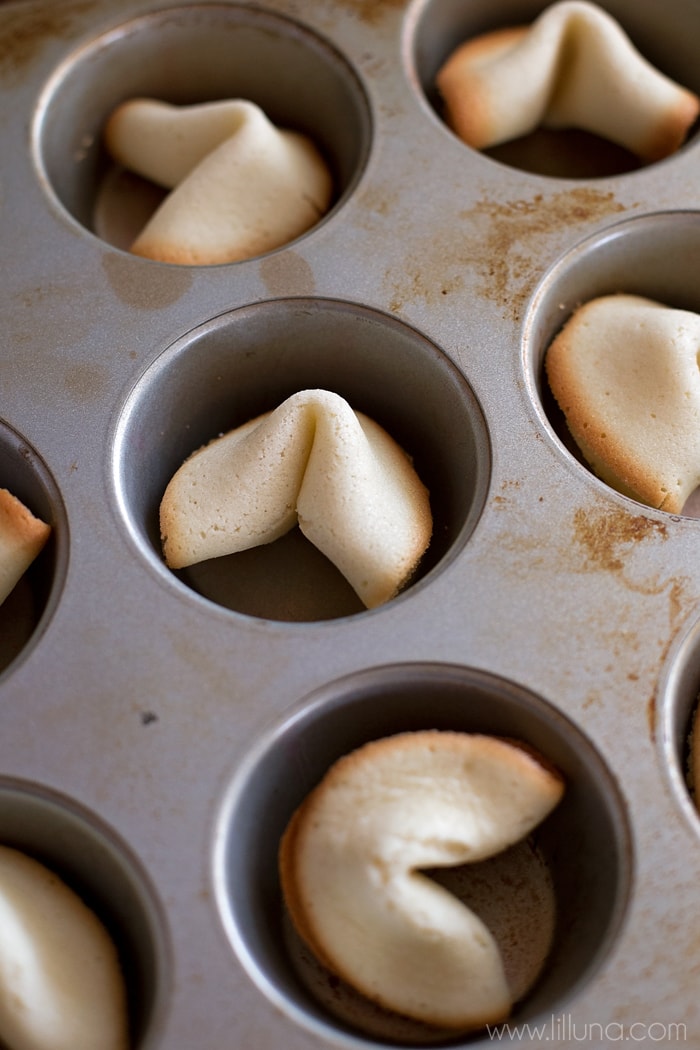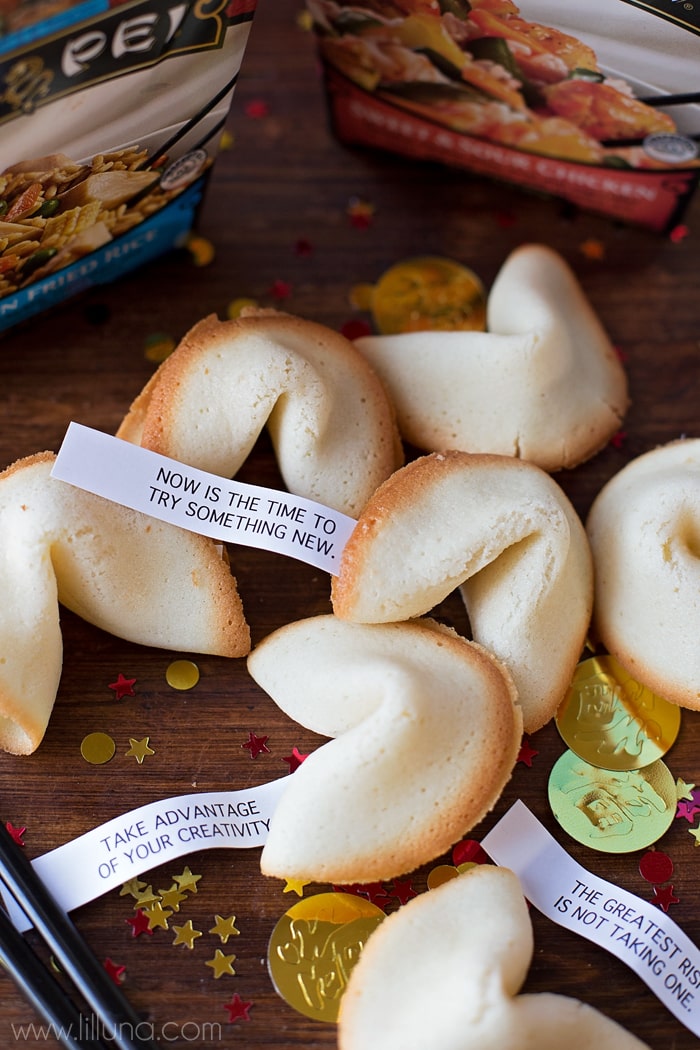 My kids LOVE Chinese New Year and all the fun that goes with it. From yummy treats like these Homemade Fortune Cookies to the delicious food, like the Tai Pei entrees and appetizers.
Be sure to download your Tai Pei coupons by going to the following links (Single serve entree coupon HERE and Multi-serve appetizer coupon HERE.)
For more information about Tai Pei go to their website HERE or follow them on FACEBOOK and PINTEREST.
ENJOY and Happy Chinese New Year!!