These homemade Egg Rolls are the perfect appetizer or side to any Asian meal! They're filled with chicken and veggies and fried to perfection.
No Asian entree is complete without a side of egg rolls! We love to eat these with Honey Garlic Chicken, Beef and Broccoli, or even just dipped in some Sweet and Sour Sauce.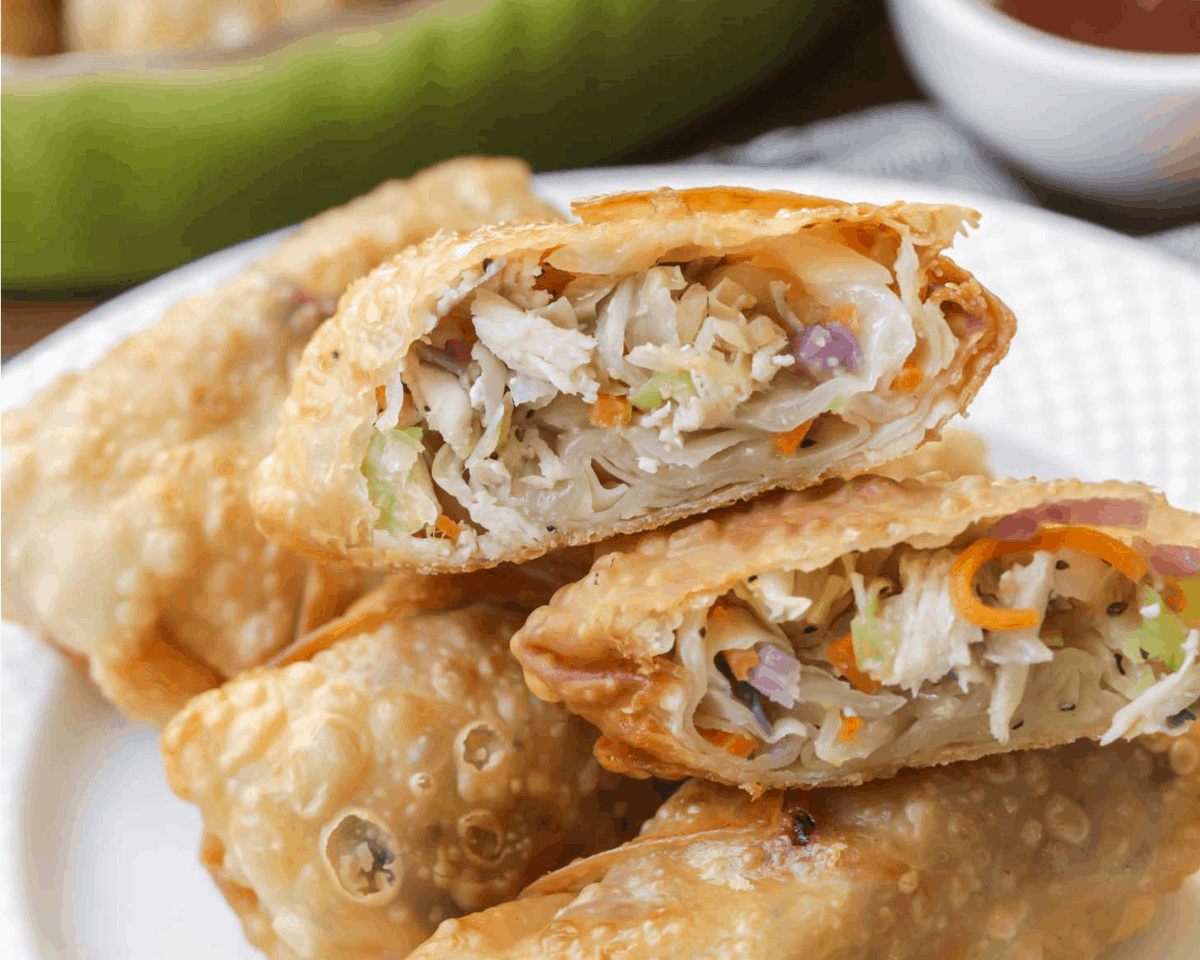 Do you like egg rolls??
My mom has been making them for as long as I can remember, and they are one of my favorite appetizers. We eat a ton of Asian food in our family and almost always have these egg rolls to go with them because they are the perfect side for any Asian dish.
This particular recipe makes egg rolls that are a little wider than the ones you get at a restaurant, but they are so simple and so addicting, you may be resentful that we are showing you how to make these from home.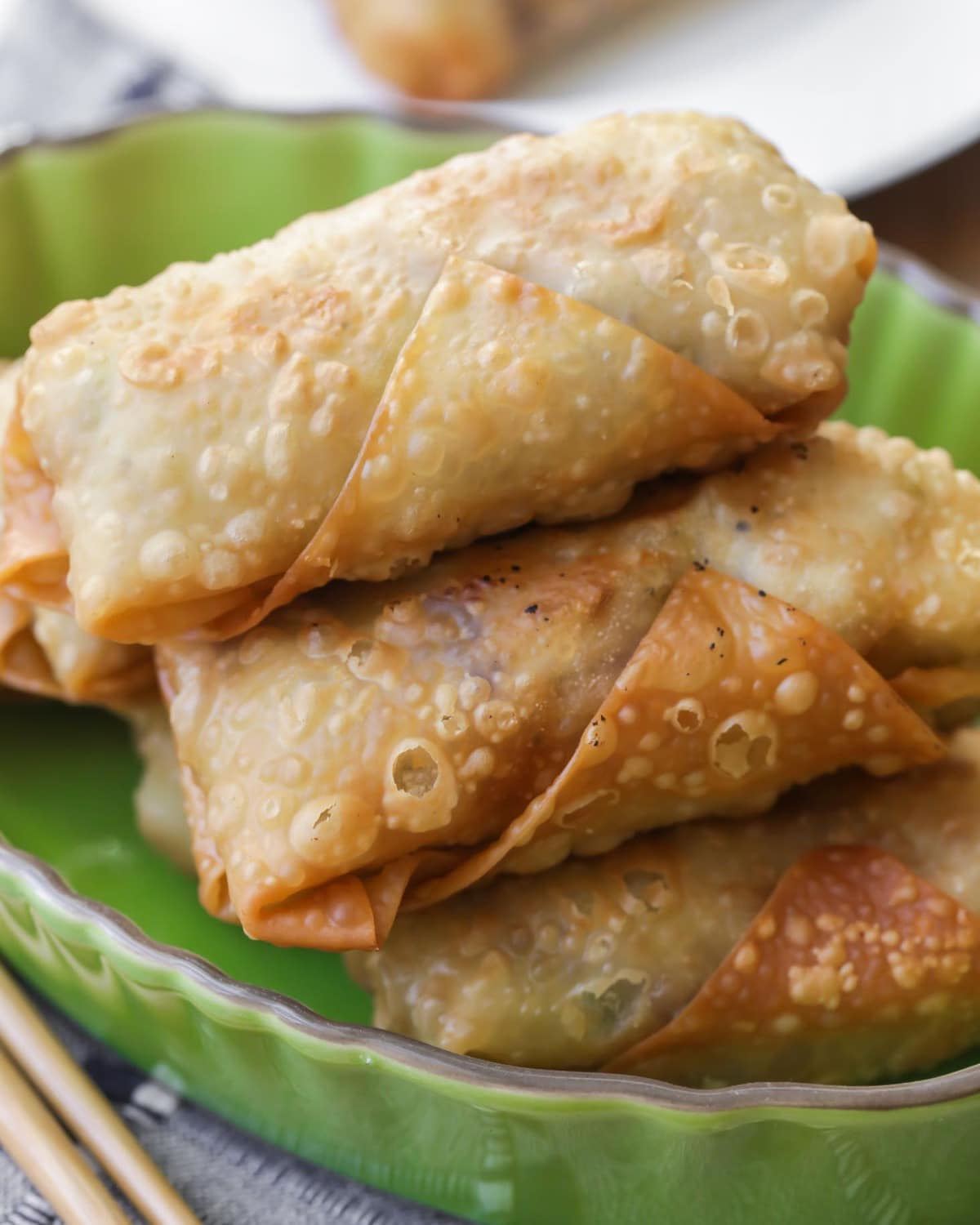 Fill it however you like!
As with any of our recipes, they can be modified based on your liking. You can use your favorite veggies and/or meats. In fact, we have a Bacon Avocado & cheese version and even a Cheesecake Factory Copycat Avocado Egg roll version. Both are seriously SO good!!
Here are some other egg roll fillings that would be great:
Buffalo Chicken – shredded chicken + buffalo sauce
Apple Pie version – Apple filling + cinnamon
Breakfast version – eggs, cheese & bacon
Southwest version – Corn, Beans, chicken, spices
Cherry Cheesecake version – Cherry Pie filling + Cream Cheese
Bacon Mac n Cheese – bacon + macaroni
Just roll up your fillings inside the egg roll wrappers and fry in a little bit of oil (vegetable oil, peanut oil, extra virgin olive oil all work great) until they're nice and crispy.
Air Fryer
Lightly spray the basket or brush with coconut or olive oil. Place egg rolls in the basket. Be sure they're not touching. Cook at 350 degrees for 6-8 minutes.
Oven Baked
If you are trying to be a little healthier, you can also try baking your egg rolls. To do that, lightly coat them with cooking spray and place, seam side down in a greased pan. Bake at 425 for 18-20 minutes or until golden brown and enjoy!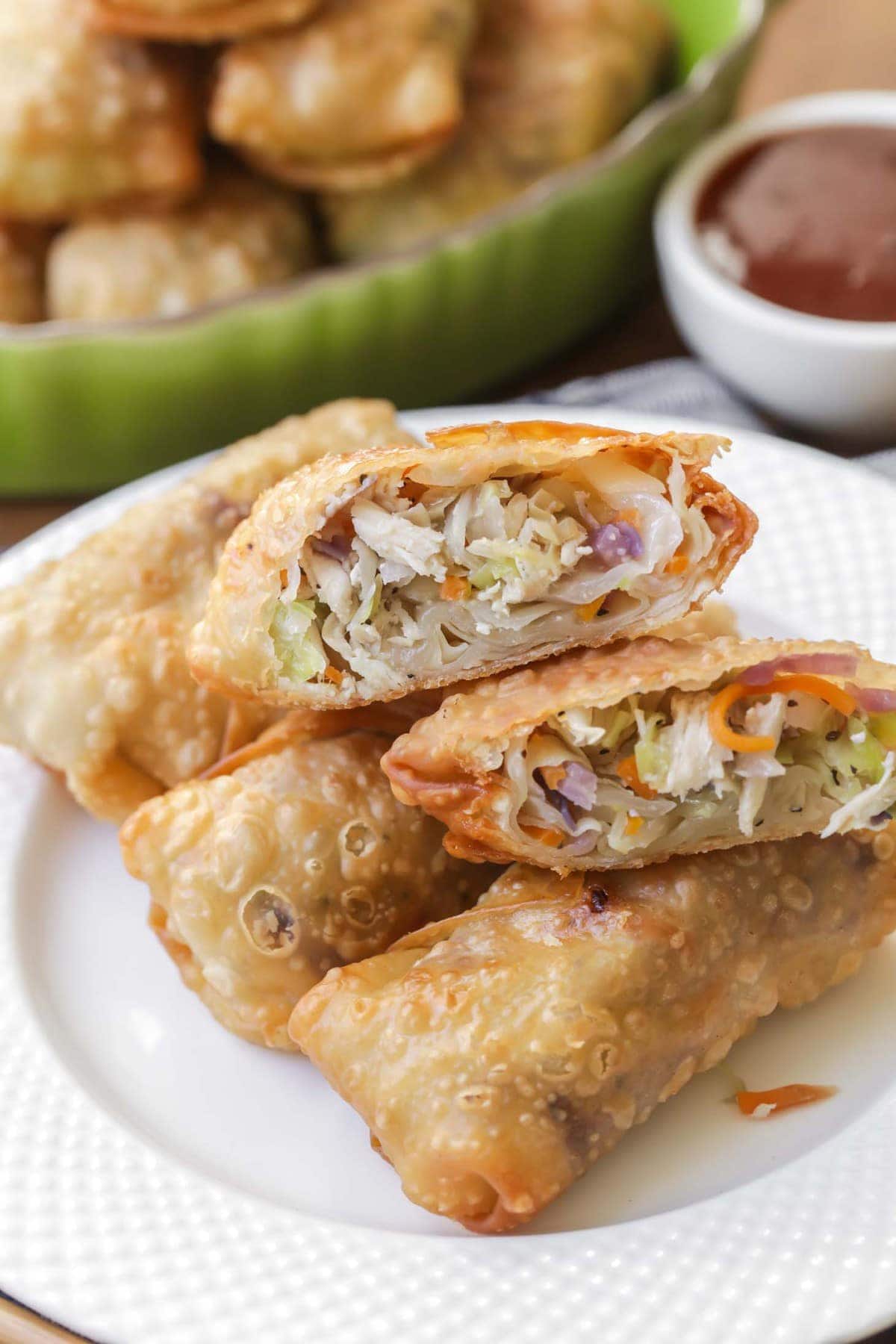 Storing and Reheating
Store. Place leftover egg rolls in an airtight container or wrapped tightly in aluminum foil. Refrigerate for 3-4 days. Freeze for up to 2 months.
Reheat. Reheating in the microwave is good if you're in a hurry, but the texture won't be as crisp. Use the oven for a better result. Preheat the oven to 350 degrees, spray a baking pan with cooking spray, put egg rolls on the pan, and place in the center of the oven.
If thawed, bake for 10 minutes turning half way. If frozen, bake for 18-20 minutes. Flip rolls after 9-10 minutes.  
For more Asian recipes that this go well with, check out: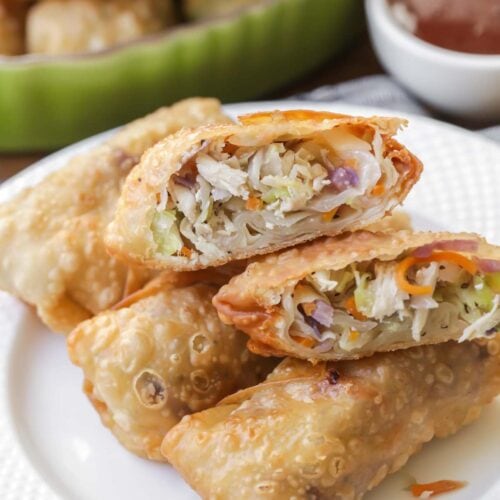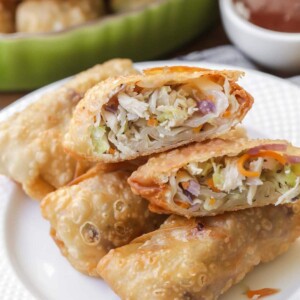 Egg Roll Recipe
These homemade Egg Rolls are the perfect appetizer or side to any Asian meal! They're filled with chicken and veggies and fried to perfection.
Ingredients
1

package

egg roll wrappers

3

chicken breasts

cooked and shredded

1

package

cole slaw mix

salt & pepper

3

tbsp

olive oil

oil
Instructions
Sautee cole slaw in a pan with a little olive oil until it is limp.

Add shredded chicken breast for a few minutes until all mixed. Season with salt & pepper.

Add slaw and chicken mixture to the middle of your egg roll wrapper. Fold up the sides one at a time and for the last fold add a little water so it sticks.

Fry your egg rolls until golden brown. Serve warm and with dipping sauce like Sweet and Sour sauce.