Homemade Teriyaki Sauce whips up in a flash for a tasty better-than-takeout meal at home! It's perfect for saucing your favorite protein.
Use this sauce to cook up some Teriyaki Chicken, and serve it with our favorite Cream Cheese Wontons or Rangoons for the perfect weeknight dinner!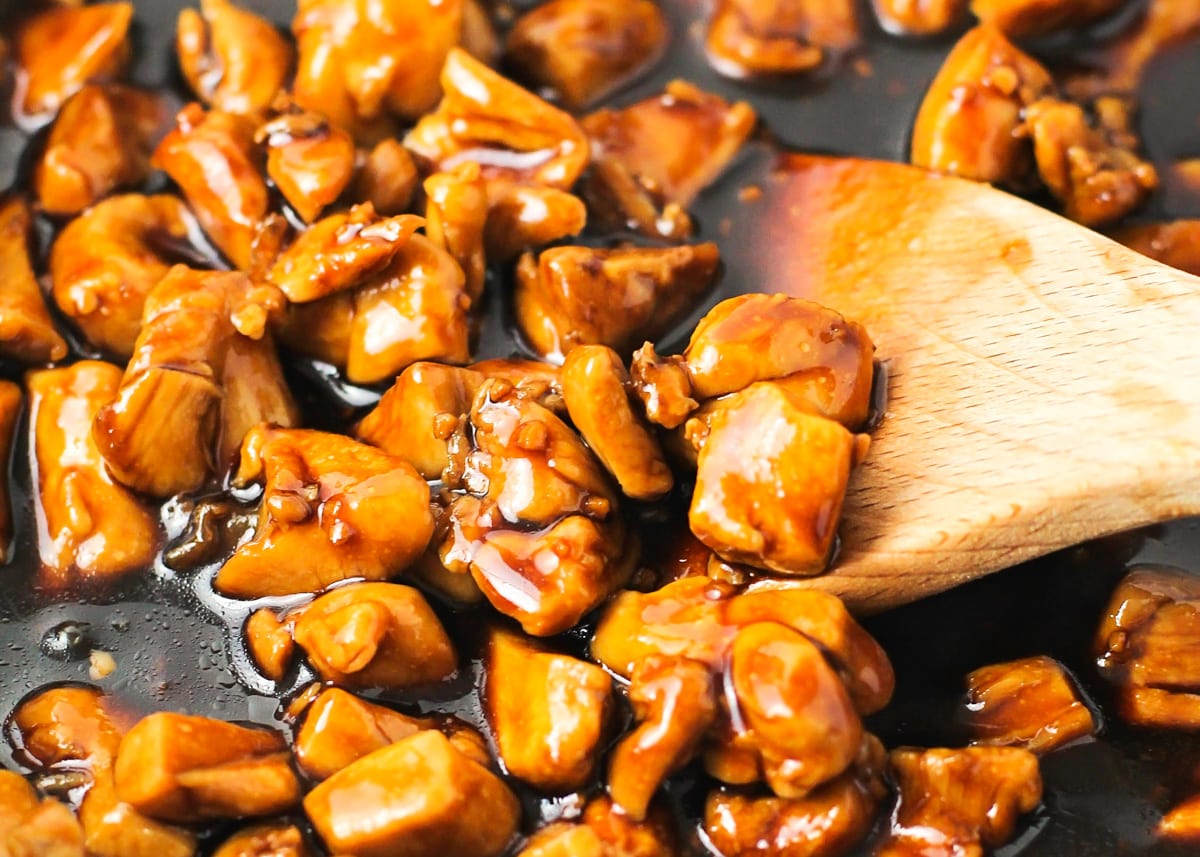 What is Teriyaki sauce?
Teriyaki sauce is originally from Japan but made its way to America when Japanese immigrants moved to Hawaii. As a result, many teriyaki recipes often include pineapple.
This recipe is for a classic Homemade Teriyaki Sauce using soy sauce, rice vinegar, ginger, garlic, sesame oil and more. If you're new to Asian cooking, you may not have these pantry staples. Once you do, you can use them to make many different savory Asian dishes.
We love takeout for dinner, and it's FABULOUS when we can whip up our favorites at home whenever the craving strikes. Serve this up with some delicious vegetables and a side of white rice.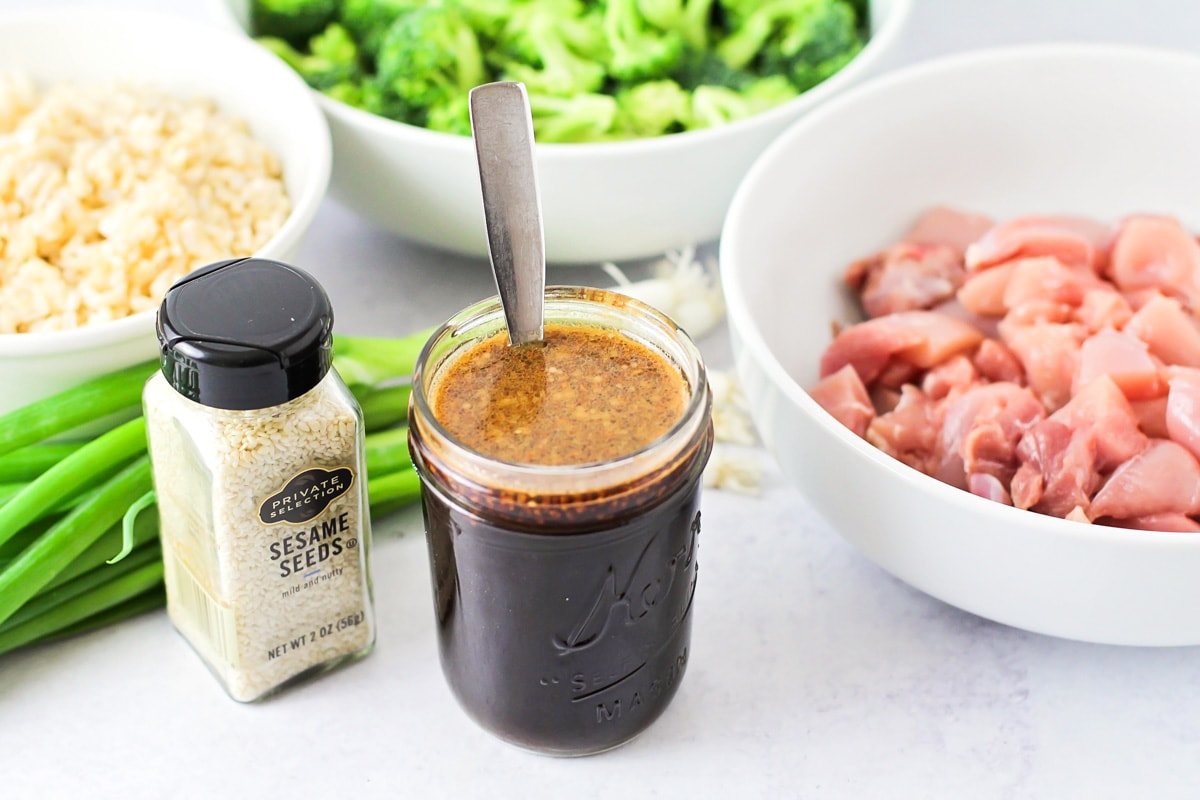 one step!!
This delicious homemade Teriyaki Sauce Recipe comes together in a flash!! There is only one step, that's how simple it is.
COMBINE. Add cornstarch to water and whisk together until combined. Add soy sauce, honey, brown sugar, rice vinegar, sesame oil, ginger and garlic to a medium bowl and whisk until combined.
Make it a marinade
Teriyaki sauce is thicker than a marinade, but this recipe can easily be adjusted so you can marinate your favorite cuts of meat. To turn this sauce into marinade:
omit the cornstarch and the ½ cup of water
combine the remaining ingredients in a bowl
stir, add meat and let it marinate in the fridge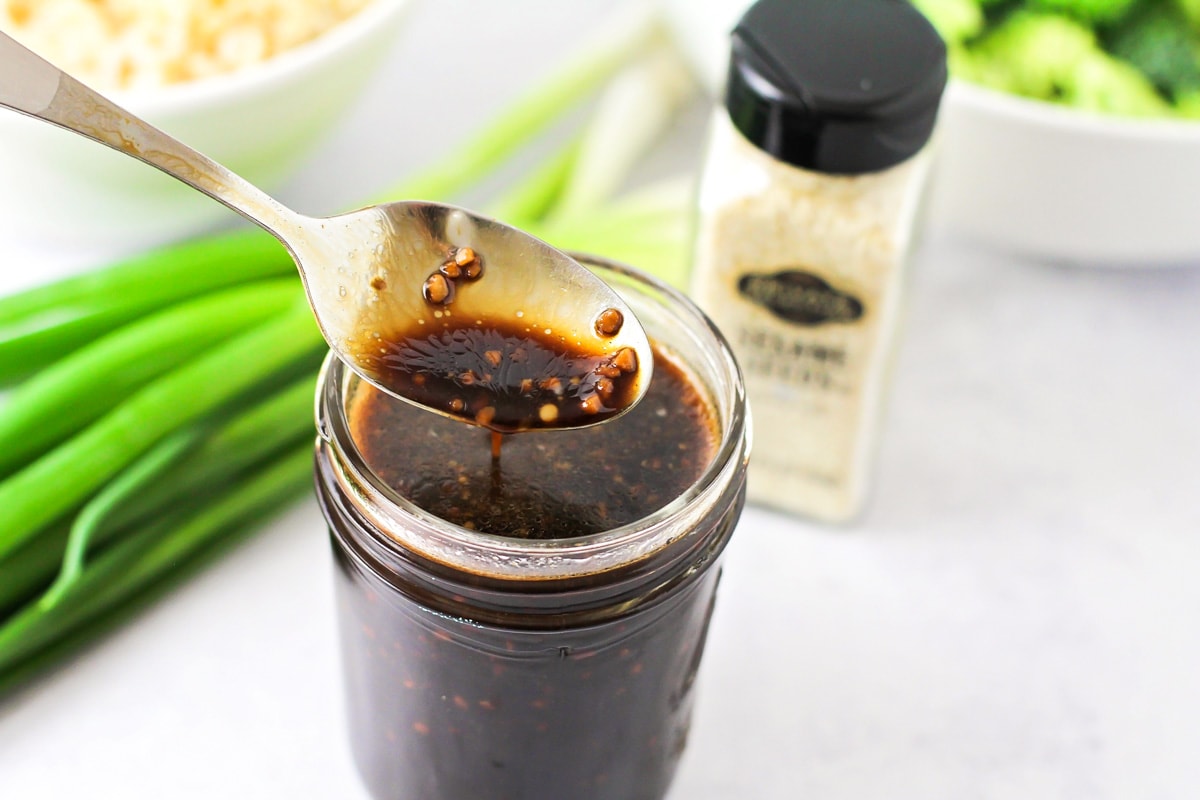 recipe tips
Salty sauce. If the sauce turns out too salty – add a bit of brown sugar, honey. The sweetness will counteract the salty flavor. Slowly add a little more water and cornstarch. You can also use low sodium soy sauce instead of regular to combat the salt flavor.
Oil substitute. The sesame oil can be substituted with peanut oil.
Vinegar. Rice wine vinegar can be substituted with apple cider vinegar.
Thicken the sauce. To thicken the sauce, make a corn starch slurry: add 1 teaspoon of cornstarch to a separate small bowl and 1 teaspoon of cold water. Once it is smooth pour it into the sauce and simmer.
Thin out the sauce. If your sauce is too thick, whisk in more water.
Gluten free. This sauce can be gluten free, just double check the labels on each of the separate ingredients.
Add some citrus. Add a citrus element with pineapple juice or orange juice.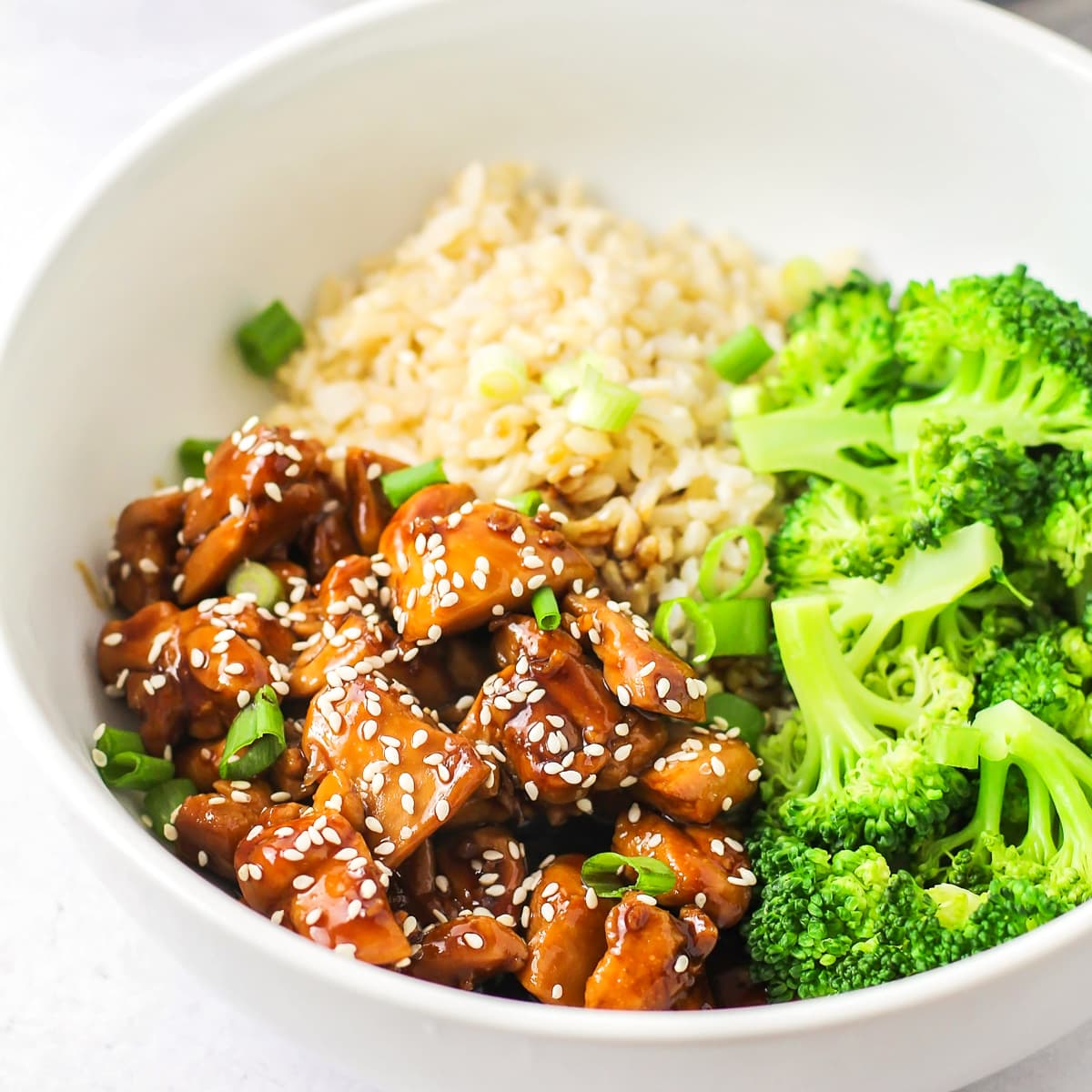 How to use teriyaki sauce
This Teriyaki Sauce is great to use in stir-fries or as a glaze when baking or grilling. Use it on beef, poultry, pork, on salmon and other fish. Use this Homemade Teriyaki Sauce Recipe in any of the following Teriyaki Recipes:
storing info
STORE. Keep in the refrigerator in an airtight container for up to 2 weeks.
FREEZE. Store the sauce in a freezer bag for up to 3 months.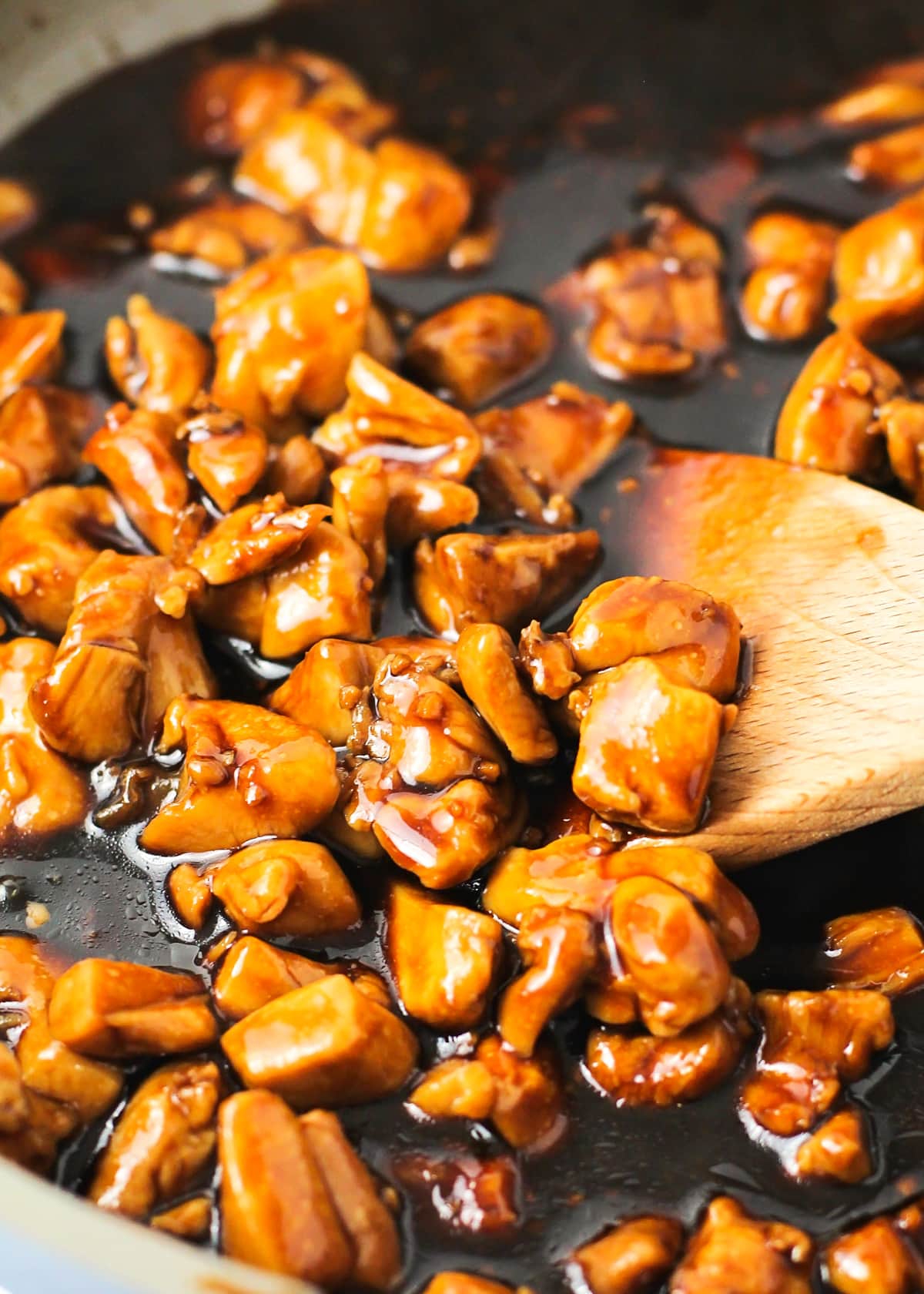 Favorite Asian Recipes:
Teriyaki Sauce Recipe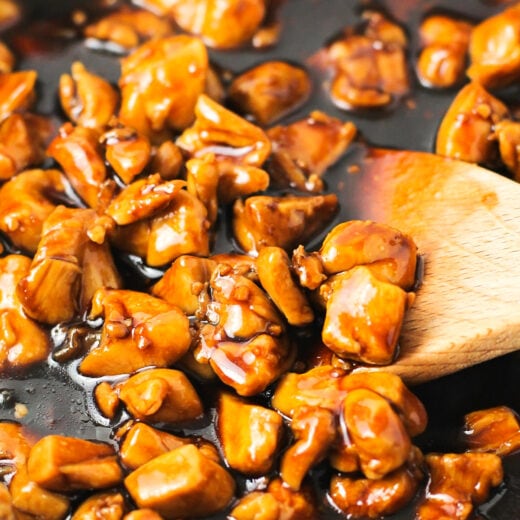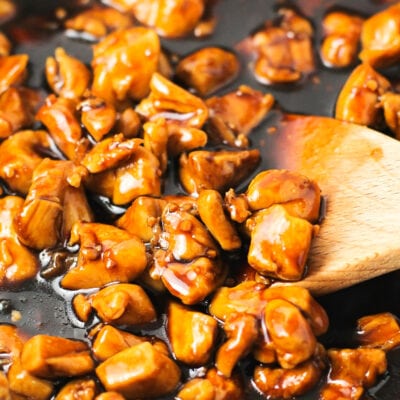 Homemade Teriyaki Sauce whips up in a flash for a tasty better-than-takeout meal at home! It's perfect for saucing your favorite protein.
Ingredients
1

cup

water

¼

cup

low-sodium soy sauce

or tamari sauce

2

tablespoons

honey

1

tablespoon

pineapple juice

optional

⅓

cup

packed light brown sugar

1

teaspoon

minced garlic

¼

teaspoon

ground ginger

2

tablespoons

cornstarch

1/3

cup

cold water
Instructions
Combine water, soy sauce, honey, pineapple juice, brown sugar, garlic and ginger in a medium saucepan over medium heat.

Whisk cornstarch and water together to make a slurry and mix until cornstarch is dissolved. Add to the sauce.

Cook, stirring occasionally, for about 5 minutes, until sauce thickens. If the sauce becomes too thick, add more water to thin it out.

To make with chicken, add sauce to the skillet with the cooked chicken and cook for about 5 minutes to thoroughly coat chicken. Serve with rice, noodles and/or steamed veggies.