This collection of Asian Dinner Recipes has everything you need for the perfect Asian spread! From salads and sides, to chicken and beef entrees, there's something for everyone.
More Collections: Italian Dinner Recipes, Easy Dinner Ideas, Asian Appetizers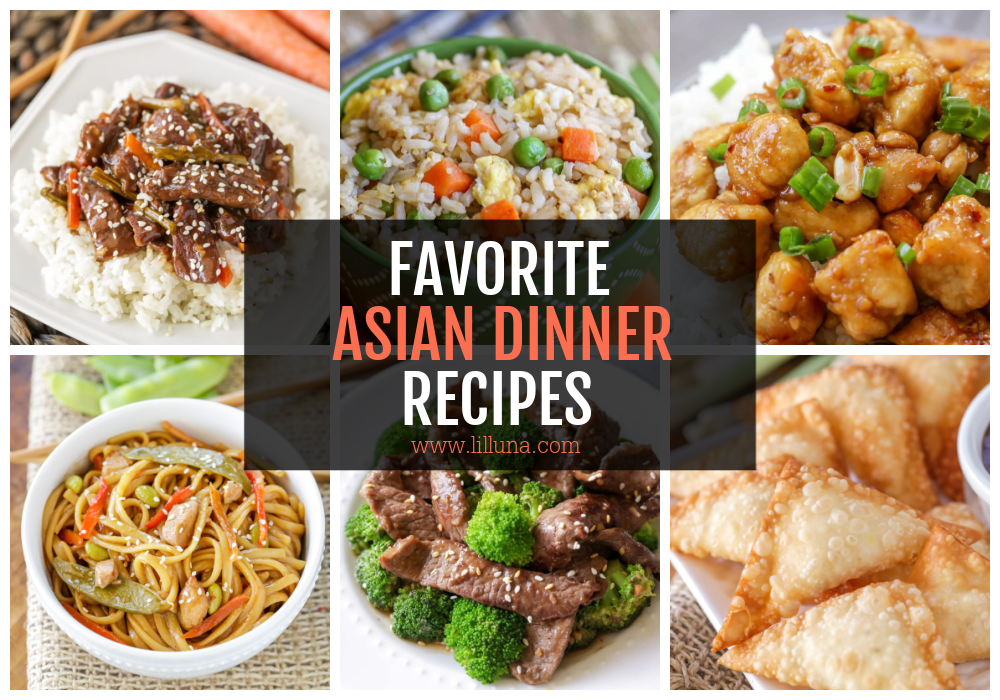 The Best Kind of Dinner
These flavorful and delicious Asian Dinner Recipes are sure to whet your appetite when that "take-out" craving hits!
With plenty of delicious finger foods, you can plan a tasty dim sum spread, spring for a fresh salad, or whip up a saucy and savory main dish served with rice.
Having lived in China during college, I am a bit partial to Chinese food, but other Asian food is delicious too so I've included a bit of this and that and of course, the American version of some popular dishes.
Some traditional Chinese dishes that we have included here for you are Sweet And Sour Pork, Homemade Fried Rice, Easy Beef And Broccoli, and more!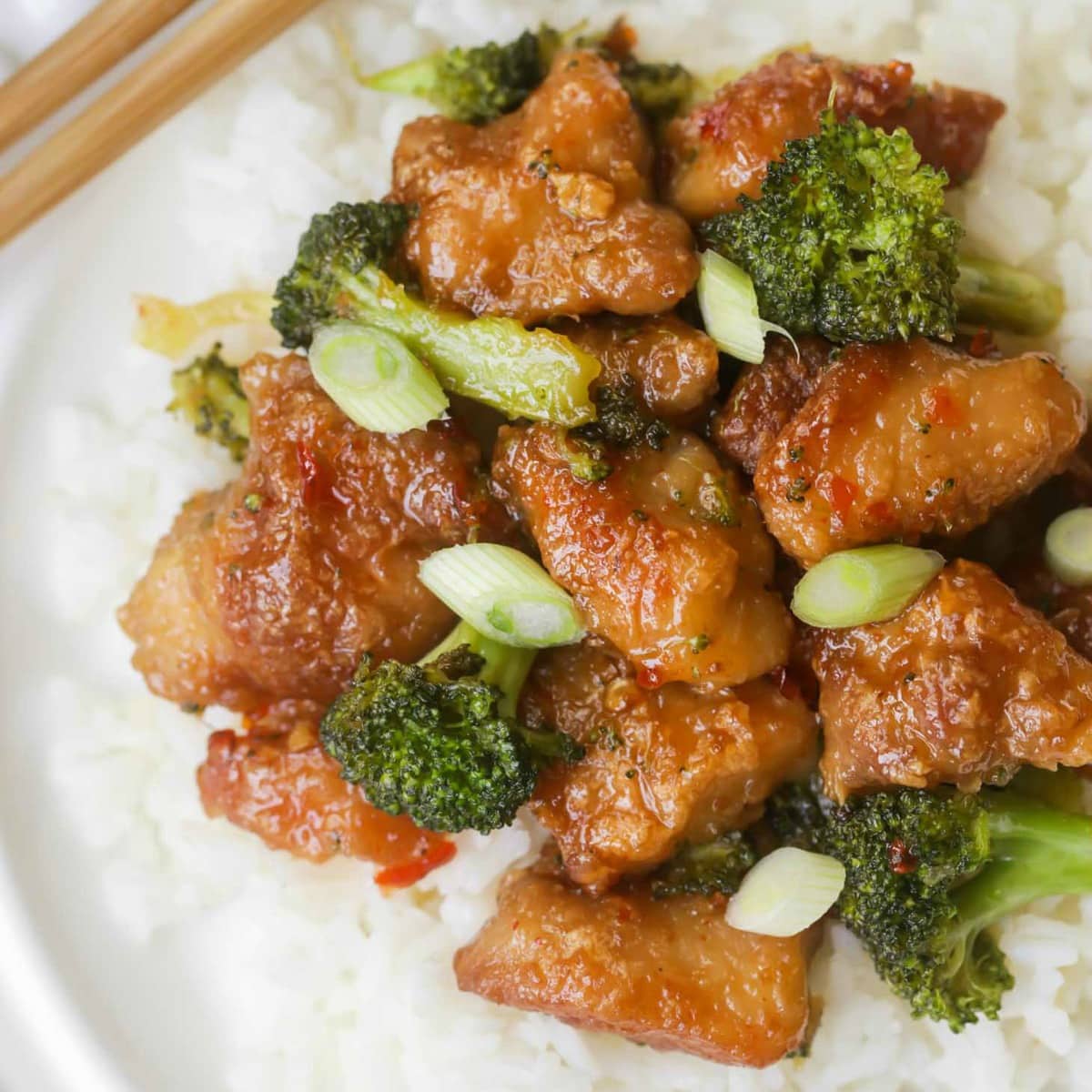 What is the most popular Asian meal?
Although it is not one of my favorites, I have to say sushi is pretty famous. I do, however, have recipes for some other popular dishes such as General Tso's Chicken, Kung Pao Chicken, Fried Rice, and Beef & Broccoli.
Aside from the main dish, Asian meals often include an appetizer such as Fried Egg Rolls. Rice, rice noodles, and vegetables make an appearance during the main portion.
You can also find sweet treats for dessert like the classic Fortune Cookie.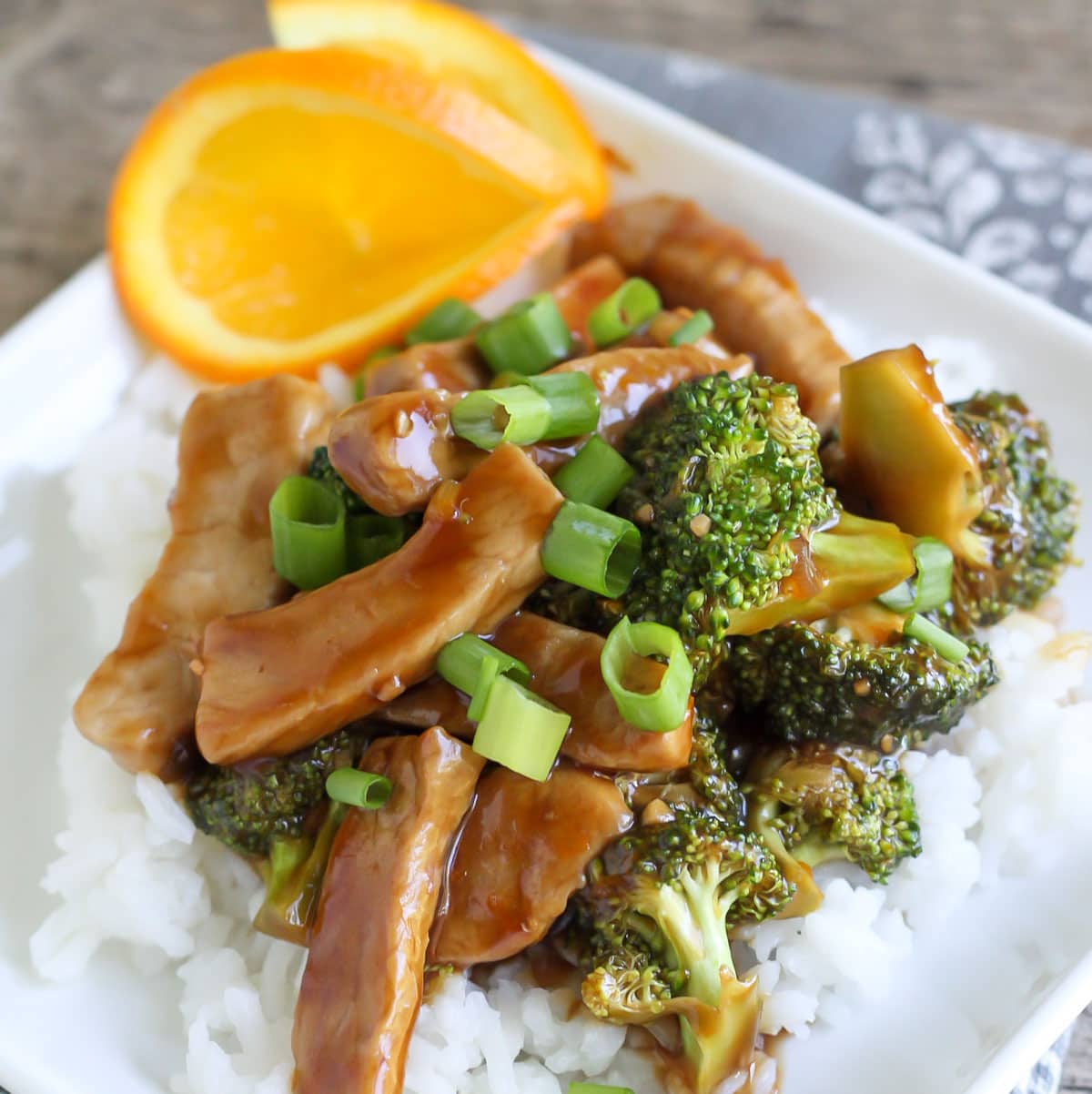 What are the easiest Asian dinners?
To me, one of the easiest dinners to make is stir fry. These three stir fry recipes, Chicken Stir Fry, Pork and Broccoli Stir Fry, and Chicken and Asparagus Stir Fry can each be made in LESS than 30 minutes.
Each one also contains a delicious protein as well as a healthy serving of vegetables. They can be eaten alone or with a side of rice, which is also really easy to make.
Another thing you will find when making Asian food is the many different easy recipes that tend to use a lot of common ingredients.
Some of the ingredients I like to have on hand are rice vinegar, beef and chicken broth, soy sauce, teriyaki sauce, garlic, cornstarch, sesame oil, hoisin sauce, and sesame seeds.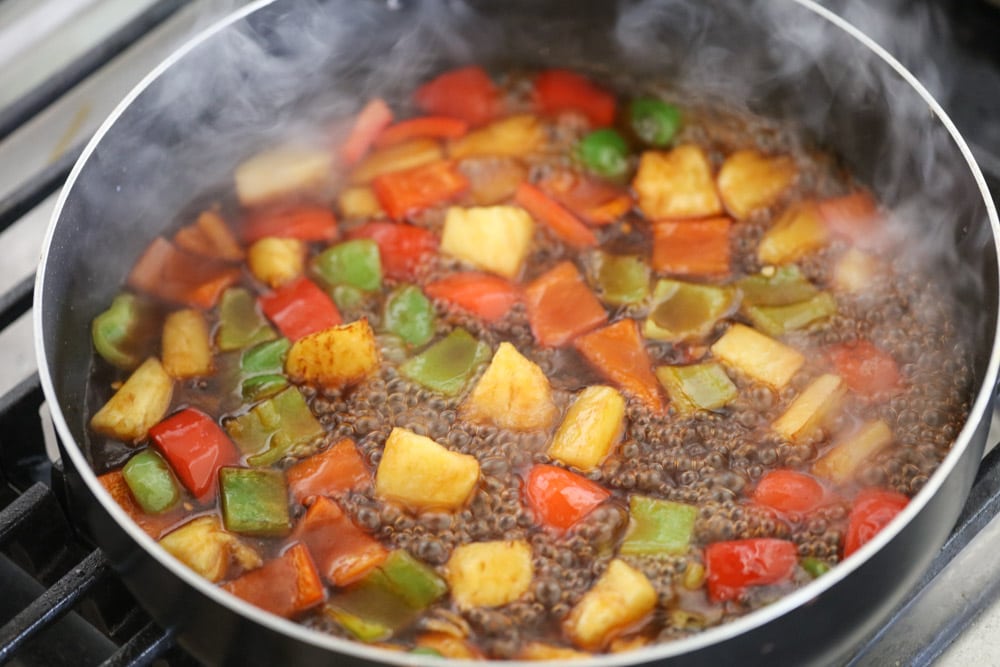 Prepping vegetables
Asian food uses fresh vegetables, never canned.
Be careful to cook firmer vegetables longer than more tender vegetables. If you are not sure how long to cook the different vegetables in the same pan, then go ahead and cook them separately and combine them together at the end.
Wash vegetables early enough so they have enough time for them to drain and dry before being cut.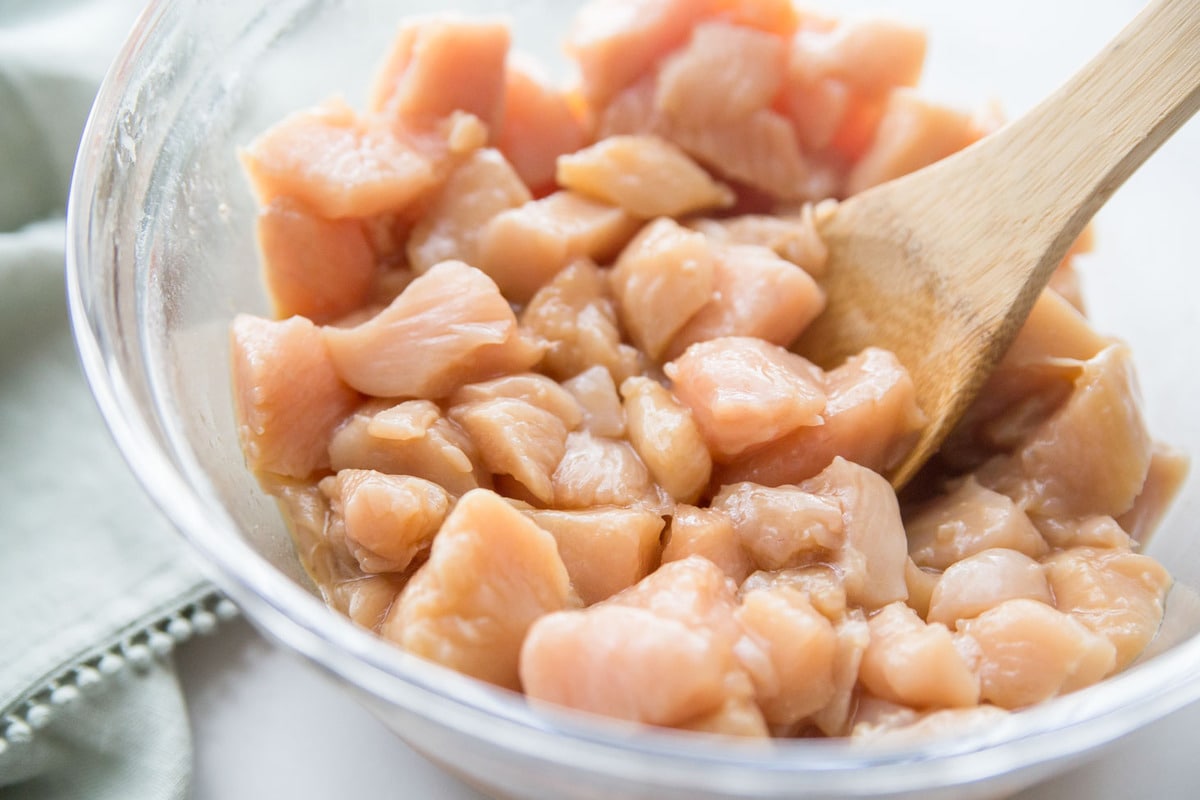 Meat Tips
Keep these meat tips in mind:
Marinate the meat for the correct amount of time. If adding cornstarch to the marinade, add it last.
Typically, cut the meat before cooking it. Be sure to cut beef across the grain to make it more tender. Also, make sure to cut the meat into equal-sized pieces.
Make sure the wok, or pan, is very hot before adding the meat.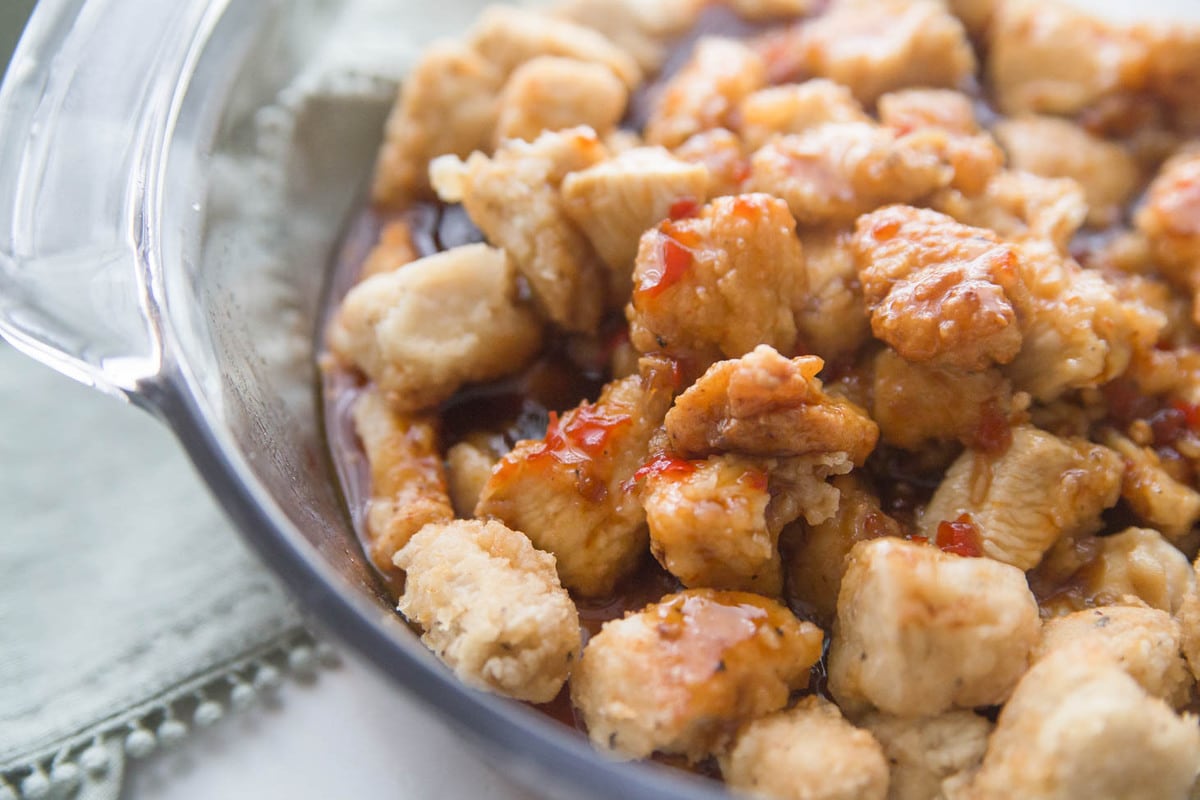 Cooking Tips
Always heat the skillet or wok before adding oil.
Keep meat and seafood separate from vegetables and other ingredients so there is no cross-contamination.
Stick to the original recipe as much as possible. If you cannot find a particular ingredient try to find one that is as similar as possible.
Mushrooms make a great meat substitute to make a dish vegetarian.
If you find yourself making a lot of a particular cuisine, then you may want to invest in the right equipment such as a wok. Stock your shelves with the ingredients most often used.
---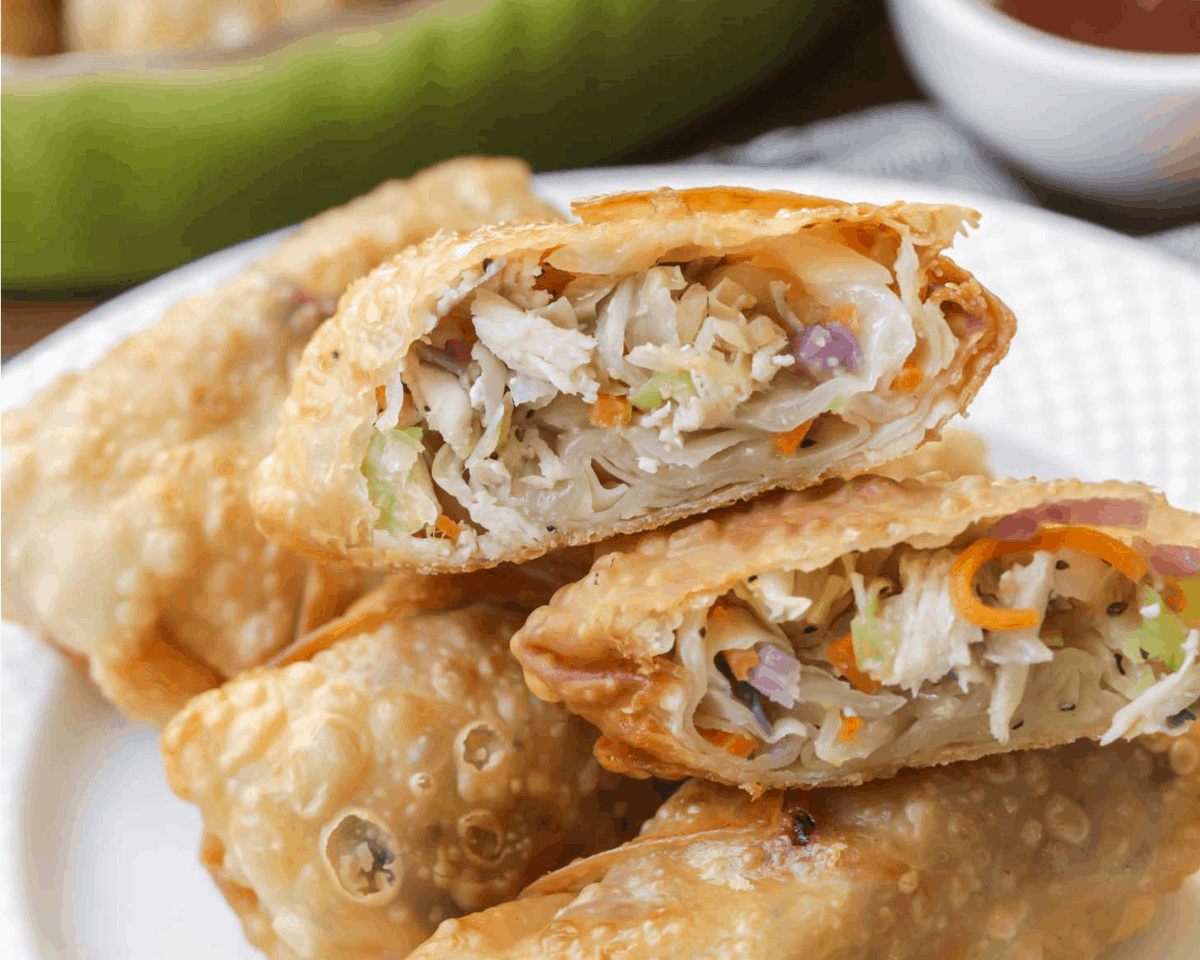 Asian SAlads + Sides
We love a good Asian appetizer, but who can deny that the salads and sides are just as important? Here are some of our favorites to serve with our meals:
Fried Egg Rolls – These homemade Egg Rolls are the perfect appetizer or side to any Asian meal! They're filled with chicken and veggies and fried to perfection.
Egg Drop Soup – This delicious and easy Egg Drop Soup recipe tastes just like the restaurant version. Now you can make and enjoy one of your favorite Asian recipes at home with this tasty soup.
Chicken Lettuce Wraps – Crispy fried Cream Cheese Wontons are filled with cream cheese, lemon and garlic pepper, paprika & fried to golden perfection!
Asian Meatballs – Easy and delicious Crock Pot Asian meatballs take minutes to prep, are perfect for parties and have that Asian flavor we all know and love.
Fried Rice – Skip the restaurant takeout and try making fried rice at home. Flavorful Homemade Fried Rice is ready in under 30 minutes!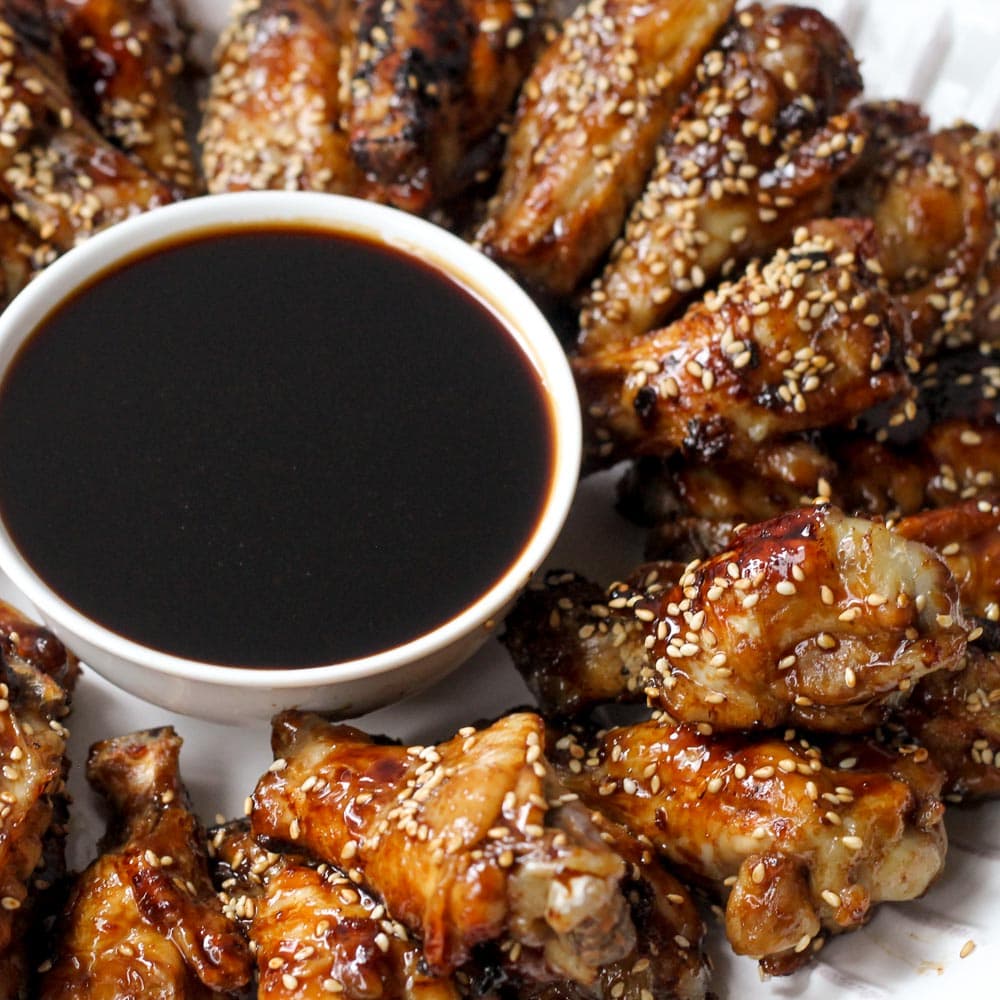 Teriyaki Chicken Wings – Homemade Teriyaki Wings – one of the best recipes you'll ever try! Lots of flavors make these chicken wings a great appetizer for any get together!
Asian Coleslaw – Easy Asian Coleslaw is filled with crushed crunchy ramen noodles and covered in a light yummy Asian dressing!
Sweet And Sour Meatballs – These Sweet and Sour Meatballs are made with frozen meatballs and pineapple chunks and are covered in a DELICIOUS homemade sweet and sour sauce!! It's the perfect appetizer or dinner idea served over rice or noodles.
Coconut Rice – This easy, restaurant-style Coconut Rice is perfect for pairing with your favorite Asian dishes. Best of all, it's ready in 20 minutes!
Baked Cream Cheese Rangoon – These delicious Cream Cheese Rangoons are filled with cream cheese, garlic, and green onions, then baked to crisp perfection!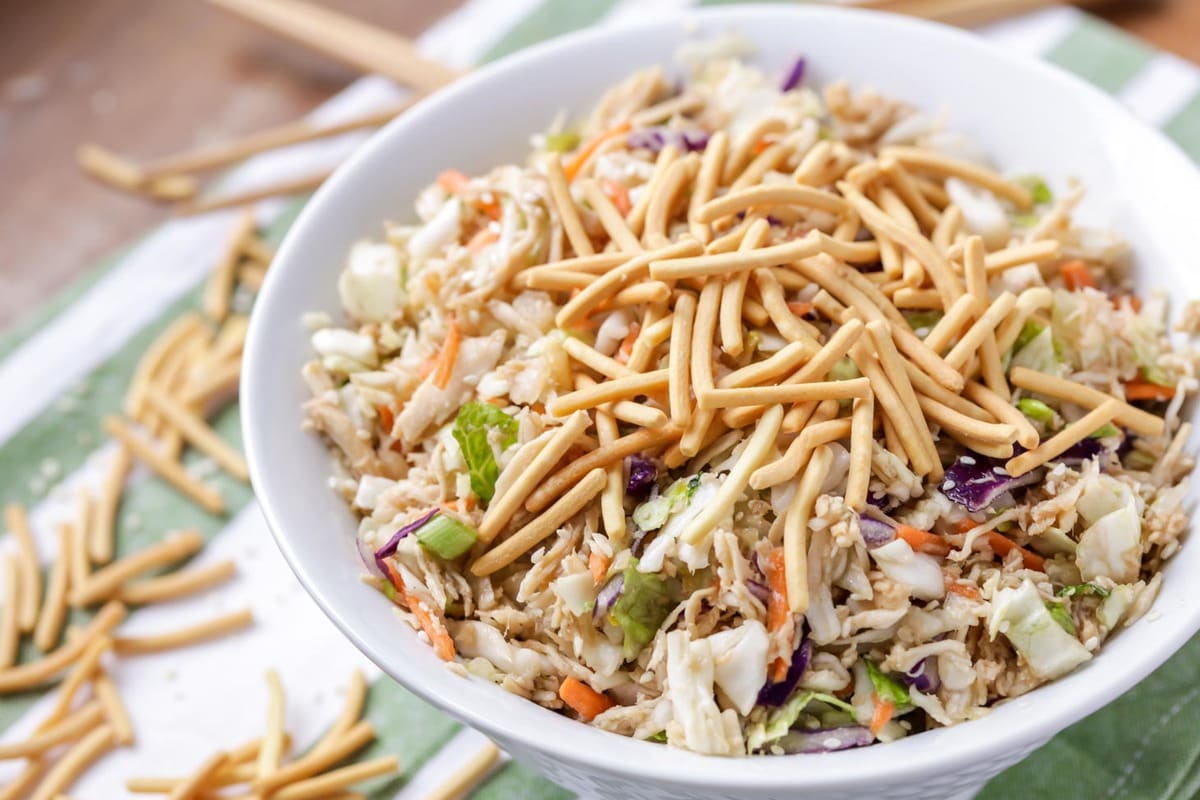 Chinese Chicken Salad – The best crunchy Chinese chicken salad with undeniably delicious flavors that will make you coming back for seconds and thirds! We love this recipe!!
Asian Citrus Chicken Salad – Bright & Flavorful Asian Citrus Chicken Salad topped with crunchy wontons and a fruity vinaigrette is a family favorite!!
Asian Noodle Salad – Asian Noodle Salad – coleslaw, linguine, chicken, and fried wonton strips covered in a delicious homemade Asian dressing!
Asian Ramen Salad – Fresh & lightly dressed Asian Ramen Salad is filled with cabbage and bits of almonds and ramen, giving it bright color and crunchy texture!
Cauliflower Fried Rice – This gluten-free and keto-friendly cauliflower fried rice recipe is perfect for your healthy eating goals without having to sacrifice flavor or deliciousness!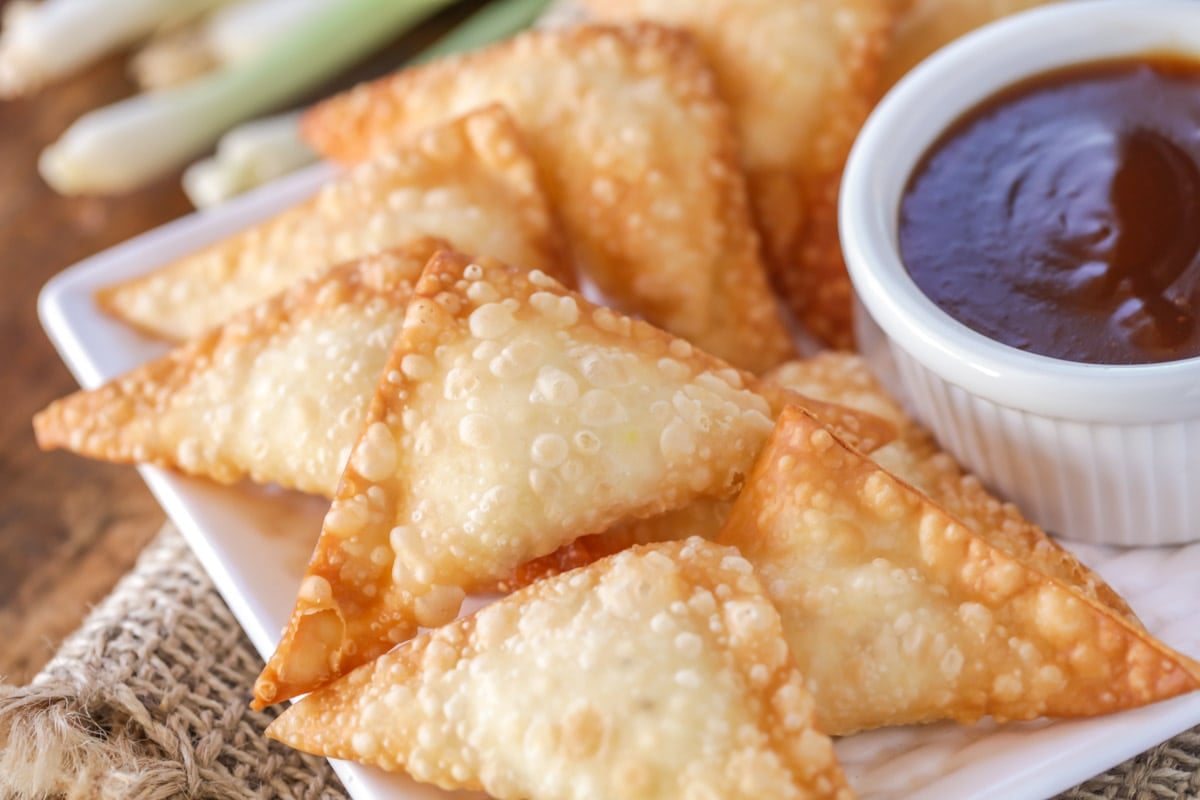 Cream Cheese Wontons – Crispy fried Cream Cheese Wontons are filled with cream cheese, lemon and garlic pepper, paprika & fried to golden perfection!
Asian Pasta Salad – Easy & Delicious Asian Pasta Salad topped with a sweet and tangy dressing is packed with veggies and flavor!
Garlic Noodles – Perfectly spiced Garlic Noodles are flavored with a simple savory sauce. They are no fuss, but packed with flavor!!
Applebees Oriental Chicken Salad – This delicious Copycat Oriental Chicken Salad from Applebees is made with breaded chicken, cabbage, romaine, sliced almonds, and more tossed in a flavorful Asian dressing!
Fried Cauliflower – Crispy pan Fried Cauliflower is coated in an Asian sweet chili sauce for a tasty veggie appetizer that is sure to be a crowd favorite!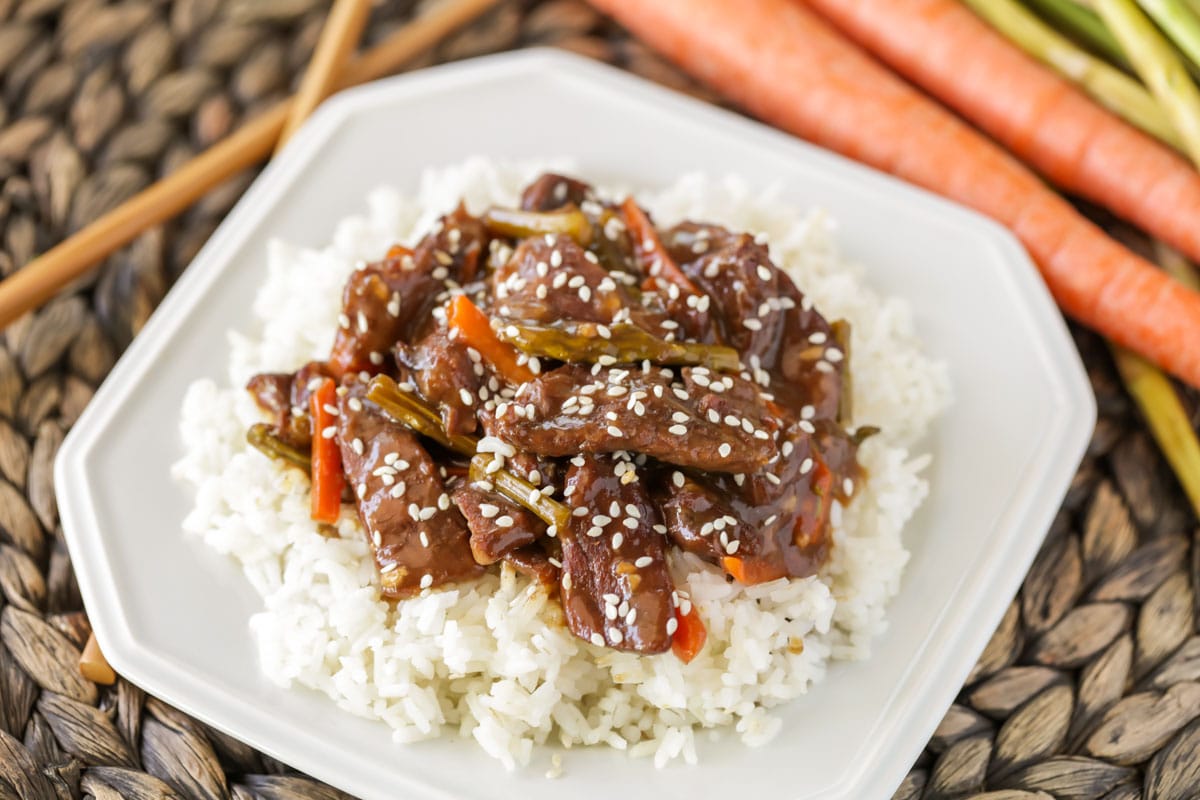 Asian Beef Dinner Ideas
I added a pork recipe to this tasty beef mix, but it's too good to leave off!!
Crock Pot Mongolian Beef – Delicious Crock Pot Mongolian Beef loaded with carrots and asparagus is SO simple to make. Your crock pot does all the work!!
Beef Lo Mein – Hearty and delicious Beef Lo Mein is so simple and has so much flavor! It is filled with saucy chunks of beef, carrots and broccoli!
Pork And Broccoli Stir Fry – If you love Asian food, you'll love this simple and delicious Pork and Broccoli Stir-fry!! It is PACKED with flavor!!
Pepper Steak – Steak strips and vegetables smothered in a peppery oriental sauce, and served over steamed rice.
Easy Beef And Broccoli – DELICIOUS Beef and Broccoli recipe that everyone will love. This flavorful dish is perfect for your next dinner is easy to make too!
Sweet And Sour Pork -This sweet and sour pork recipe includes pork, pineapple, and green bell pepper—all smothered in a perfectly tangy sauce.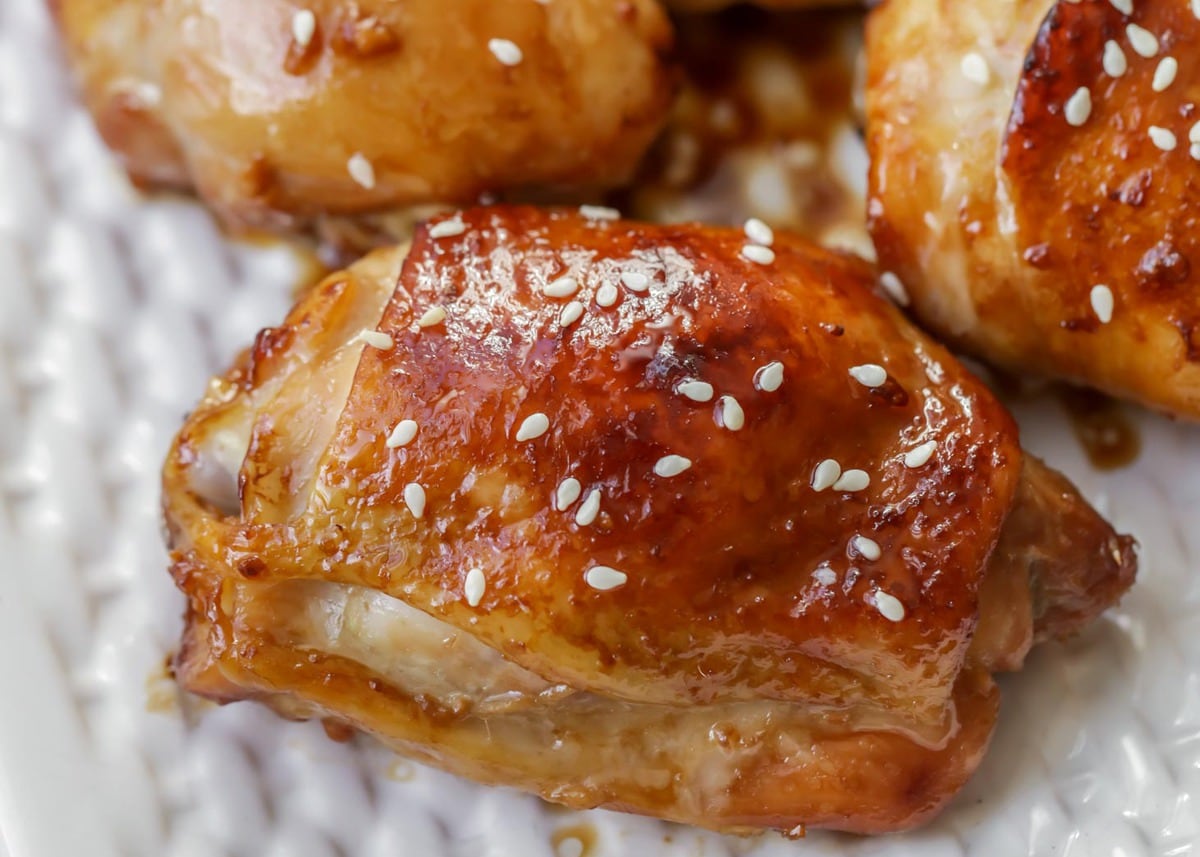 Asian Chicken Dinner Ideas
Chicken is the perfect vehicle for adding delicious sauces and toppings. Enjoy all of our favorites!
Asian Honey Garlic Chicken – Asian Honey Garlic Chicken can be baked or grilled. It's bursting with Oriental flavor, and requires just a few ingredients!
Moo Goo Gai Pan – Moo Goo Gai Pan – one of our favorite dishes that is filled with flavorful chicken, broccoli, snow peas and more.
Teriyaki Chicken – Sweet + Sour Teriyaki Chicken whips up in minutes for the perfect take-out inspired dinner for any night of the week!
Copycat Panda Express Orange Chicken – Copycat Panda Express Orange Chicken – this Asian dish is a new favorite dinner recipe and easy too! Chicken sauce is made from orange juice & zest, oyster sauce, honey, and ginger!
Chinese Lemon Chicken – This Chinese Lemon Chicken is simple to make with sweet and tangy Asian flavor. It's amazing served over rice or noodles!
Sweet And Sour Chicken – No need for take-out when you've got this yummy recipe for simple and flavorful homemade sweet and sour chicken!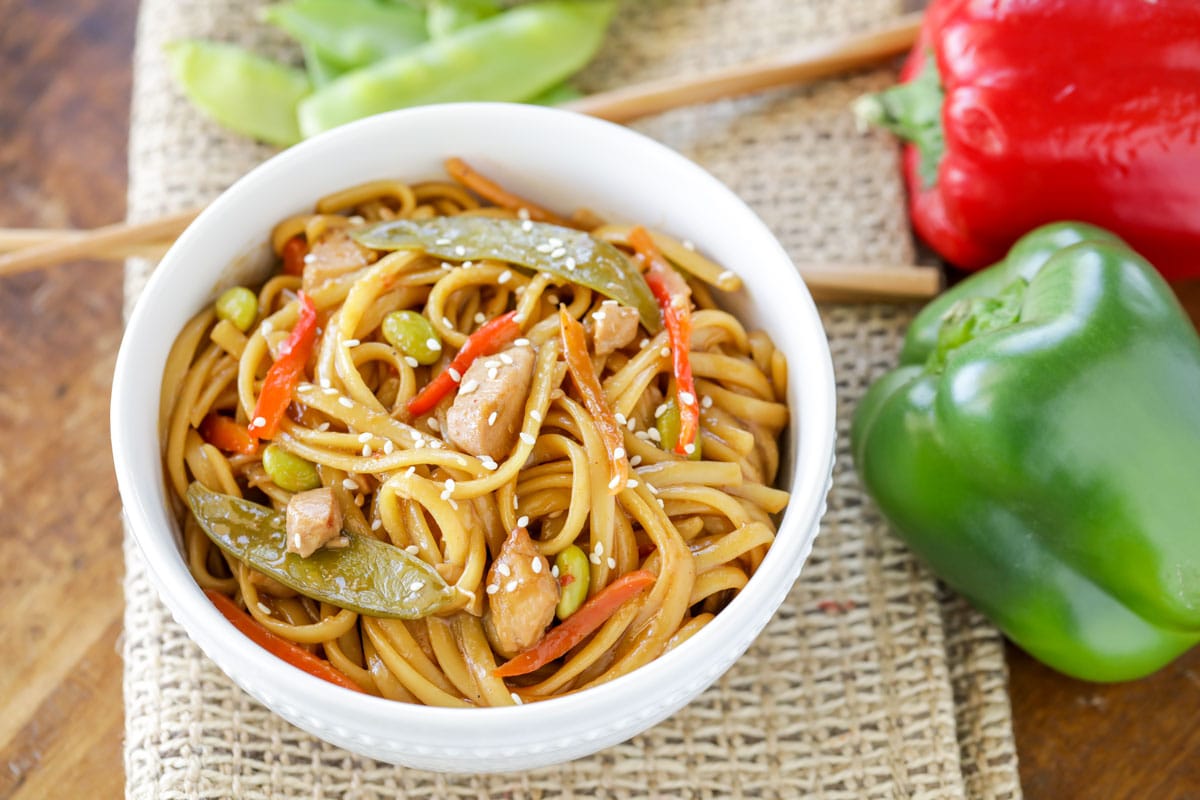 Crock Pot Lo Mein – Deliciously saucy Crock Pot Chicken Lo Mein is filled with edamame, snow peas making it an easy favorite dinner recipe.
Crock Pot Teriyaki Chicken – Make this super easy crock pot teriyaki chicken in your slow cooker, and serve over warm white rice for a delicious teriyaki bowl!
Orange Chicken And Asparagus – For a healthier alternative to a favorite Chinese dish, try this Orange Chicken and Asparagus. Serve over rice or noodles, or enjoy on its own!
General Tso Chicken – Sweet and Savory General Tso's Chicken is a family-favorite. This flavorful chicken is served with broccoli or other veggies and filled with the sweet and salty combo everyone loves.
Baked Sweet And Sour Chicken – Baked Sweet and Sour Chicken is one of our family's favorite Asian recipes! You can add pineapple and peppers and serve with rice or noodles to complete this flavorful dish!
Honey Chicken – With a bit of spice and sweetness, this Honey Chicken recipe is great served with rice or noodles. Add your favorite veggies to make it even better!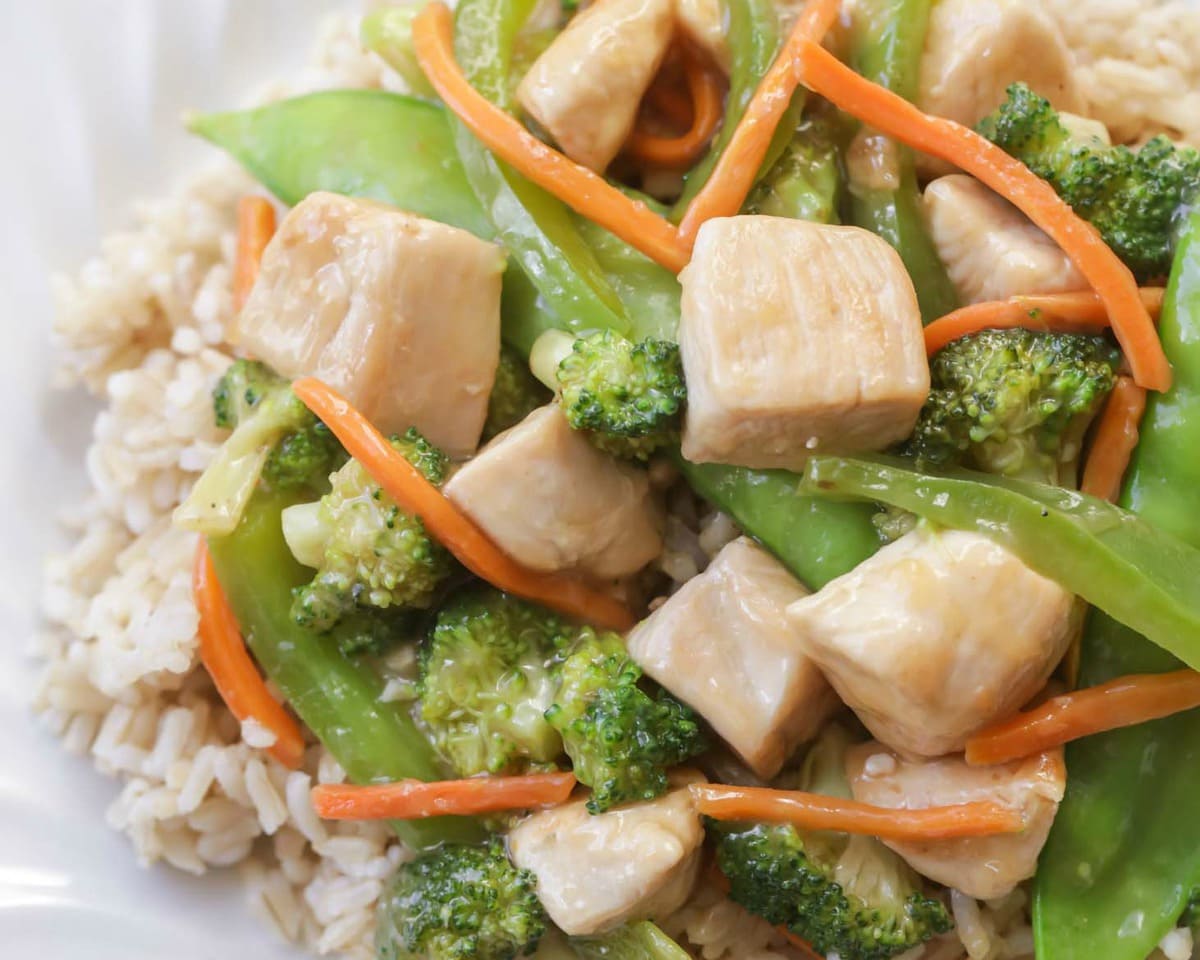 Chicken Stir Fry – Simple, Quick, And Delicious Chicken Stir Fry. This Tasty Dinner Is Simple And Is Filled With Broccoli, Carrots, And Snow Peas!
Crockpot Orange Chicken – This Crockpot Orange Chicken is simple, and tastes even better than takeout. With breaded chicken pieces covered in a phenomenal orange sauce and cooked to perfection in a slow cooker, it's a recipe the whole family loves!
Sesame Chicken – Sweet & Savory Sesame Chicken is a crowd pleaser served over rice or noodles. It's perfect for dinner and better than takeout!!
Kung Pao Chicken – This dish is filled with chicken and nuts and is covered in an amazing sauce, topped with green onions and perfectly served over rice.
Baked Teriyaki Chicken – Chicken breasts, or thighs, smothered in a sweet and tangy homemade teriyaki sauce and baked in the oven. Serve Baked Teriyaki Chicken over rice for a complete meal!
Orange Chicken – Skip the takeout and eat in with this incredibly tasty orange chicken dish! Sweet and spicy pieces of tender chicken in every bite.
---
The Whole Family Loves It!
The whole family loves Asian dinner recipes!
We make it a few times a month, and one of our favorite recipes is Honey Lemon Chicken.
It's sweet and savory and so crunchy and delicious. The glaze is what takes this recipe from good to FABULOUS, and it's one we love with rice or noodles.
You can make it too by following the directions below:
---
THE COMPLETE LIST
Here are the picture cards of ALL the incredible Asian dinner recipes listed above.
Whether you are planning a Chinese New Year celebration or an every day weeknight meal you're sure to find a dish that will become a new favorite!
More Collections: Crock Pot Dinner Ideas, Fall Dinner Recipes, Mexican Dinner Ideas