Baked Sweet and Sour Chicken is one of our family's favorite Asian recipes! You can add pineapple and peppers and serve with rice or noodles to complete this flavorful dish!
This baked sweet and sour chicken is a family favorite and often served with egg rolls or fried rice. If you love this recipe, you'll also love our General Tso's chicken and crock pot Teriyaki chicken.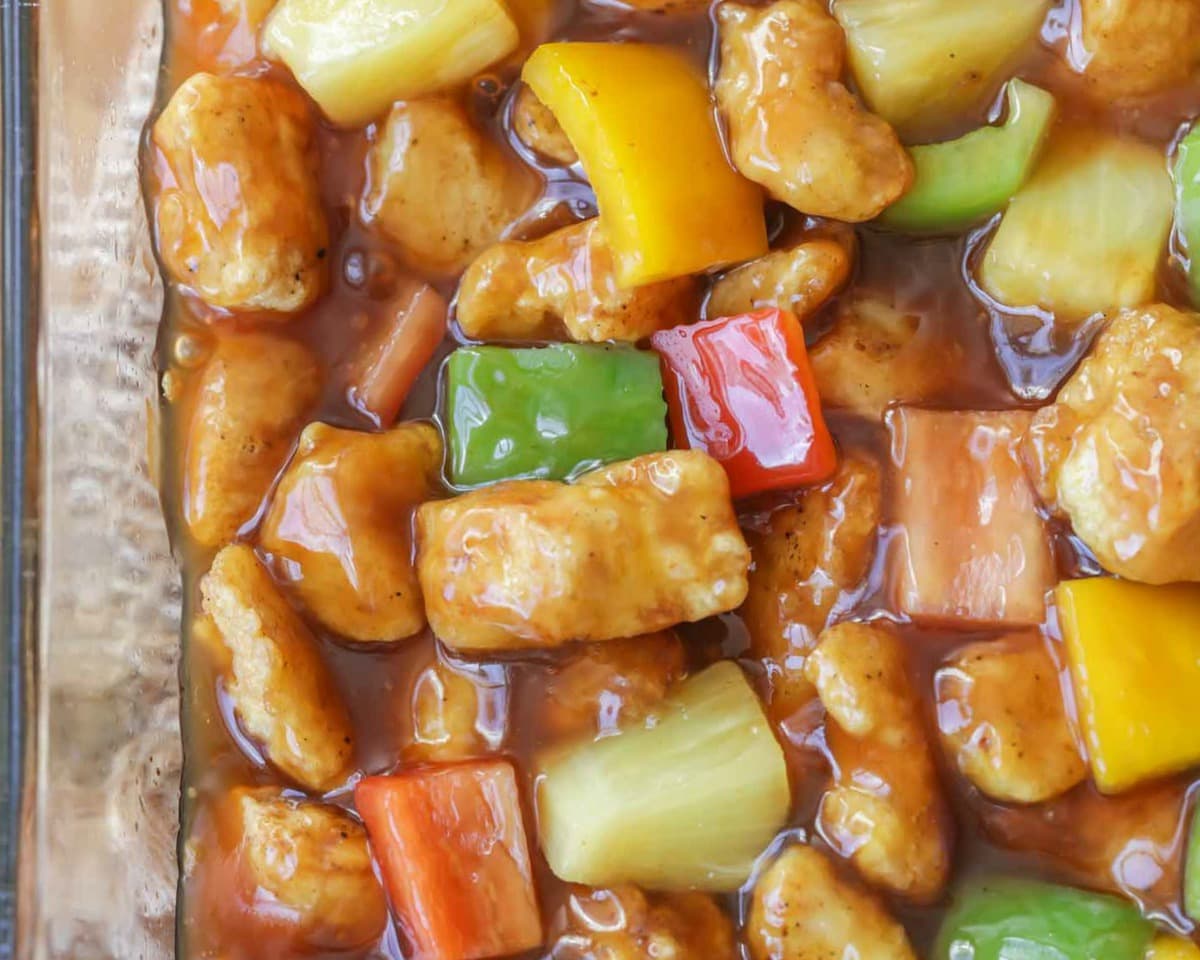 A classic with a twist
Every year, at this time, I like to share a few Asian recipes in honor of the upcoming Chinese New Year celebrations. Today's recipe is for Baked Sweet and Sour Chicken. It's simple and delicious and tastes like it came straight from the restaurant.
We don't go out to eat for Asian very often (since my husband doesn't like it – crazy I know), so I'm really glad I have tasty recipes like this one that I can make from home!
The sweet and sour sauce is made with only a handful of ingredients that you probably already have on hand. It all comes together fairly quickly and then you just toss it in the oven to bake for 20 minutes.
The hardest part is just patiently waiting for it to bake! But trust me, it is well worth the wait because the chicken comes out of the oven tasting DELICIOUS!! I can seriously eat it all by myself.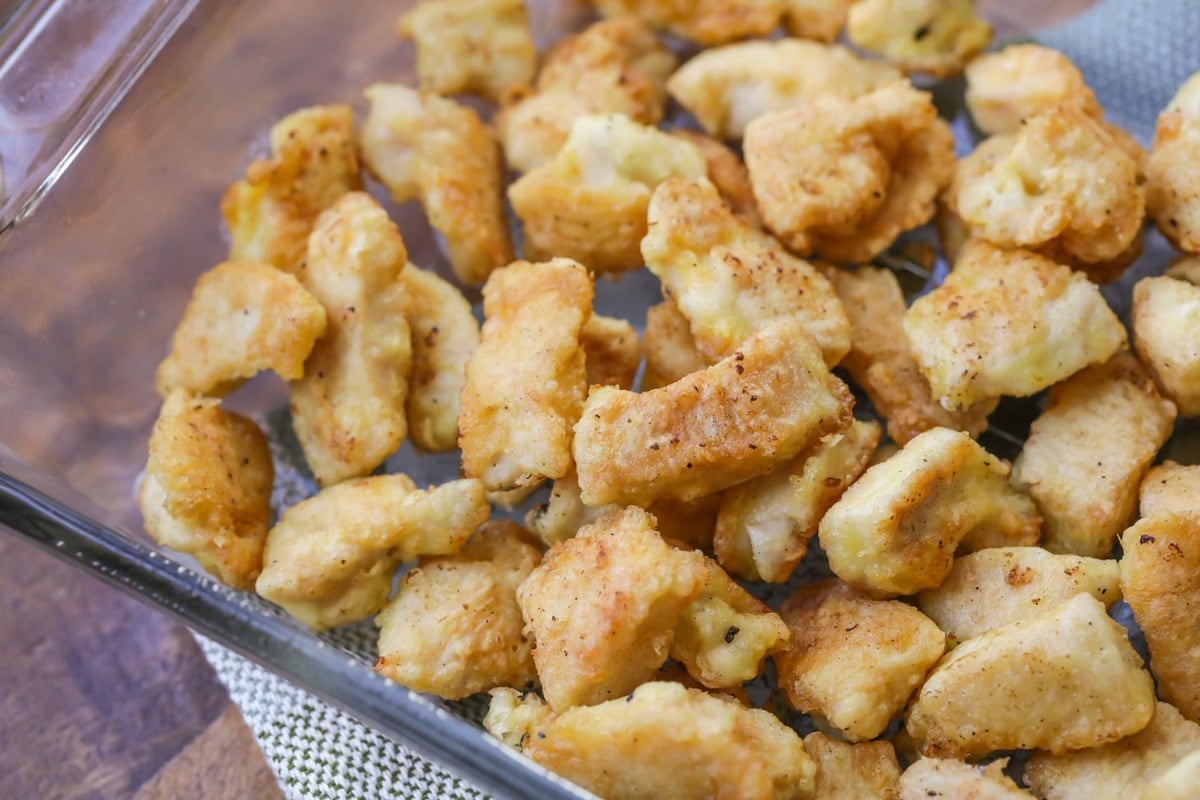 Homemade Sweet and Sour Sauce
We've tried so many different sweet and sour sauce recipes in the past but feel like we've finally found our favorite version. Not only is it simple, but it's so flavorful and works for any chicken or pork recipe or even as a dip for egg rolls or fried wontons. Here are the ingredients…
¼ cup pineapple juice

2/3 cup water

⅓ cup vinegar

¼ cup brown sugar

½ cup sugar
⅛ tsp. salt
¼ cup Ketchup
¼ cup soy sauce
3 TB cornstarch mixed with ¼ cup water
To make the sauce, combine pineapple juice, water, vinegar, sugars, salt, soy sauce and Ketchup in a medium pot and bring to a boil.
From there, you thicken the sauce with cornstarch mixed with ¼ cup water stirring occasionally. Add any pineapple chunks or chopped peppers and you're set. Just pour over chicken or to use as a dip.
SAUCE NOTES:
Vinegar: I use white vinegar for this recie but you can also use apple cider vinegar or rice vinegar. You may notice a distinct vinegar smell during the baking process. Don't worry about it affecting the taste. The vinegar burns off leaving behind a delicious sweet and sour sauce.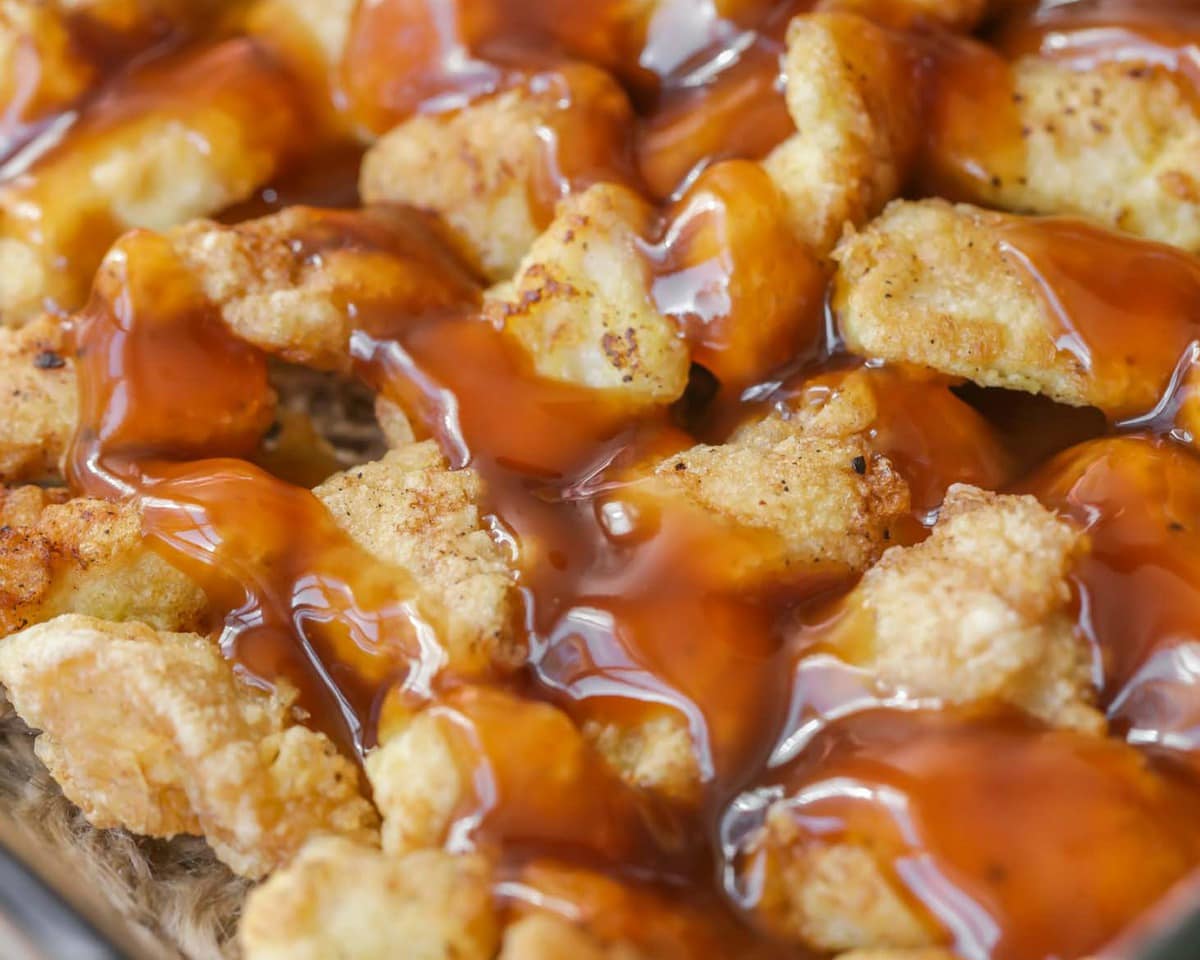 How to Make Baked Sweet and Sour
FRY, THEN BAKE. Other Sweet and Sour Chicken recipes tend to only fry the chicken after being covered in the egg and cornstarch batter. I've found that baking it helps thicken up the sauce more and make it even more flavorful.
To make this chicken, preheat oven to 325 degrees. Rinse chicken in water and cut into 1 inch cubes. Place cornstarch and eggs in separate bowls.
Toss several pieces of chicken into the cornstarch to coat and then dip them in the eggs. Set chicken pieces aside on a plate and repeat until all pieces have been coated.
Heat ¼ cup oil in a large pan and cook your chicken for a few minutes on each side until they are slightly browned but not cooked all the way. Place the chicken in a greased 9×13 pan. Set aside and make the sauce.
Pour the sauce evenly over the chicken. Bake for half hour turning the chicken at 15 minutes. (NOTE: I like to leave a little sauce for dipping egg rolls or cream cheese wont tons. YUM!)
MORE VEGGIES. We added pineapple chunks and bell peppers and served it on top of white rice. But you could easily add any of your favorite veggies like onions or snap peas, and then serve on top of brown rice or noodles, depending on what your family likes.
CROCKPOT: Add the browned chicken and sauce to a crockpot and cook on low for about 4-5 hours or on high for 2-3 hours. Then, add veggies and pineapple. Cover and cook on high for about 30 minutes or until the produce is tender.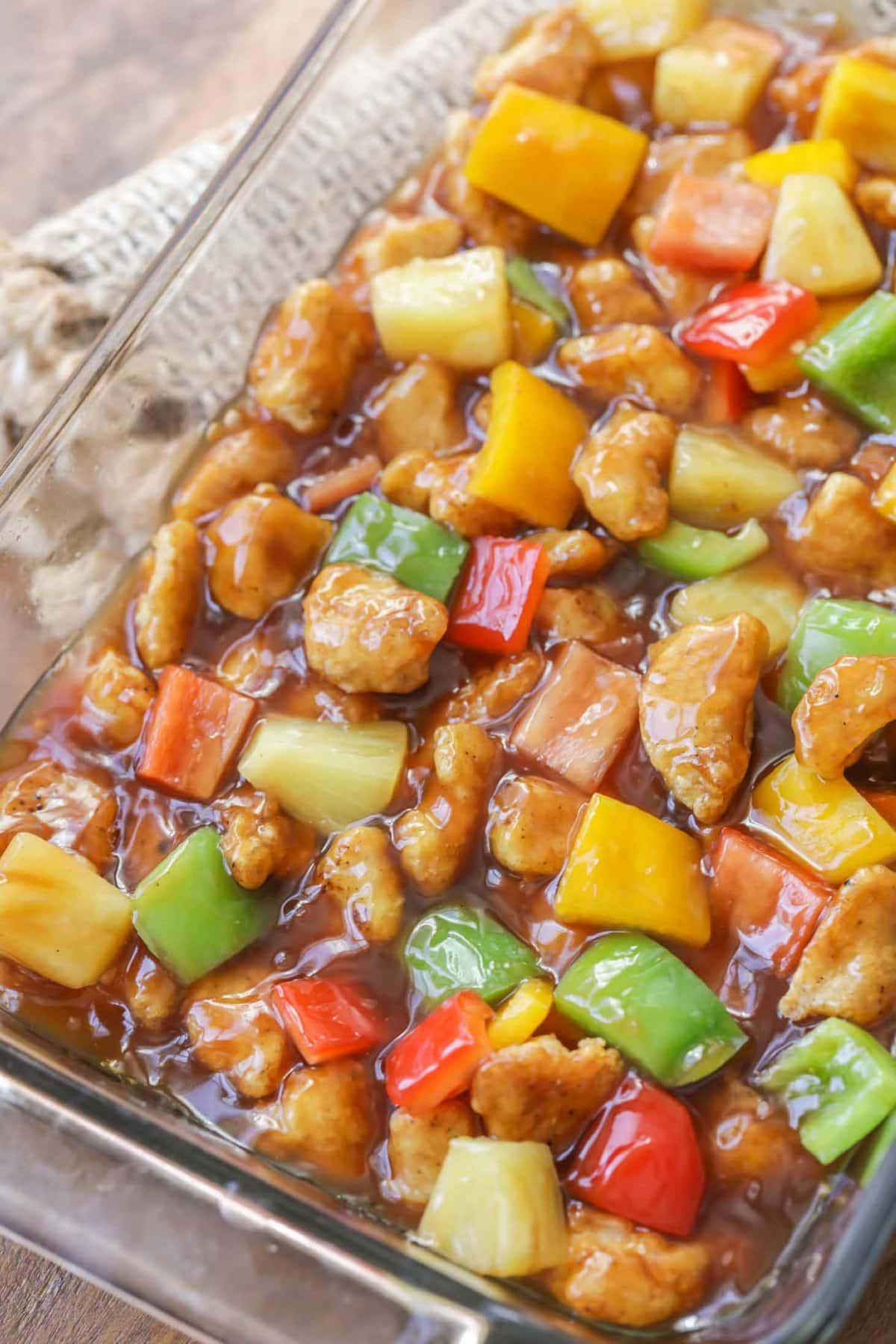 Make it a Freezer Meal
You can easily turn this recipe into a freezer meal. You will save a lot of time by getting everything prepped for several meals all at once. On a busy evening, all you have to do is brown the chicken and bake.
Begin by cutting the chicken into bite sized pieces. Place chicken in its own Ziploc bag.

Place the cornstarch into a smaller ziploc

In a third Ziplock place all the ingredients called for in the sauce including the pineapple and peppers

Place all three bags in a larger Ziplock. Label and freeze for up to 3 months. Thaw in the fridge before cooking according to the recipe directions.

You can also have bags of frozen rice cooked and ready to heat up: Once the Rice has cooled place the allotted amount in a Ziploc bag. Freeze. To reheat place rice in a microwave bowl. Add a couple tablespoons of water cover and microwave until hot.
Between the consistency and the flavor, this recipe really is to die for! The savory chicken paired with sweet sauce, and complete with your favorite add-ins will make you want to never order takeout again!
Complete the meal by also making:
For more yummy Asian recipes, check out:
Baked Sweet and Sour Chicken recipe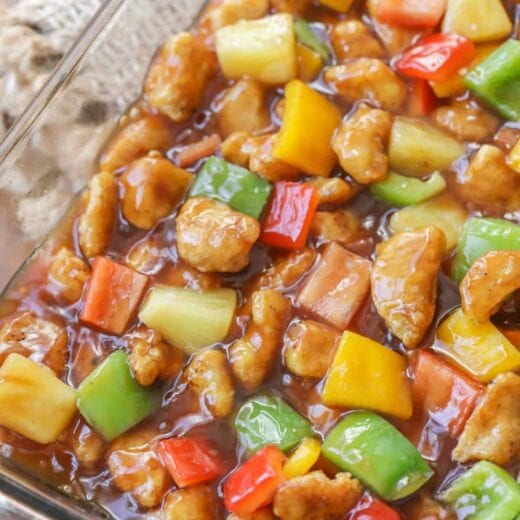 Baked Sweet and Sour Chicken is one of our family's favorite Asian recipes! You can add pineapple and peppers and serve with rice or noodles to complete this flavorful dish!
Ingredients
3-4

boneless, skinless chicken breasts

1

cup

cornstarch

3

eggs

beaten

1/4

cup

canola oil

Pineapple Chunks

Chopped peppers
Sweet and Sour Sauce recipe:
1/4

cup

pineapple juice

2/3

cup

water

1/3

cup

vinegar

1/4

cup

brown sugar

1/2

cup

sugar

1/8

tsp

salt

1/4

cup

ketchup

1/4

cup

soy sauce

3

TB

cornstarch

mixed with ¼ cup water
Instructions
Preheat oven to 325 degrees.

Rinse chicken in water and cut into 1 inch cubes. Place cornstarch and eggs in separate bowls.

Toss several pieces of chicken into the cornstarch to coat and then dip them in the eggs.

Set chicken pieces aside on a plate and repeat until all pieces have been coated.

Heat ¼ cup oil in a large pan and cook your chicken for a few minutes on each side until they are slightly browned but not cooked all the way. Place the chicken in a greased 9x13 pan. Set aside.

For the Sauce: Combine Pineapple juice, 2/3 cup water, vinegar, sugars, salt, soy sauce and Ketchup in a medium pot and bring to a boil.

Thicken sauce with cornstarch mixed with ¼ cup water stirring occasionally. Add desired amount of pineapple chunks and any optional ingredients. Pour evenly over the chicken.

Bake for half hour turning the chicken at 15 minutes. (NOTE: I like to leave a little sauce for dipping egg rolls or cream cheese wont tons. YUM!)
Here is our Sweet and Sour Pork version, 😉