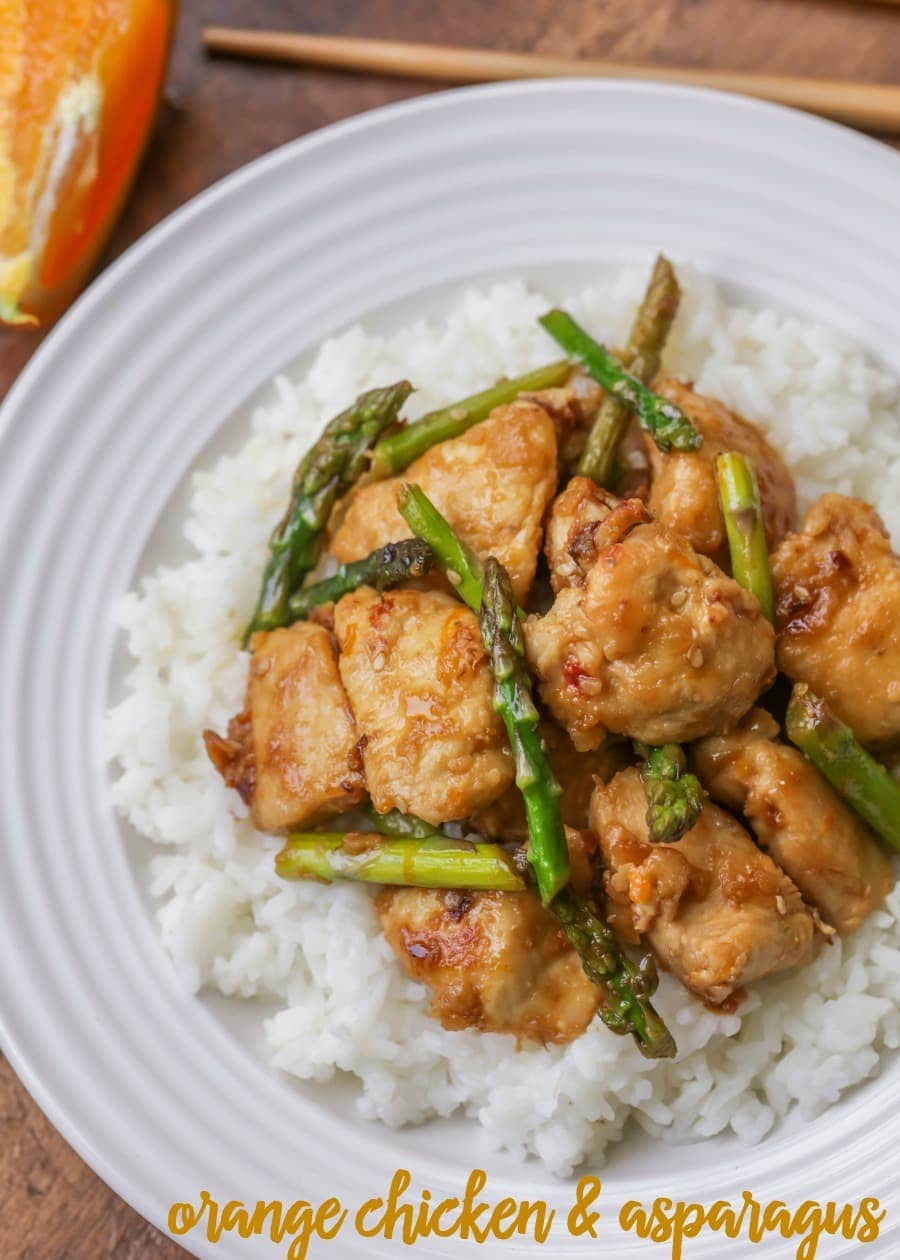 Hi there! Hope you are all having a fantastic week. Wednesdays are usually a little nutty over here because my kiddos have a half day. And its the day my 3 year old skips her nap. So, our house can get wild. But its also the night that my husband has church meetings, so I get to put the kids to bed early. LOVE my crazies, but I also LOVE having the house peaceful and quiet by 730. It gives me some time to search through Pinterest for delicious recipes. If you saw my food board, you'd see cookies and Chinese food (basically, the definition of ME). We can't get enough Chinese food in this house!
Some Asian recipes can be time consuming and not that great for you, but today, I'm super excited to share with you a simple, healthy recipe for Orange Chicken and Asparagus, that you will love. With just a few ingredients, you can make this in no time and feel good about eating it too!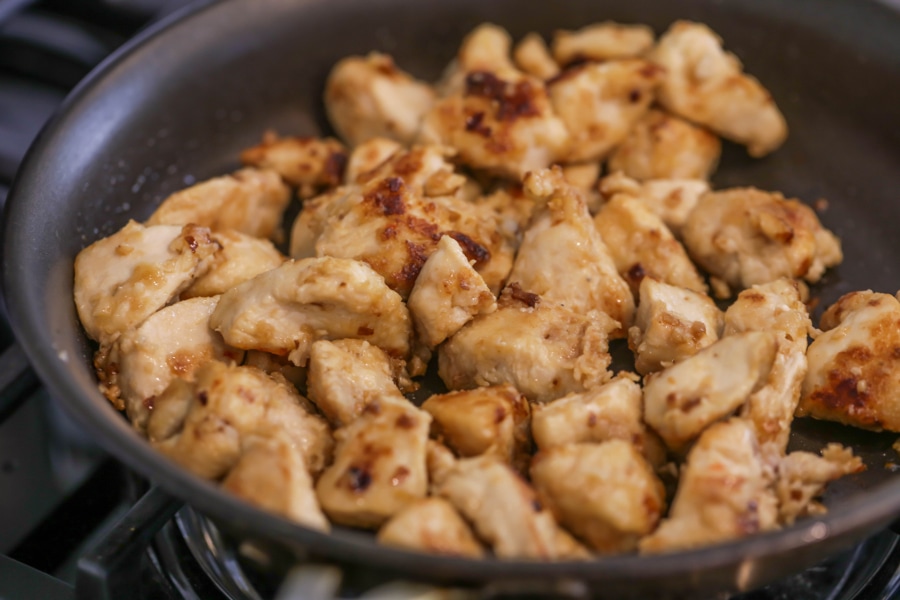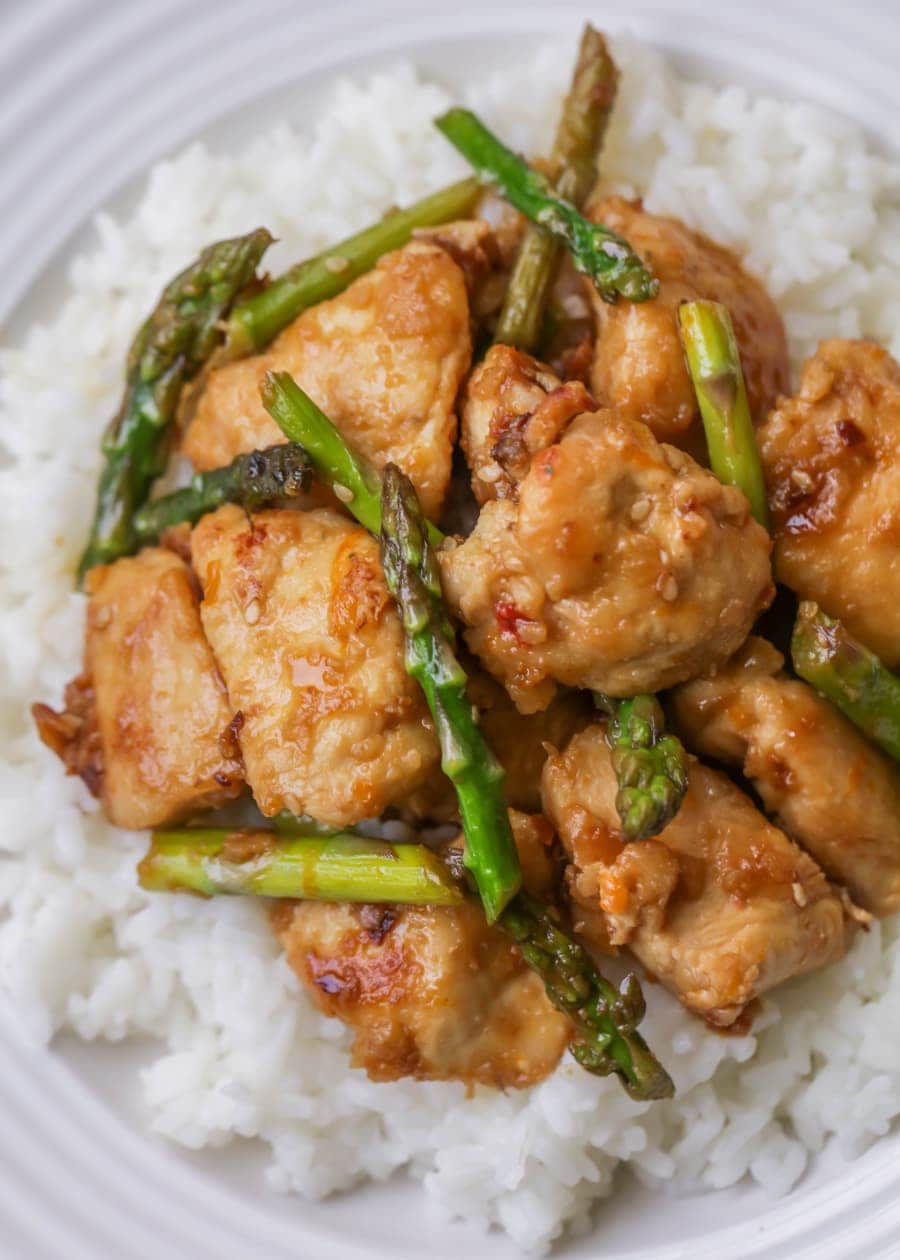 This Orange Chicken and Asparagus was soooooo good. It is bursting with flavor, it's almost hard to believe its considered healthy. I also love that its just simple enough, that my picky kids liked it too. We will definitely be making this again. I hope you enjoy!
Orange Chicken recipe: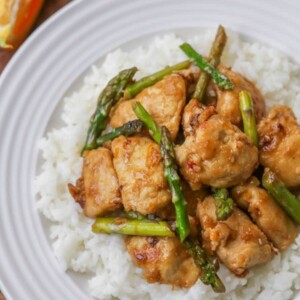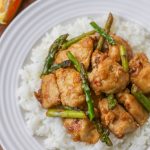 Orange Chicken and Asparagus Recipe
Orange Chicken and Asparagus - a family favorite recipe. Serve over rice or noodles or enjoy on it's own!
Ingredients
1

tbsp

sesame oil

4

oz

chicken

sliced into strips

1

tsp

minced garlic

1/4

tsp

red pepper flakes

2

cups

asparagus

chopped

1

tsp

soy sauce

1

tsp

honey

1

tsp

sesame seeds

1

juice and zest of orange

rice

(optional)
Instructions
Heat sesame oil in a large skillet. Sauté sliced chicken, garlic and red pepper flakes for about 7 minutes. Add chopped asparagus and cook for an additional 3 minutes.

In a small bowl, whisk together soy sauce, honey, sesame seeds, and juice and zest of 1 orange. Add to skillet and cook for 1 minute. Serve plain or over rice of your choice.
Adapted from: Fitness Magazine
TRIED & TRUE FINDINGS:
DIFFICULTY: SIMPLE
HOW MANY DOES IT FEED: 1-2
ANY CHANGES MADE: We marinaded our chicken overnight. We do this for most recipes that include chicken. We also used regular soy sauce, not low sodium. Of course that's an option for anyone that would like to make this recipe even healthier.
ANY SUGGESTIONS FOR NEXT TIME: This was a great, guilt free meal. I wouldn't change a thing!
For another great Asian recipe you can enjoy for dinner, check out: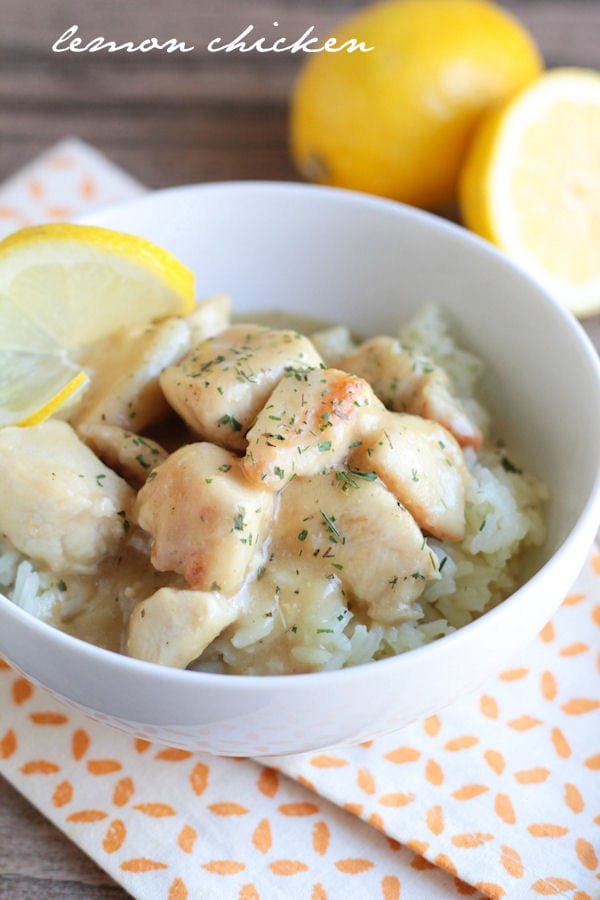 Here are more Asian chicken recipes we love:
ENJOY!