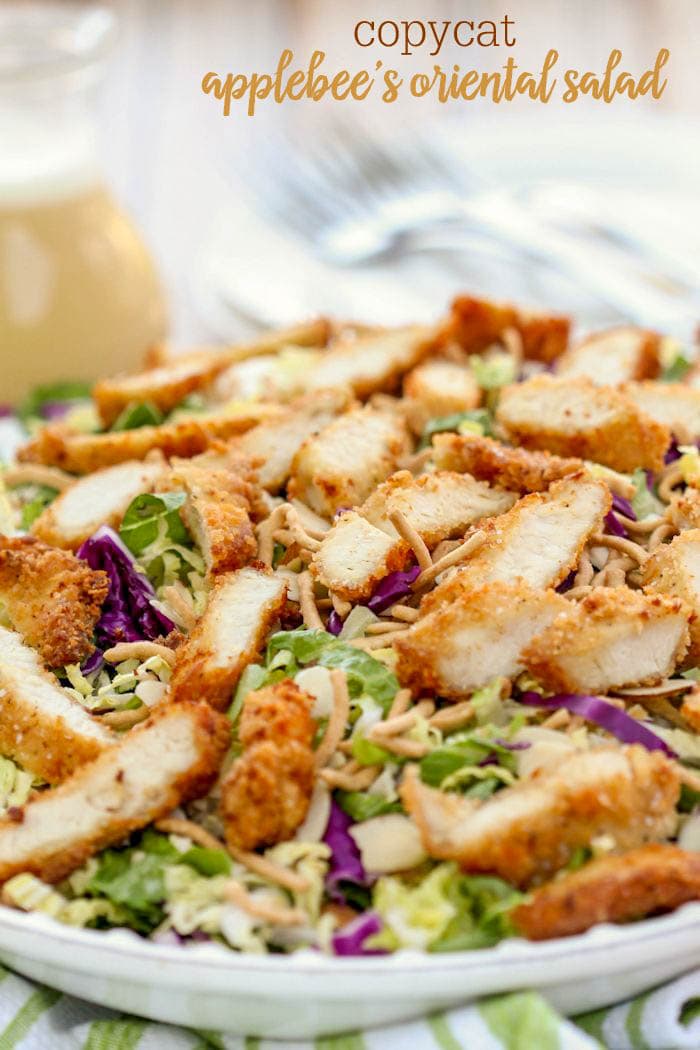 Who here loves Salad? I'm obsessed – really! I'm not lying when I say that I order salad 90% of the time when we go out to eat. It's not just because salads tend to be a little healthier, it's because they taste SO good to me! I've noticed that I have my favorite salad at each restaurant, and my favorite from Applebees Oriental Chicken Salad. Have you had it before? It's amazing, and is one of my all-time favorite recipes ever. It's been so sad not living close to an Applebee's here in Houston, so I crave it all the time. Fortunately, we were able to find a Copycat Applebee's Oriental Salad that tastes just like it that I will be sharing with you today.
My favorite part of this salad are all the extra goodies in it, including almonds, fried chow mein noodles and the dressing. It's so hearty and has so many great flavors in it. If you're a salad lover you'll definitely like this!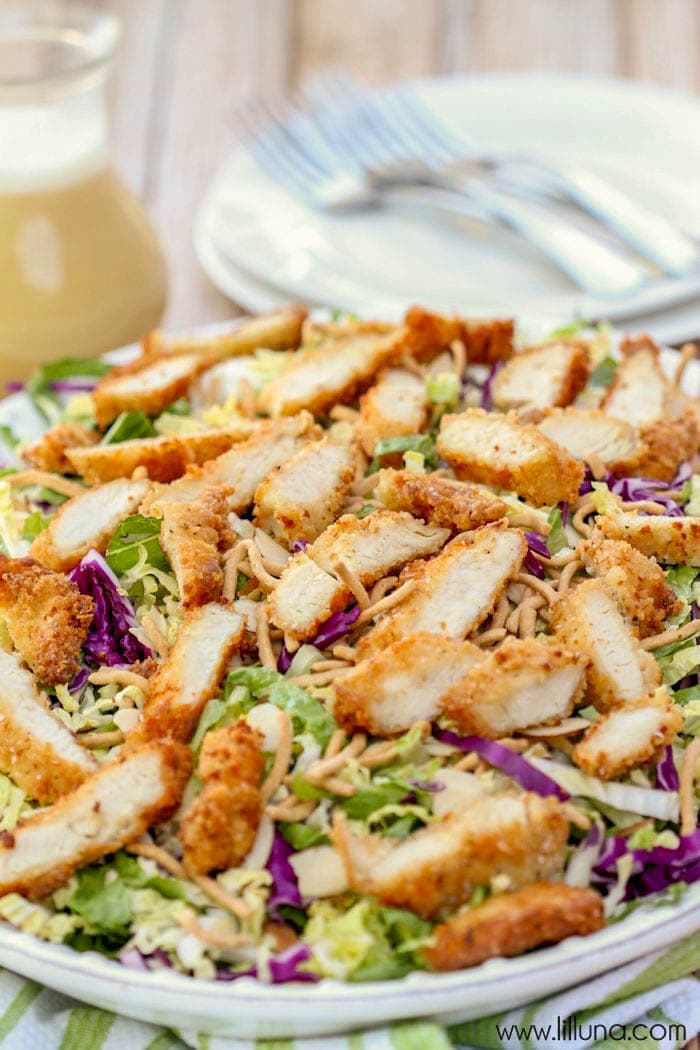 The crispy chicken on top is AMAZING!
I'm telling you guys… if you like trying out new recipes you'll love this one. You can always change things up and make the chicken differently by just grilling some chicken (instead of frying it) OR you can even bake some chicken instead to make it a tid healthier – totally up to you! And, as always, you can just add or omit any other ingredients you think would be great with this salad. 😉
For more salad recipes, check out:
Oriental Salad Recipe VIDEO:
Applebees Oriental Chicken Salad:
Applebees Oriental Chicken Salad
Copycat version of Applebee's Oriental Chicken Salad - one of the best salad recipes! A delicious salad made with breaded chicken, cabbage, romaine, sliced almonds, egg, cucumber, and dry chow mein in a flavorful dressing!!
Ingredients
Dressing
3 TB honey
1½ TB rice wine vinegar
¼ cup mayonnaise
1 tsp Dijon Mustard
⅛ tsp sesame oil
Salad:
1 egg
1 cup milk
1 cup flour
1 cup panko
1 tsp salt
¼ tsp pepper
2 chicken breasts
3 cups vegetable oil, for frying
3 cups chopped romaine lettuce
½ cup chopped red cabbage
½ cup chopped napa cabbage
1 carrot, shredded
¼ cup chopped cucumber
3 TB sliced almonds
¼ cup dry chow mein
Instructions
Blend together all dressing ingredients and refrigerate until ready to serve.
In a large saucepan preheat oil over medium-high heat.
While that is warming up, cut your chicken breast into several long thin strips. Set aside.
Beat egg and milk together in a small bowl. In a separate bowl, combine the flour, cornflake crumbs, salt and pepper. Dip the strips in the egg mixture, and then into the flour, coating completely.
When oil is hot, carefully add chicken strips and fry for 3-4 minutes or until cooked through or golden brown. Set on a paper towel to cool. Once cool, cut into bite size pieces.
To prepare your salad, combine the romaine, red cabbage, napa cabbage, carrots and cucumber. Add chopped chicken pieces and sprinkle with almonds and chow mein. Top with delicious honey oriental dressing and enjoy!
Recipe adapted from One Sweet Appetite.
ENJOY!