Delicious Moo Goo Gai Pan recipe that tastes like it came straight from the restaurant. It is filled with chicken, snow peas, broccoli and mushrooms and is covered in a delicious Asian sauce.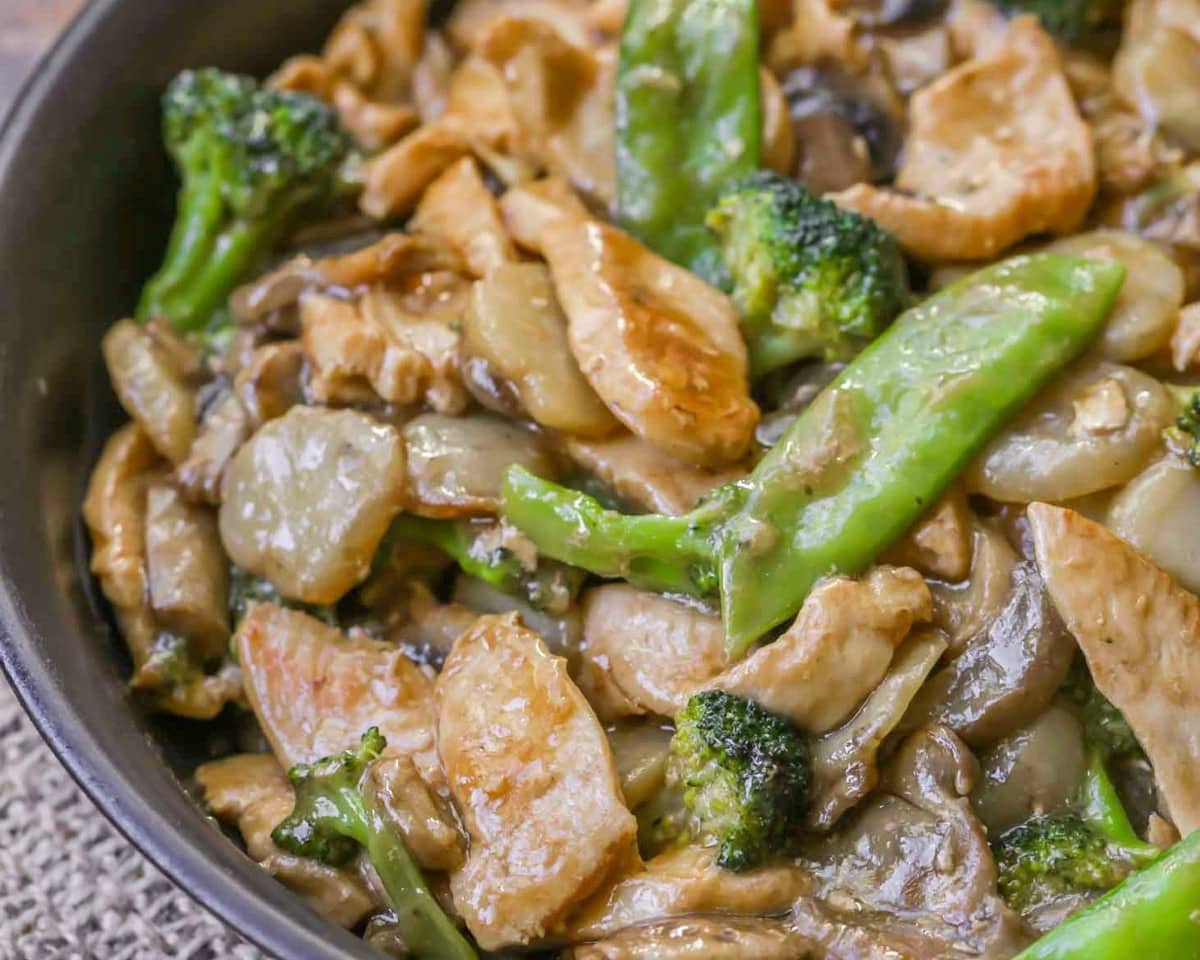 What is Moo Goo Gai Pan?
Moo Goo Gai Pan. Such a funny name but one I have always remembered because it's one of my mom's favorite recipes to enjoy whenever we go out for Asian food. So, what is Moo Goo Gai Pan?
Moo goo gai pan is the Americanized version of a Cantonese dish, usually a simple stir-fried dish consisting of sliced or cubed chicken with white button mushrooms and other vegetables.
Does it sound familiar at all? We tried making it to share on the blog and LOVED it. I admit I'm not a huge fan of mushrooms and may have picked around them, but the sauce, chicken, broccoli, and snow peas were all amazing and so flavorful. Yes, we could have omitted the mushrooms, but felt like it's really not Moo Goo Gai Pan without them. 😉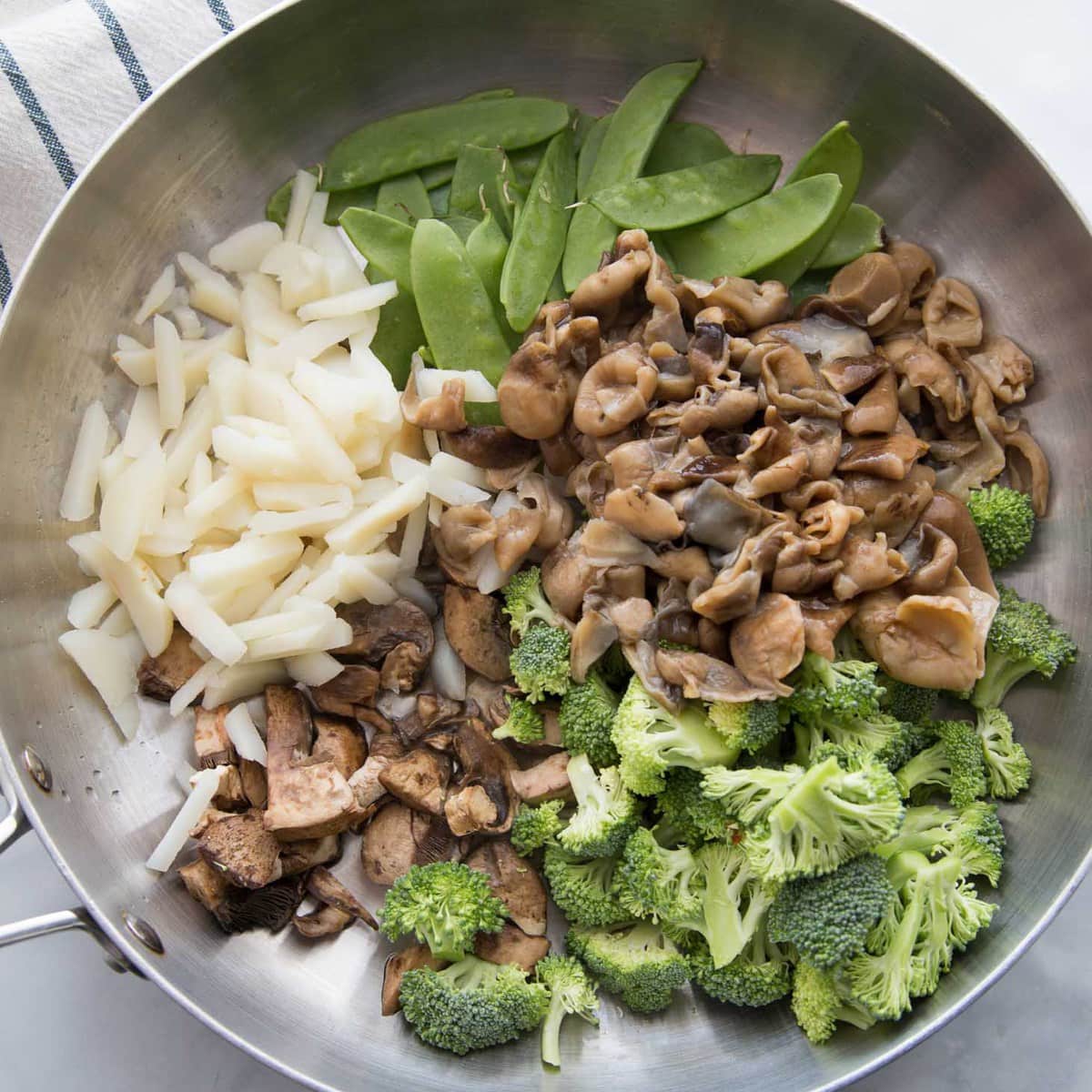 Moo Goo Gai Pan ingredients
These are the typical ingredient used in making Moo Goo Gai Pan:
fresh mushrooms
straw mushrooms
broccoli florets
snow peas
bamboo shoots (optional)
water chestnuts
As with most dishes, this can be customized to your liking so adding or omitting veggies is totally up to you! It's great on it's own or is also great served with rice or noodles. No matter how you have it, we think it will be enjoyed!
Moo Goo Gai Pan Tips:
Keep your stir-fry pan consistently hot and do not overcook the chicken.

Getting evenly thin sliced chicken: Freeze the chicken breast for 20 minutes or until firm but not frozen. Remove from freezer and cut against the grain into even strips.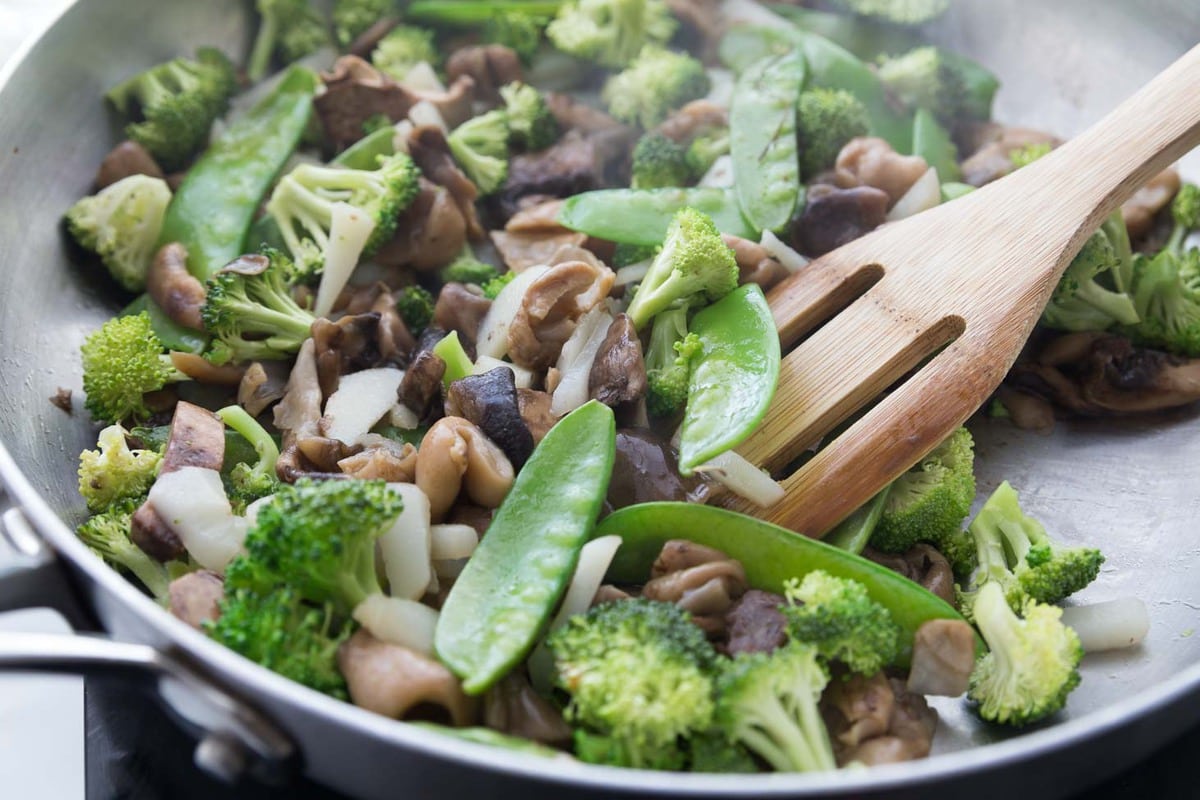 How to reheat moo goo gai pan?
Store any leftovers in an airtight container in the fridge for 3-4 days. To retain the best flavor and texture you'll want to reheat on the stove top. Put 1 tsp of oil in a stir fry pan, dump in leftover moo goo gai, stir while heating, remove when it reaches the desired temperature.
If you're in a hurry you can also reheat in the microwave. Heat in 30 second intervals, stirring between, until hot.
This is also a great dish to make ahead and store for lunches through out the week. We will make a batch and put in different tupperware containers to enjoy over the next few days for a quick lunch.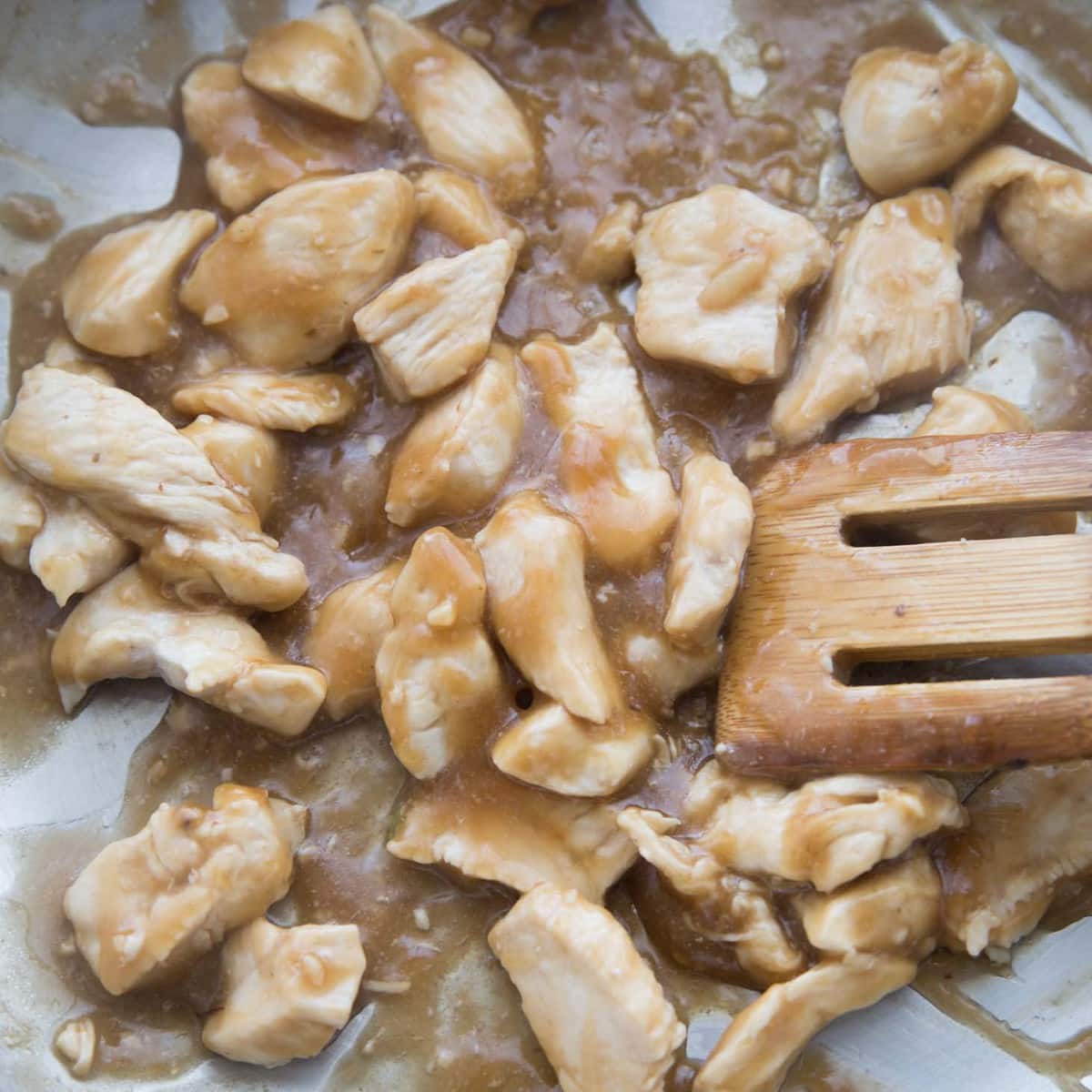 what to serve with moo goo gai pan
There are so many great dishes that pair well with Moo Goo Gai Pan. Depending on what you're feeling like, you can choose any of these favorites: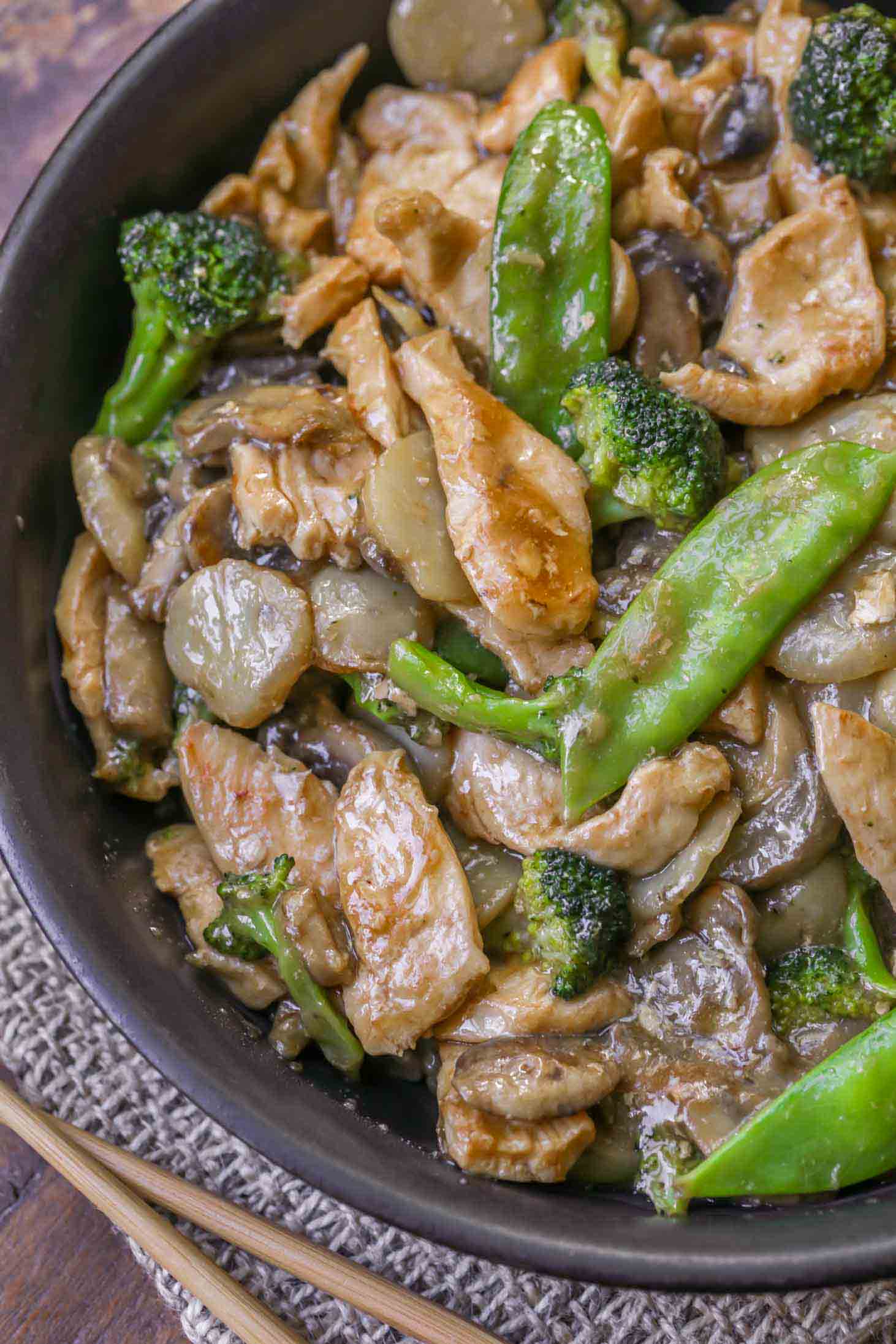 Classic Moo Goo Gai Pan also has bamboo shoots, but we omitted those and added snow peas. You can change it up by adding your favorite veggies too!
So much flavor in this dish! We hope you love it!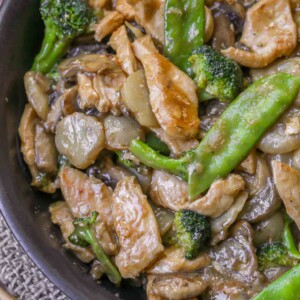 Moo Goo Gai Pan Recipe
Moo Goo Gai Pan - one of our favorite dishes that is filled with flavorful chicken, broccoli, snow peas and more.
Ingredients
1

tbsp

vegetable oil

1

cup

fresh mushrooms

sliced

2

cups

chopped broccoli florets

1

cup

snow peas

1

8 oz. can

sliced water chestnuts

drained

1

15 oz can

whole straw mushrooms

drained

1

tbsp

vegetable oil

2

tsp

minced garlic

1

lb

skinless, boneless chicken breast

cut into strips

1

tbsp

cornstarch

1

tbsp

sugar

2

tbsp

soy sauce

1

tbsp

rice vinegar

1/4

cup

chicken broth

1

tsp

garlic salt
Instructions
Heat 1 tablespoon of vegetable oil in a wok or large skillet over high heat until it begins to smoke. Stir in the fresh mushrooms, broccoli, water chestnuts, snow peas, and straw mushrooms.

Cook and stir veggies for about 5 minutes. Remove veggies from the wok, and set aside. Clean off the wok/skillet.




Heat the remaining tablespoon of vegetable in the wok until it begins to smoke. Stir in the garlic, and cook for a few seconds until it turns golden-brown. Add the chicken, and cook for about 5 minutes or until there is no pink in the center of the chicken.

In a small bowl, stir together cornstarch, sugar, soy sauce, rice vinegar and chicken broth. Pour over the chicken, and bring to a boil, stirring constantly. Boil for about 30 seconds until the sauce thickens and is no longer cloudy.

Return the vegetables to the wok/skillet, and toss with the sauce until all coated. Serve immediately and ENJOY!