Sunday evenings are typically spent with family around the dinner table. Make something special for the occasion with this collection of delicious Sunday Dinner Ideas!
More Collections: Family Dinner Ideas, Dinner Ideas for Kids, Quick Dinner Ideas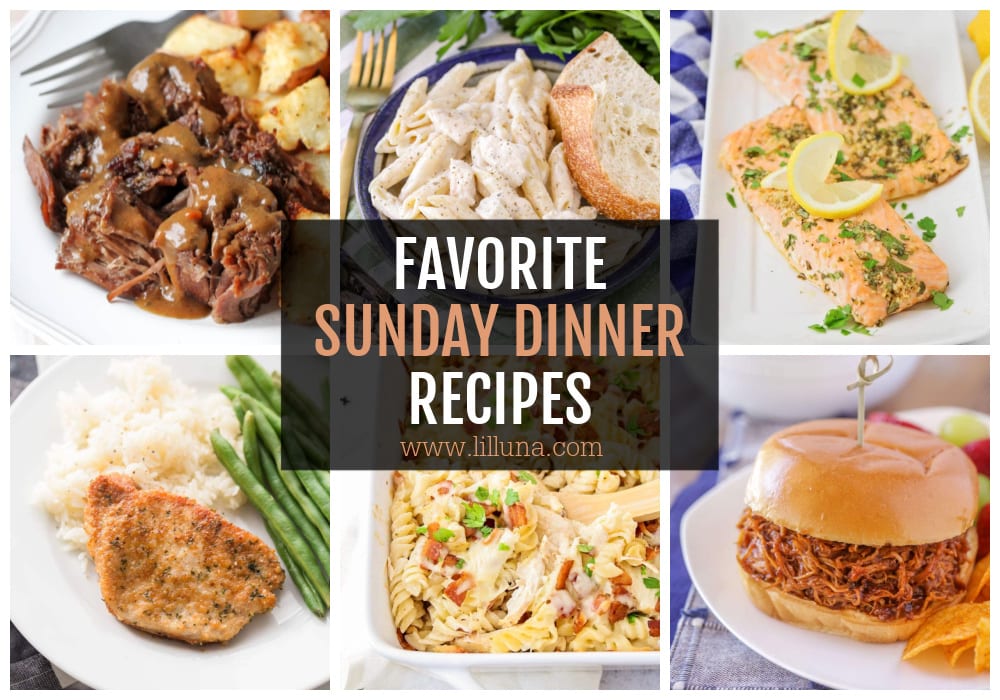 Sunday = Family Time
In my family, Sunday is a day of rest from the regular tasks of the week. Along with worship, we take time to be together and carve out family time. I have gathered some fabulous Sunday Dinner ideas to help you do just that!
Even if you have busier Sundays, extra curricular activities, errands, and church services are typically held in the morning leaving the afternoon and evening to relax and enjoy the last bit of the weekend.
What better way to spend the time than eating a delicious meal with your family and friends?
Dinners your family will love!
Types of dinner the whole family will love come in as many varieties as families do.
sheet pan dinners
skillet dinners
a large pasta dish
casserole
slow cooker
bake it in the oven
fire up the grill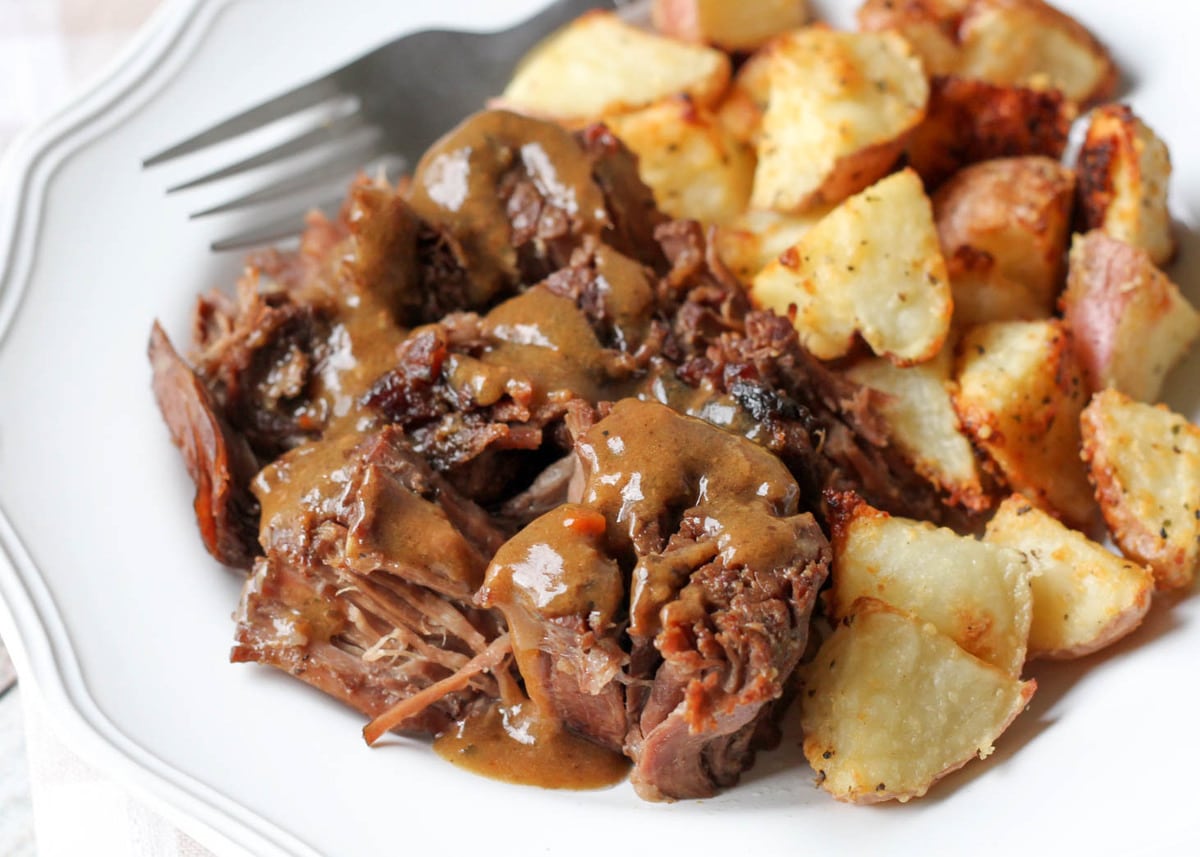 Hosting Sunday Dinner
Time: Though there is usually more time on Sundays to spend on more involved recipes, you can also choose to make quick and easy meals that are just as delicious.
Formal vs. Casual: Make serving the meal as formal or as casual as you wish. I had one grandma who would set the adult table with a white tablecloth and her china and serve dinner family style. My other grandma was more casual. The food was served buffet style using paper plates and we sat anywhere that was open.
Get Guests Involved: Let guests, who offer, bring a dish to share.
After-Dinner Activities: Chatting is my preferred activity, but it's always nice to have activities available. Outdoor activities like bocce ball and croquet are fun. You can have games and coloring books inside.
Clean Up: If hosting Sunday dinner for the same family and friends is going to be a regular occurrence, consider implementing a clean up plan. At my mom's house the sisters make the food and our spouses clean up.
Timeframe: Since most adults and children need to be up early for work and school, it's acceptable to give guests a start and end time.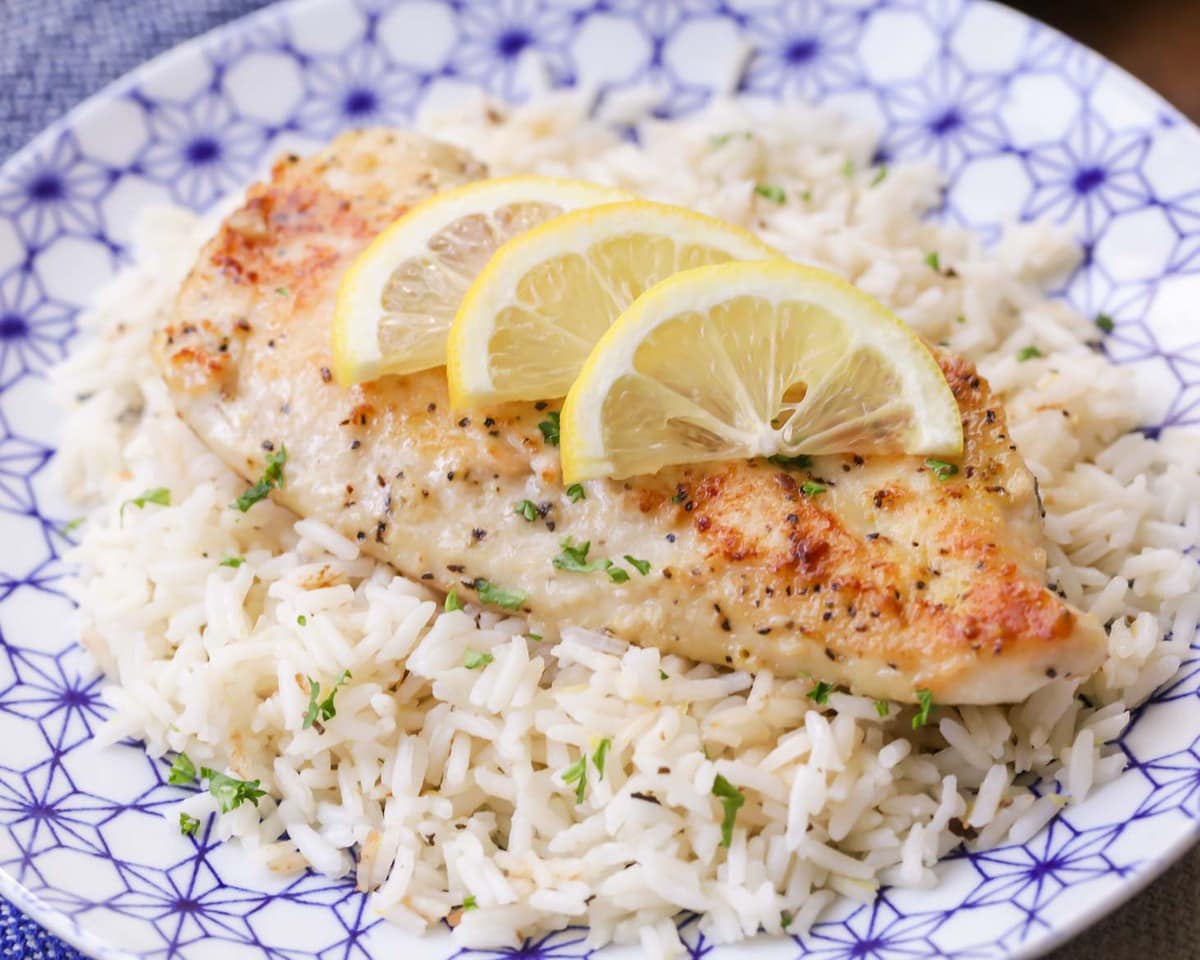 Amounts to serve
Often Sunday dinner is the night that extended family can get together and enjoy some comfort food. Planning on how much to make for your main dish can be a bit tricky. Some people eat more than expected and some eat less. Here are some guidelines that will help you as you plan:
Pasta: Plan to serve 2-3 oz of dry pasta per person. If your recipe calls for 16 oz of pasta then the dish can serve about 6-8 guests. Now if you are adding veggies or protein to the pasta, then you will be able to serve about 8-10 guests.
Meats: When you are serving beef, chicken or pork as the main dish, pan to serve 8-12 oz per person.
Casserole: I typically cut my 9×13" casserole dishes into 20 squares. I'll usually calculate about 1 ½-2 squares per person.
Soups or Stew: Plan to serve each guest 5-6 oz of soup or stew or 1 ½-2 cups.
round out the meal
Appetizers: Having some afternoon appetizers is always a great idea. Plan to serve 3-5 appetizers per person. If you only have 5-10 people coming, plan to have 1-2 different appetizer dishes. Add another appetizer dish for every 5-8 people in attendance.
Dessert: Plan to have enough dessert for people to have 1 ½ servings.
Drink/Punch: The average person will drink 2 glasses.
In general plan about 6 oz of potatoes per person and 4 oz of veggies per person. Plan to serve 1.5 rolls per person. For every 5-8 people attending add another dish to the menu.
Mix and match some of our popular side dishes to fit your Sunday meal.
---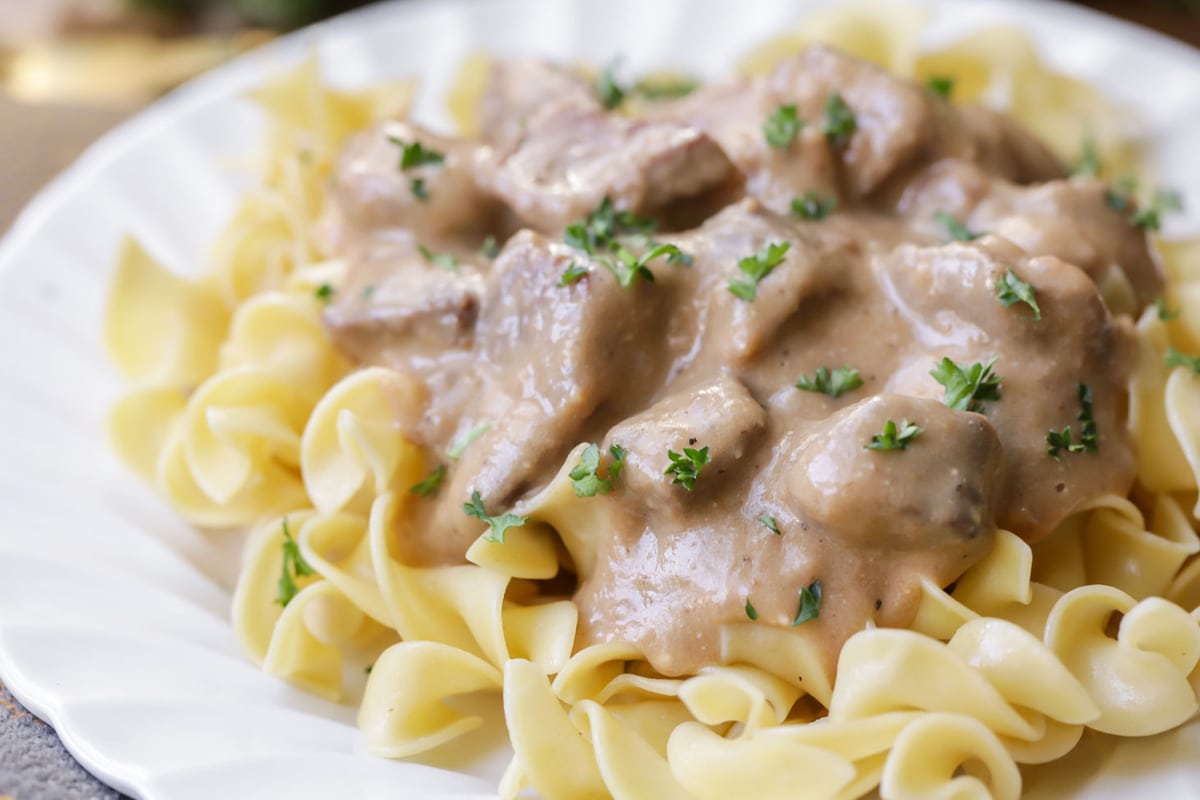 Best Sunday Dinner Ideas
These recipes are all long-time family favorites that we've made for years!
Pot roast is for sure our #1 classic Sunday dinner recipe, but we also love things like lasagna, pasta, casseroles, and Mexican entrees!
Beef Stroganoff – This Easy Beef Stroganoff recipe is simple and flavorful. Served with egg noodles, this creamy stroganoff made in the slow cooker is a classic Sunday dinner recipe and is perfect to enjoy any night of the week.
Pot Roast – This Crock Pot Roast Recipe is one of our favorite Sunday dinners. It takes only 3 minutes of prep time and then the slow cooker does the rest! The chuck roast ends up being SO tender and full of flavor from the brown gravy, Italian, and ranch dressing mix!
Crockpot Brown Sugar Ham – This crock pot ham is made entirely in the slow cooker, which makes for quick prep time and minimal effort. With a deliciously sweet brown sugar glaze, it's our favorite way to make a holiday ham!
Easy Lasagna Recipe – Our family's favorite lasagna recipe – not only because it's delicious but because it's so EASY! You don't even have to precook the lasagna noodles! With beef, pork, three cheeses, and tons of seasonings, you know this recipe is going to be a hit!
Best Roast Chicken – Simple and delicious roast chicken tastes like you spent all day cooking it! It is the the perfect go-to dinner recipe.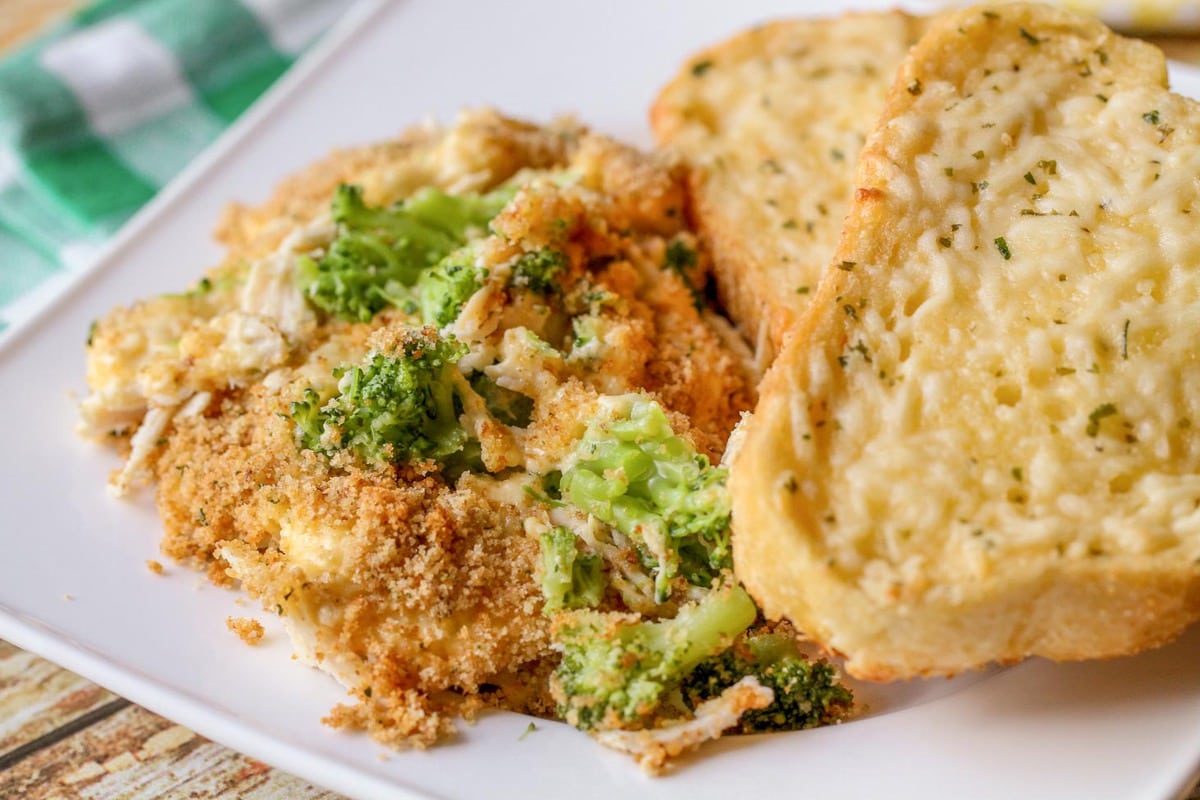 Cheesy Chicken Broccoli Casserole – One of the BEST broccoli casserole recipes! This Cheesy Chicken Broccoli Casserole is a simple, quick and delicious dinner filled with chicken, broccoli and cheese and topped with buttered bread crumbs! The whole family loves this easy chicken broccoli and cheese casserole.
Sweet Pork Barbacoa – Sweet Pork Barbacoa is the best slow cooker pulled pork recipe you will ever try. Better than Cafe Rio—you better make a double batch!
Parmesan Crusted Pork Chops – With less than 10 minutes of prep work, make the most delicious baked Parmesan Pork Chops that everyone will love.
Crock Pot Pork Roast – Prepare to be amazed by this ultra tender, fall off the bone crock pot pork roast. It only takes a handful of ingredients to make, including the complimentary gravy.
Creamy Chicken Enchiladas – Creamy Chicken Enchiladas with sour cream are simple and tasty! With 10 minutes prep, these are a weeknight staple.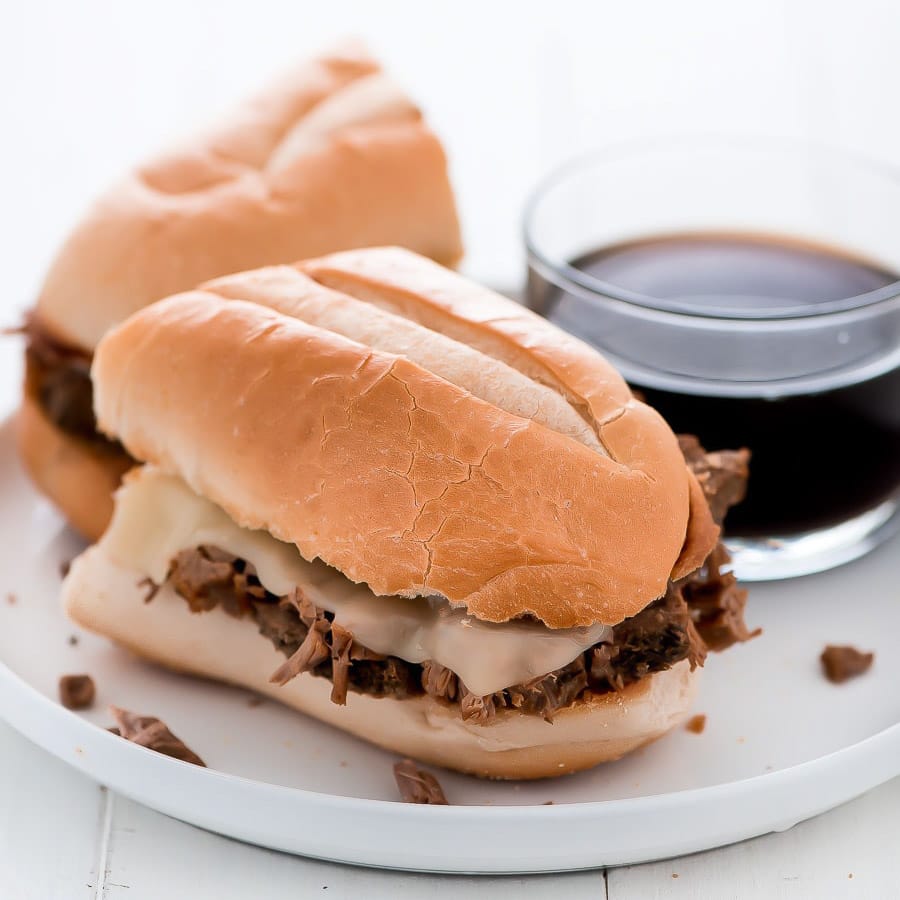 French Dip Sandwich – These low maintenance French Dip Sandwiches are made with hearty beef and melted provolone cheese on a buttery toasted bun, and dipped in au jus!
Buttermilk Fried Chicken – You can't go wrong with delicious fried chicken!! It's great for picnics, barbecues, holidays and more. Plus – it's easier to make than you think!!
Crock Pot Ribs – Juicy BBQ Crock Pot Ribs is the best and easiest dinner idea! Great for a small family, big family, or cooking for a crowd!
Slow Cooker Pulled Chicken – This Slow Cooker Shredded Chicken is juicy and flavorful. It is Beyond simple and is great for holidays, parties and potlucks!
Country Style Pork Ribs – Tender + delicious Country Style Pork Ribs are finger-licking good! They are perfect for a BBQ, or any night of the week.
Chicken Penne Pasta – A delicious and simple Chicken Penne Pasta that is the perfect family dinner. The entire family loves it!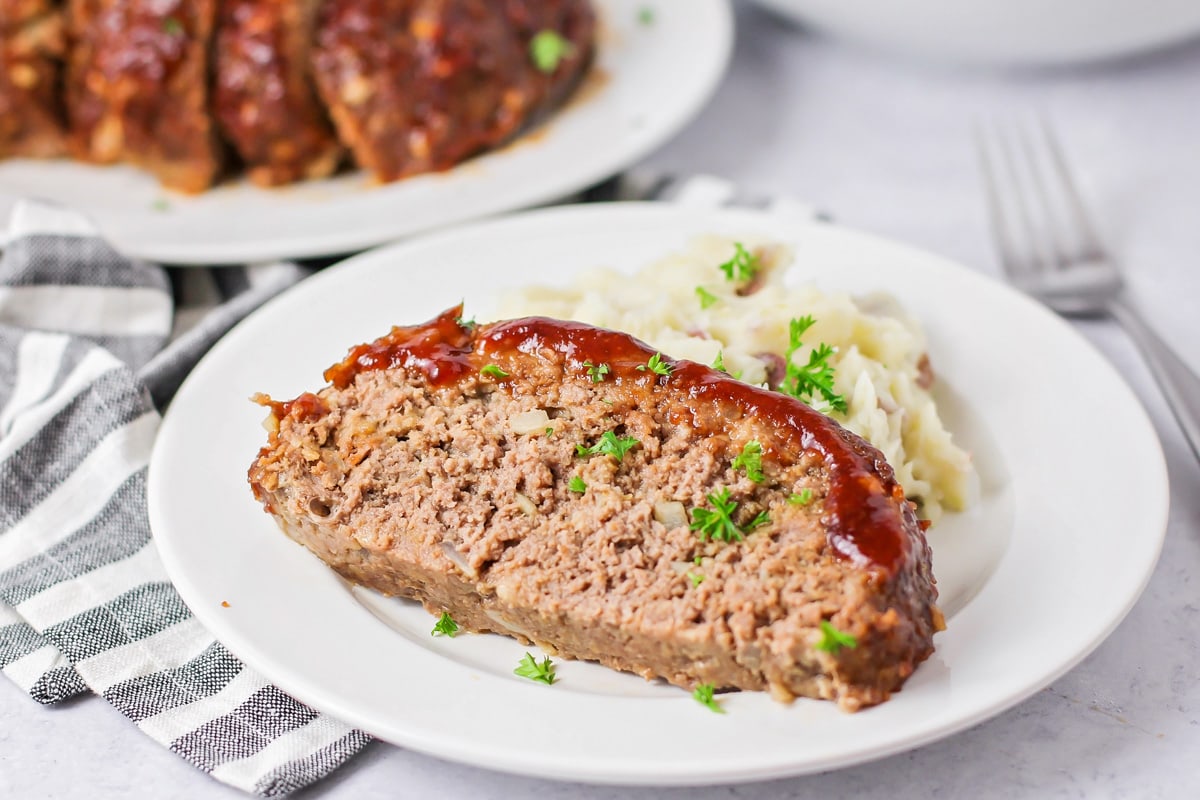 Easy Meatloaf – The whole family will devour this Easy Meatloaf! It's super simple—making it perfect for all levels of cooks in the kitchen.
Buttery Baked Chicken – Creamy Buttery Baked Chicken is simple and full of flavor. It is another great dinner idea for any occasion!!
Best Steak Marinade – This is Our All-Time Favorite Steak marinade! It requires only four ingredients, and makes our steak taste SO amazing! Everyone always asks for this Easy Steak Marinade recipe because it's just that good!!
Parmesan Chicken Manicotti – These manicotti shells are stuffed with a cheesy chicken mixture, and topped with tasty marinara!
Slow Cooker Beef Stew – DELICIOUS Slow Cooker Beef Stew filled with chunks of beef, potatoes and carrots – a family favorite that is hearty, simple and great for fall.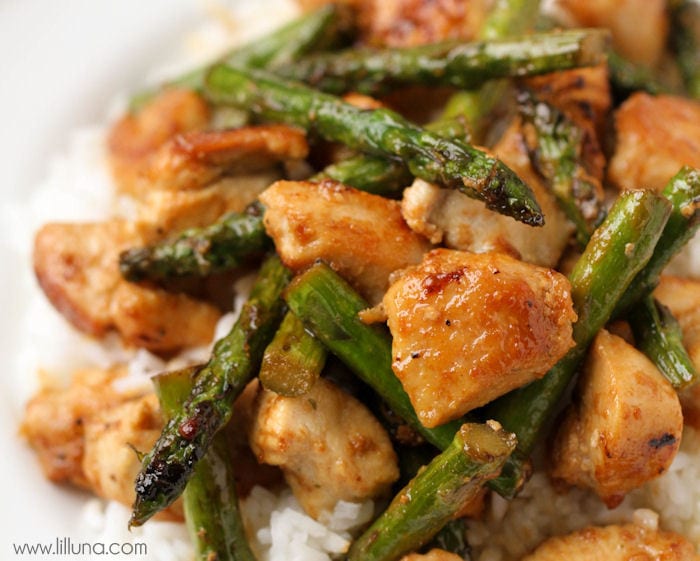 quick sunday dinner
Sometimes Sundays are busy and there isn't a lot of time to prepare a big family dinner. That's why we love these easy Sunday dinner ideas! They're all made in 35 minutes or less!
Chicken And Asparagus Stir Fry – Healthy and delicious Lemon Chicken and Asparagus Stir Fry is packed with lots of delicious flavors. It's simple and super easy too!
Chicken Tacos – Restaurant-style Chicken Tacos are filled with ingredients like shredded chicken, cheese, lettuce, and tomatoes, all inside a fried corn tortilla.
Chicken Stroganoff – This Homemade Chicken Stroganoff is perfect for dinner any night of the week. Its full of flavor and is made start to finish in under 40 minutes!
Chicken Bacon Ranch Casserole – Creamy and hearty Chicken Bacon Ranch Casserole is the best way to beat the weeknight rush! It's easy to make, and filled with pasta, chicken, bacon, and creamy alfredo sauce.
Baked Teriyaki Chicken – Chicken breasts, or thighs, smothered in a sweet and tangy homemade teriyaki sauce and baked in the oven. Serve Baked Teriyaki Chicken over rice for a complete meal!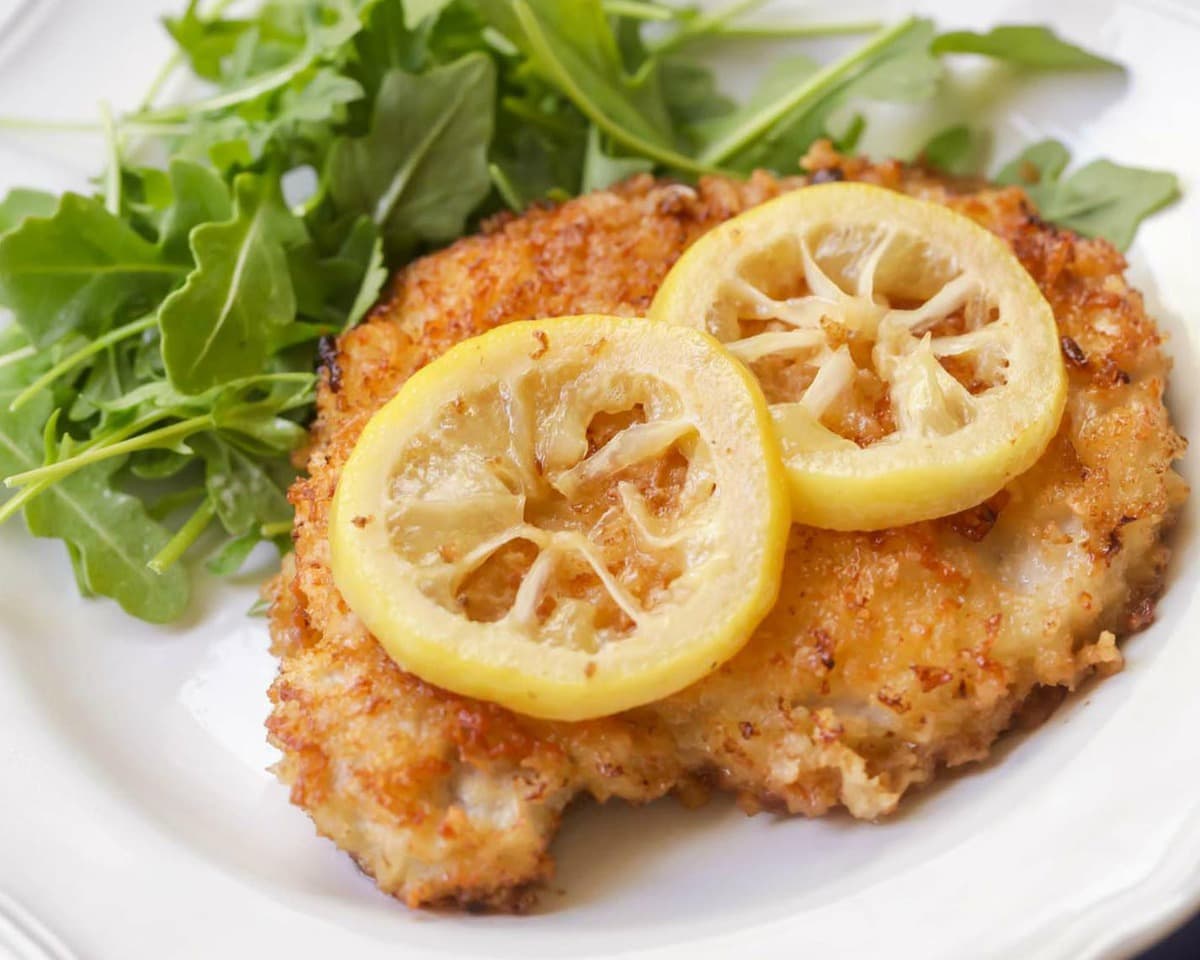 Fried Pork Chops – These delicious Fried Pork Chops in a Lemon Butter Sauce are crispy on the outside and so delicious and tender on the inside! Everyone loves these pan fried pork loins that are so flavorful and simple.
Italian Sausage Pasta – Everyone loves this Italian Sausage Pasta recipe! Not only is it easy, cheesy, and delicious, but it is a hit with the entire family and can be made mild or spicy depending on your preferences.
Coconut Curry Chicken – Delicious Coconut Curry Chicken is packed with flavor! Serve with rice or bread for a perfect chicken curry meal.
Steak Fajitas – You know those sizzling fajitas you see at restaurants? You can make them at home! It may seem intimidating, but this steak fajita recipe couldn't get any easier!
Beef Enchiladas – Shredded Beef Enchiladas Made with Just 6 ingredients! This easy dinner idea is a crowd pleaser and is filled with corn, beef, green chiles, cheese and covered in red sauce.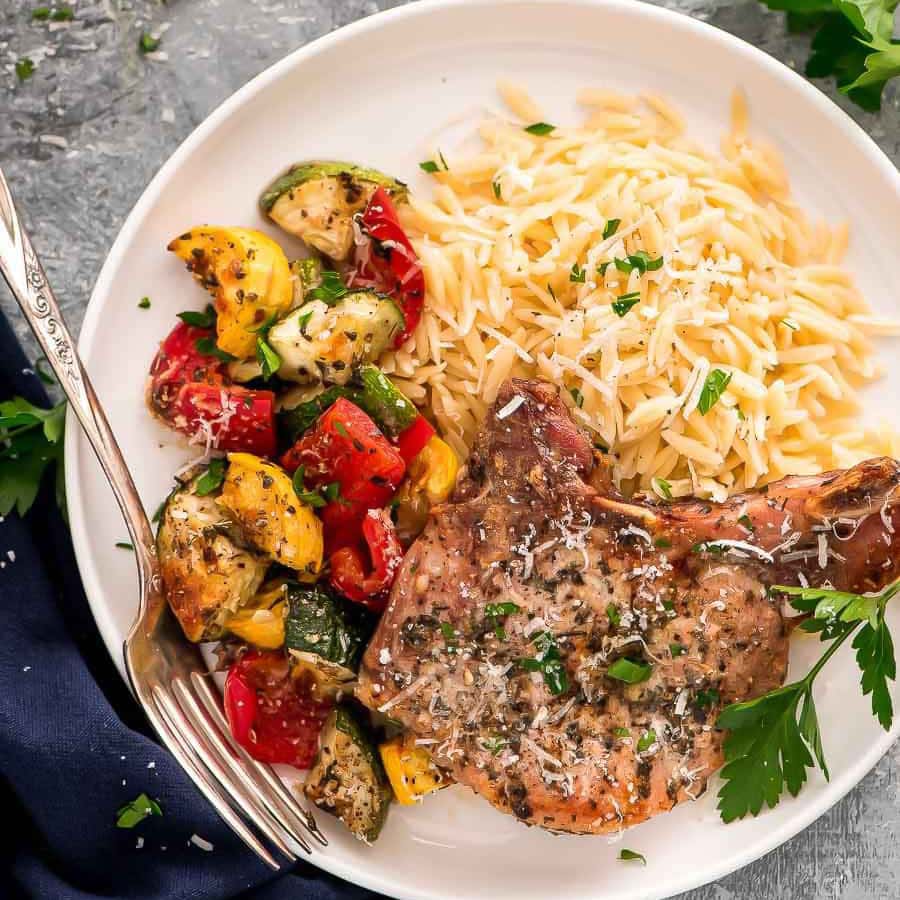 healthy sunday dinners
Need something filling, but lighter? These main dishes are on the healthier side while still being satisfying for the whole family.
Italian Pork Chops – These Italian Pork Chops require just a few ingredients and are baked in the oven with loads of veggies. Have it ready and on the table in just 30 minutes!
Baked Honey Mustard Chicken – Quick and Easy Healthy Chicken Dinner. This takes less than 30 minutes to bake, is full of flavor, and will please the whole family!
Easy Baked Salmon – Bake a delicious and healthy pan of salmon for the whole family! Flavored with lemon, garlic, and parsley for a tasty dinner everyone will enjoy.
Lemon Pepper Chicken – Flavorful and tender Lemon Pepper Chicken is simple and requires just a few ingredients. Served on its own or over rice, this buttery chicken dish is perfect any night of the week for a simple, quick dinner idea.
Easy Beef And Broccoli – DELICIOUS Beef And Broccoli Recipe That Everyone Will Love. This Flavorful Dish Is Perfect For Your Next Dinner Is Easy To Make Too!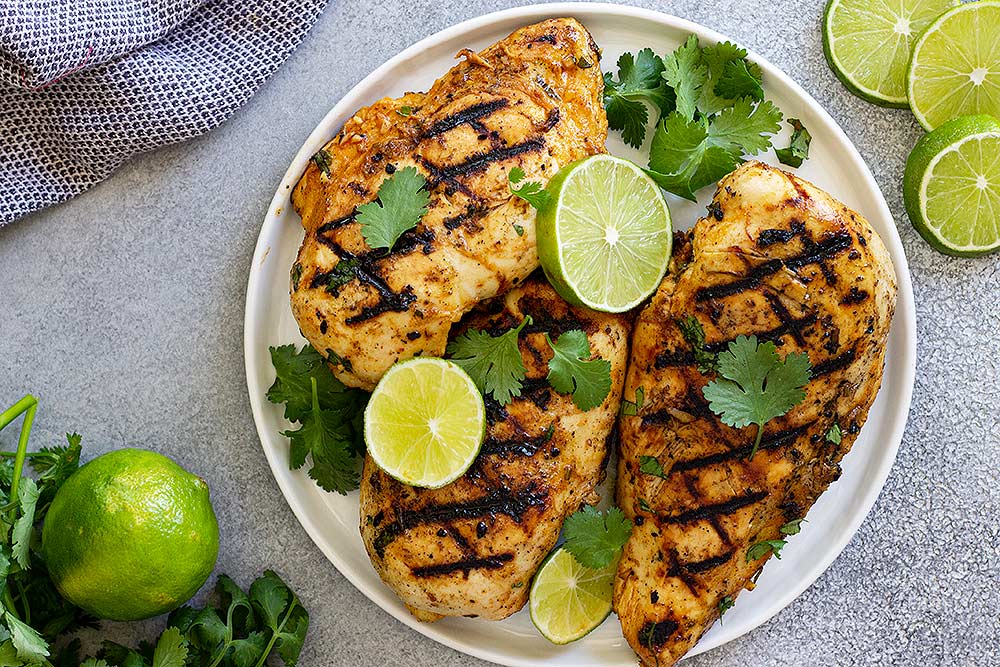 Cilantro Lime Chicken – This Cilantro Lime Chicken is full of flavor and an easy weeknight meal. Fresh lime juice, cilantro, and loads of fresh garlic make a flavorful marinade!
Healthy Chicken Piccata – This "Skinny" Chicken Piccata is easy enough to make on a busy weeknight but also fancy enough to make when you have company over! Plus it's a healthy version, which makes it even better!
Healthy Chicken Tortilla Soup – Nothing like a warm bowl of tortilla soup on a chilly winter day! This lighter version of chicken tortilla soup is healthy, flavorful, and packed with delicious ingredients.
Zucchini Boats – Stuffed Zucchini Boats are filled with Italian sausage and tomatoes. They are a delish go-to healthy dinner idea.
Lemon Garlic Chicken – This Lemon Garlic Chicken is ready in 15 minutes or less! It's a great weeknight chicken dinner that is full of flavor and tastes great over rice!
Cobb Salad – This simple Cobb salad is so full of tasty ingredients it's a meal all on it's own. It is quick to make and utterly delicious.
---
the complete list
Here are the picture cards for ALL of the fantastic Sunday Dinner Ideas listed above.
Nothing gathers your family together better than a delicious meal, and with so many great recipes to choose from you're sure to find some new favorites on this list!
Be sure to check out all of our Main Dish Recipes!
And for more collections: Breakfast For Dinner, Beef Dinner Ideas, Chicken Dinner Ideas