Oven baked chicken drumsticks are a healthy alternative for fried chicken lovers! They are seasoned to perfection and baked, not fried!
These tasty oven-baked chicken drumsticks are just as crispy and delicious as their fried alternative, but without the grease! These baked beauties taste delicious paired with Buttermilk Biscuits, Cheesy Hasselback Potatoes, and Roasted Green Beans.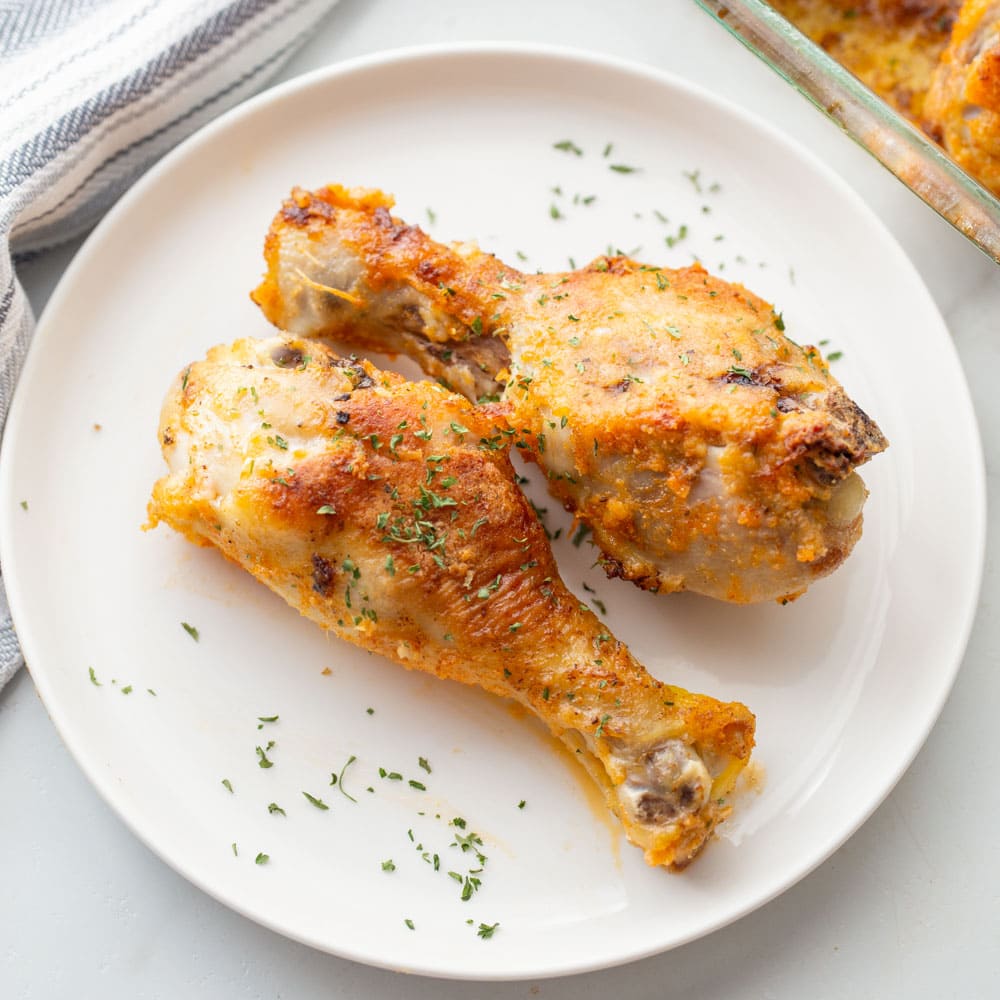 Delicious and more healthy
When I'm feeling motivated to eat healthier, it seems like chicken is all I eat. Even though there are so many wonderful ways to make chicken, it can still get a little old sometimes. So, we're always on the look out for new ways to switch up our chicken dishes, like this Oven Baked Chicken recipe!
These drumsticks were easy to put together and were a HUGE hit with everyone in the family. The batter coating the chicken is light, tasty, and just perfect enough to make you lick your fingers. The best part is that it tastes just like Kentucky Fried Chicken but they're not fried at all – they're BAKED!!
I was surprised that they tasted so good for being baked, but they were, which means I'll feel less guilty when I have a few. 😉 When a recipe tastes this good and is this easy, it's a winner in my book.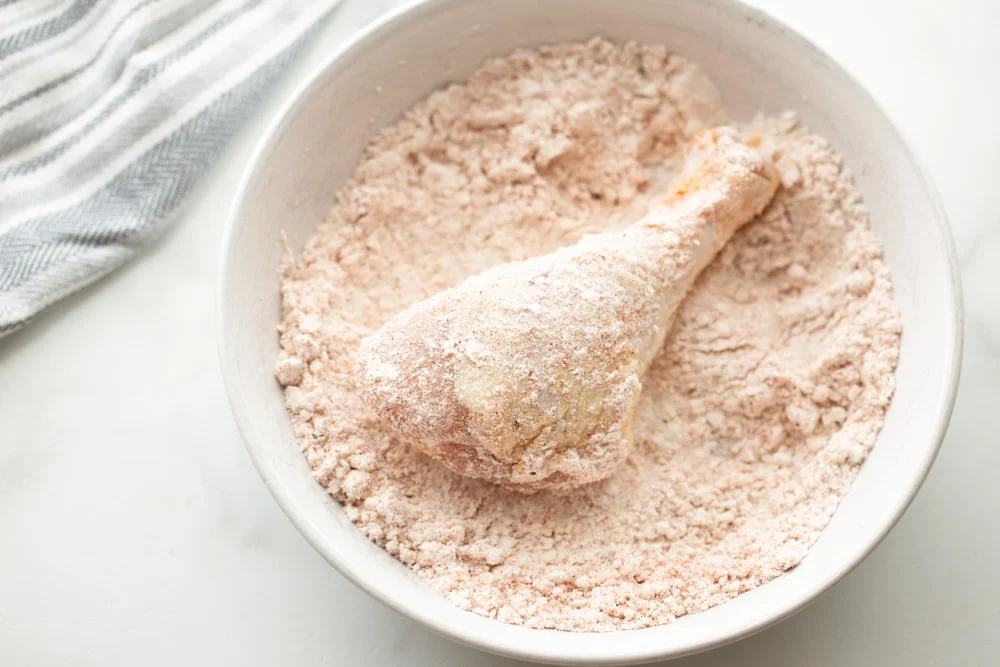 How to Bake Drumsticks
BREAD. Coat each drumstick in the breading mixture (only 4 ingredients!), and then place in a 9×13 pan with a little bit of melted butter. Once they're all breaded and in the pan, spray lightly with the spray butter and then place in the oven.
BAKE. Bake at 450° for 30 minutes, then remove from the oven, flip each chicken leg, spray with butter once more, and then bake for an additional 15-25 minutes, until they're as crispy as you want them to be.
Tip: For easy clean up line the cooking pan with aluminum foil.
Can I use other cuts of chicken besides drumsticks? You can easily substitute other cuts. You will just have to adjust the bake times. Bake until juices run clear.
Thighs: 375 degree oven for about 30 minutes

Breasts: 375 degree oven for 20 minutes                                                                                        

Boneless Wings: 350 degree oven for 30 minutes

Bone-In Wings: 400 degree oven for 45 minutes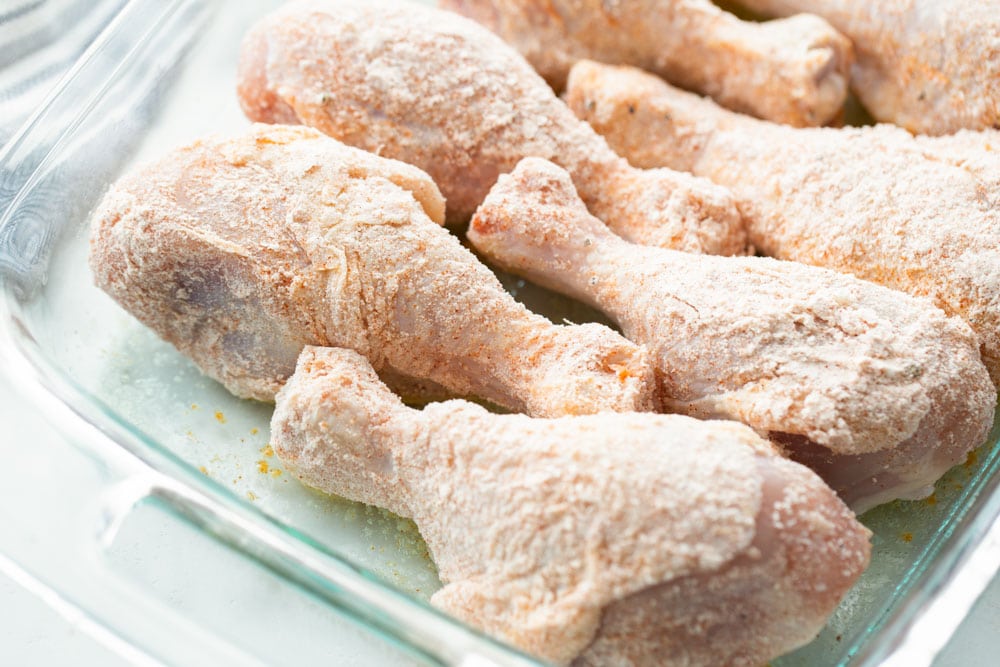 Storing leftovers
Throw away leftover chicken if it has been at room temperature for more than two hours. STORE leftovers in the fridge for 3-4 days. You can also FREEZE leftovers. Use an airtight container, freezer bags, or wrap in aluminum foil. Freeze for 4-6 months.
To REHEAT chicken in the micrwave, place chicken on a microwave safe dish, cover with a damp paper towel, heat for 45 seconds flip and heat for 45 seconds more.
To heat in the oven place chicken in an oven safe dish. Preheat oven to 325 degrees F. Lightly coat the chicken with olive oil, heat uncovered for 25 minutes.
These chicken legs are sooooo crispy and DELICIOUS! We just had this recipe again for the second time this month which means it's definitely a KEEPER. 😉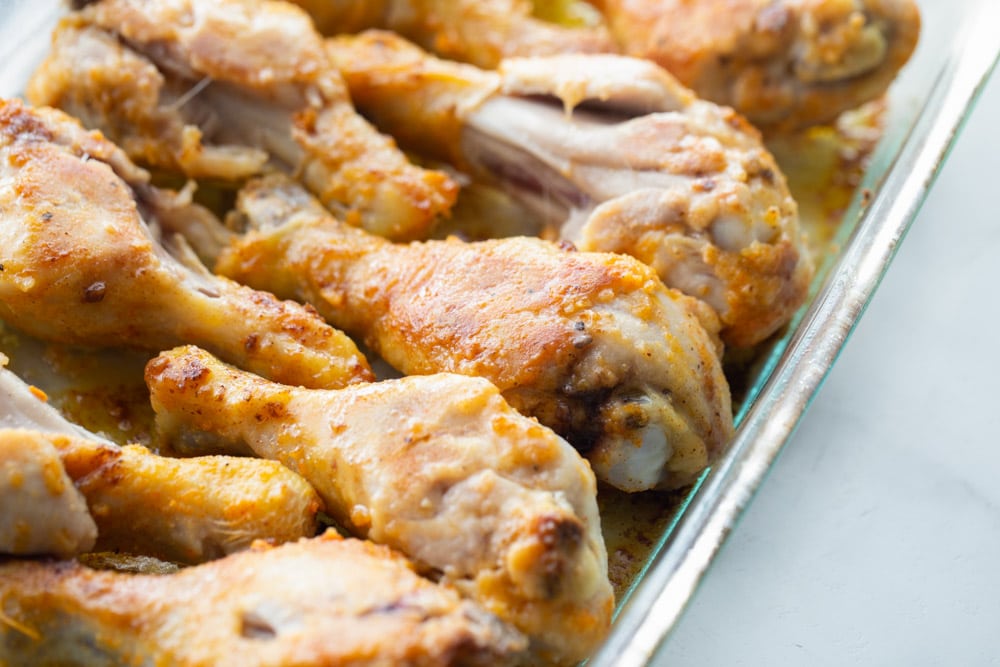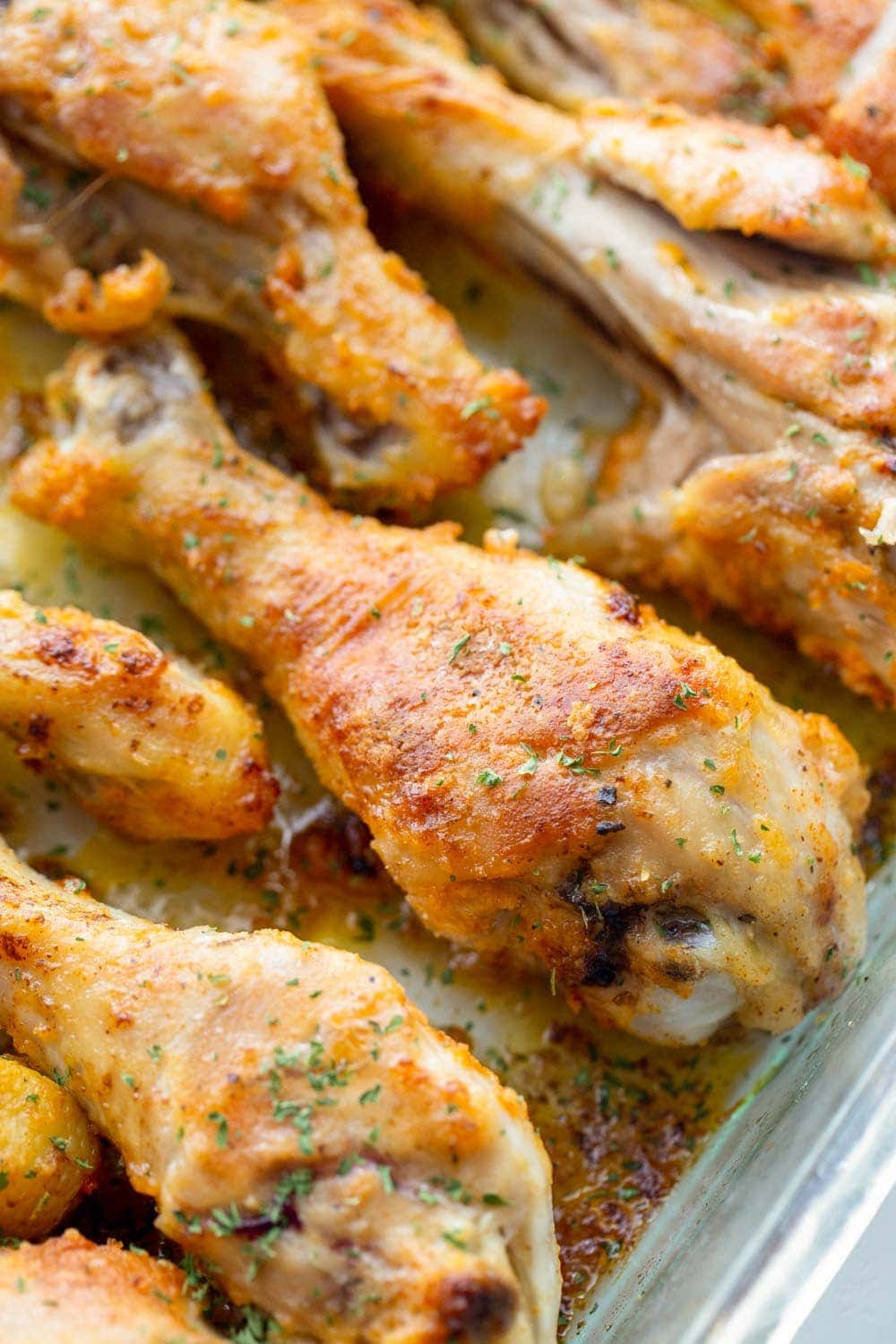 what to serve with drumsticks:
For more great chicken recipes, check out:
Baked Drumsticks Recipe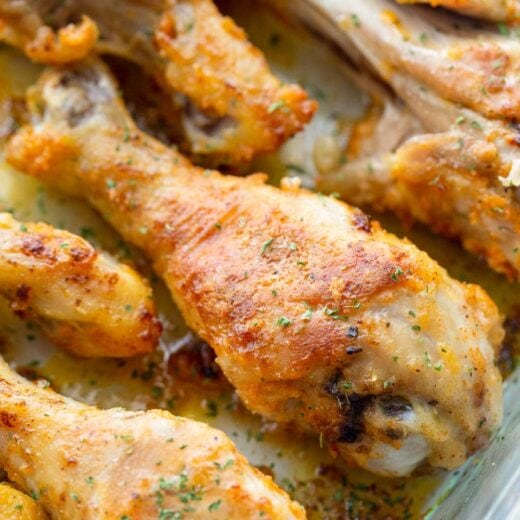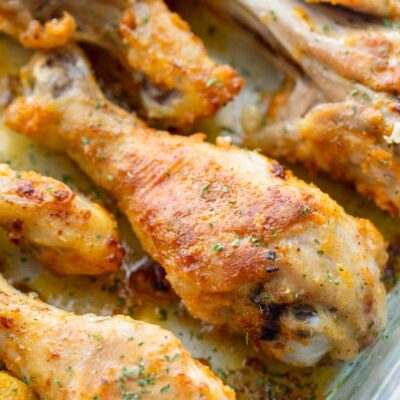 Oven baked chicken drumsticks are a healthy alternative for fried chicken lovers! They are seasoned to perfection and baked, not fried!
Ingredients
Instructions
Melt butter in a 9x13 baking dish in the oven.


While butter is melting, stir together Bisquick, paprika, salt and pepper in a bowl. Coat each chicken drum and place in 9x13 with melted butter.


Spray with butter before putting in the oven and once during baking.


Bake for 30 minutes, flip and bake an additional 15-25 minutes. ENJOY!!
Notes
Tried and True Findings:
DIFFICULTY: simple
HOW MANY DOES IT FEED: 6-8
ANY CHANGES MADE:  used more butter, baked for longer
ANY SUGGESTIONS FOR NEXT TIME:  none
Adapted from bettycrocker.com.