A collection of the most popular Chicken Breast Recipes – from baked to sauteed. This collection will be perfect to save in case your family loves chicken for dinner as much as we do!
More Collections: Family Dinner Ideas, Dinner Ideas for Kids, Quick Dinner Ideas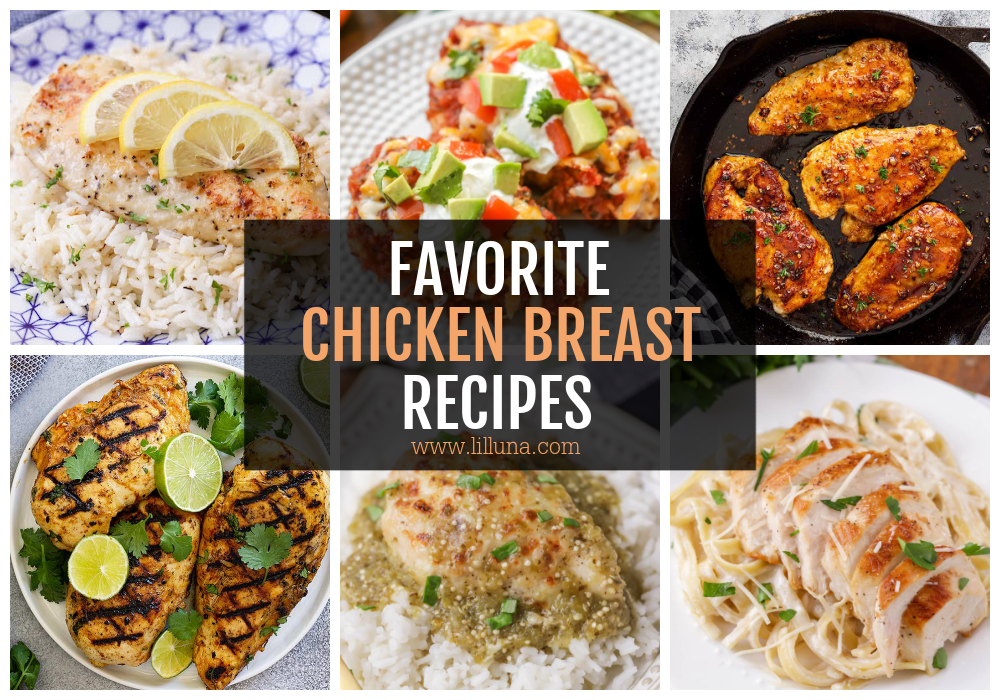 Our Favorite Cut of Chicken
From easy Chicken Breast Recipes to healthy or stuffed, this compilation will be your go-to list! Baked Teriyaki Chicken to Chicken Parmesan, we have a delicious collection your whole family will love.
We have chicken for dinner more than any other meat. It's healthy and something my entire family will eat. It's also inexpensive (especially when bought on sale) and can be frozen and thawed whenever you're ready to prepare it.
Before we delve in to the recipes, we wanted to make sure you knew all the basics for baking and cooking with chicken breasts.
Seasoning suggestions
Curious what SEASONINGS to use on your chicken? It depends on what you like most and what's already in a recipe, but for a chicken breast without all the cheese and toppings we like to add:
a little olive oil
garlic salt
pepper
Italian seasoning
lemon pepper
lemon juice
paprika
cayenne
For sauces, we love our teriyaki sauce, bbq sauce, and homemade pesto.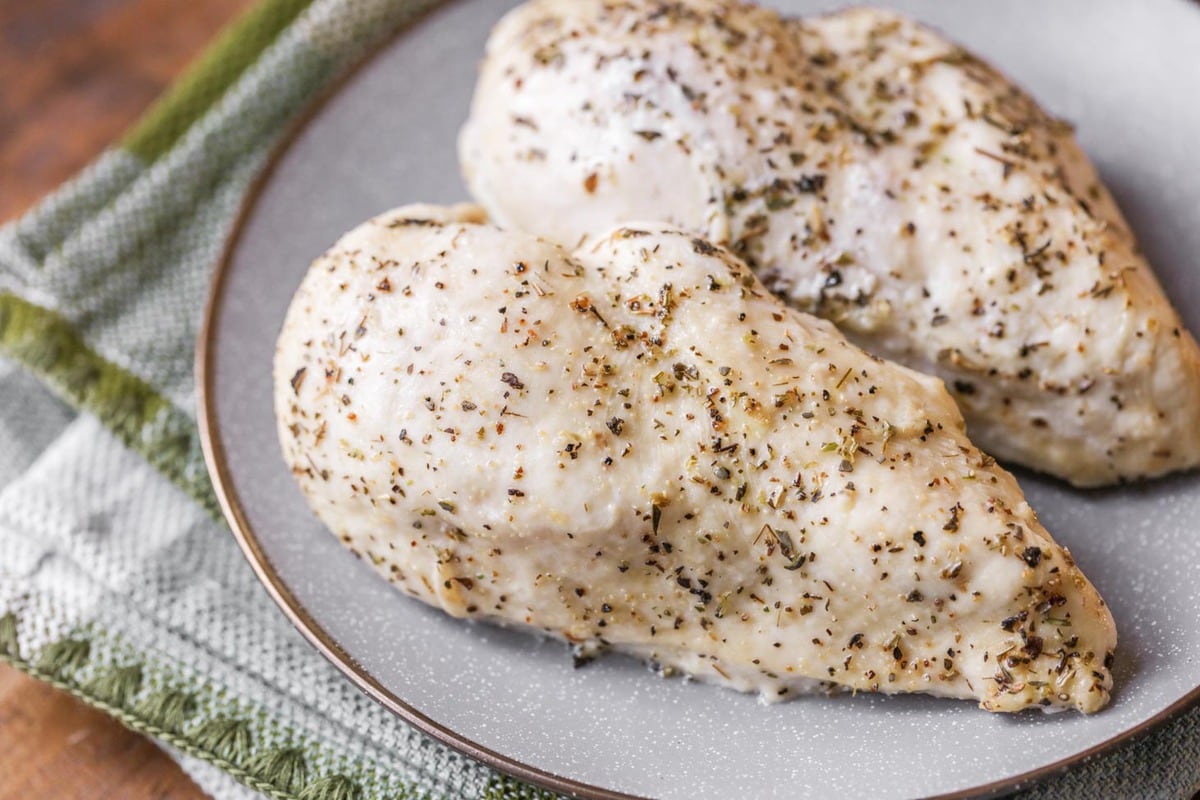 How long to Bake Chicken Breasts
There are many questions you may be wondering when making oven baked chicken breast, but the most common one is – how long to bake it? There are some factors that go into this including how thick the meat is, what temperature you're cooking on, etc.
General TIMES and TEMPS that we use when baking chicken breast:
350 degrees: 30 – 35 minutes
375 degrees: About 30 minutes
400 degrees: 25 minutes
425 degrees: 20 – 25 minutes
How thick your chicken is may mean adjusting cook times, but we recommend keeping that in mind. If there lots of ingredients on top of your chicken, it also may need a longer baking time so refer to each recipe for cook times.
Don't overbake: When cooking chicken, cook to an internal temperature of 160°F then allow it to sit for a few minutes before serving. This resting time will allow for all the flavors and juices to disperse through the breast. The temperature will also rise the final 5 degrees needed for a perfect cook.
Overcooking can cause the chicken to dry out and become rubbery.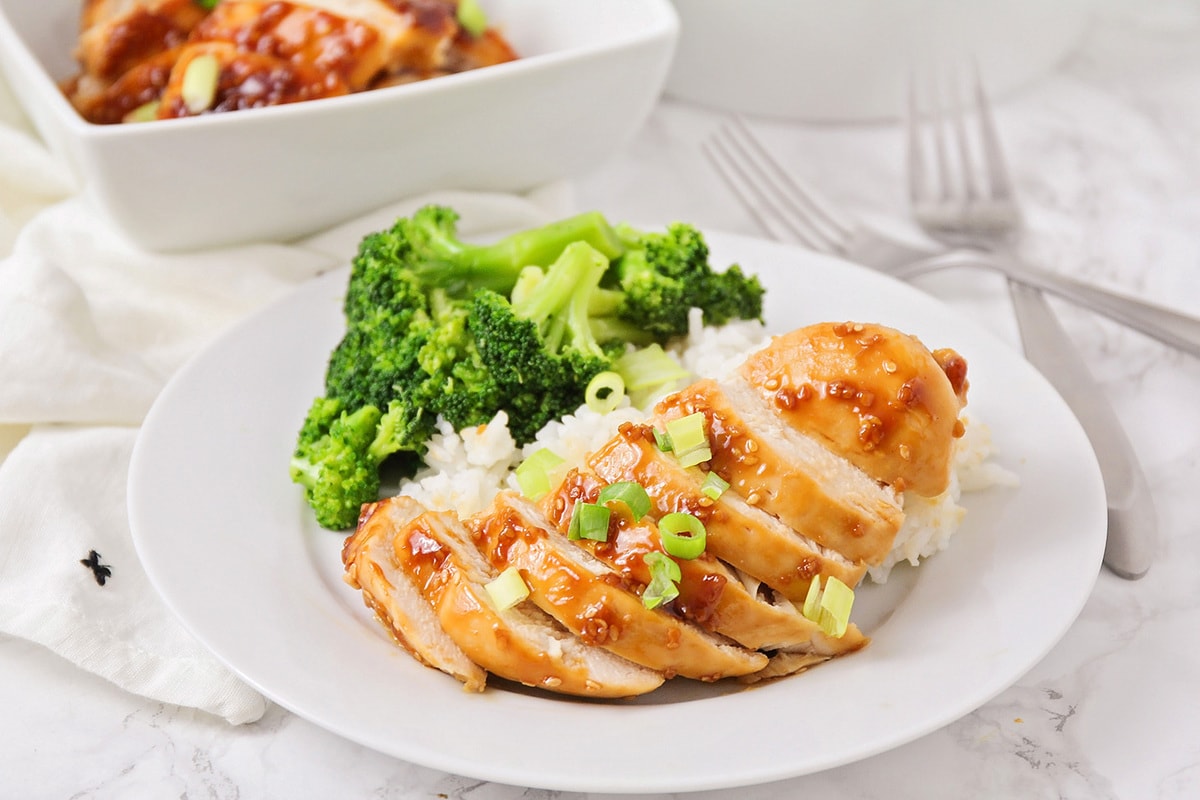 Pan Fry Time for Chicken Breast
Allow chicken to come to room temperature for 20-30 minutes before cooking. Bring oil temperature to 350°F. Place breasts in. Once it begins to brown, reduce the heat to medium low. Continue cooking for:
Bone in fry for 15-20 minutes, flipping halfway.
Boneless fry for 8-10 minutes, flipping halfway.
Allow them to rest for 8-10 minutes.
Making SUre Chicken Comes out Moist
No one wants dry chicken, so try these tips for juicy chicken breast every time!
Preheat: Whether you're baking in the oven, cooking in a pan or grilling outside, be sure that you have it preheated so the chicken can immediately begin cooking.
Skin on: Leaving the skin on the chicken breast will help keep juices inside yielding a moist dish.
Even Thickness: Chicken breast is naturally thicker in the upper section, then thins out toward the tip. The thicker part of the chicken breast will need longer to cook causing the meat near the tip to overcook. You can use a kitchen mallet to pound the thick part so that it is more even throughout.
Brining or Marinating will help tenderize and keep the chicken more moist.
Rest Time: This isn't just so the chicken can cool a bit so you won't burn your mouth. It's really important to allow time for the flavors and juices to distribute evenly as well as allow the temperature to rise the final 5 degrees.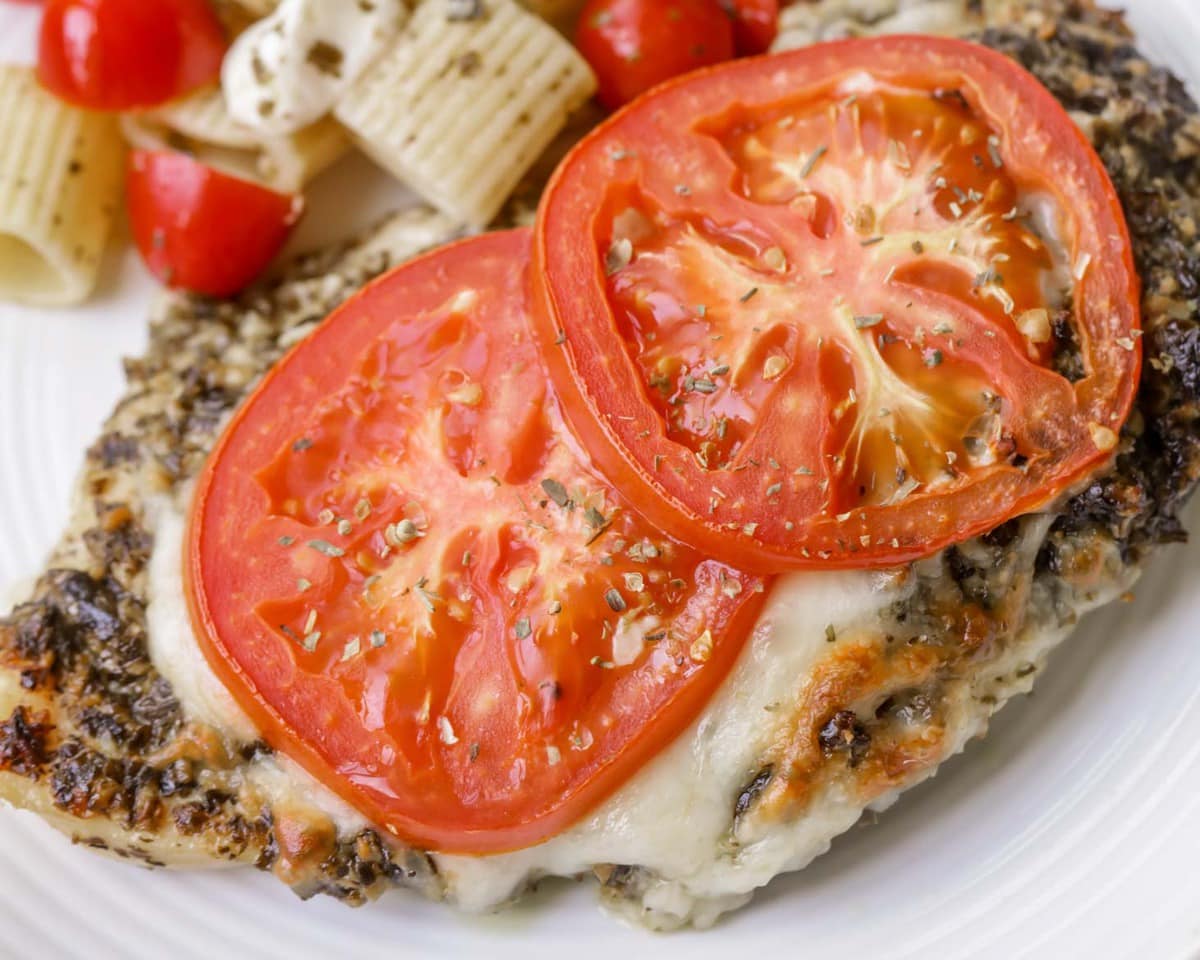 Boneless or Bone In
Bone in chicken breasts have the skin and rib bone attached. Leaving the skin on keeps the chicken moist and juicy and, depending on the way it is cooked, can give a nice crunchy texture. The bone helps distribute heat evenly throughout the cut of meat which also helps keep these chicken moist and tender.
Boneless Skinless are great choices for meals that call for pieces of chicken, like casseroles, soups, stews, pastas, stir frys, and more. They cook more quickly than bone in breasts so be watchful when grilling or baking so be careful they don't overcook.
Grill time for Chicken Breast: Allow chicken to come to room temperature for 20-30 minutes before cooking.
Bone in: Grill over direct heat for 5 minutes per side, then move to indirect heat and cook for another 30-35 minutes flipping it every 10-12 minutes until done.
Boneless (¾ inch thickness): Grill over high heat for a total of 5-12 minutes. Be sure to flip once halfway through.
Storing info
STORE. To be safe, you can keep raw chicken in the fridge for 1-2 days after purchasing it. However, I have kept it in the fridge for 3 or 4 days and been fine. Use your best judgment as well as pay attention to how it looks, feels and smells.
FREEZE. Thankfully, if you are not going to be able to use the raw chicken within a few days, it can be frozen for 9 months. I place each chicken breast into a fold top sandwich bag and then store them together in a freezer Ziploc. Label and include the date it was stored.
Cooked chicken breast. Leftover chicken can be kept in an airtight container in the refrigerator for 3-4 days or in a freezer safe container for up to 6 months. Note that the storage time for chicken cooked with other ingredients may differ.
---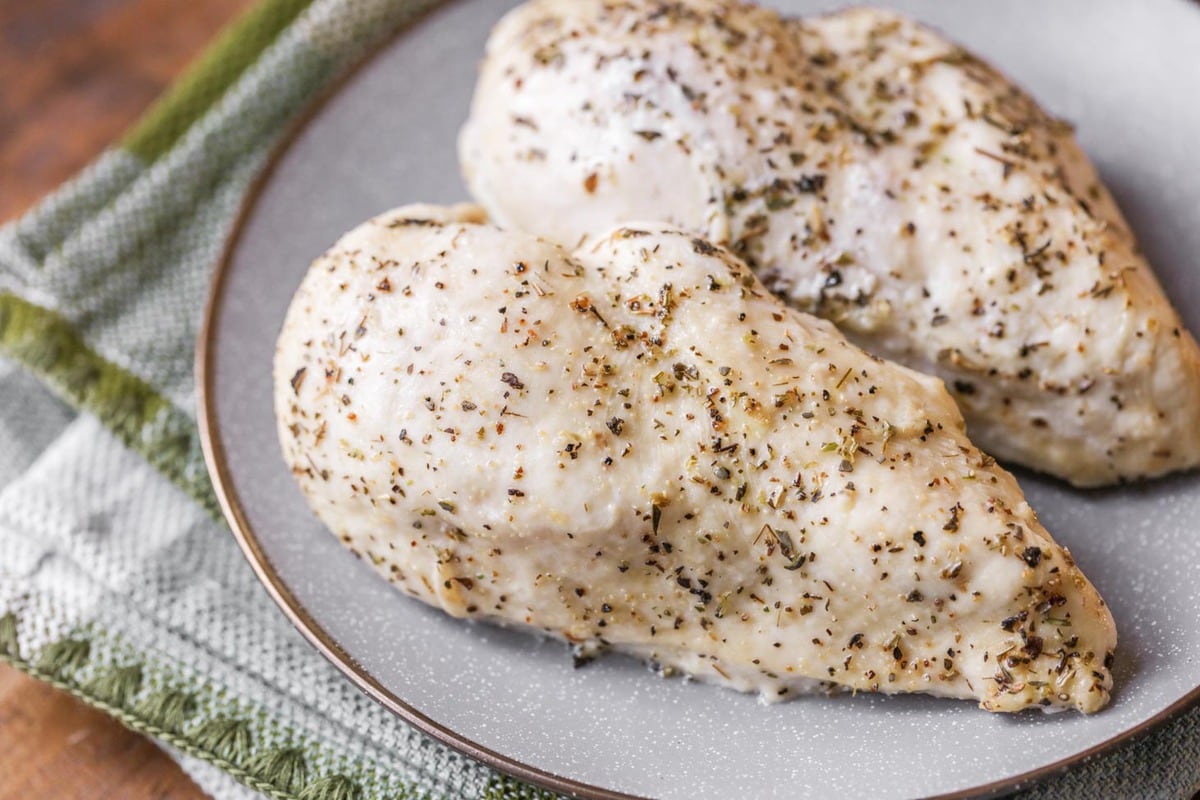 Easy Chicken Breast Recipes
Everyone loves a good chicken recipe for dinner, but what's even better is if it's BEYOND SIMPLE. Right? We wanted to share with you our favorite easy chicken breast recipes that take just minutes to prep and are great for weeknight dinners. Most are made in the oven and baked to perfection but you'll love just how easy they are.
Oven Baked Chicken – Baking a perfectly tender and flavorful chicken breast is easier than you think! You can easily bake chicken in the oven, and use it in casseroles, soups, and salads!
Bruschetta Chicken – Baked Bruschetta Chicken is marinated in Italian dressing and topped with cheese. It is simple and delicious!!
Salsa Verde Chicken – Juicy Salsa Verde Chicken is moist and delicious. It is simple with the perfect level of spice, for a quick and tasty dinner option!
Green Chili Chicken – Green chili chicken is easy and delicious. Topped with cheese and green chili sauce guarantees it will become a new favorite in no time!!
Salsa Chicken – Salsa chicken is your ticket to a 30-minute meal that the whole family will love! And it's all baked in one pan for easy clean up!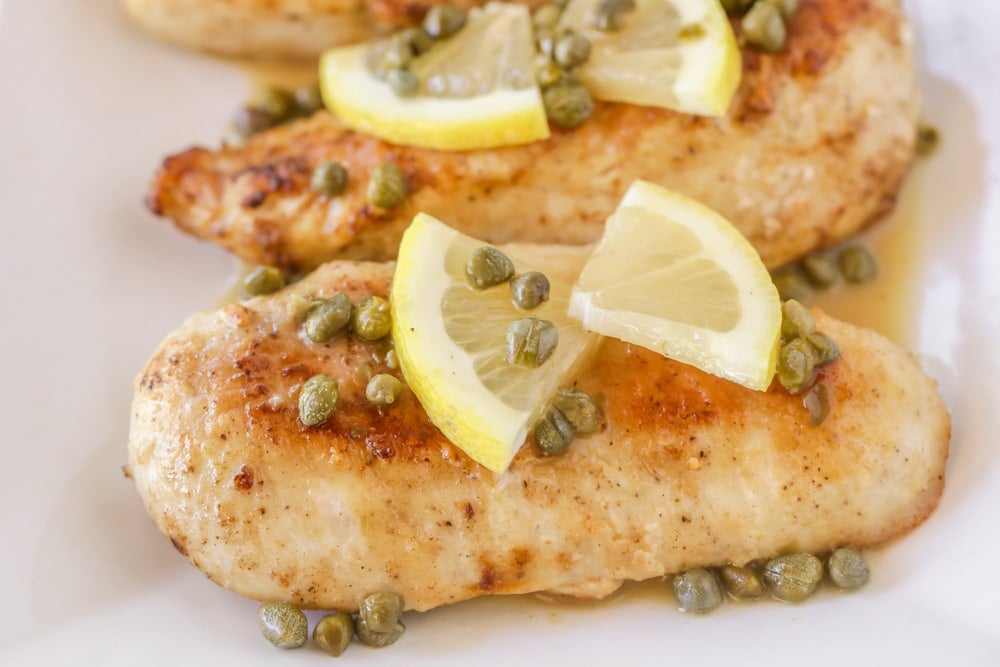 Chicken Piccata – Chicken Piccata is flavorful and beyond easy to make! This tasty dish requires surprisingly few ingredients and is cooked in a lemon butter sauce topped with capers.
Chicken Scallopini – This Chicken Scallopini is a delicious dish of crusted chicken over lemon butter pasta. The flavorful, butter chicken and pasta combo is irresistible and perfect for dinner any night of the week.
Ranch Chicken – Chicken breasts with potatoes and carrots, tossed in ranch seasoning and baked to perfection. This delicious dish is SO simple, quick, tasty, and allows you to cook your meat and sides in one shot!
Chicken Alfredo – Cheesy chicken Alfredo pasta is a go-to dinner meal in our house. Creamy sauce mixed in with fettuccine pasta and sautéed chicken. A one-pot meal that the whole family will enjoy!
Baked Pesto Chicken – Chicken breast halves covered in basil pesto, baked with mozzarella cheese and tomatoes. So easy, but SO delicious!
Lemon Garlic Chicken – This Lemon Garlic Chicken is ready in 15 minutes or less! It's a great weeknight chicken dinner that is full of flavor and tastes great over rice!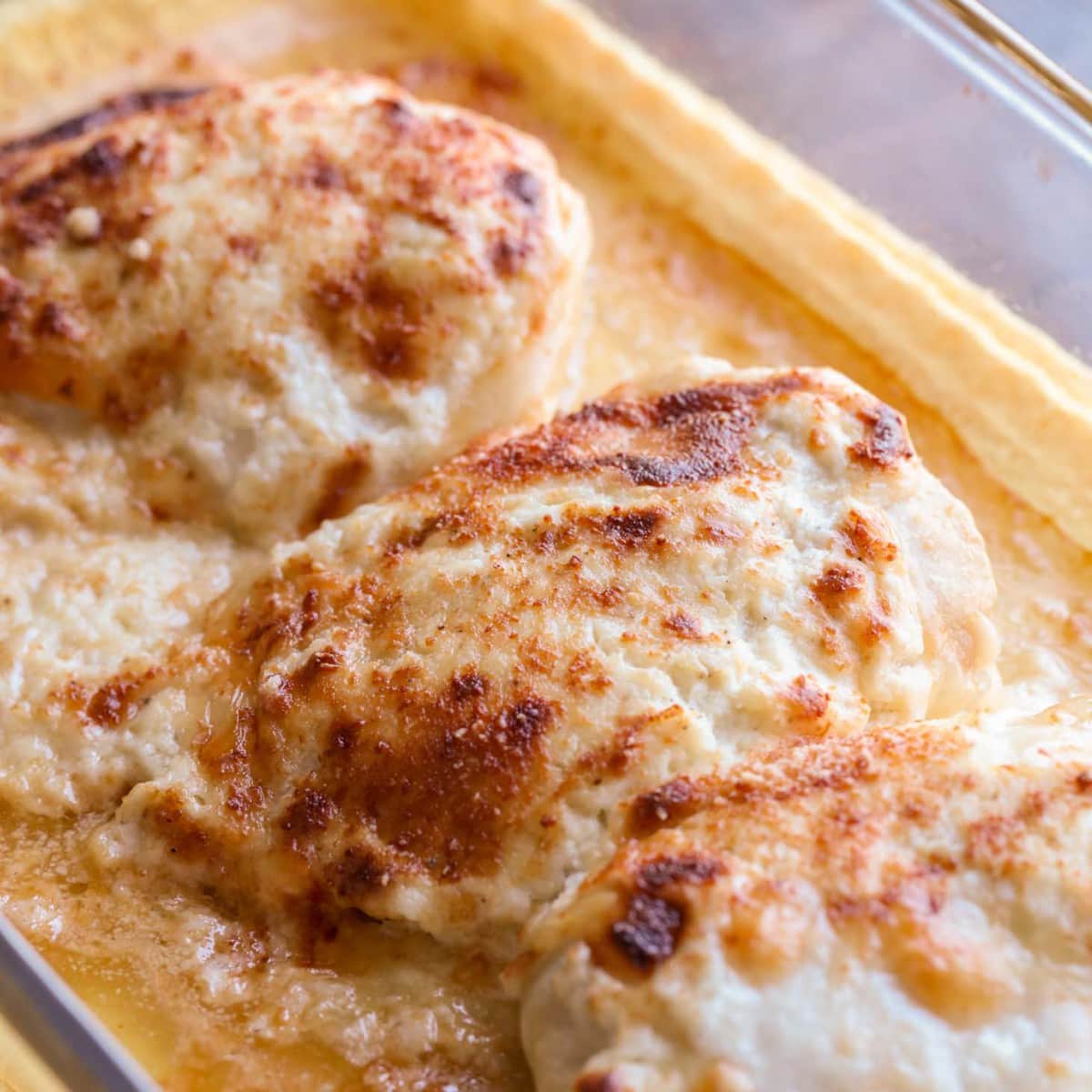 Baked Chicken Breast Recipes
We bake most of our chicken breast recipes, which is why we have so many.
These baked chicken breast recipes are simple, but have some homemade sauces or a few added ingredients to make them delicious. Here are a list of our go-to chicken recipes to bake in the oven, that are especially great for company or holidays.
Creamy Swiss Chicken Bake – Delicious Creamy Swiss Chicken Bake – a simple and delicious dinner recipe that includes Swiss and Parmesan cheese.
Baked BBQ Chicken – Easy and healthy Baked BBQ Chicken – You can whip up the sauce, pour it over some chicken breasts, pop it in the oven and you're done!
Baked Chicken Parmesan – This Baked Chicken Parmesan is one of the yummiest and easiest dinner ideas you'll ever try!! Breaded chicken covered in marinara sauce and topped with melted cheese—great served over pasta!
Baked Teriyaki Chicken – Chicken breasts, or thighs, smothered in a sweet and tangy homemade teriyaki sauce and baked in the oven. Serve Baked Teriyaki Chicken over rice for a complete meal!
Mexican Chicken – Mexican chicken is topped with salsa and cheese for a tasty quick meal. It takes chicken to the next spice level!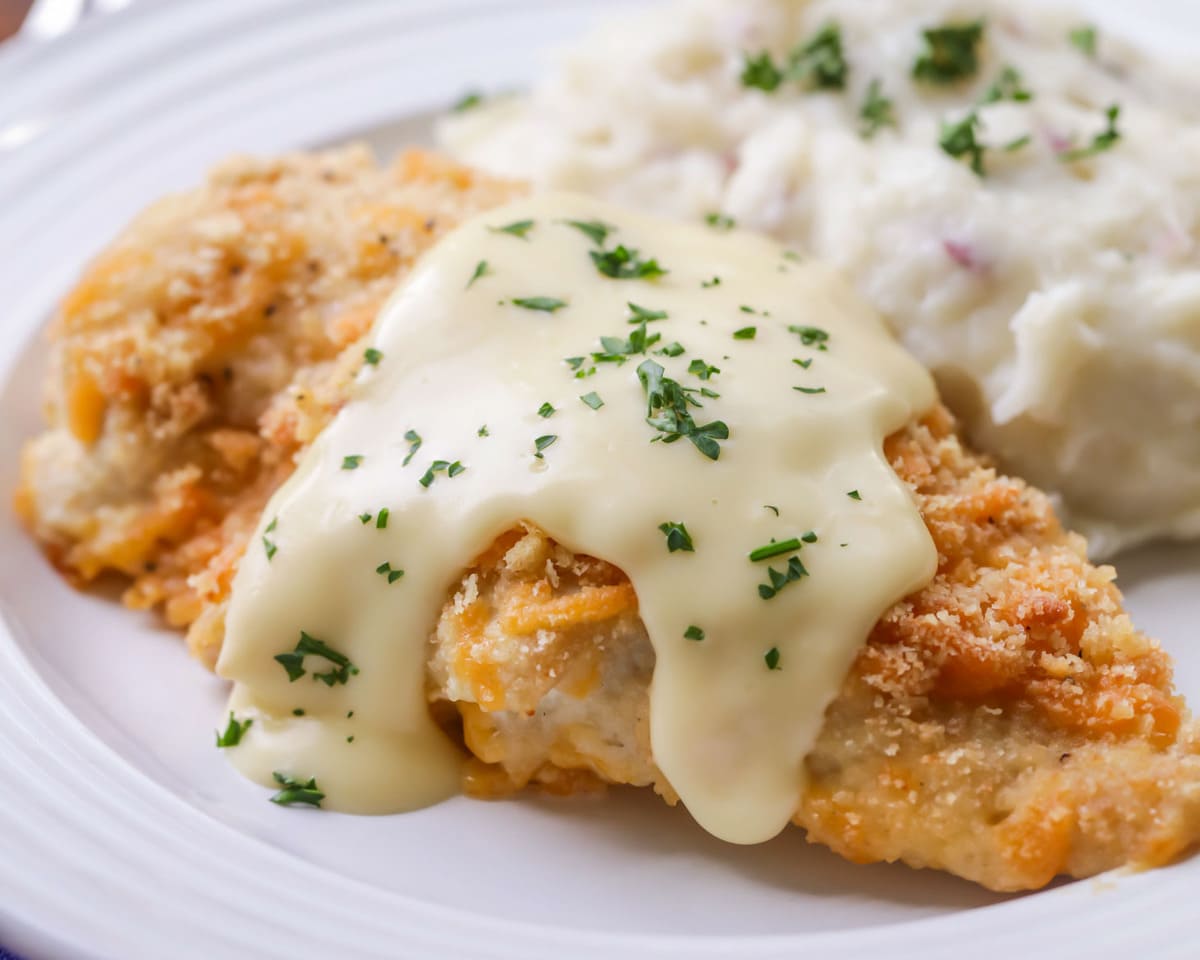 Ritz Cracker Chicken – Crispy Cheddar Chicken is coated in sour cream, cheddar cheese, and Ritz cracker crumbs and baked to crispy perfection. Top it with a creamy sauce, and it's to die for!
Chicken Parmigiana – Tasty chicken parmigiana is hearty and filling crispy chicken a top a bed of pasta covered in a rich homemade tomato sauce.
Baked Parmesan Crusted Chicken – This Baked Parmesan Crusted Chicken has the perfect hint of lemon, and is oven baked to perfection – crispy on the outside, tender on the inside!
Baked Ranch Chicken – Change up your typical chicken dinner by making this Crispy Baked Ranch Chicken! Chicken breasts seasoned in Hidden Valley ranch mix, garlic salt, lemon pepper, parmesan cheese, and panko, then baked in the oven. This is a meal the whole family approves of – and it's SO simple!
Buttery Baked Chicken – Creamy Buttery Baked Chicken is simple and full of flavor. It is another great dinner idea for any occasion!!
Mayo Parmesan Chicken Bake – A delicious Parmesan Chicken Bake that is simple, yet full of flavor, and takes little prep time.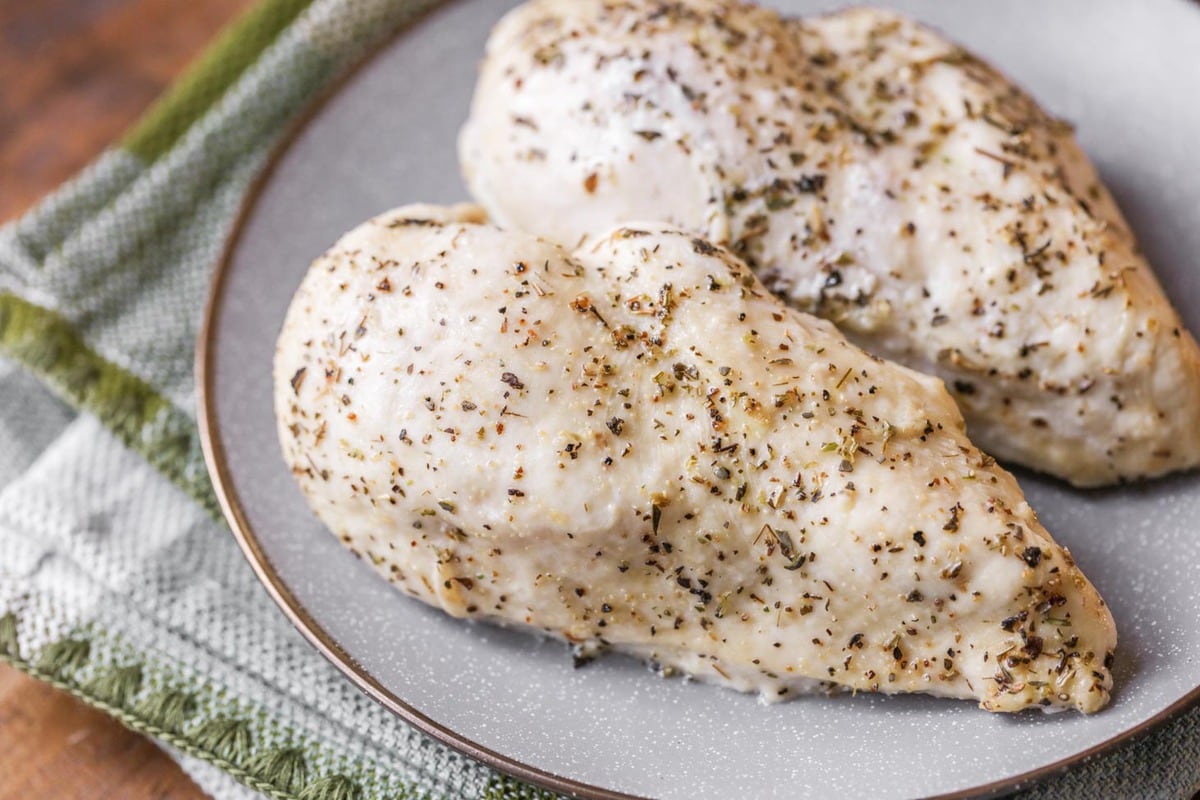 Healthy Chicken Breast Recipes
Whether it's sauteed, grilled or baked, it's nice to have some chicken breast recipes that are on the healthier side. You can always make things healthier by using less sauce or cheese, but the following recipes are simple, light and still delicious. We love making these recipes through out the week and especially when we are being more health conscious.
Oven Baked Chicken – Baking a perfectly tender and flavorful chicken breast is easier than you think! You can easily bake chicken in the oven, and use it in casseroles, soups, and salads!
Lemon Chicken with Veggies – Roasted Lemon Chicken with Veggies including green beans and red potatoes. One of the easiest and yummiest dinner recipes!
Skinny Chicken Parmesan – This "Skinny" healthy Chicken Parmesan has all the tasty goodness of the classic meal, without the extra calories!
Bruschetta Chicken – Baked Bruschetta Chicken is marinated in Italian dressing and topped with cheese. It is simple and delicious!!
Lemon Pepper Chicken – Flavorful and tender Lemon Pepper Chicken is simple and requires just a few ingredients. Served on its own or over rice, this buttery chicken dish is perfect any night of the week for a simple, quick dinner idea.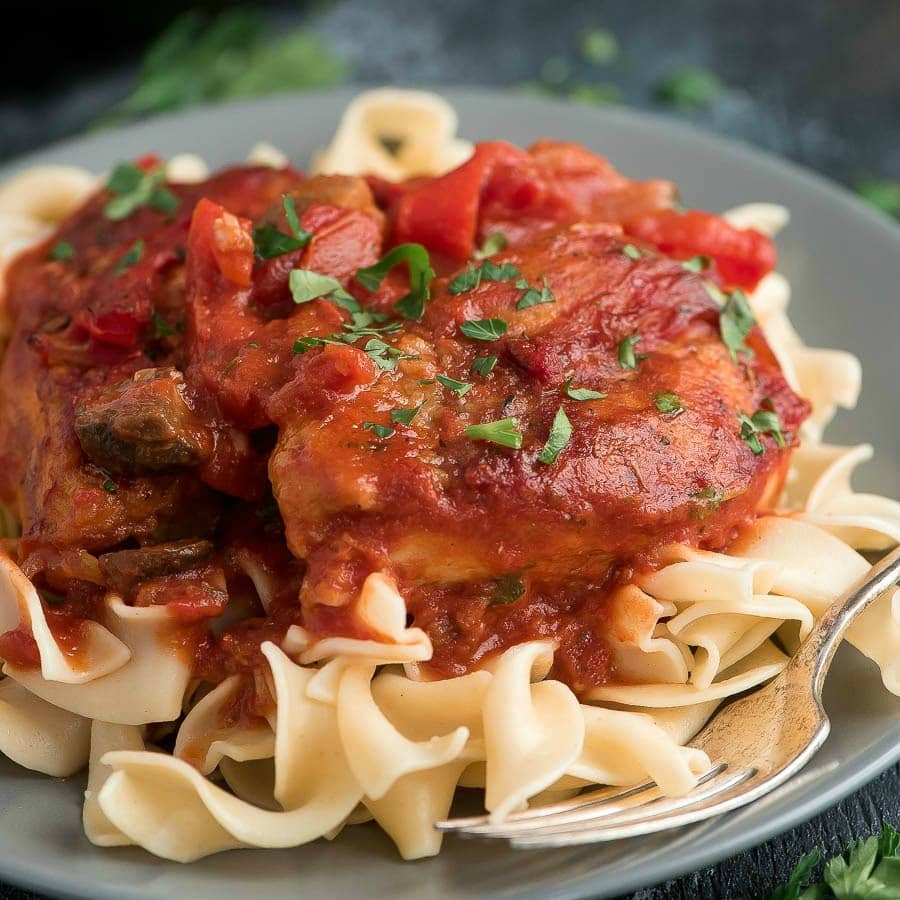 Chicken Cacciatore – Enjoy a lean version of your favorite 'hunter-style' chicken in this Chicken Cacciatore with mushrooms, onions, and red bell pepper.
Healthy Chicken Piccata – This "Skinny" Chicken Piccata is easy enough to make on a busy weeknight but also fancy enough to make when you have company over! Plus it's a healthy version, which makes it even better!
Chicken Souvlaki – Chicken Souvlaki is a savory kabob infused with Greek flavors. With marinated chicken, onions, and peppers, it's hearty and delicious.
Baked Honey Mustard Chicken – This Honey Mustard Chicken Recipe takes less than 30 minutes to bake, is full of flavor, and will please the whole family! Not to mention, it's cooked on a single sheet pan with delicious vegetables, making it easy AND healthy.
Cilantro Lime Chicken – This Cilantro Lime Chicken is full of flavor and an easy weeknight meal. Fresh lime juice, cilantro, and loads of fresh garlic make a flavorful marinade!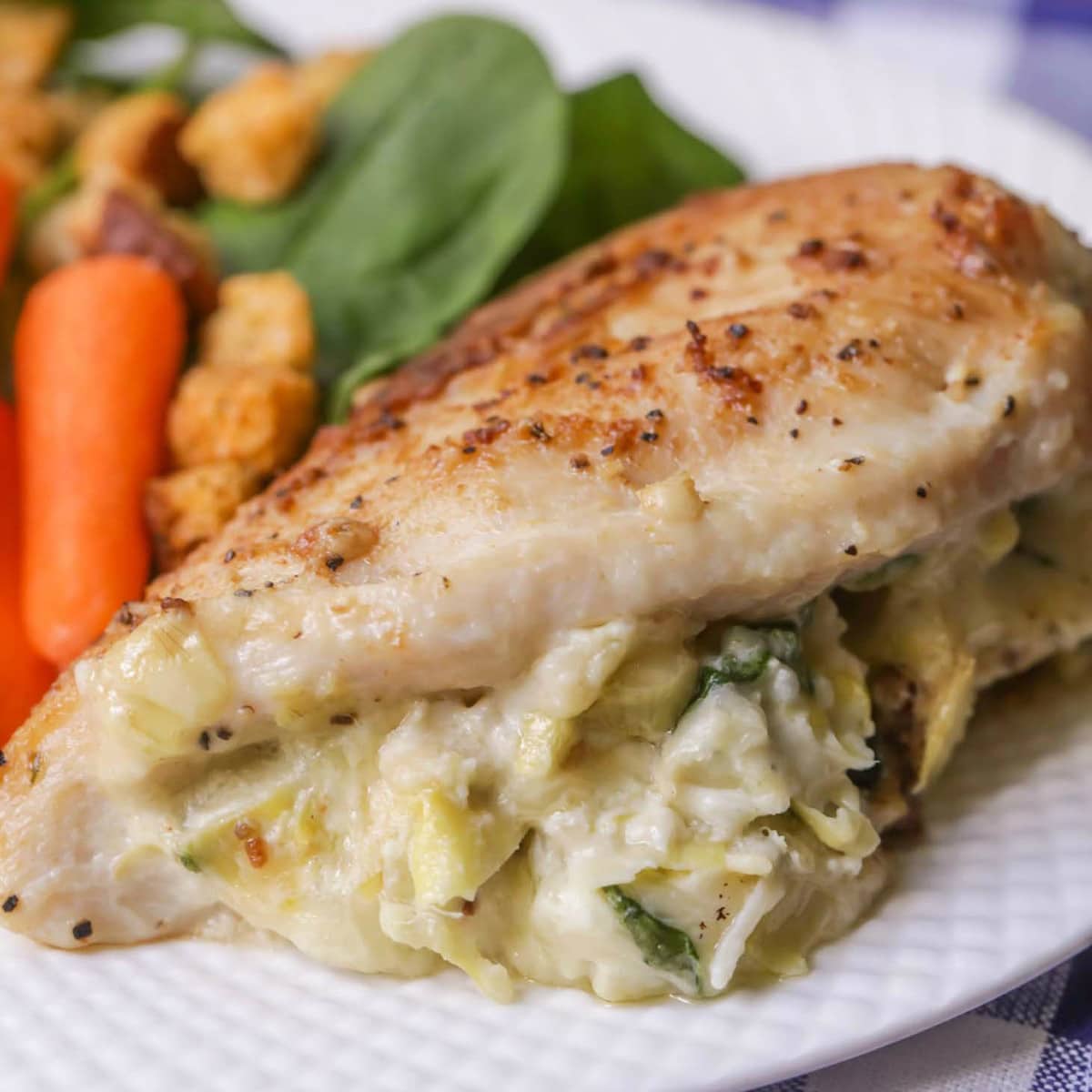 Stuffed and cubed Chicken Breast Recipes
These delicious stuffed chicken recipes will take your dinners to the next level! They're so easy you won't need to wait for a special occasion to make them.
Cubing chicken breast and adding it to a variety of sauces kicks it up a notch. They're way better than take out!
Spinach Artichoke Stuffed Chicken – Cheesy Spinach Artichoke Stuffed Chicken is delicious and tender. It is stuffed and baked to perfection in under 30 minutes!
Stuffed Chicken Parmesan – Chicken breasts stuffed with spinach and cheese, coated in Ritz crackers and topped with marinara and mozzarella cheese, it will be a family favorite!
Easy Chicken Cordon Bleu – Easy Chicken Cordon Bleu is deliciously breaded chicken filled with ham and cheese. It's a family favorite recipe baked to perfection!!
Honey Chicken – With a bit of spice and sweetness, this Honey Chicken recipe is great served with rice or noodles. Add your favorite veggies to make it even better!
Orange Chicken – Skip the takeout and eat in with this incredibly tasty orange chicken dish! Sweet and spicy pieces of tender chicken in every bite.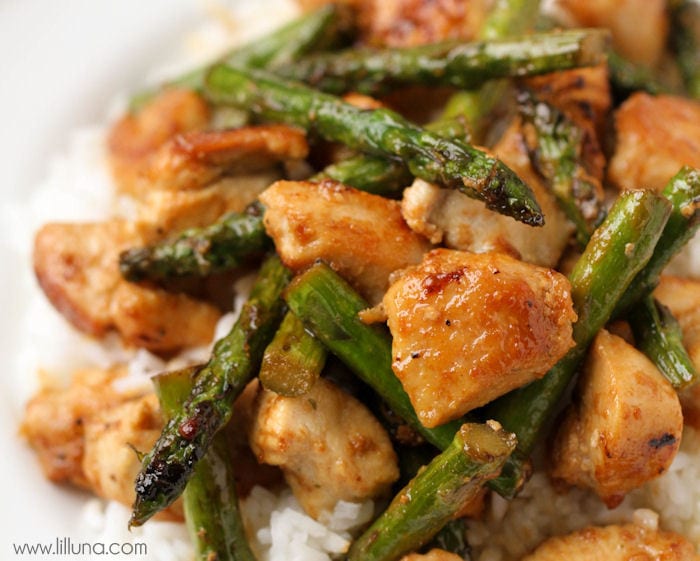 Chicken And Asparagus Stir Fry – Healthy and delicious Lemon Chicken and Asparagus Stir Fry is packed with lots of delicious flavors. It's simple and super easy too!
Chicken Stir Fry – The tender chicken and flavorful sauce with yummy veggies made this stir fry dish a keeper, and I'm already anxious to try it again.
Baked Sweet And Sour Chicken – Baked Sweet and Sour Chicken is one of our family's favorite Asian recipes! You can add pineapple and peppers and serve with rice or noodles to complete this flavorful dish!
Kung Pao Chicken – This dish is filled with chicken and nuts and is covered in an amazing sauce, topped with green onions and perfectly served over rice.
Chinese Lemon Chicken – This Chinese Lemon Chicken is simple to make with sweet and tangy Asian flavor. It's amazing served over rice or noodles!
---
the complete list
Here are the picture cards for ALL of the fabulous Chicken Breast Recipes listed above.
You can never go wrong with making dinner with chicken breasts. We tend to get the trimmed pieces that are more thin because they're great to work with. We'd love to know which recipes are your favorites! ENJOY!
---
More Collections: Chicken Pasta Recipes, Chicken Dinner Ideas, Mexican Chicken Recipes