My family loves chicken for dinner! We don't eat a lot of beef or pork, so chicken, turkey, and fish are our main sources of protein. I love that chicken is so versatile and easy to cook! It's great in everything from tacos to stir fries, and my kids love it. Baked Parmesan chicken breasts are one of my favorite main dishes, and I love coming up with new flavor combinations. This lemon parmesan baked chicken is fantastic! It has a crisp lemon and parmesan coating on the outside, and the chicken is tender and flavorful. Best of all, it's super easy to make, and perfect for a busy weeknight!
You'll start by preparing your chicken breasts, then letting them sit in a mixture of beaten eggs and lemon juice to soak in some lemon flavor.
Next, you'll dip the chicken in a mixture of bread crumbs, lemon zest, and parmesan cheese. Place the chicken pieces on a baking sheet lined with parchment or foil, and spray with cooking spray. The cooking spray helps them get crisp and golden brown in the oven.
The chicken comes out of the oven crispy and golden brown, and smells so good!
MY OTHER RECIPES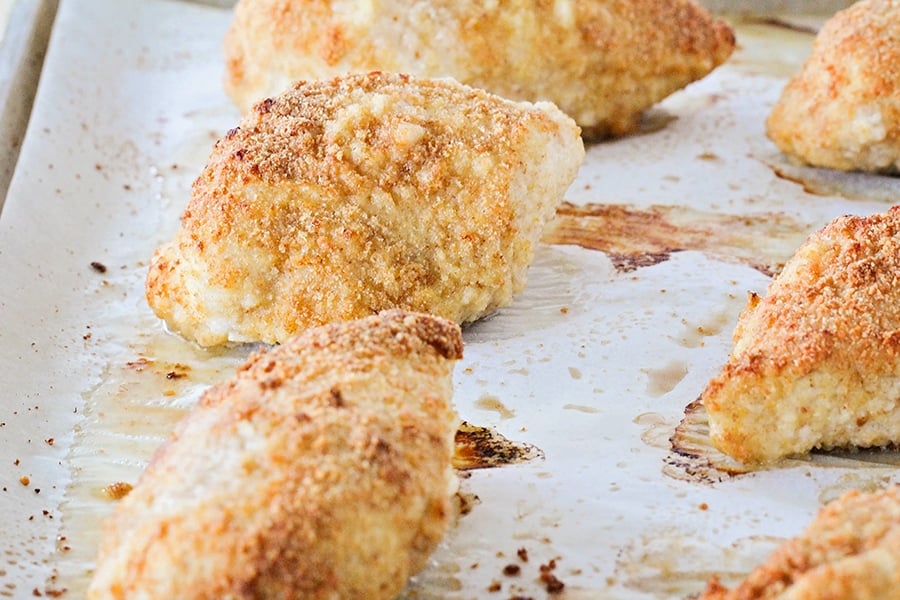 I like to serve them with a lemon slice on top to add a little extra lemon flavor. These lemon parmesan baked chicken breasts are so tender and flavorful, and they were a huge hit with the whole family! I served them with mashed potatoes and a green salad on the side, and it was a delicious and easy meal. This is definitely one that we'll make again and again!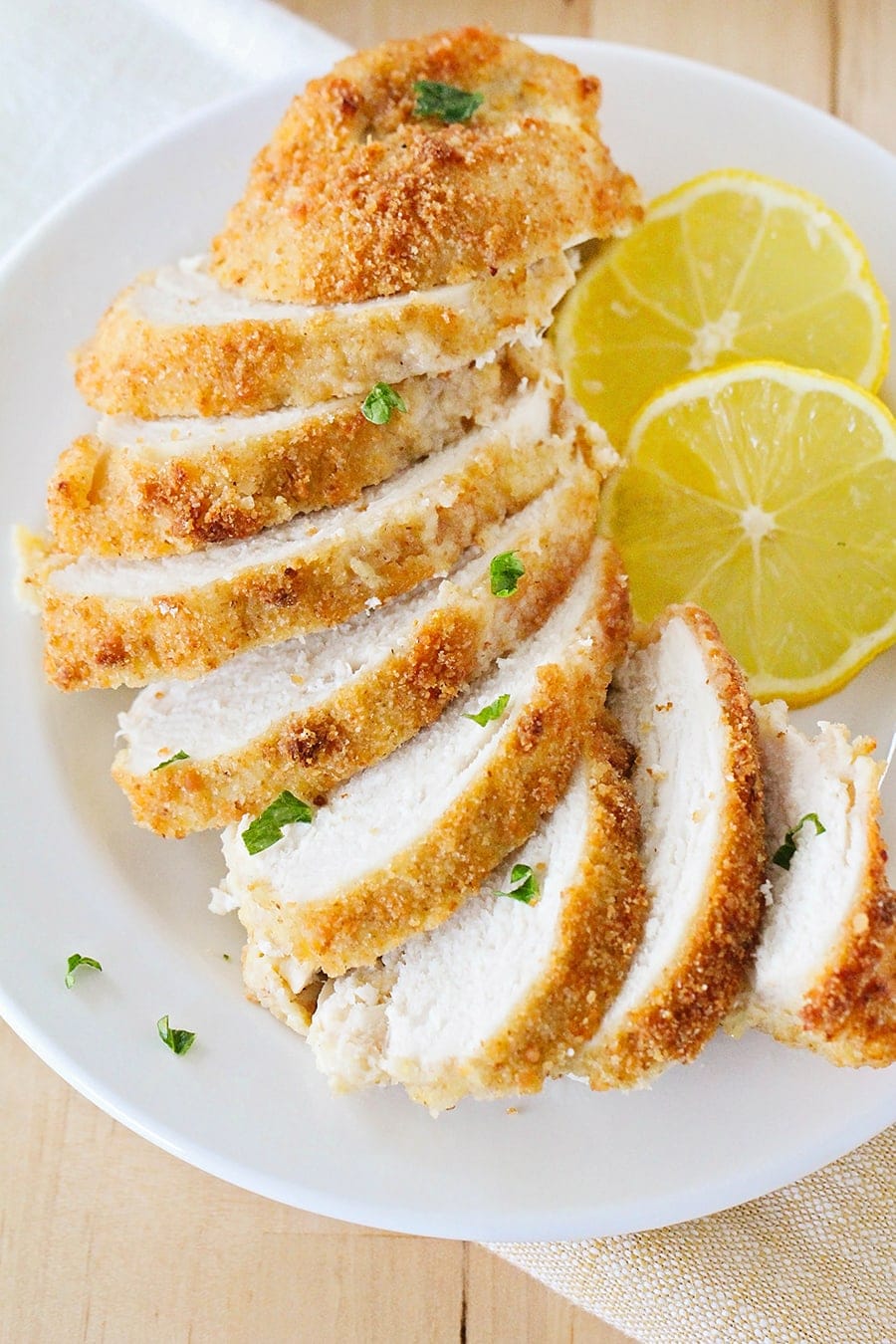 Baked Parmesan Chicken:
Lemon Parmesan Baked Chicken
Lemon Baked Parmesan Chicken - tender, delicious chicken that is full of flavor! A hearty meal that the whole family will enjoy!
Author:
Alicia | The Baker Upstairs on lilluna.com
Ingredients
2 pounds boneless skinless chicken breasts
1 egg
2 tablespoons fresh lemon juice
1 cup bread crumbs
¼ cup grated parmesan cheese
zest of one lemon
2 teaspoons garlic powder
1 teaspoon salt
½ teaspoon pepper
fresh lemon slices, for serving
Instructions
Trim the chicken and cut into serving-size pieces. In a medium bowl, whisk together the egg and lemon juice. Place the chicken pieces in the egg mixture, cover, and refrigerate thirty minutes.
Preheat the oven to 400. Line a baking sheet with parchment or foil and set aside.
In a shallow dish, whisk together the bread crumbs, parmesan, lemon zest, garlic powder, salt, and pepper. Dip the chicken pieces into the bread crumbs, coating both sides. Place on the prepared baking sheet and spray with cooking spray.
Bake 15 minutes, flip, and bake an additional 10 minutes, until crispy and golden brown. Serve with fresh lemon slices.
This chicken looks like it will be a hit with my family! Thank you for sharing this yummy recipe, Alicia! Go visit Alicia over at 
The Baker Upstairs for more delicious recipes! 
Here is another great chicken recipe we love to make:
For more dinner recipes, check out:
ENJOY!!