Simple, flavorful, and healthy Oven roasted vegetables that take less than 10 minutes of prep work! Nothing beats yummy veggies roasted in the oven!
A go-to side dish for any dinner recipe. These veggies have similar baking times, so we like to make them together and the combo is great for any meal or even for a healthy snack. Be sure to check out our roasted red potatoes and roasted broccoli too!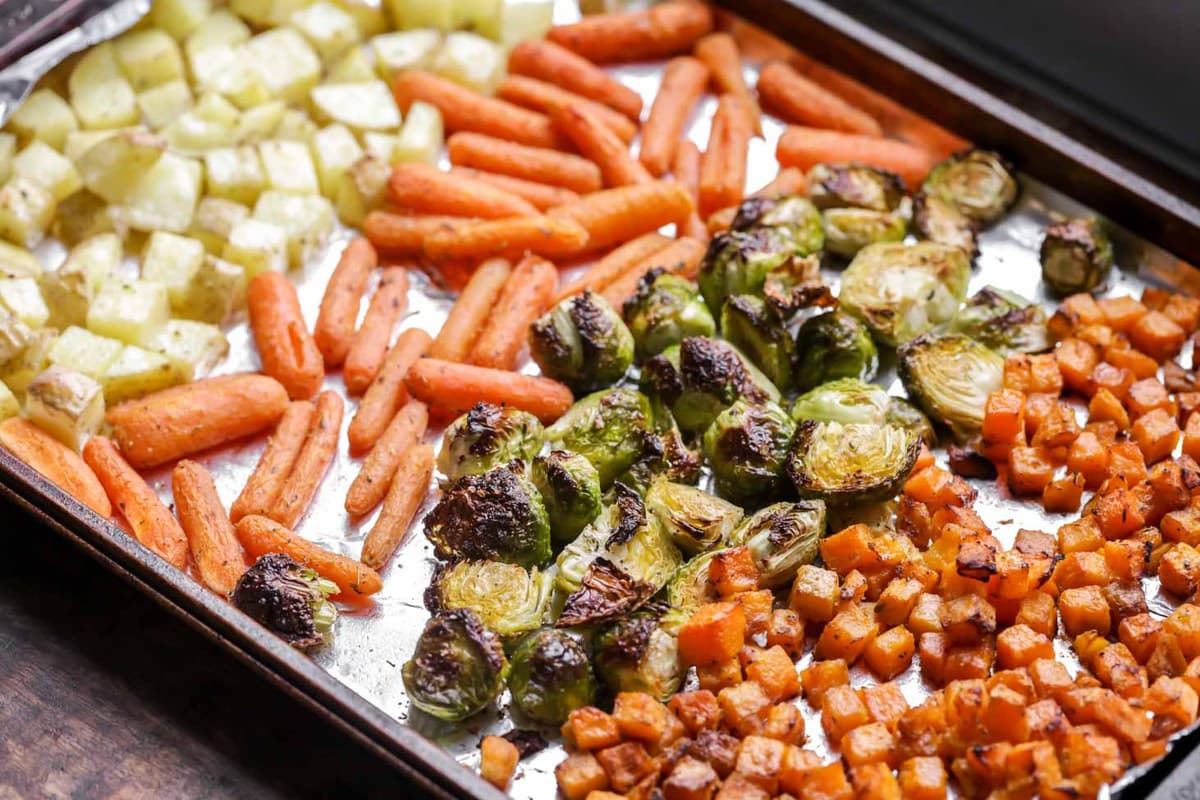 easy oven roasted veggies
Do you love to roast veggies? SO DO I! It's the easiest way to cook up my favorite vegetables to serve as a side dish for dinner, or eat solo as a light lunch.
Sometimes it's hard to find vegetables that can be roasted together since they typically have different roasting times. These four vegetables – potatoes, carrots, Brussel sprouts, and butternut squash- are perfect because they all take about 25-30 minutes to cook through.
Want to know why roasting vegetables in the oven is my favorite method?
Easy clean up! Line your baking sheet with foil for an even easier clean up! Just toss the foil when you're done. No dishes!
The flavor! The flavor is just unbeatable. I love the olive oil and the seasonings that go on top of the veggies.
Crispy veggies! I love the texture of my veggies when they are roasted. Crisp and cooked to perfection!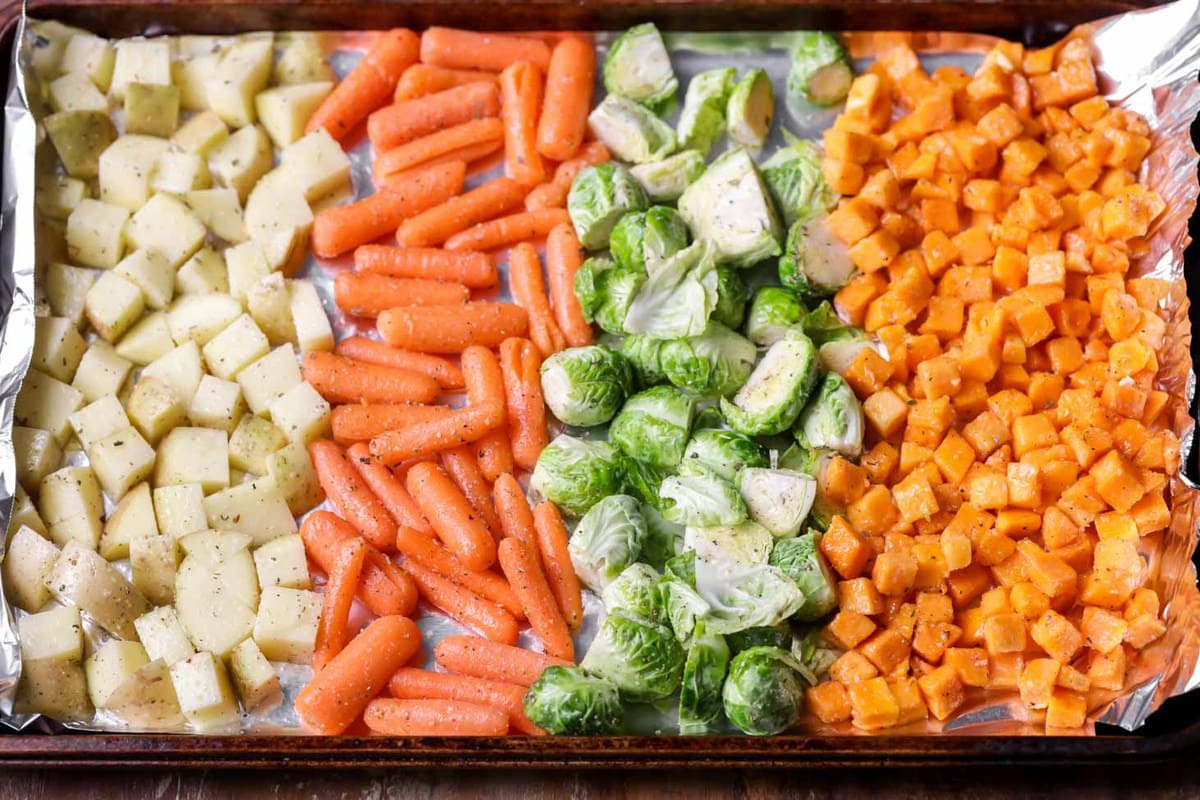 How to Roast Vegetables
A HIGH TEMPERATURE is best for roasting vegetables. Keeping your oven at around 425 degrees will be great for getting your veggies nice and crispy! So preheat your oven to 425 degrees while you prep your vegetables.
After you've prepped all of the vegetables, put them into in a bowl. Add in the olive oil, garlic salt, and Italian seasoning. Toss everything around to evenly coat the veggies. Make sure to use good olive oil- not vegetable oil or canola oil. Olive oil will give your vegetables the perfect taste.
Want to add other veggies? Try these vegetables that also take about 25-30 min to cook:
acorn squash
pumpkin
yams
onions
NOTE: Not all veggies take this long to cook, so be sure to use only the ones listed above and in the recipe. Vegetables like broccoli, zucchini, squash and asparagus are often cooked quicker so you can use those too, but be sure to take those out earlier so they don't get burned.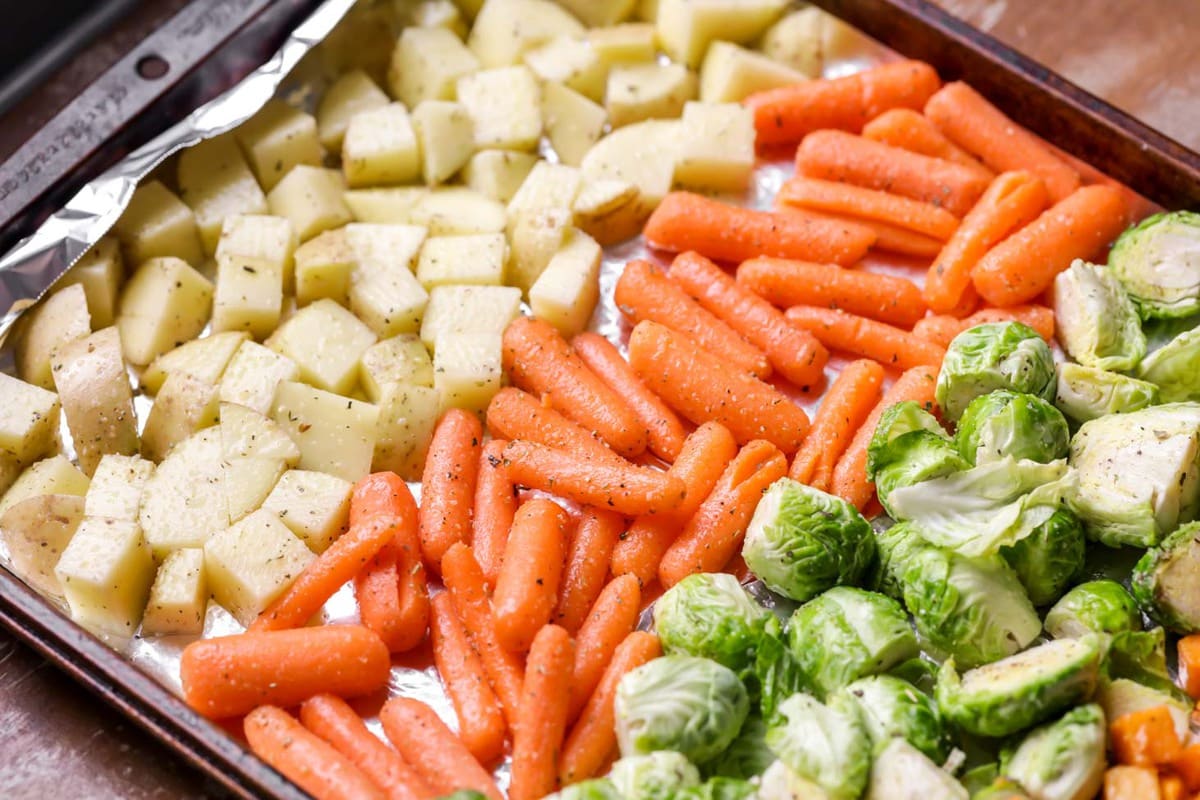 roasted veggie Variations + Storing
Feel free to switch up the seasonings for a variation on these oven roasted vegetables!
Try different herbs or salts. Sometimes I just go simple with olive oil and a little sea salt sprinkled on top. You could even sprinkle some parmesan cheese on top of the vegetables- always delicious!
STORE your roasted vegetables in an airtight container in the fridge. They should stay good for about 3-4 days if stored properly. I love WARMING UP roasted veggies in the microwave and eating them for a healthy lunch!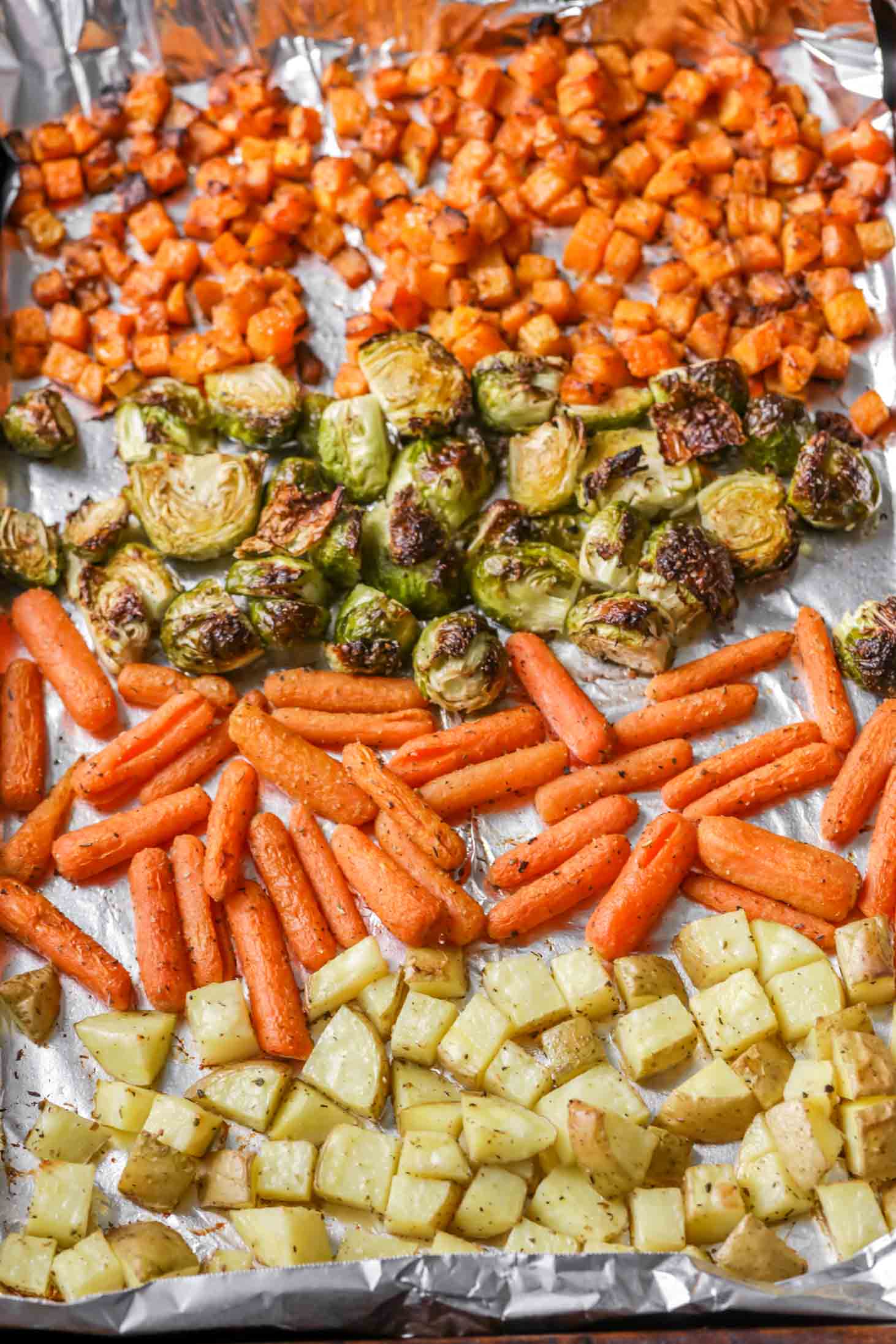 For more roasted veggies, check out:
Oven Roasted Vegetables Recipe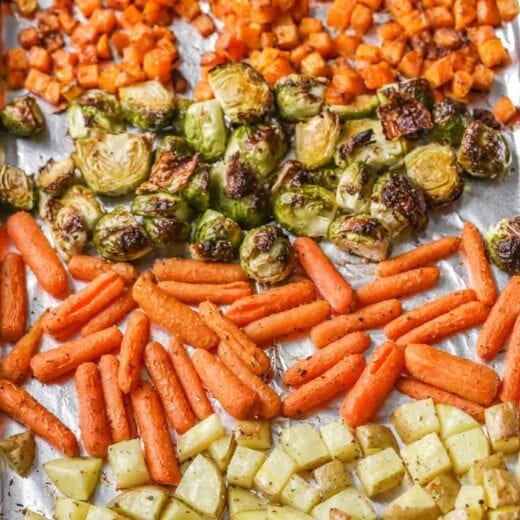 Simple, flavorful, and healthy roasted vegetables that take less than 10 minutes of prep work! Nothing beats yummy veggies roasted in the oven!
Ingredients
1 ½

cups

baby carrots

1 ½

cups

Brussels sprouts

1 ½

cups

Yukon Gold potatoes

cubed

1 ½

cups

Butternut squash

cubed

3

tbsp

olive oil

1

tbsp

garlic salt with parsley flakes

1

tbsp

Italian seasoning

¼

cup

grated Parmesan cheese
Instructions
Place veggies in a bowl and add olive oil, garlic salt, and Italian seasoning. Toss to coat.

Place on greased foil-lined baking sheet. Sprinkle with Parmesan cheese. Bake for 25-30 minutes, flipping over half way through,