Oven roasted brussel sprouts have a perfectly crispy outside, and a melt-in-your-mouth center. With only 5 minutes of prep time, you'll want to make this delicious and healthy side dish every night!
Believe it or not, this is actually one veggie side dish the kids approve of! We serve roasted brussel sprouts on the side of parmesan pork chops, or crispy chicken, and the kids will eat them right up!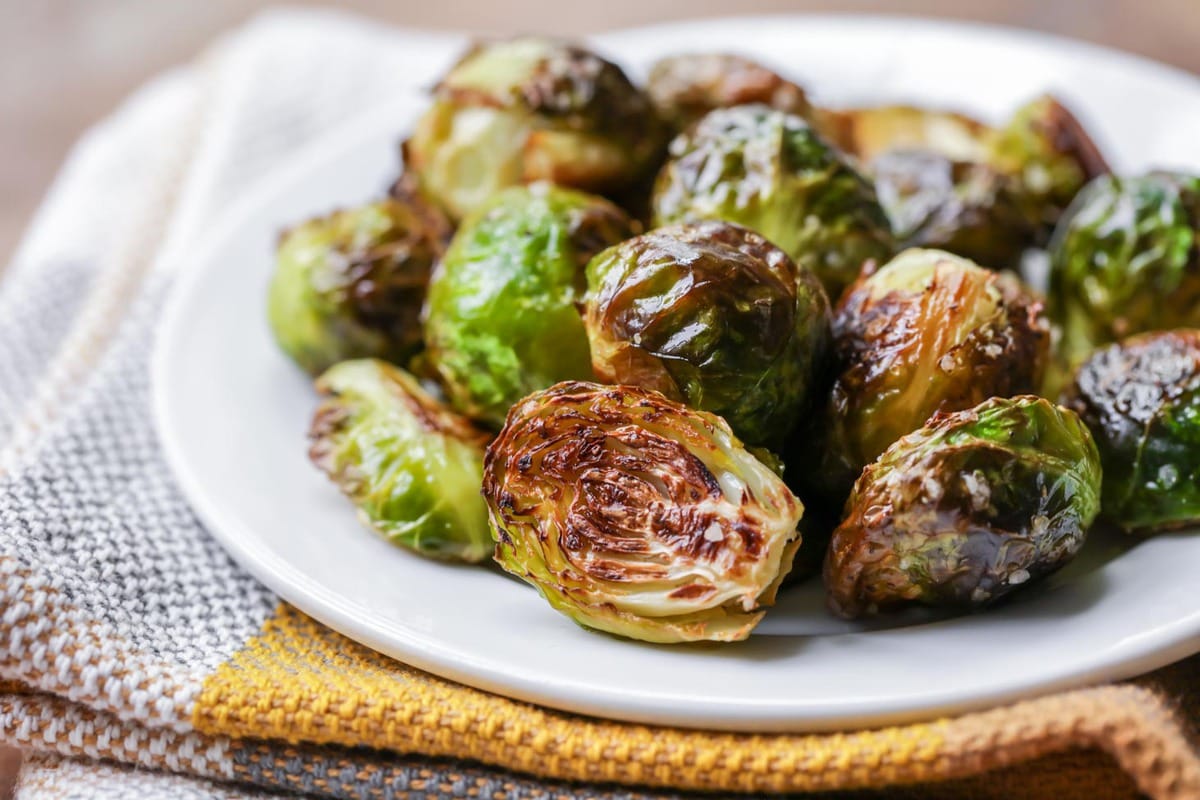 oven roasted Brussel Sprouts
We haven't always liked Brussel sprouts, but now we can't get enough of the veggie!
The best way to cook them is to roast them in the oven. They turn out crunchy and so delicious making them one of our favorite side dishes.
What do roasted Brussel sprouts taste like? Well, when baked correctly, they taste like mildly sweet, nutty, crispy, yet tender little orbs of deliciousness. No more soggy greens!
This pan roasted Brussel sprouts recipe will forever change the way you look at these little round vegetables.Your kids will love them, your spouse will love them, and you'll love how simple they are.
We have a feeling this recipe will make Brussel Sprouts converts out of ya!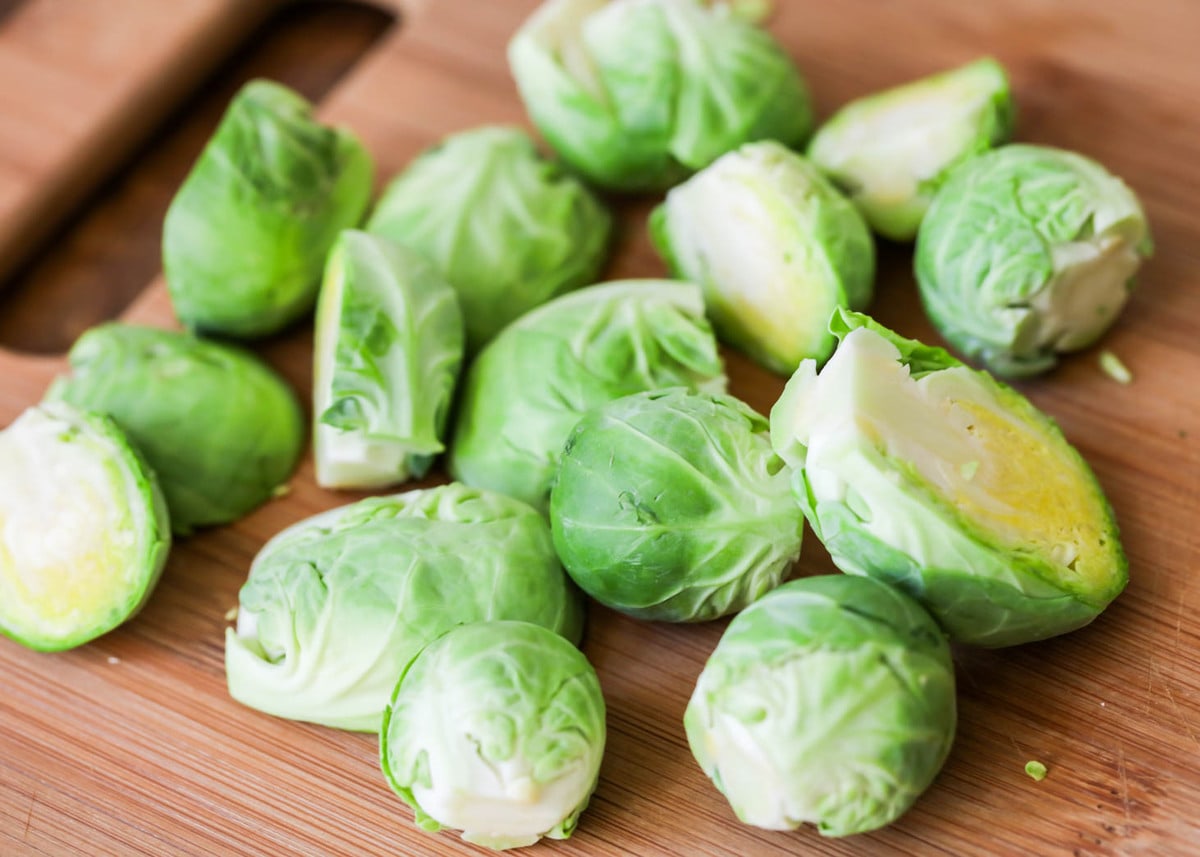 How to Roast Brussel Sprouts
These sprouts are so easy to make! Grab some olive oil, salt, and pepper and you're halfway there. Preheat your oven to 400 degrees while you prep your sprouts.
PREP. Take your washed Brussel sprouts, and make sure the ends are trimmed and the yellow leaves (outer leaves) are all removed. You can keep them whole or slice them into halves—whatever your preference is.
COAT. Place them in a ziplock bag with the extra virgin olive oil, kosher salt and pepper. Call your kids into the kitchen for the next part—they're gonna like helping with this one. Pass them the bag and have them shake it up until the Brussel sprouts are coated in the olive oil.
BAKE. Dump all of the Brussel sprouts in a single layer onto a lightly greased rimmed baking sheet and cook them until they're just the right amount of crispy.
Eat them as is or drizzle with a little balsamic glaze.
Cooking times
The size of your sprouts and the desired level of crispiness will affect the cooking time at various temperatures. Be sure to watch closely during the last few minutes of roasting, as they will brown and crisp quickly.
Here are time and temperature variations based on your desired texture. Trust me, all of these options are delicious!
475: 15-20 minutes (extra crispy)

425: 30-35 minutes (crispy outside, less tender inside)

400: 30-40 minutes (my personal preference – tender inside, with crisp outside)

375: 20-25 minutes (caramelized and tender)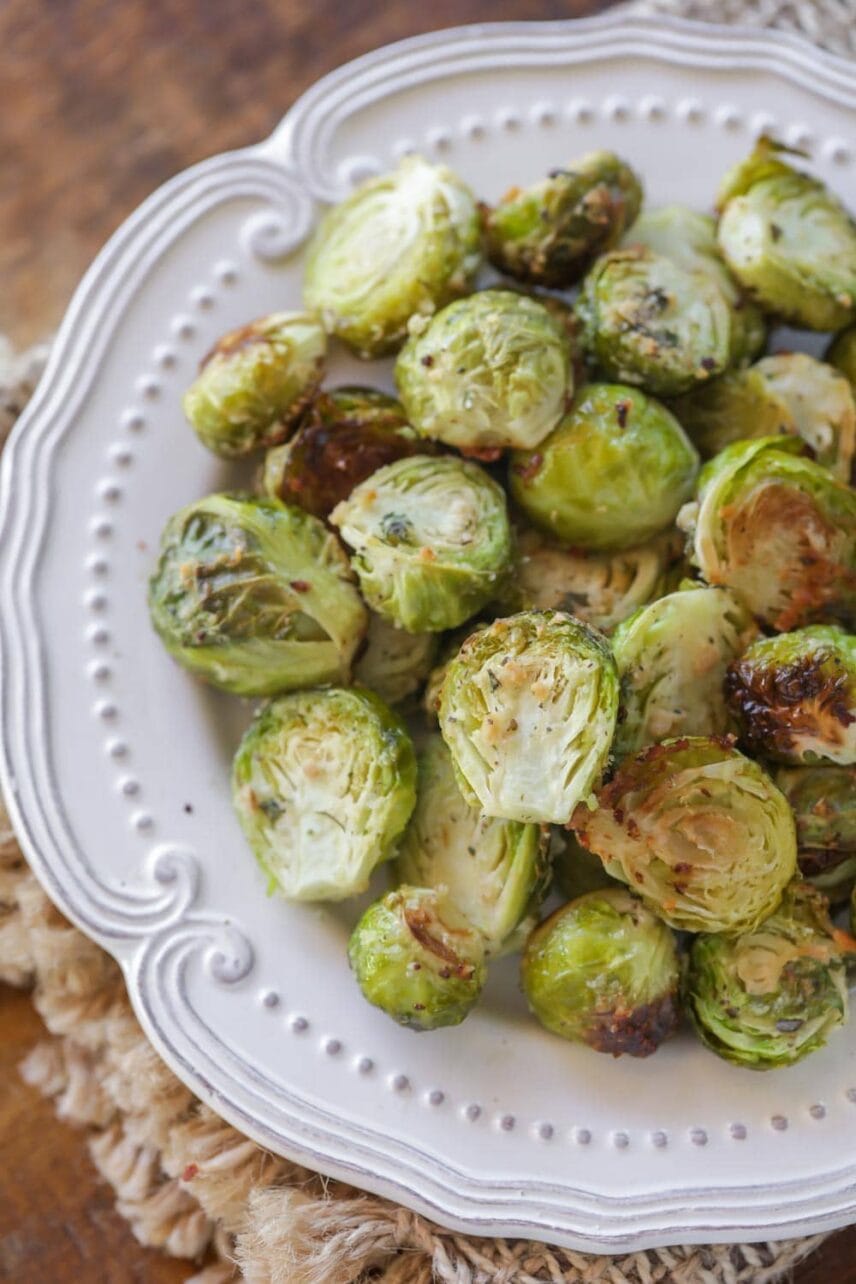 brussel sprout FLAVOR Variations
What makes this recipe even better is that you can make a few small adjustments to create whatever flavor you want!
Take it beyond the basic salt and pepper seasoning by trying these variations:
Roasted Brussel Sprouts with Bacon – Prepare like normal (with the option of reducing the oil to 2 TB because the bacon will add extra grease) and spread the brussel sprouts out on a sheet pan. Cut up 6 pieces of raw bacon and spread evenly over the sprouts. Roast until they are golden, slightly caramelized and crispy, turning halfway through for even cooking.
Balsamic Brussel Sprouts – Once you have roasted your brussel sprouts, place in a large bowl and toss brussels with 1-2 tablespoons of balsamic vinegar. For a sweeter flavor, you can also add an equivalent amount of honey. Sprinkle with additional salt as needed.
Caramelized Brussel Sprouts – Throw the trimmed brussel sprouts into the pan with 3/4 cup water and 2 tbsp butter. Let come to a boil and cook for 5 minutes. Then add brown sugar and cook on low for an additional 10-12 minutes uncovered, and then back on high until all the water has evaporated.
Parmesan Brussel Sprouts – Add 1 teaspoon of minced garlic (or garlic powder) and ⅓-½ c of parmesan cheese to the ziploc bag when coating the brussel sprouts. Assemble on the pan and roast like normal.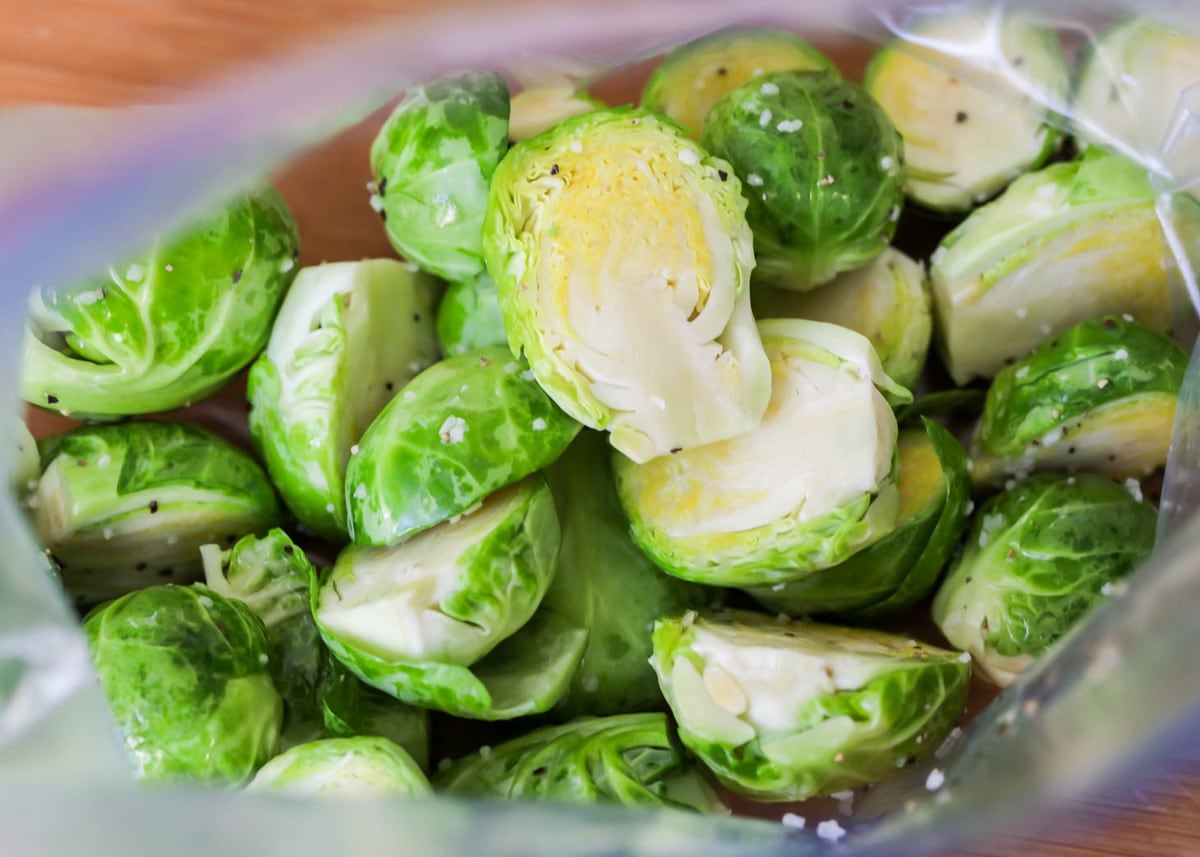 brussel sprouts Tips
How do you make brussel sprouts crispy? Size, and amount of oil used are key components to crispiness. Cutting them in half creates more surface area for oil to cover, and the smaller pieces will cook faster than whole sprouts.
The KEY secret to crispy brussel sprouts, however, is high heat. For extra crispy exteriors, cook at 400 degrees for 30 minutes, then crank the heat up to 450 for an additional 10 minutes.
OR, bring on the heat right from the start and roast the brussel sprouts at 475 degrees for 15-20 minutes. See roasting temperatures and times above for more information.
Why are my brussel sprouts mushy? When brussel sprouts are overcooked, they release excess sulphur, which makes them smell and taste like… well, brussel sprouts. But not the good kind! The kind that are really pungent and bitter.
Avoid this travesty by roasting at high temperatures, for NO MORE than 40 minutes. Also, be sure to not overcrowd your sheet pan. If the brussel sprouts are too close together, they will steam instead of roast, which makes them mushy.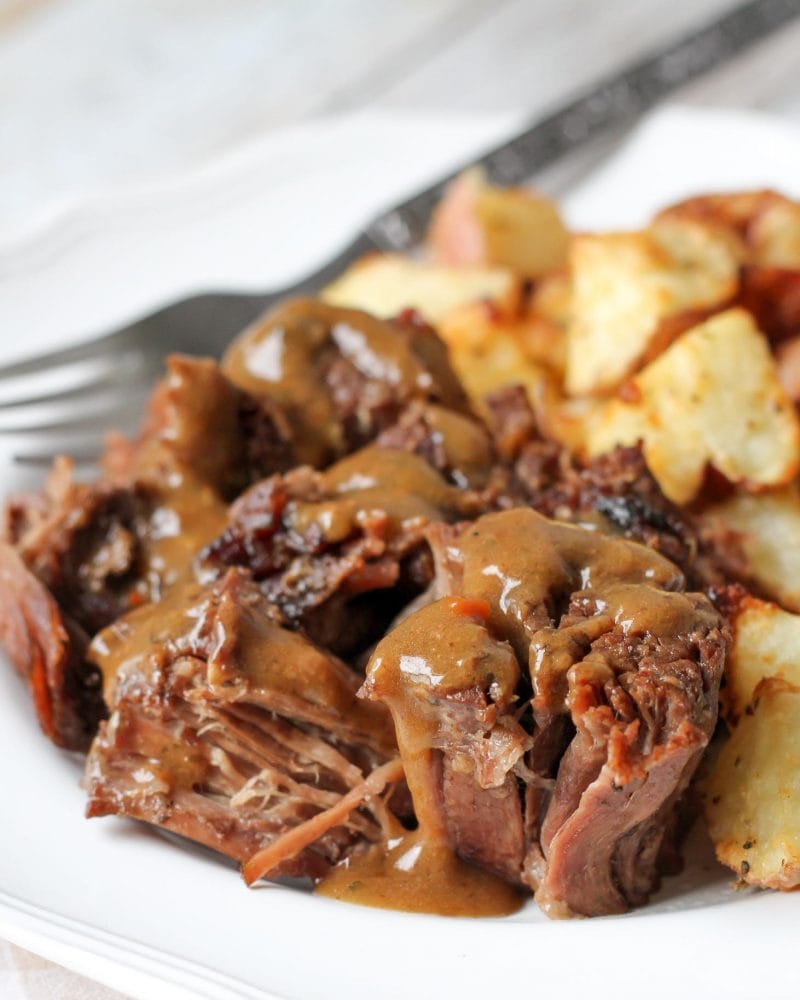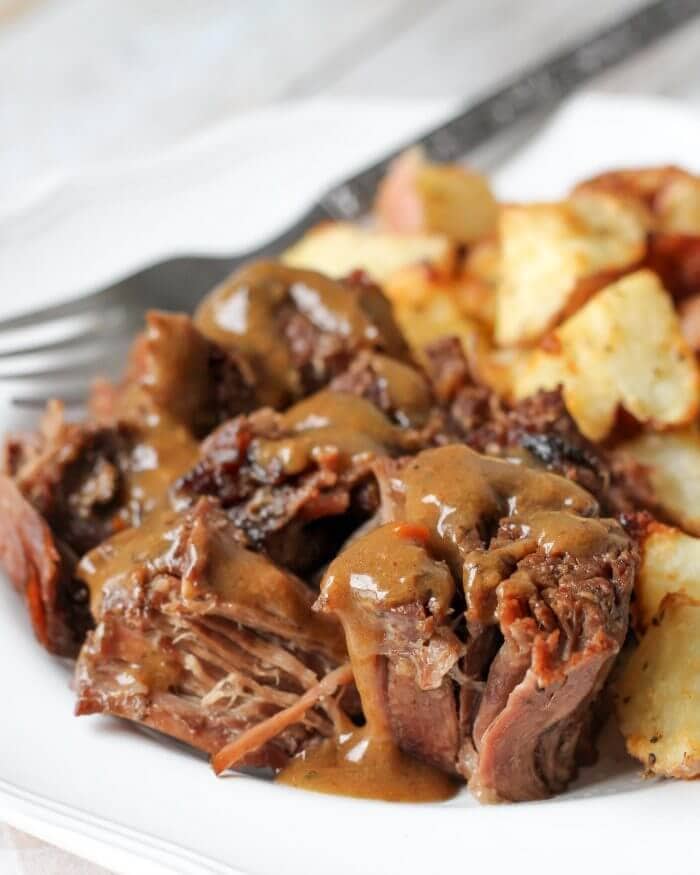 what to serve with THEM?
The options are endless! These veggies make the perfect side dish to most main dishes and bonus – they're gluten-free!
Whether it's a beef, chicken or pasta dish, these brussel sprouts work with most dishes, but here are some of our favorite dinner ideas we like to make with them: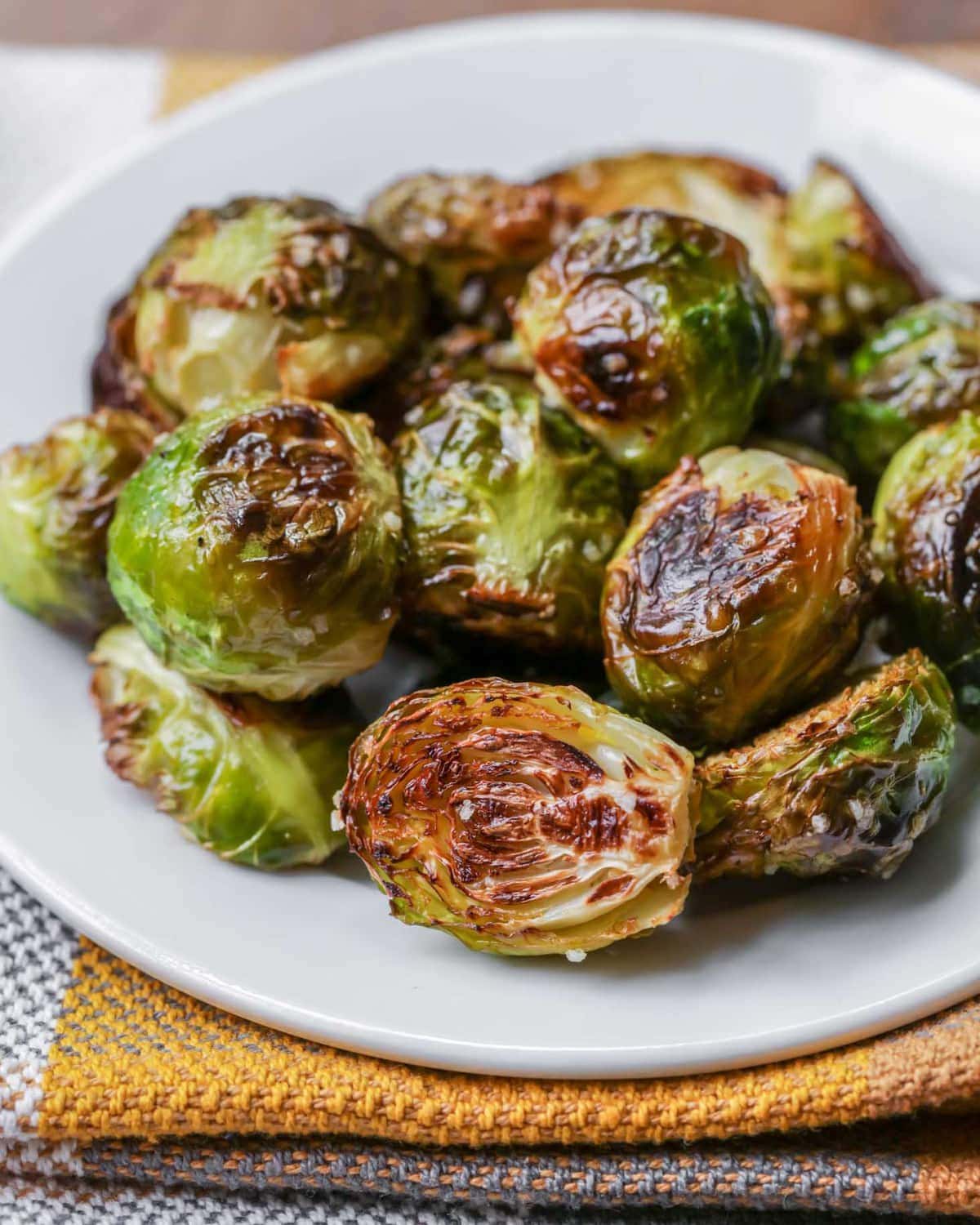 Recipe FAQ
How do I make crisp brussel sprouts?
When you roast the brussel sprouts be sure that you spread them out. If they're too close together, then they steam and become soft instead of roasting and becoming crisp. Larger whole sprouts will take longer to cook and are a little less crisp than smaller spouts or ones that you slice in half.  You will also want to use high heat.
How do I make roasted brussel sprouts taste good?
Brussel sprouts have a unique and strong taste, but the bitterness comes from overcooking them. You can also add flavor to the sprouts using different herbs, spices, vinaigrette, bacon, and more.
Do I have to parboil brussel sprouts before roasting them?
I cut my sprouts in half so that they cook through and take on a crisp texture. If you wish to cook them whole, consider parboiling them first. This will ensure they get cooked all the way through without overcooking and burning the outside.
For more roasted veggies, try:
MORE COLLECTIONS: Side Dishes, Thanksgiving Side Dishes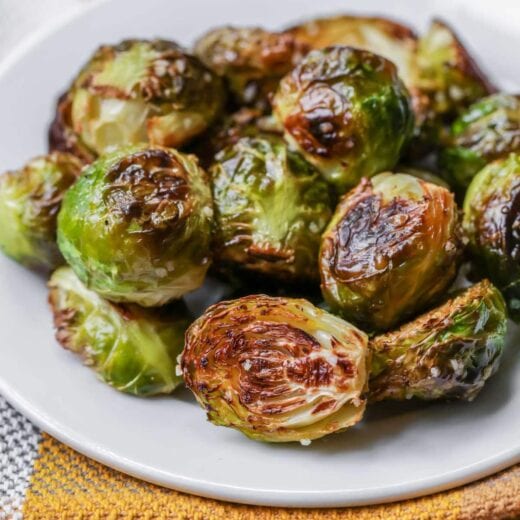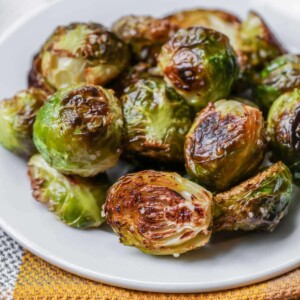 Roasted Brussel Sprouts Recipe
Roasted brussel sprouts have a perfectly crispy outside and a melt-in-your-mouth center, and take just minutes to prep!
Ingredients
1½

pounds

brussel sprouts

ends trimmed and yellow leaves removed

3

tablespoons

olive oil

1

teaspoon

coarse Kosher salt

½

teaspoon

pepper
Instructions
Place trimmed brussel sprouts, olive oil, salt, and pepper in a large Ziploc bag. Seal and shake to coat.

Pour onto lightly greased baking sheet and cook for 20-30 minutes (based on how crispy you like them).

(For a more even cook, toss sprouts once or twice while they cook). Serve warm, and ENJOY!
Nutrition
Calories:
166
kcal
,
Carbohydrates:
15
g
,
Protein:
5
g
,
Fat:
11
g
,
Saturated Fat:
1
g
,
Sodium:
624
mg
,
Potassium:
661
mg
,
Fiber:
6
g
,
Sugar:
3
g
,
Vitamin A:
1280
IU
,
Vitamin C:
144.6
mg
,
Calcium:
71
mg
,
Iron:
2.4
mg
Nutrition information is automatically calculated, so should only be used as an approximation.
Making this recipe? Tag us!
Share it with us on Instagram using the hashtag #lilluna, so we can see what you're creating in the kitchen!