For all the best Thanksgiving Side Dishes, look no further than this collection! With various potato sides, vegetables, and breads, you're sure to find the perfect dishes to accompany your Thanksgiving dinner.
MORE COLLECTIONS: Thanksgiving, Thanksgiving Dinner Ideas, Thanksgiving Appetizers, Thanksgiving Desserts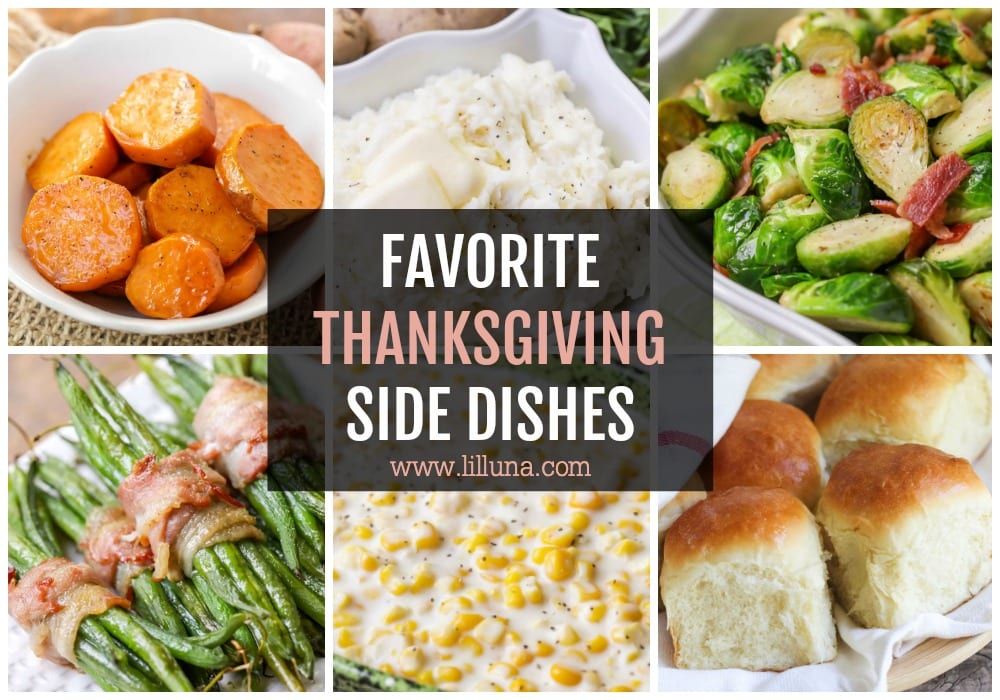 best Thanksgiving sides
The Thanksgiving Turkey typically gets center stage, but dinner is not complete without the sides!
With fall in full force, the sides tend to consist of delicious warm, earthy ingredients. Items like sweet potatoes and vegetables find their way into our hearts (and hips) 😉 like no other time of the year.
No need to look further for your Thanksgiving sides! We've collected them all, along with some Thanksgiving dinner ideas and appetizers. Be sure to check them out to complete the Turkey Day Menu.
I've compiled some of the BEST Thanksgiving side dishes, including vegetables, potatoes, rolls, and a few other favorites!
But before I get into it, continue reading below for some very helpful tips that will make your Thanksgiving sides foolproof.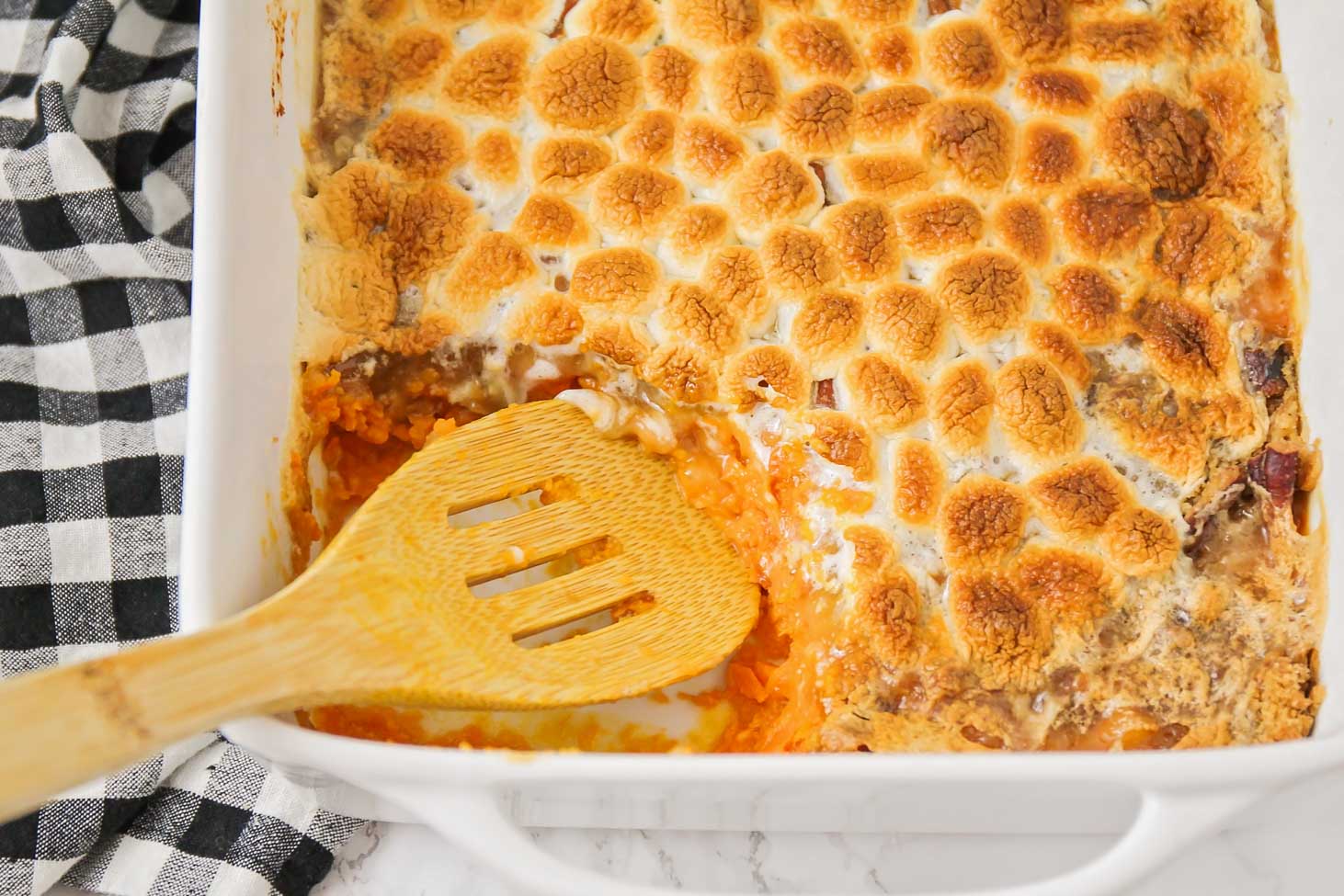 Our most popular sides
This could be a no brainer. Some families stick to tradition and always serve Stuffing, Cranberry Sauce, Sweet Potatoes, Green Bean Casserole, Mashed Potatoes and Rolls. I have some family members (ahem, my sibling's spouses) who don't consider it Thanksgiving without them.
My own siblings, on the other hand, love just serving our favorite dishes. No matter what sides your family likes to serve, I have all the recipes you need for the Best Thanksgiving Menu.
Seasonal Produce: When making your menu, consider using produce that is in season. They tend to be the most fresh, most available, and most cost effective. Some common fall produce include:
Vegetables – Arugula, Beets, Broccoli, Brussels Sprouts, Butternut Squash, Cabbage, Carrots, Cauliflower, Celery, Eggplant, Garlic, Green Beans, Leafy Greens, Onions, Parsnips, Peas, Peppers, Potatoes, Pumpkin, Radish, Rosemary, Sage, Turnips, Sweet Potatoes, Zucchini.
Fruits – Apple, Pear, Grape, Persimmon, Cranberries, Figs, Key Limes, Pomegranate, Banana, Kiwifruit, Lemon, Mango, Pineapple, Raspberry.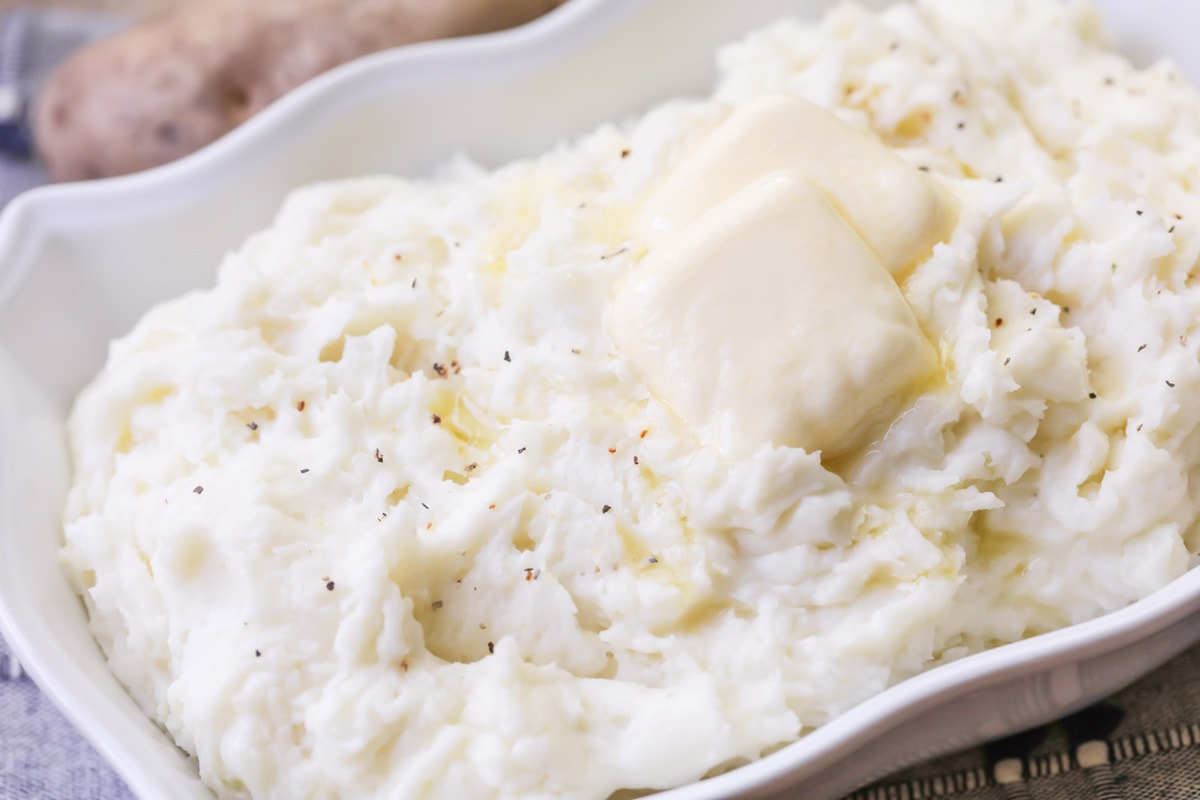 Tips + TRICKS FOR easy Thanksgiving Side dishes
How much to make: You do NOT want to run out of food, especially on Thanksgiving when food is what we gather around to express our gratitude for life's blessings. The following information can help guide you:
Potato dish: 6 oz per person
Vegetable dish: 4 oz per person
Rolls:

1 ½ per person

Salad:

½ cup per person
How to serve: If you have a larger than normal table, try to have each dish available at both ends of the table. If you have more than one table set up, be sure that each dish is available at every table.
Buffet style. My family likes to serve everything buffet style. We place everything on one long table. The plates, napkins, and utensils are first, followed by the main dishes, then all of the sides.
Family style. I have also attended dinners where everything was placed at the table and passed around.
Make ahead of time: Many side dishes can be made ahead of time. Whether you plan to cook up a storm, or attend a turkey trot, make dishes ahead of time so the morning runs more smoothly. The individual recipes have more information on how to make ahead of time, and store leftovers.
Keeping sides hot: Even if you're able to make some dishes ahead of time, at some point everything needs to get heated and kept hot, until it's all ready to serve. Here are a few ideas to help keep your food hot:
A cooler: Not just for keeping food cold. Its insulation will also help retain heat. Cover the pots and pans with a lid or foil, and stack them inside. (Be sure they don't smoosh the food underneath).
Use the grill. A gas grill, with a thermometer, will work to keep foods warm. Keep the internal temp around 200°F.
A crock pot set to low or warm.

Use an

insulated food carrier

.
Chafing Dishes.
---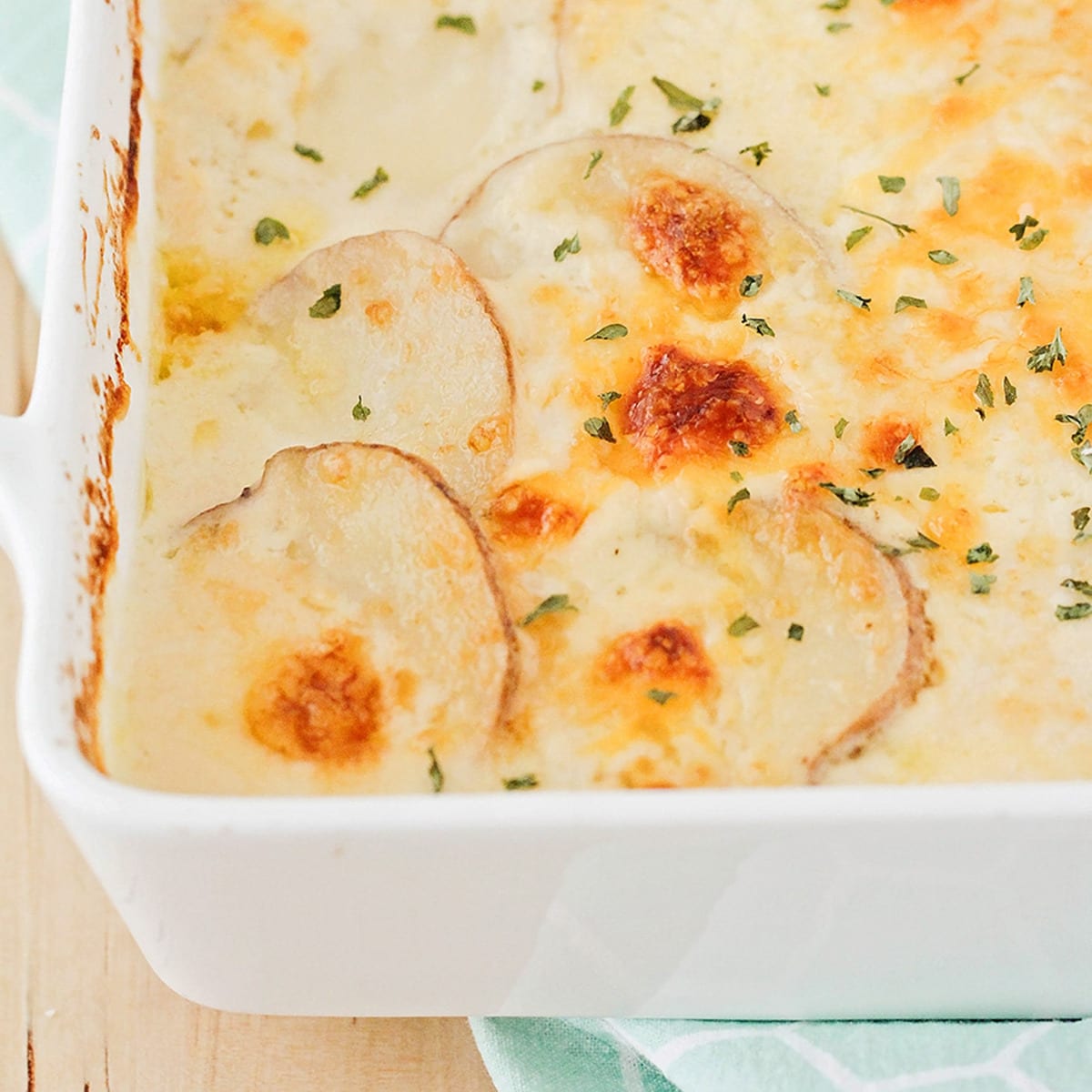 Thanksgiving potato sideS
Although Mashed Potatoes or Sweet Potato Casserole are the most common potato side dishes for Thanksgiving dinner, there are many more delicious potato side dishes!
Potatoes Au Gratin – These cheesy Au Gratin Potatoes are the perfect side dish for any meal! With a homemade cream sauce and layers of parmesan and cheddar cheese, this Potatoes Au Gratin recipe is SO rich and creamy!
Parmesan Potatoes – Simple and delicious baked parmesan potatoes are the perfect side dish, made from cubed potatoes coated in parmesan and a few simple seasonings.
Baked Mashed Potatoes – Cheesy Mashed Potato Casserole – layers of mashed potatoes and cheese and topped with bacon – perfect for dinner and holiday meals!
Sweet Potato Casserole With Marshmallows – Classic sweet potato casserole with a sweet pecan streusel and toasted melty marshmallows on top.
Garlic Mashed Red Potatoes – Creamy Garlic Mashed Red Potatoes are packed full of flavor. They are a great side dish to any meal and are loved by all.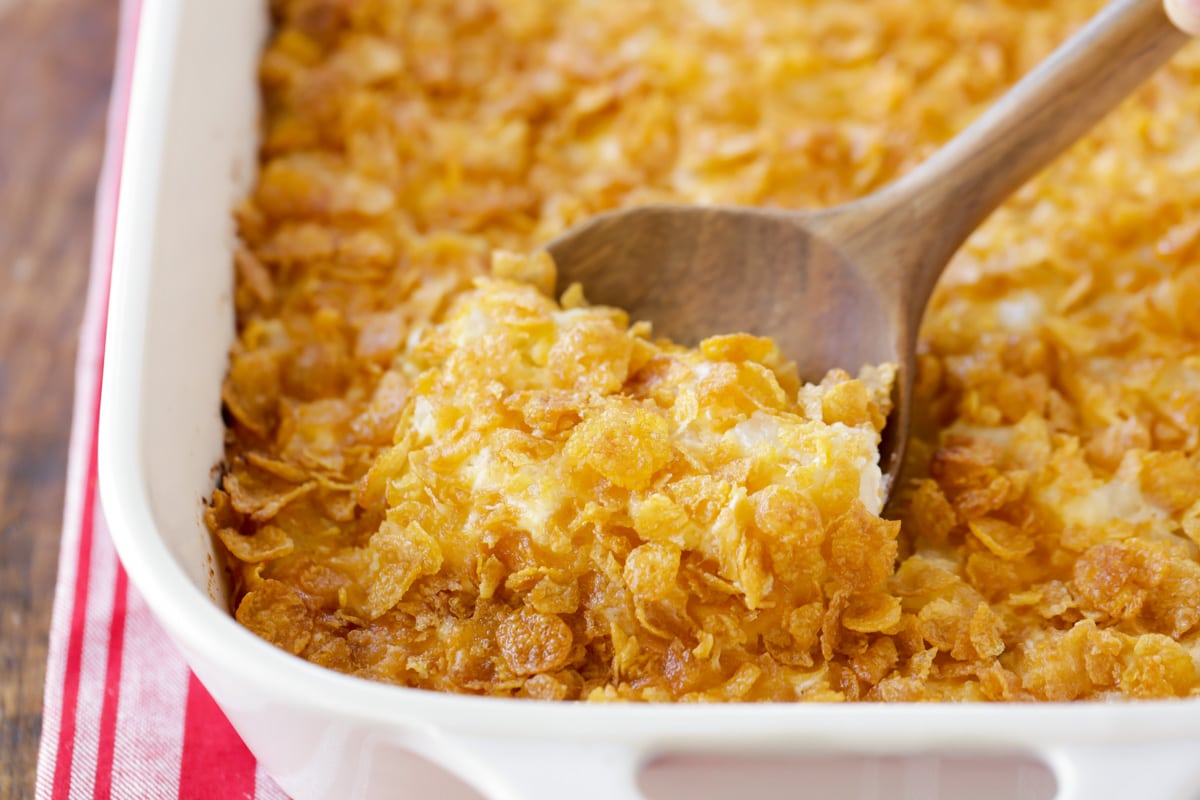 Funeral Potatoes – Family-favorite Funeral Potatoes casserole is creamy, cheesy, and crispy on top. It's perfect for dinners and holidays!
Candied Sweet Potatoes – Delicious Candied Sweet Potatoes – a simple and tasty side dish that will be a family favorite! Soft sweet potatoes mixed with butter, brown sugar, water, salt and pepper.
Scalloped Potatoes – Oven-baked cheesy scalloped potatoes are warm and comforting. They make an easy, deliciously savory side for any dish!
Best Mashed Potatoes – These Buttery smooth mashed potatoes are our go-to potato side dish recipe for every dinner and holiday get together. They're everyone's favorite potatoes!
Twice Baked Sweet Potatoes – Sweet and savory Twice Baked Sweet Potatoes – no matter how they're filled or topped, these delicious sweet potatoes will be the perfect side dish at your dinner or holiday meal.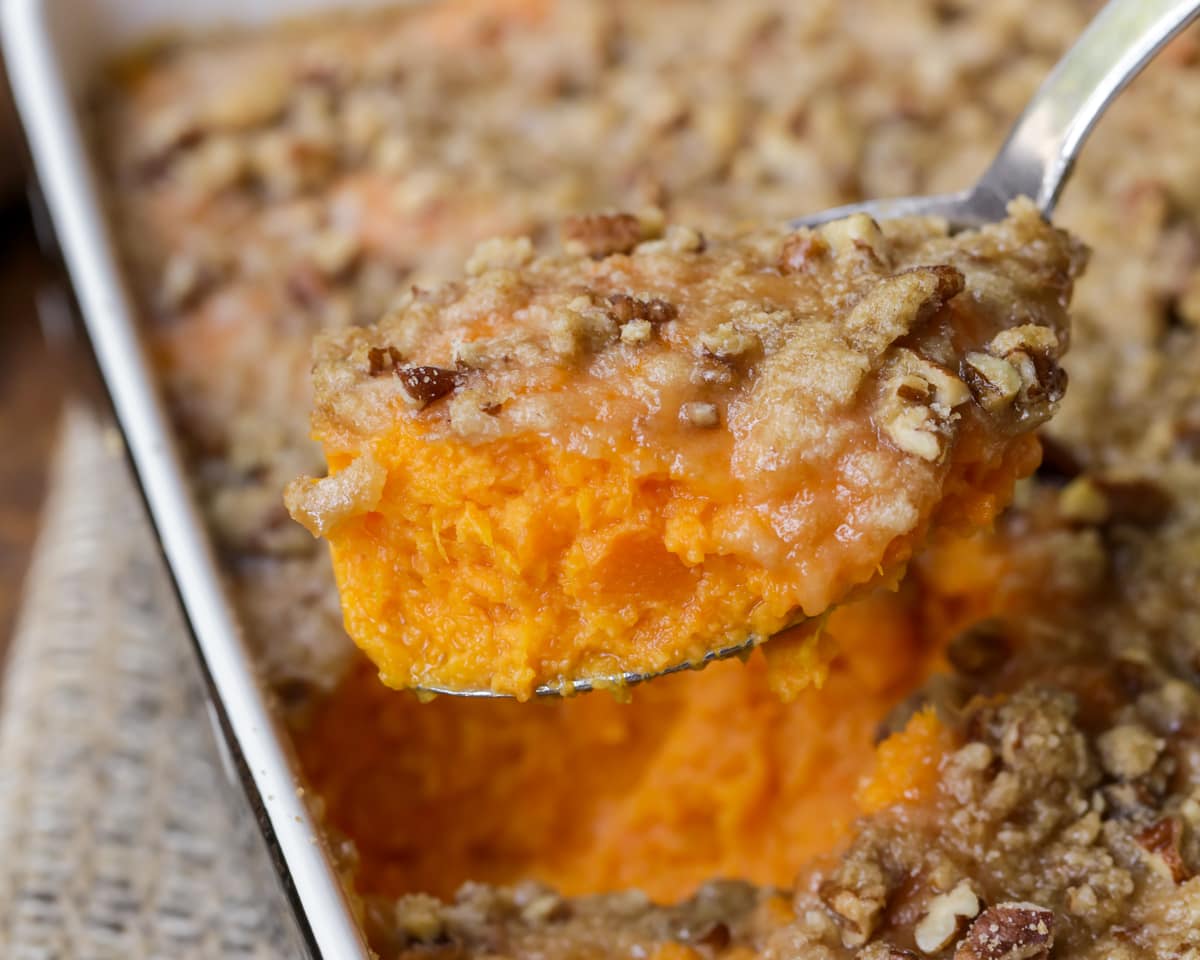 Easy Sweet Potato Casserole – Delicious Sweet Potato Casserole which is great for holidays and family meals! These creamy sweet potatoes are topped with a butter-y, brown sugar and pecan topping making them irresistible.
Easy Twice Baked Potatoes – After having these Twice Baked Potatoes, you'll never want regular baked potatoes again! These super easy potatoes are loaded with sour cream, cheese, bacon, and seasonings! For being such a delicious side, they are SO simple!
Baked Sweet Potato Cubes – Baked Parmesan Sweet Potatoes- soft sweet potatoes coated with parmesan cheese and all kinds of spices!! It's a new favorite side dish that is quick and delicious.
Mashed Sweet Potatoes – Buttery smooth mashed sweet potatoes that elevate any meal you're making. With maple syrup, cinnamon, nutmeg, butter and more, you will love the combination of sweet and savory these potatoes have to offer.
Cheesy Mashed Potato Casserole – Creamy cheesy Mashed potato casserole is like no other. This AMAZING side dish takes mashed potatoes to a whole new level!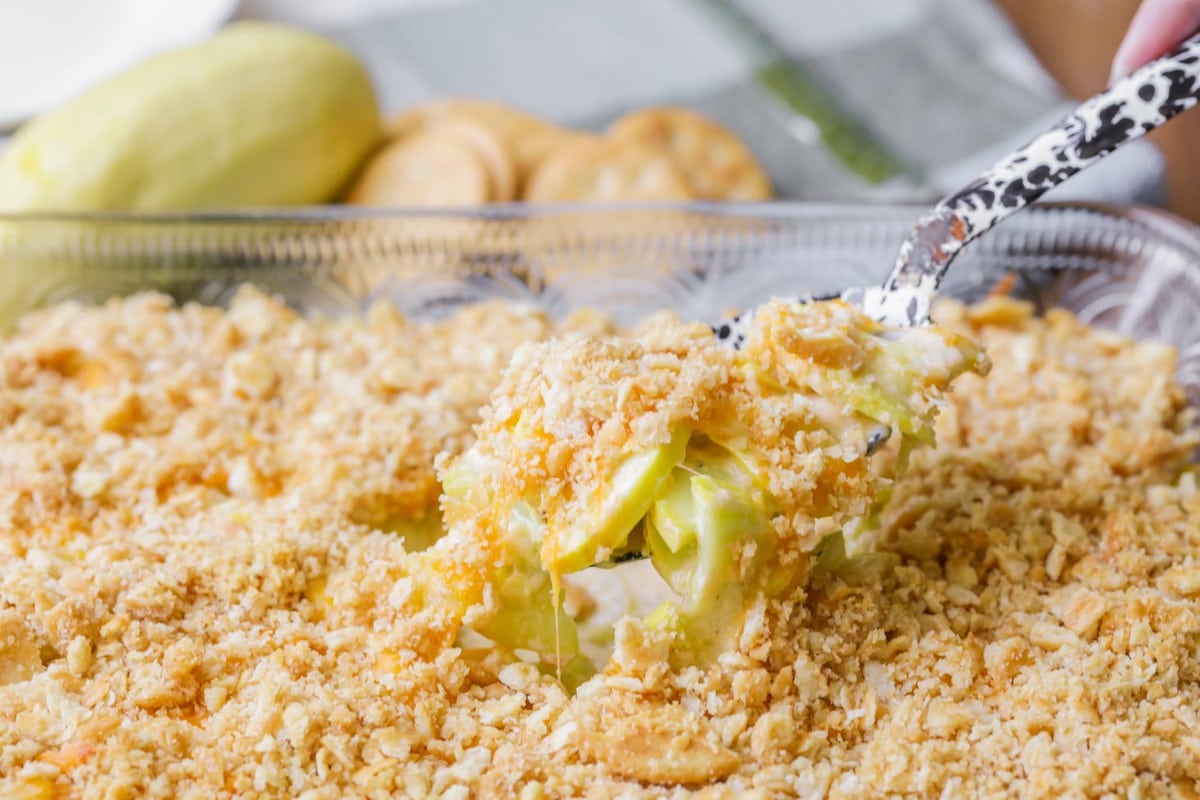 thanksgiving vegetable side dishes
Usually with Thanksgiving dinner we have some kind of hot vegetable side dish, whether it's corn, green beans, carrots, or a combination of vegetables.
Yellow Squash Casserole – Hot and cheesy squash casserole makes for the best holiday side dish! You'll love this creamy vegetable casserole with a crunchy buttery topping.
Green Bean Bundles – These Green Bean Bundles make for the ultimate side dish. Bacon wrapped green beans drizzled in butter, brown sugar, and garlic salt – the flavor can't be beat!!
Brown Sugar Glazed Carrots – If you need a go-to side dish, these Brown Sugar Glazed Carrots are perfect for you! The tastiest candied carrots recipe!! Even better, it takes less than 10 minutes to make and only requires 4 ingredients!
Puff Pastry Wrapped Asparagus Rolls – Asparagus wrapped in Puff Pastry, filled with cream cheese and topped with parmesan. So simple and delicious, it's the perfect side for any meal.
Green Bean Casserole With Bacon – Green bean casserole is a yummy, classic side and with bacon, it's takes it to another level. We love that this side is great for any holiday and perfect for bacon lovers.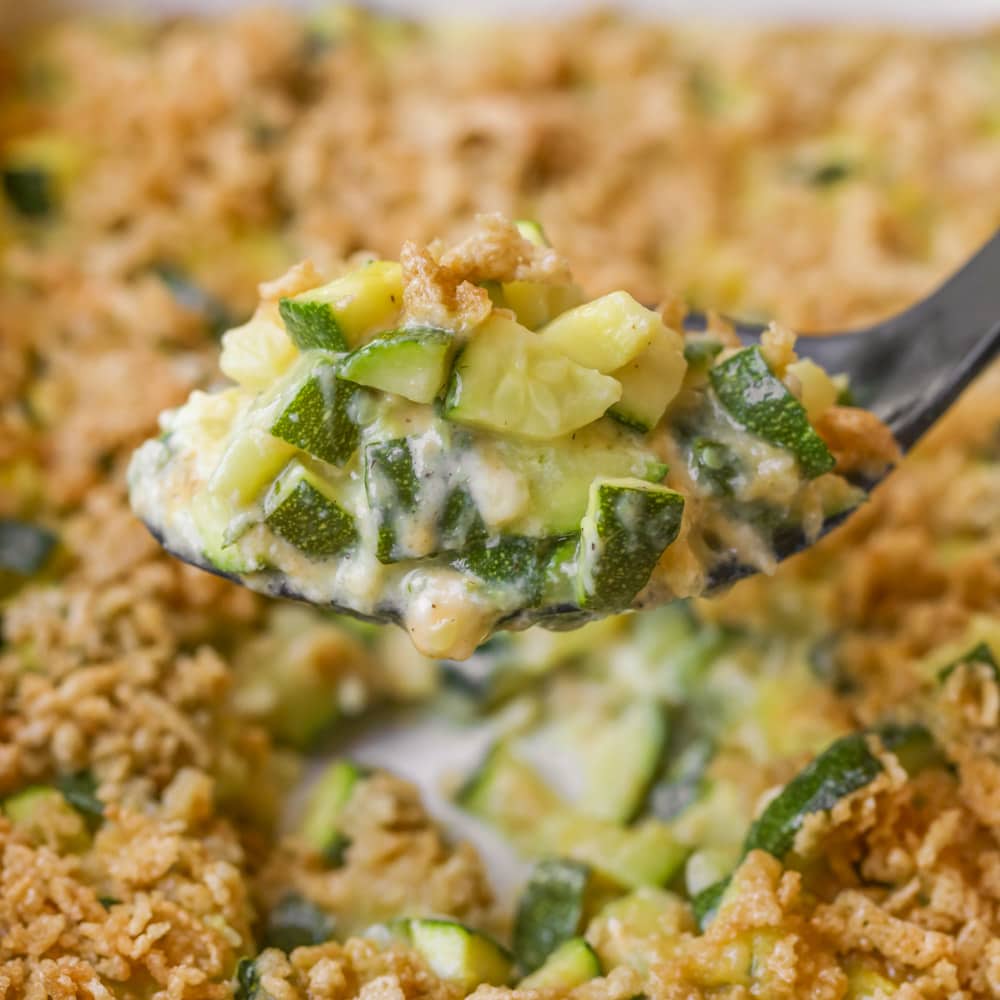 Cheesy Zucchini Casserole – Cheesy Zucchini Casserole – a simple and delicious side dish made with zucchini pieces, cheese, butter and crushed Chex! It's so good!
Asparagus Bundles Recipe – Asparagus Bundles are wrapped in bacon for unmatched flavor perfection. These savory wrapped bundles will tantalize your taste buds, and are sure to be a BIG hit.
Fresh Green Bean Casserole – Fresh Green Bean Casserole is bright and flavorful. It is easy to make, and takes this beloved classic to a new level of yum!!
Easy Green Bean Casserole – Green Bean Casserole is a classic side dish, especially at holiday meals! This savory casserole is simple, delicious and requires only 4 ingredients, which makes it the perfect addition to your holiday menu!
Creamed Corn – A smooth and creamy side dish filled with cream, butter and cheese. Anyone who likes corn will love this recipe! This creamed corn is also a perfect side dish for holiday meals.
Brussel Sprouts With Bacon – Brussel sprouts with bacon has a delicious flavor that will make you come back for second and third helpings! Adding bacon is the perfect addition to this side dish recipe that is simple and loved by all.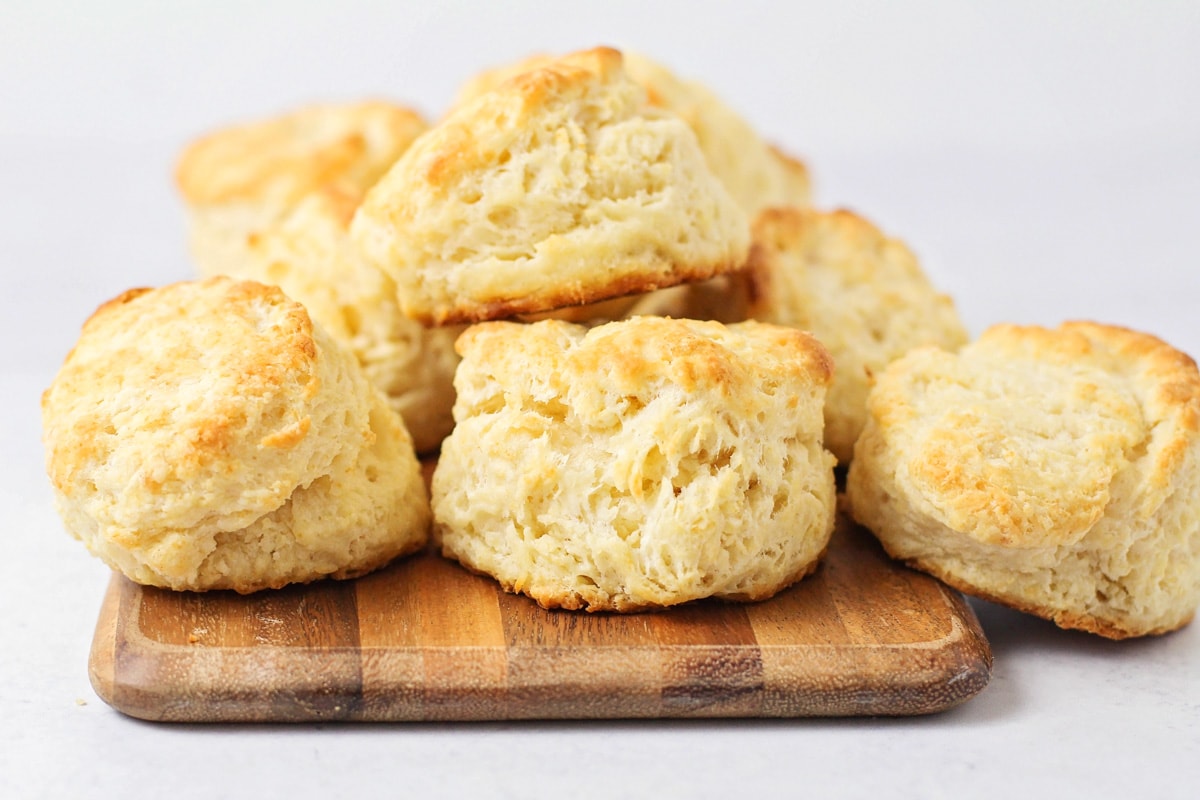 thanksgiving rolls + bread
Of course, you need some kind of bread to scoop any extra gravy off your plate, right? 😉 Plus, any leftover rolls are great for making turkey sandwiches over the next week.
Easy Biscuits – Flaky, buttery homemade biscuits that are to die for. These delicious biscuits are not only simple and soft, but make the perfect side dish for any meal.
Cornbread – This Cornbread Recipe is the perfect accompaniment to your favorite bowl of chili. It's creamy, tender and oh so delicious.
Yeast Dinner Rolls – Homemade Dinner Rolls Recipe that are delicious and perfect for any meal. They're soft, delicious and a hit at every meal!
Potato Rolls – Potato rolls are soft, chewy and buttery. The mashed potatoes make the rolls very pillow-y and add that little extra something to make them melt in your mouth!
Copycat Texas Roadhouse Rolls – Copycat Texas Roadhouse Rolls are so soft they melt in your mouth!! They are huge, buttery, and SO good!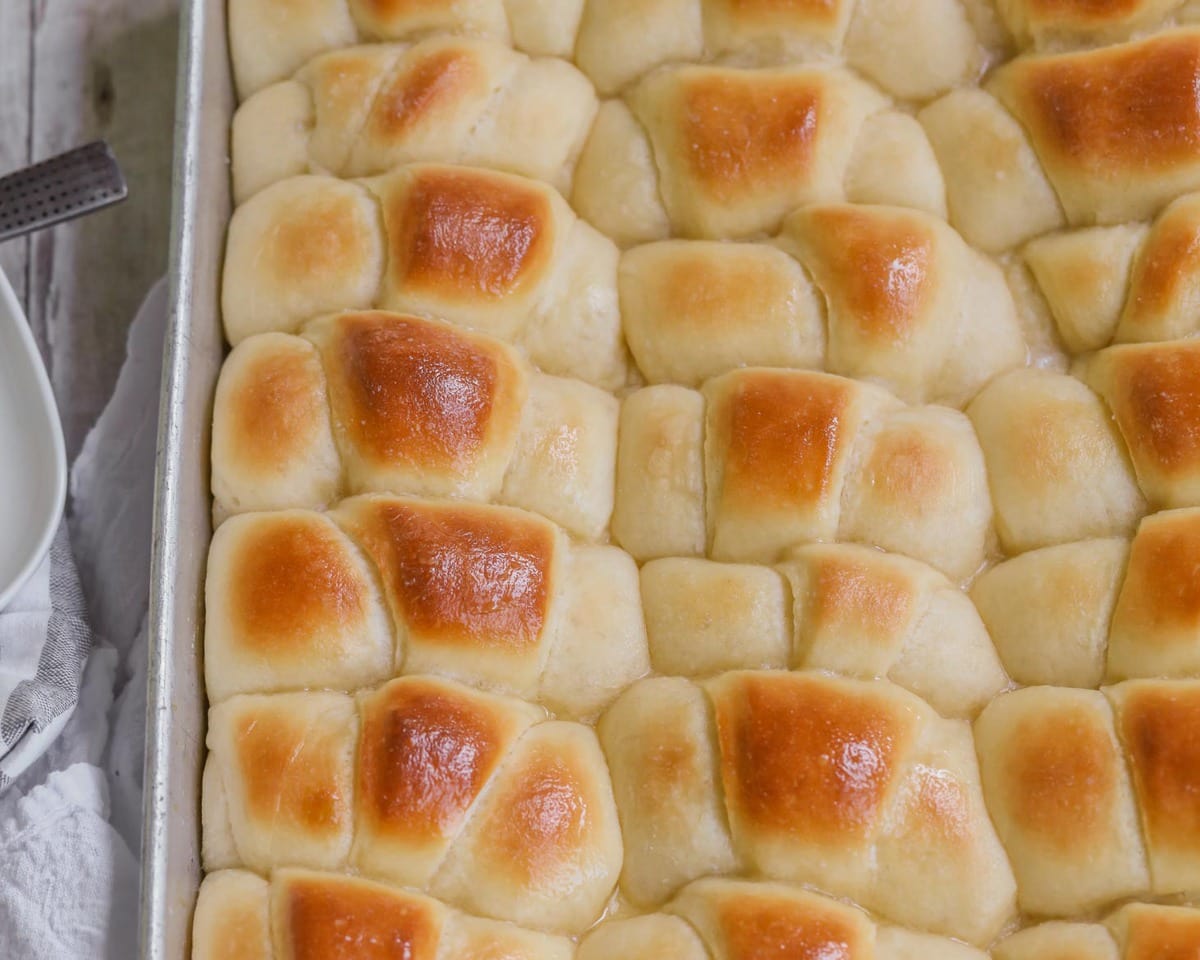 Homemade Dinner Rolls – These are our ALL-TIME FAVORITE Dinner Rolls! They are soft, butter-y and always the hit for any dinner or holiday get together. It's so hard to eat just one!
Easy Monkey Bread – This homemade version of easy monkey bread is sweet and sticky and filled with ooey-gooey cinnamon goodness!
Cornbread Muffins – Tender buttermilk cornbread muffins are sweetened with honey and are perfectly portable. They are ready in under 30 minutes!!
Easy Yeast Rolls – These easy yeast rolls can be made in under an hour with just 4 ingredients! With how quick and simple they are, they will become your new go-to dinner rolls.
Sourdough Bread – Easy rustic sourdough bread with a mild tang, crisp crust, and soft interior.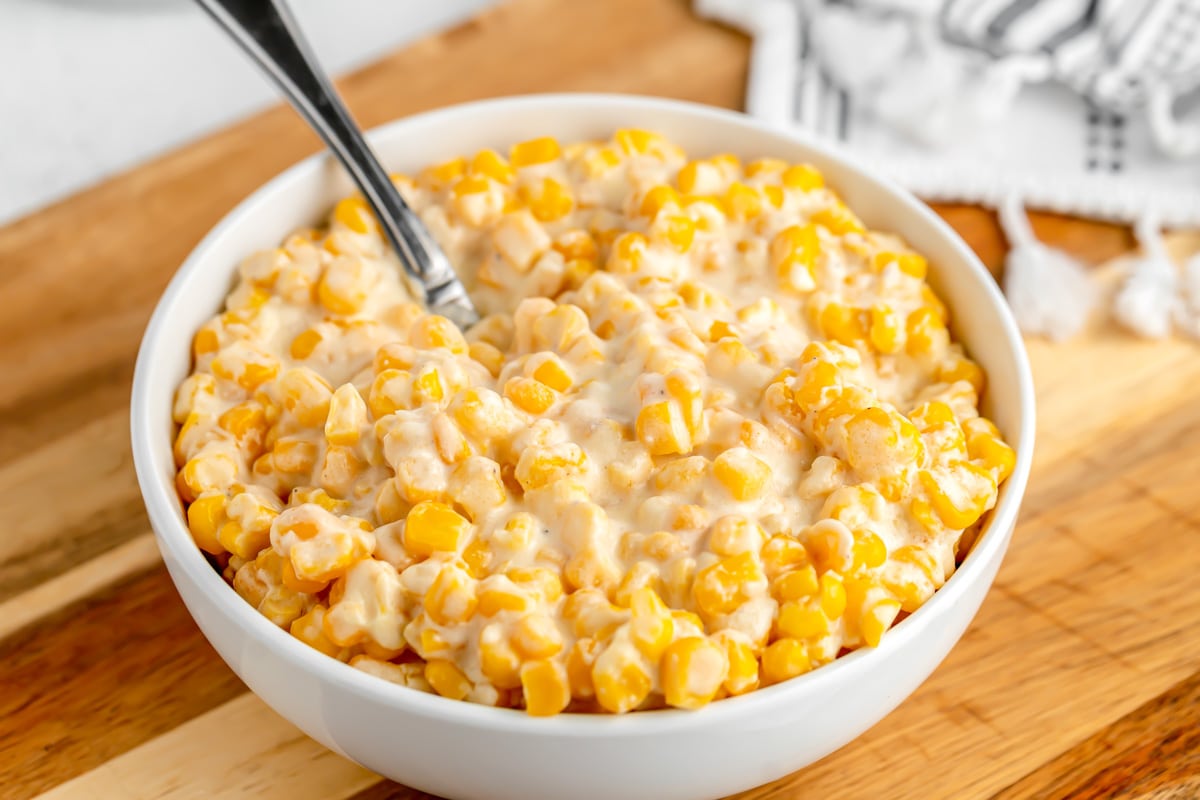 crockpot thanksgiving sides
It's always nice to have a few slow cooker recipes that don't occupy the oven on a busy cooking day. All of these recipes are simple, and can be made in the slow cooker to make things easier.
Crock Pot Creamed Corn – A big holiday dinner wouldn't be complete without rich flavorful creamed corn! It's creamy, buttery, and cheesy. Everyone's favorite holiday side dish!
Crockpot Green Beans With Bacon – Crock Pot Green Beans – just a few ingredients make the yummiest green beans ever! We love this delicious side dish recipe.
Crockpot Cheesy Potatoes – Crockpot Cheesy Potatoes are the perfect easy side dish to your next family dinner. Just dump, cook, and enjoy some cheesy tender potatoes for your next meal or holiday gathering.
Slow Cooker Hashbrown Casserole – Potluck, Easter brunch or just your typical Sunday Breakfast, this Slow Cooker Hash Brown Casserole is easy, delicious and a family favorite!
Crock Pot Scalloped Potatoes – Slow Cooker Scalloped Potatoes – these creamy potatoes are a perfect side dish to just about any meal! You only need a few simple ingredients, and your crock pot does all the work.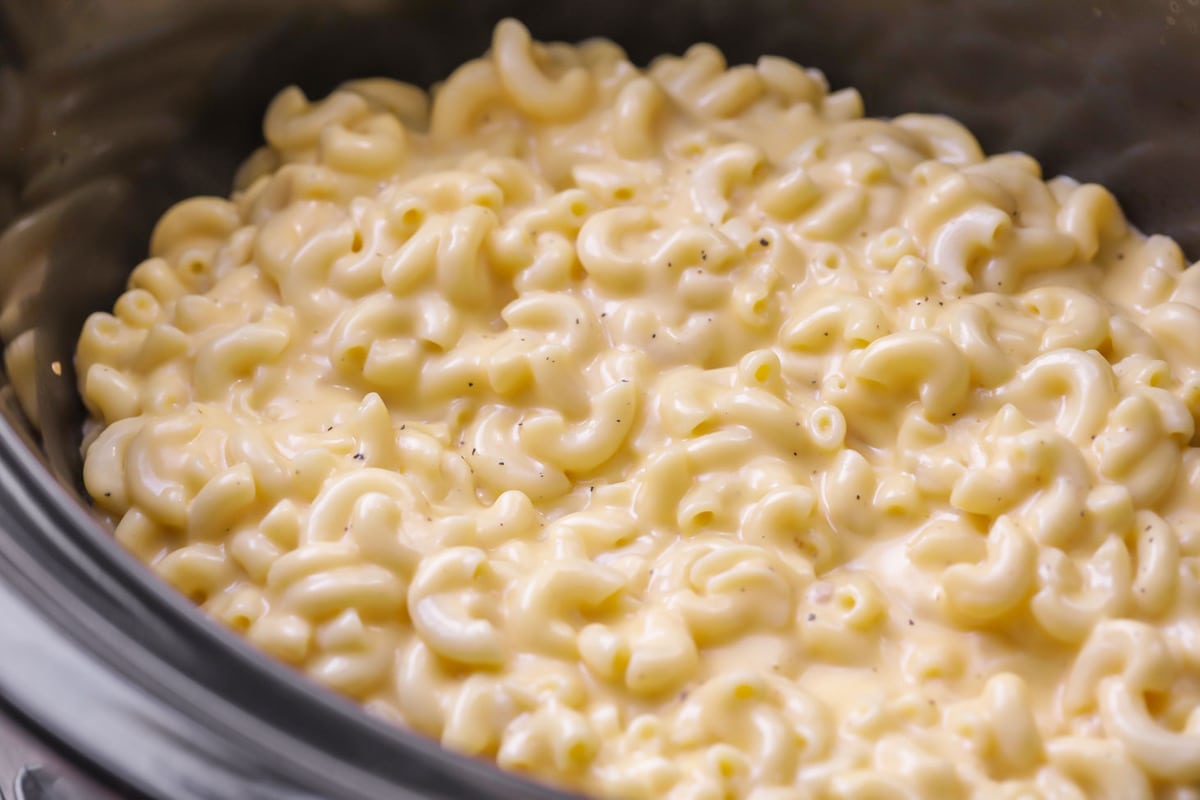 Crock Pot Mac and Cheese – Everyone loves a good slow cooker recipe, and this Crock Pot Mac and Cheese is so simple, cheesy and delicious. With loads of cheese, butter, and sour cream it's hard not to love this creamy macaroni and cheese recipe.
Slow Cooker Mashed Potatoes – These cheesy garlic Crock Pot Mashed Potatoes are the perfect accompaniment to any meal, and so incredibly easy to make. They're creamy, smooth and savory, and the cheese adds so much delicious flavor.
Slow Cooker Artichoke Dip – Crock Pot Artichoke is the same cheesy, savory dip you've always loved, but made in a slow cooker. Make this tasty dip ahead and save time!
Crockpot Baked Potatoes – The crock pot takes all the guess work out of baked potatoes. Simply prep and wrap your potatoes, throw them in the crock pot, and they come out perfectly ready to be topped with all your favorite fixings!
Crock Pot Green Bean Casserole – Crispy, creamy crock pot green bean casserole is beyond easy and delish. It's just as tasty as the original oven-baked classic.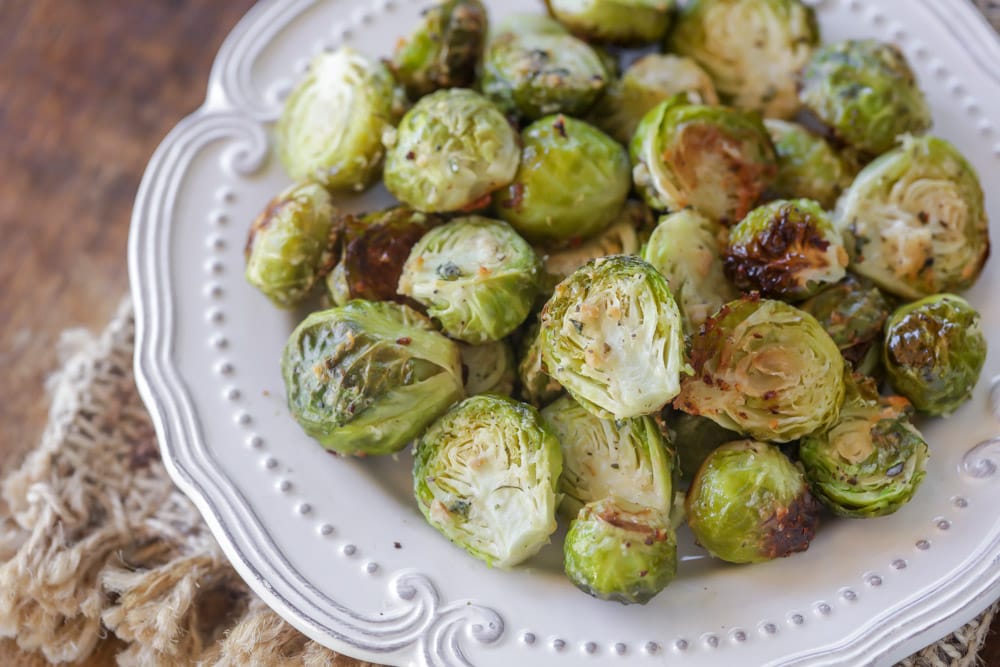 healthy thanksgiving sides
With all the fatty recipes that might be served on Thanksgiving, it's always nice to have a few sides that are healthier.
Below are some of our favorites to serve those watching their waste lines, or even those who'd rather have an extra slice of pie.
Parmesan Brussel Sprouts – These Parmesan Brussel Sprouts are a new favorite side dish. The roasted parmesan makes a wonderful crunchy texture and adds a delicious layer of flavor!
Arugula Salad – Fresh Arugula salad is loaded with healthy greens, juicy tomatoes, and parmesan shavings with pine nuts and creamy avocado on top!
Roasted Green Beans – Roasted Green Beans are the easiest and most delicious healthy side dish that goes perfect with any dinner. Plus, they're quick and great for holiday meals too.
Mashed Cauliflower – Creamy mashed cauliflower is undeniably delicious! It's simple to make and is such a great side dish for any dinner meal.
Sheet Pan Oven Roasted Vegetables – Simple, flavorful, and healthy roasted vegetables that take less than 10 minutes of prep work! Nothing beats yummy veggies roasted in the oven!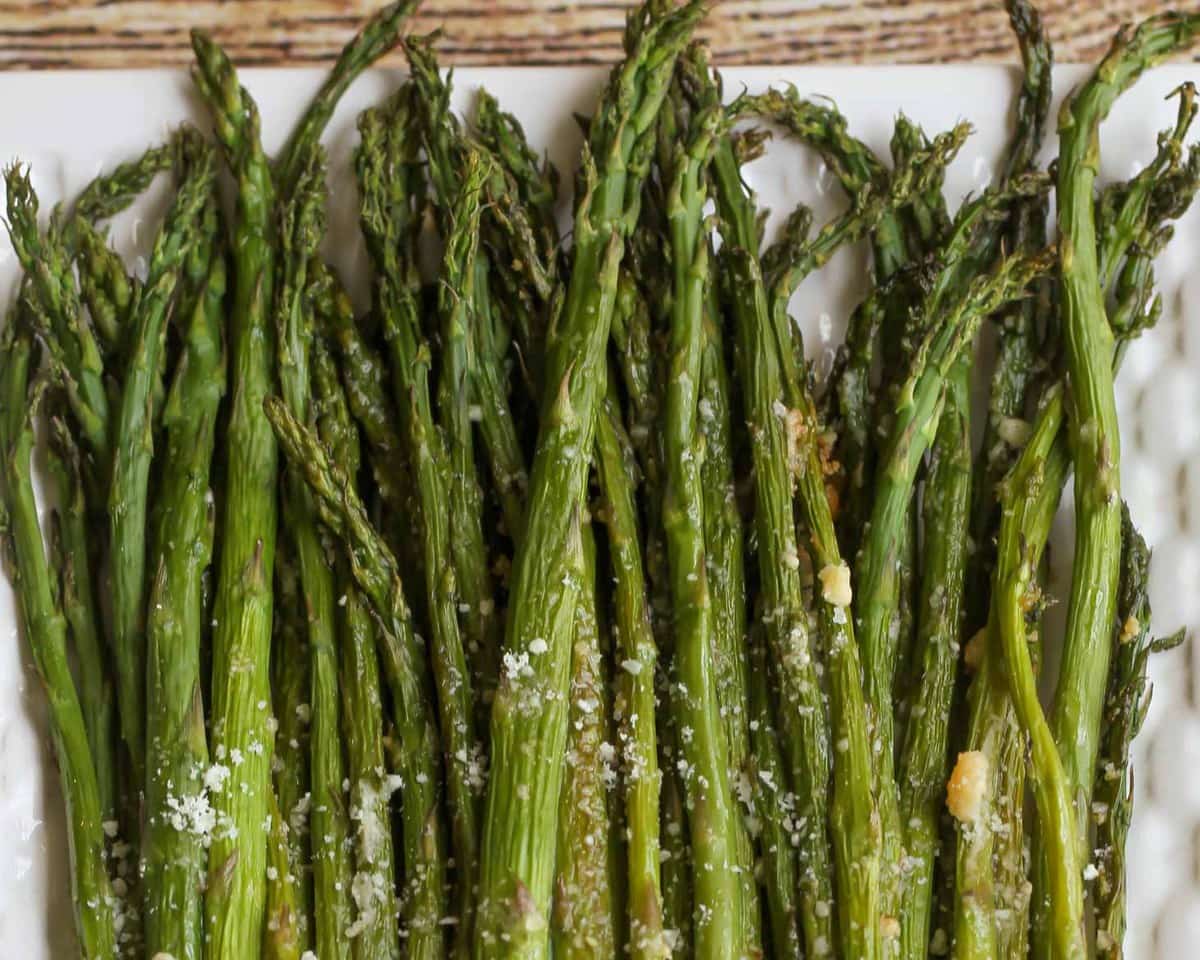 Baked Parmesan Asparagus – This Parmesan Baked Asparagus is the easiest and yummiest way to eat the veggie! It takes just minutes to prep and is the perfect side dish to any meal!
Parmesan Crusted Zucchini – Delicious and Healthy Baked Parmesan Zucchini. These spears are crusted in Parmesan cheese and baked to perfection, making them a great side dish for any meal.
Roasted Broccoli – Delicious, tender Roasted Broccoli coated in olive oil and lemon juice and drizzled in Parmesan cheese. We love this recipe!
Roasted Brussel Sprouts – Oven roasted brussel sprouts have a perfectly crispy outside, and a melt-in-your-mouth center. With only 5 minutes of prep time, you'll want to make this delicious and healthy side dish every night!
Fall Fruit Salad – Fall fruit salad is full of seasonal fruit and dressed in a bright honey, orange, and poppy seed dressing!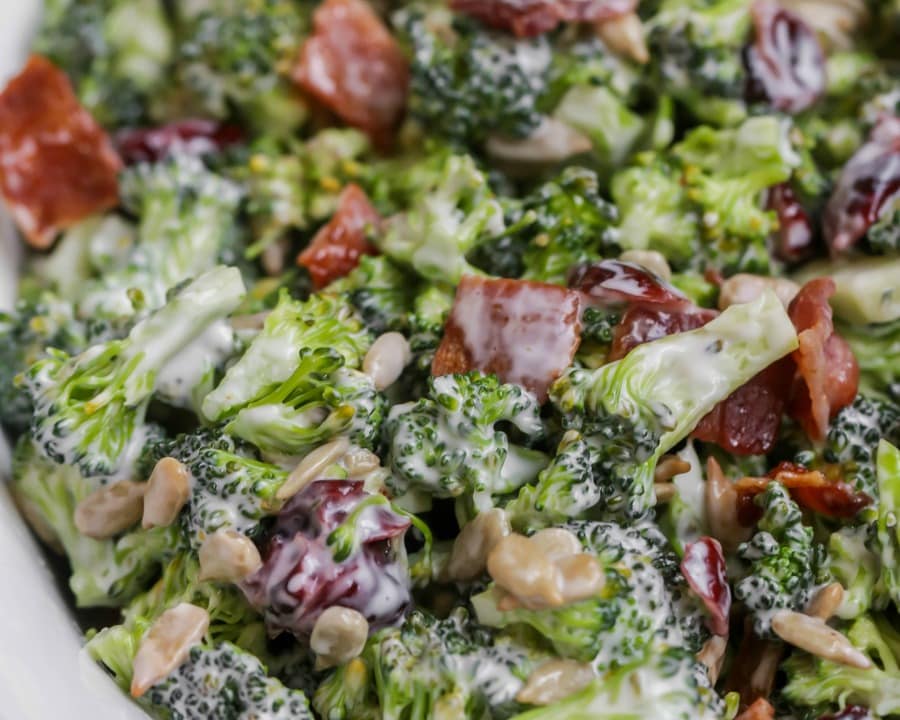 more of our best thanksgiving sides
Some of these other Thanksgiving sides are traditional, while others are a little more unique, but these all compliment Thanksgiving dinner extremely well!
Favorite Broccoli Salad – This Sunny Broccoli Salad is a simple, tasty and hearty broccoli salad served with bacon, cranberries, sunflower seeds, and mixed with a delicious, homemade mayonnaise-vinegar based dressing that is perfect for BBQs and get togethers.
Turkey Gravy With Drippings – Silky & savory turkey gravy with drippings is the perfect sauce for your roasted turkey and mashed potatoes.
Cornbread Stuffing – Savory cornbread stuffing is the perfect side dish, especially for holiday meals! The texture is perfect and the flavor is delicious!
Jiffy Corn Pudding – Real comfort food at it's finest! Corn pudding is creamy, buttery, and sweet! It's the perfect side dish to any dinner or holiday meal.
Homemade Cranberry Sauce – What's Thanksgiving Dinner without the Cranberry Sauce? It's sweet, delicious, and tastes amazing with every other dish on your Thanksgiving table.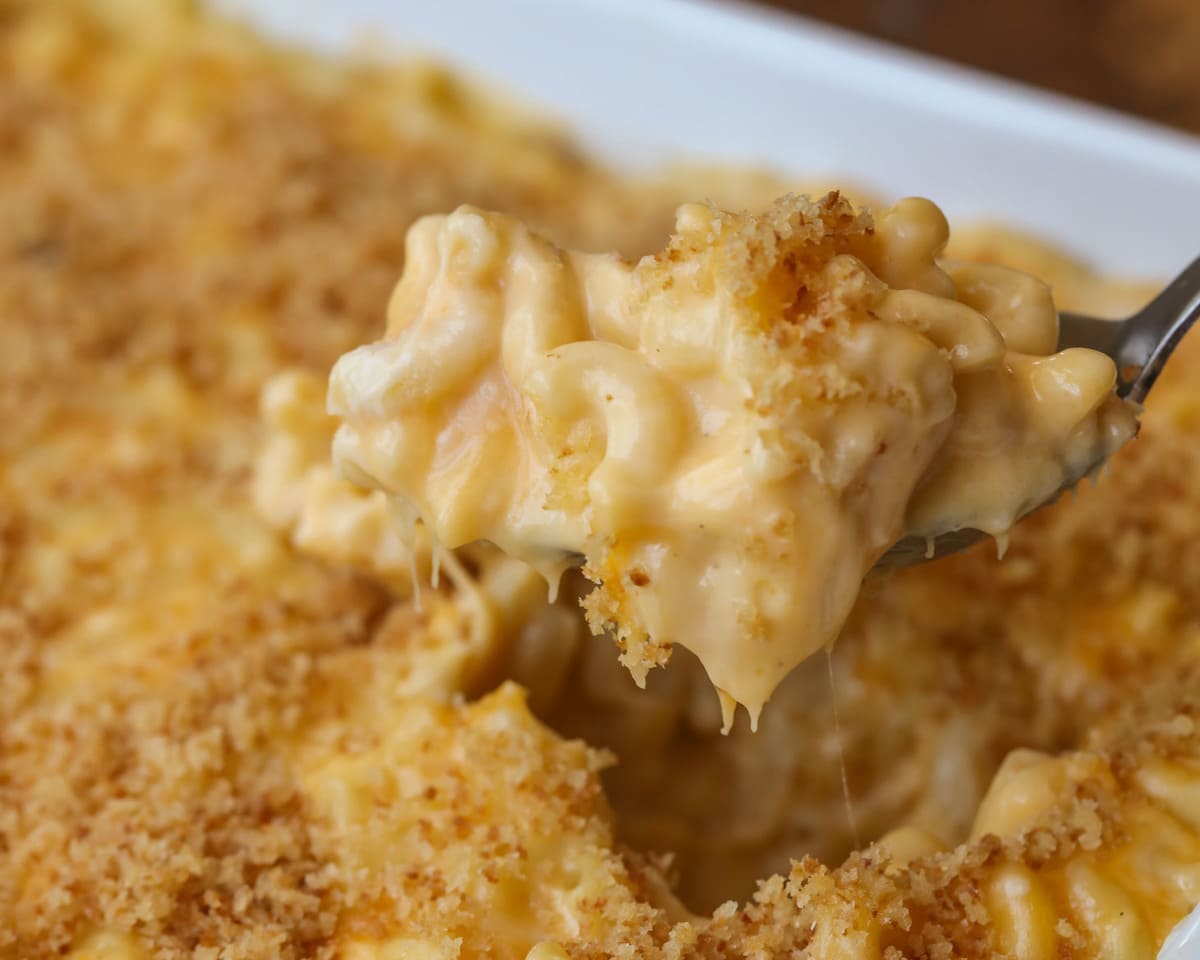 Homemade Mac And Cheese – The cheesiest, CREAMIEST homemade mac n cheese you'll ever make! Macaroni pasta covered in sharp cheddar cheese, melted into a warm cream sauce, and topped with a perfect panko crust. The whole family will definitely approve!
Turkey Gravy Without Drippings – What would we do without turkey gravy? Thanksgiving dinner would be lost without it! This creamy gravy recipe is simple and tastes so yummy on all of your favorite Thanksgiving dishes.
Strawberry Jello Pretzel Salad – Strawberry Jello Pretzel Salad is the ultimate combination of sweet and salty. This classic treat is always a crowd pleaser!!
Mashed Potato Gravy – This creamy mashed potato gravy is smooth and seasoned to perfection. It is creamy, delish, beyond simple and can be made without drippings!
Traditional Homemade Stuffing – Would Thanksgiving be the same without stuffing?? This homemade stuffing recipe, made with sourdough bread, is exactly what you need to pair with your Thanksgiving turkey!
---
One of the best things about Thanksgiving are all the sides!
We love them, and we love to have a variety. Be sure to have different options with different cooking methods, and be sure to include these Thanksgiving Rolls.
They are soft and flaky and so delicious!
---
the complete list
Here are the picture cards for all of the wonderful Thanksgiving Side Dishes listed above.
You're sure to find some delicious and easy recipes that will steal the show on this list. We can't wait to find out which ones you decide to make!
---
MORE COLLECTIONS: Potato Side Dishes, Easy Side Dishes, Vegetable Side Dishes