Delicious Sweet Potato Casserole which is great for holidays and family meals! These creamy sweet potatoes are topped with a butter-y, brown sugar and pecan topping making them irresistible.
It's a classic side dish for holidays and Sunday meals, and with a sweet, crunch topping this sweet potato casserole is MUST-HAVE. If you're a fan of the veggie, be sure to check out our Parmesan Roasted Sweet Potatoes or tour Pork Stuffed Sweet Potatoes.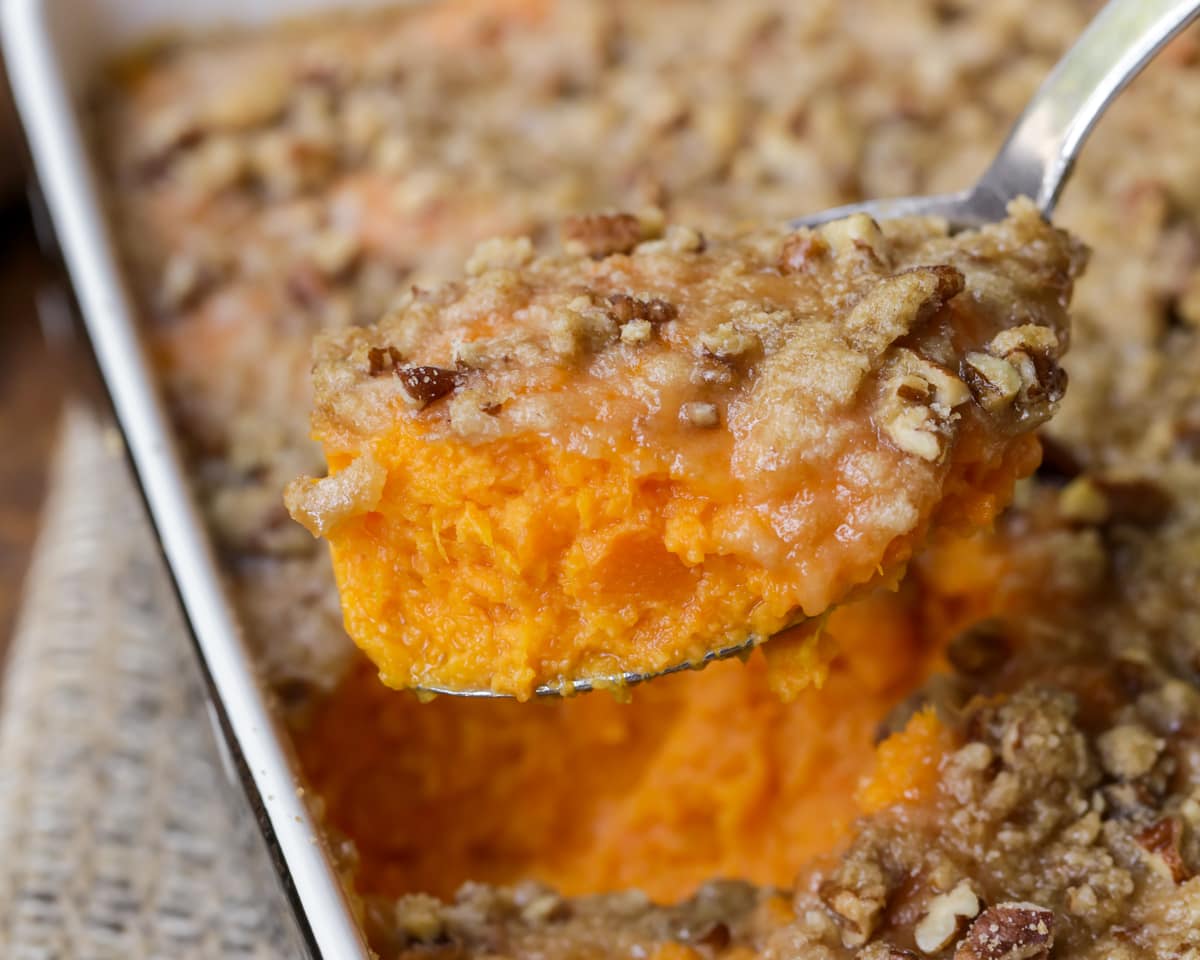 Classic Holiday Side Dish
Who here loves sweet potatoes? I admit I was not a fan when I was younger, but now I LOVE them!
Most people tend to consume sweet potatoes in the fall more than ever, especially at Thanksgiving time, but we like to enjoy them all year long. There really are so many ways to prepare and enjoy them and this particular side dish is great for any holiday or Sunday meal.
It has the perfect mix of sweet and savory and is also very simple to make. The creamy sweet potatoes are amazing and it's topped with a butter-y, brown sugar and pecan topping which is delicious! It's sure to make a sweet potato convert out of anyone. 😉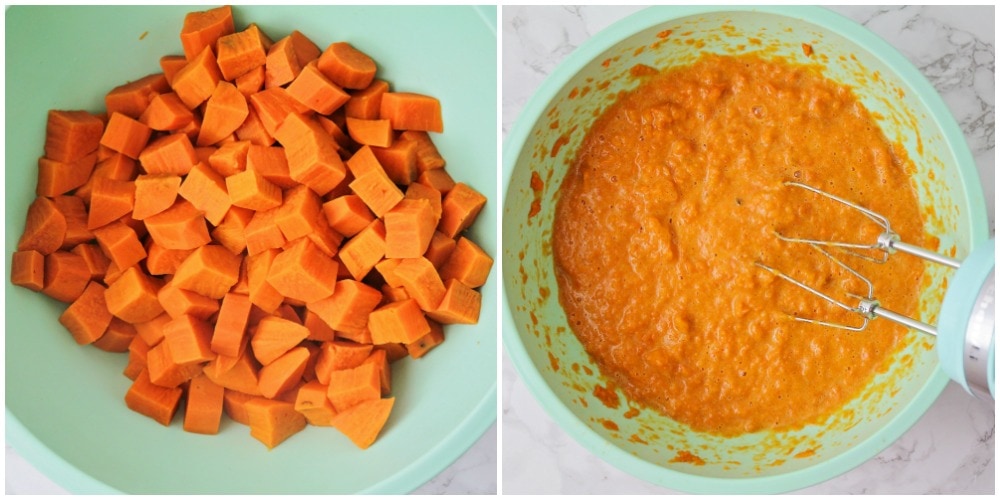 Made in a Jiffy
This dish really is beyond simple!
Begin by cooking your cubed sweet potatoes until tender. Drain and mash them in a large bowl and mix in sugar, eggs, salt, butter, milk and vanilla until smooth.
Pour this into a baking dish and set aside to prepare the topping. That is made by mixing the brown sugar, flour and butter until course. Mix in the pecans and sprinkle this over the sweet potato mixture (they can also be omitted if you're not a fan of nuts). Bake until the top is the lightly brown.
Kick it up one more notch if you want some marshmallows on top (pretty much the same recipe with even more sweetness on top!)

Holiday Preppin'
If you're looking to MAKE THIS AHEAD OF TIME, just make as instructed. Prepare the streusel topping, but refrigerate separately in a Ziploc bag. When ready to make, add the topping and bake as directed.
If you have LEFTOVERS, you can store them in a tupperware in the fridge for 3-4 days and can be reheated in the microwave.
This particular recipe feeds 10-12, so if you are looking to make it for a lot of people for a holiday, we recommend doubling or even tripling it and serving it in several dishes.
10-12 guests – 1 batch
20 – 24 guests – Double batch
30 – 35 guests – Triple batch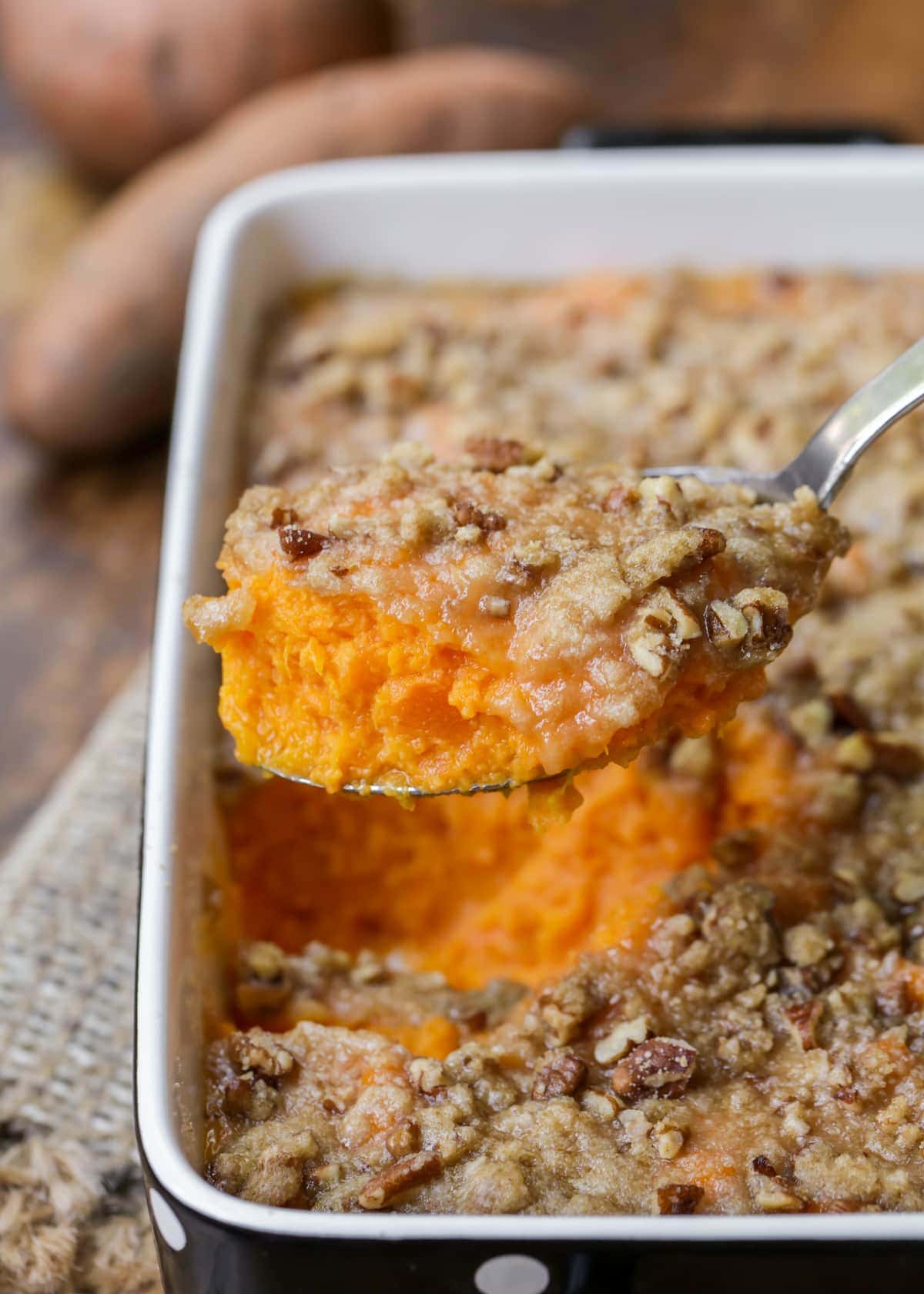 Be sure to bookmark this for your holiday menu because it is sure to be a hit! Our family may be crazy but we usually have a few varieties of potatoes at our holiday celebrations, but you can assure this will be made for our family to enjoy. 😉
For more sweet potato recipes, check out: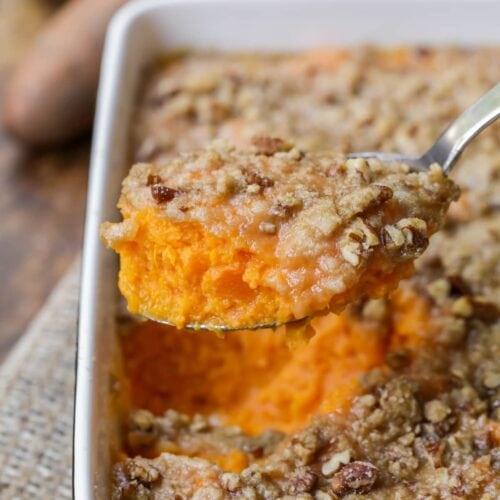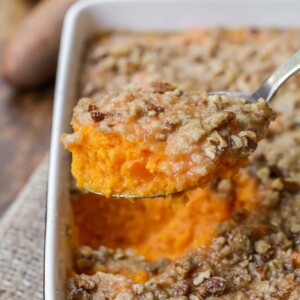 Sweet Potato Casserole Recipe
Delicious Sweet Potato Casserole - creamy sweet potatoes topped with a butter-y, brown sugar and pecan topping!
Total Time
1
hour
5
minutes
Ingredients
4

cups

cubed sweet potatoes

1/2

cup

white sugar

2

eggs

beaten

1/2

tsp

salt

4

tbsp

butter

softened

1/2

cup

milk

1/2

tsp

vanilla extract

1/2

cup

packed brown sugar

1/2

cup

all-purpose flour

3

tbsp

butter

softened

1/2

cup

chopped pecans
Instructions
In a medium pot, cover sweet potatoes in water and cook over medium high heat until tender; drain and mash.

In a large bowl, mix together the mashed potatoes, sugar, eggs, salt, butter, milk and vanilla extract, until smooth. Poor in a greased 9x13" baking dish.

Mix the brown sugar and flour in a medium bowl and cut in the butter until the mixture is coarse. Stir in pecans, and sprinkle mixture over your sweet potato mixture.

Bake at 325 for 30 minutes, or until the top is lightly brown. ENJOY!