I'm not joking when I say that today's recipe has me drooling. We made these about a month ago for the first time and the hubby and I LOVED them. The recipe for these Pork Stuffed Sweet Potatoes comes from my friend, Amy, in Texas. While we lived there, our church would have monthly get together with the women where we would share our favorite recipes. We'd pick a theme (like appetizers or soups) and everyone would bring that recipe. Everyone would sample a little bit of each and exchange the recipe. It was so much fun, and I was able to find a ton of new recipes to try out for my own family. When I tried these sweet potatoes, I knew instantly that they would go over really well in the family. We already love sweet potatoes and then topping them off with pork and cheese and bacon and sour cream… I mean, come on! SO DELICIOUS!!
For this recipe, I headed to the produce section at the grocery store and found out that they have separate potatoes for microwaving. I've seen other recipes where they were microwaved and used regular sweet potatoes, but I'm guessing these ones are a little better for that. Having said that, you can also bake these bad boys but they will obviously take longer (you'll have to bake the pierced potatoes at 400 for about 45 minutes). Either way you make them, I promise you they will be a hit!!
Here is the recipe:

Pork Stuffed Sweet Potatoes
Ingredients
Sweet potatoes (~1 per person - we used microwavable sweet potatoes)
Pulled pork (homemade or store bought - with or without BBQ sauce)
Bacon (~1 slice per potato)
Shredded cheese
Sour cream
Green onion
Instructions
Rinse potatoes and poke holes in potatoes to allow for venting.
Place potatoes on glass plate, cover with a damp paper towel and microwave on HIGH for 5 minutes.
After the 5 minutes, turn over, rewet towel and cook for an additional 5 minutes.
One done cut a slit in the top of the potato and add pork, cheese, bacon, sour cream and green onions. ENJOY!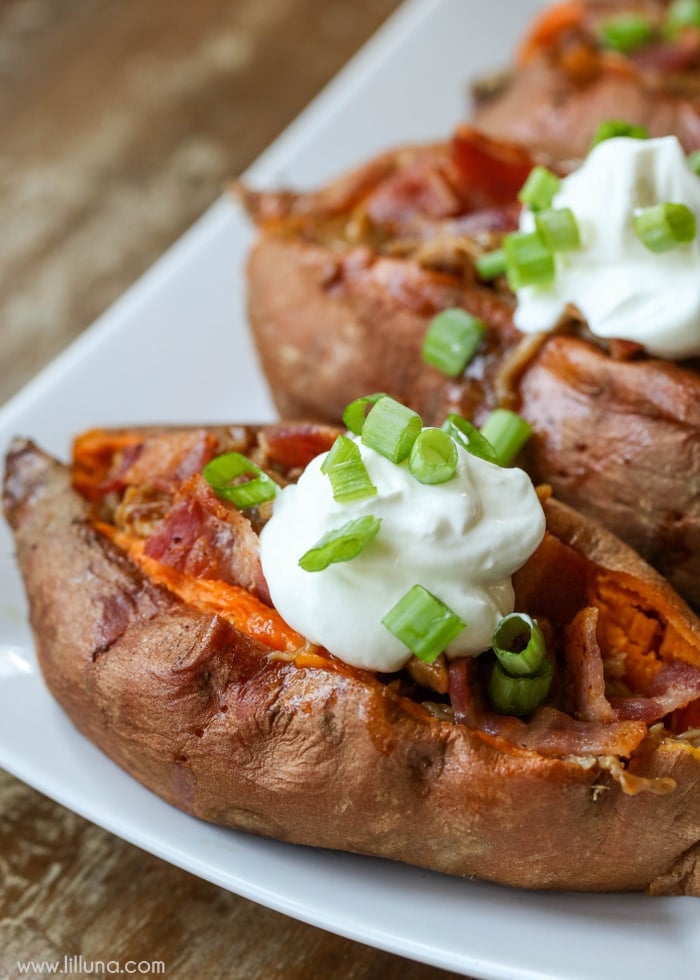 I haven't always been a fan of sweet potatoes, but now I can't get enough of them. If you're the same way then you'll definitely love this recipe too. For more great potato dishes, check out these favorites:
Crispy Baked Sweet Potato Fries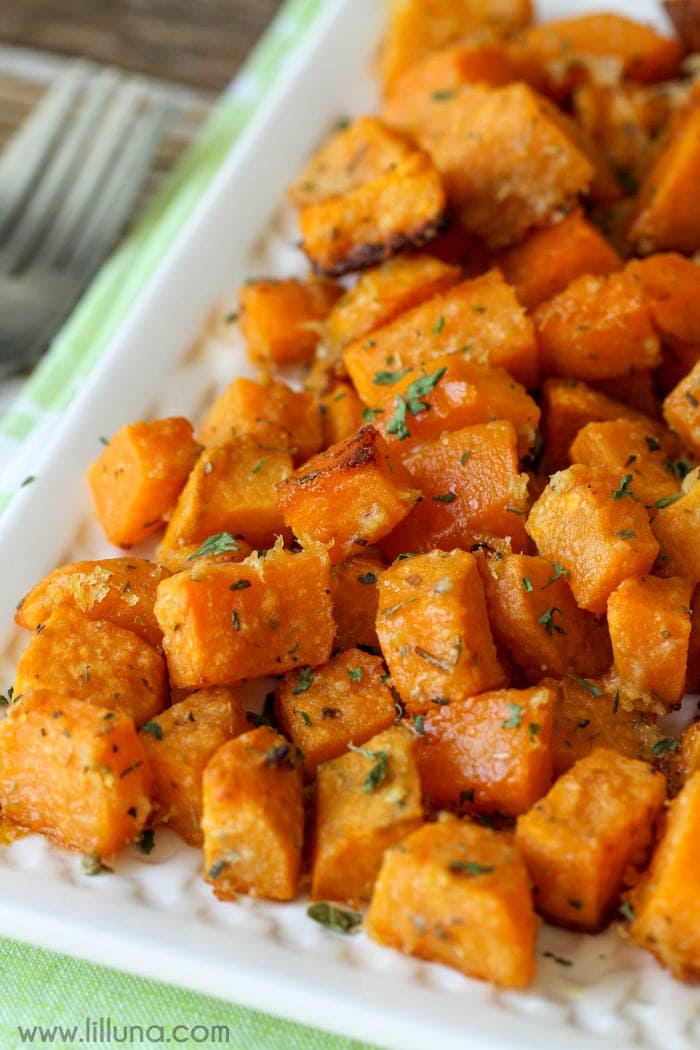 Check Out My Other Recipes
For all side dish recipes go HERE.
For all main recipes go HERE.
For even more great ideas follow me on Facebook – Pinterest – Instagram – Twitter – Periscope.
ENJOY!
Need more recipes and creative ideas? Sign up and get a FREE copy of my latest ebook!