This Homemade Baked Beans recipe is a must-have at all of our BBQ's. It's such a simple and easy recipe, requires only FIVE ingredients, and cooks in the crock pot. Everyone who tries it agrees it's the best baked beans recipe.
This classic side dish is great for BBQs and parties and takes just a few minutes to prep. Just dump it in the slow cooker and you're set!

Does your family like to BBQ?
My family LOVES to BBQ, which is a good thing for me because I LOVE BBQ foods. I didn't always love it, but it's my hubby's favorite, and because of that we've had it more often, making me like it more. Now, when the Lunas BBQ, we go all out. Hamburgers, hot dogs, steak, chips, dips, salads, fruit, baked beans and more are always served.
Two recipes we ALWAYS have are my mom's Potato Salad recipe (it's the bomb.com!) and my aunt Georgie's Baked Beans recipe. Everyone always expects these two items to be there, and they're always gone before you know it because they are so stinkin' good.
I must admit that I've never been a huge fan of baked beans until I had this recipe. They are just so good and go perfect with an outdoor BBQ!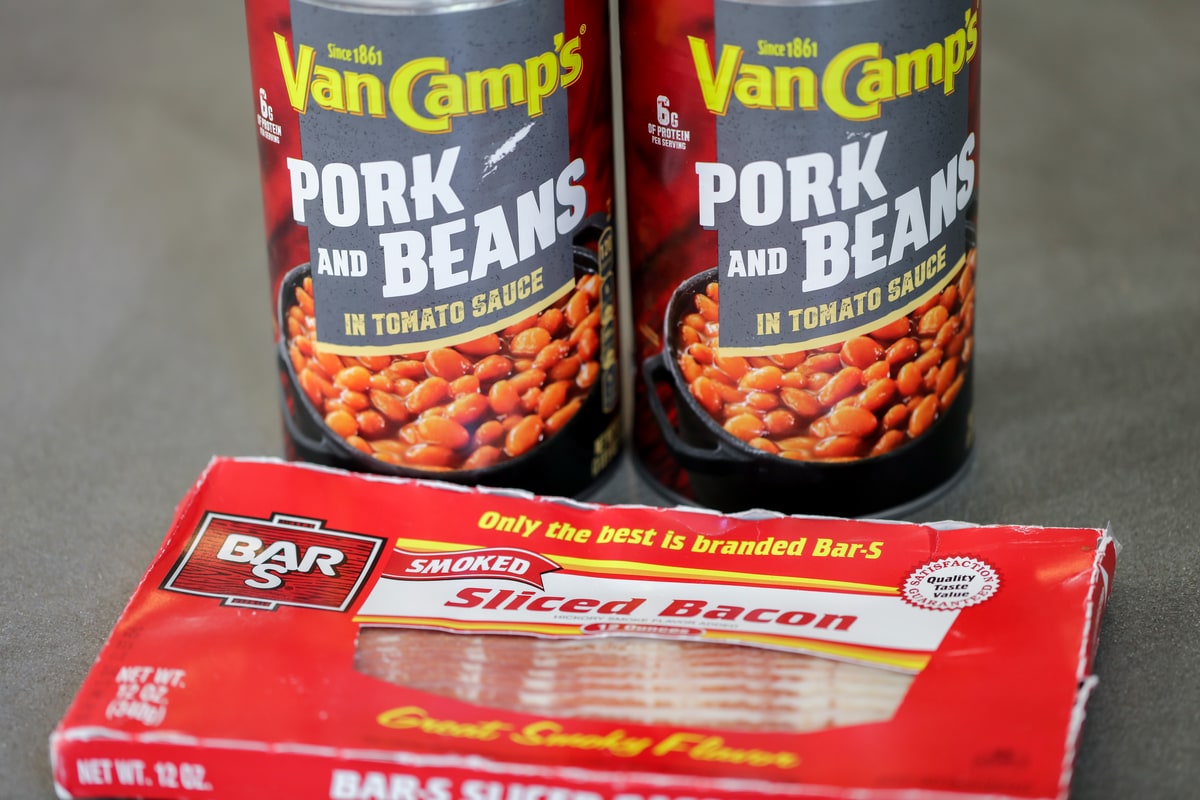 The easy version
I know some people make baked beans from scratch, but you know me—if there's an easy (and still delicious) way to make a recipe, that's the way I do it! Our baked beans recipe uses canned beans with a few additional ingredients. You just combine them all in the crockpot and cook on low for 4 hours. Then, for the last hour, you crack the lid open which allows the beans to thicken up.
The type of beans used will depend on what brand of canned Pork and Beans you buy! The beans in the pork and beans are typically some variety of Navy Beans. On the label, it might be under any of these names:
haricot
pearl haricot bean
boston bean
white bean
pea bean
Alternative Ingredients: You could use Molasses instead of, or combined with, brown sugar, replace the bacon with diced hot dogs or cubed ham, swap the ketchup for BBQ sauce, or add caramelized onions and bell peppers. You can even spice it up with chili flakes. Adapt it to your tastes!
In the Oven
Place ingredients in an oven safe dish and cover with baking lid or aluminum foil. Preheat oven to 350 degrees and bake for 45 minutes. Remove foil and bake 10 more minutes.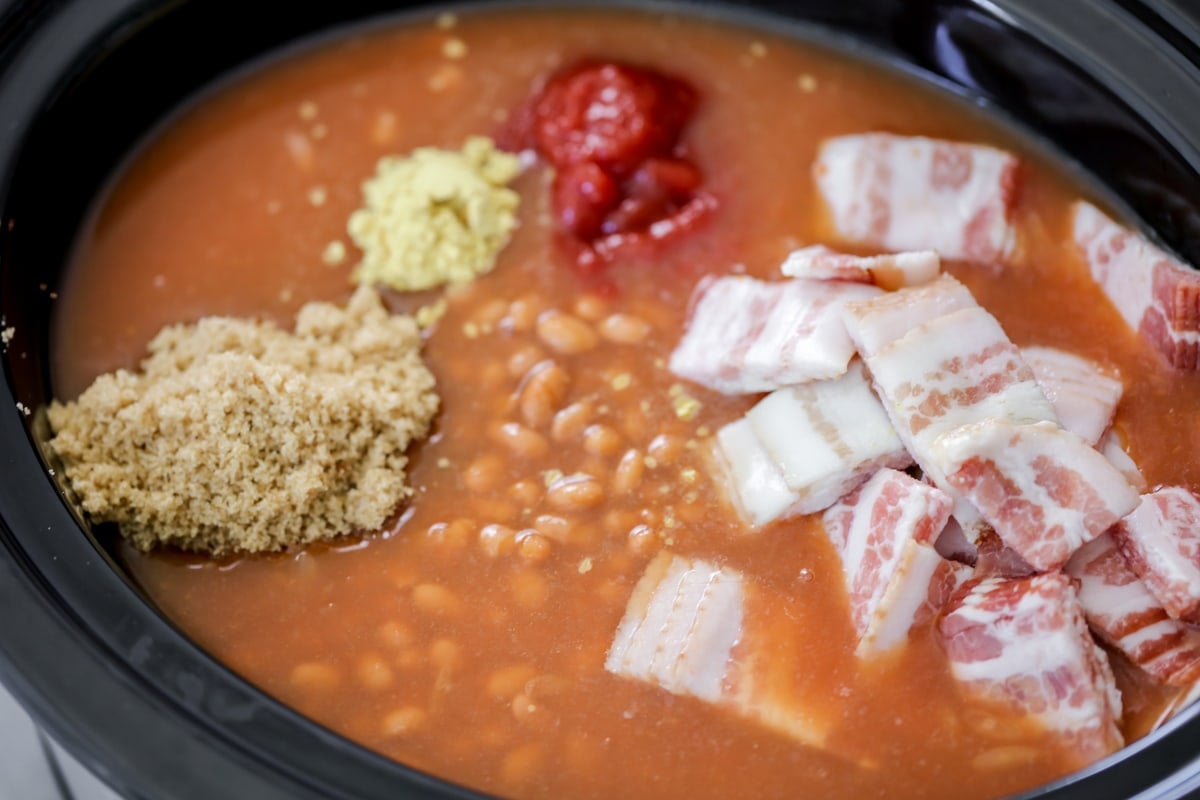 Leftovers are just as good!
Reheating leftovers: Place beans in a  microwave safe dish heat for 90 seconds and stir. Heat in 30 second increments, stirring in between, until beans are hot. To reheat in the oven place beans in an oven safe dish. Preheat the oven to 375 degrees and bake for 15-20 minutes or until the desired temperature. The amount of beans will affect the cook time.
Freezing leftovers: Allow beans to cool completely. Place left overs in an airtight freezer safe container. Freeze for up to 6 months. Thaw in the fridge before reheating.
Oh, man I LOVE Baked Beans when we BBQ!! I don't know why for sure this recipe is my favorite, but it definitely beats any restaurant Baked Beans I have tried. Be sure to check it out and let me know what you think. 🙂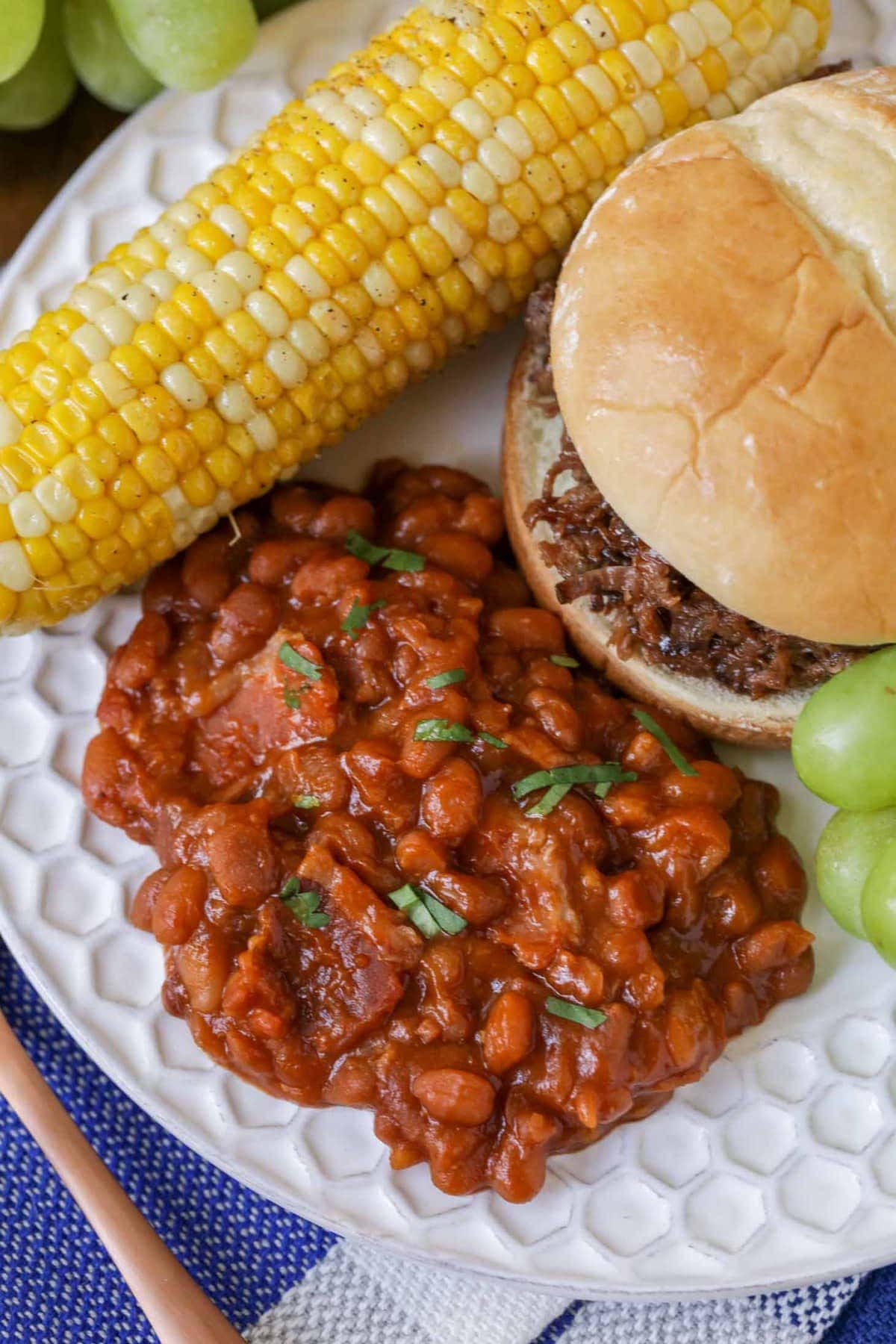 For more great side dishes, check out:
Homemade Baked Beans Recipe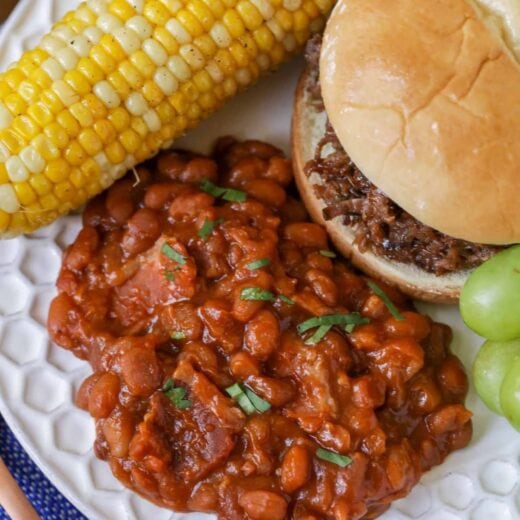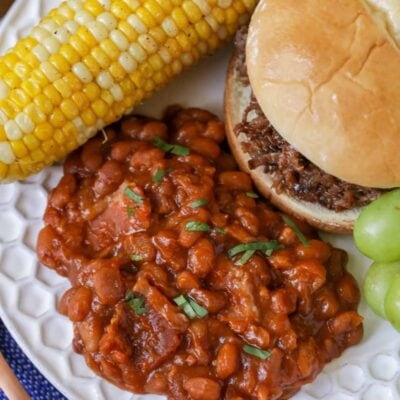 Easy Homemade Baked Beans is a must-have at all of our BBQ's. Everyone who tries it agrees it's the best baked beans recipe!
Ingredients
2

30 oz

cans pork and beans

3/4

cup

brown sugar

1

tsp

dry mustard

6

slices

uncooked bacon

cut up

1/2

cup

ketchup
Instructions
Mix all ingredients together and put into a crock pot. Cook on LOW heat for 5 hours.

For last hour, take the lid half off and let it continue to cook. Having the lid half off will allow it to thicken up. ENJOY warm.