The BEST homemade hamburgers!! This easy burger recipe is complete with the most delicious secret sauce that compliments the Ranch Burgers perfectly!
This is the only burger recipe we ever use for summer BBQ's! It's not complete, though, without some of our favorite sides. Potato salad, Creamed Corn, and Coleslaw are all great for serving with these tasty ranch burgers.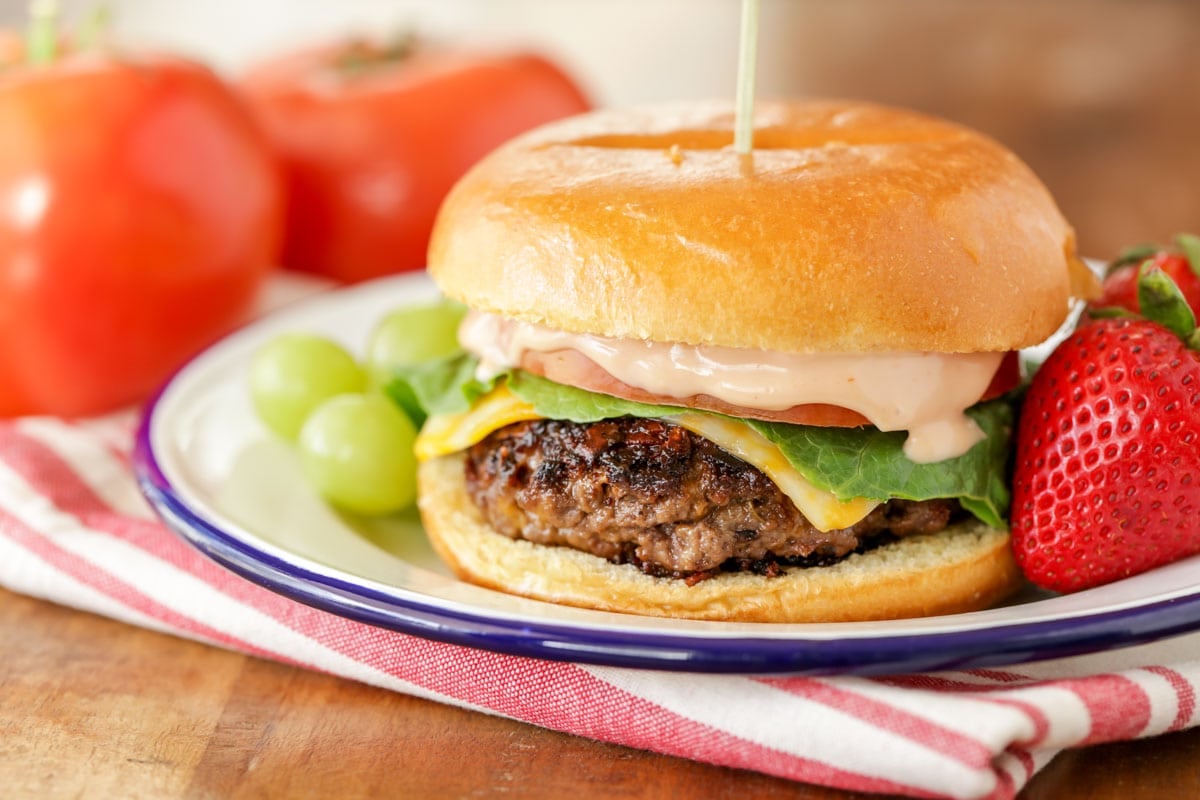 We love to Barbecue!
It's a summertime favorite, and we love nothing more than the smell of steaks or burgers on the grill.
I think we're especially more likely to get out and grill because of the holidays like Memorial Day, Fourth of July and Labor Day. Do you guys do the same thing?
If you're hamburger fans like we are, then you'll definitely want to try this Ranch Burger recipe (that comes with a special sauce too)! It's really quite simple…
Instead of trying to guess what assortment of seasonings to include in your homemade burgers, you can feel assured that this simple combination of cheddar cheese and ranch mix will make your burger taste delicious!
Once you realize how easy it is to make hamburger patties, you will never purchase pre-made patties ever again. Sometimes there is just nothing better than a big, juicy hamburger with some fruit and corn on the side. Don't you think?!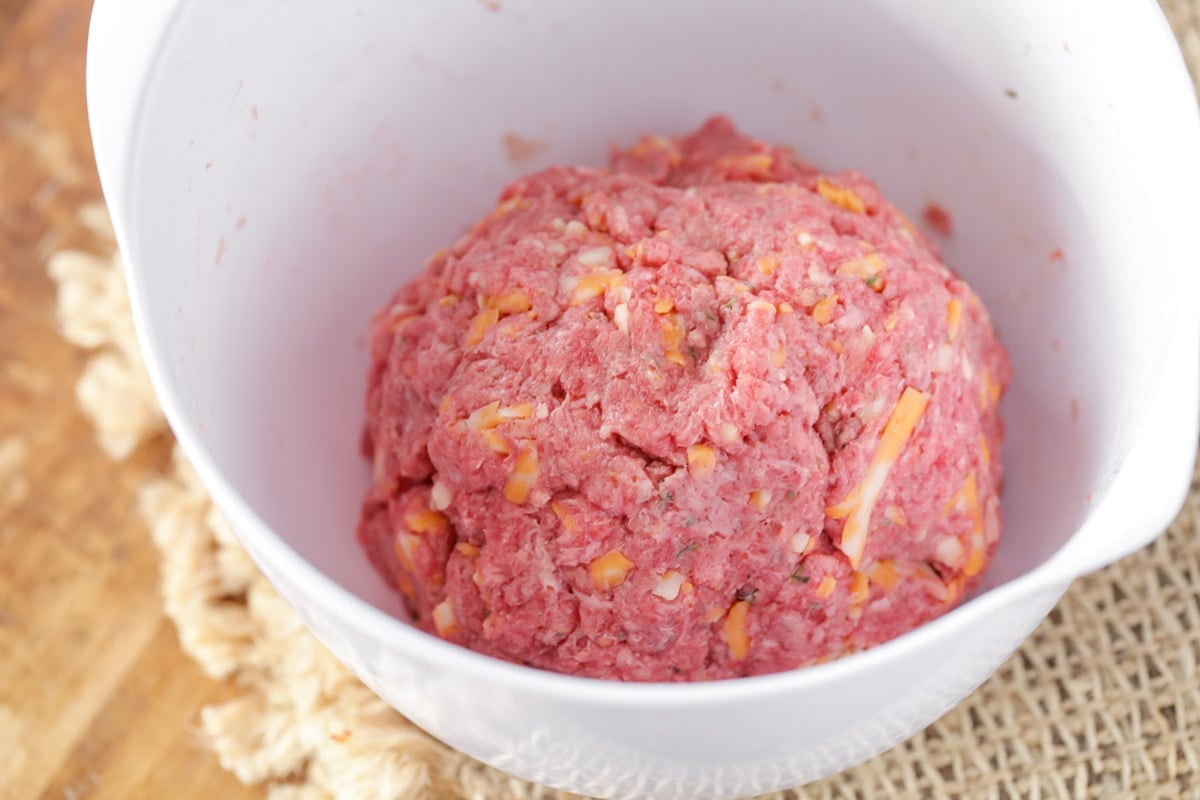 How to Make Homemade Hamburgers
If you've never made your own hamburger patties before, I'm here to tell you that they're so so easy. No need to fear!
PATTIES. Put the raw ground beef in a bowl and mix in the ranch seasoning and cheddar cheese. Use your hands to form the ground beef into patties. Keep in mind that you can get at least 4 patties out of 1 lb of meat, and that the patties will shrink a little bit when they cook.
GRILL. Grill the burgers to your liking. If you don't have a grill, you can use other cooking methods (listed below).
SAUCE. While those patties are on the grill, you can mix all of the ingredients together to make the secret sauce. A whisk works just fine for this.
Once the burgers are done, serve them on hamburger buns with the secret sauce and your favorite toppings which might include:
Lettuce
Tomato
A slice of cheese
Pickles
Onions
Bacon
Avocado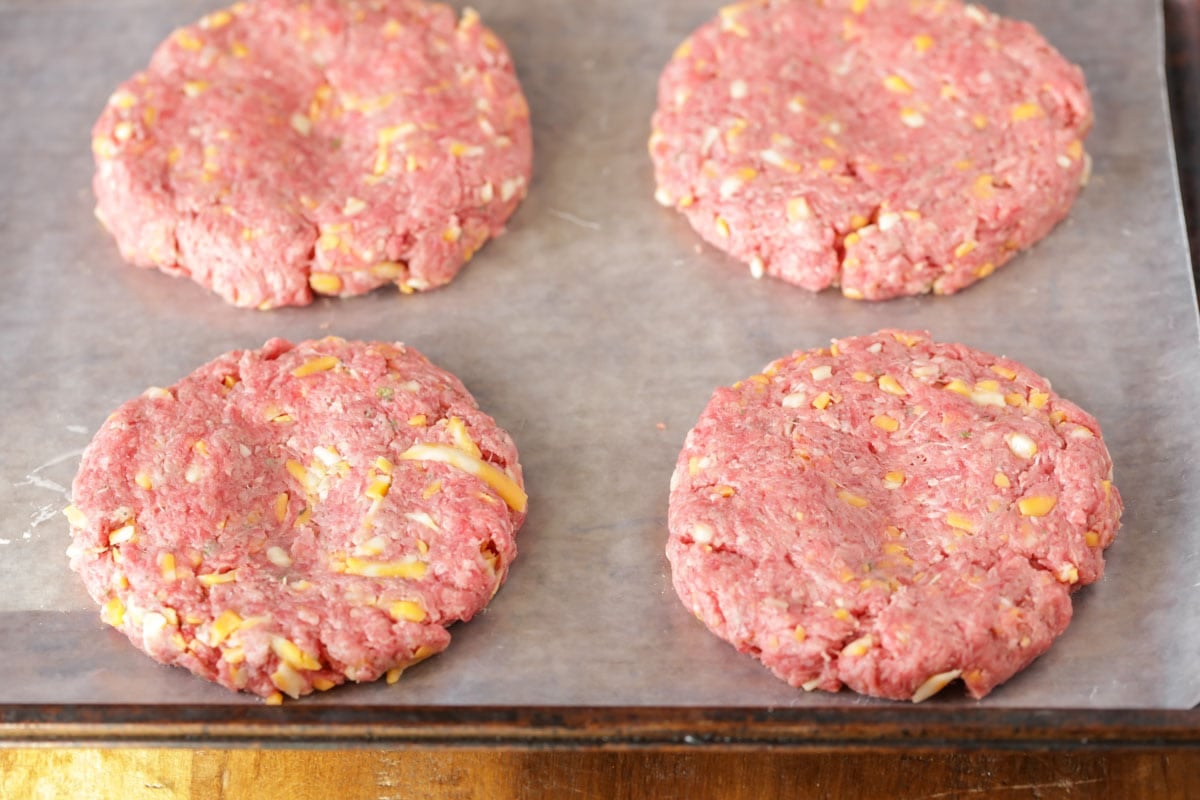 Ways to cook a burger
:
Whichever cooking method you choose, be sure that your burger reaches an internal temperature of 160° F.
TIP: When forming your patties keep the thickness to about ¾ inches. Make an indention in the center to prevent the burger from bulging while they cook.
Grill: (Our favorite method) Cook over high direct heat.

Medium-rare: Cook 3 minutes flip and cook 4 minutes more

Medium: Cook 3 minutes flip and cook 5 minutes more

Medium well: Cook 3 minutes flip and cook 6 minutes more.

Well done: Cook 3 minutes flip and cook 7 minutes more.

Pan fry: (Cast iron skillet works the best) Heat a little oil in the pan over high heat. When you put the burgers in, they should immediately sizzle. Cook until golden brown about 3-5 minutes on each side.
George Foreman: cook for 7-8 minutes
Broil in an oven: turn broil to High. Evenly space the patties onto a broiler pan. Broil for 4-6 minutes on each side.
Oven Bake:  Preheat the oven to 350 degrees F. Bake on an ungreased sheet for 8-10 on each side.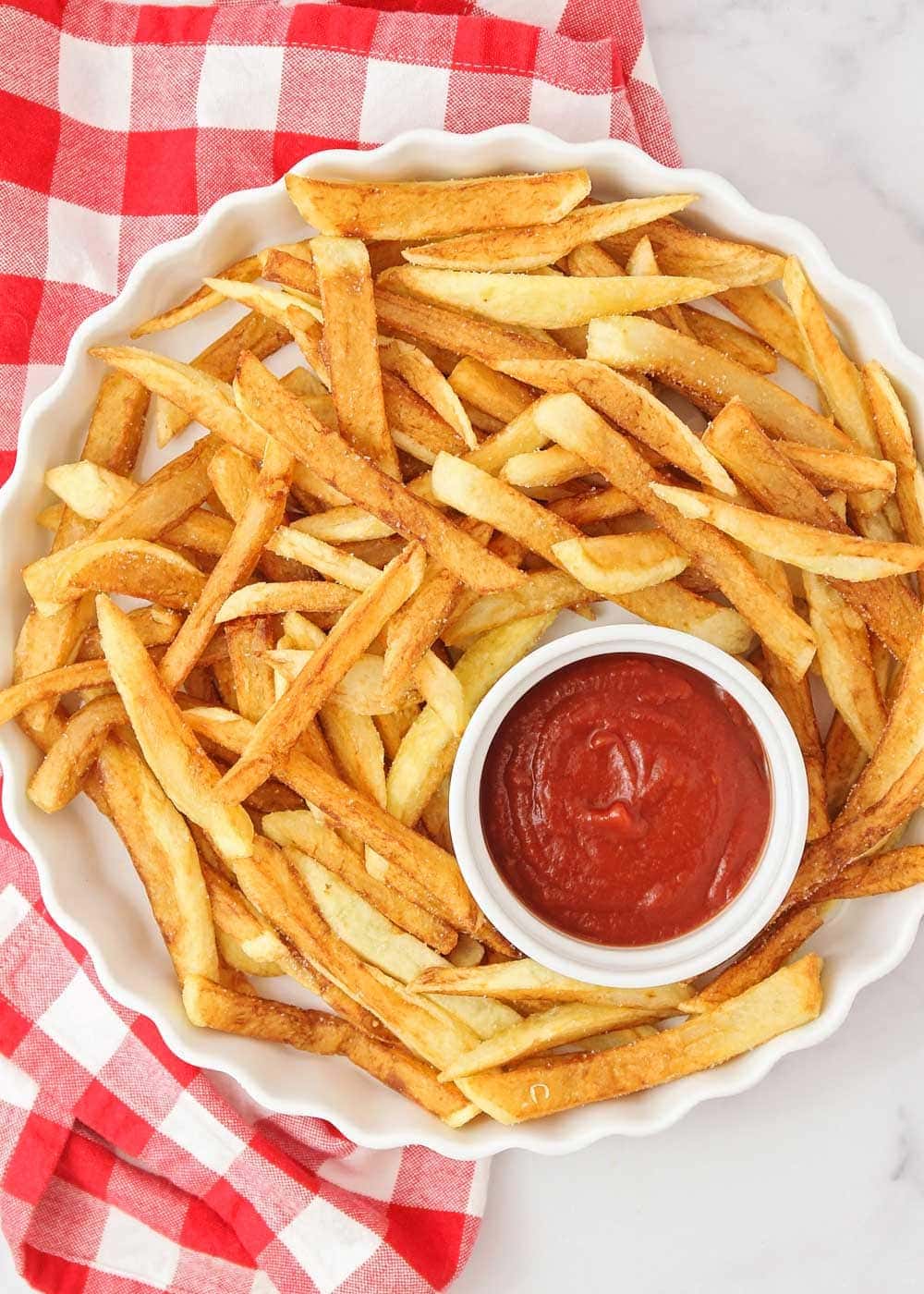 Tips and Storage
How can I get a juicy burger?
Choose freshly ground meat if you can.

Choosing ground beef with a higher fat content, such as 80/20, will produce a juicy burger. Lean meats make a tough drier burger.

Don't over mix the meat.

keep the meat cold until you're ready to cook. The fat in the burger will keep from cooking out creating a flavorful and juicy burger. Keep in mind the more fat there is the more the burger will shrink.
Pre-make patties:You can pre-make the patties and store them, un cooked, in an airtight container in the freezer for up to 6 months. Be sure to separate the patties with freezer paper. Thaw in the fridge.
Storing: Leftovers can be stored in an airtight container in the fridge for 3-4 days. You can even freeze them for up to 4 months. Reheat in the microwave, stovetop or bake/broil in the oven.
What to serve with hamburgers? SO many options, but you can find some great recipes in these collections: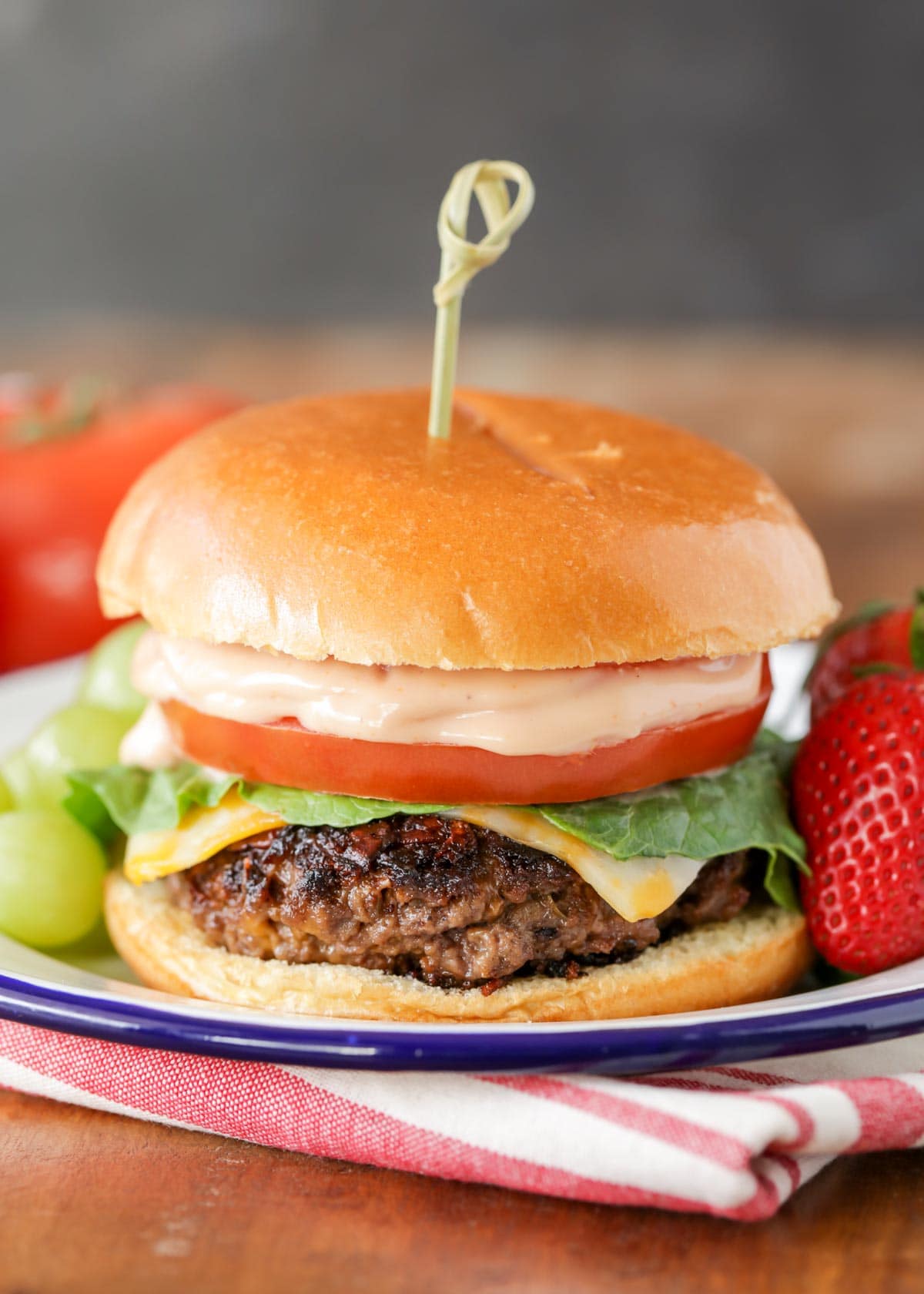 For more recipes perfect for summer barbecues, try:
Ranch Burger Recipe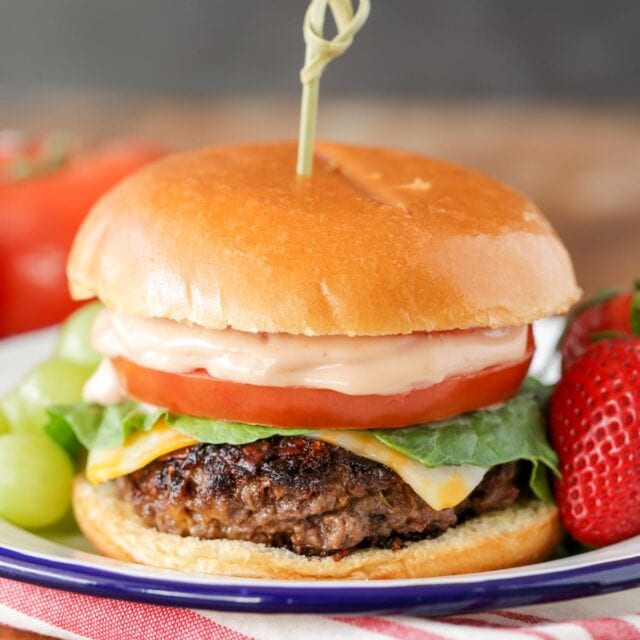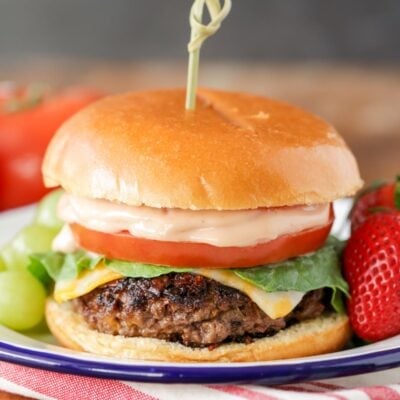 These are the BEST homemade hamburgers!! This cheesy Ranch Burger is complete with the most delicious secret sauce!
Ingredients
For Burger Patty
1

pound

ground beef

1

cup

cheddar cheese

1

package

Hidden Valley ranch mix

or 3 tablespoons
For Secret Sauce
¾

cup

mayonnaise

¼

cup

ketchup

¼

cup

relish

2

tablespoons

Worcestershire sauce
Other Topping Ideas
lettuce

tomato

onion slices

pickles

avocado

bacon
Instructions
Mix cheese and ranch into your hamburger meat and form into patties. Grill to your liking.

Combine all sauce ingredients and mix well with a whisk.

Top with this delicious sauce for a fantastic restaurant style burger.