Summer is a time of BBQs, swim parties, and lazy days. I love to BBQ, try new recipes, and have plenty of gatherings. From healthy to easy, I have summer side dishes to accompany any meal perfectly.
More Collections: Summer Appetizers, Summer Soups, Summer Drinks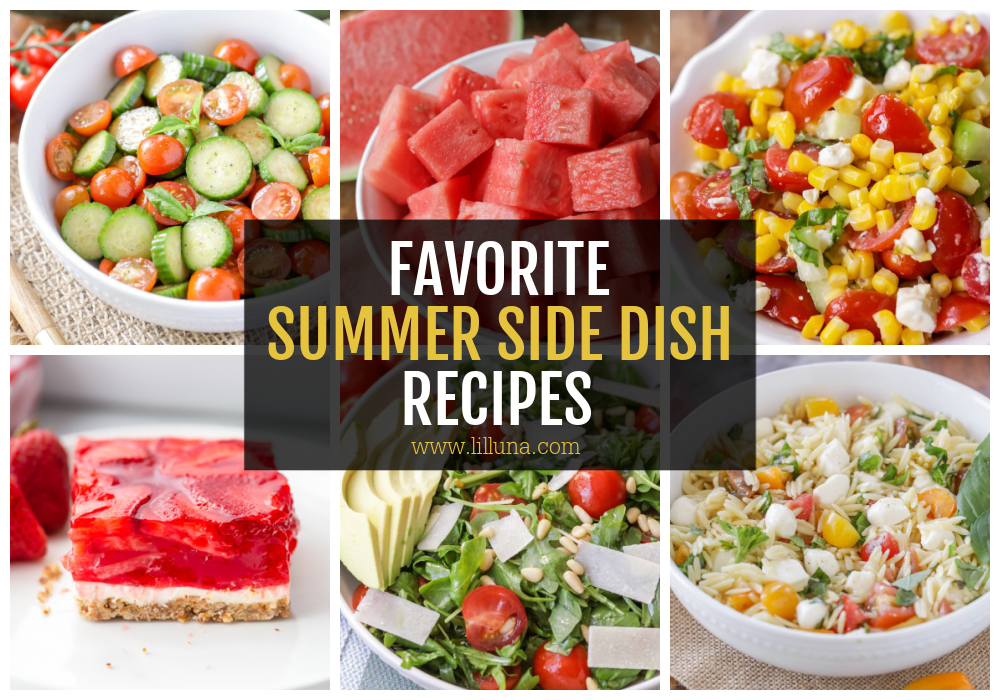 Sides for SUmmertime
Seasonal fruits and veggies create the best and easy summer side dishes.
I LOVE fresh fruit, especially Watermelon, and Fruit Salads are always a go-to summer side.
Pasta Salad and Potato Salad are also summertime musts, especially at a potluck cookout and BBQ. There are so many mouth-watering sides to choose from, but I rounded up all of my favorites into this collection!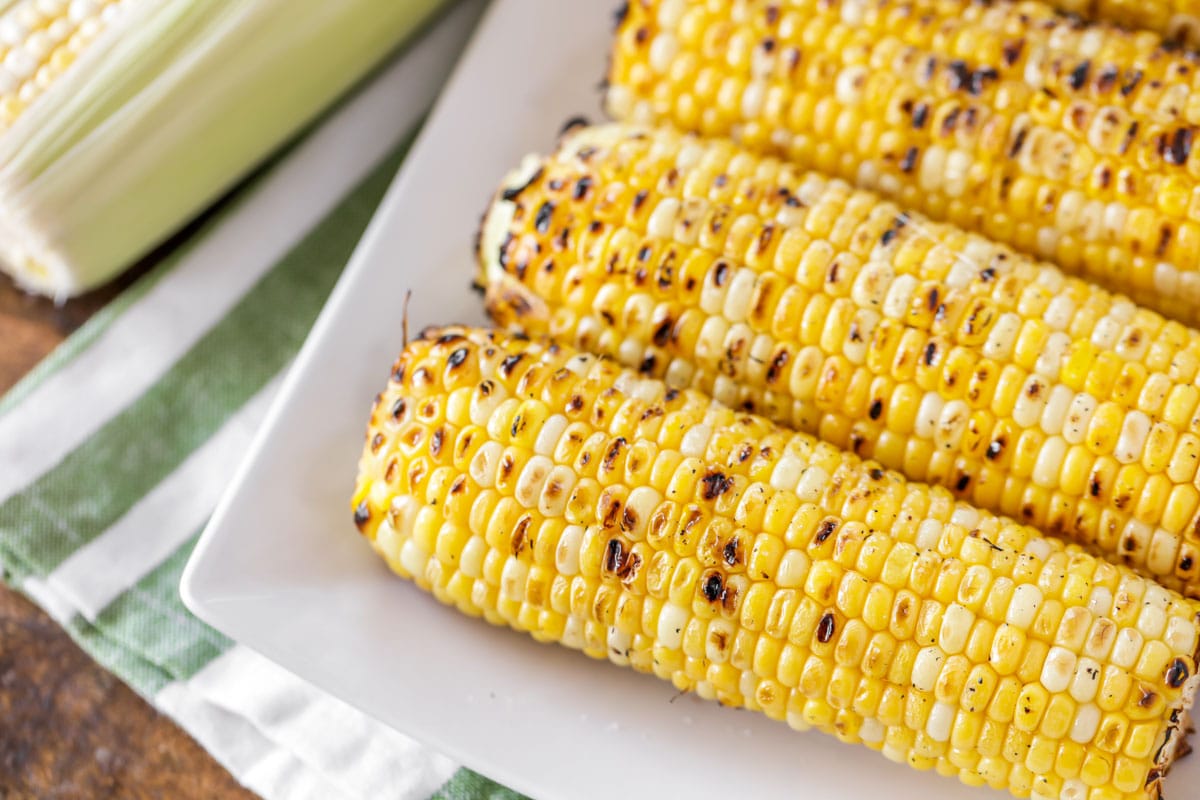 Summer produce
Fruits and veggies make great sides to any summer meal. They are great grilled, roasted, raw with dip, or tossed in a salad. Mix and match the color and textures to help provide balance to the meal.
Some of my favorite summer produce include:
Summer Vegetables. artichokes, beans, bell peppers, cucumbers, carrot, eggplant, greens (lettuce, spinach, red cabbage), shallot, red onions, squash (yellow squash, zucchini), sweet corn, sweet potatoes, and fresh herbs.
Summer Fruits. avocados, berries (blueberries, raspberries, strawberries), grapes, kiwi, mango, melons (cantaloupe, watermelon), peaches, and tomatoes.
Cheese. So many summer recipes include a combination of veggies and cheese in some way or another. And even if they don't you can easily add it for an easy twist of flavor.
Some favorite cheeses include mozzarella cheese, cotija cheese, goat cheese, cheddar cheese, parmesan cheese, and feta cheese.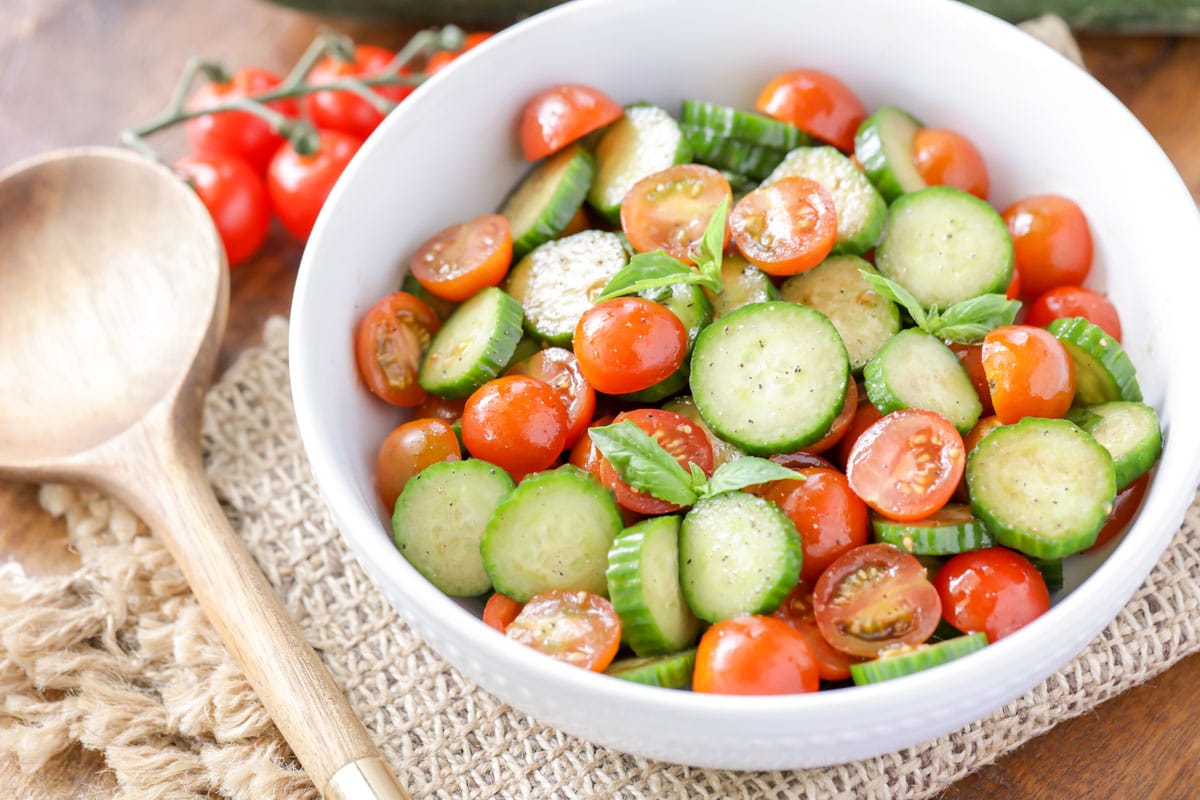 The right temperature
In my book, summer and outdoor meals go hand in hand. Even in Arizona, when the temperature drops with the setting sun, you'll find people enjoying good food and great company outside.
Sometimes it's as simple as stepping out your back door, other times you may gather at a park. No matter where you choose to enjoy the great outdoors, it's important to make sure the food stays at the right temperature.
Transporting food. Using an insulated cooler is great for both hot and cold foods. Use a cooler for each. Use warm rice bags or hot water bottles to keep the food warm. Ice is the most common tool used to keep a cooler cool. You can also freeze water bottles and then drink them as they thaw.
Serving warm food. If you have access to an outlet, using a crock pot will help keep food warm. Chafing dishes are another great way to keep food warm. If you'll be using a grill, then that is yet another tool you can utilize.
Serving cold food. The best way to keep food cold is to set it out right before eating and only set out what will be consumed within an hour. Refill as needed. To help keep food cool, I like to fill a pan or bowl with ice cubes and place the tray/bowl of food on top of the ice.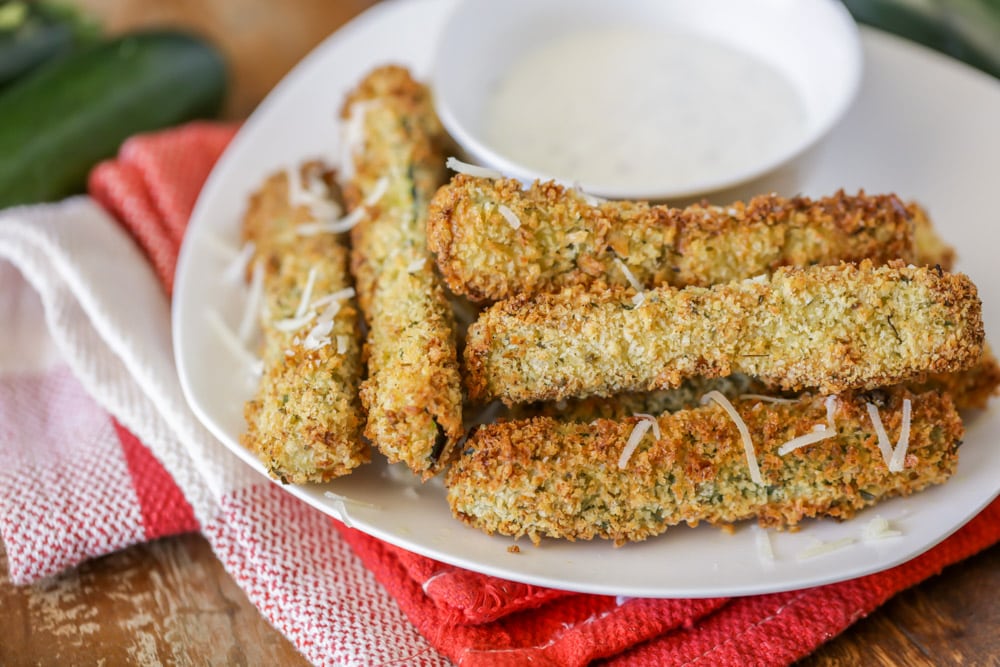 HOW MANY TO SERVE
Deciding how many different summer sides and how much of each to make can be tricky. 
First, decide how many different side dishes you want to serve. I have found that for about 6-8 guests I'll have 3-4 side dishes. I'll add another side dish for every 8-10 more guests.
Second, calculate how much of each dish you will need to make.
Generally, the following amounts are what to calculate per person:
Pasta Salad: ½ – ¾ cup
Potato Salad: ⅔ cup
Baked Bean: ½ cup
Green Salads: 1 cup
Slaw: ½ cup
Fruit: 1 cup
Vegetables: ½ cup
Corn on the Cob: ½-1 ear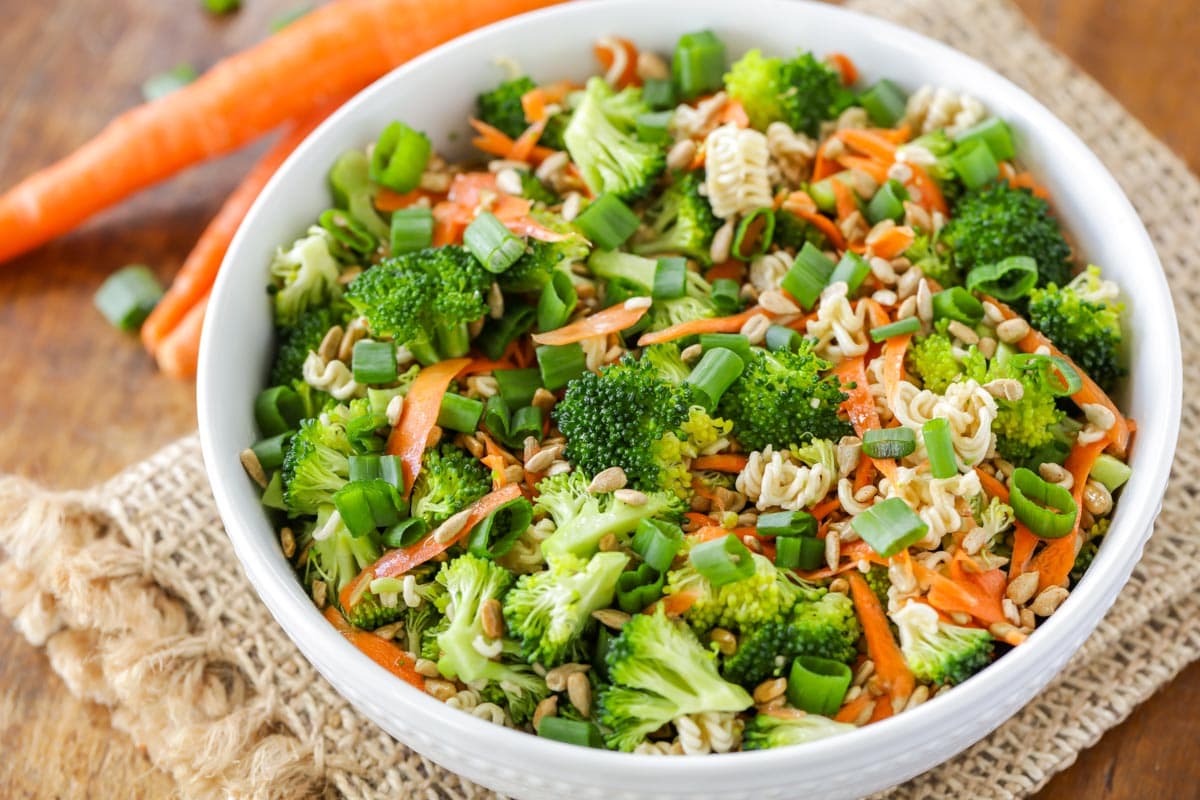 Prepping ahead of time
Most side dishes can either be made completely ahead of time or you can prep the different elements ahead of time making it quick and easy to throw together before meal time.
Each recipe includes more specific instructions on how to prepare it ahead of time, but in general, keep the following in mind:
Wash and chop veggies 1-2 days ahead. Store them in separate containers in the fridge to be used in the recipe.
Raw potatoes can be washed, chopped, and stored in a bowl of water in the fridge for up to 24 hours. Drain, pat dry, and use.
Cooked pasta can be made a day ahead drained, tossed lightly in olive oil, and stored in an airtight container in the fridge.
Use a squeeze of lemon juice or lime juice to keep fruits from browning. Mix 1 cup water and 1 tablespoon citrus into a bowl. Submerge fruit for a few minutes. Remove and store in an airtight container in the fridge.
If your recipe calls for a dressing or a sauce, store it in a separate container in the fridge and then add it right before mixing and serving.
---
Best Summer Sides
Whether you're serving a chicken, beef, or seafood dish you will love this list of our most popular and favorite summer side dishes. These are some of our favorites!
Homemade French Fries
The effort is worth it for these perfect homemade fast-food-style French fries. They are crispy, salty perfection!!
How To Cut A Watermelon
Is there anything better than a ripe juicy watermelon? Learn how to cut a watermelon into cubes efficiently and easily with our tips!
Summer Corn Salad
This summer corn salad is a light, flavorful salad filled with corn, tomatoes, feta, basil and cucumber. It's so simple and quick that it's perfect for get togethers and BBQs.
Grilled Corn On The Cob
Using the grill is one of our new favorite ways to cook corn! Grilled corn on the cob will be your go-to side dish this summer.
Favorite Broccoli Salad
This broccoli salad is a simple, tasty and hearty broccoli salad served with bacon, cranberries, sunflower seeds, and mixed with a delicious, homemade mayonnaise-vinegar based dressing that is perfect for BBQs and get togethers.
Homemade Potato Salad
Our all-time favorite potato salad – it's simple, flavorful and filled with chunks of potatoes, eggs and olives! It's the perfect addition to any BBQ or picnic and is so creamy and tasty, it will wow everyone who tries it.
Mexican Street Corn
Delicious Mexican street corn – a copycat version from Torchy's Tacos filled with butter, cheese, chili powder and cilantro. 
Bacon Wrapped Asaparagus Skewers
This recipe is inspired by one of our favorite Disneyland foods – bacon wrapped asparagus skewers from Bengal Barbecue! These skewers only require 4 ingredients and take less than 10 minutes on the grill! 
Baked Beans
This homemade baked beans recipe is a must-have at all of our BBQ's.  It's such a simple and easy recipe, requires only FIVE ingredients, and cooks in the crock pot. 
Potato Wedges
Crunchy potato wedges are perfectly seasoned and garnished with parmesan. You won't be able to stop at one!
Parmesan Crusted Zucchini
Delicious and healthy baked parmesan zucchini. These spears are crusted in Parmesan cheese and baked to perfection, making them a great side dish for any meal. 
Broccoli Strawberry Salad
Strawberry broccoli salad is creamy and refreshing with pops of juicy fruit. It can easily be made ahead and enjoyed later!
Herb Roasted Potatoes
Easy lemon herb roasted potatoes – A yummy side dish!! Golden potatoes in lemon juice, olive oil, and lots of seasonings!!
Macaroni Salad
A simple, creamy macaroni salad loaded with pasta, peas and ham. It's perfect for parties, family dinners, and potlucks!
Strawberry Jello Pretzel Salad
Strawberry jello pretzel salad is the ultimate combination of sweet and salty. This classic treat is always a crowd pleaser!!
---
EASY SUMMER SIDES
These easy side dishes are perfect for summer!! With so much variety, there is sure to be something for everyone and every occasion.
Wedge Salad
This fresh wedge salad is a classic. It's crisp and refreshing, smothered in creamy dressing and topped with crumbles of cheese and bacon.
Ambrosia Salad
This Ambrosia Salad will take your straight back to your childhood. The best creamy fruit salad with mini marshmallows mixed in!
Oven Roasted Red Potatoes
Oven roasted red potatoes are the perfect addition to any dinner! This crispy, seasoned side dish will add flavor and color to your meal.
Asparagus And Potatoes Medley
Delicious potatoes and asparagus mixed together with bacon, butter and more. This vegetable medley is a great side dish to any meal!
Fruit Kabobs
Colorful fruit kabobs are the best appetizer or side for any occasion! Load up your favorite fruits and get snacking.
Brown Sugar Glazed Red Potatoes
These brown sugar glazed red potatoes have become our new favorite side dish! With only FOUR ingredients required, this red potatoes recipe is so simple to make. Everyone loves red skin potatoes smothered in a buttery brown sugar glaze!
Sweet Coleslaw
Sweet and tangy coleslaw is a copycat of a tasty dish from Disneyland's Big Thunder ranch. It is a perfect side dish to any meal or BBQ.
Caprese Stuffed Avocados
Simple and fresh caprese stuffed avocados are a twist on classic flavors. This is a perfect appetizer or side to any meal!
Fresh Mozzarella Pasta Salad
Easy & fresh mozzarella pasta salad is light, delicious and flavorful. This simply dressed salad is a new favorite!!
Broccoli Slaw
Broccoli slaw is layered with green onions, oriental ramen noodles, peanuts, and sunflower seeds in a delicious dressing!
Quick Caprese Salad
Simple and quick caprese salad is easy and delicious with pops of mozzarella, tomatoes, avocados and drizzled with a balsamic glaze!
Easy Pasta Salad
Easy and delicious Italian pasta salad recipe that includes Rotini pasta, olives, tomatoes, & cheese in Italian dressing! It takes minutes to make and is perfect for any get together including BBQs and holidays.
Caesar Salad Cups
Caesar Salad Cups are a quick, simple and tasty side dish or appetizer. They're mini salads in a cup and great for parties and get togethers!
Asian Ramen Salad
Fresh & lightly dressed Asian Ramen Salad is filled with cabbage and bits of almonds and ramen, giving it bright color and crunchy texture!
Pea Salad
Pea salad is made with a creamy mayo dressing, bacon, cheese, and bright pops of peas. It only requires a handful of ingredients and is easy to make!
---
HEALTHY SUMMER SIDES
Keep it light and healthy with these must-make summer side dishes that are on the healthy side.
Roasted Green Beans
Roasted green beans are the easiest and most delicious healthy side dish that goes perfect with any dinner. Plus, they're quick and great for holiday meals too.
Cauliflower Rice
This tasty low-carb side dish will knock your socks off with how yummy it is! Cauliflower rice will be your new go-to healthy side dish!
Easy Fruit Salad
A fresh fruit salad that makes the perfect side dish to any meal! Colorful, healthy, delicious, and filled with all your favorite fruits!
Air Fryer Zucchini
Crispy air fryer zucchini will give you all the flavor and none of the guilt! This healthy version still packs the flavor punch.
Roasted Tomatoes
Juicy roasted tomatoes are the yummiest and easiest appetizer or side dish. Roasting them (with a little olive oil, basil and parmesan) brings out every delicious flavor!
Roasted Cauliflower
Roasted cauliflower is the perfect healthy side dish for so many dinner meals. It's simple to throw into the oven and comes out golden brown with a little crunch.
Cucumber Tomato Avocado Salad
Tomato cucumber salad – a simple, delicious and quick salad perfect for dinner or for BBQs and get togethers. So many great flavors!
Baked Zucchini Chips
If you're looking for a tasty side, these baked zucchini chips are your answer! Sliced zucchini baked to perfection with a bread crumb and parmesan crust. These bite-sized veggies taste amazing and are a great alternate to the classic fried zucchini recipe.
Grilled Asparagus
Grilled asparagus is the best side dish alongside almost any dinner recipe! Sprinkled with salt, pepper, and a little parmesan cheese—this recipe is incredible!
Arugula Salad
Fresh arugula salad is loaded with healthy greens, juicy tomatoes, and parmesan shavings with pine nuts and creamy avocado on top!
Cucumber Tomato Salad
Fresh, vibrant cucumber tomato salad is a simple salad perfect for summer and your bounteous harvest. It's a quick side for any meal!
Southwest Caprese Salad
Southwest caprese salad substitutes queso fresco and a bright cilantro jalapeño vinaigrette to add some flair. It is fresh, vibrant, and full of flavor!
Southwest Quinoa Salad
Southwest quinoa salad is bursting with freshness. It's got a ton of texture going on and a whole lot of flavor!
Kale Salad
Sweet kale salad is topped with chunks of apple, candied pecans, dried cranberries, and bacon, served with a homemade sweet Dijon vinaigrette!
Greek Orzo Salad
Orzo salad is a Greek pasta salad loaded with Orzo, veggies, and feta topped with a Greek dressing.
Oven Roasted Vegetables
Simple, flavorful, and healthy roasted vegetables that take less than 10 minutes of prep work! Nothing beats yummy veggies roasted in the oven!
---
best sides for your summer meal!
We like to keep our meals and especially our side dishes simple and easy during the summer and these recipes do just that! They are also so delicious that they are some of our favorites to make year round!
More Collections: Summer Dinner Ideas, Summer Slow Cooker Recipes, Frozen Drink Recipes